Expert Analyst & Reviewer

UPDATED
Advertiser Disclosure: Our unbiased reviews and content are supported in part by
affiliate partnerships
, and we adhere to strict
guidelines
to preserve editorial integrity.
SpotOn

Pros
Intuitive UI
Numerous features
Easy to use
eCommerce integration
Multistore capability
Accepts multiple payment options
Cons
Potentially expensive monthly cost
SpotOn POS Overview
Every business is different, so it only makes sense that a one-size-fits-all point of sale system isn't going to be the right fit for everyone. SpotOn is one company that offers POS solutions that are customized to the needs of your business.
SpotOn specializes in POS systems for the retail and restaurant industries. With multiple pricing plans, systems, and features, businesses of all sizes can use SpotOn. Throw in an easy-to-use and intuitive UI, plenty of add-ons and integrations, and numerous positive reviews from past and current customers, and it's not hard to see why SpotOn is a worthy contender in the POS space.
Unfortunately, though, there are some drawbacks to consider. Depending on the system and features you need, monthly costs can add up quickly. And while you can stick with your current payment processor, your monthly fee will significantly increase if you don't use SpotOn Payments, further adding to your costs.
But don't let that deter you from continuing to read this review. We're breaking it all down, so you can make a more informed decision when selecting the right POS for your business. We'll look at SpotOn reviews, pricing, features, and more to help you make the right choice. Keep reading to learn more about SpotOn POS.
SpotOn POS Pricing
If you've explored other POS options, you probably already know that pricing can get a little complex. Monthly subscription fees, hardware, and add-ons can affect the cost of your POS, which is why you have to contact SpotOn to get a custom quote for a product that works best for your business. Instead of navigating the purchasing process alone, you can work with a representative to get the features you need — without paying for the ones you don't.
But there are a few general costs to review so that you can comparison shop and decide if you want to move forward with getting a custom quote.
First, you will select your SpotOn platform plan.
SpotOn With Payments
You'll have your choice of one of two platform plans. Per SpotOn, the most popular plan is SpotOn with Payments. This plan is priced at $25/month and includes:
Appointments (available for one user; an additional fee applies for two or more users)
Marketing
Reviews
Analytics
Website and loyalty programs available as add-ons
This plan is the least expensive option, but there is a catch. If you sign up for SpotOn with Payments, you will use SpotOn's payment processing services. The good news is that rates are pretty competitive. Most processing fees are 1.99% plus $0.20 per transaction. For corporate, international, AMEX, or keyed cards, this rate increases to 2.99% plus $0.20 per transaction. Custom rates are also available for high-volume businesses. You can also get a custom quote if you received a lower price elsewhere.
Another thing to note about SpotOn Payments is that you won't be locked into a contract. Your agreement is month-to-month, and SpotOn is transparent in its pricing.
SpotOn Software Only
If you prefer to use your own payment processor, you can purchase SpotOn software. This plan is very similar in terms of features to SpotOn with Payments. The key differences are that the loyalty program is included, there doesn't appear to be any limitations on the number of Appointments users, and a website is not available as an add-on.
Unfortunately, though, the biggest difference is the price. If you opt to use your own payment processor, your monthly subscription cost jumps to $195/month.
Next, you'll need to determine which POS system is right for your business. Options include the following:
SpotOn Poynt
Poynt is SpotOn's most cost-efficient POS system. This option is priced at $15/month. SpotOn Poynt can be used as part of a POS system or simply a payment terminal, as it allows you to accept credit cards, debit cards, cash, mobile payments, and gift cards. It can also integrate with Marketing, Loyalty, and Appointments add-ons. This option is better suited for smaller businesses with a single location.
SpotOn Register
SpotOn Register is an all-in-one POS system that works for businesses of all sizes, including those with multiple locations. SpotOn Register costs $65/month. SpotOn Register integrates with Marketing, Loyalty, and Appointments. The system allows you to oversee all locations. It has a number of great features you'd expect from your POS system, including inventory management, employee tracking, and customizable receipts.
SpotOn Register Lite
SpotOn Register Lite is comparable to SpotOn Register but has its POS features loaded into a smaller, sleeker package. This option is priced at $45/month.
SpotOn Restaurant
To have access to restaurant-specific features, you'll also need to subscribe to SpotOn Restaurant. This option will cost an additional $65/month. SpotOn Restaurant is designed for restaurants of all types and sizes, from the local diner or a large franchise to a high-volume pizzeria or a fine dining restaurant. SpotOn Restaurant comes loaded with features, covering everything from contactless dine-in services to delivery and employee management (more on these features a little later).
Extra Costs
There are a few additional costs that could add to your monthly fee. These include:
SpotOn Loyalty: If your plan doesn't include SpotOn's loyalty program, it can be added for an additional $65/month.
Website & eCommerce: If you want to sell merch or other items online, you can sign up for a website and eCommerce add-on for $65/month.
SpotOn also has a mobile POS solution as well as SpotOn Sidekick, which is designed for food trucks. Contact SpotOn to learn more about pricing.
SpotOn charges one-time setup fees that are not disclosed online, so make sure that you inquire about all additional costs. There is no free trial, but you can contact SpotOn to get a demo of the software to see how it works.
Because each system is customized, it's difficult to gauge whether SpotOn will be the most cost-efficient POS for your business. However, pricing can be extremely competitive, particularly if you opt to use SpotOn as your payment processor.
Cloud-Based Or Locally-Installed
SpotOn POS is cloud-based, so you can access your software from a desktop computer, Mac, PC, or mobile device, provided that there's an internet connection.
Specific Industry
SpotOn is suitable for many retailers and restaurants. On its website, SpotOn says that it can be used by professional services companies, such as plumbers, nail and hair salons, auto parts stores, and auto repair shops.
It is also suitable for businesses in the restaurants and hospitality industry, although users will have to subscribe to SpotOn Restaurants to take full advantage of industry-specific features.
Specific Size Of Business
Since each SpotOn plan is custom-built, it is suitable for businesses of all sizes. You can work with a SpotOn sales rep to build the package that works best for your business…and your budget. The system is scalable, has a number of add-ons, and can be used by smaller businesses (such as food trucks) to larger, multilocation businesses.
Ease Of Use
One of the areas where SpotOn really shines is its ease of use. Put simply, SpotOn has a simple, user-friendly touchscreen UI that even POS beginners can easily master. Though some users have encountered some bugs and glitches when using the system (more on that in a little bit), there were no complaints that I've found about difficulties in learning and using SpotOn's POS system.
Additionally, SpotOn has numerous tutorials for adding inventory items, setting up and adding guests to a loyalty program, voiding orders, reprinting tickets, and other tasks. These tutorials include photos, videos, and step-by-step instructions to help you learn the system.
Hardware & Operating System Requirements
SpotOn POS s cloud-based, so you can access the software from any device as long as you have an internet connection.
SpotOn's hardware requirements aren't quite as flexible and convenient as its software. SpotOn POS is designed to work with the company's own hardware. The type of hardware you'll receive is based on your subscription and the features you need.
Some hardware options include:
SpotOn Poynt: This all-in-one POS features dual screens, POS and terminal modes, and a flexible design that's convenient for you and your customers.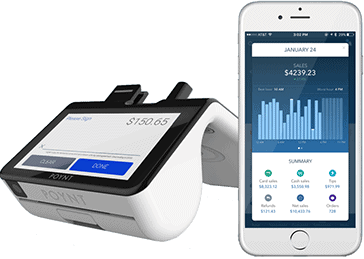 SpotOn Register: SpotOn Register boasts a lot of features in a sleek and compact package. Highlights of this hardware include a 13.3-inch touch screen with full HD 1920 x 1080 resolution and a Qualcomm Snapdragon Octa-Core 2.0GHz processor with 3GB of RAM and 32GB of storage. It also comes equipped with a barcode scanner, thermal printer, and cash drawer.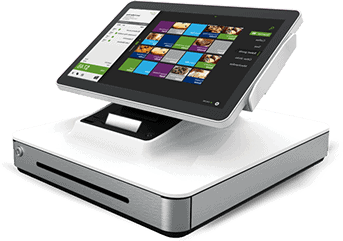 SpotOn Register Lite: This small but powerful all-in-one POS features a built-in card reader, 8-inch merchant-facing touchscreen, 4.3-inch customer-facing touchscreen display, built-in receipt printer, and external cash register.
SpotOn Restaurant: No matter the size or volume of your restaurant, SpotOn Restaurant has the hardware you need to run one (or several) businesses efficiently. SpotOn Restaurant features a 19.5-inch touchscreen monitor, PAX S300 EMV Pinpad, cash drawer, receipt printer, backup wireless router, 10-inch touchscreen tablet with built-in card reader, and tablet charging station.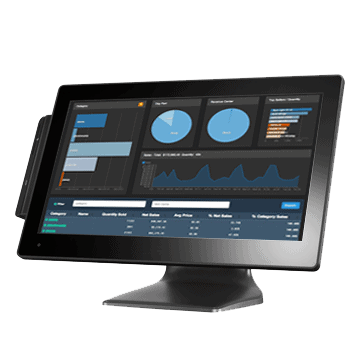 Additional hardware is also available, including additional touchscreen displays, SpotOn Serve handheld devices, kitchen printers, and food scales.
Contact SpotOn to learn more about its hardware and which package is best for your business.
SpotOn POS Features
The features you can access are based on the POS system you select. For example, restaurant-specific features are only available to SpotOn Restaurant subscribers. If there's a specific feature your business needs, make sure to discuss it with your sales rep when you contact SpotOn for your custom package.
While SpotOn does offer a solid feature set, not all features may be available in your base package. More advanced features may only be available in select POS systems or as add-ons.
We won't go into every single thing SpotOn has to offer, but here are some of the most notable SpotOn POS features:
Inventory: With SpotOn POS, you can track and manage inventory, receive automated reorder notifications, and view and print exportable inventory lists.
Time Tracking: Employees can clock in and clock out using your POS system, and you can easily export employee timesheets.
Table Layouts: This feature for restaurants allows users to manage customer flow and reservations more efficiently.
Contactless Orders & Payments: Restaurant owners can offer their customers easy, convenient contactless order and payment options. With SpotOn POS, customers can place their orders and pay right from their table. You can even add QR codes to your receipts, so customers can easily scan and pay using their mobile devices.
Online Ordering & Delivery: Your customers can order take-out, delivery, and eGift cards from a single portal. You can also utilize SpotOn Delivery, which allows guests to order right from your website. Don't have delivery drivers available? No problem — this system integrates with DoorDash for a flat fee per order.
Google Business Integration: SpotOn Order integrates with Google, so customers can search Google for dining options and reach your business profile. Once there, customers have the option to order food for takeout or delivery without downloading an app.
Loyalty Program: You can set up a loyalty program to keep your customers coming back for more. Setting up your program and enrolling customers is quick and easy with SpotOn's built-in loyalty feature.
Appointments: Easily take online reservations using SpotOn Appointments. SpotOn Appointments features email and text reminders, two-way texting, and digital marketing opportunities. If you're worried about lost revenue due to no-shows, don't worry. SpotOn Appointments allows you the option of keeping a card on file to minimize no-shows.
Marketing: SpotOn Marketing makes it a breeze to set up and manage marketing campaigns. You can create your own from scratch or use one of SpotOn's templates. With SpotOn Marketing, you can create Facebook and email campaigns and fully customize your marketing with automations and your own branding.
Review Management: One great feature that SpotOn offers is review management. You can view all of your online reviews in one place and receive notifications with every new review right from your computer or mobile phone. This feature also lets you shift to review sites to respond to customers with ease.
Reporting: SpotOn offers a number of reports that you can access from any device. Check ROI on reward redemptions, view sales trends, track marketing metrics, and more. SpotOn Restaurant subscribers, in particular, have access to all the analytics they need with over 90+ reports.
Customer Service & Support
SpotOn customers are split when it comes to customer service and support. It seems that while it's easy to learn about SpotOn's products, sign up, and get the POS up and running, some customers have complained that customer service isn't as helpful when resolving hardware or software issues further down the road. Other users painted a different picture and praised SpotOn's customer service.
In my experience, customer service was prompt, knowledgeable, and helpful when inquiring about the product and pricing. However, I can't speak on how helpful customer support is with troubleshooting hardware or software issues or resolving billing complaints.
However, SpotOn does offer several ways to get in touch, along with support resources. These include:
Phone: SpotOn can be reached via a toll-free number, although this contact method appears to be for setting up a demo or getting started.
Email: Email support is available 24 hours a day, seven days a week. SpotOn has dedicated email addresses for issues such as tech support, SpotOn Restaurant troubleshooting, gift cards, chargebacks, and more.
Help Center: SpotOn's help center has numerous articles about its POS systems, SpotOn Restaurant, and other add-ons and products.
Social Media: SpotOn has a social media presence on Facebook, Twitter, and Instagram.
Blog: SpotOn has a blog that is updated regularly. It tackles everything from new SpotOn updates and features to business-related topics, such as hiring new employees and creating a business development strategy.
SpotOn POS Compatible Credit Card Processors
SpotOn offers two payment platforms — SpotOn With Payments and SpotOn Software Only — so you have the option to choose your own credit card processor. The company does not publicly state if any specific credit card processors are compatible with its POS system.
It is worth noting, however, that if you choose not to use SpotOn Payments, your monthly pricing will increase significantly. SpotOn does say that high-volume businesses and businesses that have received quotes from other processors can inquire about discounts. SpotOn Payments also doesn't require long-term contracts, and its rates are competitive, so it's certainly worth considering this in-house processing option if you decide to sign up with SpotOn.
Integrations & Add-Ons
SpotOn lists nearly twenty integrations on its website, allowing you to integrate with software and apps you already use within your business. SpotOn's integrations cover everything from accounting and management to inventory and online ordering. Some of SpotOn's integrations include:
QuickBooks Online:
Restaurant 365
Gusto
Paycom
HotSchedules
Safesurv
Bevager
Compeat
SpotOn POS Reviews, Complaints & Testimonials
Negative SpotOn POS Reviews & Complaints
SpotOn doesn't have a ton of positive or negative reviews online, but there are a few complaints from customers. SpotOn is accredited by the Better Business Bureau and has an A+ rating. Additionally, the company has seven resolved complaints over the last year on the BBB website. Complaints about SpotOn include:
Hidden Costs: Some customers claim they were charged unexpected fees, such as paying an additional fee for gift card receipts and reports. Other customers claim they were charged too much and were promised a refund but were left waiting for weeks or even months until their funds were eventually returned.
Customer Service: While some reviewers had positive things to say about customer service, there were a few complaints. Some reviewers state that they had to contact SpotOn multiple times to resolve issues with their POS systems.
Glitches & Bugs: Some users report that there are glitches and bugs in the system, particularly when the system is first set up. One customer reported issues with tipping on tablets; another complained that customers were unable to use the online ordering app. A handful of customers also reported random glitches that affected reports.
Positive SpotOn POS Reviews & Testimonials
There are some complaints about SpotOn POS, but there are also several positive reviews across the internet. SpotOn has a 3.39/5 rating (based on 18 reviews) with the BBB, while SpotOn Restaurant receives a rating of 4.7/5 (based on 93 reviews) on Capterra. Users most like:
Easy To Use: Many users point out that SpotOn is very easy to use. Making adjustments, adding items, and customizing the back end was easy, according to many customers.
Pricing: Some customers praise SpotOn's pricing, noting that credit card processing fees were good, hardware financing options were affordable, and overall pricing for the POS system was competitive.
Good Reporting: Despite some users finding random glitches in their reports, many users love the number of reports they can run through the SpotOn POS system.
Features: Users like the number of features offered by SpotOn POS. Users say that SpotOn POS helps them run their restaurants — from smaller businesses to high-volume restaurants — more efficiently than ever.
Final Verdict Of SpotOn POS For Small Businesses
SpotOn offers a number of great POS features that are beneficial for retailers and restaurants. The software is easy to use, even for beginners, so learning it yourself and training employees shouldn't be a hassle. SpotOn's multiple POS options make this a viable choice for any business, from a smaller shop that needs a single, convenient terminal to a thriving chain of restaurants.
However, the different products and pricing can get confusing. This is why SpotOn will work with you to create the POS system best suited for your business. However, if you want a POS system with all the bells and whistles, monthly pricing can add up fast, so you might want to comparison shop before committing.
Speaking of costs, one thing that may be problematic is the difference in pricing between using SpotOn Payments and choosing your own payment processor. If you're committed to your current processor or even just want to shop around, this pricing difference is pretty staggering. On the plus side, though, if you choose to use SpotOn Payments, you aren't locked into a long-term contract, and processing fees are pretty competitive.
Customer service is another area where SpotOn may fall a little short. Based on user reviews, troubleshooting with a customer service rep can be a pain. On the other hand, there are users that also express no problems with SpotOn's customer service. While talking to a live person may be hit or miss, SpotOn has many resources that can help guide you through using your POS system.
Taking all of this into consideration, the pros certainly outweigh the cons, and SpotOn is a POS provider that should be on your radar if you're in the retail or restaurant industry.
Still on the fence? Check out our top picks for restaurant POS systems. In the retail industry? Take a look at our Lightspeed Retail POS review to determine if this POS is better-suited for your business. Of course, if none of these options fit your budget, there are cost-efficient and even free POS options available, such as Square. Regardless of which one you pick, make sure to do your research, take advantage of free trials or demos, and choose a product that works for your business.
Good luck!
---
We've done in-depth research on each and confidently recommend them.
We've done in-depth research on each and confidently recommend them.
To learn more about how we score our reviews, see our
Point Of Sale (POS) Software Rating Criteria
.