7 Top Stadium POS Systems With The Best Features In 2023
All of these stadium POS systems are viable options thanks to their features, flexibility, multifunctionality, integrations, and price points.
Expert Analyst & Reviewer

UPDATED
Advertiser Disclosure: Our unbiased reviews and content are supported in part by
affiliate partnerships
, and we adhere to strict
guidelines
to preserve editorial integrity.
Stadium POS systems include specialized features for all the components that go into hosting large-scale arena events. Some necessary functions of a stadium POS may include online and in-person ticket sales, concessions, parking/valet management, and the sale of retail merchandise.
Certain segments of stadium sales, such as concessions, may be contracted out to a third-party vendor that uses their own POS — or you may need a single stadium POS system that can handle every aspect of running a stadium.
Whether you need a POS for your stadium concessions, gift shop, ticket window, or all of the above, this list has a stadium POS option that will meet your needs.
Learn More About Our Top Picks
Company
Best For
Next StepsBest For
Square POS
Best overall.

Best overall.

Clover POS
Best for flexibility.

Best for flexibility.

Shopify POS
Best for selling tickets online.

Best for selling tickets online.

KORONA POS
Best budget option for ticketing.

Best budget option for ticketing.

Toast POS
Best for concessions.

Best for concessions.

Show More Options
Lightspeed Retail POS
Best for stadium gift shops.

Best for stadium gift shops.

SpotOn
Best enterprise option.

Best enterprise option.

Show Fewer Options
Read more below to learn why we chose these options.
Best Stadium POS Systems
Here are our top choices for stadium POS systems:
Square: Best overall.
Clover: Best for flexibility.
Shopify POS: Best for selling tickets online.
Korona POS: Best budget option for ticketing.
Toast: Best for concessions.
Lightspeed Retail: Best for stadium gift shops.
SpotOn: Best enterprise option.
1. Square: Best Overall For Stadiums
Square POS


---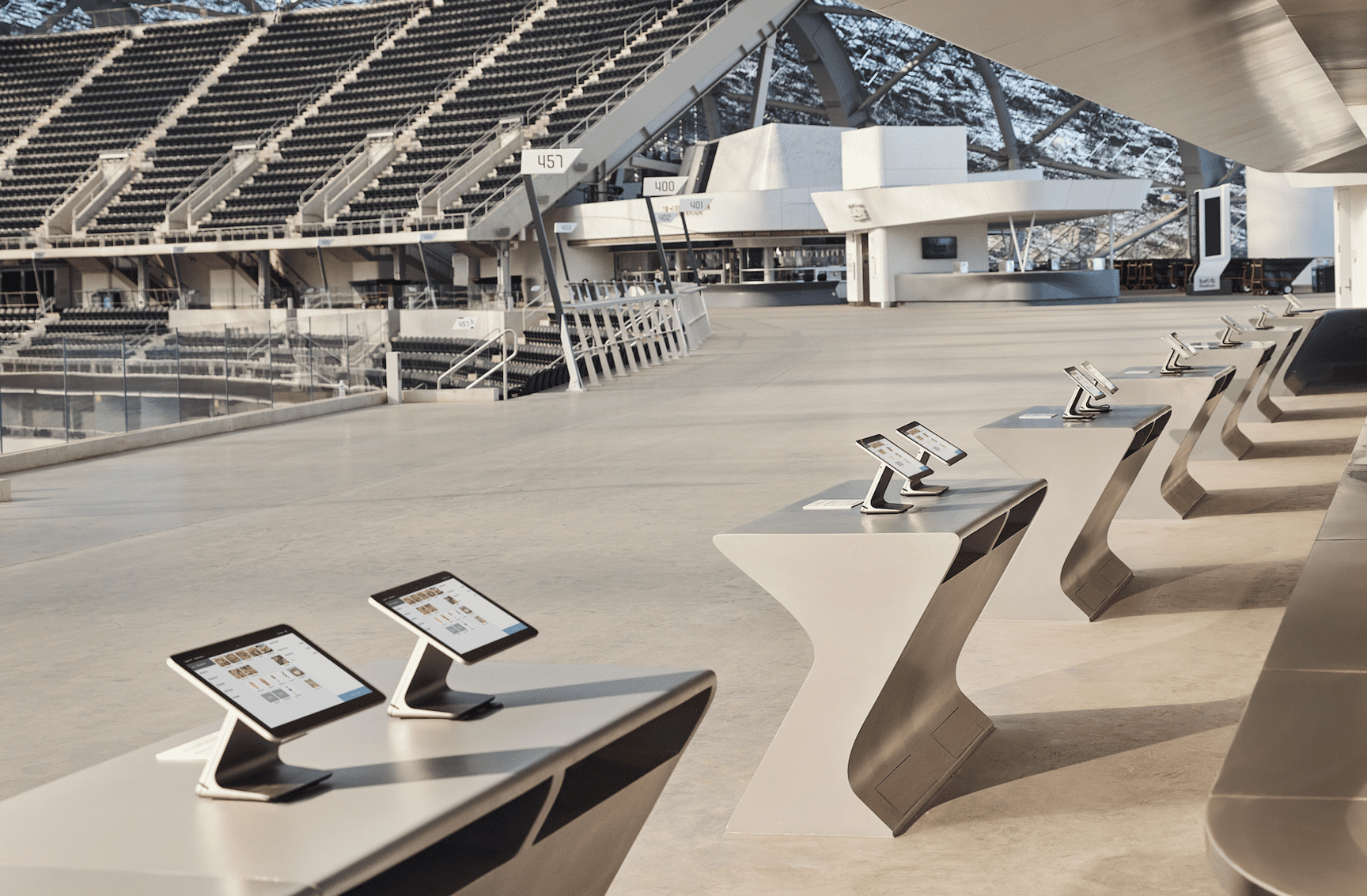 Pros
Free mobile POS
Free online store
No contract
Features to sell tickets, food, and retail items
Square Features
Square offers the following stadium POS features:
Integrates with Time.ly, Ticketscandy, SimpleTix, Brushfire, and other apps for online ticket sales
Retail and QSR features for selling merch and concessions
Square Online store has features to sell event tickets
Customer directory with automatic customer profile creation
Works on most mobile devices
Offline mode for spotty internet connections
Kiosk integrations for self-ordering and payments
QR code generation and scanning
Add-ons for marketing, team management, loyalty, payroll, Square KDS, and other features
Square Pricing
Square's standard POS costs $0/month. Square also has paid niche POS systems specific to retail and restaurants, as well as paid monthly add-on features.
Hardware Cost
All Square accounts come with one free card swiper that you can use with your Android or iOS mobile device. Square also sells a contactless and chip reader ($49) and other POS equipment, including Square Stand for iPad ($149), Square Register ($799), and Square Terminal ($299).
Payment Processing
Square accounts come with built-in payment processing from Square Payments. The cost to process in-person transactions is 2.6% + $0.10, while online transactions are processed at a rate of 2.9% + $0.30. High-volume businesses processing over $250,000/month may qualify for a lower rate.
Contract Requirements/Warnings
Square has no contract, so you can stop using the POS at any time without incurring any penalty or termination fees.
However, Square is a payment service provider, meaning that merchants receive an aggregate merchant account rather than individual merchant accounts. Not having your own dedicated merchant account can lead to account instability, including occasional fund holds and even sudden account terminations.
Where Square Really Shines
Square earns our designation as the best all-around POS for stadium events, as it can handle ticket sales, concessions, and merchandise sales with ease. Square POS also has the benefits of being free with no contract, commitment, or upfront investment required.
You can use Square on virtually any mobile hardware, and there is no limit to the number of devices you can have on your free account. Square is excellent for quick-serve concessions and connects with apps such as Noble, allowing event attendees to order and pay for food and drink orders at live events without waiting in line.
Truly, there is no other free stadium POS system that can rival Square's functionality. In fact, Square is the exclusive POS provider for the new SoFi Stadium, home to the Los Angeles Chargers and Los Angeles Rams.
Square no longer integrates with Eventbrite for ticket sales. However, the POS connects with numerous other event and ticketing apps that allow you to sell stadium tickets online and in person. Your free Square Online store also has a basic event ticket selling feature.
2. Clover: Best For Stadium Flexibility
Clover POS


---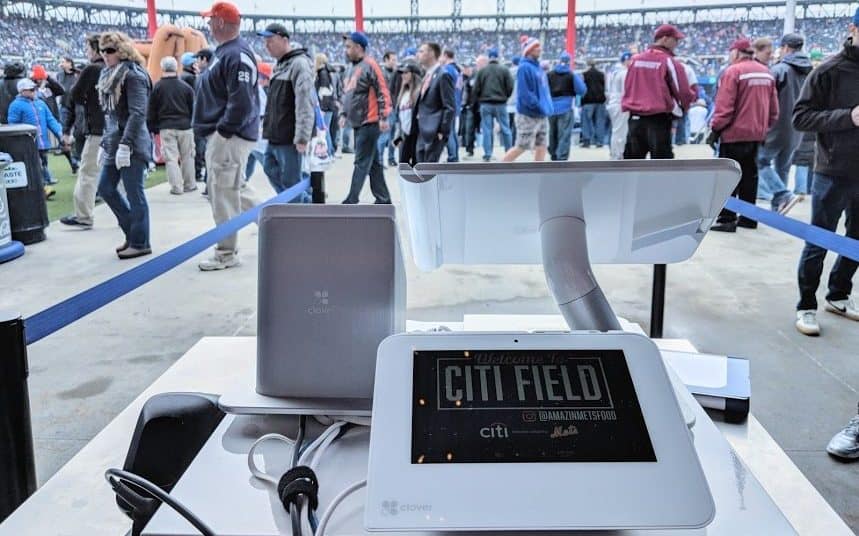 Pros
Attractive, sturdy hardware
Customizable system
Monthly plans available
Apps for selling tickets, merch, concessions, and stadium parking
Cons
Not all Clover vendors are reputable
Clover Features
Clover POS has the following features for stadiums:
Integrates with event ticketing and stadium parking apps, such as Click Tickets, DigiTickets, Future Ticketing, Sports Parking, and Flex Valet
Inventory, customer, employee, and order management
Mobile and countertop POS devices
eCommerce and online ticket sales
Contactless dining with QR codes (Scan to Order and Scan to Pay)
Sales tracking and reporting
Pre-auth for bar tabs
Onscreen tipping and signatures
Clover Pricing
Clover plans purchased from Clover.com range from $14.95 to $94.85 per month if you purchase your hardware upfront. You may also opt to lease your equipment and will pay a fee of $50 to $290 per month for your hardware and software. Clover plans purchased from other providers may charge additional fees.
Hardware Cost
Clover hardware options include Clover Go ($49), Clover Flex ($499), Clover Mini ($799), Clover Station ($1,349), and Clover Station Duo ($1,799). Pricing is from Clover.com.
Payment Processing
Plans purchased from Clover.com include flat-rate processing, with a rate of 2.3% + $0.10 or 2.6% + $0.10 for in-person transactions, depending on your plan level. For online payment processing, Clover charges 3.5% + $0.10 for online payments. If you purchase your Clover system from a third-party seller, you may have a different processing model.
Contract Requirements/Warnings
Contract terms and any termination fees can vary based on your Clover service provider. Some providers may lock you into a long-term contract or hardware lease.
If you purchase from Clover directly, software plans are month-to-month, with no commitment to use the POS beyond the current month — although owning Clover hardware is a commitment in itself since you can't resell or reuse the POS equipment with a different POS system.
Where Clover Really Shines
Though Clover is primarily a POS system for small businesses and isn't specifically made for events and ticketing, thanks to the system's flexibility, you can use your Clover point of sale for just about any stadium selling purpose.
Clover's flexible, modular POS system works great for selling food, retail, and services. You can also add your preferred ticket-selling app from the Clover App Market to enable your system for stadium ticket sales, both online and in-person. In addition to ticket scanning and printing, you can set up your Clover for sports stadium parking management.
As a testament to its stadium POS capabilities, sports stadiums and arenas, such as Citi Field, home to the New York Mets, and Fiserv Forum, home to the Milwaukee Bucks, both use Clover POS at their stadiums.
3. Shopify POS: Best For Selling Tickets Online
Shopify POS


---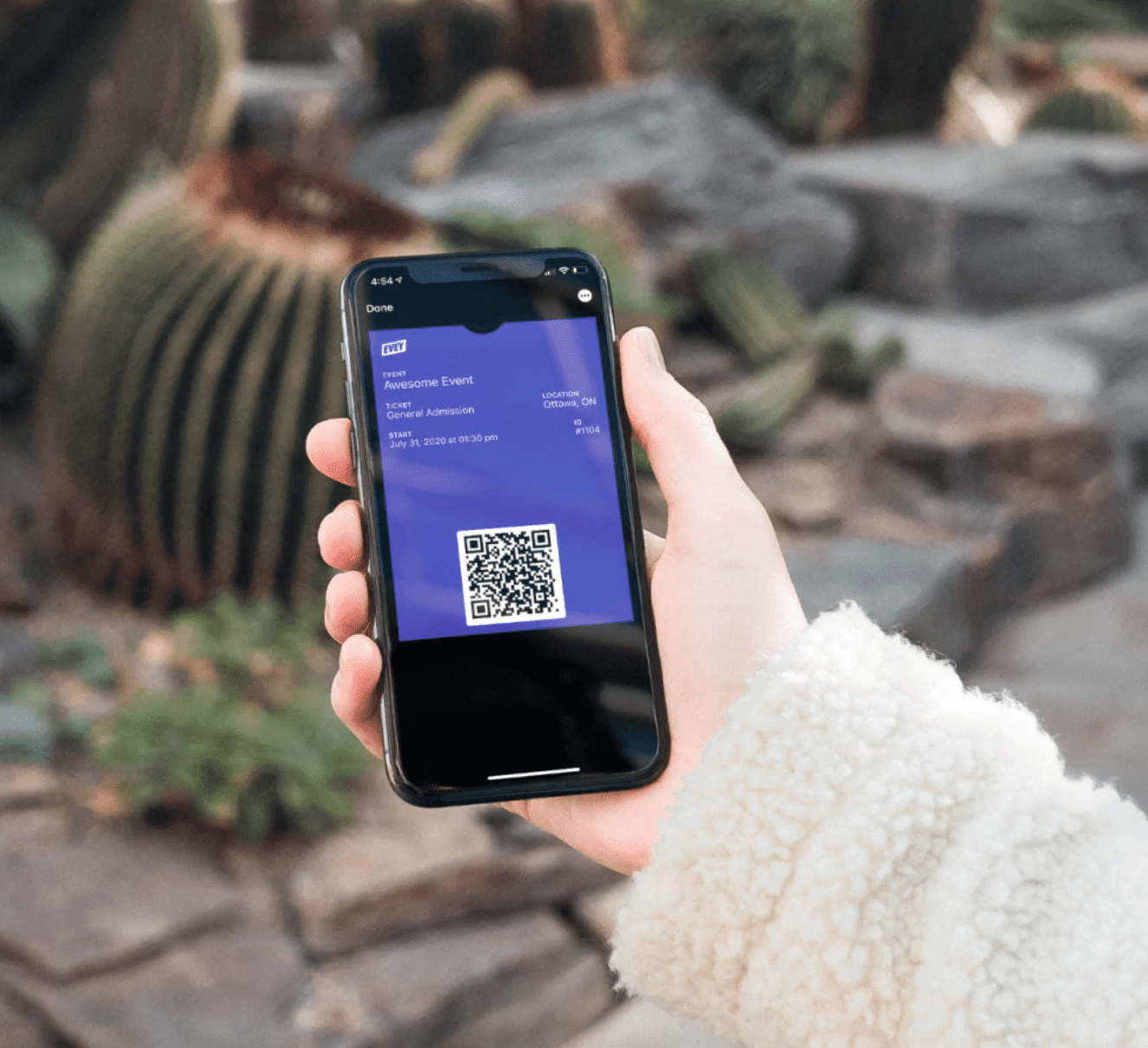 Pros
Excellent eCommerce capabilities
Omnichannel retail capabilities
Month-to-month contracts
No cost for additional registers
Cons
Needs internet connection to process payments
Limited food service capabilities
Shopify POS Features
As follows are some Shopify POS features for stadiums:
Integrations with Evey Events, Event Ticketing by Guest Manager, Timely, and other ticketing apps
Works on iOS and Android
Retail POS features
Omnichannel selling features
eCommerce website and blog
Social media sales channels
Mobile and countertop POS setups
Unlimited registers (per location)
Shopify POS Pricing
Shopify POS pricing has a very wide range, from $5/month for a mobile-only Shopify Lite plan to $299/month for an Advanced plan. Shopify also has $2,000+/month Shopify Plus plans for an enterprise-level business. Most businesses that want to sell both online and in-person from a POS will need at least the $79/month Shopify plan.
Hardware Cost
The only Shopify hardware you absolutely need is a $49 mobile card reader. Shopify also sells optional hardware kits and components for iPad and Android tablets. For example, you can buy an iPad stand from Shopify for $149. Shopify is also compatible with Star mPOP POS kits which retail for about $500.
Payment Processing
Shopify accounts come with Shopify Payments; the in-person processing rates range from 2.4 to 2.7%, depending on your Shopify plan level. Online processing rates range from 2.4% + $0.30 to 2.9% + $0.30, depending on plan level.
Alternatively, you can use an integrated processor instead of Shopify Payments, though you'll pay an additional transaction fee ranging from 0.5% to 2.0%, depending on your plan.
Contract Requirements/Warnings
All Shopify plans are month-to-month unless you sign up for an annual or biennial plan. If you choose a one-year or two-year plan, you can save 10% or 20%, respectively.
One thing to know about Shopify Payments is that it is powered by Stripe, a PSP like Square. That means your business will not receive its own dedicated merchant account.
Where Shopify POS Really Shines
Shopify is primarily geared toward retail, but its eComm capabilities and vast app market allow business owners to optimize their POS for various business types, including stadiums and other businesses that want to sell event tickets online. Shopify's Evey integration (pictured above) is an especially popular event ticketing integration that allows you to sell tickets from your Shopify store, as well as scan, verify, and check in guests from your Shopify POS.
In addition to event tickets, Shopify is also great for selling retail merchandise and grab-and-go food items — though it lacks features for serving made-to-order food.
4. Korona POS: Best Budget Option For Ticketing
KORONA POS


---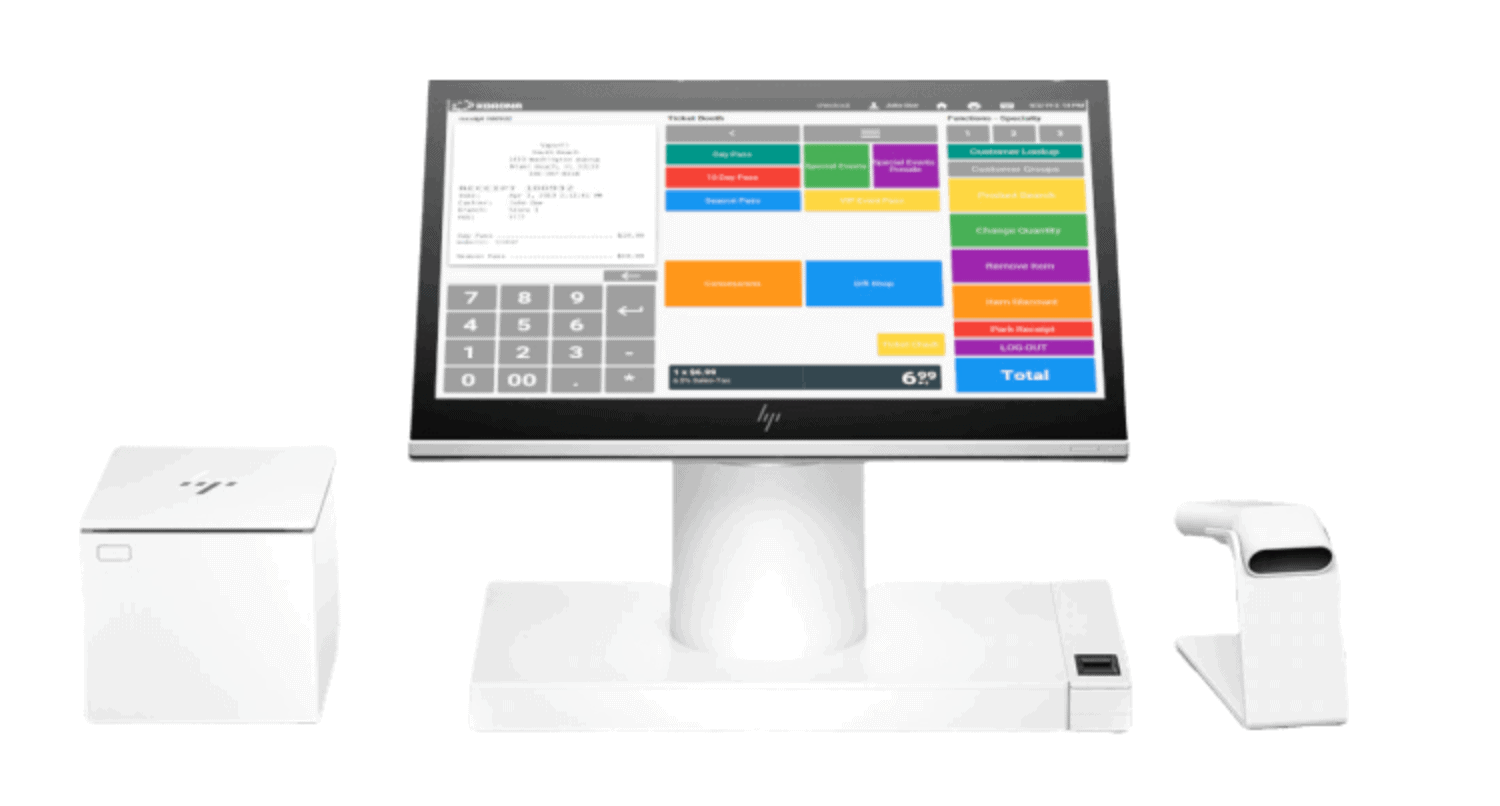 Pros
Built-in ticketing and event management
Affordable monthly pricing
Numerous payment processing options
No contract
Cons
Somewhat basic functionality
No built-in eCommerce
Korona POS Features
Korona POS includes these stadium POS system features:
Multiple ticketing options
Group visits and rates
Membership ticketing
Customizable reservations calendar
Ticketing hardware
Basic retail and restaurant features
Integrations with QuickBooks and WooCommerce
Korona POS Pricing
Korona's Core package is $49/month, and you can add ticketing functionality for +$50/month per gate. Ticketing functions, as well as other premium features, also come with quote-based Enterprise plans.
Hardware Cost
Korona POS does not list hardware pricing on its website, so you'll need to reach out for a quote. Korona can use both Apple and Android setups and offers both hardware options and the ability to lease the hardware or purchase it outright.
Payment Processing
Korona calls itself "processor agnostic" and can integrate with a number of payment gateways and merchant services providers. Some of these include Elavon, Heartland, and TSYS.
Contract Requirements/Warnings
Korona POS does not require a long-term contract or commitment; plans are month-to-month. However, if you agree to a hardware lease, you will be committed for a longer period.
Where Korona POS Really Shines
Korona is one of the few budget stadium POS systems with built-in niche features for ticketing and event management. Customers can purchase tickets over the phone, onsite, on your website, via a link, on a mobile app, or through an invoice.
You can also offer discounts for large groups, sell recurring memberships, or create reservations and recurring events, with the option to add size and time constraint options. There are also options to include ticketing hardware, such as ticket printers, ticket scanners, and turnstiles.
Korona's restaurant features and inventory management leave something to be desired, but if you mainly need a stadium POS for event ticketing and don't want to break the bank, Korona is a solid choice.
5. Toast: Best For Stadium Concessions
Toast POS


---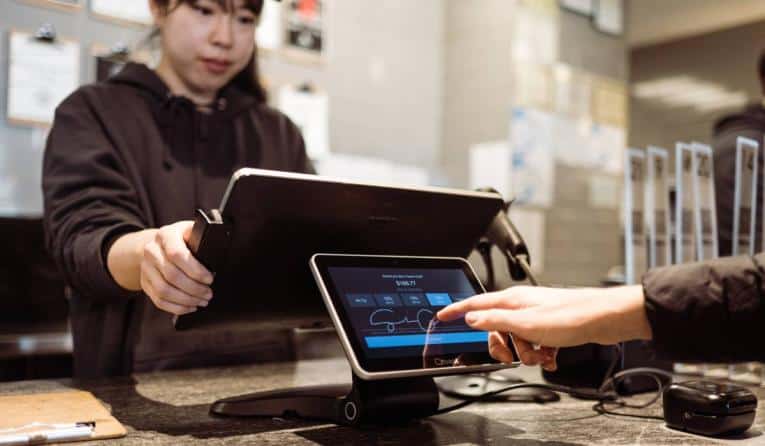 Pros
Complete restaurant management system
Advanced digital ordering solutions
Suitable for quick-serve or full-service restaurants
Continues operating if Wi-Fi goes down
Cons
Long-term contract
Processing fees can be high
Toast Features
Toast POS concession features for stadiums include:
New quick-serve module for fast order inputs
Self-ordering options, including kiosks and mobile ordering
Onscreen tipping and signatures
Handheld ordering and payment devices
Table management for full-service restaurants
Employee retention features, including instant access to tips and wages
Multilocation menu management for chain eateries
Advanced restaurant inventory management and reporting
Customer loyalty and guest engagement features
Toast Pricing
Toast pricing starts at $0/month for the Starter plan, though this plan level charges a higher payment processing fee on every transaction. Paid plans start at $69/month before add-ons, and you can add a second terminal for another $45/month.
Hardware Cost
Toast hardware starts at $0 for a starter kit that includes a terminal, contactless payment device, and router — though, as with the free plan, you'll pay a higher processing fee if you accept the free equipment. If you pay for the starter kit upfront, it's $799. You can also add a guest-facing display for $200, a cash drawer for $119, and various other hardware add-ons.
Payment Processing
All Toast accounts come with Toast payment processing; you cannot use an outside processor with this POS. Toast's standard payment processing fee for most in-person payments is 2.49% + $0.15 (or 2.99% + $0.15 on the free plan). For in-person AMEX transactions, you'll pay a higher rate of 3.29% + $0.15. With online payments (including orders customers place on their mobile devices), you'll pay 3.5% + $0.15 or 3.89% + $0.15 for AMEX.
Contract Requirements/Warnings
Toast's standard contract is two years, and there is an early termination fee if you want to exit your contract early.
Where Toast Really Shines
Beyond just popcorn and pretzels, modern sports stadiums frequently serve made-to-order and even gourmet food, with concessions options including quick-serve restaurants, food trucks, onsite bars, and full-service restaurants. Any restaurant operating within a stadium needs a POS that's equipped to handle restaurants' needs — and Toast can easily meet all of them.
Toast is built for speed and efficiency with high-volume restaurants in mind. It includes features to tackle line busting, tableside ordering, and even reducing employee turnover. Using Toast's Order & Pay add-on, customers also have the ability to order and pay for their food from their seats on their phone and then pick their order up when it's ready.
Toast is perfectly suitable for a single-location stadium restaurant (or quick-serve concessions vendor), but it's also powerful enough to power multilocation chains that have a stadium presence.
6. Lightspeed Retail: Best For Stadium Gift Shops
Lightspeed Retail POS


---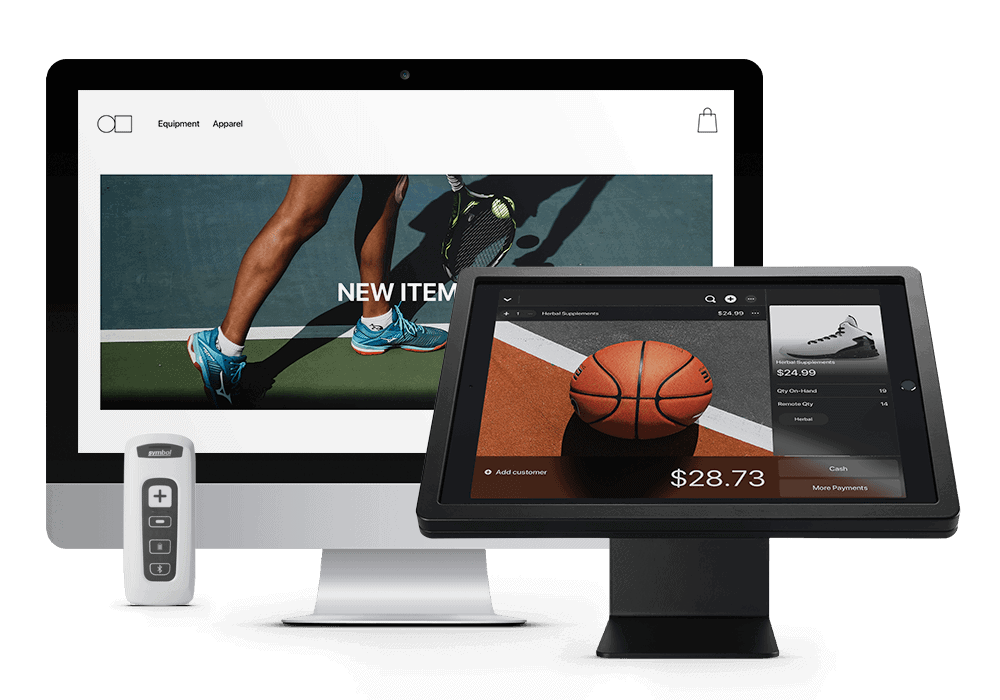 Pros
Advanced retail inventory management
Excellent eCommerce capabilities
Built-in loyalty program
Numerous software integrations
Cons
No ticketing features
Early termination fee
Lightspeed Retail Features
Lightspeed Retail offers the following features for retailers:
iPad and desktop hardware options
Product matrices to sort item variants
Built-in purchase orders
Omnichannel gift cards
Sell memberships and subscriptions
Multichannel eCommerce inventory syncing
Employee performance reporting
Lightspeed Retail Pricing
Lightspeed Retail starts at $89/month ($69/month with annual billing). All Lightspeed plans come with one POS register software license and Lightspeed Payments, Lightspeed's in-house payment processor.
Extra POS device licenses cost $59/device/month.
If you want to use a different processor other than Lightspeed Payments, you'll pay an extra $50/month.
Hardware Cost
Lightspeed Retail can operate using iPad- or desktop-based hardware. You can source your own POS hardware or buy from Lightspeed (contact the company for a quote).
Payment Processing
Payment processing with Lightspeed Payments is 2.6% + $0.10 for in-person transactions.
Alternatively, you can integrate an outside processor, such as Vantiv or TSYS, for an extra $50/month. It may be worth it for high-volume businesses to pay the extra monthly fee to see if it's possible to get a better payment processing fee than what Lightspeed can offer.
Contract Requirements/Warnings
You'll need to commit for a full year to get the best price. However, if you cancel a yearly plan early, you will be charged an early termination fee. Consider signing up for a monthly plan until you're sure Lightspeed is the right POS system for your stadium business.
To qualify for Lightspeed's hardware warranty (14 days for Apple products and 30 days for all other products), you must verify that you have received your POS hardware within five business days of receiving it.
You will have to pay an extra $50/month to use a payment processor other than Lightspeed Payments.
Where Lightspeed Retail Really Shines
Lightspeed really shines in terms of its advanced retail capabilities, making this POS system perfect for a stadium gift shop that wants an advanced retail feature set — without breaking the bank. Any retailer can use Lightspeed to manage their retail inventories, customers, and employees, with an option to add in-house eCommerce for businesses that want to sell online as well.
While Lightspeed is one of our all-time favorite retail systems, it also offers a specialized system for restaurants called Lightspeed Restaurant that could work well for selling concessions at your stadium location.
Get Started With Lightspeed Retail POS
7. SpotOn: Best Enterprise Option For Stadiums
SpotOn


---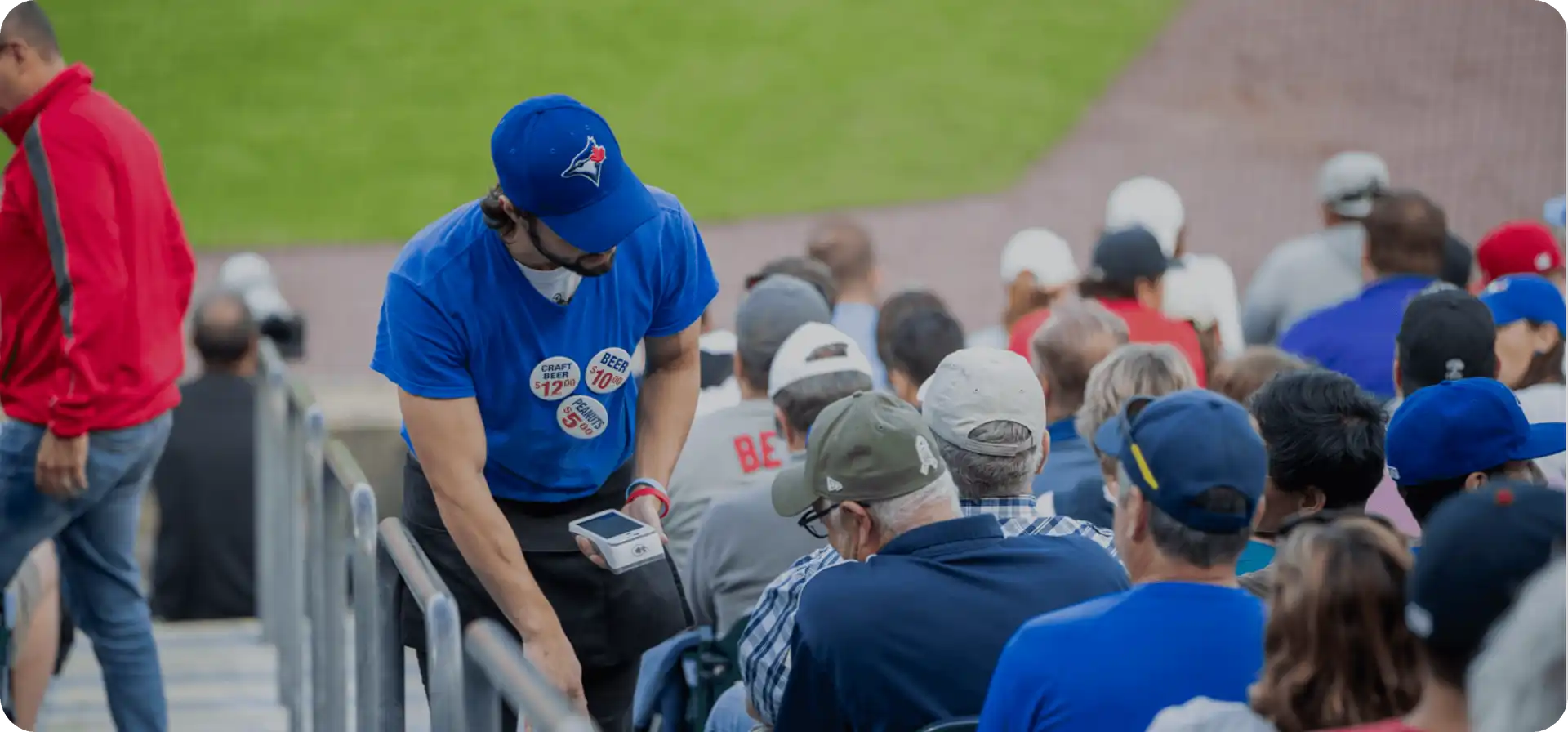 Pros
Reliable, enterprise-level support
Omnichannel platform
Popular with professional sports arenas
Competitive processing fees
SpotOn Features
SpotOn offers these POS features for stadium and arena venues:
VIP and loyalty tools
Handheld ordering devices
Self-order kiosks
In-seat ordering
Robust inventory management
Solutions to manage cash room and hawking operations
Kitchen display systems
POS keeps working if the internet goes down
Integration partners include Givex, Skidata, Lava, Cisco, Ping, YinzCam, Venuetize, and more
SpotOn Pricing
SpotOn pricing is customized per package, so you'll need to reach out for a quote.
Hardware Cost
SpotOn offers a number of robust, mobile hardware solutions but does not list pricing on its website; you'll need to get a quote by contacting the company.
Payment Processing
SpotOn's standard in-person processing fees are 1.99% + $0.20 per transaction. For corporate, international, AMEX, or keyed cards, this rate increases to 2.99% + $0.20. However, custom rates are available for high-volume businesses, such as stadiums. SpotOn will also price-match lower quotes obtained elsewhere.
Contract Requirements/Warnings
Smaller businesses that use SpotOn say that the company does not require a long-term contract. However, this may differ for large businesses, so it's important to verify the contract terms with the company before committing.
Where SpotOn Really Shines
SpotOn is a flexible restaurant and retail POS system that can scale up or down to fit businesses of any size. SpotOn specifically advertises its solution as an enterprise-capable POS for stadiums and arenas that's used by 65% of major league teams (according to SpotOn's website). Some of the stadiums that use SpotOn include Dodger Stadium, Yankee Stadium, Fenway Park, Globe Life Field, Lincoln Financial Field, and many others.
SpotOn seems mainly geared toward high-volume concessions, with cloud mobile ordering solutions that make it perfect for a modern professional sports stadium or arena that wants to let fans order from their seats. Stadiums also use SpotOn for their onsite restaurants and bars. You can contact SpotOn for a consultation to learn more about what this popular POS for stadium and arena venues is capable of.
Which Stadium POS System Is Right For Your Business?
Some stadium POS systems are best for concessions or gift shop sales, while others are ideal for selling tickets online or in-person. Other systems are powerful enough to handle every stadium POS need. If you need some more suggestions for specific POS needs within your stadium, check out the following:
FAQs: Stadium POS
In Summary: Best Stadium POS Systems