Zoho Invoice Review
This free invoicing software has a generous feature set to meet your small business needs.
Expert Analyst & Reviewer

UPDATED
Advertiser Disclosure: Our unbiased reviews and content are supported in part by
affiliate partnerships
, and we adhere to strict
guidelines
to preserve editorial integrity.
Zoho Invoice
Pros
Easy to use
Excellent mobile apps
Good customer support
Advanced invoicing features
International invoicing
Cons
Limited integrations
No inventory
Zoho Invoice At A Glance
Zoho Invoice is free invoicing software ideal for freelancers and small to mid-sized businesses looking for a no-cost plan with excellent features.
It has 16 professional templates to go along with some basic accounting features as well as the ability to send invoices in multiple languages.
Zoho Invoice features a simple and intuitive interface and an excellent Client Portal that allows you to manage your invoicing and time tracking needs quickly and efficiently.
What Is Zoho Invoice?
Zoho Invoice is a totally free invoicing service with 16 templates to choose from, a beautiful client portal, the option to auto-schedule Zoho invoices, and the ability to send invoices in 14 different languages. Zoho Invoice also offers strong mobile apps, excellent customer service, and a wide array of other helpful business features, such as expense tracking and project management.
The only downside we can nitpick is the small number of integrations and the lack of a true inventory feature. If you need full-fledged accounting software, you may as well buy Zoho Books instead as it has far more features. However, if you're looking for just a free invoicing solution, Zoho Invoice is a great option.
Zoho Invoice Pricing
| Plan | Price | When To Use |
| --- | --- | --- |
| Zoho Invoice Forever Free | Free | If you are a freelancer or small business owner on a budget with invoicing needs. |
You can sign up with Zoho Invoice for free; no contract and no credit card information are required. According to its website, Zoho Invoice claims it has no ads, no contracts, and no hidden fees; its platform is now completely free to better serve freelancers, entrepreneurs, and small business owners.
Free
Zoho Invoice's Free plan is forever free and you get the following:
Create up to 1,000 invoices/year
Easily create estimates
Secure data storage
A self-service portal for clients
Expense tracking
Project management
Time tracking
Reports
Multicurrency support
Multiple invoice languages
Accept a variety of payment methods
Is Zoho Invoice Easy To Use?
Zoho Invoice is well-organized and easy to use. A comprehensive help section can walk you through any issues that might arise, but overall, it's an intuitive interface. Zoho features multiple templates that are easily customizable. Customers can make payments online, and you can set up automated reminders as well.
When you're getting started, populating a customer list is simple, as is importing a previously existing list. The dashboard is functional, and you can assign permissions and create your preferences. There's a decent amount to sort through but, it's pretty easy to navigate through the extensive feature set.
Zoho Invoice Features
| Feature | Availability |
| --- | --- |
| Invoicing | |
| Multilingual Invoicing | |
| Estimates | |
| Client Portal | |
| Contact Management | |
| Expense Tracking | |
| Inventory | |
| Time Tracking | |
| Project Management | |
| Job Costing | |
| Reporting | |
| Mileage Tracking | |
Zoho Invoice offers tons of invoicing features and automations, especially in comparison to other invoicing software. Here are some of the most notable features:
Dashboard: The Zoho Invoice dashboard is made up of charts and graphs that help you keep up with your business's activity. These graphs show Total Receivables, Sales and Expenses, Projects, Top Expenses and Sales, Receipts, and Dues. You can change the color of your dashboard and interface, which is a nice touch.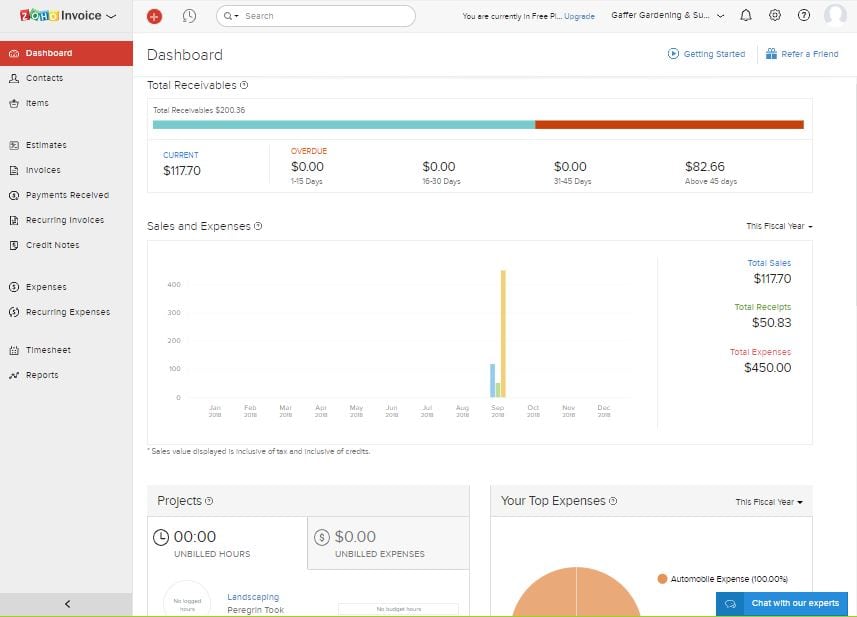 Invoicing: When it comes to invoicing, it doesn't get better than Zoho. The software offers 16 invoice templates that are easy to customize. You can add discounts, shipping charges, attachments, and sales tax. You can also opt to add a salesperson to each invoice as well as custom fields. Zoho Invoice supports invoice reminders, late fees, packing slips, and retainer invoices. Additionally, the software supports recurring invoices and the ability to autoschedule invoices. Zoho Invoice also offers the unique features of invoicing your customers in 14 different languages and watermarking your invoices for added security. Invoices can be sent via email or snail mail.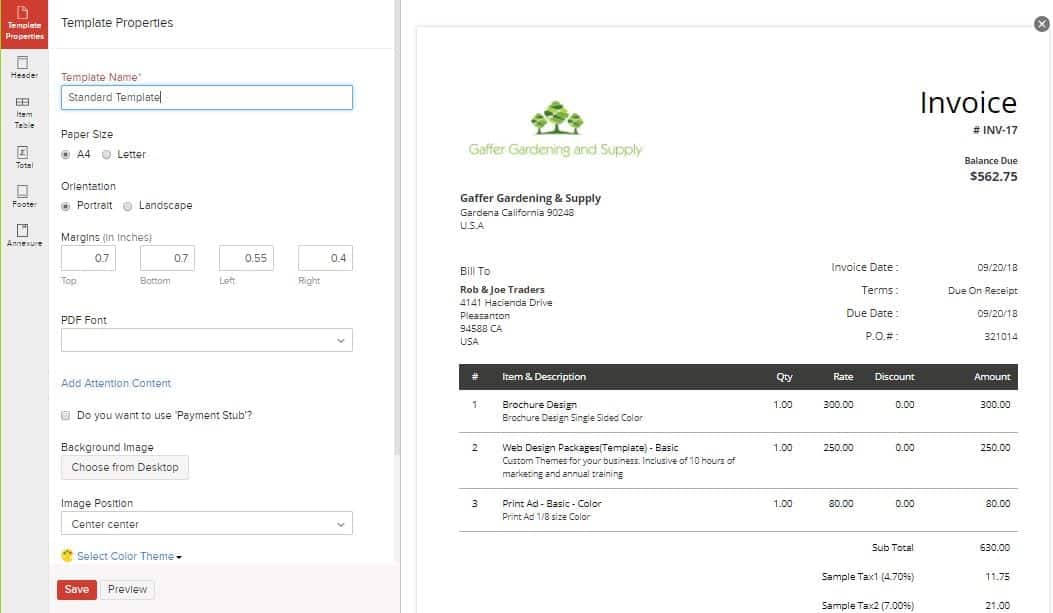 Estimates: There are 15 estimate templates. You can easily duplicate estimates or convert estimates into invoices or projects. One unique touch is the ability to add an expiration date to your estimates.
Client Portal: Zoho Invoice has one of the best client portals out there. Clients can view their home dashboard, estimates, invoices, and projects and make partial or full payments directly through the portal. They can easily request estimate changes as well. You can also choose to let your clients view the billable and unbillable hours attached to their project so far. The best part is that you get real-time notifications about when your invoices and estimates have been viewed and paid.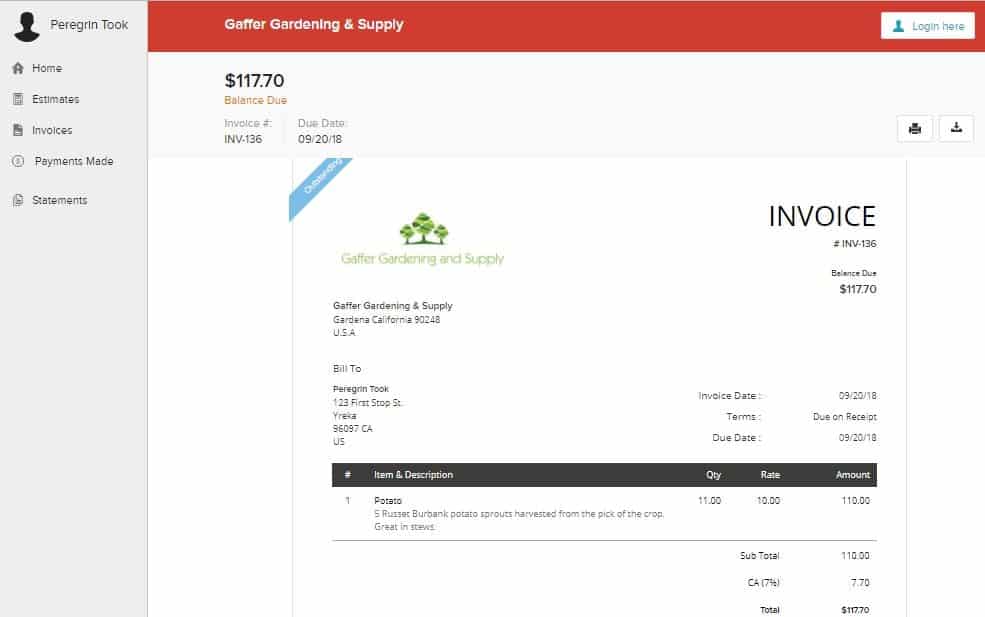 Contact Management: The contact settings are particularly well developed. You can save your client's basic contact information (e.g., name, business address, shipping address, etc.) as well as tax preferences, payment preferences, custom fields, and notes. You can even attach a default currency and language to each client. Each contact is given a dashboard where you can view their information, including any outstanding invoices. Even better, you can request customer reviews and testimonials straight from your clients.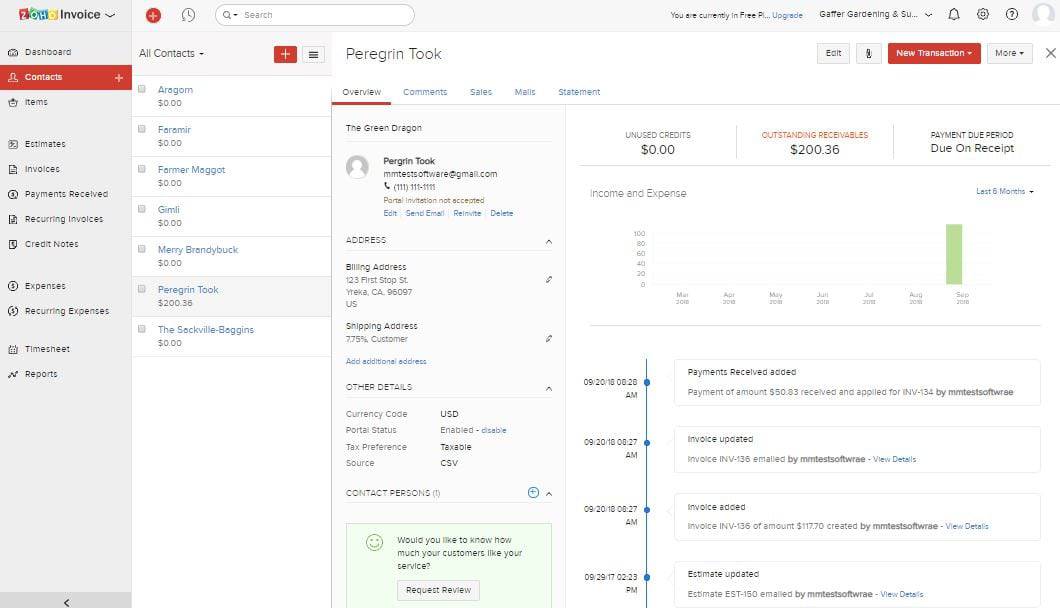 Expense Tracking: You can enter transactions manually (individually or in bulk), import transactions, connect to your bank account, or drag and drop receipt photos. You can create custom expense categories to organize your finances easily, and you can set recurring expenses. Note: Like most software using bank live feeds, Zoho Invoice partners with Yodlee, which may violate some banks' Terms and Conditions. Consult with your bank to see whether live bank feeds are a good choice for you.
Item List: You can manage items in Zoho Invoice, and you can record the name, unit, rate, and description of a particular item. There is no way to track inventory.
Project Management: While you won't find a tab for Projects, you can still create and track projects and tasks. You can add time, expenses, and attachments to projects. You can also create budgets and assign tasks to staff members. Furthermore, you can easily convert projects to invoices. When you click on each new project, you are taken to a project dashboard that includes charts and graphs showing the real-time progress of your project.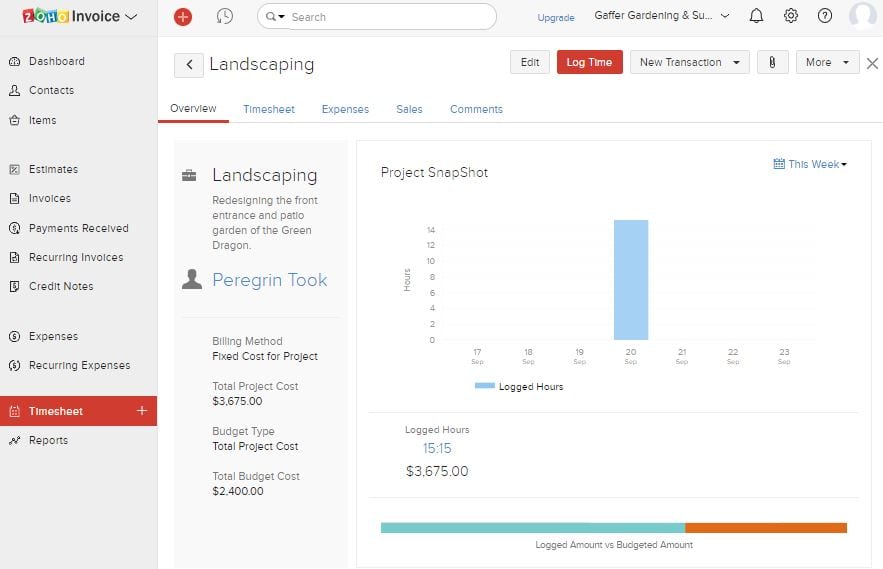 Time Tracking: You and your staff can log billable and unbillable hours manually or with a built-in timer. The downside is that time has to be directly connected to a project, but Zoho Invoice makes it easy to bill the time to customers and create timesheets.
Reports: Zoho Invoice offers 30 reports, which mostly revolve around sales and business activity. As a new addition, you can mark reports as favorites. You can also request that a weekly summary report be sent to your email. If you want more typical accounting reports, such as a Profit & Loss statement, you'll have to upgrade to Zoho Books.
Default Email Messages: Through Zoho Invoice, you can set default emails for ten different types of emails, including invoices, customer statements, payment thank-yous, and more.
Mileage Deductions: You can easily track mileage deductions in Zoho Invoice.
Sales Tax: You can set as many sales taxes (and sales tax exemptions) as needed and even assign a specific tax default to an item or contact. Zoho Invoice also integrates with Avalara, a sales tax solution that automatically calculates sales tax rates based on your customer's location.
Multiple Currencies: Zoho Invoice supports over 170 currencies. You can also send invoices in 14 languages.
Importing & Exporting: Zoho Invoice has extensive importing capabilities, and the importing process is quick and easy. You can import almost anything via .csv or .tsv and can export data via .csv and .xls.
Zoho Invoice Customer Service & Support
| Support Option | Availability |
| --- | --- |
| Phone Support | |
| Email | |
| Support Tickets | |
| Live Chat | |
| Dedicated Support Rep | |
| Knowledgebase | |
| Videos & Tutorials | |
| Company Blog | |
| Social Media | |
Zoho Invoice offers excellent customer support and tons of support resources for its users. Phone wait times are short, and representatives are kind and usually helpful, although sometimes it takes a while for reps to understand what you're asking. In my experience, emails and support forms were responded to within two to three hours. The best part is that almost all of the support sources can be accessed straight from within the software.
Customer support is available 24/5, Monday through Friday. Here's a list of the support options available:
Phone: You can contact Zoho Invoice support via phone. Wait times are generally short, and representatives are helpful.
Email: You can email the Zoho Invoice team for help.
Support Form: You can also submit a support form.
Live Chat: There's a chat feature within Zoho Invoice that you can use to talk directly with Zoho Invoice representatives.
Knowledgebase: Zoho Invoice has an extensive knowledgebase, complete with guides, how-to articles, FAQs, video demos, blog posts, and a community forum. Even better, these resources can be accessed directly from within Zoho Invoice.
YouTube: Zoho has a YouTube channel, although there aren't very many videos related specifically to Zoho Invoice.
Social Media: Zoho can also be found on Twitter, Facebook, and LinkedIn.
Zoho Invoice Integrations
Zoho Invoice doesn't have a huge selection, but the company is adding more options, slowly but surely. Zoho Invoice offers 14 integrations and 10 payment gateway options. The software also integrates directly with other select Zoho products. API is available for developers.
Zoho Invoice Reviews
Negative Zoho Invoice Reviews & Complaints
For the most part, Zoho Invoice is highly regarded by customers and receives strong ratings across the board. Most complaints regarding Zoho Invoice are about minor feature flaws. However, a few recurring issues show up:
Lack Of Integrations: This is the biggest complaint about Zoho Invoice. Although the company has added a few more integrations, this is still a big drawback for many.
Poor Customer Service: Several customers report poor customer service. They complain that response times are slow and that reaching a representative via phone is difficult. A few also mention that there is an occasional language barrier with their customer service representatives. Complaints of this nature have decreased over the last year.
Hard To Navigate: Several users complain that the software is difficult to navigate.
It is worth noting that Zoho does a good job of responding to customer reviews and complaints both quickly and kindly, and representatives do what they can to set things right.
Positive Zoho Invoice Reviews
Zoho Invoice is given predominantly high praise from its users. The software receives 4.6/5 stars on G2 Crowd (based on 156 ratings) and 4.6/5 stars on Capterra (based on 318 ratings). The mobile apps are also well-loved and receive 4.8/5 on Google Play Store (based on nearly 9,000 ratings) and 4.8/5 on iTunes for its mobile apps. The company's website also showcases customer testimonials and case studies. Here are some of the aspects Zoho Invoice users like in particular:
Easy To Use: The biggest praise of Zoho Invoice by far is that it is easy to use and understand. Users enjoy how quick it is to send invoices and the time they save by not having to learn complicated software.
Powerful Mobile Apps: This is one of the most common praises of Zoho Invoice. Users appreciate the full-featured mobile apps and that they can send invoices on the go. Some users especially like that they can run their business from their iPad or Kindle.
Friendly Customer Service: Although some users report poor customer service, others find the customer service to be friendly and helpful.
Good International Options: A few people mention that the international currency and language options help their business.
Zoho Invoice Integrations
In the past, Zoho Invoice had very few integrations. While there still isn't a huge selection, the company is adding more options. Zoho Invoice offers 14 integrations and 10 payment gateway options. The software also integrates directly with other select Zoho products. API is available for developers.
Is Zoho Invoice Secure?
Zoho Invoice uses 256-bit SSL encryption, two-factor authentication, and regular virus detection and prevention scanning. Zoho Invoice regularly backs up data onto multiple servers in undisclosed locations.
Additional physical measures are taken to ensure data security, including 24/7/365 surveillance, video monitoring, bullet-proof walls, and more. Learn more about Zoho's security measures by visiting the company's website.
Zoho Invoice FAQs
The Final Verdict: Is Zoho Invoice Worth It?
| Zoho Invoice Review | |
| --- | --- |
| Business Size | Any small to mid-sized businesses needing specific invoicing help |
| Pricing | Free |
| Choose If You Need | Excellent invoicing and customer service plus the ability to send invoices in multiple languages |
In terms of invoicing, it doesn't get much better than Zoho Invoice. With ample invoice automations, international invoicing, and a great client portal, this software has a lot to offer. Top that with expense tracking, time tracking, project management, and some unique touches, such as requesting customer reviews, all for free, and the deal gets even sweeter. The software and its customer service continue to improve over the years, and slowly but surely, Zoho Invoice is adding much-needed integrations to its limited pool.
The forever-free plan can be a great fit for freelancers and micro-businesses; however, there is a pretty severe customer invoice limit that may make it impractical for most small businesses. As we mentioned before, if you're looking for more advanced accounting features, Zoho Books would be a better fit. Zoho Books is also the better choice if you need advanced features, such as inventory, bill management, and tax support.
If you're set on invoicing software, Zoho Invoice is a great choice. The software could work for both service-based and product-based businesses, and the strong mobile apps are great for business owners that need to work on the go.

---
The Merchant Maverick Seal of Approval 🏆
Zoho Invoice


---



After hours of in-depth research and evaluation, we can confidently recommend this brand to our readers. Get started today and see Zoho Invoice for yourself.
The Merchant Maverick Seal of Approval 🏆
Zoho Invoice


---



After hours of in-depth research and evaluation, we can confidently recommend this brand to our readers. Get started today and see Zoho Invoice for yourself.
To learn more about how we score our reviews, see our
Invoicing Software Rating Criteria
.