Boonie Foods: Bringing An Authentic Taste Of The Phillipines To Chicago's Revival Hall
Merchant Maverick Opportunity Grant Winner Joseph Fontelera's unique take on Filipino-fusion cuisine has drawn people throughout the midwest to Boonie Foods.
Editor in Chief

UPDATED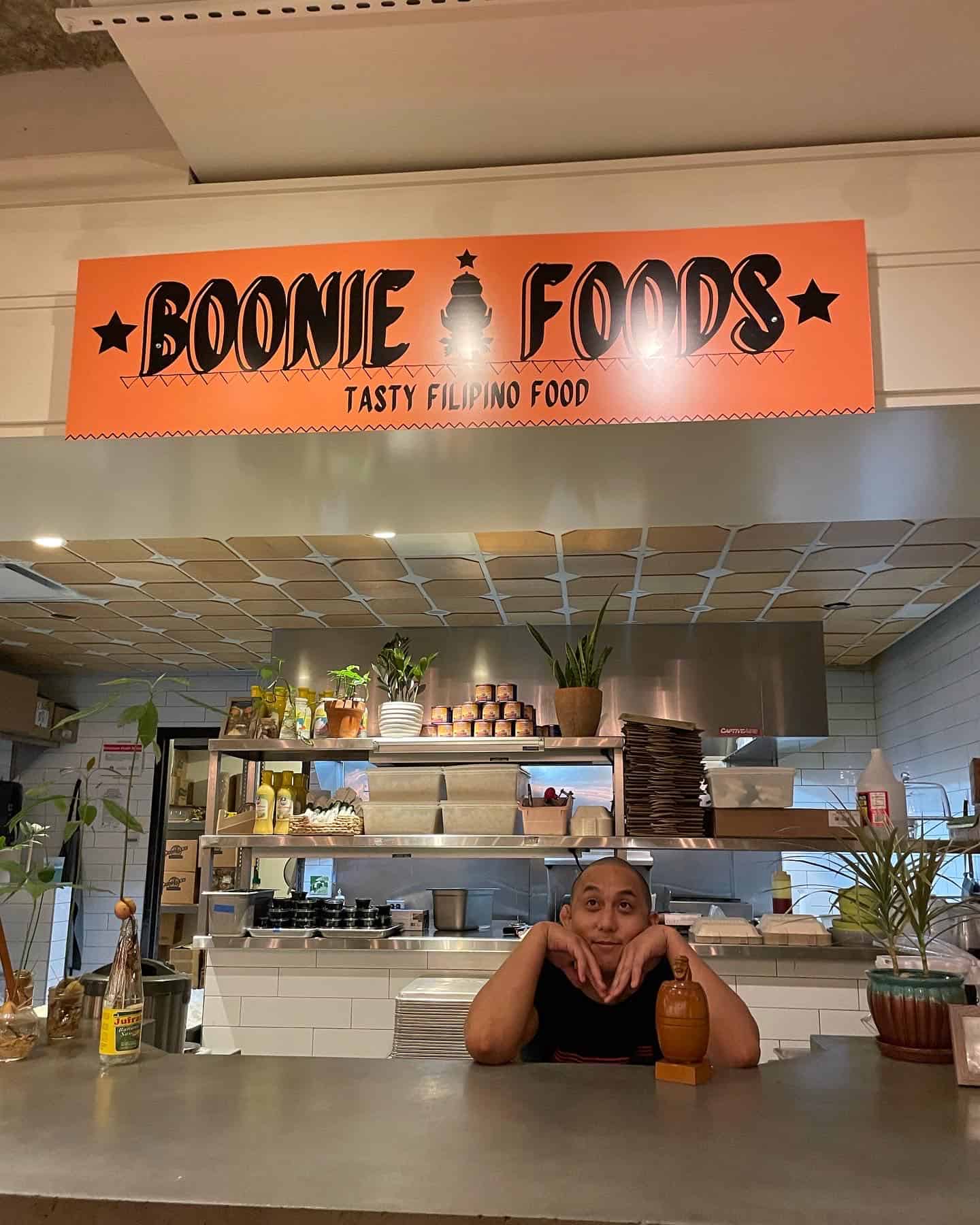 In 2022, the Merchant Maverick Opportunity Grant Program was privileged to give a total of $100K to Americans of Asian and Pacific Island descent, via 10 separate grants of $10K each. One of these grants was awarded to Boonie Foods, Inc., a pandemic-born restaurant located inside Revival Hall in Chicago. Boonie Foods specializes in Filipino-fusion cuisine and has been featured in the Chicago Tribune, Chicago Magazine, and Eater Chicago.
Recently, I sat down with the owner, Michelin Bib Gourmand recipient Chef Joseph Fontelera, to discuss how his business has been faring since he received the grant money. I also wanted to learn more about Boonie Foods and its dual mission to introduce the delicious universe of Filipino cuisine to people who have never experienced those flavors before and to be a taste of home for Filipino expatriates.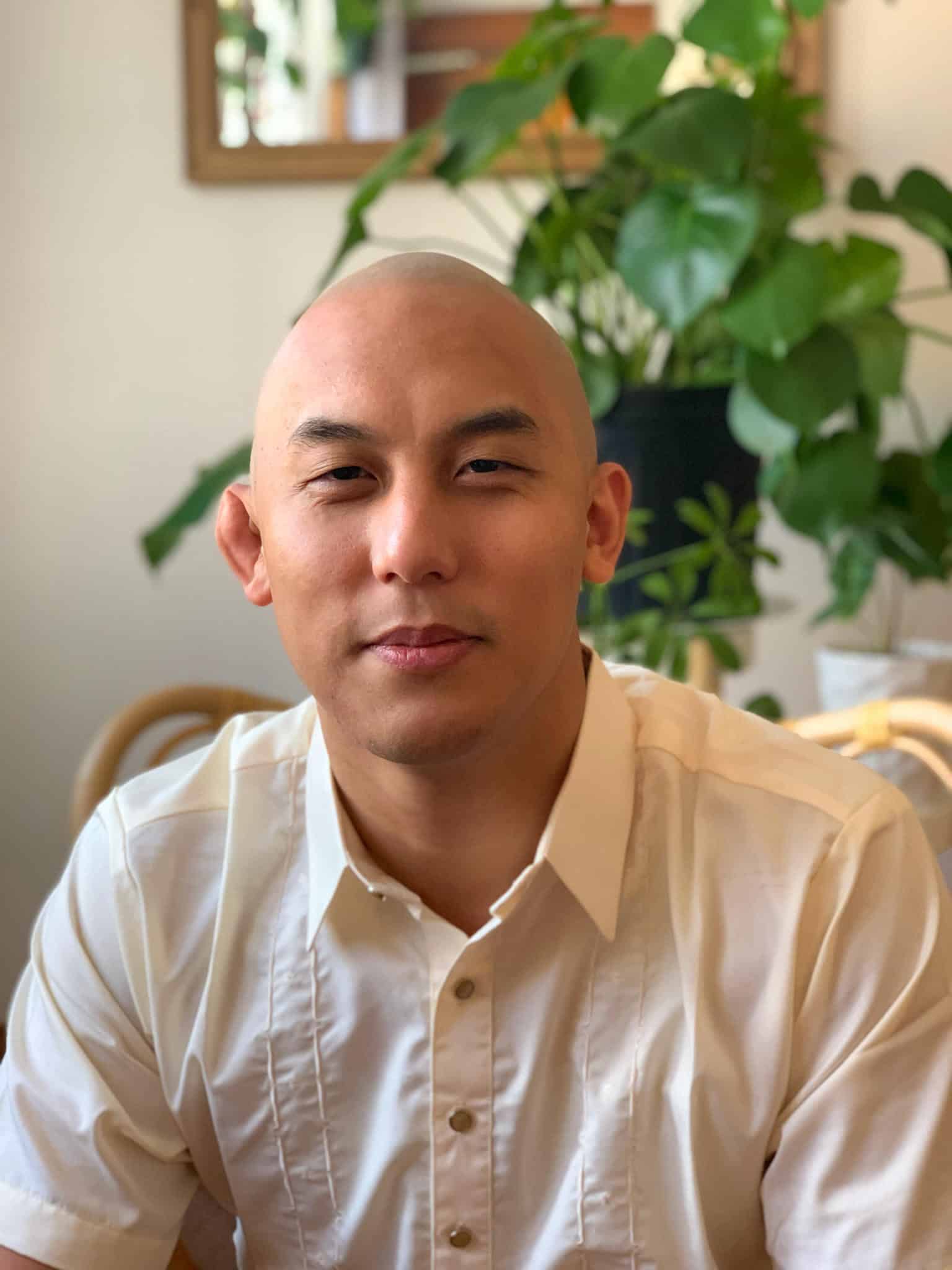 Julie: How have things been going since the grant?
Joseph: Great! Thank you once again. It was a huge help, and I think may have added years to my life from the amount of stress it has reduced from it. Yeah, things are going well. I was able to use some of that to invest in getting cleaned up on the back end and some equipment that we've needed. Also, I was able to help reimburse employees for commuting, making it much more pleasant for them to come to work. Outside of that, it's just been really busy, so things are good. The grant really helped me to till the soil so to speak. I can see the trajectory growing a lot better and a lot more hopeful than it was prior, so thank you.
Julie: That's really nice to hear. For the purposes of this interview, we want to know more about the business. When did you first decide you wanted to own a business and how did you get started with this one?
Joseph: So, I was furloughed for a little bit in 2020, and I had some free time, so I decided to start exploring what it would be like to cook Filipino food at all different levels because it's not something that I've ever done professionally despite having a pretty varied and lengthy career. I felt like this is where I think I want my future to go, at least my near future. Eventually, I came back to work but was still trying to be in touch with that part of me that was awakened during my furlough and started doing pop-ups. Eventually, I came upon the name of Boonie Foods, so I was doing pop-ups as Boonie Foods during the latter half of 2020. And then as 2020 was coming to a close and I was working really really hard at my full-time job, I started thinking I can't be splitting my efforts like this, or I'm just doing a half-hearted job at both. It was at the end of 2020 that I decided to bet on myself, quit my job, and do this, and I've been reaping the dividends ever since.
Julie: That's interesting. What was your full-time job? Were you a chef somewhere else?
Joseph: Yeah, I was a chef of this restaurant called Arami [in Chicago], the Executive Chef of the Hospitality Group. So that was what I was doing from 2015 until 2021.
Julie: So you had no experience cooking Filipino food before that? Did you rely on recipes you had learned growing up or fall back on your professional skill set?
Joseph: It's a little bit of everything. My grandmother had shown me a couple of things, so I stretched my recall of that as best as I could on top of doing a lot of research and reading a lot of books. I'd been to the Philippines a couple of times before, so I relied on my memory to make everything taste right. But in a professional sense, I'd never done Filipino food. I'd done some stuff here and there at home, but it's not something I had devoted much effort and brain space to until 2020.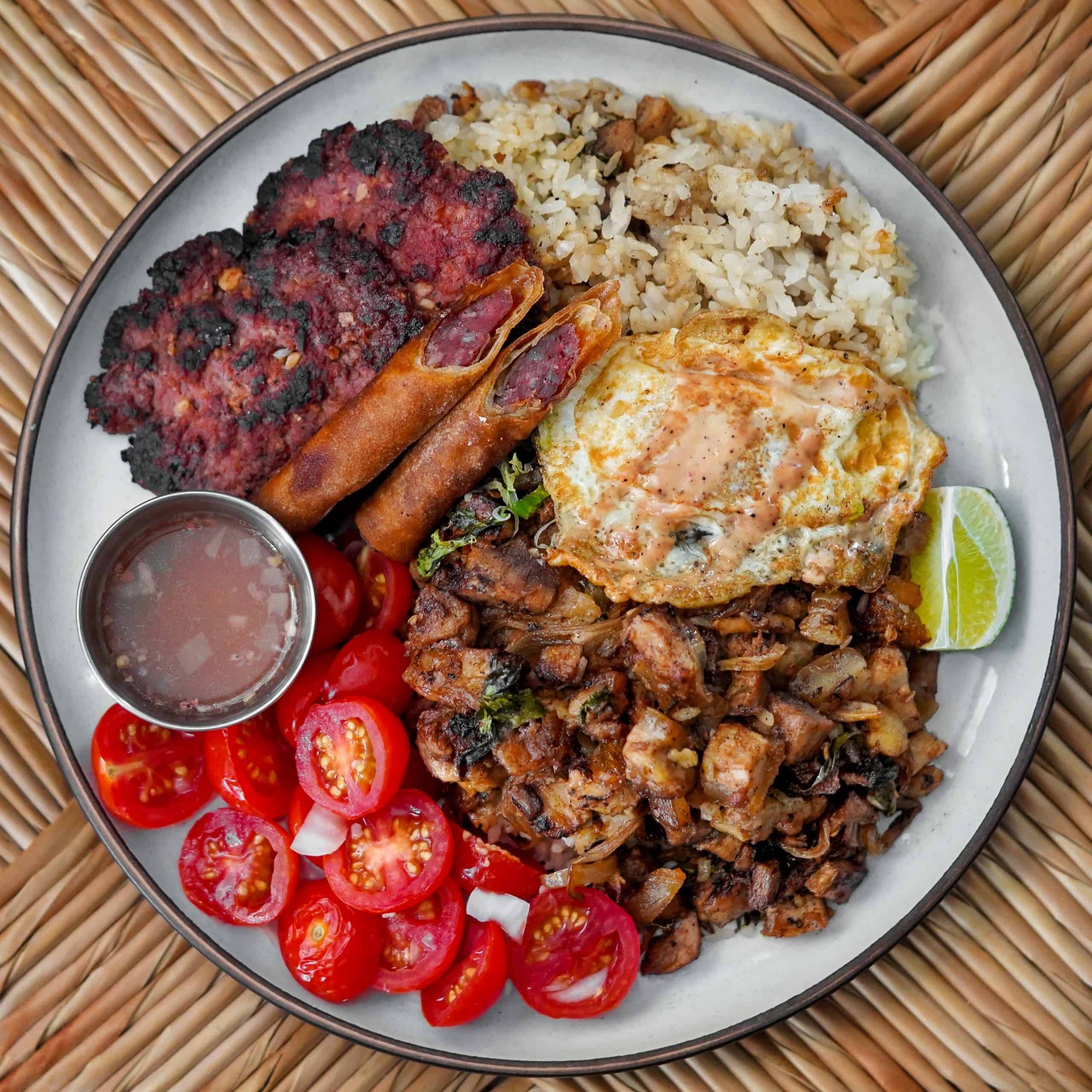 Julie: It's impressive to me that you managed to nail the cuisine well enough for people to have a nostalgic experience when they're eating it and think of it as really authentic Filipino cuisine. I think you have to be a pretty good chef to make that work, after not having been officially trained or growing up there. What were some of the challenges you faced when you were first really starting to get the business up and running?
Joseph: It took a while, aside from the normal business challenges — finding capital and getting your team together and all that stuff, which actually really was second nature to me. At this point now, not counting Boonie Foods, I've opened six or seven concepts already, so it's a challenge, but it's also one I'm familiar with. I think the biggest challenge was refining the concept into where it is now and where I see it going. I didn't want it to be a traditional Filipino restaurant that's very stuck in the past, but I also didn't want to really lean too much into making the cuisine weird. I wanted it to be familiar to my elders, the ones that have passed this down to me, while also being relatable to my peers and the next generation. So that, I think, was actually the most difficult part. That and managing the stress of the first part that I was talking about, getting the capital financing, finding a space, and so on and so forth.
Julie: How did you go about getting capital?
Joseph: I dipped into basically all of my savings. Towards the end of 2020, I knew this is what I wanted to do, so I squirreled away as much of my paychecks as I could. I estimated what it would cost me to open up in a situation like Revival [Revival Food Hall in Chicago] as opposed to a full-on brick-and-mortar. I just kind of set my targets and was really focused on making sure that I hit them.
Julie: Our founder, Amad, did basically the exact same thing. He just bet on himself, the rest went on credit cards, and here we are. Yeah, you can make it work. Can you describe the typical customer that comes to Boonie?
Joseph: The majority would be the office folks that populate the Loop. We're out here near a lot of big corporate offices. But what's really meaningful to me is that I would say a significant percentage of our customers are people that have heard of us and will travel. For the most part, they're Filipinos that come from all around the Midwest. There are the folks that have come for the consulate because they need to fix some paperwork and then find out about us on the internet. And then there's also the people that are semi-local from the Chicagoland area or the surrounding suburbs that have found our buzz on the internet and have come through. Those are our two demographics.
Julie: Do you have a favorite memory of customer interaction?
Joseph: There's a lot, you know. If you read the stuff that I've been posting on all my social media, engaging with the community, and engaging with the audience is very important to me. We have a lot of folks that read our content and can see that as an organization we're easy to approach. They'll sit at our counter, and I like to think, with our consistent regulars, that I have a unique relationship with all of them. It's a nostalgic feeling that people get, and they talk about relatives that have passed that made a dish that's on our menu. It's hard to narrow that question down to one specific thing.
Julie: What are you most proud of with the business?
Joseph: I think I'm most proud of just existing in the capacity that we do. We're not a faceless chain that's there just to sell food. When I think about our most consistent regulars and even folks from all across the United States that have visited us and still keep in contact, it really makes me feel good. The message, the vibe that I'm trying to put out really resonates with people. So that's what I'm most proud of, being kind of a beacon for the community in a town that has a lot of people but not a lot of Filipino restaurants.
Julie: You're right to be proud of that. It is impressive. So what do you think your biggest fear for the business is going forward?
Joseph: I don't know, I guess I don't really think about that. My MO is to be like a rhinoceros or like a train, just keep going. If we hit a snag somewhere, we'll deal with it when we get there.
Julie: I think that's a fair approach. If you have that train approach, obstacles will get knocked down pretty quickly.
Joseph: I think that after having — and with your help definitely — but after having survived the Omicron surge that drained all of our resources…I don't know if this is trauma speaking, but I'm kind of in a place where, okay, if we can survive that on top of the incredibly slow start that we had because of the pandemic without other resources, then I'm not too worried. We'll deal with problems as they happen.
Julie: I think that's fair. If this is a concept where you can survive all that has happened in America over the last two to three years, it seems like you've proved that concept at this point.
Joseph: Thank you, that means a lot.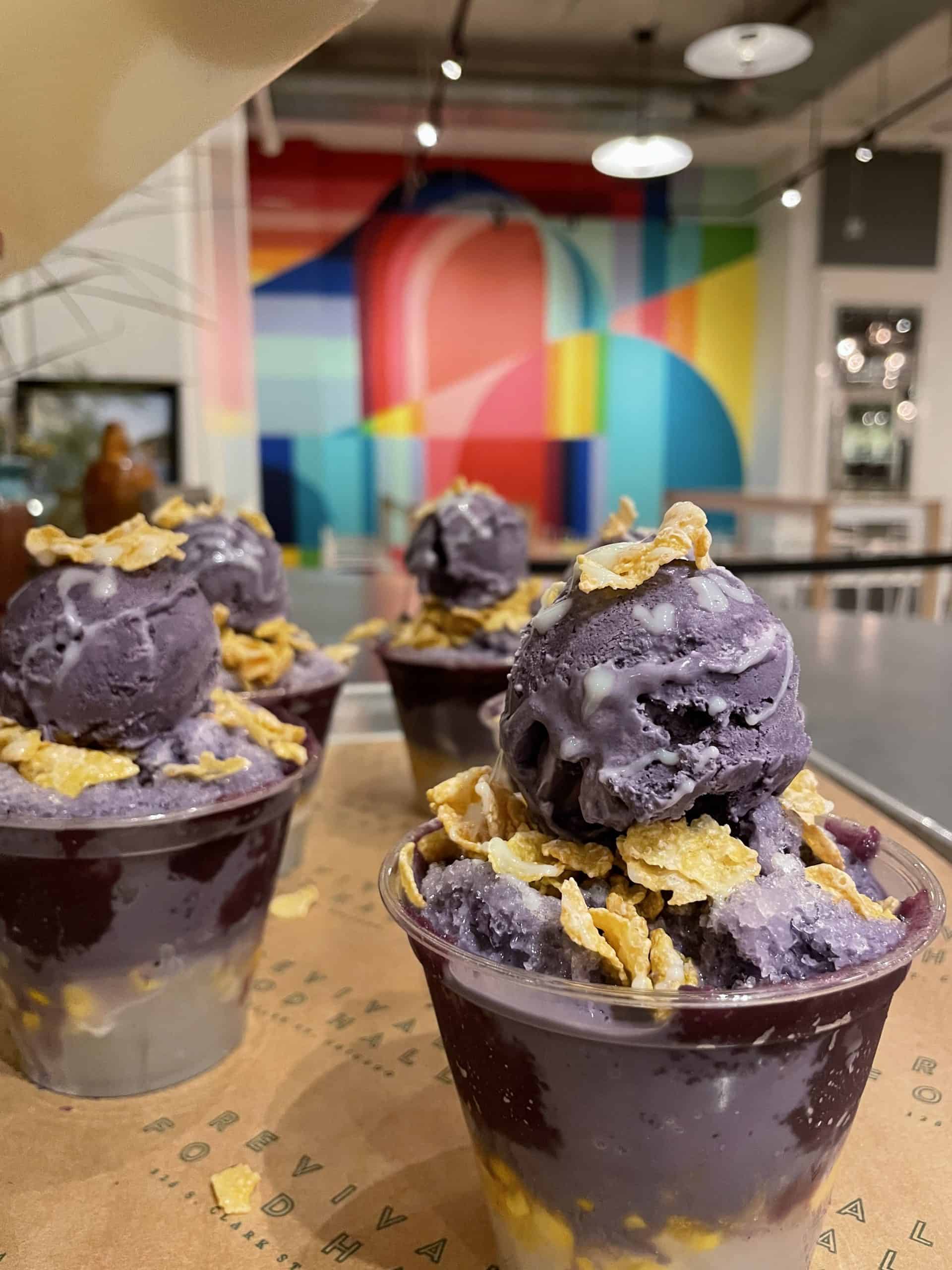 Julie: In what ways would you say you've had to adapt because of the pandemic? I'm guessing that's an unusual question for you since you started during the pandemic, but how does the way you operate Boonie Foods differ from how you operated restaurants before that?
Joseph: With the nature of the food hall, everything is even thinner than it would be. I come from a background of sit-down restaurants or big outlets where, I don't want to say there's a lot of money, but there's a lot more wiggle room to do stuff. At the food hall, every second counts because every second that one thing takes up, that's less time I have to capture the next customer. In terms of adapting, I wouldn't say that it's pandemic-specific, except for the Omicron surge, but every day is just trying to figure out how to make it more efficient without it losing its soul. So in terms of shifting or changing, that's where my mind is at. When Omicron hit, we had to pivot to making take-home-and-cook-it-yourself kits. That was what we did when we first started doing pop-ups in 2020. I was doing a lot of that, so I brought that back. I guess that's kind of the only pandemic-specific answer that I have for it.
Julie: A lot of restaurant owners, but AAPI restaurant owners, in particular, it seems, rely on family and family connections for staffing restaurants or as financial support. How has your family played a role in starting and running Boonie Foods, if at all?
Joseph: Well, I operate with my partner, and she's great. She's our front-of-house extraordinaire. But in terms of my family, they're my number one fans, and I love that. Thankfully, I've not had to ask them for really any financial support, but they come and grab food fairly often so that's always nice.
Julie: Yeah, I think that if they like your cooking then you're doing it right. Is there anything else you'd like to tell us?
Joseph: I'm just really happy and grateful for where we're at and very thankful for all the help that your company was able to provide for us. I'm just kind of enjoying the moment and staying positive.
Julie: Yeah, enjoy it. We're just here to make your business look good!
Joseph: Thank you. I appreciate it, really, from the bottom of my heart. I totally mean it when I say that I feel like years of my life have been returned back to me because I'm not super stressed out all the time.
Julie: That's really good to hear. That makes me feel good. It was a pleasure talking to you, and we'll be in touch soon.
Joseph: Take good care.
Visit Revival Hall in Chicago to taste some of Joseph's celebrated Filipino cuisine in person. You can order spicy coconut milk shrimp or garlic pork sausages online via the Boonie Foods website, or follow the company on Facebook and Instagram.