MOMO noodle's Version Of Bàn Miàn Has Taken The San Francisco Food Truck Scene By Storm
Owner Huijuan Guo's food truck has met huge success in the Bay Area, thanks to her family's secret recipe for Bàn Miàn, a spicy dry stirred noodle dish.
Editor in Chief

UPDATED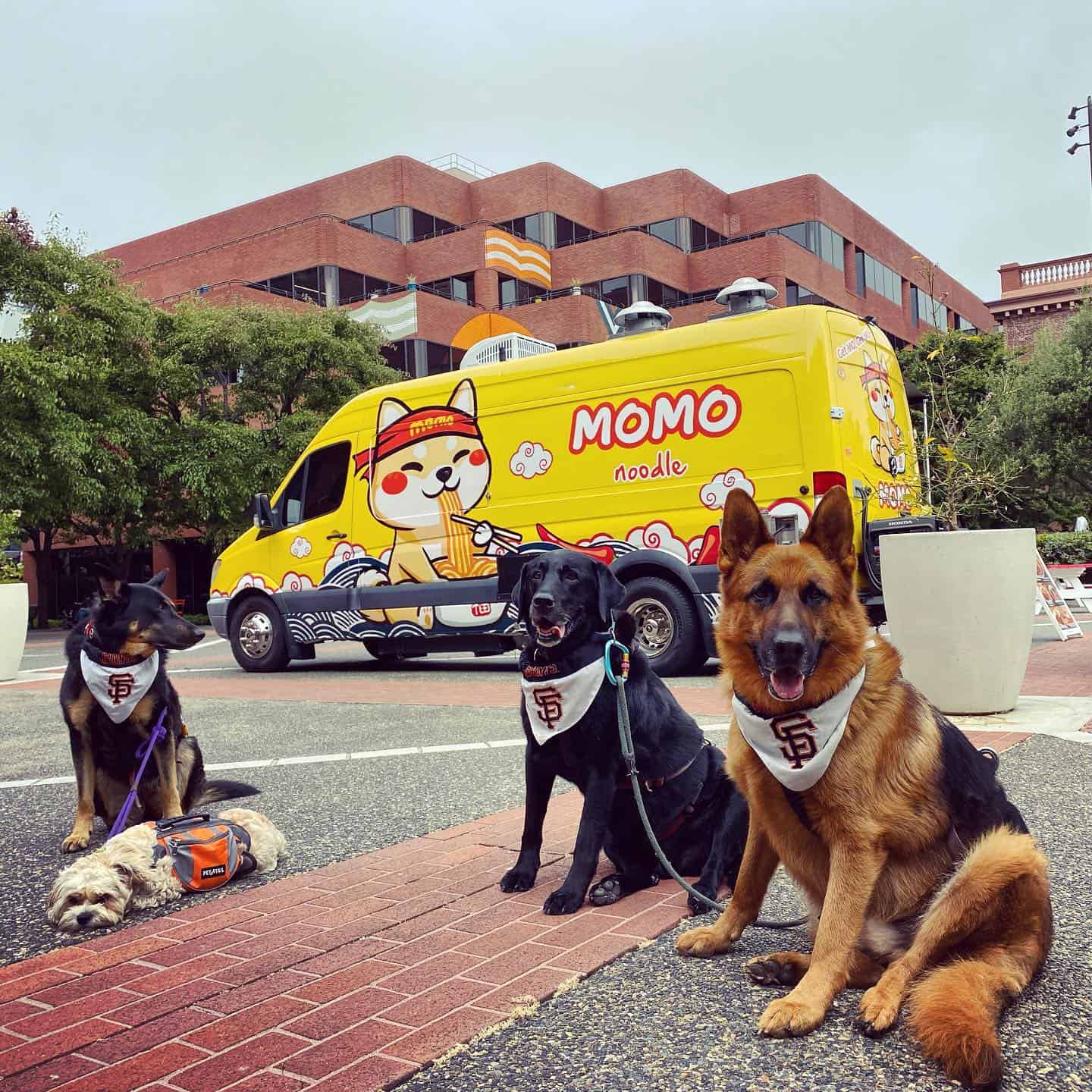 This year, Merchant Maverick's Opportunity Grant Program was open to restaurants owned by members of the AAPI community. In total, we gave 10 grants of $10K each to Americans of Asian and Pacific Island descent, all of whom own restaurants and foodservice businesses.
Huijuan Guo, owner of the MOMO noodle food truck, has been attracting attention with her spicy secret noodle dish in the San Francisco Bay area since 2018. The business was awarded one of the Top 20 Food Trucks by the SF Chronicle in 2019, and although it was briefly shuttered during the pandemic, MOMO noodle is still going strong thanks to its enthusiastic customers and great-tasting food.
Recently, we reached out to Huijuan to see how MOMO noodle has fared since receiving the Opportunity Grant.
MM: In general how have things been going since the grant?
Huijuan: Things are going well with the business entering summer. We added one more employee after the grant and took on more events and catering business. We plan to hire more staff in a month to expand the business as well. The grant helped us with hiring new staff and with general operating expenses (inventory and equipment purchase, rent and utilities etc).
MM: When did you first decide you wanted to own a business and how did you get started with this one?
Huijuan: I started [my] food truck "MOMO noodle" with my partner in 2018, with the hope to share with everyone my family dish that brought a lot of happiness in my childhood. I found there [was] scarcity of authentic Chinese Sichuan-style noodle dishes in San Francisco so I was thinking [about] how to introduce my hometown food culture to the community and have more people taste and enjoy delicious food. I came up with the idea of starting a food truck. One reason is the affordability and easier scalability of food trucks — a good start of the business and my dream. Second is [that] food trucks [are] able to travel to different locations and community areas which can help market our food and brand more easily. It is exactly what I want to do in the first place – to bring my hometown food to everyone to enjoy.
We did [a] great amount of market research, and new business operations and financial studies. We spent months designing the "MOMO noodle" logo and the Shiba Inu dog mascot, and scouting the right truck manufacturer in Los Angeles. With no food truck built-up nor food industry experience before, we traveled around to observe the business, attended workshops, and asked food truck owners for industry knowledge. I was then very lucky to launch the business with my partner and gain a lot of fans, loyal customers, and friends since 2018.
In 2019, MOMO noodle food truck was awarded top 20 food truck by SF chronicle, and that really encouraged us to grow. However, in 2020, the pandemic hit us hard and it delayed our growth plan for almost two years. But we strived hard during [the] pandemic and we survived Covid. Now we are in a confident position to start our growth plan again. In the next 3-5 years, we want to grow our business and bring my family dish to more locations in [the] Bay Area, and hopefully grow to a nationwide brand.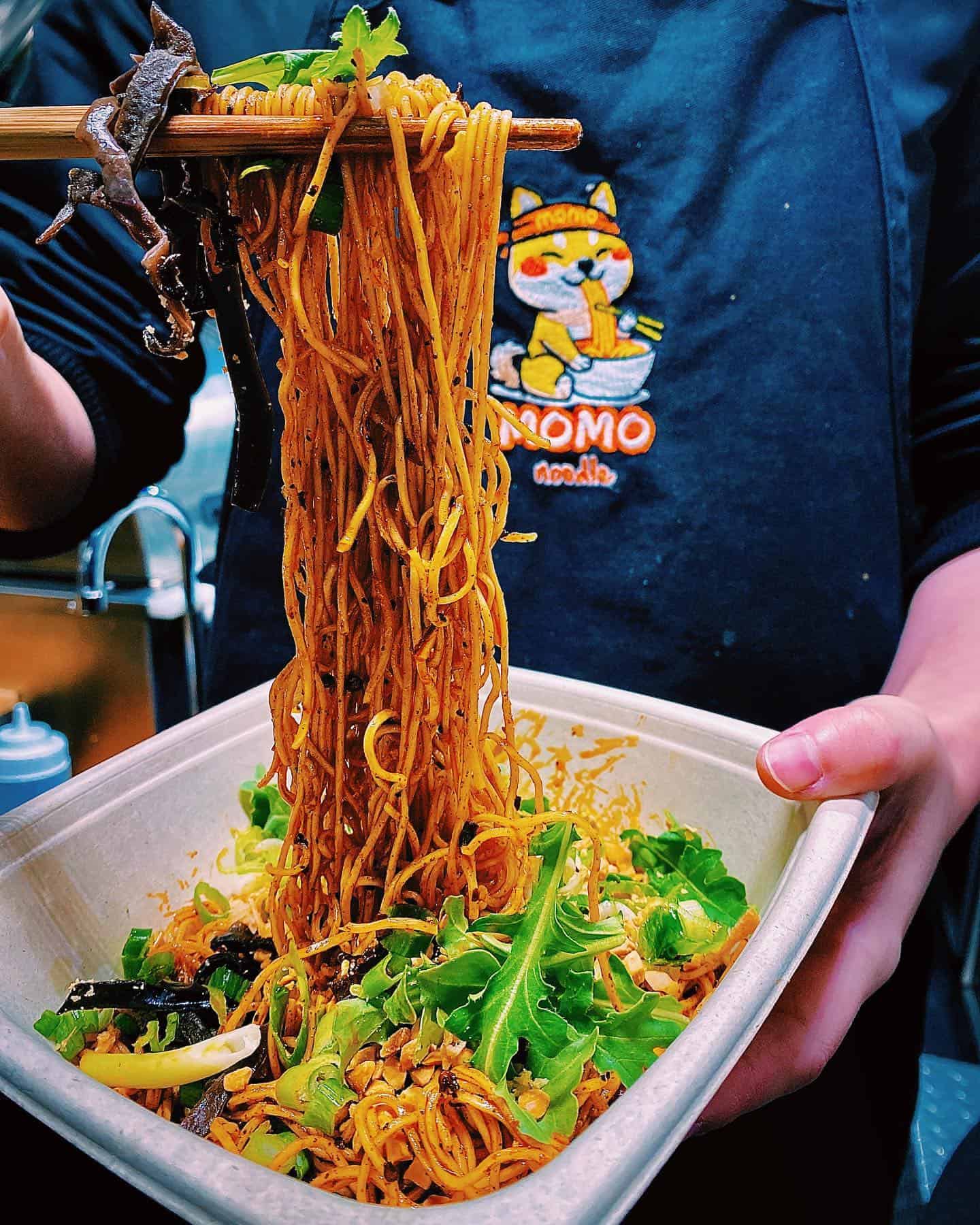 MM: What did you do before starting MOMO noodle?
Huijuan: I was a product manager before starting my own company.
MM: What were some of the challenges you faced when you were first really starting to get the business up and running?
Huijuan: When we first started the business, we had no prior experience in the food and food truck industry. We made many mistakes during the process, but we learned from it and continue to improve our business operations and marketing strategies.
Additionally, [we face] two big challenges this year in 2022. One is to grow [the] business and market our brand. Second is to build our team. To grow [our] business we would need more funding and more people to help with the process, and we are working hard to explore options. In the meantime, we plan to hire more staff. This year is difficult due to workforce shortage and increasing costs.
MM: How did you go about getting capital?
Huijuan: We use our own savings to start the company. We plan to raise more funds with banks in the next year.
MM: Can you describe the typical customer that comes to MOMO noodle?
Huijuan: Our customers include a wide variety of customers from different communities. They are workers, office employees, residents, hospital and medical staff, tourists, and so on. We travel to several locations in [the] SF financial district and family parks and we have 20+ corporate clients. The customers are people who like street food culture. They prefer fast and convenient dining experiences. But at the same time, they crave high-quality, healthy, delicious food.
MM: Do you have a favorite memory of customer interaction?
Huijuan: I have some fun memories of customer interactions. There are customers who keep coming back and we started to have conversations and become friends. Also, we have customers moving to other states [who] message us that they hope we open new stores in their state. We have customers who want to open their [own] food business and asked us for advice.
MM: What are you most proud of with the business?
Huijuan: Sichuan-style spicy dry noodle is an important part of my family and my hometown food culture. Every family has its most proud version of spicy dry noodles. I consider one of our biggest accomplishments is to successfully introduce my favorite type of dish in [the] Bay Area. From the food presentation, the storytelling, and our marketing and branding efforts, we have people wonder about the food, come to know it, taste it, remember it, and finally love it.
We are proud that during this process, we take in customer feedback and learn from [our] mistakes. We keep improving and making progress with the flavors and techniques as well as overall operations, with every effort to build a healthy, viable, and sustainable business.
In addition, we are very proud to be the business that started many "Firsts" in this industry. We invest in people, equipment, and technologies. We built the first food truck with [a] seamless self-order system [that] later connected with our kitchen ticketing system. We always search for the best solutions to solve problems and provide people with the best dining experience. We aim to keep a strong and positive company culture to fuel business growth.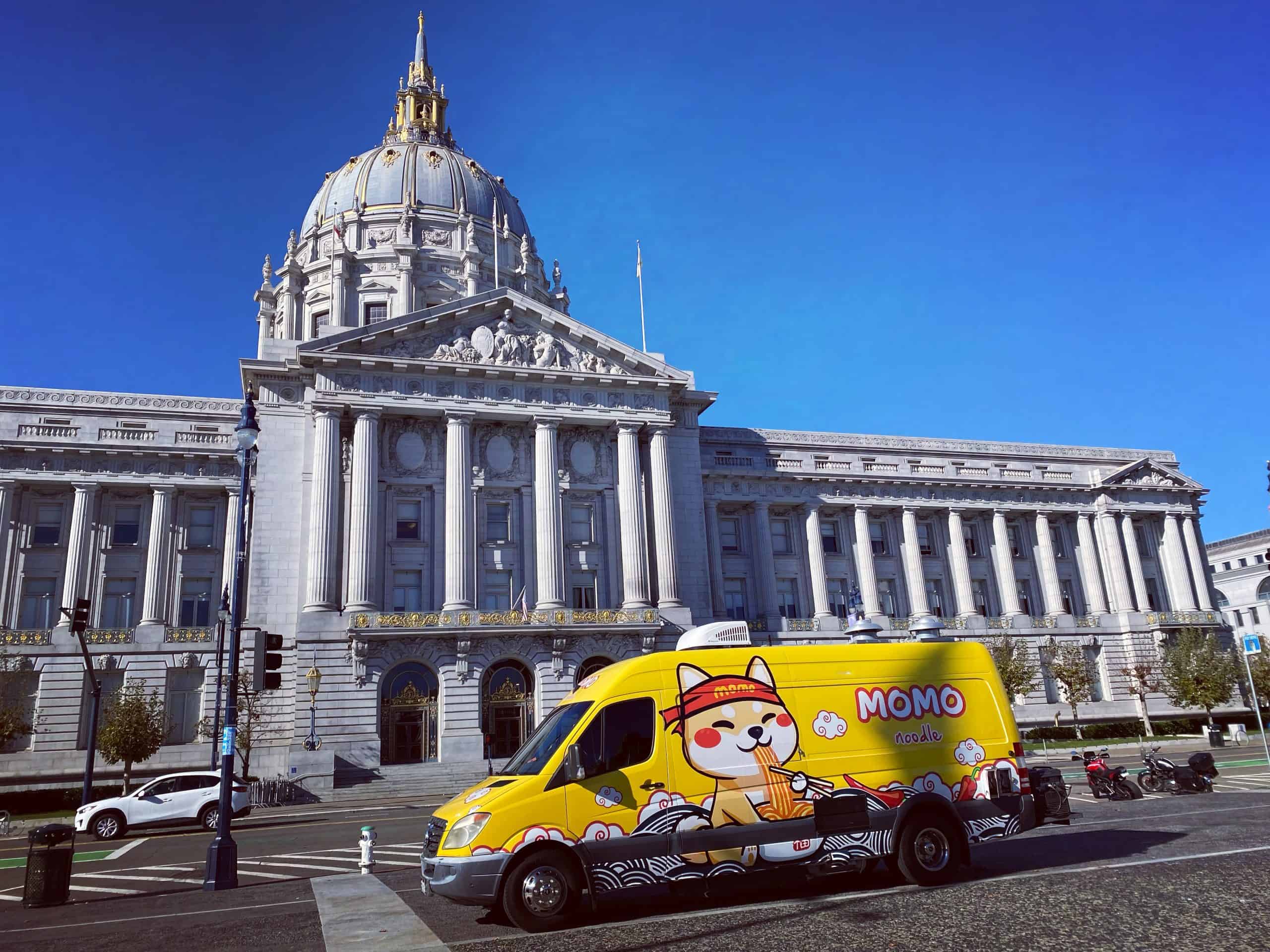 MM: What do you think your biggest fear for the business is going forward?
Huijuan: Hiring and building a team. Maintaining talent. Raising capital.
MM: In what ways would you say you've had to adapt because of the pandemic?
Huijuan: During 2020 to 2021, our business was hit hard by COVID-19, forcing the business to pause and reduce truck operations for many months. We strived to keep the company alive by doing food delivery, food packaging, and catering [a] local "Great Plate" program to provide meals to seniors who are at high-risk.
MM: A lot of restaurant owners, but AAPI restaurant owners, in particular, it seems, rely on family and family connections for staffing restaurants or as financial support. How has your family played a role in starting and running MOMO noodle, if at all?
Huijuan: My parents are very supportive of me pursuing my dreams. They gave me a lot of advice on the recipe, inspired by my family, but we made some changes. They help [with] tasting and help us improve flavors and techniques.
Learn the story behind MOMO noodle's specialty dry stirred noodle dish, Bàn Miàn, on the MOMO noodle website. Follow MOMO on Facebook or Instagram to see where you can find the truck next!