A Community Of Fun: Coin Toss Brewery Serves Up Success Despite COVID-19
Expert Analyst & Reviewer

UPDATED
Coin Toss Brewing, a small craft brewery in Oregon City, Oregon, started with a pretty normal trajectory. The business experienced the usual growing pains any startup encounters, but nothing out of the ordinary. Hard work yielded gradual success, and things were looking great, until wham! The pandemic struck in the Spring of 2020. It's an all-too-familiar story. With as many as a million small businesses now closed nationwide in the ongoing economic crisis wrought by COVID-19, Coin Toss could easily have ended in 2020 with closed doors and disillusioned owners.
Coin Toss is not your average business, though, and their COVID story is different than that of most of their competitors. A lot different. According to owner Tim Hohl, Coin Toss is not just surviving amid the pandemic, it's thriving. There is a trace of "survivor's guilt" visible on Hohl's face as he acknowledges that his business has been saved by a combination of good decision-making, community support, and plain old good luck.
"The past seven months have been the best seven months this company has ever had," he said. "We've developed a whole new customer base that appreciates our community focus. They want to support local, they want to support small."
Although he hasn't been able to welcome customers into his small taproom since March, Hohl had to double his staff hours this past spring to keep up with customers' demands. He's been able to adapt to changing circumstances, thanks to a supportive landlord that allowed him to cut in a window for walkup service and add a patio area with seats. And in October, Hohl cut through a wall to one side of his taproom, doubling his operating space as he prepares to welcome customers back in the future. The expansion adds almost three dozen seats to the 17-seat taproom and includes a small stage area that will make it easy to host events, after COVID restrictions ease.
Becoming A Beer Geek
The expansion is the latest step in Coin Toss's evolution. Hohl started the business at the tail end of a 27-year career in broadcast media and public relations. In fact, that's where he honed his interest in craft brewing. As Hohl covered stories about the rise of craft brewing in Portland and Seattle, he sensed an opposite trajectory in his broadcast career.
After 19 years at a local radio station, Hohl saw the writing on the wall. As community journalism dwindled in the face of media consolidation and industry-wide downsizing, he decided it was time to try something else. But he didn't jump ship at first.
An avid homebrewer, Hohl sensed an opportunity to combine his hobby with business, hoping to find success with a small craft brewery of his own. He looped in another interest, too. He holds a degree in history from Whitman College.
"I was a history geek before I was a beer geek," he said, explaining that the brewery gave him a chance to merge his interests. The brewery's name is a nod to a pivotal event in Oregon history: the famous 1845 coin toss between Asa Lovejoy, from Boston, Mass., and Francis Pettygrove, from Portland, Maine, each of whom wanted to name Oregon's emerging premier city.
Coin Toss Brewery, which Hohl co-owns with his wife Val Prothero, opened in 2015. A small taproom was added in 2017. Between those dates, Hohl was working two jobs. "It took a year to get the brewery up and running," he said. When he was laid off from the radio station in early 2018, he found himself all-in on his own business about six months earlier than he had planned.
Brewing Up A Brand
One of his first smart decisions was to leave the brewing to a professional.
"My staff will tell you, I have a hard time delegating," Hohl said. "On one hand it's your baby, and you tend to take more on than you want."
What about the other hand? "There's a lot more talented people out there than me," he admitted freely. He asked the professional brewer he'd hired to consult during the brewery operation's set up to stay on as the first Coin Toss brewer.
"It made a lot of sense. I can brew; [but] it was always a hobby," Hohl said, adding, "There's a huge learning curve in owning a business."
He decided the business would be better served by keeping his focus on what he knew best: storytelling and building his emerging brand. As a radioman, Hohl considers himself a professional storyteller. He has put his skills to work on social media, telling the Coin Toss story to cultivate a big following.
"I can do that a lot easier than I can brew the beer," he said. "You can't miss. The quality has to be top-notch."
That willingness to let go became a core business strategy as the business continued to grow. Hohl's advice is to do as much as you can and work with all your resources, but be willing to hand things off when a task becomes an obstacle that keeps you from running the business effectively. Today, with business booming, he's preparing to relinquish even more duties, including responsibility for the brewery's busy social media accounts and designing new merchandise like hats and T-shirts.
Pivoting To Home Delivery
In early 2020, the brewery had one full-time employee and four part-time servers. In March, of course, everything changed. No customers have been inside the taproom since then.
Fortunately, Coin Toss wasn't caught completely off guard. About six months before the novel Coronavirus began its spread around the globe, Coin Toss filed paperwork with Oregon's Liquor Control Commission in preparation for making home deliveries of its craft brews.
"We were looking for ways to evolve," Hohl said. He knew the business was rapidly outgrowing its small retail space. Direct sales to consumers in the taproom, combined with keg sales to local pubs and restaurants, was only a foundation for Coin Toss to grow upon. As an entrepreneur, he was already asking "What else can we do?"
The answer he hit on was home delivery.
"That's what saved us," Hohl said. "We knew the shutdown would happen, we just didn't know when. Seeing bars get shut down in Seattle, we knew it was only a matter of time."
Although he'd talked with a local delivery service months before anyone had heard the word COVID — and he knew that home delivery was possible — once again a pivotal business decision came earlier than planned thanks to circumstances beyond Hohl's control. When the shutdown happened, Coin Toss was already primed to make the leap.
Beating The Social Media Drum
"In some miraculous way, we were able to pull the pin on it overnight," Hohl said, recalling how he set up an online store using Square payment processing and POS software. "And we beat the social media drum, hard. We did marketing on community Facebook pages. We built this whole new set of customers, people who'd had our beer once or twice, people who had heard of us, or people who had never heard of us but wanted to support small local businesses."
Coin Toss added curbside pickup when the taproom closed. And people started showing up. As they did so, Coin Toss sales went up too.
"There were days in the height of March, April, where we were seeing double and triple our usual numbers," he said, between curbside pickup and up to 20 home deliveries each day. "Then we started getting repeats," including people purchasing gift cards to support their local craft brewery.
"We've had so much help, from so many people," Hohl said.
That includes a landlord who offered to defer rent on the brewery's five-year lease, which Hohl just renewed. He took advantage of the deferral in April, May, and June. He's also been offered a month-to-month option on the expanded space and an overall rent reduction through the end of the year.
Coin Toss applied for and received a Paycheck Protection Program (PPP) loan, and he was able to restructure his business loan with Citizen's Bank, making it interest-only for six months.
Tossers To The Rescue
Hohl's most important COVID survival tool, though, are the new customers who have emerged as Coin Toss's biggest supporters.
"We've created this community of fun. We're innovative, determined, and optimistic," Hohl said. "Good things happen when you have good people around you."
The community of supporters — known affectionately as Tossers — has done more than buy from Coin Toss. They've literally helped build the business.
"One of our regulars built the awning, another helped me build the fence [around the new outdoor seating area]", Hohl said. "People just want to be a part of it."
Over the summer, Coin Toss stretched its brewer's creativity, releasing a new beer each week, sometimes with fruit grown and donated by customers.
"We've created a lot of buzz," Hohl said, including involving some regular customers in the actual brewing process. "Customers want to come and be involved on brew days. On canning days, we recruit volunteers. Everyone wants to be a part of it."
Many Tossers do more than support a local community business. Thanks to Coin Toss, they're also educating themselves about craft brewing.
"A lot of our customers' palates have evolved," Hohl said. For first-timers, he often recommends starting with something that will seem familiar: the brewery's Half Penny Lager, which Hohl calls his "beginner's beer." Many times, those customers ask to try something new the next time they come by.
"Now they've evolved to be craft beer lovers. We start them with the training wheels and build a flavor profile. They realize there's more to life," Hohl said.
Plums, Dill Pickles & Frosted Flakes
With a core rotation of six to eight regular beers plus seasonal brews or one-offs like Catch A Tiger Double IPA, named in honor of Hohl's beloved Detroit Tigers (and flavored with, if you can believe it, Frosted Flakes cereal), there's always something new to try. The most recent experiment, Big Jack Horner Plum Porter, started with a box of plums from an 80-year-old plum tree belonging to the parents of a Coin Toss server. She brought in a box of the fruit right as Hohl was planning a new beer with head brewer Chip Conlon.
"Chip's creativity and skill in the brewery really makes it happen," Hohl said. Other brews have involved chocolate cupcakes, various fruits, habanero peppers, and even dill pickles. "We have a lot of fun."
The latest brew marked Coin Toss's 185th batch of beer. Each batch represents 10 barrels, or 310 gallons, which equals 20 full-size kegs — or too many pints to think about. Many of those kegs have gone to nearby small businesses, as Coin Toss has also proven to be a master of collaboration.
Partners include Happy Rock, a local coffee shop, and Coasters, a two-restaurant chain nearby. When the Coasters owners approached Hohl and asked about creating a house IPA, the resulting brew became a Coin Toss bestseller and the basis for an annual event. Each batch of Coasters IPA contains 10 ounces of spruce tips, harvested by hand in the Tillamook Forest.
"Every year, we take a big group of regulars out, we all go down this Forest Service road, and we harvest spruce tips," Hohl said. This year's group harvested 108 pounds of spruce tips, which were vacuum packed and frozen till they're needed. The tradition has pointed Coin Toss toward other innovations.
"We're looking into getting into the hard seltzer business," Hohl said. The first Coin Toss seltzer could be released in early 2021. But that's not the only thing in the works.
Beer Makes People Happy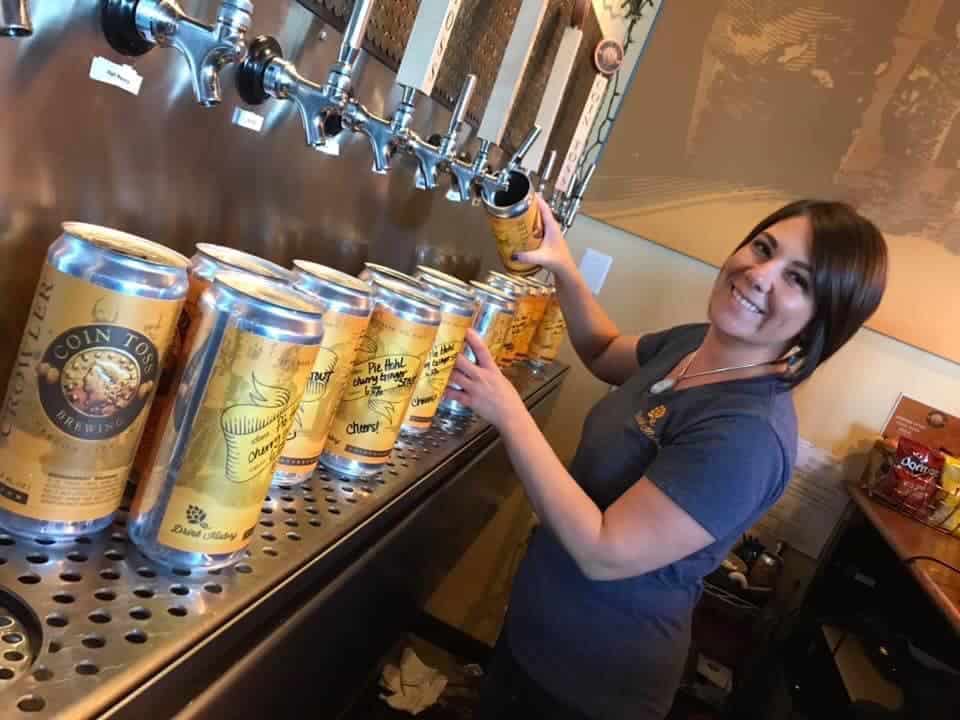 "You always have to say, what's next?" Hohl said. He's working on two ventures: an aggressive delivery campaign around the holidays and expanding into direct shipping throughout Oregon.
And, of course, work continues on the new expanded interior.
"As terrifying as it is to take on more rent," Hohl said, "there's nowhere to go but up. I knew the minute we cut through the wall that there's no going back. I'm humbled and I'm terrified at the same time."
Right now, the biggest threat to Coin Toss's business model is not directly related to COVID. A looming aluminum shortage threatens the delivery operation, which relies on a steady supply of 12-ounce cans. Hohl said that he's now down to his last case of them, and his supplier is telling him not to expect any more until the second quarter of 2021.
Naturally, Hohl has a plan to adapt.
"We think we have a line on 16-ouncers," he said. He's already had the can labels redesigned to fit the bigger cans and plans to sell the larger cans in four-packs, rather than six. Although he has faith in his supplier and his brewery's status as a preferred customer, he still worries.
"It still keeps me up at night," he said. "What do we do if the holidays roll around?"
Aluminum isn't the only worry.
"There's plenty of times I lie awake thinking, 'What have I done?'" he said. He acknowledges a steep and exhausting learning curve and says there are some things he now would do differently. Overall, he feels good at the end of the day.
"I never set out to conquer the world or make the best beer ever," he said. "I saw an opportunity in Oregon City, and I never looked back."
He added, "We're in the business of making people happy and having fun. Beer makes people happy."