MicheleBeyerQuilting Is Piecing Together Small Business Success, Even During COVID-19
Expert Analyst & Reviewer

UPDATED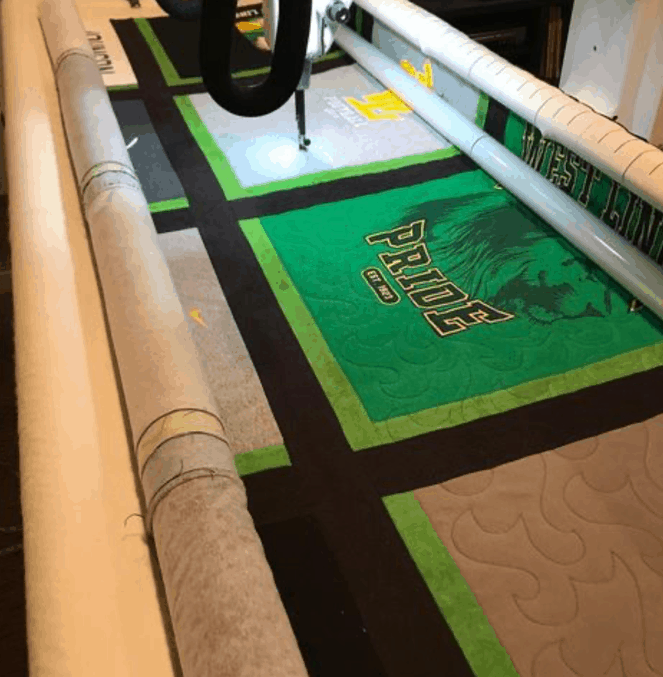 If there's any silver lining to the ongoing pandemic-related closures, it just may be found in the stories of small home-based businesses like that of Michele Beyer. A quilter, she sells her creations on Etsy and creates custom-order pieces. And since she has been essentially housebound since March, she finally has had all the time she needs to focus on her craft.
From Hobby To Business: Quilting Quells Pandemic Isolation
"I've been sewing like crazy," she said. "I've been going through my stash of fabric and making quilts."
An avid sewer from the early age of five, Beyer didn't start quilting until 2001.
"I used to use my grandma's machine, and then I got my own little Singer when I was seven," she said. "I used to make doll clothes, then my own clothes. My grandma worked in a factory, doing piecework for clothing. They'd have pieces of shirts that they'd sew together, and she used to bring me random pieces. I'd make all kinds of weird tops. Then, when my kids were born, I'd make clothes for them, and costumes."
Beyer caught the quilting bug after she and a friend signed up for a local class.
"That was it," she said.
Quilting started as a hobby and she kept at it until she had gifted quilts to all her friends and family and donated more than a few to charities. That's when she realized her hobby could become something more.
"I knew I wanted to sell quilts," she said, "because I wanted to keep making them."
She went online to find the sales opportunities she needed, settling on a premier venue for handmade goods: Etsy.
"I created an Etsy account in 2010 just to see what it was all about," she said. "I knew at that time that I wanted to sew, but obviously quilts take a lot of time, so I wanted to wait until I had a good number to put up."
She got her feet wet selling, not quilts, but fabric on Etsy.
"I would go through my stash of fabric and create bundles of fabric that I wasn't going to use anymore, and I sold those on the shop," she said.
Beyer continued working a part-time job, while quilting on the side. She accepted an increasing number of commissioned quilting work, too, from local contacts and also for the people she meets through Etsy.
"I have this customer who loves fabric," she said. "She loves to pick out collections, but she doesn't quilt. So she picks out the fabric and sends it to me, and I make the quilts."
She also makes a lot of keepsake quilts, often using collections of outgrown t-shirts to create unique memorabilia.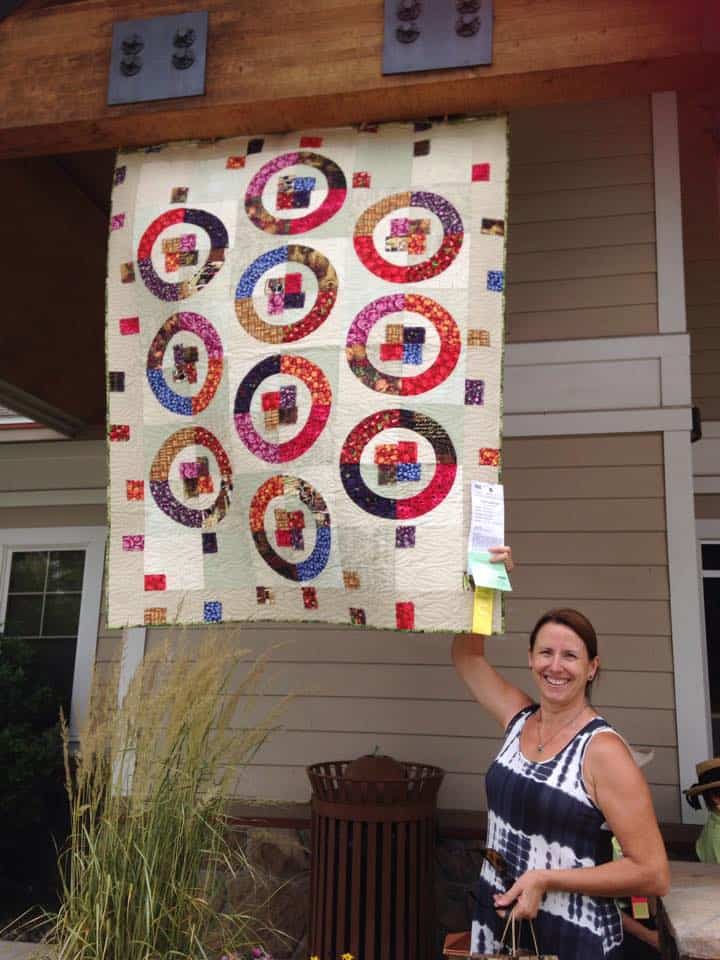 "Early on [in the pandemic], all the moms were going through their kids' stuff, digging out t-shirts," she said. "I've done quite a few t-shirt quilts."
Her childhood Singer long outgrown, Beyer's top tool of the trade these days is a huge long-arm sewing machine that she uses to apply the quilting stitches to finish off a piece. Increasingly, she finds that other quilters are hiring her to use her machine to finish off their quilts for them. Her customers cut and piece together their quilt pieces, then let Beyer and her big machine assemble the quilt into its final form.
"It's word of mouth," she said. "I don't advertise. The only marketing I do is on Etsy because there are a million options there for quilters."
Although she is satisfied with her experience as an Etsy seller and recommends the site to other craft people looking for a way to reach an audience, Beyer acknowledges that Etsy has grown and changed over the past decade — not always to the sellers' advantage.
"It's really crowded," she says. "What's really hard is that people who aren't selling quilts use all these tags for their products, so someone who only sells fabric will use 'quilt' as a tag. If you're really looking for a quilt, you can click various things to narrow your search, but you're still getting a lot of things like people who crochet blankets. It gets hard to be noticed."
Attracting customers in such a crowded marketplace can be a challenge.
"Advertising is really good, but there's a lot of people buying ad space," she said.
In addition to showing off her quilts on her social media accounts, including Facebook, Pinterest, and Instagram, she is paying for marketing only on Etsy.
"You can set your budget anywhere from a dollar a day and up," she said. "You used to be able to advertise just on Etsy or go specifically to Google. They changed that recently, so they're basically giving more exposure to the sellers who buy ads."
The money she spends on advertising is paying off.
"You only get charged if someone clicks on your ad. From what I see on my stats, whenever I get an order, it's coming from an ad," she said.
Being A Little Fish In A Big Pond
Although her five-star rated Etsy shop features nothing but rave reviews on her more than 200 sales, MicheleBeyerQuilting has never been a featured Etsy seller.
"I'm not big enough for that," she said. "I'm just a little guy."
As a "little guy," Beyer appreciates having Etsy take care of a lot of the details of running a small eCommerce shop. She lets Etsy figure out the best way to ship out items, for example. "You just make sure your weights and your sizes are correct, and you buy your postage," she said. "It's cheaper than going to the post office, the rates are lower even than you can get online. If you're shipping overseas, Etsy does all the customs paperwork. You just print your shipping label."
"Etsy is just easy," she said. "Etsy takes care of everything. When someone buys from my shop, Etsy charges them their sales tax, which goes into my account, but Etsy takes it right back out because they manage all the tax filings."
Although she has occasionally considered switching to a different platform, she hasn't been too impressed by the competition.
"I've looked at Amazon, but they have too many fees," she said. "I just don't charge enough to pay more, to do more advertising. I certainly would like to sell more. You just have to really work at it and keep putting your name out there. It's hard, there's millions of sellers."
Some of those sellers, she's sure, are breaking Etsy's number one rule: Everything sold on the site must be vintage or handmade, with very few exceptions.
"There's other people, where you look at the item and you can tell it was made in China. Etsy monitors things, and other Etsy shops can call people out," she said. "I notice sometimes when I go on and search my tags to see what comes up, sometimes some blanket or comforter comes up that doesn't really look like someone made them. It's just annoying."
Running A Feel-Good Business
Still, the success of her online store and the joy she still finds in what started as a hobby continue to outweigh the petty annoyances.
"I pretty much support my habit," she said. "My income gets close to netting out. Sometimes I'll buy a new machine or a table, things like that. It mostly supports my habit and pays for me to go to quilting shows. There's usually a little extra to play with."
There's been a lot less playing in her life since COVID-related closures have changed her life plans. Her last child graduated and left the house, and Beyer and her husband had big plans that have had to be shelved, for now.
"I love doing it, but I need a break sometimes," she said. "It's been a challenge like most people have. In our situation, we both work from home, but knowing that we're not able to travel is really hard. That was the plan, we were going to travel, even just pick up, get in the car, and drive somewhere. We can't take that break. Our break is Netflix."
She's used some of her newly abundant work time to get comfortable with shopping for fabric online.
"It's weird to order fabric online because you can't touch it," she said. "Sometimes it's really stiff or really thin. I've gotten more familiar with manufacturers that I like, that have good quality."
Feeling comfortable ordering online has allowed her to consider reviving an old bestseller, her guestbook quilt. She stopped making them when her favorite local fabric store closed, and she was no longer able to find the muted colors she needed.
"I used to make guestbook quilts, mostly for weddings," she said. "They're basically squares of beige or white, really low, light-toned fabrics, so they can be written on. Instead of having a paper guestbook, it's a quilt that people can write on. I stopped making them; it wasn't as easy to find the fabrics anymore, because with smaller shops you can only get so many colors. But through this pandemic, I've gotten more familiar with some shops online and have been able to create a little library of fabric swatches. So I am thinking I might start making them again."
In the meantime, she'll keep sewing and keep selling. Though she's not getting rich, she likes the work and the favorable reception her quilts get makes it all worthwhile. In fact, she's had 100% satisfaction from her Etsy customers, with not a single complaint or negative review in 10 years.
"It's really nice to get compliments," she said. "People message about my quilts and that feels really good. I love what I do. I'm addicted. It's a feel-good business."