Hot Peppers, Ginger, & Onions: POKS Spices Helps Put The West African Holy Trinity Into American Kitchens
Editor in Chief

UPDATED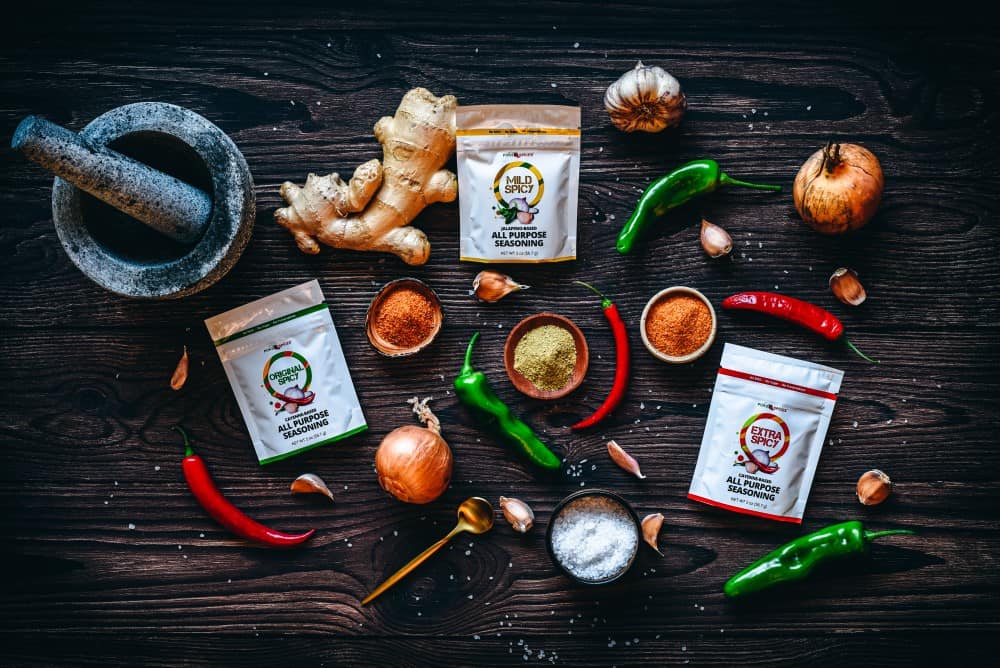 Merchant Maverick Opportunity Grant winner Abena Foli started her spice company POKS after unexpected success at a corporate company's holiday White Elephant exchange party.
The gift recipient was a fan and the rest is history. Combining her love of science and her passion for West African food, Abena is the total package — a food scientist focused on that perfect flavor profile and a sharp businesswoman armed with drive, perseverance, and a knack for research. Abena used her corporate know-how and training to bring her father's Ghanaian recipes to American consumers, and she knows that grant money and funding will help her push her company to scale.
Meet Grant Recipient Abena Foli, Owner Of POKS Spices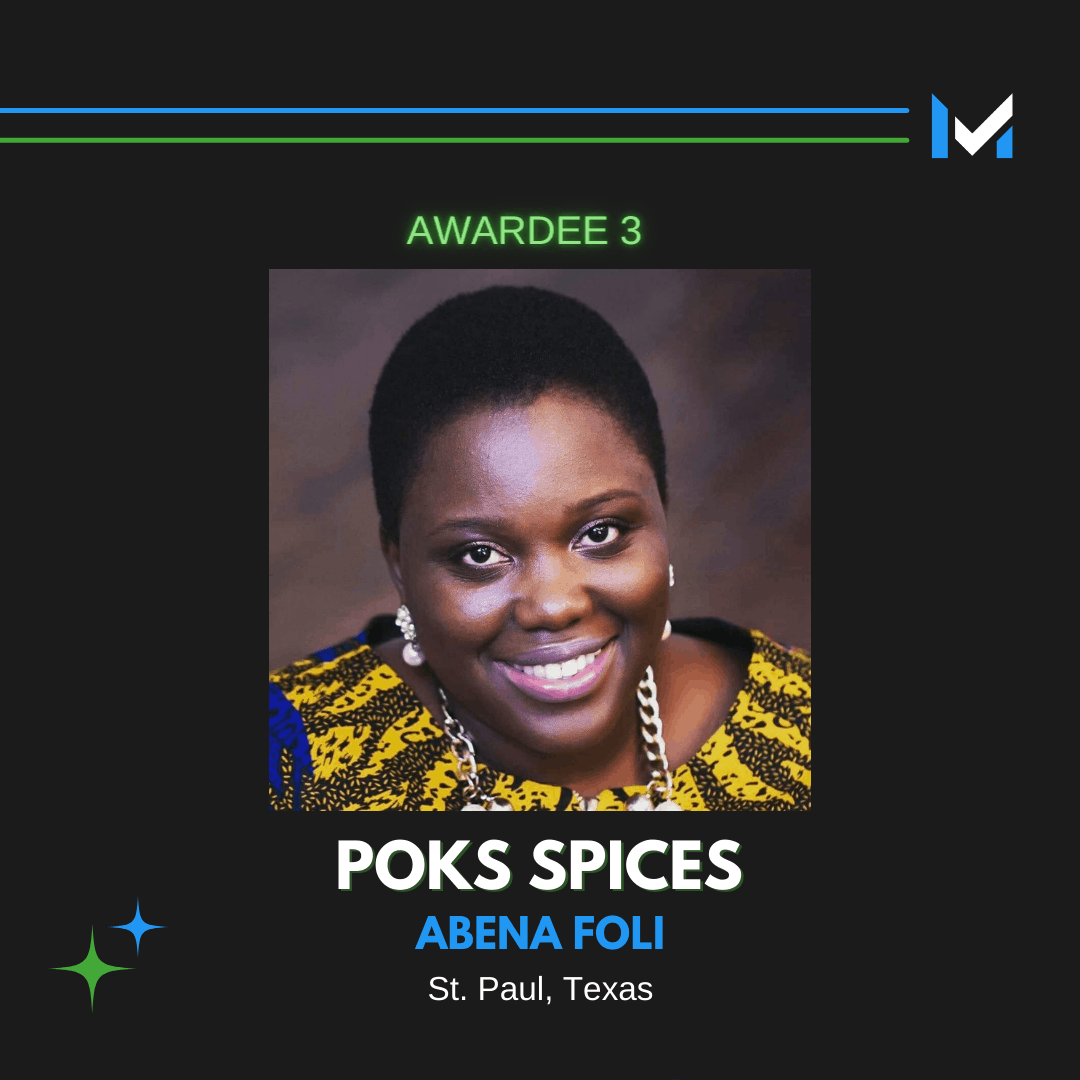 Hello! Thanks for speaking with us today. How did you end up where you are? Did you always know you wanted to own a business?
Yes! It's so funny…ever since high school, every single essay or college application essay that asked what my five-year plan was after school, I wrote that I wanted to own a food company that will process Ghanaian food to enhance the convenience of our food because it takes a while to cook. My heart wanted to own a food company, but in my mind, I was going to do a 20-year stint in a corporate setting and then I would found a company. I didn't realize it would be this soon in my life.
And why food?
I come from a foodie family! My dad is a farmer. Growing up, he did vegetable farming and poultry. I've always been surrounded by food. My aunties owned restaurants, my late grandma loved to cook, my dad taught me how to cook. Food has always been a part of my life…whether it was going to my father's farm to see how he grew the vegetables or spending holidays on the farm. You spent holidays on the farm, everyone had to pay their tuition. Being on his farm — and I love to eat, I love to cook — that is how food became part of my passions.
What is it you want people to know about West African food and the spices that you make? I imagine most Americans don't know much about this region and its culinary offerings.
When I came to college [in the United States] in Massachusetts in the middle of nowhere, there were a lot of stereotypes, and I grew passionate about trying to educate people about our culture. And one of the things I noticed was an equalizer was food. When people try your food, they are more open to learning about your culture. So maybe people had tried Caribbean food or Indian food and didn't realize how similar West African foods are. I realized everyone has spices in their cabinet…and some people may not be willing to go try a new restaurant, but they are willing to try a spice. So, I thought an easy vehicle into West African foods is the spices.
When people try your food, they are more open to learning about your culture.
The iconic spices I use are the Holy Trinity: Hot peppers, ginger, and onions. Every savory dish in WA uses that base; the ratio will differ from home to home — people have different heat tolerances — but those three are found in every dish. So, I thought, hey, why not introduce that to the US market and use that to expose palates to what those flavors are like, and also to show that the flavor profiles are similar to other ethnic foods they like.
What's your process for creating the recipes?
The recipes are the blends my dad taught me. My dad taught me how to cook.
My late uncle lived in Germany and every Christmas he would come back and visit, and my dad was in charge of preparing the meats, and I was the sous chef who would blend all the spices and the herbs. The holy trinity is just the base and you can add different herbs based on the meal application — so if you're making chicken, you add clove basil to enhance the chicken notes, if you're making lamb, you add rosemary. That's what my dad taught me…and then I used my corporate knowledge to fine-tune them and make the profiles more rounded for the American consumer.
We've seen that on your social media, not only are you selling spices, but you are really demonstrating how to use them. Do you have a process for figuring out what the American palate is and adapting recipes for that audience?
This is one of the reasons I'm so excited about receiving the MM Opportunity Grant because I am limited in my knowledge of American cuisine. Even when I was at college, cooking Ghanaian food was a comfort for me, so I put myself at a disservice by not cooking American food. It's been a challenge for me and I've had to get recipes from friends, and now that my son was born here, I'm trying to teach him…as I'm doing that, I'm learning how to incorporate the spices. So, there is one recipe I recently came up with. It's a spicy honey chicken, where you take the honey and add the spices, use it as a glaze to top-off your chicken….because I've learned Americans like sweet and spicy.
Oh yes, you have us salivating over here! I think you've figured Americans out. That sounds amazing. We will definitely be trying that.
I'm learning! I mean, I don't eat cheese because I'm lactose intolerant, so I haven't gone there yet, but eventually, I'll do some recipes with alfredo, how you can add a little bit of the spice in there with your alfredo sauce just to round it off and to cut some of the fat, as well. Those are things I can outsource to a chef to do the recipe testing, and that costs money. I haven't been able to do recipe testing for over three months.
When you were dreaming of your food business, did the idea of an online business ever enter your head?
Quite honestly, no. When I first started out, I was just trying to do something to help support my culture. I am very passionate about my West African culture; I stayed in Ghana until I was 18, and so spent half my life there and half my life here, and I know there are a lot of stereotypes about West Africa. But I didn't realize that everything was going to happen now. I thought this opportunity would happen in 20 years. To be selling online and at farmer's markets and trade shows, no, that was not part of my ten-year plan.
When I first started out, I was just trying to do something to help support my culture. I am very passionate about my West African culture.
I'm really hard on myself, and I feel like we should have come a long way, yes, but I'm also blown away by how far we've come, too.
Okay, so when did you sell your first spice mix? When did that leap happen?
That was in December 2015. The company I worked for at the time had a white elephant gift exchange, and you were supposed to make something? That was my first time hearing about white elephants. But you had to make something, and I was wracking my brain because I'm not a design or an arts person, I'm a science person, and I didn't know what I could do that would be an appropriate gift. My husband suggested I blend some spices, because I'm good at that, and give those. So, there was a gentleman on my team who won the gift, and he gave me some feedback and said he used them on barbeque and it was really good! So, I said to my husband, hey, I use this to cook all the time…what if we start selling it?
I sent out some samples to the West African community in January 2016 and then I sent out surveys on taste, packaging, price point, all those things. My packaging at that time sucked big time. My own father gave me a score of one out of five.
Ouch!
No, looking back I'm glad he did that! That made me sit up and say, okay, you have to be serious about this. Not only are these the recipes he taught me, so I'm representing him, but I'm also representing our culture. Sometimes you think, I should just get something out there, but no — I need to put my best foot forward. So, his one out of five review … I mean, I didn't talk to him for two days …
But I did all that to get feedback, and then I launched in July 2016 online with a co-packer. Between January and July, I was working on packaging, labels, co-packing. My brother-in-law is my graphic designer and I worked with him to design the concept, and then I finished the formulas for the blends and getting all the proper documentation, setting up the website, getting our shipping supplies ready to go…and then we officially launched that summer.
How did you know what to do? How did you know where to get a distributor and how did you know to give surveys? Where did you get that information?
I think one of the things that made us successful is my corporate and my food science background. I have learned a lot on the job that was applicable for what I want to do for my business.
My background is in regulatory, so labels — knowing what goes on a label — I knew how to get that done. I didn't have to spend $1000 for someone to do that for me. But other things? I've had to learn along the way. Taxes, setting up the corp, doing all those things has been a lot of reading. And information is all over the place. There really isn't a one-stop-shop to say, hey this is how you open your business, and then each state is different, too. Texas has its own nuances. There was a lot of online research in addition to what I knew, and then some of it I had to discover as I went and found out new information.
…my advice is to get a mentor. Let them help you.
At this point, in this season of where I'm at, if someone is starting a business, my advice is to get a mentor. Let them help you. It can be difficult, especially if they are competing in the same space — there are not a lot of us selling West African spices, so people want to hold on to information to their chest. But this year, in particular, I've opened myself to help small businesses. It's difficult to find all that information in one place and having a mentor will help.
Where do you see POKS going? What's your dream?
My overall dream is to get purchased by a major spice company. If I think about scale, I want West African spices in every American home. That requires scale and capital and funding. So, at that level, the dream is for someone like Nestle or McCormicks to buy us — a business that already has the supply chain network for spices, the capabilities, and the lines — and they keep my branding and my spice profile the way it is. That's my dream. Then I can spend time marketing the product or showing how to cook the food.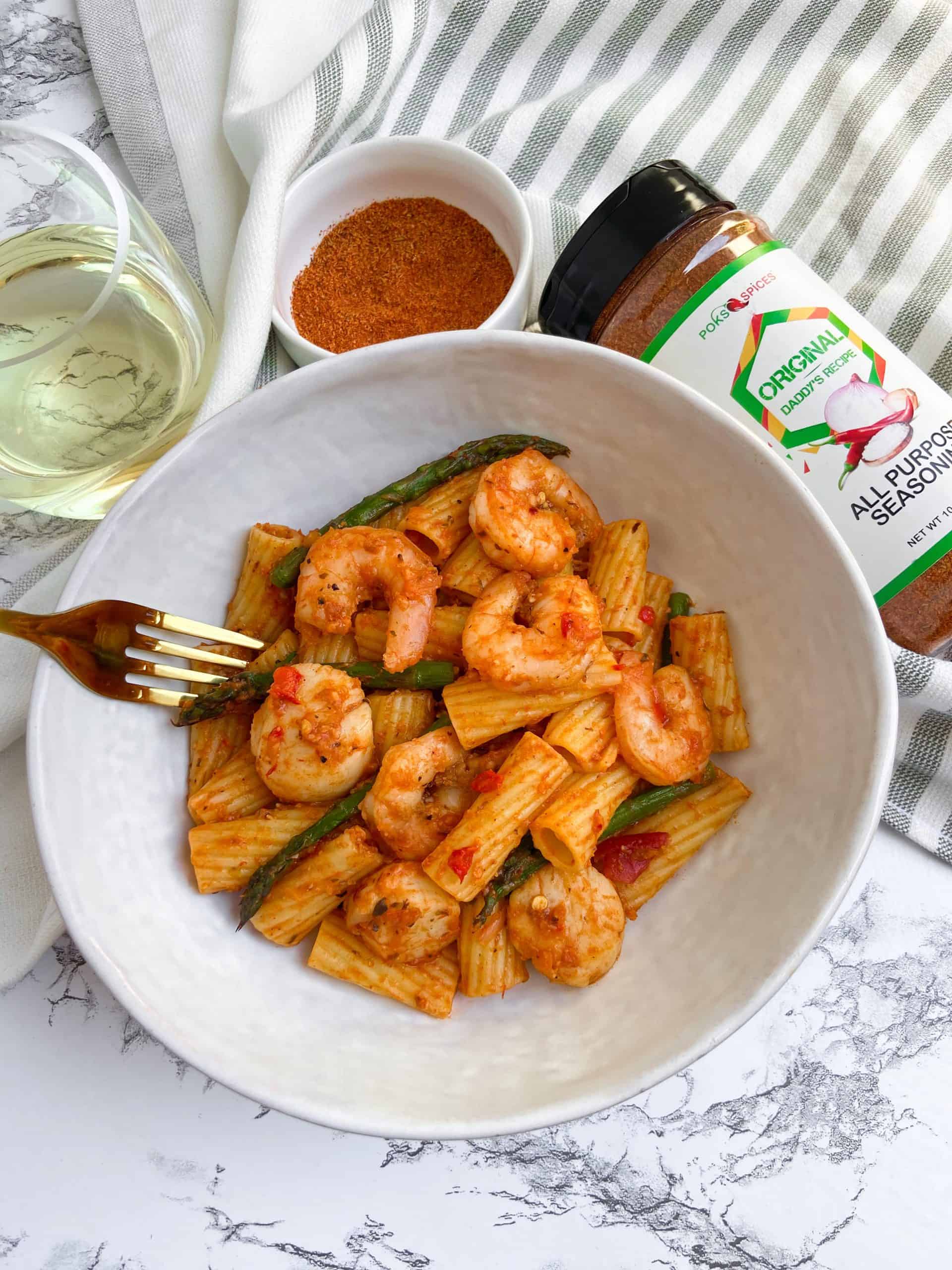 See…the thing is, when you look at some of these companies that make "international spices" and then make the food, cultural appropriation becomes an issue, and I can serve as an advisor, knowing the day-to-day is taken off my plate. The media doesn't do a great job of portraying the continent of Africa in the right light and we want to change those narratives.
My big goal is to have POKS be a reputable brand for West African flavors, be picked up by a major line, and then have time to educate the consumer.
And what do you think is the most prevalent misconception about West African food?
That we don't have food. [Laughter] That we eat worms and grass…
Oh my gosh. Really?!?
I'm serious! But yes, if you ask people, "What's West African food?" they draw a blank. It's only been recently that people have been hearing about jollof rice and loving jollof rice. But West African food is diverse; we are more than jollof rice. Our foods are numerous and complicated. Nigerian food and Ghanaian foods are similar, but the preparations are different. Jollof rice came from Senegal, and the Senegalese have a different way to prepare it. So, within this one dish, we have all these varieties. All jollof is not the same.
West African food is diverse; we are more than jollof rice.
Do you have any advice for aspiring business owners?
My advice is to find a mentor. The journey is very turbulent and there are hard days and years. This year, I told my husband, "If we don't get a grant, I'm done." I was tired of bootstrapping my business after five years. If I had bought bitcoin instead of putting money into the business, I'd be a millionaire by now. But you need someone in your corner, someone who has been on the journey and can cheer you on and say, "Rome wasn't built in a day. I know you're going through pinch points right now, but trust me and stick to the process. You're doing a great job. Have you thought about applying for this grant…have you thought about this? How can I support you." That's what I'm trying to do right now, particularly for those in the West African community.
I started this thing called POKS Spicy Talk where every Sunday I feature an upcoming brand or service. If someone watches it and buys their product, that's one customer they wouldn't have found before.
So find a cheerleader and find someone who will help you through this whole process.
Any final words about POKS or your small business journey?
I am very thankful to my parents. Yes, people see me, but they don't realize that without them I wouldn't have been able to continue this. My family has been a great support, and I say that this is a family business. It's my daddy's recipes, but my mommy is there cheering me on, my husband is a huge support. I mean, had it not been for my husband, the business would have collapsed.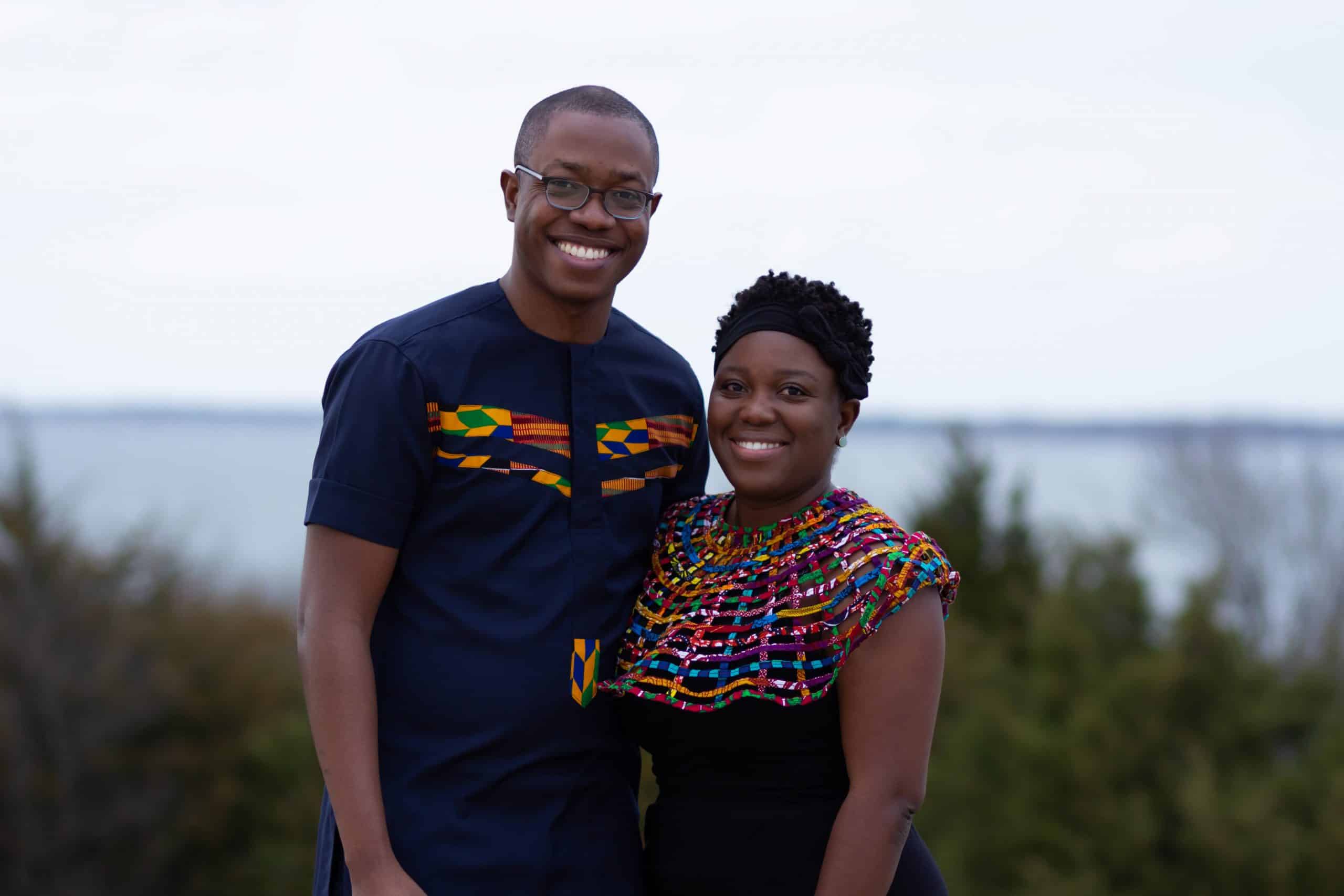 Community is important to me, but people need to see my face and then see all the other people behind the brand.
Thank you for talking with us! We cannot wait to try some of your spices…
Yay! Well, keep a glass of milk nearby.
You can buy Abena's custom spice mixes on the POKS Spices website. There are a variety of suggested recipes on the site, from kelewele (spicy plantains) to chicken tacos and the authentic Ghanaian version of joloff rice. Follow POKS Spices on Instagram for recipe tips, and more.
Learn more about the Merchant Maverick Opportunity Grants program and read about the other winners of this year's grant for Black, Female Entrepreneurs.