Wave VS QuickBooks Online: Which Is The Best Accounting Software For Your Business?
How does QuickBooks Online stack up against Wave, a free online accounting software? The answer is more complex than you might think.
Expert Analyst & Reviewer

UPDATED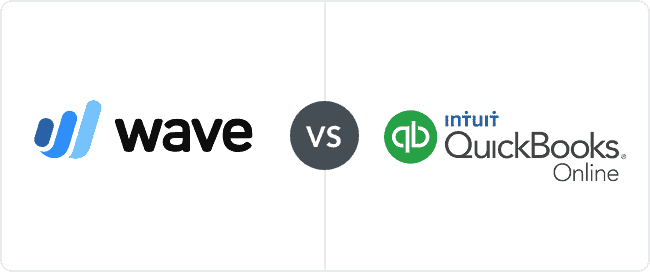 Wave
QuickBooks Online
Ideal For

Businesses that want simple, free software
Businesses with a single user

Small to large businesses that want strong accounting software
Businesses with 1-25 users

Pricing
$0
$30-$200/month
Standout Features

Unlimited invoicing
Time-saving automations
Supports multiple companies

650 integrations
Advanced features including project management & inventory
Built-in lending

What's Missing

Project management
Inventory management
Time tracking

Consistent customer support
Free plan
In the battle of Wave vs. QuickBooks, which accounting software is the best?
QuickBooks Online boasts a robust feature set, strong accounting, attractive invoices, and hundreds of integrations. Wave is cloud-based software that comes with no monthly fee and no limitations on features like expense tracking, invoicing, and contact management.
This post is going to dive into the specifics of each small business accounting software option to help determine which is the right choice for your business. We will look at pricing, software features, ease of use, customer support, and even customer reviews to help you decide between these two top accounting software programs.
Wave VS QuickBooks Comparison Summary
Wave offers free accounting software that's easy to use, but can it hold its own versus QuickBooks Online, which is known for its features and integrations? Let's compare Wave versus QuickBooks Online to see which is the better fit for your business.
Wave Quick Overview
Pros
Free
Easy to use
Numerous features
Helpful support resources
Solid security features
Cons
Lacks more advanced features found with paid software
Not designed for larger businesses
Doesn't support multiple users
Limited integrations
What Wave stands out for most is that it is forever free without the limitations you'll find with other programs that claim to be free. This cloud-based software offers a number of features, many of which you'd find with paid accounting software. Some of the most notable and useful features include unlimited invoicing, expense tracking, bank reconciliation, bill pay, and a basic inventory list.
Wave is also very user-friendly with a well-organized UI that's easy to navigate. If you get stuck, there are a variety of customer support options available to help you get the most out of the software.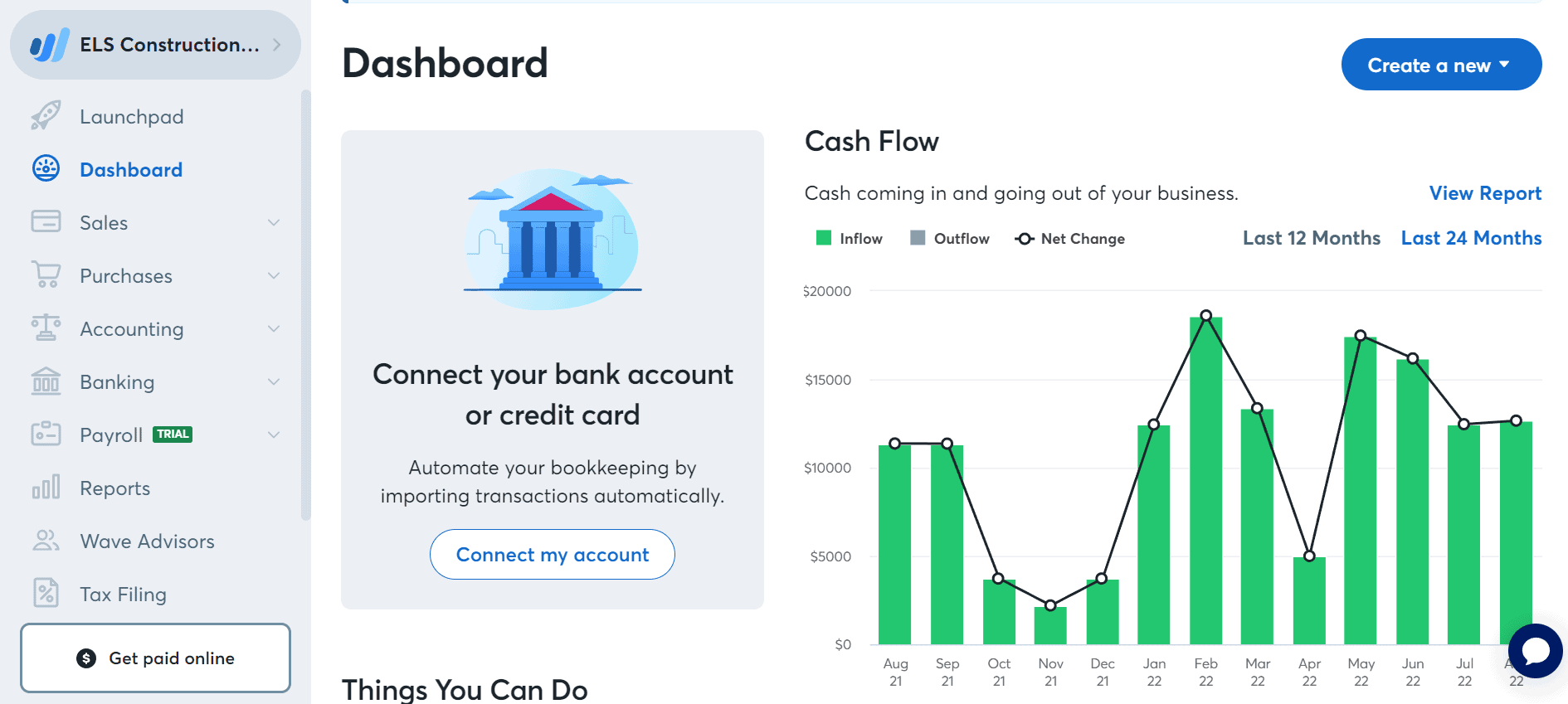 QuickBooks Quick Overview
Pros
Numerous features
Advanced features not found in most accounting software
Hundreds of integrations
Supports up to 25 users
Excellent mobility
Cons
Can be expensive
Has a slight learning curve
No email support
QuickBooks Online is a cloud-based software that's easier to learn and use than its desktop counterpart. While there is a pretty steep learning curve, the extra effort is worth it if you want a plethora of features you won't find with other accounting software.
Features worth noting include customizable invoices, automatic sales receipts, inventory tracking, project management, and hundreds of integrations. You can even add on additional services (such as live bookkeeping or payroll). The numerous features, add-ons, and integrations make QuickBooks Online your one-stop cloud-based accounting shop. QuickBooks Online is suitable for businesses of all sizes, as it supports up to 25 users based on the plan you select.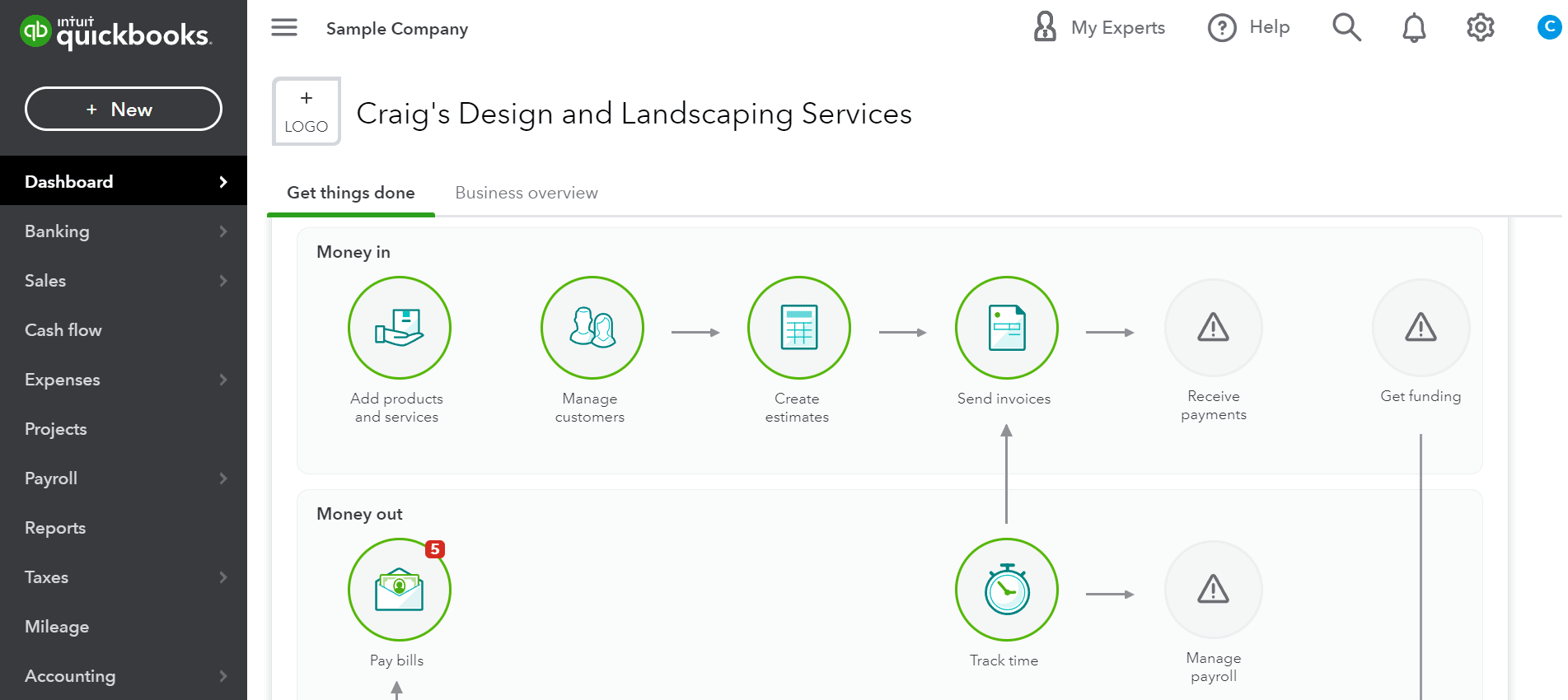 What's The Difference Between Wave & QuickBooks Online?
Wave and QuickBooks Online each boast solid accounting features, add-ons, and integrations. However, the two vary significantly in other ways, including pricing, number of users, and ease of use. Let's take a closer look at the similarities and differences between these two top accounting programs.
Both Wave & QuickBooks Online Offer…
Unlimited invoicing
Expense tracking
Bank reconciliation
Contact management
Reporting
Payroll services
Payment processing
Professional bookkeeping services
Mobile apps
Only Wave Offers…
A forever-free plan with no limitations or pop-ups
Software with no learning curve
Professional tax filing services
Accounting & payroll coaching
Support for multiple businesses
Only QuickBooks Online Offers…
Over 650 integrations
Advanced inventory
Project management
Time tracking
Built-in lending
Support for multiple users
Wave VS QuickBooks Online Pricing
| | Wave | QuickBooks Online |
| --- | --- | --- |
| Price | $0 | $30-$200/month |
| Number of Users | 1 | 1-25 |
| Discounts Available | No | Yes |
| Payroll | $20-$35/month + $6/month per employee | $45-$125/month + $5-$10/month per employee |
| Payments | Starts at 2.9% + $0.60/transaction | Starts at 2.4% + $0.25/transaction |
| Bookkeeping | Starts at $149/month | Starts at $200/month |
One of the most impressive things about Wave is that the software is completely free for all users. You will receive all of Wave's standard accounting features for $0/month. If you use Wave's payment processing, payroll, or bookkeeping, you will incur fees. Wave Payments does not require a subscription, only charging per transaction. Payroll starts at $20/month + $6/month per employee or contractor. Tax services, accounting and payroll coaching, and bookkeeping support are also available for an additional cost.
QuickBooks charges a monthly subscription fee for its four plans, which range from $30-$200/month. A 30-day free trial is available, although you will not be able to receive discounts on the software if you choose to use the trial.
You can add on QuickBooks Online Payroll starting at $45/month + $5/month per employee. QuickBooks Payments is available with no upfront costs or monthly fees. QuickBooks Live bookkeeping is also available for an additional cost. Check out our guide to QuickBooks Online pricing and costs to learn more.
Wave VS QuickBooks Online Features
| Feature | Wave | QuickBooks Online |
| --- | --- | --- |
| Invoicing | | |
| Contact Management | | |
| Expense Tracking | | |
| Inventory | | |
| Project Management | | Essentials plan & up |
| Payroll | Add-on | Add-on |
| Time Tracking | | Essentials plan & up |
| Reports | | |
| Budgeting | | Plus plan & up |
| Sales Orders | | |
| Tax Support | | |
| Lending | | |
Both Wave and QuickBooks Online have all of the features you'd expect from accounting software, including invoicing, expense tracking, reports, and tax support. But while the programs look similar on the surface, there are a few notable differences between what QuickBooks Online and Wave have to offer in terms of features. We'll take a look at these key differences, and you can learn more about specific features by checking out our comprehensive Wave and QuickBooks Online reviews.
Accounting
With QuickBooks Online, you can choose your accounting method, as both cash-basis and accrual accounting methods are supported. This software offers journal entries, a detailed chart of accounts, and bank reconciliation.
Wave also uses cash-basis and accrual accounting. The downside, though, is that this software only allows you to run reports as cash-basis or accrual.
Invoicing
QuickBooks Online includes unlimited invoices. QBO offers invoice templates, or you can import your own custom template. Customization options include logos, color schemes, changing the number of columns, and adding attachments, shipping charges, and discounts. QBO invoices can be sent in six languages. Invoice automations include auto-scheduling, invoice tracking, recurring invoices, reminders, and batch invoicing.
Wave also offers unlimited invoicing. Surprisingly, the invoicing feature is very well-developed, particularly for software that doesn't have a monthly fee. There are only three invoice templates, but each is well-designed and modern. You can also customize the templates to your liking to better fit with your brand. Other notable invoicing features include recurring invoices, reminders, and receipts. If there is any downside to Wave's invoicing feature, it's that sales tax and discounts have to be added manually.
Inventory
All QuickBooks Online plans have an inventory feature. However, you will have to upgrade to the Plus or Advanced plan to take full advantage of everything this software has to offer. All plans allow you to track your products and services, but the higher plans are more advanced and allow you to input sales prices, purchase prices, SKUs, descriptions, and images. You can easily view your current stock levels when creating your invoices through QuickBooks Online.
Unfortunately, Wave's inventory feature leaves a lot to be desired, as it is little more than an item list. You can add the name of your products and/or services, a description of each item, and the sales price, but Wave does not show current stock levels.
Reports
QuickBooks Online has over 80 reports, and the exact number you'll have access to is based on the plan you're signed up for. The more expensive the plan, the more reports you'll be able to create. However, even the lower tier plans include all the reports you need to operate your business. QuickBooks Online offers the standard reports you would expect from accounting software (e.g., profit and loss statements and balance sheets) to more advanced reports (such as job costing).
Wave offers just 12 reports to its users. Fortunately, this will be sufficient for many businesses, as the most common reports (such as cash flow statements) are included. You can customize reports, easily compare your data to past periods, and create customer statements.
Project Management
While you may still require a more robust solution if you operate a project-based business, QuickBooks Online has a pretty solid project management feature when compared to other accounting software. To access these features, you must have the Essentials, Plus, or Advanced plan. You can create projects, track billable and unbillable time, and track expenses. You can also easily track the profitability of each project with basic job costing.
As for Wave, this is one area where the software falls short. Wave lacks a project management feature. Whether or not Wave will add this in the future is unknown, but as of this time, businesses that need even basic project management features will need to look elsewhere.
Time Tracking
QuickBooks Online has a time tracking feature provided that you are an Essentials, Plus, or Advanced customer. This feature allows you to create single-time activities or timesheets, and tracked time can be attached to projects.
Unfortunately, time tracking is another feature that Wave lacks. The potentially good news, though, is that Wave has been known to listen to its customers and update the software to include new features. So it may be possible that time tracking will be added to the software further down the road.
Payroll
QuickBooks users can sign up for Intuit Online Payroll. There are three different plans to choose from, based on the needs of your business. The Core plan is the least expensive and includes full-service payroll. The Premium plan adds more features, such as workers' comp administration and same-day direct deposit. The top-level Elite plan gives you access to features, including a personal HR advisor, customized setup, and 24/7 customer support. As you would expect, these services are not included in your monthly QuickBooks Online subscription fee and must be purchased for an additional monthly cost.
Wave also offers payroll services for an additional monthly fee. There are two plans available based on the state in which you operate. Tax service payroll handles your payroll and files your payroll taxes. This service is only available in 14 states. Business owners in the remaining states can sign up for self-service payroll, which requires you to file your own payroll taxes.
Budgeting
If you subscribe to QBO's Plus or Advanced plan, you'll have access to a budgeting feature. This allows you to create multiple budgets by month, quarter, or year. You can also use previous years' data to create your budget, as well as run budgeting reports.
Unfortunately, Wave does not offer a budgeting feature at this time.
Lending
QuickBooks Online gives you access to QuickBooks Capital, a lending platform that can help you score up to $150,000 to build your business, expand, or just for use as working capital. With competitive interest rates and terms up to 18 months, these installment loans are comparable to other alternative lenders with one big difference: QuickBooks Online users can apply right within the software, which auto-fills the majority of the information, taking the hassle out of the lending process.
Until recently, Wave also offered built-in lending through a partnership with OnDeck; however, that service is no longer being offered, giving QuickBooks a leg up in this category of services.
Integrations
If Wave and QuickBooks Online seem quite similar up until this point, the number of integrations definitely separates the two. Wave only integrates with Paypal, Etsy, and Shoeboxed. However, it does have a Zapier integration, so you can connect with over 1,000 add-ons.
QuickBooks Online, on the other hand, connects with numerous apps and add-ons — over 650 to be exact. This includes 25 payment processing options, making it easier for you to get paid.
Which Accounting Software Do Users Like Better: Wave Or QuickBooks Online?
Wave has an overall favorable public reputation, scoring high marks across review sites, such as G2Crowd, Trust Radius, and Software Advice. There are a few common complaints, including the lack of available integrations, slow servers, and poor mobile apps. On the other hand, users praise the software's free pricing, invoicing, and solid feature set.
QuickBooks Online also has a pretty good reputation among its users, scoring solid marks across sites, such as G2Crowd and GetApp. Users like its strong mobile apps, ease of use, and numerous integrations. However, common complaints about QuickBooks Online include plan pricing, customer service issues, and a lack of features when compared to QuickBooks Desktop.
Which Is Best For My Business Needs: QuickBooks Online Or Wave?
What works for one business may be a complete miss with yours, so it's important to choose software based on what your business needs. Let's take a look at instances when Wave would be the better choice for your business and when QuickBooks Online is the superior option.
Choose Wave If…
You want solid accounting software but don't need advanced accounting features
You want free software without outdated UIs, pop-up ads, or strict limitations on features
You have an Etsy shop or other eCommerce business
You're new to accounting software or just want software that's easy to use
Wave


---
Choose QuickBooks Online If…
You own a small- to large-sized business
You want accounting software that integrates with other software and apps
You want lots of features without the hassle of learning QuickBooks Desktop
You're willing to pay for more advanced features
You have multiple users
QuickBooks Online


---
Wave VS QuickBooks Online Comparison: The Final Verdict
Wave's free pricing and easy-to-use software make it a standout among other accounting software. Add in a good public reputation and a load of great features, and it's easy to see why Wave is a top choice among small business users. On the other hand, Wave's lack of integrations and advanced features such as project management can be a dealbreaker, particularly for larger businesses.
If integrations and advanced features are what you're looking for, you won't be disappointed by what QuickBooks Online has to offer. With strong mobile apps, QuickBooks Online also makes it easier for business owners to keep track of their finances, no matter the size of the business. It is worth noting, though, that mobility, features, and integrations do come at a monthly cost.
Still on the fence? Read our Wave Accounting review and our QuickBooks Online review to learn more about features, our experience with customer service, and more to help you make the most informed decision for your business.
You can also explore other accounting software options by checking out alternatives to Wave and top alternatives to QuickBooks Online.
Good luck!
QuickBooks VS Wave: FAQs