Xero VS Wave: Which Accounting Software Is Better?
Wave's free price tag is great for small businesses, while Xero's more robust feature set is well suited for medium to large businesses.
Expert Analyst & Reviewer

UPDATED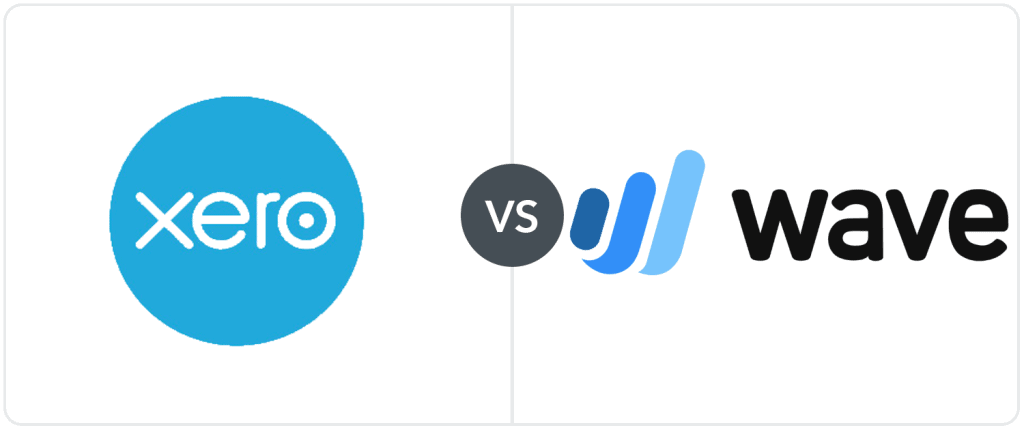 Finding the right accounting software for your business can be a hassle. Software that's a hit for one business may be a total miss for yours. Choosing the wrong accounting software can result in a lot of wasted time and money, so it's important to make the best choice first.
But with so many products on the market, how do you make that critical choice? And when you've narrowed it down to two solid options, such as Xero vs. Wave, how do you decide between the two?
Xero and Wave are top-rated small business accounting software. While both have a lot of similarities, there are also a few distinct differences between the two. Doing your research and pinpointing these differences can help you make the right choice for your business.
As a busy small business owner, you likely don't have a lot of time in your calendar to test and research Xero and Wave. Fortunately, we've done the hard work for you. We've tested the software, done our research, read user reviews, and more to help small business owners like you find the right accounting software. If you're curious to learn more about Xero and Wave and are ready to find out which is best for your business, keep reading this comparison post. Also, if you want to learn more about each of these options, check out our full Xero review and Wave review.
The Key Differences Between Xero & Wave
On the surface, Xero and Wave seem to be quite similar. Both have received a solid number of rave reviews across the internet, making it difficult to decide which is truly the better software. But once you dig a little deeper, you'll see that there are some very distinct differences between Xero and Wave, including:
Pricing: One key difference between Xero and Wave is pricing. It doesn't get any better than Wave's pricing — it's forever free. Xero doesn't have a free plan, but its pricing is fairly competitive, with plans starting at $12/month.
Ease Of Use: If you're new to accounting, you might have to invest a little more time learning the ropes with Xero. While it isn't as advanced as other software options on the market (we're looking at you, QuickBooks Pro), there is a moderate learning curve. On the other hand, Wave is very user-friendly. Even if you've never used accounting software before, you shouldn't have any issues getting up and running. Regardless of which software you use, both have numerous support resources to help you learn the software.
Integrations: Businesses that want to easily sync third-party apps and software can't go wrong with Xero. Xero has hundreds of integrations — even more than QuickBooks Online. Wave has a very small number of third-party integrations available.
Features: While Wave offers an incredible number of features and excellent invoicing, Xero's features are more developed. Xero offers invoicing, expense tracking, complex contact management, inventory, 55 reports, and class tracking.
Security: Wave and Xero both have solid security to protect your data, but Xero has a slight edge. Wave uses 256-bit data encryption, read-only versions of bank data, data backups, and 24/7 monitoring of its servers. Xero uses data encryption, two-step authentication, and performs regular security audits. It also has an uptime of 99.97%.
Mobile Apps: The Xero Accounting app has a lot of features packed in for accounting on the go. While there are plenty of positive reviews for this app, there are also complaints about bugs and crashes. Wave Invoicing is limited in features but has a generally positive reputation among its users. Users would like a Wave app with more features, which may come with Wave Money, an app that has yet to launch to the public.
Number Of Users: Xero supports unlimited users at no additional cost, which is pretty unheard of in the accounting software world. Wave only supports a single user.
Multiple Businesses: If you have multiple businesses, you will have to sign up for additional Xero subscriptions, which can add up quickly. While Wave doesn't support multiple users, it does support multiple businesses.
Xero VS Wave Which Is Better?
Xero and Wave are leaders in the accounting software field, but which is better? Xero boasts an impressive number of features and integrations, while Wave has the edge in pricing. Xero's scalability and support of unlimited users make it a solid choice for larger businesses, while Wave is easy to use and is better suited for smaller businesses.
Xero is a robust accounting solution that rivals QuickBooks in terms of capability and popularity. It's been around since 2006 and offers strong accounting, 800+ integrations, access for unlimited users, and an impressive feature selection. Although the company says it makes "small business" software, the steep pricing and depth of features are much more suitable for mid-to-large-sized businesses.
Pros
Supports unlimited users
Numerous features
Numerous integrations
Scalable for larger businesses
Cons
Moderate learning curve
It may be too expensive for smaller businesses
Wave, on the other hand, is designed with small businesses in mind. The software is easy to use and is full of features, such as invoicing, contact management, and personal and business expense tracking. Best of all is the pricing. Wave is completely free with no strings attached, making it a great choice for budget-conscious small business owners.
Pros
Free
Suitable for small businesses
Supports multiple businesses
Easy to use
Cons
Only supports one user
Unsuited for large businesses
Chose Xero If…
You're willing to pay a monthly fee for strong accounting software
You have prior accounting experience, or you're willing to take time to learn the software
You want software with a robust feature set
You want software that integrates with other business apps and software
You have a medium-to-large-sized business that has multiple users
Choose Wave If…
You want free accounting software
You're new to accounting and want software that's easy to learn and use
You want basic accounting software to track your business and personal finances
Your small business needs software for a single user
Xero VS Wave In-Depth Comparison
Pricing
One of the biggest benefits of Wave vs. Xero is the pricing. Wave offers forever-free accounting software with no monthly subscription fees, setup fees, or hidden charges. While credit card processing and payroll will cost you (more on that in a minute), all of Wave's features are available to use at no cost — no catches, gimmicks, or limitations on features.
On the other hand, Xero doesn't have a free plan, but its paid plans are pretty competitive. You can choose from three pricing plans that range from $12-$65/month. The more expensive plans offer unlimited invoices and bills, as well as extra features, such as project management and expense claims.
| Xero | Wave |
| --- | --- |
| Early: $12 per month | Free: $0 per month |
| Growing: $34 per month | |
| Established: $65 per month | |
There are some additional fees to take into consideration before making your choice. While Wave's accounting software is free, payroll is not included in the free plan. You can add payroll for $20-$35/month plus $6 for each active employee or independent contractor paid. If you want to accept payments, Wave has a pay-per-use payment structure. Wave's credit card processing fees start at 2.9% + $0.30 per transaction, while ACH payments can be accepted for 1% per transaction.
If you opt to sign up for Xero, you can add Gusto's payroll starting at $39/month plus $6 per month per person.
If you want a professional to help you with your accounting or taxes, Wave has you covered. If you need help getting set up, Wave offers accounting and payroll coaching for a one-time fee of $229. You can also sign up for Wave's bookkeeping and tax support starting at $149/month. Tax support is available starting at $1,500/year.
Features
| Features | Xero | Wave |
| --- | --- | --- |
| Invoicing | ✔ | ✔ |
| Contact Management | ✔ | ✔ |
| Expense Tracking | ✔ | ✔ |
| Budgeting | ✔ | X |
| Project Management | ✔ | X |
| Inventory | ✔ | ✔ |
| Accounts Payable | ✔ | ✔ |
| eCommerce Tools | X | ✔ |
| Tax Support | X | ✔ |
| Reports | 55 | 12 |
When it comes to features, this is where Xero really shines. Xero is at the top of its class when it comes to features, making this software a viable choice for businesses with the most complex accounting needs. Xero offers all of the features you'd expect from accounting software, including a customizable dashboard, invoices, quotes, contact management, bank reconciliation, inventory management, accounts payable, and expense tracking. Xero also has more advanced features, such as class tracking, project management, time tracking, fixed asset management, and expense claims.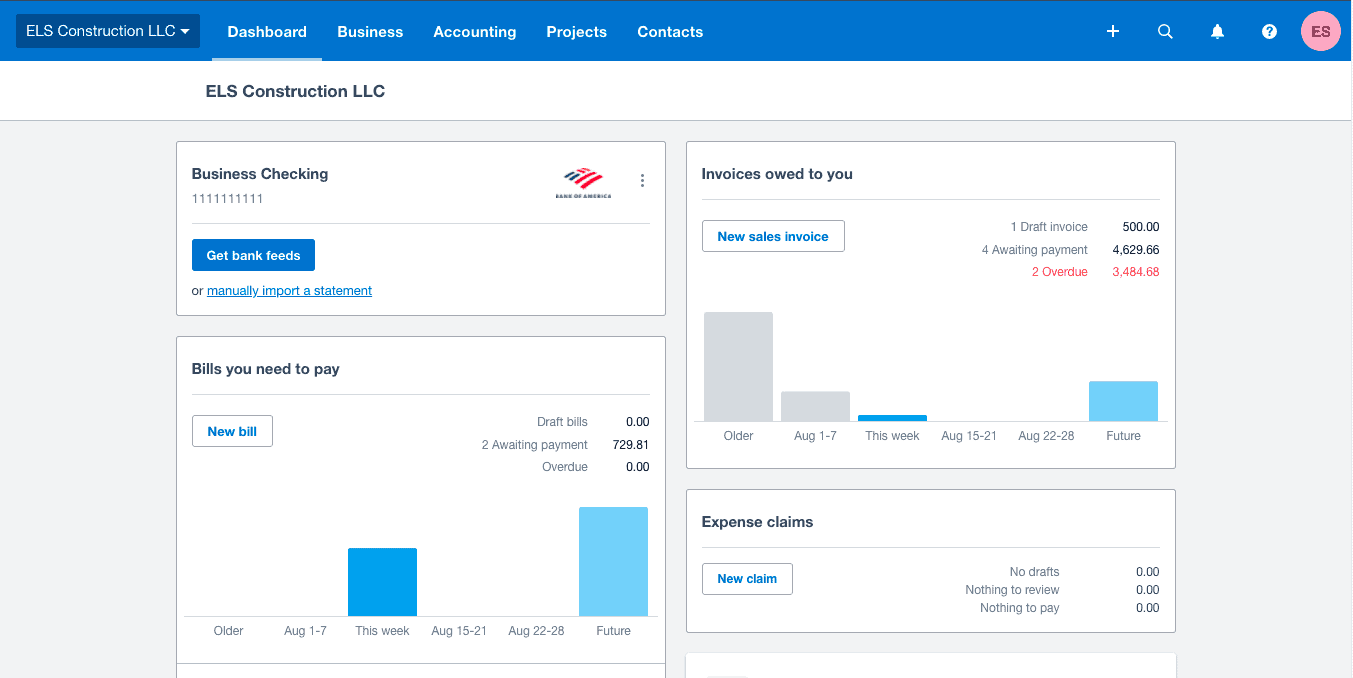 Wave has the features you would expect for small business accounting software. Wave's notable features include bank reconciliation, expense tracking, invoices, accounts payable, contact management, and inventory management. Wave does lack some of the more advanced features you'd find with Xero. However, many smaller businesses will find everything they need with Wave, and you can't beat the cost (or lack thereof).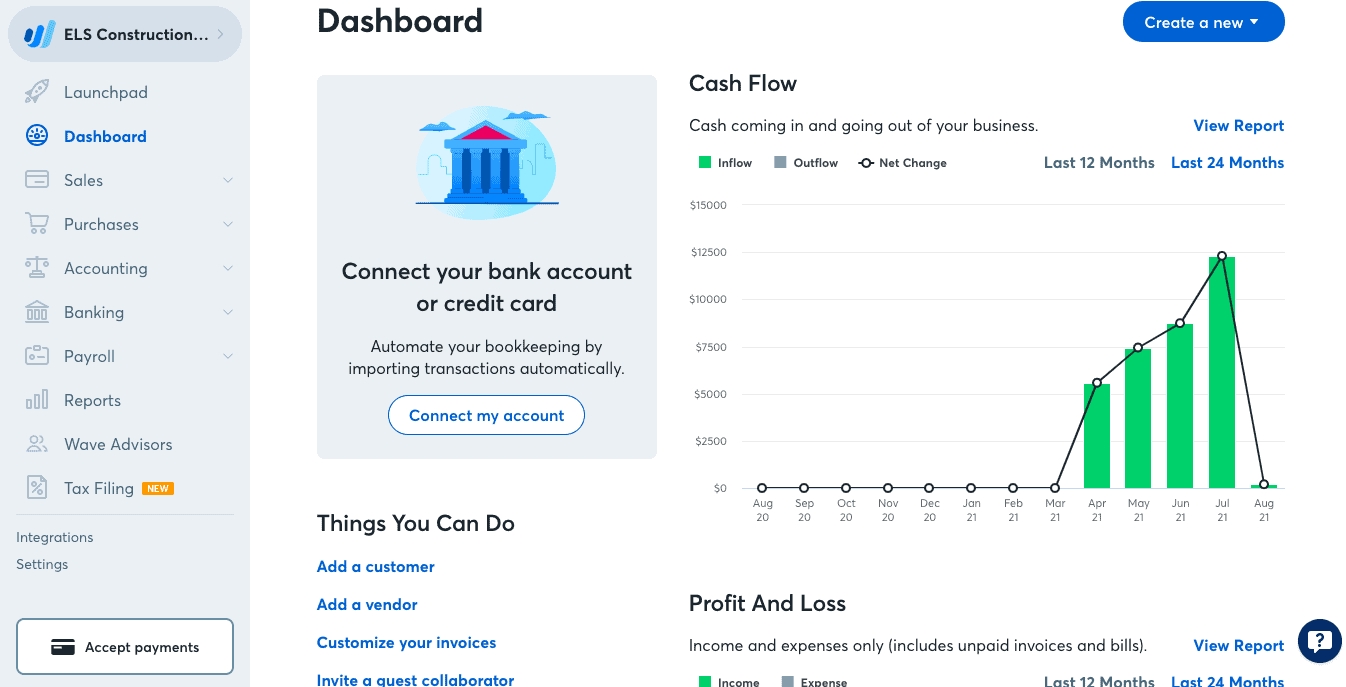 Let's break down a few of the distinct differences between Xero and Wave, starting with budgeting. Xero has a budgeting feature that allows you to create a three-month, six-month, 12-month, or 24-month budget. You can view a summary at any point to make sure you're on track to your financial goals. Wave does not offer a budgeting feature.
Another difference between Wave and Xero is project management. Xero users can use this feature to create projects, track expenses and time, and send invoices. The only caveat is that this feature is only available on the most expensive plan. Wave does not have a project management feature.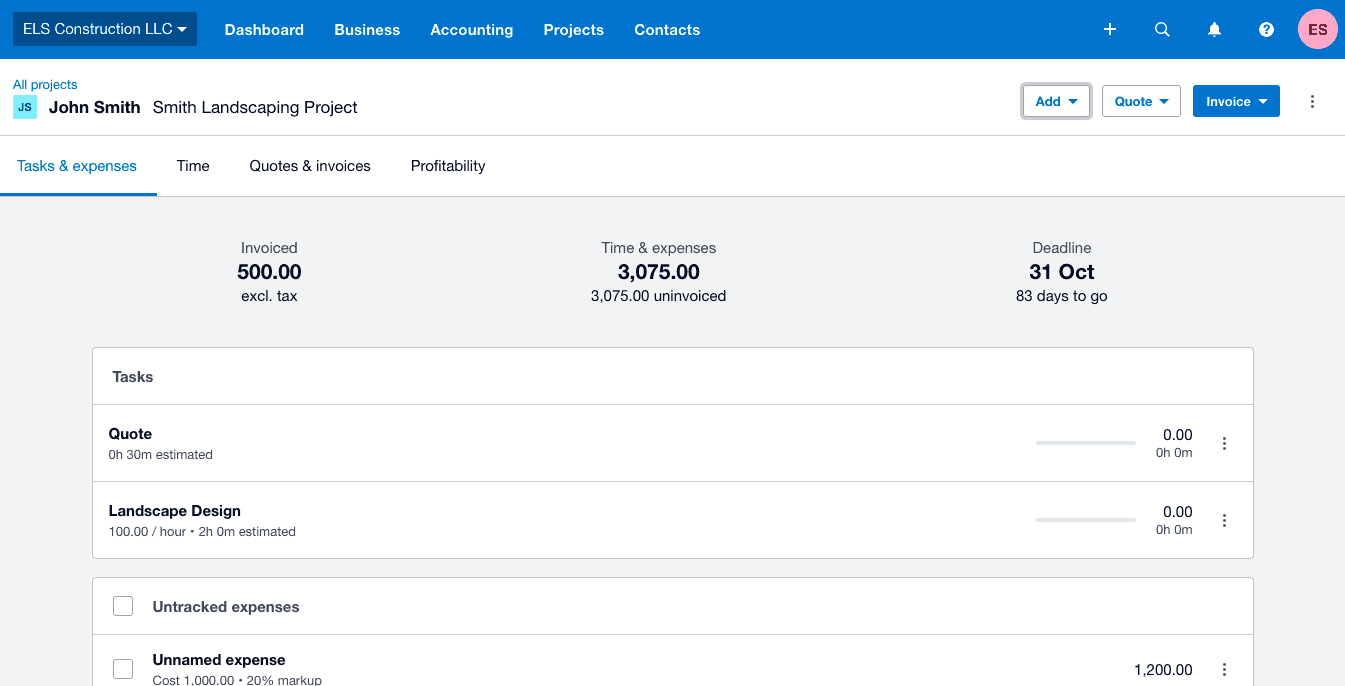 Reporting is another area where Wave and Xero differ. While both offer reporting, Xero has a more extensive reporting feature. You can create, view, and print 55 different reports covering everything from sales to cash flow and budget. Wave has only 12 reports, covering the basics, such as balance sheets, profit and loss, and cash flow.
While Wave seems to fall a little short in terms of features, don't count it out just yet. Wave has a couple of unique features you won't find with Xero. One of those features is Checkouts, an eCommerce tool that allows you to create a checkout link to send to multiple customers. This link can be sent through email or text or posted on your website. This feature is great for businesses that need to bill multiple customers at once without creating separate invoices.
Wave also has better tax support than Xero. When Xero had built-in payroll, it also had solid tax support. Now, Xero only supports sales tax. Wave integrates directly with H&R Block to make it easier to file and pay your small business taxes. Fees apply for using this service. You can also pay for Wave Tax Service if you want a professional to review your taxes quarterly and file your federal and state returns.
Mobile Apps
Xero has several mobile apps available for both Android and iOS. Xero Accounting, Xero Expenses, and Xero Projects are mobile apps that can be used on your mobile device. While some users love Xero's apps, there are several complaints surrounding bugs and crashes.
Wave has an invoicing app called Wave Invoicing, which allows you to create invoices and accept payments while on the go. While the app has generally received positive reviews, some users have expressed disappointment that Wave doesn't have a full-featured app. Wave also has the Wave Money app, which is a no-fee bank account that automates accounting. As of the time of this post, Wave Money hasn't yet launched to the public, but you can sign up for the waiting list if interested.
Ease Of Use
When using Xero, you'll notice that it has a modern and attractive UI that's well-organized. Unfortunately, the software does have a moderate learning curve. While it isn't as difficult to learn as QuickBooks Desktop, Xero is not exactly beginner-friendly. If you're new to accounting, it may take some time to navigate through all the features and learn the software. The good news is that Xero is quite easy once you get the hang of it, and there are several resources available to help you along the way.
Wave is a different story. Wave is user-friendly and easy to navigate, even if you have no prior experience with accounting software. Setting up the software is a breeze. And if you run into any problems, there are multiple resources to help keep you on track. If you're new to accounting software, Wave might be the best place to get started unless you have the time to learn how to use a more complex accounting solution.
Customer Service
One issue users have with Xero is that there is no phone support available. While you can get in touch through email, this could be a problem if you need immediate help, as it could take as long as a day to receive a response. Fortunately, though, there are several other support options available if you need answers quickly. Xero offers in-software help, the Xero Central help center, video explainers, a blog, podcasts, and the Xero U training program. Xero can also be found on social media.
Wave is very similar to Xero when it comes to customer support. Subscribers of the free plan can contact Wave through email. Response times take about a day, similar to Xero's email support. However, if you've opted to add payroll or use Wave's credit card processing, you'll also receive phone and chat support. Wave does have other support resources to help you get the most out of the software, including a help center, the Wave Community forum, and its blog. Wave also has social media profiles on Facebook, Twitter, and LinkedIn.
Customer Reviews & Complaints
Xero's reviews across the web are mostly positive. Users most like Xero's strong accounting features and numerous integrations. Automations, strong reporting, and ease of use are also commonly cited among satisfied Xero users. There are, however, a handful of complaints about Xero. While some found it easy to use, others complained about the learning curve. The lack of phone support is also a common complaint, while some businesses found the software to be a bit expensive.
Wave's customer reviews are very similar to Xero's — while there are a handful of complaints, most users are satisfied with the software. Users appreciate the free pricing structure that doesn't impose limitations on features or leave them stuck with an outdated UI. Users also really like Wave's professional invoices, while others appreciate how easy the software is to learn and use. There are a few common complaints about Wave, specifically centered on its lack of advanced features, its small number of third-party integrations, and its mobile apps.
Integrations
When it comes to integrations, Xero ranks at the top of the class. Xero has over 800 integrations, including a Zapier integration that connects your software with hundreds of other apps and software programs. It also has an API for developers.
On the other hand, Wave falls far short in terms of integrations. Wave integrates directly with Etsy, PayPal, and Shoeboxed. Fortunately, Wave also integrates with Zapier, allowing users another way to connect their business software and apps. API is also available for developers.
Should You Use Wave Or Xero? The Bottom Line
By now, you should have a better idea of which accounting software is the better fit for your business.
Wave is ideal for small businesses in need of basic accounting and beautiful invoicing. The free pricing structure of Wave is almost unbelievable. For companies looking to save money or that are not quite ready for the in-depth features of Xero, Wave is a brilliant choice. Wave is also ideal for Etsy sellers since the software offers a strong Etsy integration and allows you to separate personal and business expenses.
For mid-to-large-sized businesses, or businesses looking for scalable software that will grow with the company, Xero is the best choice. This software boasts incredibly detailed and robust features and unparalleled uptime, as well as ample integrations and positive customer reviews. If you are looking for strong accounting capabilities, Xero won't let you down.
If you still can't decide, why not get hands-on with the software and give it a try yourself? Wave is always free, and Xero offers a 30-day free trial. Take each for a test drive to see which works for you. Or, if neither seems quite right, check out our top picks for the best accounting software for small businesses to find a more suitable option. Good luck!