Introduction To Banking As A Service: How BaaS Can Benefit Your Small Business
Want to learn more about how banking as a service and embedded finance can help your small business? Read our guide!
Expert Analyst & Reviewer

UPDATED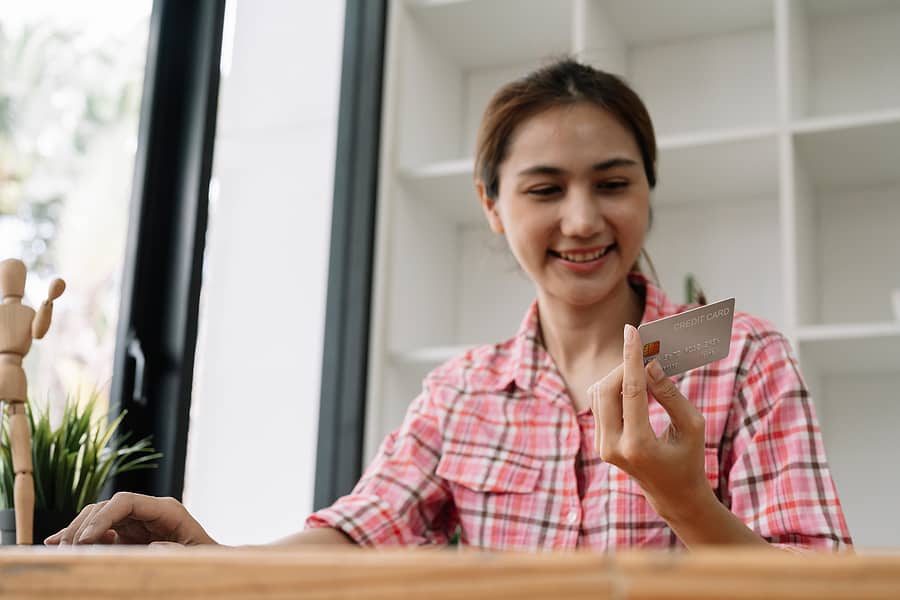 Banking as a service is a new term you may see bouncing around the financial services sector. But what is banking as a service, or BaaS? Can BaaS benefit your business, and how? This post will introduce you to banking as a service and help you decide if you should start using BaaS.
What Is Banking As A Service?
Banking as a service is a software solution that financial technology companies, or fintechs, use to provide banking services to customers. Backed by traditional banks, fintechs offer bank accounts, credit cards, and more through one platform. BaaS providers aim to integrate as many financial services as possible, streamlining small businesses' financial practices and accounting.
Banking as a service, or BaaS, is similar to another type of software product, SaaS or software as a service. Like SaaS, banking-as-a-service providers do not offer a full spectrum of services on their own. Instead, BaaS providers use APIs to offer access to a full stack of financial services such as savings accounts, credit cards, accounting software, expense management functions, and more. They leverage their technical capabilities to improve overall functionality and access for end users.
BaaS is a developing field, and although you may not be familiar with the term, you may already be using BaaS services. For example, if your small business uses an online bank or a corporate credit card, you may already be seeing benefits from BaaS.
How Does Banking As A Service Work?
Banking as a service works by delivering an all-in-one financial services product.
Financial technology companies ("fintechs") link traditional chartered banks with third-party service providers to offer a range of financial services. These can include traditional bank functions like checking and savings accounts as well as corporate cards, expense management, and eCommerce, accounting, and other useful integrations.
Here's the key: Banking as a service allows end users to leverage digital connections to meet all their financial service needs outside of the traditional banking structure. Banking as a service represents a profound shift away from brick-and-mortar banks, by allowing new technologies to connect third-party, cloud-based financial software to meet users' new and growing needs, all through one secure portal
Traditional banks are still the all-important base of the BaaS structure. If you're interested in working with a fintech to access BaaS benefits, make sure that the fintech is partnered with a legitimate chartered and regulated bank that offers FDIC insurance to keep your money safe.
Examples Of Banking As A Service
Banking as a service is still relatively new, and although it's being talked about more and more, not all BaaS providers use this terminology. Essentially, BaaS providers are not banks themselves; they are third-party service providers that connect to a chartered and regulated bank's systems via API.
This creates what's known as a "partner ecosystem": a network of businesses that are non-competitive with each other and can mutually benefit from collaboration. Under the banking as a service model, these networks are organized by a fintech as independent third-party service providers connected to a bank system via API.
The best way to understand banking as a service is to take a look at some examples. The following is a non-inclusive list, meant to highlight some companies that are outstanding in the field.

What Is Embedded Finance?
Embedded finance is another term you may be seeing and hearing a lot more of. Embedded finance is defined as the integration of financial services, like loans, payments, and accounting, into nonfinancial services providers' platforms. Think of it like this: Uber is a transportation company. Yet when you use the Uber app to summon a ride, your payment information is already attached to your account. That's an example of embedded finance.
Want another example? Look no further than your favorite buy-now-pay-later option. When you log on to an online store to do a little shopping, you can choose at checkout to access an instant consumer microloan from a service like Affirm, Afterpay, Klarna, and others. BNPL is a payment option embedded in the shopping cart software. You can choose to access this option, but even if you don't, the financial option is embedded in the platform you're using.
Though embedded finance and banking as a service have several things in common, there are important differences, too. Let's take a look.
Embedded Finance VS Banking As A Service
Here is a chart comparing embedded finance with banking as a service.
As you can see, they have many similarities.
| | Embedded Finance | Banking As A Service |
| --- | --- | --- |
| Integrated Financial Services Offered | | |
| Non-Bank Platform | | |
| Simplified Transactions | | |
| Cloud-Based | | |
| Partnership With Licensed Bank | | |
| Rely On APIs & Web hooks | | |
Note that both embedded finance and banking as a service offer integrated financial services, including loans, payments, and financing, through a non-bank platform. Both make transactions faster and more efficient through cloud-based technology. And you may not be aware of who is processing or guaranteeing the safety of the transaction.
One key difference is that banking is built on a solid reputation and the careful ongoing regulation of traditional chartered banks. So while a service like QuickBooks Cash or Square Banking may seem to function as your bank, neither, in fact, is a bank at all. Each relies on a partnership with a member FDIC to provide banking services.
The Bottom Line: Can Banking As A Service Benefit Your Small Business?
Business banking is in the middle of some radical changes, and banking as a service is squarely in the middle of it.
Fintechs can be seen as disruptors, challenging the traditional ways of doing business and looking for ways to deliver more value, at lower costs, to customers.
If your small business has not recently reevaluated its relationship with its business bank, you may be missing out on some innovations and new practices that can streamline your finances, save you money, and deliver rewards. We think you have nothing to lose by looking into some other business banking options.
After all, nothing says you need to leave your traditional bank behind. We suggest doing some homework to make sure you know what options are out there and what benefits you may be leaving on the table. Start by browsing our list of the best business bank accounts.
What you find might surprise you, and you may end up making the switch and enjoying the benefits of banking as a service.
BaaS FAQs