The Highest Paying Industries For Gig Economy Jobs In 2021
Expert Analyst & Reviewer

UPDATED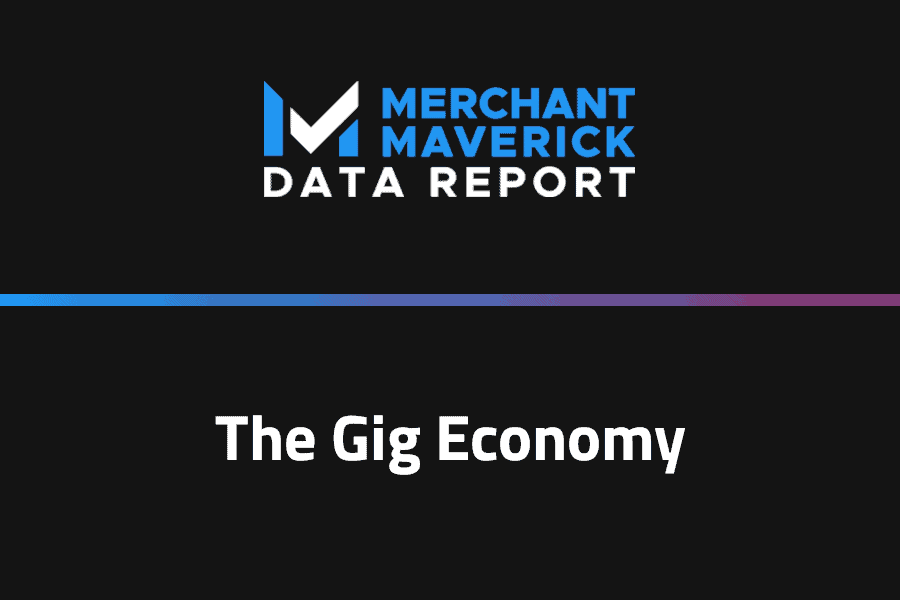 From carsharing to ridesharing, it's a hot time for the gig economy. The recent rise of app-driven jobs — plus a pandemic that has fairly forced economic innovation — has driven unparalleled engagement among those looking to snag an extra buck. The bad news? Many of those out seeking a great new side hustle will come away disappointed, blocked by a prohibitively costly barrier to entry. According to Merchant Maverick's research, most of the higher-paying gig jobs require a significant upfront investment.
As our latest report, the "Highest Paying Industries For Gig Economy Jobs In 2021" demonstrates clearly, most of the premium gig economy industries require an initial outlay of resources, whether in the form of cash (such as buying a new car) or time (such as going to school — which can also be expensive in its own right).
Our research suggests that only those who have already made the necessary investments will achieve successful and financially lucrative side hustles.
The good news is that the number of non-employer firms in key gig job industries (vacation rentals, ridesharing, and deliveries) has increased over five times nationwide from 1997 to 2018, creating more opportunities in general. Much of that growth happened in the past decade — most notably, the number of non-employer firms in select ridesharing-adjacent industries grew 637% between 2008 and 2018. The pandemic alone has boosted the popularity of some gig jobs — think the delivery couriers who worked tirelessly while much of the country practiced social distancing. Even looking ahead to post-COVID, it certainly seems like the gig economy is here to stay.
Those who can tolerate the high barrier to entry should be able to find a money-making avenue that suits their skills and abilities — the gig economy includes a number of wide-ranging and varied industries, after all. Our detailed report examines the 10 industries with the highest estimated hourly rates in the gig economy.
The Top 10 Highest Paying Industries In The Gig Economy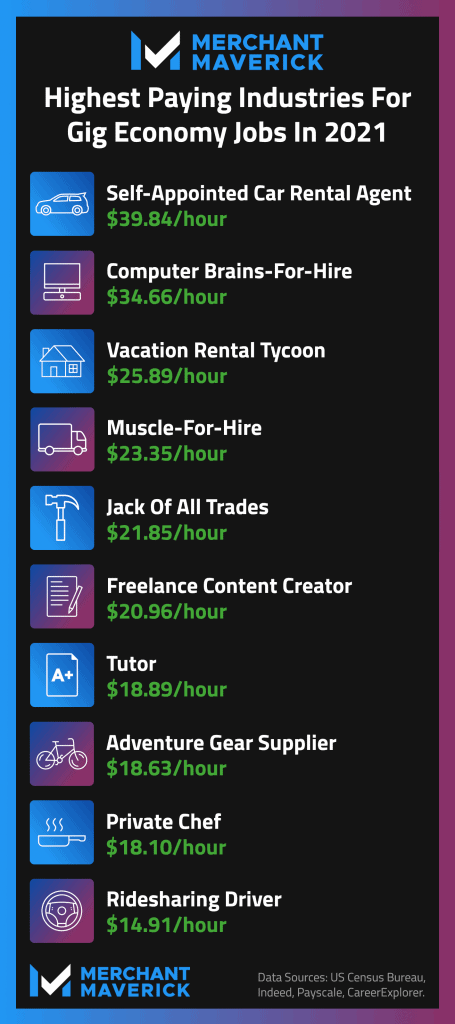 To rank the 10 highest paying jobs in the gig economy, we tapped into a US Census Bureau dataset called Nonemployer Statistics. This dataset allowed us to collect revenue numbers from non-employer businesses — which is how most gig workers operate — across a gamut of industries in the top 50 US metro areas. In some cases, we filled gaps in the Census Bureau data with publicly accessible hourly wage data from Indeed, Payscale, and CareerExplorer.
Of course, these numbers just represent estimations. Real-world results will depend heavily on a worker's location, how they source jobs, and ability within specific niches.
1. Self-Appointed Car Rental Agent

Estimated Hourly Wage: $39.84
Cost of Entry: Car ownership, with newer cars having a higher earning potential
Popular platforms: Turo, GetAround
The Good: High hourly wage for very little actual work
The Bad: More suited as a side-hustle and not a full-time gig
---
When it comes solely to estimated hourly wage, peer-to-peer carsharing by self-appointed car rental agents (Merchant Maverick's designation for those who make money through this industry) is far and away the top-ranked gig economy industry.
Carsharing is pretty simple: it's just one person renting out their car to someone else. The appeal to prospective lessees is clear, as it gives them the chance to avoid the hassle of a traditional car rental service and offers potentially cheaper rates. Carsharing platforms like Turo or GetAround make it easy for both parties and also give potential renters access to more interesting cars (think Tesla or Audi) than would be available from a traditional rental service.
While the hourly wage estimate sits on the higher end, carsharing is best generally suited as a side hustle — unless the self-appointed car rental agent is prepared to go all-in by renting out more than one car. For example, using Turo's own calculator, renting out a 2018 Tesla Model S (a vehicle with a $94k estimated value) in the Los Angeles area would net about $125 a day. That's just shy of $2,000 monthly if the car is rented out half the month. Factor in standard maintenance, insurance, and car payments, and making a livable wage solely through Turo would require more than just one of those Tesla Model S's.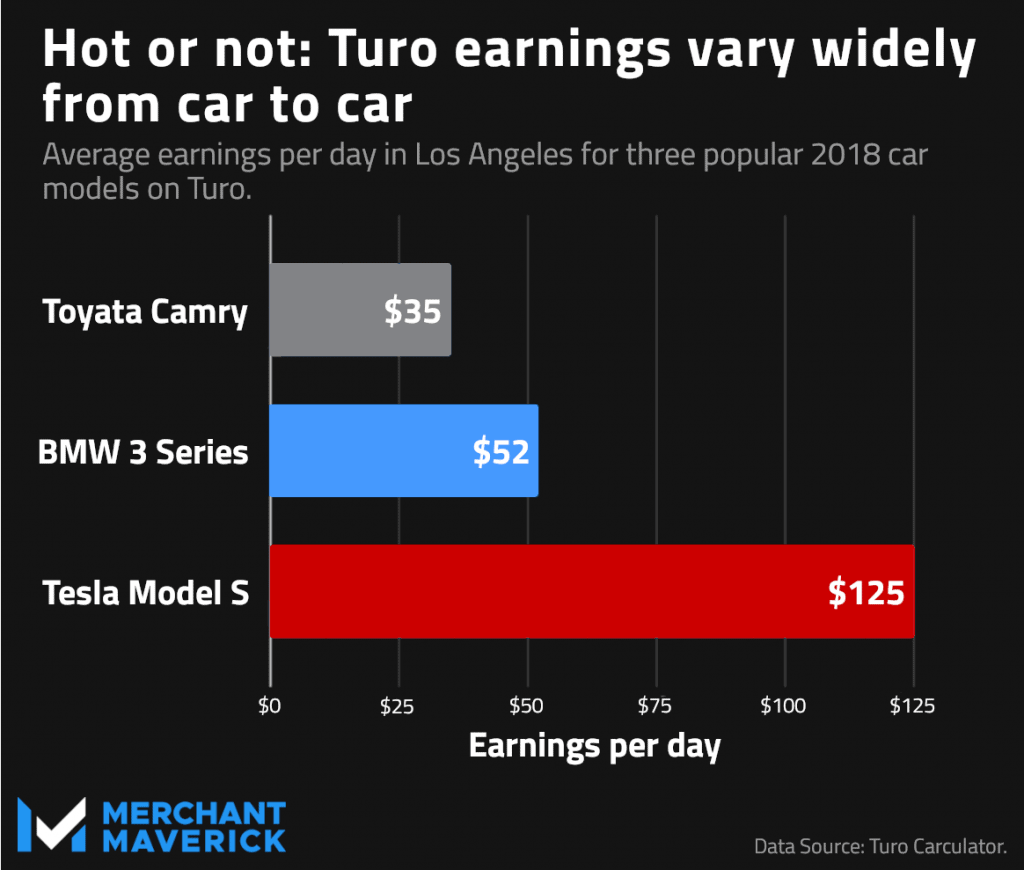 Purely as a side gig, though, this niche could work out great. With such a high hourly estimate, carsharing is awesome for those who don't need their car all the time (such as work-from-homers) because it provides a tidy sum with generally little upkeep beyond routine car maintenance.
2. Computer Brains-For-Hire

Estimated Hourly Wage: $34.66
Cost of Entry: Coding know-how
Popular Platforms: Upwork, Fiverr, Freelancer.com, PeoplePerHour
The Good: High hourly wage and full-time potential
The Bad: Specialised skills and education required
---
Computer brains-for-hire (a.k.a. those willing to sell their expertise in computer programming) are the only others on our list to post an average estimated hourly rate above $30. The computer programming industry has numerous niches under its umbrella. Computer brains-for-hire can focus on anything from web design to artificial intelligence development. Especially with the rise of remote work, knowing how to code is certainly a handy skill for many in the gig economy.
Of course (as the name implies), becoming a computer brain-for-hire does require some level of educational investment. For many, this could involve going to a four-year college, something both costly and time-consuming. While others may be able to get the skills needed through self-education, the investment of time may still be prohibitive.
Despite its educational time-sink, the computer programming industry can be very lucrative for the dedicated. A scan of listings on Upwork reveals that plenty of brains-for-hire charge hourly rates well above the industry's estimated average, with some hitting as high as $100+ per hour.
3. Vacation Rental Tycoon

Estimated Hourly Wage: $25.89
Cost of Entry: Real estate ownership
Popular Platforms: Airbnb, VRBO
The Good: High earning potential
The Bad: Huge initial property investment required and success is often location-dependant
---
One of the more well-known gig-style niches is also one of the best earning. Vacation rentals through services like Airbnb and VRBO have sprung up in popularity over the past few years. It's not surprising. Renting out a property to travelers can be a great way to earn extra money without needing to skip out on a full-time job.
Just like carsharing, however, vacation rentals require a hefty upfront investment. Because hosts usually need to own the rental space, not just anyone can make money off platforms like Airbnb. Some may choose to temporarily rent out their primary residence, but those who want to rent full-time will either need to qualify for a loan or have enough cash on hand to purchase a rental property.
Vacation rentals are also very location-dependent. Those with property investments in popular tourist areas will generally net a better profit compared to less popular destinations. For instance, someone in Tampa, Florida will be able to make more money off their rental property than someone in say, Louisville, Kentucky (about $750 a week more on average, per our data).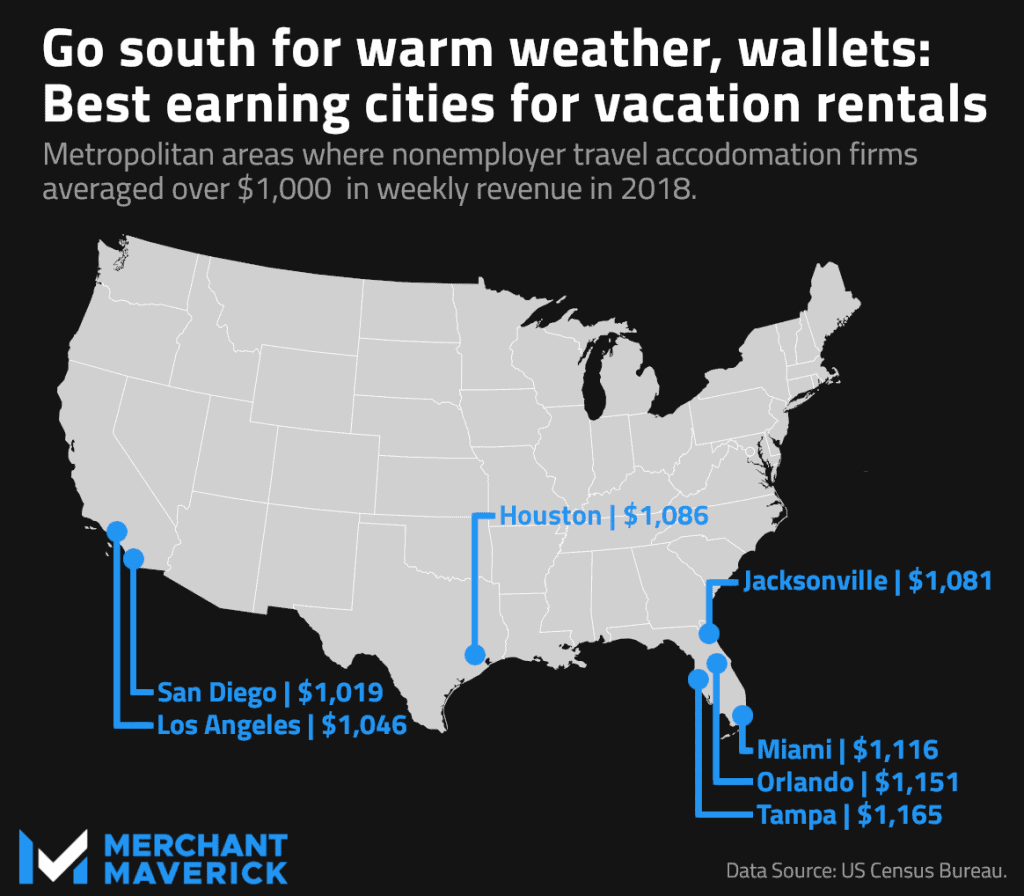 No matter the upfront investment, renting out space for travelers can be an excellent long-term money-maker. For starters, there's immediate cash flow as people rent out the property, helping offset a mortgage and general upkeep costs. Plus, property purchases are long-term investments that yield dividends well beyond the cash potential from platforms like Airbnb or VRBO.
4. Muscle-For-Hire

Estimated Hourly Wage: $23.35
Cost of Entry: Healthy body, with truck owners having a higher earning potential
Popular Platforms: Dolly, Lugg, TaskRabbit
The Good: Steady, reliable work with a low barrier to entry
The Bad: Success requires hard physical labor
---
Muscles-for-hire (also dubbed movers-for-hire) are among the newest players in today's gig economy, largely thanks to platforms Dolly and Lugg, which were both founded in 2014. Both platforms can connect those who are moving with willing, able-bodied movers and/or their pickups, trucks, or vans. For those healthy enough to move boxes and furniture, tapping into these apps could be an excellent income source.
Happily, muscle-for-hire jobs don't have many barriers to entry beyond a healthy body. However, Dolly and Lugg both offer more money to those with trucks or vans (Dolly specifically estimates that those with trucks can make double compared to those without).
Regardless of earning potential, becoming a muscle-for-hire can be a steady, reliable job option. People are always moving. Even despite recent lockdowns and social distancing guidelines, moves have still been happening. It's simply an industry that will always have work.
5. Jack-Of-All-Trades

Estimated Hourly Wage: $21.85
Cost of Entry: Handy skills
Popular Platforms: TaskRabbit, Handy
The Good: Very low barrier to entry
The Bad: Ability in a large variety of handy-work skills, including basic installation and plumbing, is often required for success
---
In cases where people can't or don't have the time to do something — like put together desk chairs or mount TVs — they can turn to jack-of-all-trades types, or "taskers" as one of the more popular apps, TaskRabbit, calls its gig workers. Other activities that fall under the jack-of-all-trades umbrella include basic handy-work tasks like fixing squeaky doors, stuck windows, or basic plumbing problems. Some of these services have even partnered with other companies to help with in-home installation. The aforementioned TaskRabbit, for example, works with Ikea for furniture assembly and installation. Such partnerships help build staying power for gig workers in this industry.
Alongside muscles-for-hire, this industry has the lowest barrier to entry among the other top 10 gig jobs. However, while handymen and women don't necessarily need to pursue formal education or make a costly upfront investment, they still must possess practical and versatile skills to be marketable to clients.
6. Freelance Content Creator

Estimated Hourly Wage: $20.96
Cost of Entry: Creative skills
Popular Platforms: Upwork, Fiverr, Freelancer.com, YouTube, Twitch, OnlyFans
The Good: Plenty of work available for a variety of creators, including writers, photographers, and graphic designers
The Bad: Only those with skill or education can make a reliable income
---
Freelance writers, artists, and graphic designers all predate many of the platforms born during the rise of the gig economy. Historically, freelancers worked for traditional institutions, such as newspapers or magazines. But thanks to modern technology, freelancers have easier access to work, for anyone, from anywhere.
This category can also include an up-and-coming set of creatives: internet content creators. Using platforms such as YouTube, Twitch, and OnlyFans, internet content creators can directly reach audiences, both in terms of the content they make and the money they receive (through donations, for example). Of course, "making it big" on a digital video platform is only for a lucky few — just 3.5% of channels on YouTube get at least one million views per month.
Regardless of how "big" they are, internet content creators across the board saw a boom during the start of COVID lockdowns last spring. This has been particularly true for those on OnlyFans, which surged in popularity throughout all of 2020.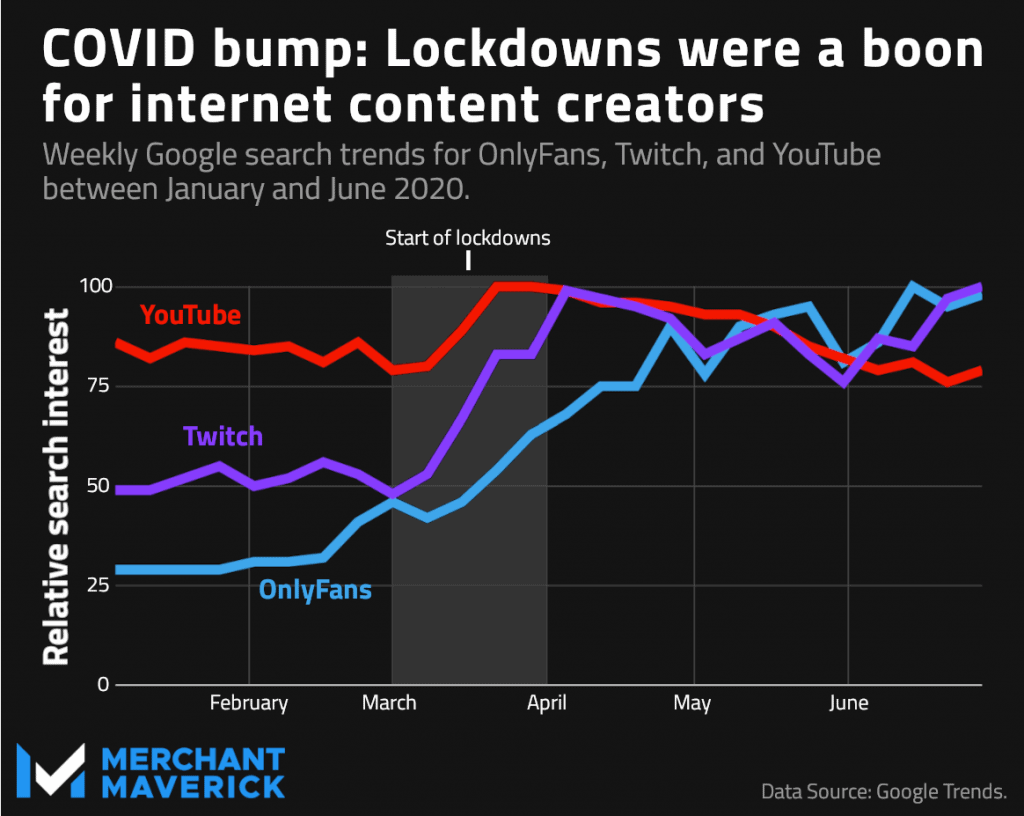 The biggest potential snag is that freelancers within this niche require some level of education or skill to be successful. It takes time to hone one's ability as a writer or artist, which can be aided via higher education. Making high-quality content online as a streamer or YouTuber may also require buying fancy new cameras or computers. As such, this is another gig economy industry that necessitates an upfront investment (although there are plenty of ways to find funding).
7. Tutor

Estimated Hourly Wage: $18.89
Cost of Entry: Teaching skills
Popular Platforms: Chegg, TutorMe, Studypool
The Good: High demand for potentially steady work; very little financial investment required to start
The Bad: Those who want to earn at the higher end usually need at least a college degree
---
Tutoring is another traditional gig job that predates the modern, app-driven gig economy. It's also the most vital position on our list in some ways — private tutors can offer 1:1 teaching time, which can be crucial to the educational development of children.
Broadly speaking, tutors require less education than an actual teacher or professor might. Teachers usually need at least a college education and must pass state tests in order to teach at public schools, while professors generally need at least a Master's degree. Conversely, depending on the grade or age level they plan to teach, a tutor may not need anything more than a high school diploma. However, the higher up in the educational ranks a tutor plans to teach, the more education they will need. Additionally, a higher level of education may make a tutor more marketable to clients.
Virtual tutoring has seen increased demand during the pandemic, which has encouraged some to start their own tutoring businesses. Some parents have even set up "pandemic pods" and hired private tutors to teach small groups of kids for several hours a day.
8. Adventure Gear Supplier

Estimated Hourly Wage: $18.63
Cost of Entry: Adventure gear ownership (bikes, surfboards, or skis)
Popular Platforms: Spinlister
The Good: Easy way to earn cash without much time or work required
The Bad: Initial investment in or ownership of high-quality gear is required
---
Bikes, surfboards, and skis are all things people use to have fun outdoors. But not everyone owns these adventure toys, which get pricey fast. That's where gear rental services like Spinlister come in.
People who do own adventure gear (bikes, surfboards, and skis, specifically) can turn these items into cash by renting them out to others. Think of it like Turo, but for adventure gear. And just like Turo, adventure gear renting does require an upfront investment, although bikes, surfboards, and skis usually run a bit cheaper than cars (plus, if the owner uses their gear when people aren't borrowing it, cost becomes a moot point).
Beyond adventure gear, there are other apps with rental options for pretty much anything. Fat Llama, for example, allows people to rent out a plethora of items, from cameras to sewing equipment. However, more general rental platforms will net a lower return compared to recreational equipment with a much higher value.
9. Private Chef

Estimated Hourly Wage: $18.10
Cost of Entry: Cooking skills
Popular Platforms: MyTable, Table at Home
The Good: High wages for enjoyable, creative work
The Bad: Years of experience and education are usually required for success
---
We all need to eat. For those that can afford it, hiring a private chef can be a tasty (albeit expensive) alternative to eating out. With the rising popularity of the overall gig economy, private chefs can now tap their skills into a gig job.
Platforms like MyTable and Table at Home provide a way for clients to connect with private chefs in their area. Hiring a private chef can be great for a special occasion or a private dinner party. Table at Home also advertises the fact that chefs on its platform can offer private cooking lessons.
Of course, cooking on a professional level isn't exactly easy. To be a successful personal chef, certification from a cooking school or years of experience honing culinary skills are a must (usually both). But such an educational time-sink is one of the reasons why this industry earns a place in the top 10 highest-paid gigs on our list.
10. Ridesharing Driver

Estimated Hourly Wage: $14.91
Cost of Entry: Car ownership
The Good: Flexible hours for reliable work
The Bad: You must have access to a car
---
Rounding out our top 10 is the quintessential gig job: ridesharing driver. When Uber burst onto the scene over a decade ago, it sparked a new era for the gig economy. The app-driven nature of this platform (and its younger competitor, Lyft) meant that gig workers could get paid in a new and fresh way, creating their own flexible work schedule while making it easy for customers to hire gig-focused drivers.
While ridesharing sits towards the lower end of the hourly wage spectrum, this industry still requires some upfront investments — the obvious one being that drivers must own a vehicle. That said, earning potential isn't quite as tied to car value when compared to carsharing (although Uber and Lyft both offer luxury ridesharing services that have a higher earning potential).
What's more, ridesharing driver participation is on the up-and-up. When looking at the number of non-employer firms in the "Other Transit and Ground Passenger Transportation" and "Taxi and Limousine Service" industries from 1997 to 2018, we see an increase of 860%. Much of the increase has occurred in the post-Uber era, too, signaling that gig-centric driving is becoming a trendy way to pocket some extra cash.
The Rest…
For this report, we also analyzed five other gig categories. In almost all cases, these bottom five categories require much less of an upfront investment than the top 10 categories.
Here are the five additional highest-paying gig economy jobs, including estimated hourly wages:
Methodology
The base dataset for our report comes from the latest US Census Bureau's Nonemployer Statistics (NES), which itself is derived from tax data for 2018. Because gig workers usually file taxes as a non-employer firm, this dataset provides a great way to snapshot the gig economy. NES also breaks down industries by their North American Industry Classification System (NAICS) code, which gave us an ample sample size for a number of gig economy niches.
To better reflect gig workers — who often live and operate in big cities — we narrowed NES down to only include data from the top 50 US metropolitan areas. We then matched various niches within the gig economy to NAICS coded industries available within NES. After tallying each industry's total revenue per non-employer firm, we adjusted the average annual revenue to be represented as an hourly rate based on a 30-per-hour workweek (previous studies have found that as many as 58% of gig economy workers work less than full time).
Please note that while NES may be the best tool we have to survey the gig economy, the dataset is far from perfect. Firstly, NES data doesn't solely contain gig workers, meaning that non-gig workers may muddle the numbers somewhat. Secondly, current trends may not be accurately reflected because the most recent dataset is from 2018. Hopefully, more accurate, timely, and accessible data will become available as the gig economy continues to grow.
The table below shows the 15 gig economy niches we surveyed and their related NAICS-coded industry (or industries in some cases):
| Gig Economy Niche | Related Industry (NAICS Code) |
| --- | --- |
| Vacation Rental Tycoon | Traveler Accommodation (7211) |
| Tutor | Not applicable* |
| Self-Appointed Car Rental Agent | Automotive Equipment Rental and Leasing (5321) |
| Ride-Sharing Driver | Other Transit and Ground Passenger Transportation (4859), Taxi and Limousine Service (4853) |
| Pet Caretaker | Pet Care (except Veterinary) Services (81291) |
| Personal Chef | Special Food Services (7223) |
| Muscle-For-Hire | Not applicable* |
| Local Tour Guide | Not applicable* |
| Jack Of All Trades | Other Personal and Household Goods Repair and Maintenance (81149), Other Personal Services (8129), Other Services to Buildings and Dwellings (56179) |
| House Cleaner | Janitorial Services (56172) |
| Freelance Content Creator | Independent Artists, Writers, and Performers (7115) |
| Delivery Courier | Couriers and Messengers (492) |
| Computer Brains-For-Hire | Computer Systems Design and Related Services (5415) |
| Babysitter | Child Day Care Services (6244) |
| Adventure Gear Supplier | Recreational Goods Rental (532284) |
* For some categories, we augmented our data based on hourly wage averages pulled from publicly available data on Indeed, Payscale, and CareerExplorer. This occurred when NES had no viable industry for a specific gig niche or when there was a high level of variance between NES and Indeed/Payscale/CareerExplorer data.
Key Takeaways
The gig economy can be a great way to earn some extra cash — but only if you have the time, money, and education to break into it. The encouraging news is that earning potential is quite high, particularly in industries such as carsharing or computer programming. Our estimated hourly rate for both industries sits well above $30 per hour on average. Other industries, such as vacation rentals, moving, and task work also provide pathways to financial success.
To truly make a decent wage, though, gig workers generally must first invest money, time, or both. As such, the most successful in the gig economy will be those who already have access to the tools necessary to thrive. That fact is important to keep in mind as we work to build a more inclusive and open economy that benefits everyone. It's clear that the hustle to survive is becoming more and more necessary. This means that more and more people will attempt to make a buck or two through various industries in the gig economy. For those with the right resources, the decision to make money via a gig job may indeed be lucrative — especially if they have a Tesla or two handy.