Top 7 Jobs About To Disappear (And 3 That Will Emerge) Due To COVID
Sped up by the pandemic, automation is coming quickly to jobs we've usually associated with human interaction, particularly in the service and hospitality industries.
Expert Analyst & Reviewer

UPDATED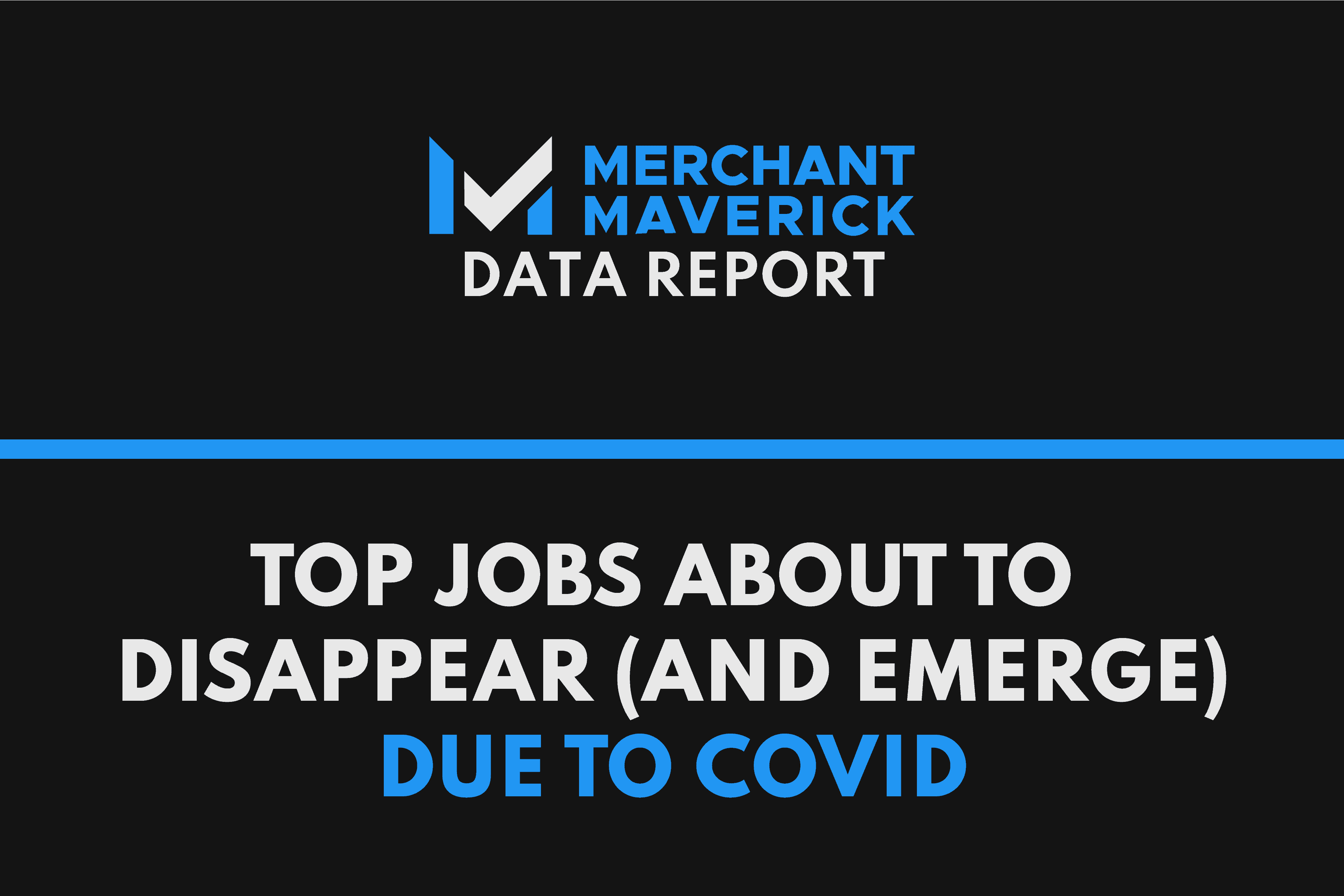 While the nation tries to cope with the fallout from COVID, and braces for changes to come from the Delta variant, Merchant Maverick's latest report contains a clear finding: customer-facing service jobs easily replaced by technology will disappear at a stunning rate. In fact, based on Bureau of Labor Statistics data we analyzed, seven job categories affected by technological advancements are estimated to drop nearly 20% on average by 2029. This means that roughly one out of every five employees who leaves one of these jobs over the next decade will not be replaced.
This may have been inevitable, as advancements in robotics and the public's increasing comfort with technology made it easier for many of us to interact with machines instead of people. But the arrival of COVID has sped up the process by forcing us into these interactions.
There's a major silver lining, though. The pandemic increased opportunities in several occupations, including:
Information security analyst
Medical researcher
Mental health counselor
People in these jobs can usually expect to earn above average incomes, and opportunities in these fields are expected to increase by between 25% and 40% over the next decade.
Key Findings
COVID spurred the rise of automation. A number of the jobs we surveyed are likely to see a drop in human employment because of automated devices. This includes hotel clerks and cashiers — both roles can be replaced by the self-operated kiosks that became popular during COVID as companies and customers attempted to decrease person-to-person contact.
The Internet is primed to obliterate jobs like travel agents and news vendors, which were already on the decline and patronized primarily by older generations. Because people of all ages became used to carrying out basic functions online during quarantine, these dwindling industries look to become entirely extinct.
Brand new career doors have opened as a result of the pandemic, including jobs in information security, medical research, and mental health. These are specifically high profile, high-paying jobs that were not in much demand prior to the pandemic.

7 Jobs About To Disappear Due To COVID…
For this report, we considered a plethora of sources. We primarily leaned on data from the US Bureau of Labor Statistics (BLS) that projected occupational employment increases and decreases from 2019 to 2029. We also researched industry-specific data points across all the industries we considered to come up with this list.
Travel Agents
Projected change 2019-29: -25.9%
---
Pre-pandemic, the number of travel agents was predicted to decrease by almost 26%. The job role is in an even worse spot now. According to the US Travel Association, annual travel spending decreased 42% in 2020 to $679 billion. Such industry-wide numbers don't bode well for travel agents, even as the whole industry attempts to recover. Plus, consumers are turning more and more to online booking websites like Booking.com and Tripadvisor. Per data obtained by Statista, online travel booking sites own a 66% market share of the travel booking industry — and that number is expected to grow to 72% by 2025. Because travelers can skip past travel agents for more convenient booking methods, the general outlook for the profession is bleak.
Hotel Clerks
Projected change 2019-29: -22.0%
---
The 22% projected decrease in the number of hotel clerks for 2019-2029 is based on revised data that accounts for COVID. The hotel industry struggled mightily in 2020, though travel saw an uptick in 2021 as vaccine availability and lower case numbers helped many Americans feel safe to travel again. However, the COVID-accelerated trend of automation, as well as worker shortages for low-paying hospitality jobs, will likely eliminate many hotel clerk positions in the near future. The BLS specifically cites automated check-in stands and mobile phone room keys as potential reasons for the job's downturn. Also, travel is starting to cool off again due to worries about the Delta variant — according to a recent Destination Analysts industry survey, of those polled, 25% have postponed an upcoming trip and 19% have canceled a trip due to the Delta variant specifically.
News Vendors
Projected change 2019-29: -20.0%
---
News vendors, who sell newspapers and magazines out of street kiosks, were primed to dip pre-pandemic, as estimates predicted a 20% decrease in employment. However, COVID drove the nail home. Newspapers as a whole saw a 16% decrease in revenue in 2020, according to FTI Consulting — a number that particularly spells doom for news vendors. Additionally, people are turning to online news websites instead of reading traditional print coverage. Per Pew Research center, newspaper websites experienced a 14% increase in online traffic in 2020. This data point damages news vendors, and especially so after a year when people frequently eschewed purchasing physical items to lessen COVID transmission.
Cashiers
Projected change 2019-29: -19.8%
---
Advances in automation technology, disease risks, and worker shortages are all factors affecting the outlook for cashier jobs, and the pandemic is expected to accelerate checkout automation. Moreover, since COVID, more customers are purchasing food and retail goods online rather than from an in-person cashier. According to the Mastercard Economic Institute, eCommerce comprised 22% of all US retail sales at the height of the pandemic in 2020, up from 11% pre-pandemic. The recent minimum wage increases across 24 states additionally have some employers considering replacing cashiers with self-checkout machines.
Restaurant Hosts & Hostesses
Projected change 2019-29: -18.0%
---
Using revised data that accounts for COVID, the BLS predicts that restaurant hosts and hostess employment will drop 18% through 2029. The reasoning isn't too shocking. Customers have become primed to order food online and through mobile apps — the top four food delivery apps (DoorDash, Uber Eats, Grubhub, and Postmates) collectively saw a $3 billion increase in revenue during the third quarter of 2020. Additionally, online booking sites such as OpenTable and Resy are lessening the need for hosts and hostesses to help customers reserve tables. All told, it seems likely that customers will continue to take advantage of digital ways to interact with restaurants, potentially decreasing the necessary number of hosts and hostesses post-pandemic.
Fast Food Cooks
Projected change 2019-29: -13.4%
---
It is projected that fast food cook employment will decrease by 13.4% through 2029. Restaurant worker shortages, automation, and COVID transmission risks are all factors currently influencing employment in this sector. In restaurant kitchens, where staff work in close quarters with limited ventilation, COVID outbreaks have been all too common. Research from UC San Francisco showed that restaurant worker mortality increased 40% in California from March to October 2020, making this profession even more deadly than healthcare jobs for that time period. With COVID taking such a heavy toll on restaurant workers, some fast-food restaurants are now looking to replace simpler food prep jobs such as line cooks with new automated systems; for example, White Castle is currently testing robotic fry cooks.
Movie Projectionists
Projected change 2019-29: -11.2%
---
Movie projectionists, who operate and set up motion picture projection equipment, were heading towards an 11.2% decrease through 2029 per pre-pandemic projections by the BLS. Such decline was likely due to the projection process at many theaters becoming automated since movies have gone digital. And after the movie industry was hit hard during the pandemic, that decline should only grow larger. Domestic box office revenue dropped roughly 80% from 2019 to 2020, drastically lessening the need for movie projectionists. Additionally, movie studios experimented with bypassing the movie theater. Disney Plus, for example, now offers movie watchers the ability to rent movies in-home the same day they release in theaters. On top of Disney's move, Warner Bros. is dropping an entire slate of movies on HBO Max in 2021.
… And 3 Jobs About To Emerge Due To COVID
Information Security Analysts
Projected change 2019-29: +43.0%
---
With all the recent headline-making data breaches, it should be no surprise that demand for information security analysts is on the rise. The 43% projected increase in information security analyst employment through 2029 is based on BLS-revised data that accounts for COVID's impact on cybersecurity. Indeed, COVID has allowed more opportunities for hackers to infiltrate online data systems. According to a survey released by the Information Systems Security Association and Enterprise Strategy Group, information security professionals saw a 63% increase in cyber-attacks due to COVID.
Medical Scientists
Projected change 2019-29: +30.7%
---
The BLS estimates that the number of medical scientists will boom over 30% during the next decade, a number that represents roughly 40,000 new jobs. Such an increase is due to COVID because the BLS expects that there will be more attention given to pandemic preparedness in the future. Medical scientists have been tapped to provide governments and individuals with advice on how to best survive the pandemic. Such scientists have also been active outside the public view — laboratory scientists are behind the widespread COVID testing that has become prevalent in the past year.
Mental Health Counselors
Projected change 2019-29: +24.7%
---
Quarantine and the general stress of a pandemic dramatically impacted the mental health state of many. Mental health counselors, who the BLS predicted a nearly 25% increase in employment pre-pandemic, will certainly be called to help out alleviate the impact. Research by the Kaiser Family Foundation (KFF) puts a particular spotlight on how damaging COVID was to the public's mental health. Per a January 2021 survey, 41% of surveyed adults reported experiencing anxiety and/or depression. KFF found that number compares drastically to the 11% who responded the same before COVID. Especially factoring in the worldwide nature of COVID, it seems reasonable that mental health counselors will be in high demand for the foreseeable future.
Methodology
To best determine which jobs are in a position to decrease in popularity due to the pandemic, we first turned to the US Bureau and Labor Statistics' employment projections for 2019-29. We also factored in the BLS' revised employment projections that took the pandemic into account. This second data source was only used for eligible jobs. In both instances, we looked primarily at the expected percent change in employment for each given job.
After analyzing the BLS' datasets, we then delved into data that showed how industries were affected by the pandemic. We pulled this data from numerous sources, which include:
By combining the BLS employment projections with industry changes during the pandemic, we were able to glean a holistic look at the job marketplace. This ultimately allowed us to determine seven jobs negatively affected by COVID and three jobs positively affected.
Shannon Vissers contributed to this report.