How To Start An Ice Cream Shop In 9 Easy Steps
Want to open an ice cream business? Learn how much it might cost, the steps you should take, and everything else you might need to know to start your ice cream business journey.
Merchant Maverick Contributor

UPDATED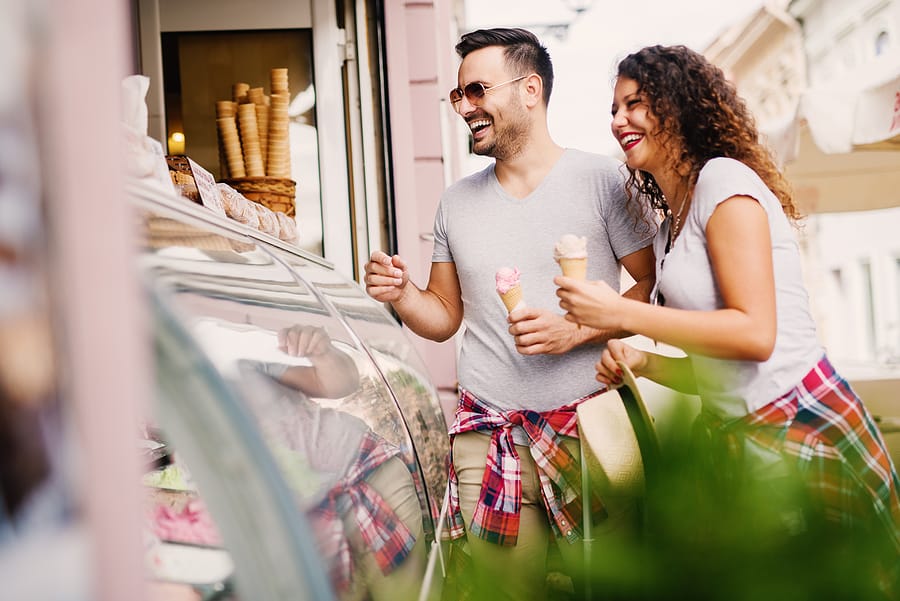 Are you looking to start a freezy and flavorful venture? Planning for, opening, and maintaining an ice cream business won't be just desserts (pun definitely intended).
When you start an ice cream business, it's best to know what you'll need to operate your business smoothly and with minimal interruptions. From writing an original business plan to finding a point of sale system, there are many things to consider.
Don't know where to begin? Let's examine everything you need to know about starting an ice cream business.
Why Start An Ice Cream Shop?
Ice cream is more than just a classic dessert — it's a profitable enterprise.
Ice cream sales have been going up since 2022, with big brands Tillamook and Haagen-Dazs seeing notable growth. Fortune Business Insights projects that the total value of the global ice cream market will come out to a whopping $104.96 billion in 2029, which is a 35% increase from $73.61 billion in 2021. Further, experts state that ice cream shops can expect a generous profit margin of 25%. (Compare that with the average of 5% for restaurants and 10-15% for bars.)
Consumers want the comfort and delicacy that ice cream brings, and right now, they're especially open to unique flavor experiences and health-conscious offerings. The data suggests they're actively seeking out smaller ice cream businesses to support. You may even be surprised to hear that ice cream shops are recession-proof businesses.
How Will Your Ice Cream Business Operate?
You'll have plenty of things to consider as you're getting ready to run your ice cream shop.
Will You Have A Brick-And-Mortar Shop Or A Food Truck? There are a fair amount of pros and cons between both. A truck costs less to start up, and you have the freedom that comes with mobility. But you also have to consider the extra liabilities by putting your business on wheels, such as potential car accidents and vehicle repairs. (Selling online is an option, too, but it's incredibly difficult and resource-consuming for the ice cream business—it's wise for first-time owners to start small and local.)
Will You Make Your Ice Cream In-House Or Off-Site? If you're making it on-site, you will need the space to craft and store your product for long periods. Making it off-site means you'll have to factor extra costs, such as rent and transportation, into your overhead.
Will You Operate Seasonally Or Year-Round? Summer tends to be the most popular time to sell ice cream, but if you rent and insure a physical storefront, you may want to brainstorm creative ways to keep sales steady during off-seasons.
What Types Of Ice Cream Will You Serve? This will determine where you'll source ingredients, how you'll organize and promote your menu, and may even dictate which licenses you need. Along these lines, you should decide early on if you want a self-serve bar with toppings or set recipes for specialty items. (Or both!)
Will You Tailor Your Desserts To A Specific Audience Or Theme? You can opt for traditional, family-friendly branding or choose a style that's more in line with college students or adults. While at university, I enjoyed Saffron and Rose for their Middle Eastern-inspired flavors and Afters Ice Cream for its Rick and Morty-themed interior design at the time. As you make a marketing plan for your business, have an idea of your target audience.
9 Steps To Start Your Ice Cream Business
Now, let's get into specific steps you can take to open your first ice cream shop.
Step 1: Make A Business Plan
Researching your local market and knowing your target audience comes first. And remember, you won't be without competitors — if you want to set your ice cream's prices over theirs, you'll have to find unique ways to set your business apart and justify the cost. A solid business plan will give you direction to help your business succeed.
The essential points you should touch on in your business plan are:
The business objectives you want to meet, such as financial goals and hopes for growing your business
Determining who your ideal customers are
The kind of experience you want your customers to have and why they should pay you for it
Your ice cream shop's advantages and disadvantages compared to its competitors
Establishing a realistic financial summary, including startup and maintenance costs, and how your marketing strategy fits into that
All of this will affect the choices you make. If your ice cream shop will be located in a busy downtown area, you may want to brand it as a trendy spot to wind down and enjoy special treats. And should you want to profit off of selling exclusively vegan soft serves, your business plan is your chance to flesh out your specific cost and marketing challenges.
If you're aiming to be a sole owner with a straightforward business idea, then a one-page business plan may be the right choice.
Step 2: Find Funding
Launching your business will cost you. Remember the startup costs you've recorded in your business plan? Use that to guide you as you search for necessary funding.
Industrial kitchen equipment isn't cheap — it'll cost tens of thousands of dollars. You'll need startup funding to get the ball rolling. Funding options for start-ups and new businesses can be from crowdsourcing like Kickstarter or GoFundMe (which people have used to fund their business idea).
Another option: Look for small business loans through reputable lenders.
Step 3: Choose A Location
A great location can make or break your business. Finding a spot accessible to nearby foot traffic and residents will put you in contact with more customers and help drive sales. Do your best to choose a location that's nearby or within:
Town centers and shopping centers
Schools/universities
Malls
Restaurants
Local attractions such as beaches, museums, movie theaters, and parks
Your customers may be more likely to sit and enjoy their treat instead of taking it with them in the car and heading home. Having a spot that's comfortable and accessible to parking is a huge plus.
Step 4: Register Your Business
Whether you're operating as a sole proprietorship or an LLC (don't know the difference between the two? Read our guide), you will need to register your business with your local government, at the very least.
Any business entity that isn't a sole proprietorship will also need to register with the state. If your state or local government doesn't have an online portal, you'll have to acquire and submit physical forms through your secretary of state or local government tax offices.
Most businesses will need an employer identification number, or EIN, for federal tax purposes.
This will help the government keep track of the taxes you owe, such as income tax, employment taxes (e.g., Medicare and social security), and self-employment tax depending on your business structure. You can apply for an EIN through the IRS for free online.
Step 5: Get Licenses & Permits
Food handler permits will be necessary for you and your employees, and every ice cream shop will need a business license to remain legally compliant. Unless you're operating in Delaware, New Hampshire, Oregon, or Montana, a seller's permit is also required since you will be taxed on your product's sales.
Beyond those necessary licenses and permits, you may also need:
a mobile food vendor permit if you're selling from a food truck
a liquor license to sell boozy ice cream, milkshakes, and popsicles
a DBA registration if you want to operate under a different business name
a retail food establishment permit and building health permit if you're selling ice cream from a physical store
Step 6: Find Business Software
Thankfully, numerous software exists today that mitigate the challenges of running a food establishment.
The ones you'll need for your day-to-day operations include:
Step 7: Hire Employees
One of the biggest benefits of an ice cream shop is that it doesn't require a large staff to operate. Still, there are valid concerns that come with hiring employees.
You'll need an EIN for your business before you hire your first employee.
Running an ice cream shop won't come without physical risks, either, so you'll want to invest in workers' compensation insurance should an employee get injured on the job.
Wondering how to get your first employees? Here's our guide to finding employees in five easy steps.
Step 8: Prepare For Launch
Your opening is your opportunity to leave an amazing first impression on your customers and the community. But if you don't create a buzz beforehand, you know the saying about the tree falling in the forest.
Leverage your resources to stir up excitement before the big day. Is there a farmers' market close to your shop? Snag a booth and dish out samples with business cards. It might surprise you that customers want to be contacted by businesses they like, so do your best to integrate text and email marketing strategies into your launch prep.
And don't neglect the power of social media (like TikTok) to help spread word of mouth and build appeal.
Once you've got enough people interested, consider a soft launch (or two). This is your chance to make sure everything's ready before your grand opening.
Step 9: Grow Your Business
Should everything go well, is opening another location in your sights? Maybe you want to eventually start a franchise.
According to the US Chamber of Commerce, tell-tale signs that you're ready for growth are:
You have a solid team of employees
You're experiencing more demand than you can physically provide for
Your customer base is expanding
You're meeting your business metrics
You've defined your process
You'll need a good bank account to hold your cash. Use a high-yield business savings account to get the most out of your savings.
Where To Find Funding For Your Ice Cream Shop
The importance of funding can't be stressed enough.
Businesses require capital to start. Even if you're already sitting on a personal fortune you're ready to spend on a venture, financial assistance can seriously mitigate the risks of potential losses.
Multiple funding options are available to you.
A business loan can give you the financial resources you need to test recipes, secure your location, buy inventory and equipment, and have payment ready for your first employees. Equipment loans, in particular, will help you purchase the tools you need to make your ice cream.
However, new entrepreneurs may find it harder to acquire loans since an established history of business credit is one of the main things lenders consider.
Business credit cards, personal loans, and crowdfunding (checkout types and possible incentives) are other options to consider.
The SBA can assist with funding your business, too.
How Much Does It Cost To Open An Ice Cream Shop?
Experts suggest that starting an ice cream shop can cost between $20,000 and $60,000.
Expect to pay even more if you're buying a building to do business in and plan on investing in brand-new equipment.
Ultimately, the cost will depend on factors such as your location, whether you're renting or buying your storefront or truck, the business licenses you're required to have (fair warning — liquor licenses and liquor liability insurance, in particular, are especially pricy), and how much inventory you'll need to start.
Funding Options For Your Ice Cream Business
Looking for more info on where to find funding options?
We've researched the best small business loans and the best banks to get business loans.
If credit is a concern, it's possible to get business loans with bad credit, and some loans don't require a credit check.
Are You Ready To Start Your Own Ice Cream Business?
An ice cream shop can be profitable, but starting your business without the right action plan will inevitably cost you.
Now that you know more about the steps you should take and how to get funding, you should have a clearer sense of direction and more confidence in navigating the tricky startup process. Go out there and put a smile on your customer's faces.
Congratulations on making it this far, and best of luck with your venture!
Starting An Ice Cream Shop: FAQs