Managing Editor

Updated on:
Advertiser Disclosure: Our unbiased reviews and content are supported in part by
affiliate partnerships
, and we adhere to strict
guidelines
to preserve editorial integrity.
ADP Payroll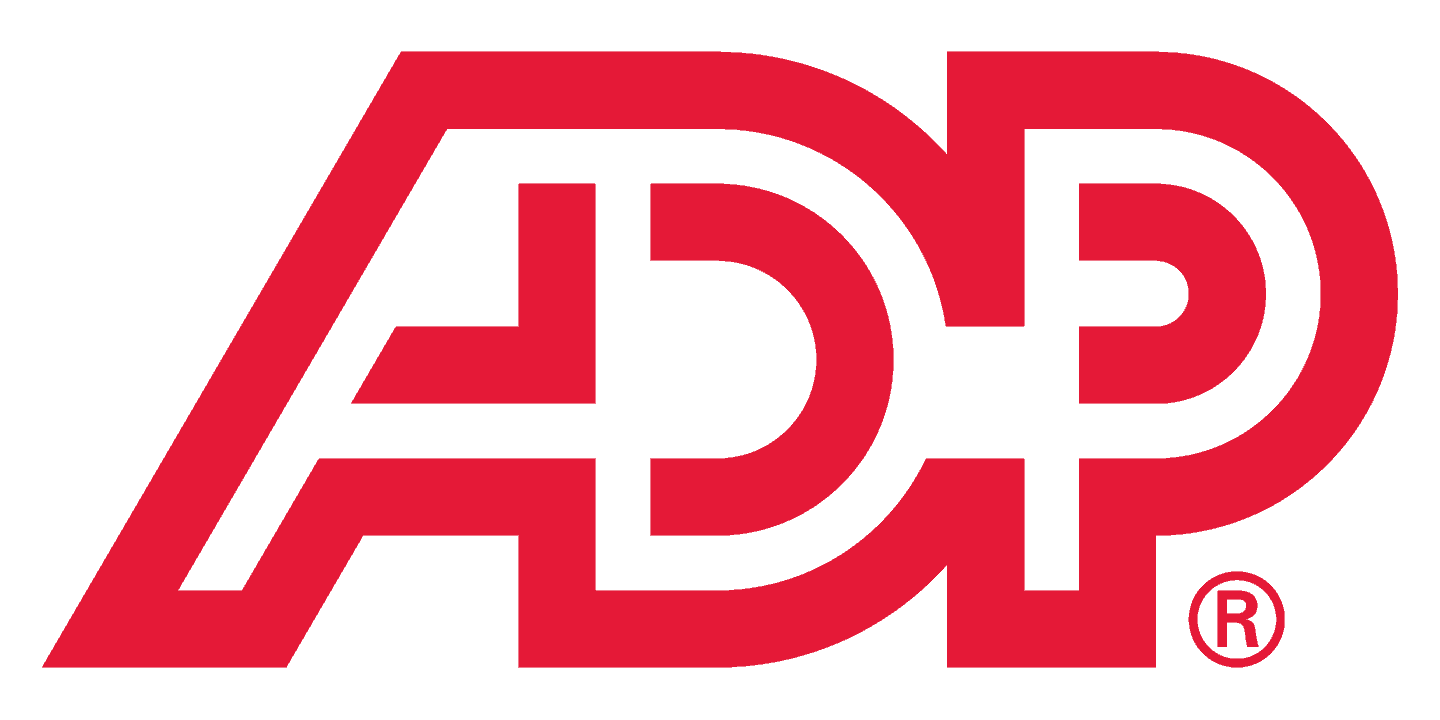 Pros
Advanced employee management
Strong payroll features
Great customer support
Cons
No pricing disclosed online
Numerous additional fees
Built-in HR is additional
ADP Payroll Overview
You may have heard of ADP, Inc. (Automatic Data Processing) because it's one of the biggest and longest-running workplace management systems available for businesses worldwide.
ADP is a big player in the payroll software and workplace management field. It has always been on the cutting-edge of technology, even back when they first needed to upgrade to punch-card machines, then computers, and now cloud-based mobile apps. Because of that, ADP might be a payroll expert, but it might not be the most cost-effective option for small businesses with less than 50 employees.
It's difficult to locate a firm price for the program online. Benefits administration abilities are add-ons, which means that compared to other starter-payroll programs, this one has way too many non-transparent fees that can quickly add up. However, ADP prides itself on customer support and will bend over backward to make itself available for clients with concerns. It's a solid option for a company looking to grow, but it isn't the cheapest for companies looking to save. Small businesses looking for a more affordable payroll solution might want to check out Gusto instead.
Continue reading our full ADP review to learn about everything this payroll provider has to offer.
ADP Pricing
The most important thing to know about ADP's pricing is that it is hard to find prices online. You will need to schedule a chat with a salesperson to receive a quote for your business. When a company isn't 100% transparent about what you might end up paying per month, it can be difficult to shop for comparisons. However, ADP's plans are custom-tailored to each business's specific needs, so we can understand why the pricing isn't on the site for everyone to see upfront. (And if you want to use ADP payroll to integrate benefits such as managing retirement funds, the fees are notorious for being outrageous.)
On average, you will pay $160 with 10-15 employees. We were quoted $179.86 monthly for 11 employees for payroll and HR Plus; that is a $10 per-employee fee in addition to payroll fees. (The company charges a fee each time you run payroll with ADP software.) There is also a $25 setup fee that is usually waived with a contract. All quotes are customized per your business location, number of employees, frequency of running payroll, etc.
ADP generally offers customers two free months and reduced-rate contracts to sign a yearly contract. Each contract is different, but most request a 12-month commitment and are paid upfront. There is no termination fee, but there are no refunds for canceled contracts. ADP is currently running a promotion for three months of free service for new customers.
RUN Powered By ADP
RUN has four different pricing levels depending on your needs: the Essential Plan, Enhanced Plan, Complete Plan, and HR Plus Plan. Based on our research, it appears that there is a $20-$50 per month increase on pricing, depending on which level of RUN you use. All of the RUN plans, however, include the following:
Contact ADP for pricing
Payroll system ideal for one to 49 employees
Payroll processing
Direct deposit
Debit card payment available
Tax filing
General ledger interface
New hire reporting
ADP employee access
HR tips w/newsletter
HR checkups
Electronic reporting
ADP Workforce Now
When you hit 50 employees, you've outgrown ADP Run and would need to upgrade to ADP Workforce Now. The Workforce Now platform also has a tiered pricing system — each tier includes more HR options — but people interested in the program would need to talk to a sales associate to get an accurate rate.
Contact ADP for pricing
Payroll system ideal for 50-999 employees
Payroll processing
Direct deposit
Tax filing service
Custom report builder
Country-specific record keeping
Time and attendance tracking
Compliance assistance
Job description and template wizard
HR toolkit
Employee handbook wizard
Robust scheduling capabilities
ADP Vantage HCM
And finally, Vantage HCM is the most popular ADP platform, and it caters to large companies globally. If your business has 1,000 employees, then I think you've graduated to a large business. But here is what the ADP Vantage plan offers:
Contact ADP for pricing
Payroll system ideal for 1,000+ employees
Payroll processing
Direct deposit
Tax filing service
Talent and recruitment management
Employee scheduling
Employee record-keeping
Extra Costs
There are several additional ADP costs to be aware of before signing up.
Health Benefits: Health benefits offered through ADP are not available in all 50 states at the moment. While ADP integrates with other benefit management platforms, health benefits through ADP work through the assistance of an ADP associate who will guide you through the benefits process. The Workforce Now program includes a feature that helps ensure compliance with the Affordable Care Act. Pricing on health care benefits varies greatly depending on the type of care, type of plan, deductibles, etc.
Worker's Compensation Insurance: ADP works with many worker's compensation brokers if you do not already have a worker's comp plan in place through an insurance company. This piece of insurance is designed for employees who are injured on the job, and it can be a state requirement to carry it.
Other HR Benefits: The Essential plan for RUN does not come with any additional HR features. To access the ability to manage your HR through your payroll, you will need to make sure you sign up for the Complete or HR Plus Plan. However, insurance, retirement, and health care compliance are all available as an add-on to the Essential or Enhanced plans.
Cloud-Based Or Locally-Installed
ADP is entirely cloud-based, so no downloads or installation are required.
Hardware & Software Requirements
As a cloud-based payroll solution, ADP is compatible with any device as long as you have an internet connection. ADP also offers a mobile app so that you can even run your payroll on the go.
Specific Size Of Business
ADP advertises three different payroll programs that work for businesses with up to 1,000 employees. For small businesses, ADP offers RUN Powered by ADP, which is ideal for up to 50 employees; Workforce Now is for medium-sized businesses, and Vantage is for large companies. ADP does serve small businesses, but considering the price and feature-set, ADP works best for mid-sized and large companies. (Or for small companies looking to grow and want a payroll system that will grow with them.)
Adding an HR platform is an extra cost at the basic level of RUN. Since ADP charges per payroll, a company with 50 employees or less that runs a weekly or biweekly payroll can find more cost-effective options, such as Gusto.
Ease Of Use
ADP is easy to use and well-organized. For such advanced software in terms of features, ADP is surprisingly intuitive, and the setup process comes with guided support. When it's time to enter employees and set up your payroll schedule, ADP wants to make sure you feel supported. Luddites, rejoice: ADP has you covered. An ADP representative will walk all users through a tutorial and provide links for access to your payroll.
ADP Features
Here's an overview of what you can expect with ADP's payroll services:
Dashboard: The payroll dashboard runs at the top of the screen, or there are quick-access icons from the home page. The interface is straightforward and intuitive. From either of those two places, business owners can access all the available payroll features.
Employee Portal: Employees can easily access My ADP for all their pay stubs and tax information. The employee portal also connects to any HR features you are using to streamline HR.
Employee Management: ADP has many features to help you manage your employees and contractors from a single interface. You can add information, including job title, payment information, time off, tax documents, and benefits. ADP also allows you to manage additional earnings, deductions, and garnishments.
Payroll: ADP wants to make running payroll as easy as possible, and rest assured, it is simple. When your employees are enrolled and their hours, pay scales, and pay date are set, running payroll involves just a few clicks of a button. Bonus: You can add a fun little message to everyone's check stub if you feel inclined to do so. (I can see myself already in trouble for over-use of check stub affirmations each pay period.)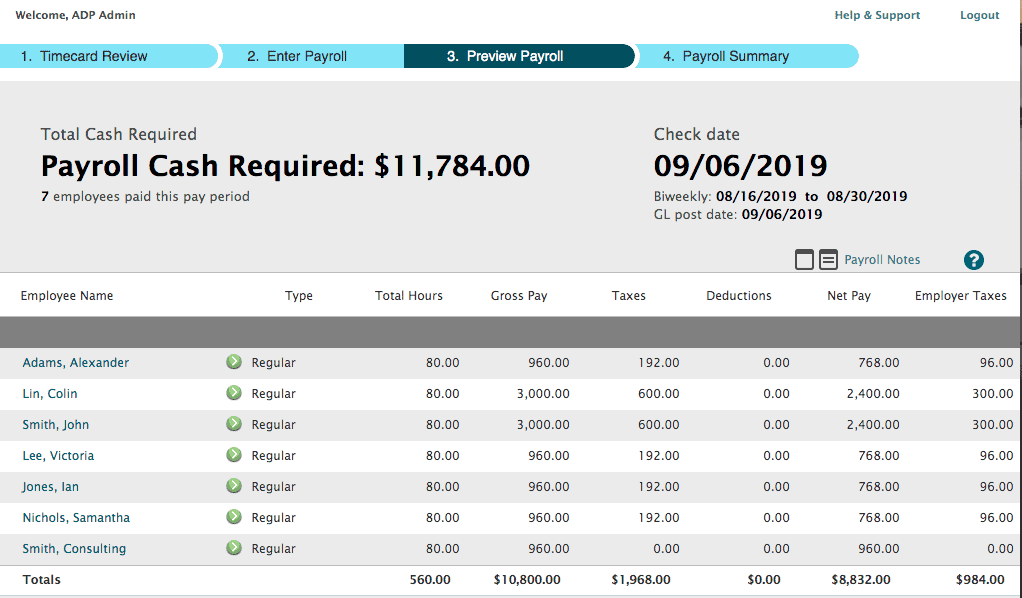 Payment Methods: ADP offers direct deposit and cash cards.
Pay Stubs & Checks: Employees can download a PDF of their pay stubs directly from their employee portal. If you choose to pay your employees by check, you can print the checks.
Paid Time Off (PTO): You can set paid time off policies for any plan, including vacation and sick days. Set sick/vacation days or accrued sick/vacation days are both possibilities under the payroll options.
Time Tracking: Keeping track of hours worked is essential to running payroll. Any great payroll solution has a quality time-tracking feature that integrates well with other time-tracking programs. ADP does both.
Reports: A benefit of its age and expertise is that ADP offers extensive reporting options. The list below is only a start. Once inside certain features, additional reporting options become available. For example, with the ADP time-tracking software, you can run reports that show which employees are approaching overtime, which employees routinely forget to clock out, etc.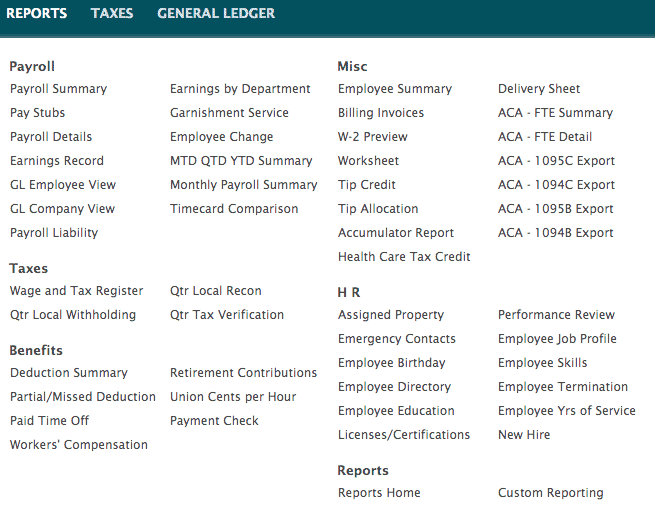 Benefits Administration: Only the top plans for RUN — Complete and HR Plus — offer benefits administration options as part of the contract. Any business owner can pay additional fees per month to provide retirement or insurance options through ADP partners.
Garnishment Payroll: ADP can handle pay garnishment for you.
Tax Support: ADP will calculate, withhold, and pay the IRS its share of taxes. ADP also supports W-2s, 1099s, I-9s, and W-4s. You can have your employees e-sign their I-9s and W-4s, and they can easily view and download their W-2s and 1099s at the end of the year.
ADP Customer Service & Support
ADP typically scores high in customer service and support. The company is proud of its A+ Better Business Bureau rating. The few complaints about customer service center around one issue: lengthy wait times to talk to experts. Like many other payroll services, the individuals answering calls for ADP's customer service are amazing but lack specific knowledge about payroll, taxes, insurance, or any other complicated questions business owners may have. Finding someone who can answer your specific tax question or problem can be hard — but people work hard for ADP's customer support. That hard work shows in the company's reputation and attentiveness to concerns.
Phone: You can talk to a real human 24/7.
Email: You can send an email to the ADP support team.
Live Chat: There is a Virtual Support option that clients can use on the website to access someone who can help navigate your ADP program 24/7.
Community Forums: ADP takes the time to respond to reviews left on the BBB or other large review sites. If you're having trouble accessing an answer, posting a response to ADP on the BBB website could be beneficial.
Videos: ADP has its own YouTube channel! It's loaded with amazing clips and resources you may find helpful.
Social Media: ADP maintains Twitter, Facebook, Instagram, and LinkedIn accounts, and reps are active and comment on posts as needed.
ADP User Reviews
Negative Reviews & Complaints
ADP has an A+ rating with the Better Business Bureau, but even with its stellar reputation, there have been over 300 complaints about the company to the BBB in the last three years. ADP does reply to every negative review, and filing a complaint appears to speed up a solution if you've been stuck feeling unsatisfied. Here are some users' biggest issues with RUN Powered by ADP, including using ADP for other services, such as worker's compensation and retirement:
Hidden Fees: Beware the hidden fees! This is especially true if you plan to integrate HR benefits with your payroll system. ADP uses salespeople and brokers to upsell you on plans through its partners, but many of those programs are not saving clients money. Worse, some pile on ambiguous processing fees.
Difficult To Terminate Contract: Several negative reviews stemmed from ADP withdrawing payroll fees and funds even after a business stopped using it for payroll.
Ambiguous Pricing: Running a small business means watching money closely. Not only does ADP not publish pricing plans online (you'll need a real person for that — and yes, that's a sales tactic), but it also charges a fee every time you run payroll. That's not a big deal if you want to run payroll monthly or biweekly, but it will mean extra charges that can pile up.
Difficult To Demo: Want to tool around the program and see if you like the user interface? You gotta schedule a phone call with a rep before you can have access to the demonstration. Even then, the demo is not a full examination of the software, and there are limited opportunities for a free trial.
Positive Reviews & Testimonials
ADP has been around a long time, and it stays on top of current trends in payroll. It's not new, and it's not a startup. It's a tried and true Old Standard, but it's also not stagnant. Every day, the company is communicating areas of growth and opportunities to weigh-in on features. If you have a small business that you'd like to grow into a mid-sized or large business, ADP is a fantastic choice. On Capterra, ADP has a 4.4/5 rating (out of 667 reviews). Most people who work with ADP have no complaints about the system, and they have the following things to say about the company in their ADP reviews:
Easy To Use: Compared to other programs out there, ADP is easy and efficient. With a phone tutorial and easy access to support, this truly is software that anyone can use and understand.
Accessible & Supportive Customer Support: Minus a few outliers, the ADP support crew earns a lot of kudos for their attentiveness to clients and their accessibility. You can call someone, live chat, or email, and it's all 24/7 because ADP is a company that operates globally. Also, those people you talk to? Well, they are helpful and friendly and quick to find you someone that can answer your question no matter what.
ADP Integrations & Add-Ons
ADP has a long list of compatible software integrations available for users. For accounting software, the program integrates with QuickBooks, Wave, and Xero. Enterprise resource planning software programs that integrate are FinancialForce, Oracle, Infor, and Workday. For time and attendance software, ADP works with ClockShark, Deputy, Dolce, Homebase, MakeShift, and TSheets. There are a dozen or more, including Slack, Clover, and ZipRecruiter, among others. The website doesn't list all the integrations, and one of ADP's strengths is its willingness to work with you on integrations. Call ADP for a full list of integrations or to ask about a specific program.
Security
ADP's website states:
As cybersecurity threats continue to increase in both volume and sophistication, we've built a Trusted Platform Security Infrastructure (TPSI) that allows us to quickly deploy new security technologies that expand, integrate and support our cybersecurity services.
That infrastructure has at least 30 integrated technologies that work for such things as fraud protection, anti-malware and threat protections, extended intellectual property protection, and behavior analysis monitoring.
Final Verdict
Merchant Maverick's final verdict is that ADP is a great payroll program for larger businesses. For small businesses with between one and 50 employees, the bells and whistles aren't worth the extra cost. It can also be frustrating to go into a sales situation and not know if you are getting a great or a mediocre deal. Without transparent pricing, a sales call meant to discuss a demo and relevant questions can seem more like a hard sell. Maybe negotiating gives you a thrill, but to me, it's an emotional burden business owners don't need.
Is ADP a good payroll program? Yes. The interface and the integrations are solid, and many people without any technological savvy will appreciate its easiness. Do they go above and beyond to assist clients? Yes. If it's important to you to have 24/7 access to support, ADP has you covered. If these are priorities for you, we recommend that you reach out to ADP for a quote.
However, despite ADP's standing as a solid industry leader, this payroll system may not be appropriate for a small business unless it has plans to grow.
---
The Merchant Maverick Seal of Approval 🏆
ADP Payroll


---



After hours of in-depth research and evaluation, we can confidently recommend this brand to our readers.
The Merchant Maverick Seal of Approval 🏆
ADP Payroll


---



After hours of in-depth research and evaluation, we can confidently recommend this brand to our readers.
To learn more about how we score our reviews, see our
Payroll Software Rating Criteria
.
Read Next