Crest Capital Review: Explore Equipment Financing Options, Borrower Requirements, Terms & Fees
This online equipment financer offers decent rates and long-term financing, though it is not available to certain businesses.
Expert Analyst & Reviewer

UPDATED
Advertiser Disclosure: Our unbiased reviews and content are supported in part by
affiliate partnerships
, and we adhere to strict
guidelines
to preserve editorial integrity.
Crest Capital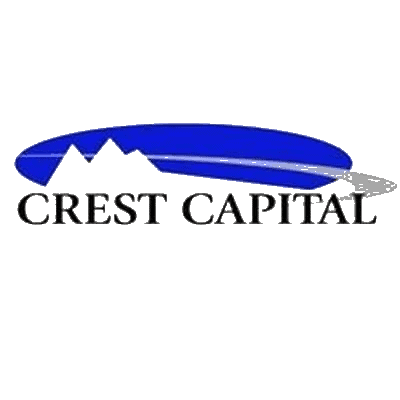 Pros
Few additional fees
Monthly repayments
Long-term financing available
The application process is fast and easy
No collateral required
Customer service is helpful
Cons
Not available to businesses in some industries
Rates can be expensive
Crest Capital Overview
Crest Capital offers a variety of online leasing options designed to facilitate ownership or temporary utilization of a wide variety of business-related equipment.
Crest Capital provides a reasonable alternative to bank-based equipment financing with decent rates and a convenient lending process. The downside is that if you qualify for financing from Crest, you could probably qualify for financing from a bank. If you can't meet Crest's relatively high qualification standards, however, you may want to have some equipment financing alternatives in mind.
Read on for more details.
Crest Capital Equipment Leases
Crest Capital offers equipment leases. Equipment leases are a form of equipment financing that can be used to either purchase or rent a piece of equipment. In the case of leases, the leasing company is called the lessor and the customer the lessee.
Types Of Leases Offered By Crest Capital
While leases come in many different forms with different clauses, they generally fall under one of two larger umbrellas: capital leases and operating leases. Regardless of their type, all leases have regular payments similar to installment loans. However, at the end of a lease, there is a residual payment leftover. This can be as low as $1, in which case it's a formality, or as high as the equipment's fair market value. Once the amount is paid, the lease is over, and the lessee owns the equipment. In some cases, however, the lessee can return the equipment to the lessor instead.
Types Of Equipment Covered
Agricultural
Automotive diagnostic
Foodservice
Forestry
Health
Industrial/Manufacturing
Medical
Office
Packaging
Printing
Retail
Software
Technology
Vehicles (except passenger cars)
Crest Capital's Borrower Qualifications
Here are the prerequisites for getting financing from Crest Capital:
| | |
| --- | --- |
| Time In Business | 24 months |
| Credit Score | 650 |
| Revenue | Unknown |
Terms & Fees
Here are the terms and fees for Crest's equipment financing:
Amount
$5,000-$500,000
Term Length
24-74 months
Interest Rate
Starts at 5%
Down Payment
First month
Lease Agreement
$1 Buyout;
10% purchase option;
Fair market value;
Guaranteed purchase agreement;
First-amendment lease;
Equipment financing agreement (EFA);
Operating lease
Additional Costs
An administrative fee of $275
Effective APR
Learn more
Crest's equipment financing options are very comprehensive; agreements don't involve any liens or collateral beyond the equipment being financed, but the company is discerning about who it works with. You'll need to have been in business for two years and have a credit rating of 650 or higher.
Types Of Equipment Financing Leases
If you're looking at the box above, you might be overwhelmed by some unfamiliar terminology. Generally speaking, there are two broad types of leases: ones designed to facilitate ownership by the lessee (the person/business seeking the lease) and those that treat the lessee as a temporary operator of the equipment.
Equipment Financing Agreements
If you're pretty confident you want to own the equipment long-term after your lease term ends, there are a number of options. An equipment financing agreement (EFA) is a loan that is structured a bit like a lease, except that liability for the equipment is transferred to you as though you were the owner. While you're unlikely to notice a huge difference on your end, an EFA is technically a loan and is governed by state laws addressing interest rates and similar matters.
Moving along the continuum, you have the $1 buyout lease. Like an EFA, it's meant to fully finance the equipment's cost, but unlike an EFA, it's still technically a lease. At the end of the term, you symbolically buy the equipment for $1.
Because these leases fully cover the equipment's cost, expect higher monthly payments with EFAs and $1 buyouts.
Option To Renew, Buy, Or Return Equipment
However, if you want the option to return the equipment, you might be more interested in 10% option leases or fair market value leases. These leases feature smaller monthly payments. At the end of the term, you have the option to renew, buy, or return the equipment to the lessor (Crest Capital, in this case). If you choose to buy, you'll pay a price determined by the type of lease, usually equal to a percentage of the equipment's cost or its current fair market value.
Other Equipment Financing Options
Additional options include guaranteed purchase agreements, which, in this case, offer an agreed-upon purchase price at the end of the term. First-amendment leases set one or more defined points during the term of the lease at which you choose to buy or continue the lease. Operating leases are short-term leases in which the title for the equipment remains with the lessor. Due to recent legal definition changes meant to address tax loopholes, there are strict guidelines regarding the types of agreements that qualify as operating leases.
These leases can be combined with a number of repayment options and schemes detailed in the company's FAQ.
Application Process
You can fill out Crest's application online or print and fax it if you prefer. In addition to some basic information about your business, you'll need to provide a bank reference, information about the equipment you want to have financed, and the seller's name and contact information. You will, of course, want to make additional information available regarding your revenue and provide proof that you are, in fact, the owner of your business as well as how long you've been in business.
Crest will do a soft pull on your credit afterward. Funding decisions are typically made within four hours, but it may take longer if you're seeking more than $250,000 in financing. In that case, you should also expect to provide two years of financial statements and tax returns as well.

Sales & Advertising Transparency
Crest Capital provides a moderate amount of information on its website. You won't find much information about fees, however. The company claims there's no obligation if you want a quote, but you will have to give your contact information to get it.
Customer Service & Technical Support
In my experience, customer support is friendly and easy to deal with, applying only a small amount of sales pressure. Customers generally seem to have had positive experiences with Crest's staff. You can reach Crest by phone or social media (Facebook, Twitter, LinkedIn, YouTube).
User Reviews
Negative Reviews & Complaints
Crest has an A+ rating with the Better Business Bureau (BBB), no recent complaints, and overwhelmingly positive customer reviews (extremely rare on BBB). All in all, there are surprisingly few negative reviews for a company that's been around as long as Crest has. Some possible issues you might encounter:
Fees: While it's not exactly a secret, at least one customer was caught off-guard by the $275 administrative fee.
Documentation: In most cases, Crest needs quite a bit of information from you to complete your application.
Confusing Working Capital Option: It's sort of, but not exactly, a loan. Crest could do a lot more to illuminate how it works.
Positive Reviews & Testimonials
Crest has a page of client accolades for those interested, as well as the aforementioned positive reviews left on BBB. As is the case for many equipment funders, there aren't a ton of independent user reviews floating around. Crest is well-regarded for its:
Customer Service: Recent reviews on the BBB website remark on Crest's professional and responsive staff.
Options: Crest offers an exhaustive number of equipment financing options.
Transparent: Crest takes pains to tell you what the company offers and how it goes about making decisions.
Crest Capital Equipment Financing FAQs
Final Verdict: Is Crest Capital Equipment Financing Right For Your Business?
It's always refreshing to come across an alternative funder with enough confidence in its service to openly provide customers with details. This transparency, combined with the versatility of the company's product offerings and its willingness to accommodate a wide array of circumstances, makes Crest a solid way to finance equipment purchases. Unfortunately, the credit and time-in-business requirements may make these services unavailable to some businesses.
As always, you'll still want to scrutinize any offers you receive and, if possible, get offers from different funders before you commit to one. Our equipment financers guide is a good place to start.

Back to top
---
Featured Free Corporate Card
Ramp


---
Ramp offers a free corporate card for virtually any business. Start earning rewards with your corporate spending today. Get your free card.
Featured Free Corporate Card
Ramp


---
Ramp offers a free corporate card for virtually any business. Start earning rewards with your corporate spending today. Get your free card.
To learn more about how we score our reviews, see our
Business Loan Rating Criteria
.