SwipeSimple Register Review (From Payment Depot)
Expert Analyst & Reviewer

UPDATED
Advertiser Disclosure: Our unbiased reviews and content are supported in part by
affiliate partnerships
, and we adhere to strict
guidelines
to preserve editorial integrity.
Pros
Low cost
Included free from Payment Depot
Incredibly easy to use
Good customer service
Offline mode
Free card reader
Cons
Lack of integrations
Limited backend
SwipeSimple Overview
SwipeSimple (offered by Payment Depot) is one of the more unique POS products I've come across. For one, you can't simply buy the product outright; you can only get it by going through a card processor. When compared with other popular POS solutions on the market, this may sound odd and even little confusing, but it starts to make sense when you consider how the pricing works. By bundling the credit card processing with the POS, there is no extra fee for the point of sale software.
The other surprise with SwipeSimple is just how much you can get out of a very affordable and remarkably easy to use product. Living up to its name, SwipeSimple is one of the simplest POS systems I've come across. It is reminiscent of Square, not only in terms of its pricing and its stripped-down look, but because both are fantastic options for small businesses.
SwipeSimple comes with everything you need to get up and selling in minutes. If you require advanced inventory or reporting, you may want to look elsewhere. That said, SwipeSimple does have the basics covered in those areas and the addition of an offline mode and virtual terminal are great features for such an affordable POS.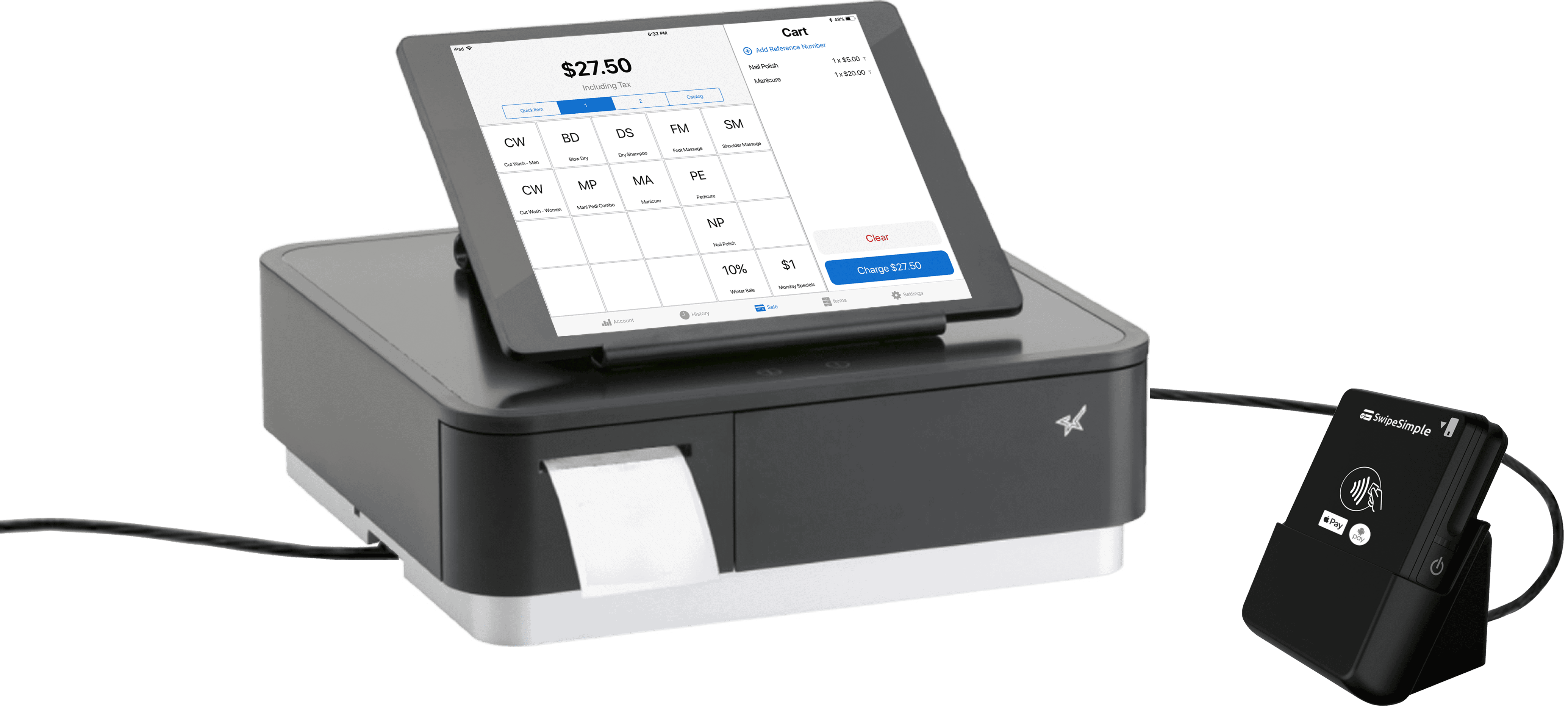 Pricing
This exclusive payment plan, which we'll call the low-volume plan, is a month-to-month agreement targeted at low-volume merchants. Those who opt for this plan will pay the following:
$10 monthly fee
2.6% + $0.10 for most swiped, dipped, or tapped transactions
3.2% + $0.10 per keyed entry or corporate card transaction
With this plan, there are no monthly minimums and no other fees apart from the monthly fee. Payment Depot will also provide a free chip card/magstripe Bluetooth card reader: the Swift B200. If you'd like to upgrade to an all-in-one reader with contactless support (the Swift B250), that's a $25 cost. However, $25 for an all-in-one reader is a great price, and it's certainly future-proof. It's not the most affordable rate you can find if you're really shopping around but, assuming you're bringing in less than $10,000 monthly, you're not going to get burned.
SwipeSimple's other option is pretty easy to figure out. Depending on how much you sell, you'll pay a higher monthly fee but get a lower rate.
If you're pulling in upwards of $200,000 a month, there's a good chance that you'll find some of SwipeSimple's back-end features lacking. However, if all you really need is a well-functioning POS with the basics and your business is that profitable, this could be a very competitive option for you.
Cloud-Based Or Locally Installed
SwipeSimple is cloud-based; all of your information can be accessed remotely. It also has a well-functioning offline mode that will keep your business up and running during an internet outage and includes the ability to take card payments, storing that information until service is restored.
Specific Industry
SwipeSimple can be considered for both retail and quick-service food industries. It has the basic functionality to handle retail facilities that require scheduling services as well, such as spas or salons.
Specific Size Of Business
Despite being fairly simplistic in nature, SwipeSimple is surprisingly versatile. That said, it's not extremely robust and, if you're using the $10 monthly pricing package and you deal in large sales volumes, your fees are going to be quite high. I would highly recommend this POS primarily for small to mid-sized retail and quick-service food industries.
However, as I mentioned above, if you find that SwipeSimple has all of the functions you need from a POS and you're a high-volume seller, its more expensive packages (which feature lower processing fees) may turn out to be a bargain.
Hardware & Operating System Requirements
SwipeSimple is compatible with both iOS and Android devices. With iOS, you must be running version 9.0 or better, and for Android hardware, you'll need to have at least version 4.4. The software will run on virtually any up-to-date tablet. Add a cash drawer, reader, and printer, you're all set to sell. Through its website, SwipeSimple offers an integrated MPOP cash drawer and a Bluetooth SM L200 receipt printer.
The company offers three different card readers that pair well with their software: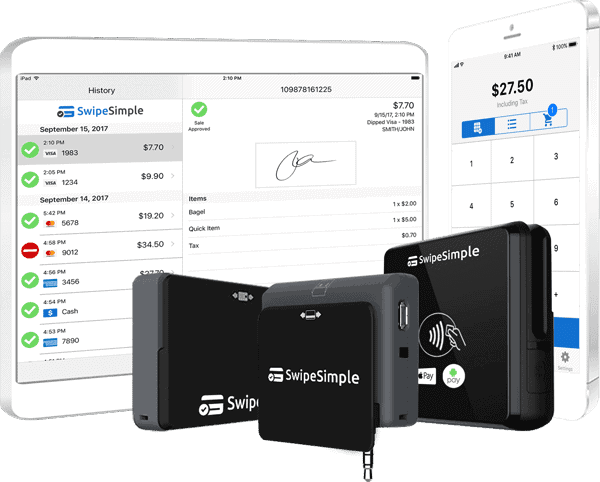 Eclipse A200:

Connects with audio jack
Magnetic strip compatible
Accepts EMV chip cards

Swift B200:

Connects with Bluetooth
Magnetic strip compatible
Accepts EMV chip cards

Swift B250:

Connects with Bluetooth
Magnetic strip compatible
Accepts EMV chip cards
Accepts NFC contact-less payments like Apple Pay and Google Pay
(Note that for the Swift B200 and B250 for Android, you need to be running at least version 5.0)
Ease Of Use
While Square certainly has its fair share of imitators in the POS game (and for good reason — Square is one of the most popular and user-friendly interfaces around), SwipeSimple may be the most prolific user of the Square model. And I'm not saying that as a criticism by any means. If you appreciate Square's simplicity, you're going to love SwipeSimple. The UI is straightforward and direct, keeping clutter to a bare minimum. If you want something that's going to look flashy and modern, you're going to be disappointed — and the interface isn't particularly customizable either. However, if you're looking for functional nuts and bolts, large buttons, and a system that someone with virtually no POS experience could walk up to and immediately use to start selling, you've found your golden goose.
Somewhat ironically, SwipeSimple is one of the rare companies that offers a Demo Mode you can easily access to get a feel of the system. I get the sense that this is not so much to help potential customers test out the system ahead of time, but is instead included simply to showcase how easy the software is to navigate.
Sales can be initiated by searching for an item or scanning it. You can then either take a cash or card payment, or key in an entry with the virtual terminal. Select a receipt option to either print or email the information to the customer, and you're good to go. You can also easily search your transaction history with details of each sale.
The catalog is accessible from the home page and you can click on an item to view its price, add an image, or update it in a matter of seconds. With just one more click, you can check on that item's stock level.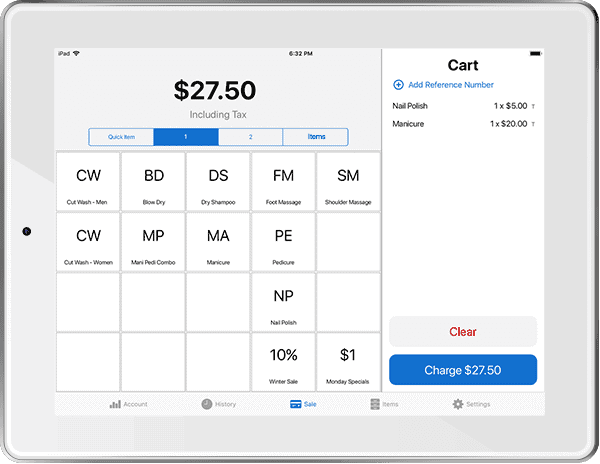 Features
Most of the features on SwipeSimple are pretty standard, but not much is missing either. The back end is lacking somewhat, though there are some very basic reporting and inventory management tools. Features include:
Register Mode: By using register mode instead of just the app on your mobile device, you get support for per-item and total transaction discounts, as well as favorite pages.
SMS/Email Receipts: After making a sale, you get an option for a receipt. You can simply print one off or enter a customer's phone number or email address for digital receipts.
Signature Collection Options: You can turn signatures always on, always off, or always on for transactions over $25.
Item List: Create a catalog of products for easy reference. You can export your inventory via a CSV file. The Quick Item option is also convenient, allowing you to create a list of your most popular items to access individually.
Inventory Management: Alongside the catalog, SwipeSimple's tools include the ability to track inventory quantities, set item categories, and even include SKUs. While it's not the most advanced system, the ability to keep track of inventory is quite helpful.
Offline Mode: A number of solid POS items still lag behind when it comes to functionality during an internet access. SwipeSimple has an advanced offline mode which keeps your business up and running and, most importantly, has the ability to accept card payments. You can set a maximum transaction amount for offline transactions as a precaution. Offline transactions must be processed within 30 days, and you must either swipe or key in the card — no chip transactions allowed.
Save Card Information: Good for repeat customers, you can store credit card information, linking it to individuals for easy access later.
Reporting: It's not advanced, but you can access your sale history by day, week, or month and see things like the amount of taxes collected, average charge, and tips collected.
Discounts: You can set discounts by percentage or by dollar amount, and in register mode, apply them to either single items or the total transaction.
Tax Settings: Set the tax rate and automatically apply it to all transactions.
Tips: Essential in the food industry, you can set up automatic tip suggestions to increase revenue.
Reference Numbers: Include reference numbers in transactions so you can keep a record of relevant information.
Virtual Terminal: This was another feature I wasn't fully anticipating. SwipeSimple is set up for eCommerce with the ability to key in credit card information without a card present. You'll pay the keyed-in rate for transactions, obviously, but this is always a nice touch.
Customer Database: There aren't a lot of built-in loyalty options, but there's no extra charge for SwipeSimple's customer database (managed from its online portal). In addition to keeping track of the purchase history for each customer, you can review the data and see who your best customers are.
Flexible Billing Tools: SwipeSimple presents this as an extension of its customer database, which is a bit different than most other comparable options. But with SwipeSimple's online platform, you can use the customer database to save cards to charge later, as well as create subscriptions and installment plans for payments. Considering that SwipeSimple doesn't offer online payments, I was very surprised to find this. It's a huge way to add value to the platform.
Integrations & Add-Ons
Integration is one of the few weak spots for SwipeSimple. What you see is what you get with this product for the most part, though given the price, this shouldn't be too surprising. SwipeSimple does integrate with QuickBooks, which is nice.
Compatible Credit Card Processors
As mentioned, you need to purchase SwipeSimple from a processing company. I would highly suggest going through Payment Depot, one of our highest-rated processors, as the software is included at no extra cost for customers. Payment Depot has excellent customer service and competitive rates and, as you would expect, the POS is built to run its product.
Customer Service & Support
SwipeSimple features 24/7 customer support, although it can be a little bit difficult to reach them outside of normal business hours. The representatives are friendly and helpful and very willing to answer any questions I had about the product. There is a list of frequently asked questions on the company's website that offers some basic troubleshooting and a brief instructional video. You can also email a representative and usually receive a response within 48 hours.
Negative Reviews & Complaints
Reviews are few and far between for both SwipeSimple's app and its Register product, with just a few dozen on the iTunes and Google Play websites. There are a handful of complaints about bugs with the product and connection issues. More than one review I saw mentioned trouble connecting the SwipeSimple scanner to Bluetooth. Because you have to buy directly from your processor, it's probably a good idea to check out that processor's ratings to get an idea of what you're dealing with.
Payment Depot itself is rated very highly on our site, at 5-stars. The company has a more or less sterling reputation, receiving an A+ from the BBB.
Positive Reviews & Testimonials
As I said in the section above, there is a dearth of reviews of SwipeSimple. However, when doing some deep searches, I found a few users who commented on the systems ease of use (no surprise there) and its simple set-up, along with the ability to train employees in minutes. A few others mentioned its overall affordability.
Final Verdict
If you've read many of my point of sale reviews, you know I'm a sucker for simplicity. SwipeSimple does a fantastic job of not getting in its own way with this product. For businesses either with a limited number of products or that simply want to make quick and easy sales, SwipeSimple checks all of the boxes. In fact, for what you pay, there are few POS systems that can compare.
The caveat is this: there isn't a lot of wiggle room with SwipeSimple. It lacks integrations, and I'd be surprised if many larger businesses would find it robust enough. What you see is what you get, but in the grand scheme of things, that's not a bad thing. Given the simple pricing and intuitive structure, SwipeSimple has all the makings of an appealing POS solution, particularly for small retail stores or quick-service restaurants. 5 stars.
---
We've done in-depth research on each and confidently recommend them.
We've done in-depth research on each and confidently recommend them.
To learn more about how we score our reviews, see our
Point Of Sale (POS) Software Rating Criteria
.