NCR Silver Review
NCR Silver gets high marks for its ease of use, flexibility, and built-in marketing tools. Unfortunately, NCR Silver is also expensive and requires hardware leases, a practice we frown upon.
Expert Analyst & Reviewer

UPDATED
Advertiser Disclosure: Our unbiased reviews and content are supported in part by
affiliate partnerships
, and we adhere to strict
guidelines
to preserve editorial integrity.
NCR Silver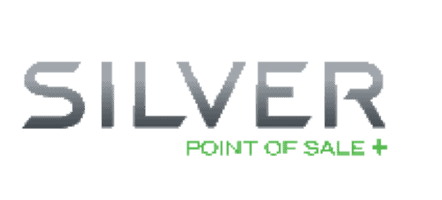 Pros
Loyalty program
Multistore capability
eCommerce integration
Cons
Expensive monthly pricing
Expensive hardware leases
Early termination fee
NCR Silver Overview
For some, NCR's sheer size might be enough to dissuade them, especially since, nowadays, we tend to gravitate towards the struggling, quirky startup rather than the (seemingly) soulless corporation. And NCR is a corporation in the traditional sense, yet being the child of a rich parent does have its benefits.
But peel back the veneer a little bit, and you'll find that NCR Silver is not quite what it seems. I don't have any real qualms with the software itself, as it is capable enough. But while presenting itself as cloud-based SaaS software comparable to Square, Toast, or Clover, NCR Silver has some of the negative attributes of older, legacy-based POS systems. Since NCR started bundling NCR Silver software with its merchant services and hardware in recent years, the terms of owning an NCR Silver POS system seem to have become even more restrictive while the cost has gone up.
NCR Silver does disclose its monthly subscription pricing information online, but you'll have to dig a little deeper to get the full picture, and that's just what we've done in this review.
What Is NCR Silver?
NCR Silver is a complete point of sale system for small to mid-sized businesses with a strong loyalty program and some valuable tools for restaurants in particular. Its contract agreements and nebulous pricing have been an issue with some users, however.
NCR Silver Pricing
| Plan Name | Plan Price | When To Use |
| --- | --- | --- |
| Starter | $0/mo w/hardware agreement | If you just need the basics and a strong loyalty program |
| Premium | $175/mo w/hardware agreement | If you need online ordering included |
NCR Silver does not offer a free trial, but you can get a demo through one of its sales reps — who will undoubtedly follow up with you about purchasing a subscription; reviewers say NCR's salespeople are as aggressive as they come. If you decide to go ahead and buy a subscription, you'll need to choose between two options: Starter and Premium.
Both of NCR Silver's POS monthly software plans are sold with the cost of POS hardware included as well as a two-year service contract. The pricing looks good on paper but there is some red tape to navigate and, if you're not careful, you could end up forking out much more than you anticipated.
In any case, here are the two NCR Silver pricing plans you have to choose from:
NCR Silver Starter: There is no monthly software fee with this plan, but again, you have to choose a hardware package and those fees are not as upfront. This plan comes with marketing and loyalty, set-up fees, and 24/7 customer support. Processing for the Starter plan is 2.99% + $0.15 cents per transaction.
NCR Silver Premium: This plan starts at $175/month. It includes all the features and support of the Starter version plus access to its mobile app and analytics and online ordering. The processing rate is also lower at 2.25% + $0.15 cents.
Other features are also available as add-ons like online ordering, advanced reporting, inventory, and scheduling. Many of those features could be considered essential depending on your industry so the actual monthly cost for software might end up being much higher. Per NCR Silver's Merchant Agreement, if you choose to terminate the contract early, you'll be required to pay for all of the remaining months on your term. That means you could be on the line for thousands of dollars if you decide to switch POS providers.
Note that NCR Silver is also sold through various partnered merchant services companies. If you buy through a reseller, you may be able to get a better monthly price that doesn't include leased hardware.
NCR Silver Features
NCR Silver has most of the standard features you'd expect from a cloud POS but is lacking in a few areas. Here are some of the highlights but keep in mind that some of them must be purchased as add-ons:
Fully Functioning Cash Register: Accept multiple tenders, including gift cards, house account charges, and Bitcoins. Pay cash in or out, run till counts, add and override tax amounts, hold tickets to be recalled later, and quickly add discounts to transactions. Printer routing allows you to set items to print — or not — to a kitchen, bar, or prep area printer. The ability to integrate a weight scale has been added along with setting a tare weight.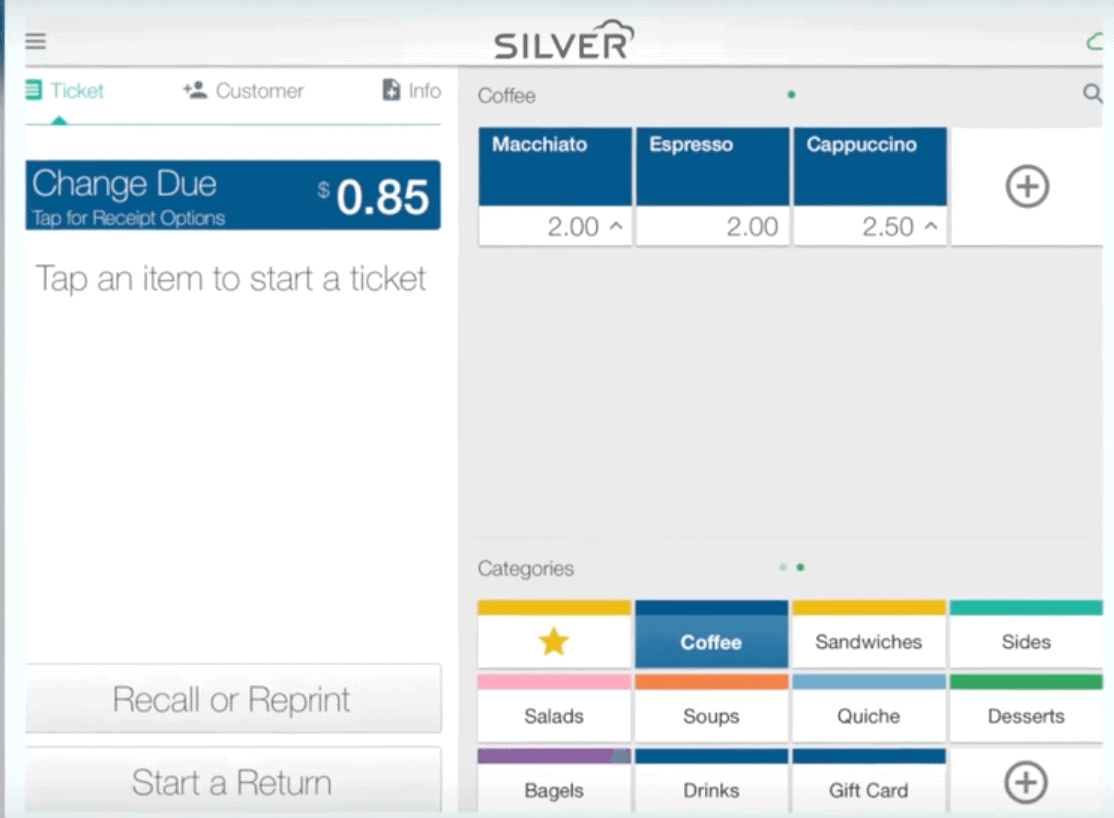 Inventory Management: The inventory module doesn't just keep track of how many items you have. It also tracks your vendors and costs, records reorder points, supports variations (such as size and color), and allows forced/optional modifiers for food service establishments. The recently added Inventory Snapshot feature also lets you see the total value of all your on-hand inventory.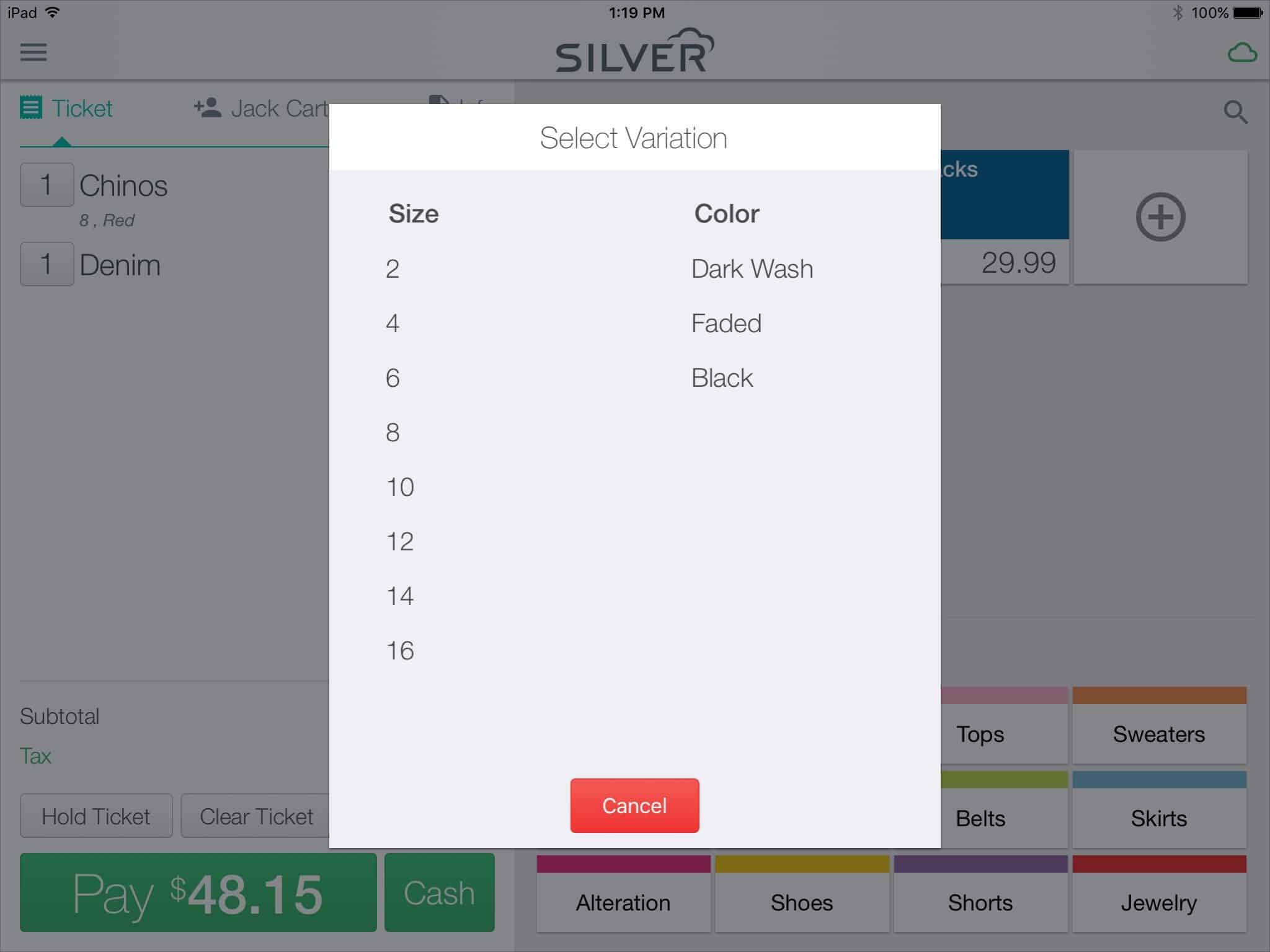 Employee Management: Maintain employee profiles with customizable access parameters and user roles. Assign each employee a unique pin for login and to track labor hours with the time clock feature. You can also let employees clock in and out for unpaid breaks and even set minimum break times to be enforced by the POS software.
Cash Management: NCR Silver offers some cash management features that make it easier for high-volume businesses to monitor their cash flows. You can assign cash drawers to specific servers, giving each drawer a "shift" that will limit who can use the drawer without a key. These shifts will also begin and end with a blind till count — the over/short calculation displays on the End Shift report.
Reporting Suite: You can get a general look at your store's performance with the Activity Summary, which provides a snapshot of net sales, transactions, tips, taxes, returns, discounts, and the sales generated by email campaigns. For a closer look, there is also a sales dashboard alongside a customer dashboard. Silver offers a basic swath of exportable reports on the finer points of your business for even more in-depth analytics.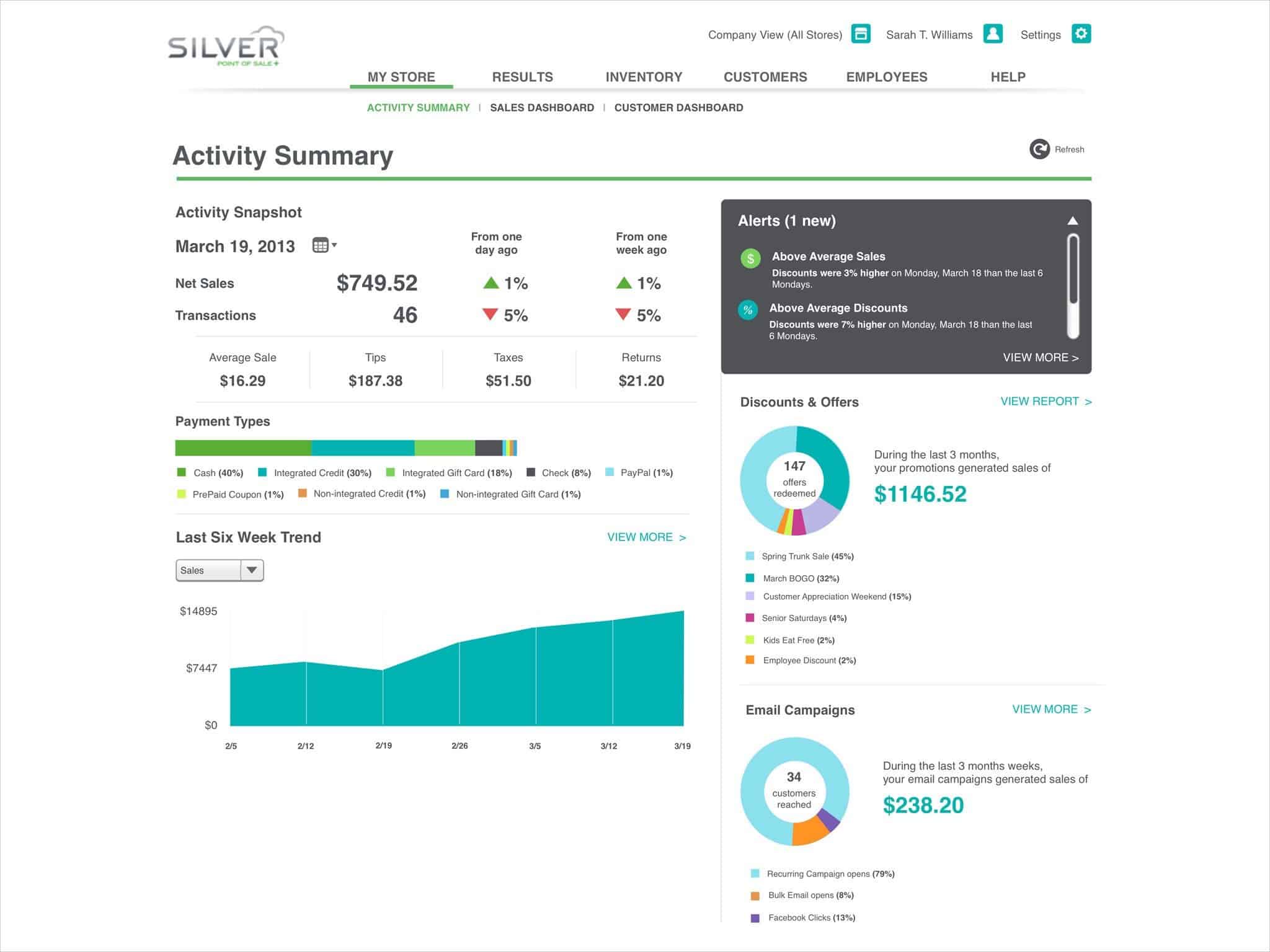 Multilocation Functionality: With the multistore features, you can get a bird's-eye view of your entire operation or drill down to each site for specific details. Too often, I see systems with low-stock thresholds that claim to alert you, but that alert only sounds when you sit down and run the low-stock report. NCR Silver goes the extra mile and alerts you proactively.
Offline Functionality: Full offline protection is available, meaning you can run credit card transactions (at your own risk, of course) when there's an outage, and NCR will queue up the authorizations until the system is back online.
Email Marketing: NCR doesn't stop at having a master list of names, numbers, and addresses. It's not uncommon for POS software to email receipts, but how about a follow-up message the next day, thanking the customer with a special offer? This email functionality is one of NCR Silver's stand-out features. You can manage your whole email marketing operation — broadcasts, newsletters, welcome emails — from within the member area.
Loyalty Program: If a customer is already in your database, a credit card swipe will cause the software to prompt the cashier with the matching name(s) to associate with the sale. There are also two ways to work a rewards program — by dollars spent or the number of visits — as well as integrated social media marketing tools (Facebook and Twitter). As mentioned earlier, there are accompanying analytics so that you can track all of your customers' responses (including a section for "Customer Notes").
Mobile Ordering: Through one of the software's most recent developments — the NCR Sidewalk app — customers can order ahead. If your business is linked to this service, customers can search by location, place orders, and pay in advance from any mobile device. Unfortunately, at this point, the app doesn't appear to be Android-friendly, and many users have been unable to log in.
eCommerce: eCommerce is available through an optional monthly add-on called Silver Commerce. This program gives you a template to create an online store that syncs with your brick-and-mortar store's inventory.
Gift Cards: NCR Silver is enabled to accept, sell, and reload magnetic stripe gift cards. However, the ability to support gift cards is dependent on your payment processor.
Is NCR Silver User Friendly?
NCR has built its reputation by easing the pain of handling cash transactions. The software features a simple, intuitive interface that gives most tasks an almost weightless feel. I was able to accomplish nearly every task involved in setting up a store — adding inventory and customers, for example — without the slightest bit of assistance or forethought.
Even mass imports were self-explanatory, using the CSV template NCR provides. The CSV is easy to find: Click on "Import Items," and you're presented with instructions and a link to the template. When I did need help from the web console, selecting the "help" link from within the interface brought me to the appropriate document for that specific screen. A live chat option is prominently visible in the dashboard area if you need to speak with someone immediately.
Working inside the POS app is just as easy, especially since the latest redesign. Having tried NCR Silver on both an iPad and an iPhone, I'd say count on buying an iPad. The iPhone screen is too small for everyday use and requires too much back and forth between pages — selecting items, seeing the full order, cashing out, making using the app cumbersome.
Customer Service & Support
NCR Silver offers 24/7/365 support on all accounts, which is good. However, some customers are unhappy about the quality of support, stating that after they were talked into signing up by NCR's salespeople, they received insufficient guidance from NCR Silver to address any technical issues that cropped up.
That said, others praise the customer service, and overall, the support is quite accessible, thanks to having multiple modes of support:
Live Chat: You can chat with a sales representative Monday through Friday (9 AM to 5 PM) on the NCR Silver site. You can also get ahold of tech support anytime through the Back Office web page within the system.
Phone Support: Call or text the Customer Care Team directly. You don't even have to sort through the automated menu options that normally accompany a call to tech support. You're connected to a real live person the first time!
Email Support: You can also email support directly for personalized help.
Customer Care Website: The site has a comprehensive knowledgebase of articles, videos, and user guides.
Social Media: Like most companies, NCR Silver maintains active Facebook, Twitter, YouTube, LinkedIn, Google+, and Instagram accounts.
Payment Processing With NCR Silver
NCR Silver credit card processing depends, in part, on which entity you buy your system from. If you purchase your system from NCR Silver directly, you'll likely be required to sign up with NCR Silver's in-house payment processing service, NCR Payment Solutions.
So is NCR's switch to in-house processing a good or bad thing? I'd say bad — take a look at the merchant terms and conditions for NCR Payment Solutions, and you'll see that the company requires a three-year processing contract with an early termination fee, including liquidated damages. It also has an "exclusivity" clause barring your business from using any other merchant services during your term, among other one-sided conditions. There is no mention of how much the company charges for processing.
NCR Silver is also sold by various approved resellers (merchant services companies), which offer their own merchant service contracts for payment processing. Some options include Vantiv/WorldPay, Elavon, and even PayPal Here (though the only PayPal Here card reader compatible with NCR Silver is the basic headphone jack swiper, which is subject to an automatic reserve).
If there's one main takeaway I'd like you to get from this section and probably from this review as a whole, it's this: don't buy NCR Silver from NCR directly. If you decide you want this system, get it from a reputable credit card processor that'll offer month-to-month billing and fair and transparent rates, with no long-term hardware leases — things NCR, unfortunately, cannot provide you.
Contract Length & Early Termination Fees
As we've mentioned multiple times, contract length and early termination fees are the biggest issues with NCR Silver. While the upfront software fees look reasonable, you have to sign up for at least a two-year contract for NCR's hardware and you will get dinged for ending your contract early. The same goes for NCR Silver's in-house processing system, which often requires a three-year contract. It's an enormous red flag and there is really no excuse for it in today's market with so many other options that don't require contracts. Fortunately, you don't have to buy from NCR directly which can give you a way around these contracts.
NCR Silver Integrations & Add-Ons
NCR Silver integrates with several external software programs. The list of supported integrations is far from extensive, but it at least includes popular accounting software and a few others:
Silver Console (formerly CimpleBox)
PassMarket
BitPay
NCR Silver also integrates with NCR's eCommerce product, NCR Commerce, for an additional monthly charge.
NCR Silver POS Reviews
NCR Silver POS's online reviews are pretty mixed. While you can find many glowing reviews about the software written by professional reviewers, many user reviews tell a different story. NCR Silver is not BBB-accredited and currently has an "F" rating on the website, based on five complaints filed against the business and failure to respond to two complaints filed against it. It also has a mediocre 3.7/5 rating on Capterra and a 3.5/5 rating from Software Advice.
Negative NCR Silver Reviews & Complaints
Here are some common complaints in NCR Silver reviews:
Glitchy Hardware: I found a couple of reviews reporting "finicky" credit card readers that consistently malfunction and force merchants to manually key in credit card data (thus compromising many of the safety features designed to protect against counterfeit fraud). There have also been complaints of Bluetooth hardware randomly unsyncing with the system. Normally, I wouldn't ding the software providers for hardware issues, but NCR insists on supplying your hardware for you. If the company is going to make you buy the equipment it picks out, it should at least make sure that equipment works.
Glitchy Software: Inaccurate reports, bugs in new releases, and system freezes/crashes are the most common complaints I saw in this category. Almost all NCR POS reviews that mentioned having a software issue also stated that customer support was contacted but unable to solve their problem.
Sketchy Service Contract: Reviewers have complained about losing money due to signing a restrictive service contract with NCR Silver, often not having fully understood the terms of said contract upon signing. Several reviewers have stated that they were charged for POS equipment they were told would be free. I haven't seen too many complaints about NCR's actual merchant services, perhaps because many Silver merchants use the system with outside merchant service companies, such as Elavon.
Poor-Quality Customer Support: Some reviewers have complained that NCR Silver's customer support reps cannot handle complex issues and that calls are directed to even less knowledgeable call center employees when customers seek support outside of regular business hours.
Positive NCR Silver Reviews & Testimonials
There are positive NCR Silver reviews out there too. Here are some things business owners like about NCR Silver:
Easy To Use: NCR Silver has a simple, easy-to-use interface, making the system easy to learn and a breeze to train employees on. Silver's ease of use is probably the most common praise for the system in user reviews.
Email Marketing: While not as advanced as a dedicated system such as Mailchimp's, several reviewers mentioned they were impressed by NCR Silver's email marketing program. The program integrates with customer data, allowing businesses to segment their customers and send personalized deals.
Built-In Loyalty: A loyalty program is a great POS feature to have, and the fact that NCR doesn't carry an additional monthly charge is a definite plus.
Generally, it seems that small businesses with minimal POS experience are impressed by NCR Silver's feature-set and the overall iPad POS experience — except for customers who experienced significant problems with their hardware or software. This is in contrast to more experienced cloud POS users switching from another POS, who more frequently point out the system's various shortcomings.
Final Verdict
NCR Silver gets high marks for its ease of use, flexibility, and built-in marketing tools. The good news is that all of these great features, together comprising the software's foundation, are still there and working well. At this stage, any development is essentially going to be an elaboration on those basic features, adding more functionality and more frills. The NCR brand has a lot of money and expertise behind it, which is doubtlessly why the NCR Silver line remains popular and is even used by some franchises.
Unfortunately, while NCR makes solid POS software, its Silver product suffers from other issues — namely, the restrictive service contract foisted on merchants who want to purchase the system. Unlike many other cloud POS competitors, NCR Silver comes with a multi-year service contract, outdated equipment, and expensive hardware leases.
NCR Silver has good features, but they are similar to and, in some cases, not even as advanced as those of the competing cloud POS systems. Rather than choosing NCR Silver, almost any small business would be better served by a POS company that offers a month-to-month contract and an option to purchase your hardware outright.
If you do decide to go with NCR Silver, make sure you read and understand all the terms of your contract so that you're not confronted with any unpleasant surprises down the road.
NCR Silver FAQs
---
We've done in-depth research on each and confidently recommend them.
We've done in-depth research on each and confidently recommend them.
To learn more about how we score our reviews, see our
Point Of Sale (POS) Software Rating Criteria
.