Expert Analyst & Reviewer

UPDATED
Advertiser Disclosure: Our unbiased reviews and content are supported in part by
affiliate partnerships
, and we adhere to strict
guidelines
to preserve editorial integrity.
Linga POS

Pros
Advanced inventory management
Advanced features
Loyalty program
Suited for large businesses
Cons
Moderate learning curve
Potentially expensive monthly cost
Linga POS Overview
Linga doesn't promote itself as a point of sale provider. Instead, the company touts its rOS — Restaurant Operating System. Linga promotes its product as "the operating system that adapts to you" and is suitable for various types of restaurants of all sizes.
Linga rOS boasts an impressive set of features and robust capabilities. Integrated credit card processing, reporting, email marketing, and employee tracking are among the features you can expect even with the entry-level package. Linga comes with options for everything you might need in a point of sale system, whether you operate a franchise, local diner, bubble tea cafe, or cigar lounge.
With prices starting at $19.99/month, Linga rOS is accessible to businesses with even the smallest budgets. But before you get too excited about the competitive pricing, it's important to note that many of Linga's advanced features come at an additional cost. Adding on features such as kiosk mode, employee scheduling, or online ordering tacks on additional fees. Depending on the needs of your business, what starts as an affordable POS solution can easily become quite expensive.
Linga rOS also comes with a slight learning curve, so beginners beware. To further complicate matters, phone and chat customer support options are only available to subscribers of Linga's more expensive plans. In other words, if you don't have experience using POS systems and don't want to pay extra for customer support (and advanced features), it's time to look for another POS provider. But if you want a versatile and feature-rich POS solution for your restaurant, bar, lounge, or cafe, Linga may be an option to add to your list.
Keep reading to learn more about Linga rOS and if it's the right fit for your business.
Linga POS Pricing
Basic
$19.99/month/register billed annually ($39.99/month/register billed monthly)
Unlimited users
Unlimited products
Modifiers
Multilanguage
Multicurrency
Button with pictures
Discounts
Happy hours
Combo
Customers
Gratuity
Gift cards
Multistore gift cards
Split payments
Cash
Tax exceptions
Coupons
Refunds/returns
Offline transactions
Void transaction
Integrated credit card processing
Digital receipts
Signature on pad
Till management
Barcode scanning
Sales dashboards
Reports
Business hours
Employee performance tracking
Unlimited employees
Assign security access levels
Nest cameras
Nest thermostat
Wi-Fi hot spot guest data collection
Email marketing
Receipt message
Receipt printing
Split checks
Split evenly
Split by seat
Email support
Pro
$49.99/month/register paid annually ($69.99/month/register paid monthly)
All features of the Basic plan
24/7 support
Phone support
Chat support
Employee dashboard
Transfer check
Transfer table
Merge check
Bar tabs
Quick bar
Bar tab preauthorizations with EMV
Bar tabs to tables
Kitchen display system
Kitchen printing
Label chit printing
Purchase orders
Recipe/sub recipe
Food costing
Inventory storage locations
Inventory comparison
Multiple vendors
SKU/UPC inventory tracking
Delivery
Phone orders
Pizza portioning
Time clock
Payroll reporting
Table layout
Enterprise
$89.99/month/register paid annually ($109.99/month/register paid monthly)
All features of the Basic and Pro plans
Enterprise gift cards
Multisite management
Country-level management
Consolidated reporting
Royalty/ACH reporting
Customer loyalty
Customer analytics
House accounts
Linga One
Call for pricing details
All features of Basic and Pro plans
Customer loyalty
Customer analytics
House accounts
Online ordering
Customer display
Caller ID
Waitlist and reservations
Linga also offers a pay-as-you-go plan, which includes hardware financing with no upfront cost. Additionally, Linga offers custom plans for larger users.
There are definitely some affordable options here, depending on what your business needs, but you'll also need to keep in mind that Linga offers many of its other features as pricey add-ons, which can balloon your monthly payments quickly. For example, adding Linga online ordering is an additional $59.99 a month, and Linga loyalty will set you back $29.99 a month. Its kiosk functionality is $49.99 a month, and the ability to collect information during orders is $9.99 a month. You can also add things, such as scheduling, a call center, and a kitchen display system, but if you need a handful of these features, you can easily be paying hundreds more per month.
Linga does offer some of these features in bundles that can help defray costs, and the company seems pretty flexible with its ability to tailor a package to fit your business. Just be aware that the initial software cost likely won't be what you'll end up needing to pay.
If you want to give Linga a test drive, a 14-day free trial is available.
Cloud-Based Or Locally-Installed
Linga is entirely cloud-based. You can access and adjust your store's account information from Linga's back-office website, accessible from any web browser.
Specific Industry
Linga is suited for a wide variety of businesses with functionality for nearly every type of foodservice establishment from cafes and pizzerias to full-service restaurants. It can also handle retailers and has some unique features that would help with salons or the hotel industry.
Specific Size Of Business
Linga advertises that it is capable of catering to the needs of businesses large and small and can work comfortably with any sized business. Multilocation businesses will need an Enterprise or higher package.
Linga POS Ease Of Use
While Linga is not necessarily difficult to use, it would be nice to have a bit more guidance when first setting it up. (An initial tutorial, for example, is lacking.) Figuring out how to add inventory, create menu items, and sync the POS register with the back end is a time-consuming process that requires some trial and error to sort out.
Overall, though, Linga is intuitive enough. After a slight learning curve, it's reasonably easy to use. You can also find YouTube tutorials on individual functions, such as how to add a basic menu item in Linga POS.
As you can see below, you can enter detailed information when adding an inventory item.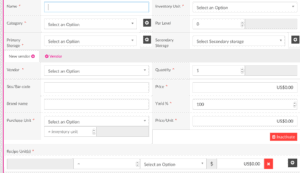 Likewise, when creating a product category, you will be given many different choices and options. The screen for adding a new category is pictured below.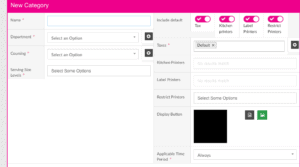 The difficulty involved with Linga is the sheer number of features available and the level of detail each one entails. Unless you're a POS pro, don't expect to be able to begin using Linga immediately without first taking some time to play around with the software. You'll likely have to consult the knowledgebase to learn about each feature. Again, there's a bit of a learning curve here, and it can be time-consuming.
Hardware & Operating System Requirements
Linga is a cloud-based POS system. Linga has iOS, Android, and Windows tablets, displays, kiosks, and other equipment. You can also log into your account to see reports and make adjustments to your menu, settings, etc., from any device via a web browser. Like many companies, Linga offers a variety of hardware bundles on its website as well as some individual items for purchase, but you may be able to piece together a system for cheaper on your own.
Linga POS Features
Linga POS comes packed with features, mostly at the Pro and Enterprise price points. There is no "Getting Started" tutorial or guided screens to describe features, so it can be a trial-and-error process to learn how to set up and use everything. The dashboard and back-office screens are also not as streamlined and attractive as some other cloud POS systems.
However, despite the interface issues, the features themselves are pretty strong. Some standout features include:
Register: Linga's register covers all the bases and then some. You can split payments by several payment methods (cash, credit card, and gift card). The payment calculator continuously calculates the amount still owed as payments are added. The payment tab also allows you to enter in tax exemptions, add gratuity, and apply discounts. When you open the register, you will immediately be prompted to select an order type: for here, to go, or delivery. According to Linga's website, delivery orders allow you to "group orders based on destination and ETA, and make sure your drivers get there in time with the least amount of resources." Linga also handles bar tabs, and open or closed tabs can be searched for by name, order number, or the last four digits of the credit card.
Modifiers: You'll be able to modify an item when selecting it at the beginning of the order process. A menu item can be preset to have either optional or mandatory modifiers. Once the item has been sent to the kitchen, however, further modification is not possible. Modifiers make menu items highly customizable. Any item included in your inventory can be added. You can also add a custom message for the kitchen staff, detailing a customer's specific preferences.
Customer-Facing Interface: You can provide an enhanced customer experience with onscreen tipping and digital signatures for an extra $9.99/month per station.
Pizza By The Slice: Designed with the pizzeria in mind, the pizza-by-the-slice feature maximizes the customizability of a pizza. Customers can choose how they want each slice prepared and what toppings they would like on it.
Inventory Management: Linga's inventory management abilities — included with the Pro and Enterprise plans — are impressive. From the back office, you'll have access to Linga's inventory homepage. The homepage displays the total value on hand, the cost of goods sold (COGS), low stocks (and their respective quantities), and non-consumer orders. The "ingredient categories" tab displays each ingredient within your inventory. Each ingredient entered into your inventory is assigned a category (food, beverage, etc.), storage location (freezer, cabinet, etc.), and the vendor from whom the item was purchased. The system tracks low stocks and notifies you when an inventory item dips below a certain quantity (set by you). Linga can automatically reorder inventory at your discretion, or you can manually create a purchase order. The details of each item's purchase history are saved for future use.
Offline Functionality: Linga can function even without a working Wi-Fi connection.
Reporting: The back-office dashboard provides a quick way to glance at your business's sales status. The photo below is a screenshot of the dashboard and the reporting categories it displays. In the back office, you can also adjust modifiers, sort menu configurations, and see customer information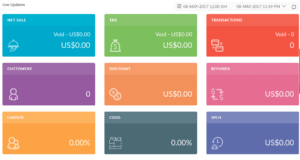 Loyalty Program: Linga offers a point-based loyalty program that customers can use to receive rewards. Note that this is an add-on that costs an extra $29.99/month.
Multilanguage & Multicurrency: Linga POS can translate into over 30 different world languages, including Chinese, Spanish, Arabic, Hebrew, German, Polish, Turkish, Portuguese, and more. Linga also claims that additional languages may be able to be added if they are not already available for translation. Additionally, Linga POS is compatible with every world currency.
Time-Sensitive Discounts: Apply discounts for certain holidays, days of the week, or even hours of the day. This type of feature is useful for happy hour specials.
Table Management: You design your floor plan layout, and Linga POS will do the rest. It can calculate guest count at particular tables, dining time length, and even the average check amount.
Delivery Dispatch: This function allows you to keep track of your drivers. Know the time and location of every delivery, so no orders are delivered late.
Online Ordering: Linga's online ordering system add-on seems pretty advanced. It has a branded mobile app option and a multilocation functionality that sends customers to the correct location based on where they're at.
Linga POS Customer Service & Support
The level of support you receive from Linga depends on the plan you pay for, which we're not big fans of. Linga's Basic plan does not allow for direct access to the support team. Only email support is available.
For Pro and Enterprise subscribers, Linga offers 24/7 direct access to a support team via phone and live chat.
For all users, there is a knowledgebase on the company's website that includes training videos and user manuals.
Linga also maintains a blog. The blog focuses on topics related to restaurant businesses in general and should not necessarily be seen as a source for help with Linga specifically.
A Facebook page, Twitter account, and YouTube channel are also available for tips and added support.
Linga does not specify whether its support is US-based; the company's US headquarters is in Naples, Florida. However, Linga's parent company, Benseron Hospitality, also has offices in India, Dubai, Canada, and Turkey. Copy on both the website and in the POS software itself has some grammatical issues, and it seems it was probably not written by a native English speaker.
Compatible Credit Card Processors
Linga has its own in-house credit card processing, Linga Pay. You have to contact Linga for a quote, although the website does promise simple, transparent, and fair pricing.
If you don't want to use Linga Pay, there are several credit card processors that integrate with Linga POS. This includes:
Bank of America
Chase
Clearent
EPX
EVO
First Data
Global Payments USA
Heartland
TSYS
WorldPay
Linga POS Integrations & Add-Ons
Linga currently integrates with over 30 third-party apps and programs, including:
QuickBooks, Xero, and Shogo for accounting
Checkmate for online ordering and delivery (integrates with UberEats, DoorDash, Grubhub, Postmates, and more)
Givex for gift cards
Mailchimp for email marketing
Nest security cameras and thermostat
Restaurant 365 for inventory and recipe control
Factor4 for customer loyalty
Linga POS Reviews, Complaints & Testimonials
While Linga doesn't have as many reviews as some of its competitors, there are a handful of reviews scattered across the web, although most of them are from 2018 or prior. Reviews are mixed but lean more toward the positive side. Linga receives a rating of 3.5/5 (based on 30 reviews) on Software Advice and a rating of 3.4/5 (based on 30 reviews) on Capterra.
Negative Linga POS Reviews & Complaints
Software Bugs & Lagging: Several customers noticed that the software had some bugs and issues with lagging, particularly after updates.
Difficult To Use: Some reviewers found that Linga was difficult to learn and use. There were also a few complaints about navigational challenges.
Poor Customer Service: Multiple reviewers mentioned struggling with Linga's customer service, either finding them difficult to get in touch with or struggling to solve problems when they came up.
Positive Linga POS Reviews & Testimonials
Robust Features: Multiple users were pleased with the available features, although one user did note that it would be nice to be able to test out some of the add-on features before committing to a purchase.
Helpful Customer Service: While some reviewers had negative things to say about customer support, other reviewers note that customer support is helpful and readily available, even if they are not always able to resolve issues.
Fair Pricing: Several users noted that Linga is a competitively priced POS system.
Final Verdict Of Linga POS
One of the biggest selling points of Linga rOS is its advanced features. Even better is that these advanced features don't have to come with a huge price tag. With a $19.99/month plan, Linga is a solid POS solution for foodservice businesses with basic needs. Even with the $59.99/month "Pro" plan, Linga still provides a lot of bang for your buck, from bar tabs to pizza portioning. The sheer number of features it boasts, however, puts it at risk of becoming an overly complex, "jack of all trades, master of none" software. And depending on what you need in a POS, that may be true.
Despite the interface's steep learning curve and awkward copy, I can see that Linga's underlying functionality is strong. The Pro plan seems as if it would provide much of or all the functionality any restaurant would need. However, I would be hesitant to commit to paying $700+ (which is what you'll pay upfront to use the Basic plan for one year) to use a system that still seems a little rough around the edges.
However, if you know what you're looking for and you know your budget, you should be able to craft a solid system from Linga. I would highly suggest utilizing its free trial so you can see firsthand if the system is right for your business.
Unsure if Linga rOS is the best fit for your restaurant? Make sure to research and test out top-rated POS systems such as Square for Restaurants or Lightspeed Restaurant. Or if you're looking for an option that's easier on the wallet, check out the best free POS systems to find a reliable, budget-friendly POS solution for your business. Good luck!
---
We've done in-depth testing of each and confidently recommend them.
We've done in-depth testing of each and confidently recommend them.
To learn more about how we score our reviews, see our
Point Of Sale (POS) Software Rating Criteria
.