Xero VS QuickBooks Online: Mobile
Updated on:
Posted by: Katherine Miller
Advertiser Disclosure: Our unbiased reviews and content are supported in part by
affiliate partnerships
, and we adhere to strict
guidelines
to preserve editorial integrity.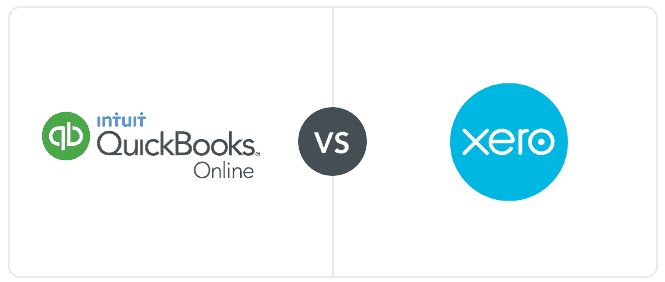 We've already talked in depth about Xero (see our review) and QuickBooks Online (see our review): how the two programs stack up, the pros and cons of each. But today, we'll be focusing on a specific aspect of the two cloud-based accounting programs: what are they like for mobile users?
Both Xero and QuickBooks Online offer mobile apps for iPhone and Android. Neither app offers the full functionality of the software, but there are some significant differences between them, particularly in the scope of available features. If you're one of those people who does 60%+ of your business from your phone, then this article's for you. For the purposes of this comparison, we'll be testing the apps for iPhone.
See Our #1 Rated Accounting Software Pick
Device Types
Winner: Tie
Both Xero and QuickBooks Online offer mobile apps for iPhone/iPad and Android devices. Neither has an app for Windows Phone.
Pricing
Winner: Tie
Both mobile apps are free with a subscription to the full program.
Ease of Use
Winner: QuickBooks Online
Pretty much everyone agrees that Xero makes good-looking software, even those who think it's got little besides looks to offer. Xero Touch doesn't disappoint here; the layout is clean and elegant, and navigation is generally intuitive and simple. QuickBooks falls a little short of Xero's chic look, but it too is extremely easy to navigate. In both programs, I found every function located in the first place I looked.
Xero uses an unobtrusive navigation bar at the bottom of the screen; QuickBooks has a much larger navigation bar, but it collapses when you have chosen an option, as pictured below.
What gives QuickBooks the win here is that Xero doesn't offer any kind of help function within the app, which is at times problematic. When I had questions, I had to schlep over to Xero's website. QBO has a help line number easily accessible from within the app, as well as a fairly comprehensive FAQ section. (It is worth noting that calling the number listed resulted in about 20 minutes on hold, but it's better than nothing, and I did eventually get an accurate answer to my question.)
Product Features
Winner: QuickBooks Online
QuickBooks wins this one hands down. While it doesn't offer the full range of features you can access from your desktop, the mobile app at least gives you access to most basic functions of the program, including a few rudimentary reports. Xero Touch is far more limited in scale, with functions confined to invoicing, expenses, bank reconciliation, and a contact list.
A feature-by-feature comparison of the two programs:
Dashboard – Xero has a lovely dashboard, where you can view account balances, outstanding invoices (overdue and draft invoices are clearly marked), and any receipts requiring attention (draft receipts not yet submitted, or reimbursable receipts awaiting repayment). This is one of the few areas where QBO falls short of its competitor. Sure, you can track down all that information on separate screens, but there's no single place where it all comes together.
Banking – Both QBO and Xero require you to set up your accounts in the full program, rather than the mobile app. Once your accounts are set up, you can view account balances, as well as categorize and match transactions.
Invoices – QBO far exceeds Xero here, allowing you to create estimates and receipts in addition to invoices. You can also convert estimates to invoices and get a customer signature if required. Unfortunately, the receipts function doesn't offer an option to create a receipt from an existing invoice, so you have to re-enter all information. Still, the option to create an estimate or receipt isn't present in Xero Touch at all.
Xero does offer one nice feature which QBO lacks here: the ability to attach a file or photo to an invoice.
Expenses – Both programs allow you to photograph a receipt and enter the expense into your accounts. Xero goes a step farther: you can assign the expense to a customer or set it up as a reimbursable expense when you pay from a personal account. (QBO only gives you the option to pay from business accounts.)
Inventory – In the QBO app, you can access a list of products and services, view prices, edit existing items, and add new items. However, any item you add will automatically be categorized as a service, not a product. You'll have to use the full program to add products or to track them as inventory. Xero's app has no section for inventory, nor even a product list. Even worse, it won't access your inventory list when you're creating an invoice, so you'll have to manually enter items each time.
Reports – QBO gives you access to some very basic reports. You can view your chart of accounts, profit/loss, and balance sheet. Xero Touch does not provide any reports.
Contacts – Xero and QBO both allow you to view your contact list: Xero in the form of a single contact list, and QBO in the form of separate vendor and customer lists. In QBO, you can add new contacts, edit contact details, and add notes to contacts. Xero is far more limited: you can add notes to existing contacts, but you cannot add new contacts or edit contact information.
Negative Reviews and Complaints
Winner: QuickBooks Online
When it comes to the full programs, QuickBooks Online gets more negative feedback than Xero does (even accounting for the difference in user numbers)—but with the mobile apps, the story is reversed. Customers want to see increased functionality in Xero's app, and feel it is missing major features (like reports). There are a few complaints about the app freezing. QuickBooks customers, similarly, complain about the fact that the program doesn't include all the functions of the full program, and some would like to see support for multitasking or a split screen option for the iPad.
Positive Reviews and Testimonials
Winner: QuickBooks Online
The QuickBooks Online app gets 4/5 stars in Apple's App Store; Xero Touch gets 3/5 stars. In Google Play, the ratings are similar, with QuickBooks getting 4.3/5 stars to Xero's 3.7/5. Many users find the QBO app efficient and say that it enables them to fully run their business while on the go. Most positive feedback on Xero's app centers around the easy-to-use interface.
Final Verdict
Winner: QuickBooks Online
What Xero Touch does, it generally does well. The problem is what it doesn't do: estimates, receipts, inventory, even the basic tasks of adding and editing contacts. QBO's more robust functionality easily pushes it to the win on this one. We'll be keeping an eye on both programs, though: at the rate they've developed over the past few years, we can probably expect to see a lot of changes on the horizon.
Curious as to how the full programs stack up? Check out our Xero vs QuickBooks Online article, then compare for yourself. Both programs offer free trials; experiment with Xero, give QuickBooks Online a try, and see which program you like best for your business.