BigCommerce VS Shopify: Find Out What's Really Different
Trying to decide between BigCommerce or Shopify for your online business? Read our guide to discover the best fit for you!
Expert Analyst & Reviewer

UPDATED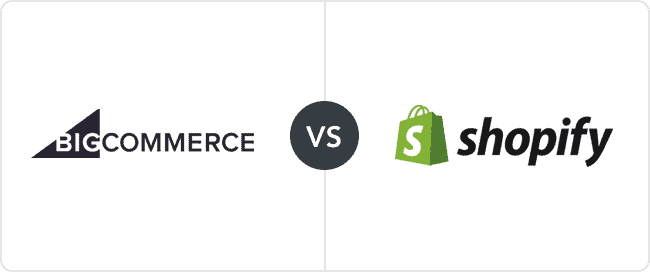 eCommerce business owners looking to upgrade from a free online selling solution or just breaking into the eCommerce world will find BigCommerce and Shopify, two huge eCommerce platform companies, in their research.
Keep reading our BigCommerce VS Shopify comparison to decide which store builder is right for your business model and budget.
BigCommerce
Shopify
Ideal For

Businesses in "high-risk" industries
Businesses that want lower payment processing fees and more payment processing options
Businesses with several staff members
Business owners who want an all-in-one eCommerce solution

Individuals who want to easily start selling on social media or marketplaces
Business owners who plan on hosting multiple international storefronts
Business owners who want a lot of site customization

Pricing
$29.95/month-$299.95/month
$5/month-$299/month
Payment Processing

100+ payment gateways with no transaction fees
Optional payment processing at 2.05%-2.59% per transaction

Transaction fee of 0.5%-3% per transaction unless you use Shopify Payments
Shopify Payments payment processing at 2.4%-2.9% per transaction

Standout Features

Single-page checkout on all subscription plans
No payment processing limitations or transaction fees
Real-time shipping quotes on all subscription plans

Built-in online and in-person sales channels
Very inexpensive "buy button" online selling option
Excellent international sales features with Shopify Markets
7,500+ add-on apps in the Shopify app store

What's Missing

More diverse set of store templates
No revenue limitations on monthly plans

More product variants for single products
More payment processing options

Start Trial
Read Review
Start Trial
Read Review
BigCommerce VS Shopify At A Glance
Shopify and BigCommerce are online sales software for business owners to sell on their own websites, online marketplaces, social media, and in person. Shopify offers fewer built-in software features but offers more website add-ons and a low-cost monthly plan. BigCommerce offers more built-in software features and lower payment processing fees, which is good for higher-revenue businesses.
Pros & Cons Of BigCommerce
Pros
Several payment processing options
Extensive product offering customizations
Real-time shipping estimations on all plans
Unlimited staff accounts on all plans
High-risk businesses can use BigCommerce
Cons
Design limitations and basic online store themes
Multiple storefront options only available on highest-level plan
Annual sales caps may automatically increase monthly payments
BigCommerce is an excellent eCommerce store builder for business owners with larger sales volumes, as they can benefit from the lower payment processing fees offered by many BigCommerce-compatible payment processing providers (with no transaction fees, no matter which processor you work with.) Business owners who want to offer highly customizable products, products with several variations, and "high-risk" products will also benefit from BigCommerce's extensive product entry and management features.
Pros & Cons Of Shopify
Pros
Low-cost monthly "buy button" plan
Excellent shipping and international sales functions
Integrated in-person point of sale app and hardware
Lots of add-on apps (free and paid) in Shopify app store
Order fulfillment network for faster delivery times
Cons
Transaction fees and payment processing limitations
No single-page checkout
Add-on apps can get expensive
Shopify is a great sales platform for individuals just starting out, as there's a low-cost "buy button" plan that does not include a full-blown website and a free point of sale app for casual in-person sales. It's easy to scale up any Shopify plan, so as business owners grow, their online presence can grow as well. It's also easy to fill in any of Shopify's feature/customization gaps by installing third-party software apps from Shopify's huge app store.
What's Really The Difference Between BigCommerce & Shopify?
Shopify offers more site customization and pricing flexibility for small business owners, while BigCommerce offers more built-in features but fewer software add-ons. Shopify requires you to use the company's payment processor or you'll be charged transaction fees. BigCommerce allows you to use any payment processor for free, so you'll pay less per month in processing fees.
Both BigCommerce & Shopify Offer…
Physical and digital item sales, dropshipping and print-on-demand items, and selling in person with a point of sale app
Selling through a custom website, online marketplaces such as Amazon and Walmart Marketplace, and social media channels like Facebook and Instagram
Advertising through social channels such as TikTok, Pinterest, and Google Shopping
Shipping rules for zones, pricing, and free shipping conditions
Support for 100+ payment types, including mobile wallets, local currencies, and apps such as PayPal and Stripe
Marketing tools such as coupons, discounts, and abandoned cart emails
24/7 tech support
Only BigCommerce Offers…
The ability for high-risk industries such as CBD companies to sell products online
Fast one-page checkout on all subscription plans
Saved address and card on file to speed up checkout (and reduce cart abandonment rates) even more
Unlimited staff accounts
Real-time shipping calculations on all subscription plans
The freedom to use any payment processing provider you want without additional transaction fees
A special lower rate on payment processing by Braintree
250 product variation options, customization fields, and the ability for customers to upload a photo for a custom item
Built-in price lists and wholesale catalogs for B2B businesses (higher-level plans only)
Create multiple stores with one BigCommerce account (highest-level plan only)
Only Shopify Offers…
An extensive set of free and paid store themes that are unique and highly customizable
The second largest app store of any website builder
A low-cost "buy button" monthly subscription plan for people who want to sell, but don't want to pay for their own website
Inventory warehousing and fulfillment (via Shopify Fulfillment)
International sales features such as generating multiple versions of an online store to match a user's geographic location, language, currency, etc.
Free built-in point of sale app (Shopify POS) and dedicated Shopify POS hardware
Shipping discounts through Shopify Shipping
BigCommerce VS Shopify Pricing
BigCommerce
Shopify
Monthly Subscription Pricing

Standard: $29.95/month -Plus: $79.95/month ($71.95/month with annual billing)
Pro: $299.95/month (269.96/month with annual billing)
Enterprise: Custom quoted

Starter: $5/month -Basic: $29/month
Shopify: $79/month
Advanced: $299/month
Plus: $2000+/month

Transaction Fees
0%
0.5%-5% (unless you use Shopify Payments)
Online Payment Processing Fees

Varies depending on your choice of payment processor
Optional: 2.05%-2.59% + $0.49 with special Braintree credit card processing rates

2.4%-2.9% + $0.30 (with Shopify Payments)
In-Person Payment Processing Fees
Depends on point of sale integration
2.4%-2.7% (with Shopify Payments)
Chargeback Fees
$10 (refunded if you win chargeback dispute)
Contract Length
Monthly or annual
Monthly or annually for up to three years
Early Termination Fees
For online store builders, BigCommerce and Shopify charge similar monthly fees.
The biggest differences between BigCommerce and Shopify pricing are:
Shopify's transaction fees and payment processing restrictions
Shopify's low-cost starter plan (BigCommerce does not offer a comparable online selling solution)
Fees for paid apps that sellers may need to install to round out their online store/point of sale solution
Shopify charges transaction fees on all online store builder plans (Basic, Shopify, Plus, and Plus) unless you use Shopify Payments, which not all merchants qualify for. Shopify Payments may not offer the best payment processing fees, especially for midsize and larger businesses.
BigCommerce, on the other hand, never charges transaction fees, and there are a huge array of payment processors available for BigCommerce users. Business owners can shop around for the best payment processing fees while knowing that the freedom to choose does not come with any associated costs or strings attached.
For independent sellers and influencers, Shopify offers a low-cost online checkout solution (BigCommerce doesn't have a comparable monthly subscription plan.) Users can add a checkout link anywhere that a link can be shared. It's a great monthly subscription price. The only catch is the 5% transaction fee that you're charged whenever you make a sale, which is not waived even if you use Shopify Payments.
Lastly, business owners have to consider the cost of any additional apps they may need to add to their current eCommerce solution. For example, Shopify has a built-in language translation function, while BigCommerce users have to pay for a language translation app like Weglot. BigCommerce includes price lists on its highest plan, while Shopify users will have to pay for a price list app.
Shopify VS BigCommerce Features
BigCommerce
Shopify
Online Store Builder
Starting on Basic plan
Unlimited Items
Physical And Digital Item Sales
Staff Accounts
Unlimited
2-15
Online Marketplace Sales
Facebook Marketplace, Amazon, Walmart, Etsy, eBay, Wish, Mercado Libre
Shop App, Facebook Marketplace, Amazon, eBay, Etsy, Wish, and more (via add-on apps)
Social Media Marketing/Selling
Facebook, Instagram, TikTok, Pinterest, Google Shopping
Facebook, Instagram, TikTok, Pinterest, Google Shopping, Snapchat, YouTube, WhatsApp, Twitter
Buy Button
Point Of Sale

Through Square or Clover (native integration)
Through Hike, Lightspeed, Revel, Vend, Connect POS, ePOS Now, and ShopKeep (add-on app)

Shopify POS app
Multiple third-party point of sale app integrations available

One-page Checkout
Through paid add-on app
Inventory Management
Shipping Management
Dropshipping/Print-On-Demand
Through add-on app
Through add-on app
Order Fulfillment
Discounts, Coupons, Gift Cards
Loyalty Program
Through add-on app
Through add-on app
Customer Profiles
Starting at Plus plan
Starting at Basic plan
Email Marketing
Through add-on app
Through add-on app
Blogging
SEO Tools
Multiple Currencies Supported
Multiple Languages Supported
Through add-on app
Multiple Storefronts
Starting at Pro plan
24/7 Customer Support
Shopify and BigCommerce offer all the essential eCommerce features such as customizable online store builders and inventory/shipping management dashboards.
Shopify has created a highly scalable eCommerce and in-person sales solution, leaning largely on its app store to give sellers the online store customization, marketing, and advanced inventory features they need. The platform has also designed a large-scale order fulfillment network for sellers to compete with Amazon, and a native point of sale app so you can sell online and in person within one dashboard.
BigCommerce, on the other hand, has made it possible for eCommerce businesses (especially B2B businesses) to sell on a large scale with price lists, quotes, large catalog search capabilities, bulk ordering, and its multi-storefront feature, which allows companies to manage multiple sites under one BigCommerce account.
Small to midsize companies will find everything they need to run a successful eCommerce site on BigCommerce's lower-level plans in one holistic store admin dashboard, but larger companies should definitely get on the Pro-level or Enterprise-level plan to harness all of BigCommerce's capabilities.
Read our BigCommerce review and Shopify review for a more detailed feature breakdown. For now, these are how the two eCommerce store builders stack up to each other in some key sales and operational features.
Shopify VS BigCommerce Complaints & Reviews
Neither eCommerce platform has many complaints, but of those complaints, the one that both BigCommerce and Shopify users complained about was the learning curve. Users say it's a little overwhelming to start with, but that they got the hang of it after a while.
BigCommerce Common Complaints
Sales Limits: Once you reach a certain sales threshold, you are automatically bumped up to the next subscription level, which can be a steep price jump for any business.
Basic Themes: Both BigCommerce themes and customization capabilities could use an update.
Not Enough Integrations: Unlike Shopify, BigCommerce does not have integrations for all the major third-party software providers.
Shopify Common Complaints
Basic Features: Shopify users do not get a lot of functionality out-of-the-box, and many merchants find themselves relying heavily on add-ons. Add-ons can be glitchy and expensive.
Lack Of SEO: Shopify sites don't come with the best SEO tools, and Shopify sites are often slow to respond.
Additional Fees: Many users are not happy with transaction fees, customization/app fees, and paid theme fees. However, you can avoid transaction fees with Shopify Payments, and possibly find free themes and apps to make your store work with as little financial investment as possible.
Which Is Best for My Business Needs?
Both eCommerce platforms are highly scalable, especially with the inclusion of dedicated plans for enterprise-level businesses. Which one is right for your business needs?
Choose BigCommerce If …
Your business offers "high-risk" products, a lot of different products, product variations, and customizable items
You want your choice of payment processor (and the lowest payment processing rates available)
You want to own multiple storefronts under one account
You're in the B2B industry and want to offer price lists, customer accounts, and/or a quoting system
You need a lot of staff accounts
You want an all-in-one eCommerce solution and are comfortable with potential price increases with increased sales
Choose Shopify If …
You're okay with using Shopify Payments and Shopify's payment processing fees
You're interested in a holistic online/offline sales system
You want to customize your store with add-on apps
You're an influencer/very small business owner looking to just sell a few items
You're interested in warehousing items for faster delivery
You want to quickly start selling on a global scale
Comparing BigCommerce VS Shopify: The Final Verdict
This BigCommerce VS Shopify comparison shines a light on what kind of business models and budgets are suited for each eCommerce platform.
If you are an eCommerce business that sells a lot of items or custom items, you operate a B2B business, you sell "high-risk" items, or just want the freedom to choose your payment processor (and negotiate a good merchant agreement with good payment processing rates), then BigCommerce is right for you.
Shopify is ideal for a range of merchants. International sellers, dropshippers, influencers, businesses that sell online and on-location, and general small to midsize B2C retail sales businesses will appreciate the wealth of features Shopify offers. The huge variety of add-on apps is great for individuals looking for more site customization.
BigCommerce and Shopify both have two-week free trials. Sign up for both, test out all the features you may need, then decide which one is right for you.
If you feel that neither of these online store builders fits your business's needs, read our post on the best eCommerce platforms to find the store builder that's right for you.
BigCommerce VS Shopify: FAQs