9 Business Ideas For Kids & How To Keep Them Safe
Do you have a budding entrepreneur who wants to start a business, but doesn't know what type or where to start? Here are some great business ideas for kids.
Merchant Maverick Contributor

UPDATED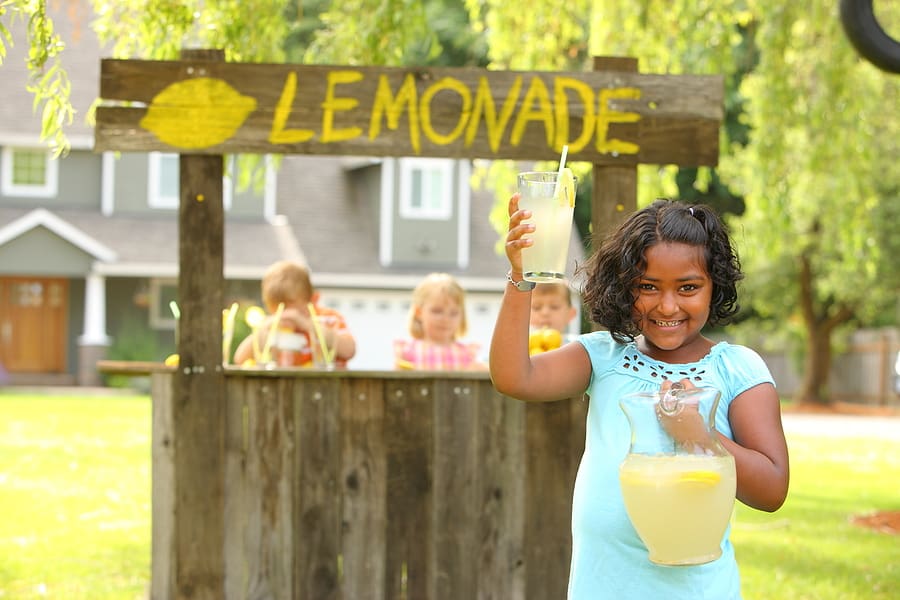 Entrepreneurship and creativity are valuable skills to instill in children of all ages. Why not get started with business ideas for kids?
Ways to earn money that go beyond the traditional job setting are more popular now than ever. And really, in most cases, it's a good idea to start sooner rather than later.
Time in the market is better than timing the market, as the saying goes. Kids who are inspired and learn to develop the skills necessary to run a business will be in a better position to take control of their future than those who don't.
Why Should Kids Start A Business?
Well-established entrepreneurs already know what it takes to succeed. In fact, many times, they've gotten to where they're now precisely because they were able to make mistakes, learn, and grow. So, when should a future business owner start to learn? At any age!
Starting a business at a young age is more than just a great way to earn extra money — kids have the opportunity to develop key skills that will give them a serious advantage in their academic and professional careers.
Even if it's a small-scale local venture, goal-setting is a crucial part of any business's success
Money management is a big one since kids will quickly realize the value of a dollar (and the time it takes to earn it!)
Young people can refine their communication skills by finding, vetting, and organizing deals with clients
Leadership and patience stand out, too, seeing as kids must become the face of their business and roll with the punches when things don't go as planned
Last but certainly not least, kids learn creativity and responsibility as they take the reigns to make their venture a success story and work through ideas to achieve results
Here are business ideas for kids that they can start right away.

Getting Kids' Business Ideas Out Into The World
Anyone in the world — including kids, of course — can have an awesome business idea. But as we all know, businesses often don't reach their full potential. Usually, these two reasons are involved: poor money management and ineffective marketing.
Let's briefly go over those.
Making And Managing Sales
Say your child has their lemonade stand set up and ready for business. Will he/she take payment in cash and manage bookkeeping manually? Or are electronic and credit card payments on the table?
Businesses armed with the best point of sale systems can take a lot of the headache out of the equation. Revel, for example, pairs inventory management with purchase tracking and online support. And if you sign up for an account with Square through Merchant Maverick, you'll receive a free card reader which is easy to use — a perfect starter point of sale device — even for kids!
Since this will be taxable income, however, kids ought to consider having their parents help them with opening a business bank account to keep their personal and business income separate.
This makes it far easier to track earnings and calculate taxes owed on them.
Marketing
When it comes to attracting and keeping customers — especially online — marketing shouldn't be neglected. Kids may not need a full-blown marketing strategy, but knowing how to reach out to customers with the right message at the right time can make all the difference. Even putting up some signs at your local library is a safe and easy way for kids to market.
Once you've found a way to get the word out, build your base of repeat customers and clients.
Square marketing features highly customizable plans that add to Square's base POS. You can start with an email marketing plan with up to 500 contacts for $15 a month, and texting to customers is also an option starting at $20/mo. (Make sure to follow all regulations regarding collecting email/phone numbers, however, if you go this route.)
Legalities And General Safety For Kids' Businesses
We'll get into the nitty-gritty of the legalities in a moment, but first, let's talk about safety.
First and foremost, you will want to keep your child protected and safe as they run their business. What does that look like? That means protecting them as a whole person: Keeping them physically and emotionally safe, as well as protecting their business assets and keeping the business safe from mismanagement.
Running a business is emotional work — and dealing with the public can be challenging. Support your child's emotional health by opening up conversations about healthy ways to handle stress, how to deal with difficult clients, and what to do if the business isn't thriving. Everything can be a learning experience.
The best way to keep your child safe, however, is to walk with them through small business best practices. Make sure everything is legal and on the up-and-up, then stay connected to the process.
Here are some things you can do to make the business a more secure enterprise:
Business Registration
In the eyes of the government, any exchange of products or services for currency counts as a business. As such, kids need to learn how to register a business with the help of their parents/guardians. Business laws don't discriminate against age.
Different states have different requirements and regulations, so researching state and local laws comes first. Some states allow citizens of any age to form and own companies, whereas others don't. Across the board, there tend to be restrictions on minors' ability to enter into business contracts.
To be on the safe side, parents should be ready to form the business entity and assume the legal liability that comes with it.
Registering For A DBA
Kids who are serious about taking their business to the next level should consider registering for a DBA, or "doing-business-as" trade name. In addition to being a strategic branding maneuver, this can help protect their personal identity.
Licenses And Permits
No matter the size or income of a young person's business, getting a business license is always a requirement for local governments. Similar to registering the business, statewide license requirements are determined by individual states.
Again, since these businesses are earning taxable income, it's necessary to acquire a seller's license through the state the business operates in. This applies to online and in-person sales alike. Applying for a license is inexpensive, if not free, in some states.
Food permits are a must for any business that plans to sell food. (Lemonade stands, we're looking at you.) Beyond that, none of the ideas mentioned above have any specific licenses or permits that are needed to legally operate.
However, going the extra mile to obtain certifications can help kids' businesses stand out. This is especially true with pet-sitting and babysitting services.
Business Insurance
Finally, children running a business could be sued if something goes wrong. More often than not, this liability also extends to the parents.
General liability insurance would be the single most important policy to purchase. This provides financial protection from the medical fees and legal costs that arise from slip and fall accidents, property damage, and bodily harm sustained by clients and customers. Unfortunately, these things could happen as kids run their businesses the best they can.
Product liability insurance is sometimes included in a general liability plan. This offers specialized coverage for harm to others caused by a product sold by your kid's business (say, a contaminated batch of lemonade).
For kids whose businesses depend on tools, equipment, and other gadgets, commercial property insurance may be a solid choice, too. In the event a crucial piece of property is damaged by a direct physical cause — say, a video game coach's computer is destroyed by a California wildfire — that can be claimed as a business loss.
Business Ideas For Kids FAQ