The Complete Shopify Fees & Pricing Guide 2023
If you're considering using Shopify for your eCommerce business and wondering how much it costs, our pricing guide gives you all the answers.
Expert Analyst & Reviewer

UPDATED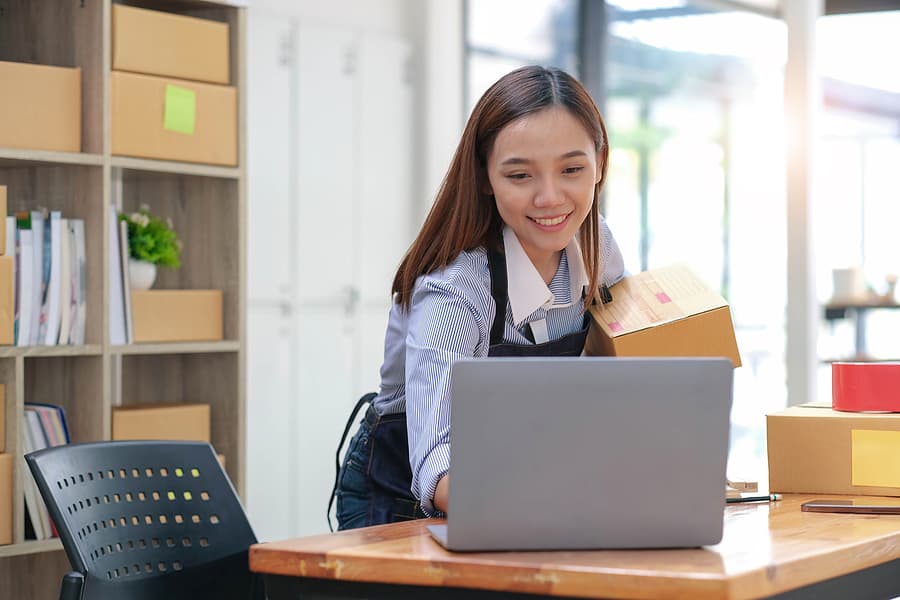 Shopify fees are one factor to consider when choosing a platform for your online store. Though you may lean toward Shopify for its easy-to-use design and affordable pricing, as well as its range of subscription plans designed to meet every level of need and budget, Shopify adds some fees that may come as a surprise to you.
If you're interested in learning how Shopify can help you meet your eCommerce goals, check out our full Shopify review for all the details. If you're already well informed about the benefits Shopify delivers, it's time to dig into the nitty-gritty and learn exactly how much Shopify costs to use and what kinds of Shopify fees you can expect to find.
Ready? Let's dive in!
Shopify Pricing Plans
Shopify currently offers five different pricing plans. Each step up in pricing gives you access to more user accounts, more advanced features and services, and varying Shopify fees. Plans are available as a monthly subscription, but you can also choose to pay annually. You get a significant discount if you purchase a full year in advance.
Remember, the Shopify free trial offer gives you three days to test the software risk-free and with no required credit card.
Shopify Starter Plan Pricing
Shopify Starter is a pared-down plan that doesn't include an online store or Shopify POS. Shopify Starter allows you to accept payments online via Buy Buttons and social media links. If you want to build a full online store or sell items in person, look at a higher-level plan. The Shopify Starter plan costs $5/month and is billed monthly.
Here are the features that come with the Shopify Starter plan:
Share your products via any major social media platform, text, and/or email
Create a Linkpop page that drives followers to your top products and content via your bio link
Email and live chat support
Basic Shopify Pricing
The Basic Shopify plan is the lowest-level plan that comes with a fully-hosted online store. The Basic Shopify plan normally costs $39/month ($29/month if billed annually) and includes two staff accounts and significantly more features than Shopify Starter.
However, at the time of this review, Shopify is making a special offer that allows new users to sign up for the Basic plan for just $1/month for the first three months. Keep in mind you can also test the Basic plan for the normal free three-day trial.
Here are the features you get with the Basic Shopify plan:
Online store
Blog
Unlimited products
Two staff accounts
Assign inventory to up to four retail stores, warehouses, pop-ups, or wherever you store and sell products
Multiple sales channels
Sell in up to five languages
Manual order creation
Discount codes
Free SSL certificate
Abandoned cart recovery
Gift cards
Shopify Shipping
Fraud analysis
Shopify POS Lite (Pro version available for an added fee)
2.0% transaction fees on sales made using third-party gateways
24/7 email, live chat, and phone support
The Shopify Plan Pricing
The Shopify plan is a step up from Basic Shopify, and it comes with five staff accounts, better shipping and payment processing discounts, and more advanced features. The Shopify plan costs $105/month ($79/month if billed annually).
The Shopify plan includes everything offered in the Basic Shopify plan plus these additional features:
Five staff accounts
Assign inventory to five locations
Professional reporting features
Shopify Shipping with better discounts on shipping rates
International domains and pricing
Customize product prices for different regions using a percentage increase/decrease
USPS Priority Mail Cubic pricing
Discounts on payment processing with Shopify Payments
1.0% transaction fees on sales made using third-party gateways
Advanced Shopify Plan Pricing
The Advanced Shopify plan includes all of the features in the Shopify plan, more advanced features, and better discounts on shipping rates and payment processing.
The Advanced Shopify plan costs $399/month ($299/month if billed annually) and includes everything in the Shopify plan plus:
15 staff accounts
Assign inventory to eight locations
Advanced report builder with custom reports
Display third-party calculated shipping rate at checkout
Best discounts on shipping rates with Shopify Shipping
Best discounts on payment processing with Shopify Payments
Set individual product prices for different countries/regions
0.5% transaction fees on sales made using third-party gateways
Shopify Plus Pricing
Shopify Plus is Shopify's enterprise-level plan, designed for businesses with over $1 million in annual revenue. Shopify Plus offers more advanced features, better hosting for higher traffic, and personalized support through a dedicated account manager.
The Shopify Plus pricing is custom-designed for each user. Rates depend on your business's size and specific needs. In the past, pricing began at $2,000/month.
Here are some of the additional features that come with Shopify Plus:
Unlimited bandwidth
Able to handle large fluctuations in traffic
Sell on over 20 different channels
Automation tools
Wholesale and B2B features
Priority customer service
Additional Fees
Each plan includes some Shopify fees that are somewhat unusual for an eCommerce platform to charge users. As you consider Shopify pricing and what plan will work best for you, keep in mind that Shopify charges users a transaction fee on every purchase that depends on your plan level, with the fee rate decreasing as your plan level rises.
The only way to avoid those transaction fees is to use the in-house option, Shopify Payments, as your sole payment processor (we have a whole explainer post on what a payment processor is and why it's important).
Choosing The Best Shopify Plan For Your Store
With so many plans available, how do you know which plan is right for your business? The answer depends on the features you need and your business's budget. And keep in mind that as your eCommerce needs change, your Shopify plan can change with you. You won't be locked into any plan forever; going up or down a service level is relatively easy as your needs change.
Take a look below for a quick summary of available features on each plan:
| | Shopify Starter | Basic Shopify | Shopify | Advanced Shopify | Shopify Plus |
| --- | --- | --- | --- | --- | --- |
| Pricing | $5/month | $39/month | $105/month | $399/month | Contact Shopify |
| Transaction Fees | 2.00% | 2.00% | 1.00% | 0.50% | Contact Shopify |
| Sell In-Person | X | ✔ | ✔ | ✔ | ✔ |
| Sell On Facebook | ✔ | ✔ | ✔ | ✔ | ✔ |
| Online Store | X | ✔ | ✔ | ✔ | ✔ |
| Staff Accounts | 1 | 2 | 5 | 15 | Contact Shopify |
| Unlimited Products | ✔ | ✔ | ✔ | ✔ | ✔ |
| Email & Live Chat Support | ✔ | ✔ | ✔ | ✔ | ✔ |
| Phone Support | X | ✔ | ✔ | ✔ | ✔ |
| Warehouse Locations | X | 4 | 5 | 8 | Contact Shopify |
| Free SSL Certificate | X | ✔ | ✔ | ✔ | ✔ |
| Professional Reports | X | X | ✔ | ✔ | ✔ |
| Advanced Custom Reports | X | X | X | ✔ | ✔ |
| Third-Party Calculated Shipping Rates | X | X | X | ✔ | ✔ |
| Shopify Shipping | X | ✔ | ✔ | ✔ | ✔ |
| Discounted Rates With Shopify Shipping | X | Up to 77% | Up to 88% | Up to 88% | Contact Shopify |
| Shopify POS | X | ✔ | ✔ | ✔ | ✔ |
As you select a plan for your business, it's important to look at the features available in each plan. You want a pricing plan that meets all of your business's needs (with some room for growth!), but you don't want to go overboard on that monthly subscription cost. When in doubt, start with a lower-level plan and add on as needed.
Take some time to consider which features you need as well as your business's budget for software such as Shopify. You should also keep in mind the discounts on shipping costs and payment processing that are available on higher-level plans. Depending on your order volume and average order total, you may end up saving more on higher-level monthly plans because you'll be able to access better discounts that offset the higher monthly subscription costs.
Choose Shopify Starter If…
You don't need to build a website or blog
You don't intend to sell in-person
You want to sell on social media or via email/text
You have a very small operation (solo businesses or just a handful of employees)
You're okay with just live chat and email support (no phone support)
Choose Basic Shopify If…
You want to build and host a full online store with Shopify
You are just beginning to sell online
You don't need many reporting tools
You need four or fewer staff accounts
You want phone support in addition to live chat and email
Choose Shopify If…
You need access to professional reports
You need five staff accounts
You want to access discounted processing fees, lower Shopify transaction fees, and further discounted shipping rates
Choose Advanced Shopify If…
You need to create advanced reports
You can't use Shopify Shipping because your fulfillment locations are not all based in the US or Canada, you want to work with additional carriers, and/or you have your own custom, discounted accounts with certain shipping carriers
You need 15 staff accounts
Choose Shopify Plus If…
You have a high-volume business, enterprise-level operation, large wholesaler, or have advanced eCommerce needs
You require extensive scalability and customization in staff accounts, sales volume, sales channels, site speed, etc.
You need a dedicated account manager
You need more than 15 staff accounts
Other Possible Shopify Fees To Consider
In addition to Shopify's monthly subscription fees, you can expect to pay a handful of other fees, most of them related to payment processing. Let's take a look.
Shopify Payments Fee
Shopify has its own in-house payments provider, Shopify Payments.
Shopify Payments offers qualifying merchants an easy way to accept online and in-person payments. Depending on your Shopify subscription level, you can even access discounted payment processing rates when compared to alternative payment processors, such as PayPal and Square. As we mentioned above, when you use Shopify Payments for your payment processing, Shopify waives its 0.5% to 2.0% transaction fee.
Here's how payment processing rates break down by plan:
Shopify Payments Processing Fees
Starter
Basic
Shopify
Advanced
Plus
eCommerce Rate
2.9% + $0.30
2.9% + $0.30
2.6% + $0.30
2.4% + $0.30
Custom
In-Person POS Rate
N/A
2.7%
2.5%
2.4%
Custom
Unfortunately, Shopify Payment is not available to all sellers. Check to see if Shopify Payments is available in your country, and be sure to read the terms of service and acceptable use policy to make sure your business qualifies for the service.
Shopify Transaction Fee
Shopify also charges its own commission per sale on top of the fees already charged by your payment processor.
Depending on your Shopify pricing plan, these fees range from 2.0% to 0.5% per transaction. However, you can avoid these extra fees altogether if you sign up for Shopify Payments as your processor.
Here's a summary of how Shopify's transaction fees are implemented:
Shopify Transaction Fees
Starter
Basic
Shopify
Advanced
Plus
With Shopify Payments
0%
0%
0%
%0
Custom
Without Shopify Payments
2.0%
2.0%
1.0%
0.5%
Custom
Be sure to factor in the cost of these transaction fees as you weigh your options, especially if you don't plan on using Shopify Payments in your store.
When You Choose A Payment Processor Other Than Shopify
You must sign up for a payment processor to collect payments from customers via your Shopify store. A payment processor is a company that handles your customers' payments in exchange for a fee on each transaction. Examples of popular payment processors are PayPal and Stripe, and they typically charge 2.9% + $0.30 on each eCommerce credit and debit card transaction.
In addition to those fees charged by the processor, you will pay Shopify transaction fees on every sale you make when you use a payment provider other than Shopify's in-house option, Shopify Payments. Those fees range from 0.5% to 2% depending on your subscription plan. So, for example, if you have Basic Shopify and make a sale using PayPal to process the payment, your fees will total 4.9% of the sale plus $0.30 when you combine the payment provider fees with Shopify fees.
Shopify POS Pricing
Shopify also offers a point of sale option to all users. The Shopify POS Lite system is fairly basic and included for free on all plan levels. You can choose to pay an additional monthly fee to gain access to more comprehensive POS features.
If you stick with Shopify POS Lite, you'll be able to sell in-person with credit card rates ranging from 2.4% to 2.7% + $0.00, depending on your subscription level. You'll have access to mobile POS, hardware accessories, and order and product management tools. You'll even be able to access customer profiles, check in-store availability, and use QR codes to draw customers to your site to purchase online. Shopify Payments is included with all Shopify POS plans.
For sellers who want access to even more features, there is Shopify POS Pro. This set of features is available to all users for an additional $89/month per location, and it's already included with Shopify Plus pricing. Shopify POS Pro includes unlimited store staff and registers, employee roles and permissions, and sales and cash tracking. You can even use Shopify POS Pro to manage returns, let customers buy online, and pick up in person. Check out our full Shopify POS review for more information.
Domain Name Registration
Your domain name is the URL associated with your store. You can choose to use Shopify's free domain name or purchase your own custom domain.
Shopify's free domain name is fairly basic and includes Shopify's branding. It looks something like this: your-store-name.myshopify.com.
If you want a custom domain, you can purchase one from Shopify starting at $11/year. If you have a domain name that you have already purchased elsewhere (typically starting at $10/year), you can transfer that domain or connect it to your Shopify account for no additional charge.
Shopify Add-Ons & Integrations
Although SaaS solutions such as Shopify pride themselves on being all-inclusive, you'll likely run into new expenses as your store grows. Shopify sellers often have to subscribe to additional integrations and hire experts for web design and development support as their store grows.
Here are some of the extra expenses you should consider as you calculate your overall cost:
Shopify Integrations
Shopify is excellent software when it comes to basic eCommerce features, but it still has plenty of room for expansion via advanced features and apps. Even sellers who are just starting up may find they need one or more extensions from the Shopify App Store to tune the platform to their precise needs. You may consider integrating with third-party solutions for shipping, CRM, marketplace connections, or accounting software. The majority of these add-ons will cost an additional monthly fee, often ranging from $10/month to $100/month.
A few examples of integrations you might consider are ShipStation, ShippingEasy, and QuickBooks Online.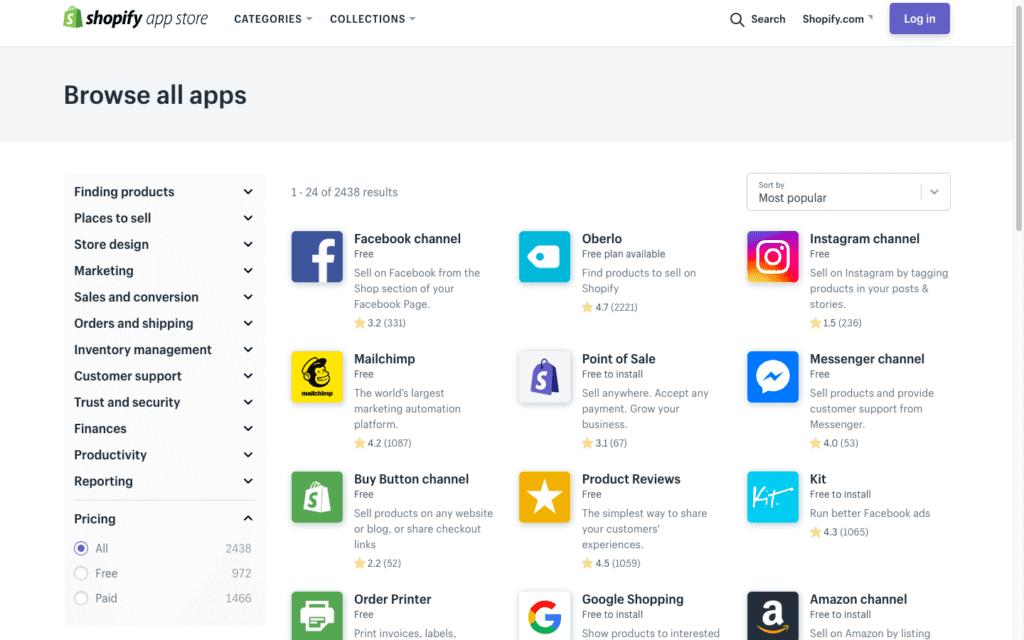 Web Design Themes
Shopify offers a number of free themes with excellent web design tools. But you may decide that Shopify's free options aren't right for your business. In that case, look into the alternatives: You can purchase a premium theme, design your own theme, or pay for someone to custom design your website.
Premium themes are one step up from Shopify's free themes. They offer more elements on the home page, and they may be better suited to your brand. Premium themes typically cost between $140 and $180.
You can also choose to design your own theme, which could be free. However, if you run into trouble, you may have to hire a web designer to help you out. Shopify has a web page you can use to find Shopify Experts to help you with site design.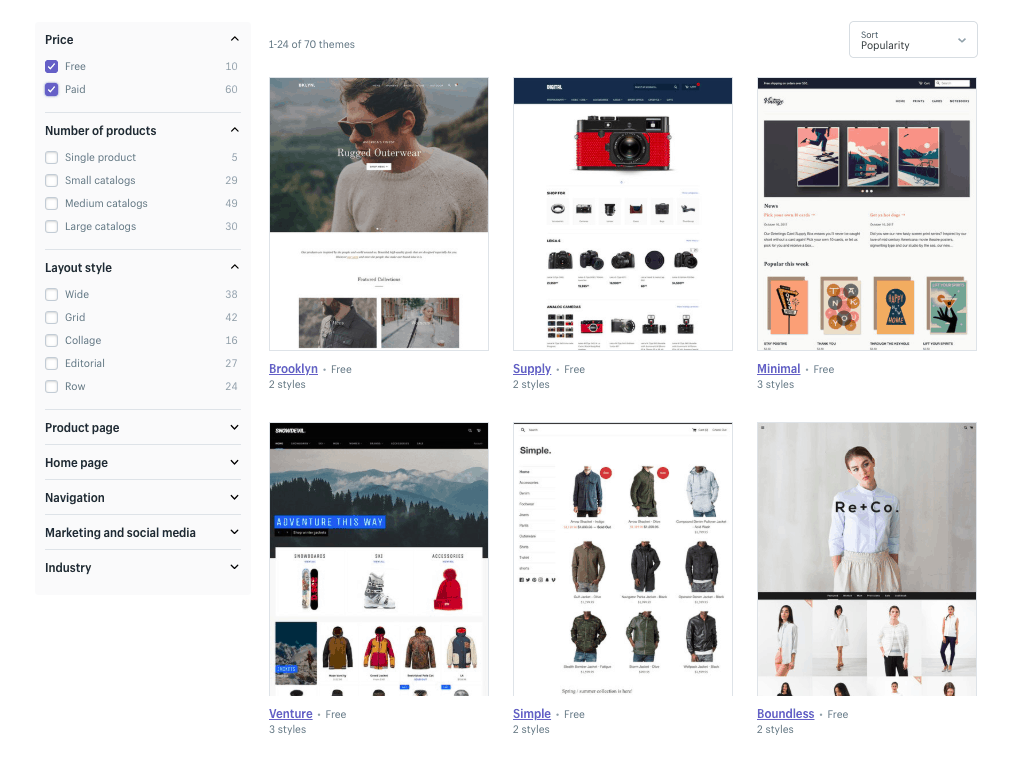 Development
It can be very difficult to get multiple software systems to work well together; sometimes, you need an expert to step in. Fortunately, Shopify has a contact page full of Shopify Experts who specialize in web development. The cost of their assistance ranges from a few hundred dollars into the thousands, depending on the expert and the job.
How To Save On Shopify Fees
Fortunately, Shopify gives its users many ways to save. Discounts are available on your monthly subscription plan, on shipping costs, and on payment processing fees. Let's take a look at how to access those discounts.
Shopify Discounts
Shopify's pricing plans are billed monthly by default. Monthly payments give you the greatest flexibility since you can cancel your plan at any time with no repercussions. However, merchants who are certain that they want to continue using Shopify can take advantage of an annual purchasing option. When you pay upfront for a full year on the platform, Shopify discounts your subscription cost by 25%.
I can already hear you bargain-hunting readers celebrating, but before you go and purchase this app for a year or more, I strongly recommend you take a step back. Shopify does not offer refunds if you cancel before the year ends. So don't commit to an entire year of Shopify unless you're absolutely certain the software fits the needs of your online store.
My advice is to subscribe to Shopify's monthly plan for at least one year before you go all in. That year gives you a good chance to deal with customer support, experiment with add-ons, and make sure the platform works for your company. While that annual discount of 25% is impressive and welcome, remember that it only saves you a total of $120/year on the Basic plan, after all.
Shopify Shipping Discounts
Sellers who use Shopify Shipping features for their order fulfillment can also take advantage of the discounted rates that Shopify has negotiated with shipping carriers. Discounts are available with USPS, UPS, DHL, and Canada Post. These discounts typically range from 20% to 50% off regular rates, but they can be as high as 90% on certain shipments!
Your access to these discounted rates varies, depending on your Shopify subscription level. The steepest discounts are available on the highest-level plans. For more information, check out our ultimate Shopify Shipping guide for online sellers.

Using Shopify Payments Eliminates Transaction Fees
As we've mentioned before, discounts on payment processing fees are also available to sellers using Shopify Payments. Depending on your Shopify subscription plan, you may be able to access discounted payment processing rates. What's more, all merchants who process payments with Shopify Payments are exempt from Shopify transaction fees that range from 0.5% to 2.0%.
Choose The Right Version
One of the best ways to save with Shopify is to choose the right subscription level for your business. No one wants to pay extra for features they don't actually use. On the other hand, if you subscribe to a plan that's too basic, you may spend too much on add-ons to increase your store's functionality.
Your best bet is to look for a plan that offers all the features you need but isn't overkill for your business. It's reasonable to expect to fill in a few gaps with purchased adds-ons. If you realize later that you've chosen the wrong subscription level, take comfort in knowing you can upgrade or downgrade your plan anytime.
Shopify Pricing FAQs
Launching Your Shopify Store: Shopify Pricing & Plans Are Made To Scale With You
As you consider using Shopify for your eCommerce business, make sure you consider all the Shopify pricing options and the various fees involved with the platform, as outlined in this post. For many sellers, Shopify pricing makes it one of the most affordable eCommerce platforms on the market. However, it is important that you look into your own business's needs and price out the service for yourself.
We also recommend that you sign up for a Shopify free trial. Use that three-day period to test the software and make sure it works seamlessly with your business plans and is capable of delivering the results you need. Upload your products, test out the design tools, and contact customer service. Make sure that Shopify is the right eCommerce solution for your business.
Overall, we think Shopify provides great value for the money. Just make sure you choose the appropriate plan and then factor in additional costs, such as third-party software integrations, shipping rates, and payment processing.
For more information on how Shopify stacks up against the competition, try our shopping cart comparison page or our article on the top Shopify alternatives. Best of luck with your search!