Payoneer Review
For businesses that frequently send and receive online payments, Payoneer's flexible billing and multicurrency support could be a good fit.
Expert Analyst & Reviewer

UPDATED
Advertiser Disclosure: Our unbiased reviews and content are supported in part by
affiliate partnerships
, and we adhere to strict
guidelines
to preserve editorial integrity.
Payoneer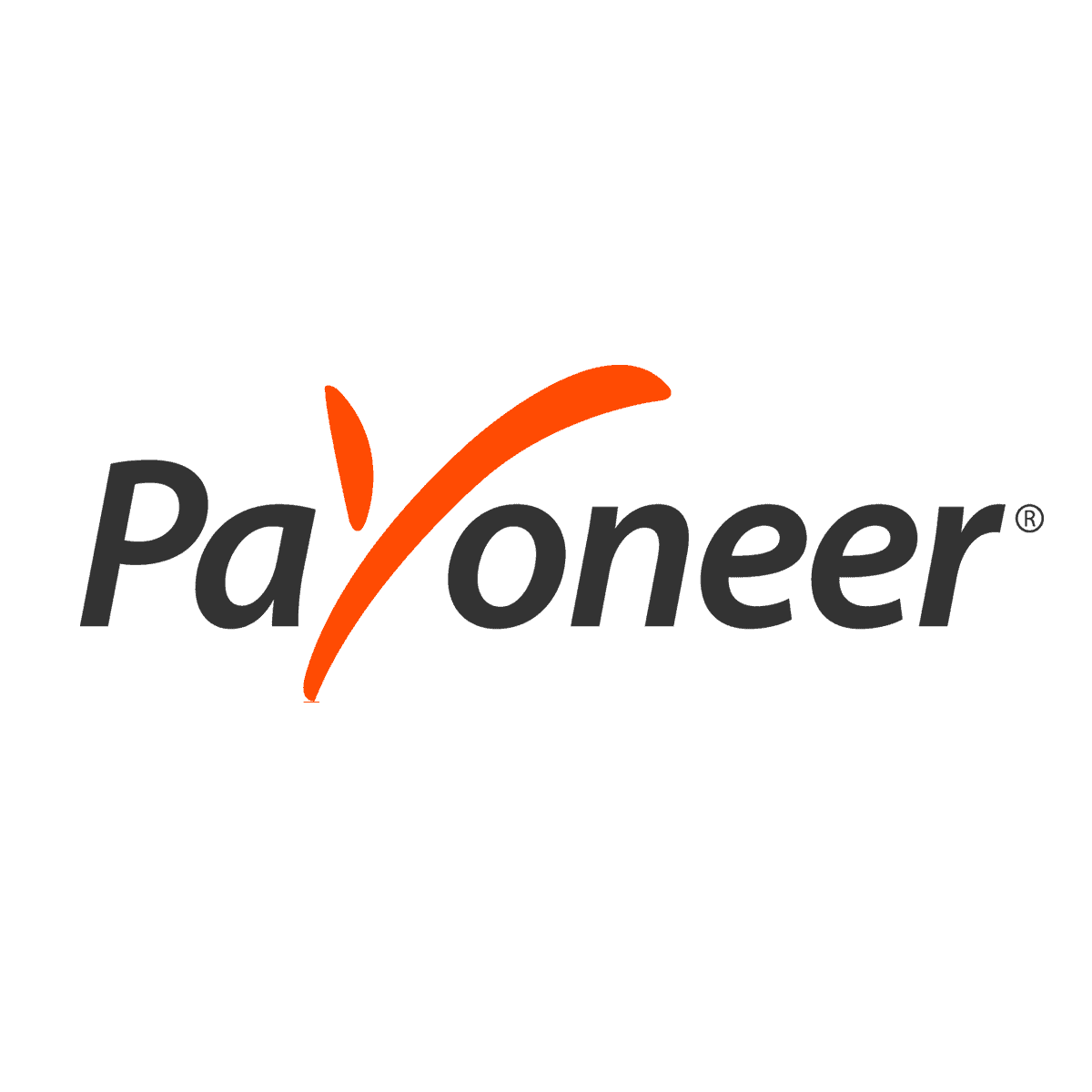 Pros
Month-to-month billing with no early termination fee
Free payments between Payoneer accounts
Best for freelancers and international businesses
Excellent multicurrency support
Cons
$29.95 annual inactivity fee
High credit card transaction fees
High complaint volume relative to size
Payoneer Overview
Payoneer is a financial services company that specializes in facilitating online payment transfers both within the United States and internationally.
See The Best International Money Transfer Services
Payoneer's services are used by many major players in the eCommerce world, including Amazon, Google, Airbnb, and UpWork. If your business needs to send or receive online payments – either domestically or internationally – Payoneer's payment services may come in very handy. While companies like PayPal offer similar capabilities, Payoneer has a stronger focus on international transactions and claims to offer lower overall costs than its competitors.
Note that the company is neither a merchant account provider nor a payment service provider (PSP) like Square or Stripe. Payoneer's core service facilitates the transfer of funds from one party to another, and it doesn't provide much else in the way of traditional merchant services.
We're awarding the company a score of 4 out of 5 stars for now, as the benefits provided generally outweigh the negative aspects of its service. Read on to learn the details of Payoneer's features and what it can do for your business.
Payoneer Products & Services
As we've said, Payoneer is not a merchant account provider and doesn't offer the full range of merchant services that you'd typically get from a traditional provider. Because of this, you won't be able to use a credit card terminal or POS system with your Payoneer account. There's also no support for a payment gateway or virtual terminal. Here's a rundown of the features that are available:
Payoneer Account: Every Payoneer customer receives an account that can be used to make and receive payments. It's free to sign up, and you can do it online in just a few minutes. While this isn't a merchant account, you can make and receive payments via credit card. Payoneer uses an undisclosed backend processor to process these types of transactions.
Payoneer Prepaid Mastercard Debit Card: You have the option to include a Mastercard debit card with your account, which you can use to make payments after you've transferred sufficient funds to your Payoneer account. While it's not a credit card, you'll still have to pay a $29.95 annual fee for this card. This fee is on the high side, especially if you only use your Payoneer account occasionally.
Mobile App: The company offers a free Payoneer app, which is available for both iOS and Android. The app allows you to check your account balance, view transactions, withdraw funds, and make payments. User reviews are generally positive, with many of the criticisms being directed at the Payoneer service itself rather than the app.
ACH Processing: All Payoneer accounts come with (ACH) processing for both making and receiving payments. While there's no additional charge for this service, there are per-transaction processing fees.
Online Reporting: As you would expect, you can log in online to access your Payoneer account. This is where you'll go to make payments and transfer received funds to your local bank account.
Security Features: All transactions are encrypted, but Payoneer doesn't disclose specific encryption methods on its website or offer any details on other security features that it uses. Unfortunately, there are a lot of complaints online from users whose accounts were hacked and used to make unauthorized payments.
Payoneer Fees & Rates
Payoneer is reasonably transparent about the costs of using their service, with most charges being disclosed on the Fees page of their website. Be warned, however, that there are a lot of complaints about additional, hidden fees that you'll only find buried in the fine print of your contract. Here's a breakdown of the costs associated with the most common transaction types:
Payments from one Payoneer account to another are free. This is a real benefit if your customers also use Payoneer.
Payments made via a local bank transfer incur a 1.0% fee, if made in US dollars. Transfers in euros or British pounds are free.
Payments made via ACH transfer incur a 1.0% fee in US dollars.
Payments made via credit card incur a flat 3.0% processing fee.
Withdrawing money from your Payoneer account to your local bank account isn't free, with fees depending on whether a currency conversion is necessary. Withdrawal fees are as follows:
Withdrawals in local currency from a Payoneer balance of the same currency are $1.50 per withdrawal
Withdrawals in local currency from a Payoneer balance of a different currency are up to 2% of the transaction amount
Withdrawals in non-local currency are up to 2% of the transaction amount
Payoneer doesn't charge most of the fees that are traditionally associated with merchant accounts. For example, there's no account setup fee and no monthly account fee. You will have to pay an annual fee of $29.95 if you opt for the Payoneer Mastercard debit card, and there's also an account inactivity fee (also $29.95/year) if you don't use your account at all for twelve consecutive months. There are other miscellaneous fees as well, most of which are disclosed on the Payoneer website.
Contract Length & Early Termination Fee
Payoneer bills on a month-to-month basis and doesn't require you to sign a long-term contract. There's also no early termination fee for closing your account, although you'll still want to follow the account closure procedure outlined in your contract very carefully to ensure that your account is actually terminated.
The company's flexibility in allowing month-to-month billing without a lengthy contract is commendable and in line with the practices of other payment service providers. Now that the Payoneer debit card is optional, it's possible to avoid paying any annual fees simply by using your account at least once a year.
Sales & Advertising Transparency
Payoneer markets its services primarily through its website, and it's a pretty good one. The site is easy to navigate and includes links to a ton of information about what Payoneer can do for your business. While a lot of what's presented is marketing fluff, there are also some decent disclosures about the fees for using Payoneer's payment services. Those disclosures aren't complete, however, so you'll still want to review the terms and conditions before you sign up for an account. The site also includes a decent amount of educational materials, such as an FAQ and several how-to videos.
Signing up for a Payoneer account is accomplished right on their website. While this is becoming an increasingly common practice in the payments industry, be aware that there are disadvantages as well as advantages to doing so. Obviously, an online signup process makes it much quicker and easier to get an account approved and start making or receiving payments. It also spares you the hassle of dealing with independent sales agents or having to negotiate the terms of your contract. At the same time, the process is so quick that most people will quickly click through every screen and finalize their account without thoroughly reviewing the terms and conditions contained in the user agreement. This can lead to unpleasant surprises down the road, like those account inactivity fees we mentioned earlier that aren't disclosed on the website. We should also remind you that it can take up to a month to receive your Payoneer debit card in the mail, and your ability to use the service will be somewhat limited until it arrives.
The company also has a very active social media presence, with accounts on Facebook, Twitter, and LinkedIn. These accounts mostly serve to distribute posts from Payoneer's blog, but the content is updated very frequently and contains a lot of useful educational information. Unfortunately, the company's Facebook page doesn't allow customer reviews. Payoneer also has a YouTube channel, which includes dozens of client testimonials, tutorials, and educational videos.
Customer Service & Technical Support
Payoneer includes a useful Support Center on its website which contains a detailed and thorough knowledgebase and FAQ for answering questions and troubleshooting problems. If you can't find the answer to your question here, you'll have to log in to your Payoneer account to access the live chat feature. You can also contact Payoneer by email. Telephone support is available, but is only available during normal business hours and is apparently not intended to be the primary means of contacting the company.
Support via live chat is only available in English, Spanish, or Russian. If you don't speak one of these languages, the email option supports dozens of additional languages. Unfortunately, we've found a lot of complaints alleging poor customer support, so we encourage you to give the knowledgebase a try before resorting to any of the other support options.
Payoneer Customer Reviews, Complaints & Common Problems
Negative Payoneer Reviews & Complaints
Payoneer has been accredited by the BBB since 2008, and currently has a B rating. The company has had 388 complaints within the last three years, of which 131 were filed within the last twelve months. While this represents a tremendous increase in the total number of complaints from what we found at our last review update, it also comes during a period when the company has experienced dramatic growth and expansion. Having more users is inevitably going to lead to more complaints. On a positive note, Payoneer continues to respond to all BBB complaints it receives. The company's BBB profile also includes 443 reviews, with an average rating of 4.15 out of 5 stars.
We also found 51 complaints against Payoneer on Ripoff Report. Many of the reports here are actually complaints against businesses using Payoneer as their payment service, and not the company itself. While Payoneer is, of course, not responsible for the fraudulent practices of merchants using its services, we feel that the company could do a better job of weeding out scammers and shady businesses. With just about anyone able to sign up for an account online without undergoing the extensive underwriting process required for a full-service merchant account, it's a little too easy for unscrupulous actors to gain access to the platform.
Among all these complaints, we've found several common issues, including the following:
High Transaction Fees & "Hidden Fees": While it's free to open an account and many transactions can be completed either for free or for a very low fee, Payoneer charges a lot of additional fees, including fees to transfer your funds to your personal bank account. This also includes the annual fee for the Payoneer debit card and the account inactivity fee if you don't use your account for over a year. Again, we can't emphasize enough how important it is to review all terms and conditions thoroughly before opening your account. These "hidden" fees are there, and you need to understand them before you get surprised by your monthly statement.
Frozen/Withheld Funds & Canceled Transactions: Like any payment processor, Payoneer will hold funds for a transaction if fraud is suspected. Some of these transactions will be canceled altogether, and it's possible to have your account terminated without notice if their underwriters sense a pattern of fraudulent activity. See our article How To Keep Your Payment Processor From Holding Funds Or Terminating Your Account: What Small Businesses Need To Know for tips on how to avoid having this happen to you.
Compromised Personal Information Leading To Fraud. We previously found a disturbing number of complaints alleging that the user's account was hacked and used to make fraudulent payments. Payoneer appears to have addressed this issue by introducing stricter security protocols, as we haven't found any recent complaints about this issue.
Poor Customer Service: There were also a lot of complaints regarding the quality of Payoneer's customer support. Most of these allegations appear to involve telephone support, so it's disappointing to see that Payoneer has de-emphasized this type of support in favor of live chat rather than address the problem.
Positive Payoneer Reviews & Testimonials
Payoneer devotes an entire section of its website to Success Stories, which features 38 in-depth profiles of clients from around the world who use Payoneer to send and receive payments as part of their business. These profiles are detailed and compelling, and paint a positive picture of the company. We also found a few other positive comments scattered around the web from people who used the service without encountering any of the problems that plagued some users.
If you've had any experience using Payoneer, we'd like to hear from you. Please feel free to leave a comment or review in the Comments section below. Thanks!
Final Verdict on Payoneer
It's no surprise that so many of the testimonials for Payoneer come from freelancers and international businesses. Merchants who just need a simple way to issue and accept payments to and from other businesses – and who don't need all the bells and whistles that come with a full-service merchant account – will find a lot to like about the company's services. Payoneer's ability to handle currency conversions and issue funds to local bank accounts around the world make it a compelling choice for many.
At the same time, if your business needs a reliable merchant account that can handle large numbers of transactions and provide a payment gateway for customers to place and pay for orders, Payoneer will not work for you. The company is also not a good choice for seasonal businesses or those that only occasionally have to send or receive a payment. The extra fees – particularly the account inactivity fee – could negate any savings you might otherwise enjoy over a true pay-as-you-go service like PayPal. The bottom line is that you should only sign up for a Payoneer account if you intend to use it frequently, and also if you'll actually save money by doing so. Payoneer claims that businesses can save up to 71% in fees over their competitors, but this figure almost certainly represents an ideal business case that won't apply to most users. You'll want to consider all costs in determining whether Payoneer will actually save you money.
Payoneer receives a commendable score of 4 out of 5 stars. While the company provides a solid payment service and its pricing is reasonable for most users, it can be fairly expensive in certain use cases. We're also concerned with reports from users regarding poor or inadequate customer support. If you do business internationally and just need a payment service to transfer money and make currency conversions, Payoneer might be a good choice for you. However, you'll want to carefully weigh all the pros and cons we've discussed and also compare your likely costs against other similar payment services.
---
Our Top Pick To Get Your Merchant Account Approved
PaymentCloud


---
PaymentCloud has an excellent track record for both service quality and account approvals. Start your application.
Our Top Pick To Get Your Merchant Account Approved
PaymentCloud


---
PaymentCloud has an excellent track record for both service quality and account approvals. Start your application.