QuickBooks Point Of Sale Review (Desktop Version)
QB POS is old-fashioned and can't compete with cloud-based POS systems in pricing or features. Still, it's functional and might appeal to diehard QB Desktop fans.
Expert Analyst & Reviewer

UPDATED
Advertiser Disclosure: Our unbiased reviews and content are supported in part by
affiliate partnerships
, and we adhere to strict
guidelines
to preserve editorial integrity.
QuickBooks POS Desktop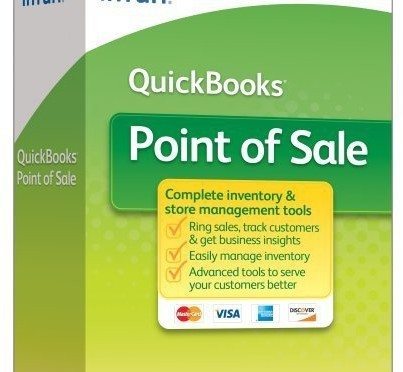 Pros
Easy to use
Loyalty program
Gift cards
Cons
Expensive pricing
Poor customer support
Windows-only
Limited payment integrations
QuickBooks POS Desktop Overview
QuickBooks Point of Sale boasts the basic features and functionality of a good point of sale system, along with the built-in integration with QuickBooks' accounting software. It is easy to use and is capable of handling the needs of nearly any size business. Unfortunately, QuickBooks POS still lags behind its competitors.
QuickBooks POS is on the expensive side and that's before factoring in add-ons for gift cards and inexplicably poor customer service. On top of that, Intuit is known for charging for updates. This makes the software prohibitive to small businesses, especially startups. Beyond cost, another consideration is whether QuickBooks POS stands up when compared to many of the easier, cheaper cloud-based alternatives. The fault is in Intuit's old-school mindset — evident in the QuickBooks Point of Sale system's closed ecosystem — which doesn't leverage the equalizing power of today's technology.
Still, if you are in the market for locally-installed software and you're a QuickBooks Pro user, you may find that this POS solution is a good fit for your business. Keep reading for our full review of QuickBooks Point of Sale!
What Is QuickBooks POS?
QuickBooks POS is a locally-installed POS system that integrates with QuickBooks Desktop accounting software. This POS is ideally suited for retail but is capable of handling other service-oriented business types. QuickBooks POS can fill the needs of pretty much any sized business, from mid-sized retail shops to larger chains.
QuickBooks POS Pricing
QuickBooks POS Basic
QuickBooks POS Basic is geared for the smallest of mom-and-pop stores. It costs a one-time fee of $1,200 and includes the following features:
Inventory tracking
Customer data tracking
Basic reports
Ring sales
Accept contactless payments
eCommerce integration
Manage customer data
QuickBooks POS Pro
QuickBooks POS Pro costs a one-time fee of $1,700. Pro gets you every feature offered to Basic users as well as the following:
Employee tracking and payroll
Layaway and gift cards
Rewards and loyalty program
Advanced reporting
Generate purchase orders
QuickBooks POS Multi-Store
QuickBooks POS Multi-Store costs a one-time fee of $1,900 and gives you all the features offered to Pro users but with the ability to use QuickBooks POS at multiple stores. It also includes the following features:
Multiple store management
Manage and transfer inventory
Advanced sales and inventory reporting between stores
These are floating, per-user licenses, meaning that if you need to have more than one computer/user accessing the back-end QBPOS database concurrently, you'll need to buy a license for each one.
QB offers promotional discounts from time to time, such as 20% off or free hardware bundles, so make sure to check for current promos before purchasing. A 30-day free trial is also offered, with no credit card required to sign up.
Note that the POS does not include QuickBooks itself. Read our article about QuickBooks Desktop pricing if you want to purchase the accounting software.
QuickBooks POS Features
Intuit has put a lot of thought into the software's functionality and feature-set, creating a suite of tools that has more in common with an Enterprise Resource Planning solution than a mere virtual cash register. Nevertheless, the QuickBooks POS system is still missing many modern POS features that most cloud POS systems have. Some of the features you will find with QuickBooks POS include:
Contactless Payments: The latest edition of QuickBooks POS allows you to accept contactless payments via Google Pay, Apple Pay, Samsung Pay, EMV credit and debit, and contactless credit cards.
Fully-Functioning Multi-tender POS: The POS quickly adds inventory items to a sale by either barcode scanning, conducting a search by UPC, alternate lookup code (ALU), item number, or item keyword. You can also create and modify "Quick Pick" groups and buttons, or make quick sales for items not yet included in inventory. Custom discounts can be created and applied, and you can set up a layaway plan. Customers can receive barcoded receipts (and gift receipts) for easy returns/exchanges. Pro version functions include the Document Designer, which allows users to create customizable price tags and receipts.
Real-Time Inventory Management: The inventory module stores item cost, description, department, color, size, quantity, sales price, tax status, vendor, UPC, ALU, and reorder point. The system will track what's selling and what's not so that you can maintain stock. And when an item is running low, your preset reorder point will trigger the system to notify you that it's time to purchase more. Non-inventory items, such as fees or services, can also easily be added to the system. The style matrix lets you enter multiple sizes and colors (or attributes) based on item department, vendor, and description.
Purchase Order Management: QuickBooks Point of Sale features an integrated purchase order function. Item barcodes can be scanned to populate PO fields automatically, or POs can be manually filled in. The Pro version will automatically generate and email POs based on your preset reorder levels, provide suggested reorder points based on sales, set reorder points by store, and ship/track packages with the Shipping Manager (UPS only).
Customer Management: Sales can be tracked by each customer — just enter a name, address, phone, email, and business. Custom fields allow additional info, such as birthdays, shoe sizes, or favorite sports teams. Also, special discounts/coupons can be set for specific customers. There's also customer tracking, sales history, and various communication tools for marketing campaigns and tracking rewards program points.
Employee Management: Only the Pro version will track employee hours and commissions, sending logged hours to other QuickBooks financial software (such as Quickbooks Payroll or QuickBooks itself) for easy payroll management. Additionally, security functioning allows owners to customize access to certain functions based on employee status (e.g., owner, manager, assistant manager, or associate), with the ability to create new groups if necessary.
Reporting: Report options are extensive and detailed and include best/worst sellers, frequent returns, sales over time, and more. The reporting tab is also used to send merchant service batches to settle your debit/credit transactions as well as schedule backups of crucial data to a location of your choice.
Dashboard Feature: Provides a quick glance at your best and worst selling items, department sales summary, department sales graph, and sales over time.
Mobile Payments Integration: An Intuit GoPayment integration allows the app to sync fully with your back-end QBPOS inventory and enables you to make sales and track stock from your mobile phone or tablet. You'll need a GoPayment card reader, an Intuit Go Payment account, and a supported mobile device to use this feature.
eCommerce Integration: QuickBooks has an eCommerce integration with real-time inventory management and simple product listings. QuickBooks also streamlines shipping and pairs with popular shopping carts, such as Amazon, Shopify, and Magento. This feature is an add-on, starting at $39/month for 0-100 sales online per month and working up to $149 a month for up to 5,000 sales online per month.
Is QuickBooks POS User-Friendly?
One positive aspect of QuickBooks POS is that it's very user-friendly, even if you're new to POS systems. One of the software's best features is that QuickBooks is committed to walking you through the setup and providing help when needed. While those who have experience with point of sale will likely not have much trouble accessing and utilizing its features, there are great help functions that can hold your hand. The software itself guides you through each process, with every task easily accomplished. Once you've downloaded the software and installed it, getting going is pretty simple, especially for any user that has any level of experience with using Windows.
Customer Service & Support
A major drawback of QuickBooks POS is that live chat and phone support aren't free, costing a user $79/month or $589/year. Additionally, there are several user complaints regarding the quality of customer service. Here are the ways that you can get in touch:
Live Chat
Phone Support
Help Forum
Intuit Solution Provider (ISP) Program: Additional costs apply
Social Media: Facebook, Twitter, YouTube, LinkedIn
Payment Processing With QuickBooks POS
To take advantage of integrated payment processing, you must open a QuickBooks Payments merchant account. This account offers three different pricing schemes for QuickBooks POS merchants:
Pay As You Go: 2.7% flat fee for swipe/dip with no monthly fee
Month-To-Month: 2.3% + $0.25 per swiped/dipped transaction with a $20 monthly fee
Custom: Custom rates can be secured for established, high-volume businesses
Be sure to read all the fine print on your QuickBooks Payments merchant account so that you don't get hit with any surprises. Note that different payment processing rates are advertised for different Intuit and QB products; for example, QB Online and Intuit GoPayment advertise different rates.
On the bright side, funds usually get deposited within two to three business days, and there is no cancellation fee. Of course, you can always keep your own merchant provider and credit card terminal and manually complete credit card sales within the QuickBooks Point of Sale system. In that case, you would not qualify for any pricing discounts on QBPOS software associated with using QB Payments.
Contract Length & Early Termination Fees
QuickBooks POS is purchased with a one-time payment, so there are no contracts. However, additional fees, terms, and conditions may apply to upgrade your software, purchase POS hardware, or add services or add-ons such as QuickBooks Payments, or customer support. Make sure that you review all documentation carefully for information on fees, contracts, and renewals.
QuickBooks POS Integrations & Add-Ons
While this POS doesn't really integrate with third-party software outside of the Microsoft ecosystem, the biggest selling point of QuickBooks Point of Sale is that it works seamlessly with its sister software, QuickBooks Desktop Pro.
In addition to QuickBooks features, QuickBooks Point of Sale also integrates with other Microsoft products, including Excel and Word, letting you import customer files and vendor information as well as create customer letters with these programs.
You can also connect Intuit GoPayment to QuickBooks Point of Sale to sync your mobile payments with your QBPOS account.
QuickBooks POS Reviews
Negative QuickBooks POS Reviews & Complaints
A common sentiment among QuickBooks POS system users is that they simply want to switch systems. But other negative comments in QuickBooks POS reviews include the following themes:
Customer Service Issues: There are quite a few complaints about slow, useless, and heavily-accented customer support. Many customers are also displeased that they feel forced into paying a large amount for access to this subpar service.
QuickBooks Payments: There is a considerable amount of disdain for QuickBooks' payment processing — customers complain about everything from misleading rates advertised to hidden termination fees, mandatory long-term contracts, and sudden account freezes.
Sluggish, Glitches, Freezing: A common problem seems to be that this solution will constantly slow down, glitch out, and freeze altogether. There were multiple complaints about general bugs and issues with freezing or crashing on an almost daily basis, which is not ideal.
Problems With Updates: Others complained that they had problems when they purchased the upgrades to the new systems.
Limited Features: Customers commonly complain that QuickBooks Point of Sale software is lacking or weak when it comes to certain features, especially related to reporting and inventory.
Not Mobile-Friendly: Despite the GoPayment integration and optimization for the Microsoft Surface Pro tablet, the POS is not as mobile-friendly as other systems on the market. There's no dedicated mobile app, an inability to accept mobile wallet payments, and no support for using the system on an iPad.
Cost: Multiple reviewers realized that the upfront QuickBooks POS costs are high, and some felt they didn't receive much in the way of features for what they were paying.
Positive Reviews & Testimonials
QuickBooks POS receives a 3.9/5 from Capterra based on 162 ratings. And a close look at Intuit's BBB profile shows a company that, despite 2,600+ complaints, holds an A rating. This rating comes from the fact that Intuit has been in business for a long time and tries to resolve all complaints, and it does deserve credit for this. Here are some of the most common points of praise by current customers:
Easy To Use: Quite a few customers cite that this POS system is easy to use and simple for training new employees.
Integration With QuickBooks: The fact that QuickBooks Point of Sale software easily integrates with other Intuit software is a feature many customers really love.
Customizable: Users enjoy the fact that QBPOS offers a lot of customization options.
Easy To Track Multiple Stores: Reviewers who used the product across multiple locations appreciated how easy it was to track reports and inventory.
Final Verdict Of QuickBooks POS
QuickBooks Point of Sale is pretty easy to use and can do an awful lot of tasks beyond just transacting sales, but there are too many other things you'll need to worry about that don't even involve the software's functionality. For customers who have been using the product for a while and are set in their ways or who simply love its integration with QuickBooks software, Intuit's point of sale solution will likely continue to be a fine product that will suit their needs. But, quite simply, there are better options available, especially if your business is a good candidate for switching to a cloud POS.
The dated architecture means you'll need to cross your fingers and hope your QuickBooks POS hardware remains relevant after you've had to apply updates to each machine that's running QBPOS — or that nobody finds yet another security flaw in the Windows operating system. POS software is supposed to represent a way to make a business owner's life easier, and there was a time when something such as QuickBooks Point of Sale would have done just that. Compared to a cash register and a paper ledger of inventory, it is a step forward, but it lags ridiculously behind its competitors in so many other ways.
If QuickBooks POS isn't right for you, don't worry — there are plenty of other options on the market. Start your search by checking out our picks for the top 10 POS systems to find the right option for your business. Good luck!
QuickBooks POS FAQs
---
We've done in-depth research on each and confidently recommend them.
We've done in-depth research on each and confidently recommend them.
To learn more about how we score our reviews, see our
Point Of Sale (POS) Software Rating Criteria
.