Seamless Chex Review
Seamless Chex providers an alternative payment processing option for businesses that are more interested in ACH than credit cards, and is even friendly to high-risk merchants.
Expert Analyst & Reviewer

UPDATED
Advertiser Disclosure: Our unbiased reviews and content are supported in part by
affiliate partnerships
, and we adhere to strict
guidelines
to preserve editorial integrity.
SeamlessChex

Pros
Offers fast, secure alternative to traditional ACH processing
Offers true month-to-month billing
No long-term contracts or early termination fees
Offers transparent flat-rate pricing to most merchants
Excellent customer support
Very few public complaints
Cons
May be expensive for some users
Only available to US merchants
Seamless Chex Overview
Seamless Chex (also seen written as SeamlessChex) offers its customers a "digital check acceptance" service that can allow merchants to accept direct payments without having to go through a more cumbersome ACH (Automated Clearing House) process. Seamless Chex uses a variety of customer verification methods to approve payments and offers an online account dashboard that allows users to send and receive payments from any device with a browser and an internet connection.
Seamless Chex provides an integrated eCheck processing service that can save you a significant amount of money over credit cards or ACH payments. It's particularly appealing to high-risk merchants, who frequently struggle to get approved for a traditional merchant account. The company offers true month-to-month billing, with no long-term contracts and no early termination fees. Almost all processing rates and fees are fully disclosed on its website (the exception being credit card processing rates for existing businesses, which require a customized pricing quote). You can either sign up for an account online or by contacting the company's in-house sales team.
Overall, Seamless Chex scores an impressive 4.5 out of 5 stars.
It's a great choice for merchants whose business needs match up with the company's services. Our only concern is that it might prove to be a little on the expensive side for some users. You'll want to compare the company's pricing schedule with what you're paying now – particularly if you're already paying for a merchant account with a different provider and just want to use Seamless Chex as an alternative to ACH processing.
Seamless Chex Products & Services
While Seamless Chex isn't a traditional merchant account provider, it still offers a very robust range of products and services to help you run your business. While the emphasis here is clearly on eCommerce-only enterprises, retail merchants will also find integration with point-of-sale (POS) systems and mobile processing options.
Paynote
Paynote is the "lite" version of the company's main Seamless Chex service, providing an easy way for freelancers, independent contractors, and other self-employed workers to send invoices to their clients and receive payment quickly and efficiently. Paynote eliminates the need for paper invoices, trips to the post office or bank, and postage costs. More importantly, you'll eliminate concerns over whether your clients' checks will bounce, or how long it will take for your funds to arrive.
Paynote also allows you to send payments and receive them, making it a convenient way to send money, pay vendors, or issue refunds to your clients. The service is also very convenient for people you're either sending money to or requesting it from, as they won't need to pay a fee or set up an account to complete a transaction.
Here's a quick overview of Paynote's primary features:
Online account set up with no credit check
Create & send one-time or recurring electronic invoices
No charge to recipient
Recipient does not need a Paynote account
Provides real-time bank balance verification of payor's account
Provides real-time check tracking (all pricing plans)
Next-day transfers available (some pricing plans)
Flat-rate processing fees (1-2%, depending on pricing plan)
Seamless Chex
As you might expect, Seamless Chex is the company's primary product. It's a full-service eCheck processing platform that can verify your customer's bank account information, authorize the transaction, and deposit funds into your account by the next business day.
Seamless Chex can accept any legally operating business in the US, including particularly high-risk merchants who otherwise cannot get approved for a merchant account. If you already have a merchant account with a different provider, you can use the Seamless Chex service as an alternative to traditional ACH processing.
Here's a rundown of the primary features you'll get with Seamless Chex:
Online Sign-up: Because you don't need to go through the traditional underwriting process to get approved for an account, you can sign up for Seamless Chex right from the company's website. We're often suspicious of online signup offers, as they make it all too easy to find yourself locked into a long-term contract without being given a chance to even read it. However, Seamless Chex provides a link to the company's Terms of Service on its website, so you can (and definitely should) read the fine print before signing up. The company also offers a 14-day free trial period, so you can try it out without having to pay a monthly account fee just to get started. Check processing fees, naturally, will still apply.
Secure Hosted Payment Page: The Seamless Chex service allows you access to a hosted payment page, which avoids having to ever store your customer's bank account information on your own website. (Want to know more about hosted payment pages? Read our article, Everything You Need To Know About Using A Hosted Payments Page For Secure Online Checkouts.)
Virtual Terminal: The Seamless Chex API includes a virtual terminal feature that allows you to enter payment information and send a transaction off for processing from your smartphone, tablet, laptop, or any other device with a web browser and an internet connection.
Next-Day Funding: Traditional ACH payments can take up to 3-5 business days to complete, which can negatively affect your cash flow if you accept a lot of them. With Seamless Chex, funds are deposited into your bank account within just one business day.
Verification Services: Verifying your customer's payment information is just as important for eChecks as it is for credit or debit card transactions. Seamless Chex uses Plaid to authenticate your customers' payment information. Three levels of verification are available, so it's important that you sign up for the level that adequately meets your needs. Here's a side-by-side comparison of the three levels of verification, taken from the Seamless Chex website: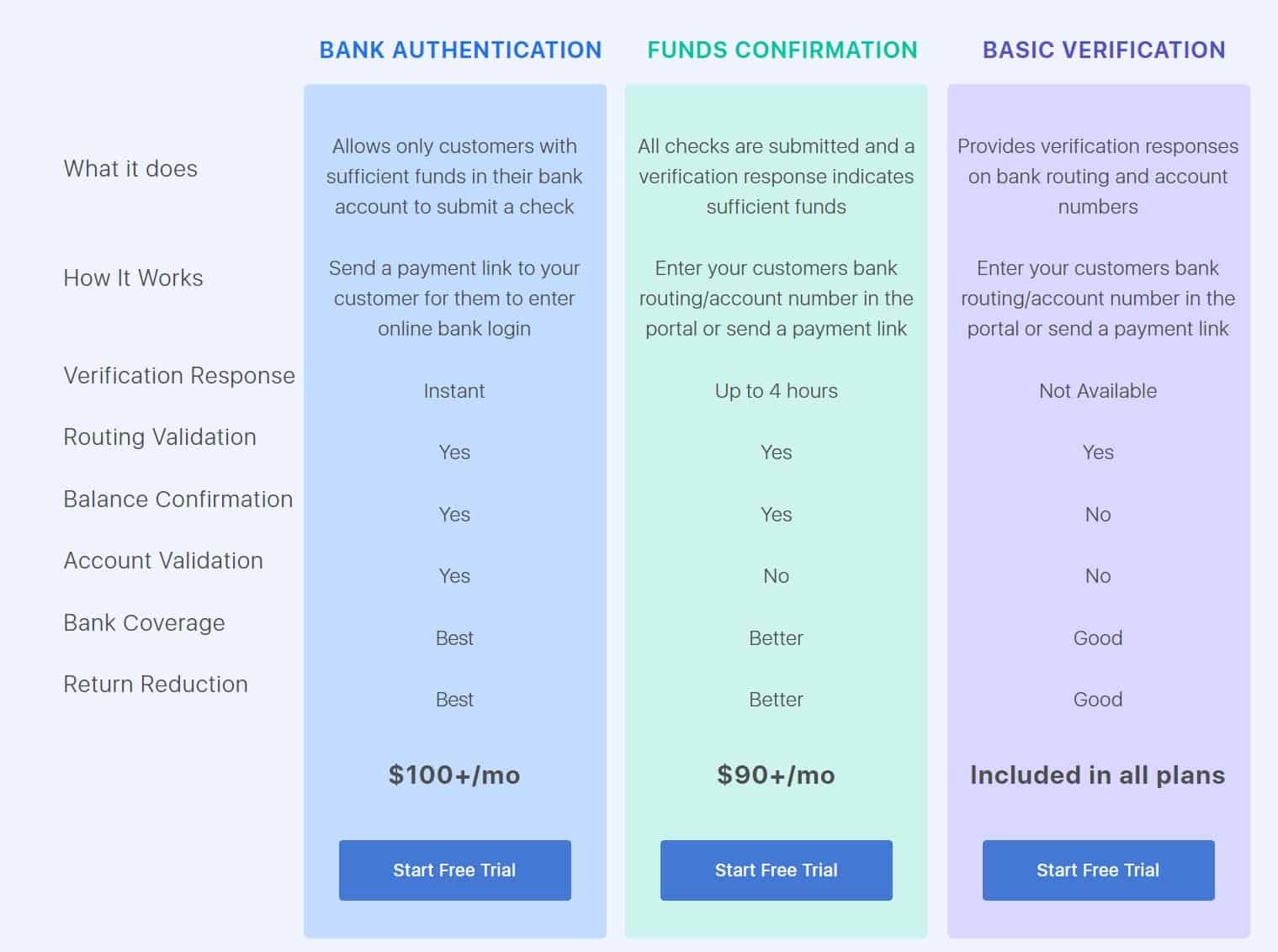 Online Account Access: All Seamless Chex accounts – including free trial accounts – allow you to log in to an online account dashboard from any device with a web browser. Here, you can check the status of any checks you've sent or received, send payment request links to customers, manage batches of checks, set up recurring check payments, and more. Here's what it looks like:
Seamless Merchant
The company's most fully-featured service is Seamless Merchant, which adds credit and debit card processing, plus a number of features you'd normally find with a more traditional merchant services provider. In addition to the company's digital check processing service, Seamless Merchant includes the following extra features:
Credit & Debit Card Processing: Like most merchant services providers, Seamless Chex is not a direct processor. Instead, it partners with over 15 different banks to get you approved for an account.
High-Risk Merchant Accounts: The Seamless Merchant service is available to both low and high-risk businesses alike. High-risk industries served include CBD, medical marijuana dispensaries, firearms, adult entertainment, online gambling, nutraceuticals, and others.
Shopping Cart Integration: Seamless Merchant integrates with several third-party online shopping carts. Unfortunately, a compatibility list is not currently provided on the company's website. Merchants who are already using a shopping cart should consult with the company's sales team to confirm compatibility before signing up for an account.
Mobile Payments: Seamless Chex offers a "free" mobile card reader with each account for mobile payment processing. However, no details are currently available regarding hardware or software compatibility. Note that the "free" card reader is not yours to keep – you'll have to return it promptly if you close your account.
Next-Day Funding: This feature is available if you'd like to receive funds from your credit card transactions just as quickly as you do from your digital check payments. It's not clear whether this is a standard feature or an optional add-on.
ACH Processing: Seamless Merchant also offers traditional ACH processing as either an alternative or additional service to its proprietary digital check acceptance service.
Online Portal: Merchants using Seamless Merchant have access to the same browser-based portal used by Seamless Chex customers. However, the portal also includes additional reporting and financial management features related to credit card processing.
Zero-Cost Processing: Seamless Merchant also offers an optional credit card surcharging program for merchants who would like to pass at least some of the cost of processing credit cards onto their customers. Legal requirements for credit card surcharging are complex, so be sure to consult our article, The Complete Guide To Credit Card Surcharging: Guidelines For Visa, Mastercard, American Express, & More, before pursuing this option.
Seamless Chex Fees & Rates
Unlike most traditional merchant services providers, Seamless Chex offers several standardized pricing plans and thoroughly discloses the costs for each plan on its website.
The one area where transparency is lacking is the pricing for the Seamless Merchant service if you're an existing business that's switching from your current provider. In this case, you'll be offered a pricing quote that's customized according to the size and nature of your business. With so many of the company's merchants being in the high-risk category, the use of quote-based pricing is more or less unavoidable. Nonetheless, you should compare quotes from Seamless Chex against what other providers are offering you before making a decision.
Here's an overview of pricing disclosures for the Paynote, Seamless Chex, and Seamless Merchant services:
Paynote Pricing
If you sign up for Paynote, you'll have a choice between three standardized plans (Startup, Pro, and Premium). We highly recommend that you carefully evaluate the needs of your business and the cost of each plan before making a final selection. Here are the basic costs and features of each plan:
Business Startup Plan
Send up to 5 checks per month
Electronic invoicing
Real-time check tracking
2% processing fee to receive digital checks
Standard funding (i.e., 3-5 business days)
$14.99 per month
Business Pro Plan
Send up to 25 checks per month
Electronic invoicing
Real-time check tracking
1.5% processing fee to receive digital checks
Next-day funding available
$49.99 per month
Business Premium Plan
Send up to 75 checks per month
Electronic invoicing
Real-time check tracking
1.0% processing fee to receive digital checks
Next-day funding available
$99.99 per month
While these plans vary mainly by the number of checks you can send every month and the amount of the monthly fee, it's important to note that the next-day funding feature is not available under the least-expensive Business Startup plan. If you only process a few checks each month, it's unlikely you need this feature anyway.
Seamless Chex Pricing
While Paynote is a useful service for businesses that only occasionally process payments by check, the more robust Seamless Chex service includes several additional features that turn it into a fully-featured check processing platform for businesses that depend heavily on checks for payment. Four tiers of service are available, which include the following features:
Startup Plan (for freelancers)
10 checks per month
Basic verification
Manual check entry
$24.99 per month
Pro Plan (for small businesses)
25 checks per month
Basic verification
Manual check entry
Create Request A Check link
$49.99 per month
Premium Plan (for large businesses)
75 checks per month
Basic verification
Manual check entry
Create Request A Check link
Recurring billing
API access
$99.99 per month
Enterprise Plan (for high volume needs)
Over 75 checks per month
Basic verification
Manual check entry
Create Request A Check link
API access
Bank balance confirmation
Contact Sales for pricing
Note that all plans listed above include a 14-day free trial, which will save you around 50% off your first month's account fee. Also, no per-check processing charge is listed. Presumably, the cost of processing each check is included as part of your monthly account fee.
Seamless Merchant Pricing
As we've discussed above, the Seamless Merchant service adds credit/debit card and ACH/eCheck processing to your account, giving you something more akin to a traditional merchant account. Pricing plans are limited to two options: a Clean Start Plan for new businesses that use flat-rate pricing, and a quote-based pricing plan for existing businesses that already have an established processing history. Pricing disclosures for the Clean Start plan include the following:
2.75% + $0.15 per transaction for all credit and debit card transactions
1.0% per transaction for all ACH payments
$25.00 monthly account fee
These are really good rates, although we'd caution you that there may be additional fees that aren't disclosed on the website. For one thing, there may be an additional surcharge on card-not-present transactions. As always, we strongly recommend that you read your entire contract before signing up for an account to prevent unpleasant surprises later on.
The company doesn't disclose any further information on pricing for existing businesses, so you'll have to obtain a quote and see how it compares to what other providers can offer you. Be aware that any quote you obtain (from Seamless Chex or any other provider) is subject to negotiation, and you can usually get a better deal by not blindly accepting the company's first offer.
We'd also caution you that the low, flat-rate prices available under the Clean Start plan are most likely only going to be available to low-risk businesses. Credit card processing rates for high-risk businesses are almost always significantly higher.
Sales & Advertising Transparency
The Seamless Chex website is clean, focused, and very easy to navigate. It provides a tremendous amount of information for prospective users about the company's products and how they work. In addition to a very detailed FAQ, there's also a product selector feature (in the form of a quiz) that helps you identify which product is best for your particular needs.
Online account sign-up directly from the website is available and is probably the most common way for users to open an account.
As we've mentioned above, we're skeptical about online signup features that encourage merchants to commit themselves to a long-term contract before they've had a chance to review their documents or negotiate for a better deal. That's not much of a concern with Seamless Chex, as signing up through the company's website merely unlocks a free 14-day trial, which you can cancel at any time. Also, you won't be locking yourself into a multi-year contract, as the company uses month-to-month billing with no long-term commitment.
Nonetheless, we encourage you to contact the in-house sales team at Seamless Chex before the end of your free trial to get answers to any questions you may have about the service. Unlike many other, more traditional providers, Seamless Chex doesn't use independent sales agents to market its services, and we've found no complaints about the company's sales practices.
As you would expect from a fairly young, tech-focused company, Seamless Chex has an active social media presence. Accounts on Facebook and LinkedIn are updated constantly with new educational content. The company's Twitter account, on the other hand, hasn't had any new activity in several years. Although the company doesn't have a YouTube channel, you can find seven very helpful educational videos on Vimeo.
Contract Length & Early Termination Fee
Seamless Chex (also seen published as SeamlessChex) advertises that all accounts come with true month-to-month billing. There are no long-term contracts, and no expensive early termination fees if you close your account before the end of the current term. The Terms of Service posted on the company's website explain how this process works:
Your Seamless Chex membership, which may start with a free trial, will continue month-month unless and until you cancel your membership or we terminate it. You must provide us with a current, valid, accepted method of payment (as such may be updated from time to time, "Payment Method") to use the Seamless Chex Service. We will bill the monthly membership fee to your Payment Method. You must cancel your membership before it renews each month in order to avoid billing of the next month's membership fees to your Payment Method.
While these are obviously the best and most flexible contract terms you could hope for, we'd caution you that they might not apply universally.
High-risk merchants who sign up for a merchant account through the Seamless Merchant service, in particular, might have to accept some type of long-term commitment in exchange for being approved for an account. Be sure to discuss this issue with your sales representative, and confirm that your contract documents accurately reflect the terms you've agreed to before you sign up.
Customer Service & Technical Support
Seamless Chex offers customer support via telephone, email, and a Zendesk-powered live chat feature on the company's website. Telephone and live chat support are available from 9:00 AM to 6:00 PM Eastern time, Monday-Friday. Support is all in-house, with no outsourcing. Although the company doesn't mention it on its website, you'll also be assigned a dedicated account representative when you sign up. This means that you'll usually talk to the same person every time you contact customer service, rather than endure the run-around from one department to another that is so typical of many other providers.
We haven't been able to find any complaints from users alleging poor customer support, which is a strong indication that the company is doing a great job in this area.
Seamless Chex Reviews, Complaints, & Common Problems
Negative Seamless Chex Reviews & Complaints
Seamless Chex has been accredited by the BBB since 2015, and currently has an A+ rating. The company has received only two complaints within the last three years, and one complaint within the last twelve months. One complaint involved fraud on the part of a third party using Seamless Chex, an issue for which the company was not responsible. In the most recent complaint, the company again was blamed for issues that were under the control of the merchant's bank, not Seamless Chex.
We weren't able to locate any further negative feedback on the company, which is a very impressive achievement in the payment processing industry. Merchants are quick to complain when things go wrong, and they frequently have legitimate reasons for being unhappy. Although Seamless Chex is a relatively small company and we would only expect to see a few complaints, the lack of any recurring problems or pattern of complaints from merchants is an impressive achievement.
Positive Seamless Chex Reviews & Testimonials
There are currently a handful of testimonials from merchants on the Seamless Chex website. Although they're brief (usually only a single sentence), the merchant and their business are clearly identified. We'd like to see this aspect of the company's marketing developed further in the future, particularly given that it offers a unique service that's different from what merchants have come to expect from payment providers in general.
Positive reviews can also be found on the company's BBB and TrustPilot profiles. On the BBB site, Seamless Chex has a five-star rating from one reviewer. The TrustPilot profile currently includes 59 reviews, for an average rating of 4.8 out of 5 stars. In fact, only one reviewer gave the company a 4-star rating. Positive features that were cited include fair pricing and a transparent sales process.
Final Verdict on Seamless Chex
The ever-increasing cost of credit card processing has forced many businesses to look to alternative ways to get paid whenever possible. For many merchants, using a digital check acceptance platform like Seamless Chex (or SeamlessChex) offers a much more convenient and cost-effective way to keep more of their hard-earned money. It avoids the laborious underwriting process, murky pricing schedules, and long-term commitments that often come with traditional merchant accounts.
At the same time, it's better suited to some use cases than others. Seamless Chex will appeal primarily to eCommerce-only businesses that don't need elaborate processing hardware, high-risk merchants who either can't get approved for a traditional merchant account or find it prohibitively expensive and B2B merchants that deal primarily with other businesses. It's probably not well suited for many low-risk businesses like restaurants, where customers have become accustomed to paying for their meals with either a credit or debit card.
Of course, you can always cover all the bases by signing up for both a check processing account through Seamless Chex and a merchant account using Seamless Merchant. This will maximize the number of payment methods available to your customers. However, it can also be very expensive, depending on which plans you sign up for and any add-ons you want to include.
Overall, we believe that Seamless Chex offers great service at a fair price. While we can't tell you whether it will be a good fit for your particular business, the company's extensive pricing disclosures make it fairly easy for you to estimate how much it will cost you, and how that cost compares against your other alternatives. Seamless Chex earns a very respectable score of 4.5 out of 5 stars and our strongest endorsement.
Note that high-risk merchants should check out our roundup of the best high-risk merchant account providers before making a decision, particularly if you have specific needs that go beyond what Seamless Chex has to offer.
---
The Merchant Maverick Seal of Approval 🏆
SeamlessChex


---
After hours of in-depth research and evaluation, we can confidently recommend this brand to our readers. Get started today and see SeamlessChex for yourself.
The Merchant Maverick Seal of Approval 🏆
SeamlessChex


---
After hours of in-depth research and evaluation, we can confidently recommend this brand to our readers. Get started today and see SeamlessChex for yourself.