Shopify Chip & Swipe Reader Review
The Shopify card reader is no longer free for new signups. However, an inexpensive chip card-capable card reader with competitive pricing for card transactions is a big deal.
Expert Analyst & Reviewer

UPDATED
Advertiser Disclosure: Our unbiased reviews and content are supported in part by
affiliate partnerships
, and we adhere to strict
guidelines
to preserve editorial integrity.
Shopify Chip & Swipe Reader

Pros
The reader is relatively inexpensive
Includes a dock
Easy to set up
Cons
No NFC support
Some reports of connection problems
Shopify Chip & Swipe Reader Overview
I have a drawer full of mobile credit card readers, and I've tested numerous others. So when I start this review by saying that I think the Shopify Chip & Swipe Reader is one of the best mobile credit readers I've ever come across, that's kind of a big deal.
When the EMV switch happened, Shopify opted, like many others, to license chip card-compatible hardware from another company. It went for the Miura M010 (now only available in the UK and Ireland), but it also started developing its own card reader in-house: the Shopify Chip and Swipe Reader. It's delightfully unlike just about any other card reader on the market.
There's a lot to love about the Shopify Chip & Swipe Reader. For one, it sells for just $29 (though it used to be free for new merchants). The design is excellent. Its only drawback is that it doesn't support contactless payments, though you can order the Shopify Tap & Chip Reader for $49 if that's a priority for you.
As it happens, the Shopify POS app and card reader are pretty outstanding overall. If you're looking to get started with a mobile processing app that has an inexpensive reader, Shopify's Lite plan would be perfect for you. If you're already selling online with Shopify and looking to branch into in-person sales, Shopify's Chip & Swipe Reader is definitely worth considering. You don't have to look at the Tap & Chip Reader unless you need to accept contactless payments. However, we suspect that at some point, the Chip & Swipe Reader will be phased out in favor of the Tap & Chip Reader as magstripe payments go the way of the dinosaur.
For all these reasons, the Shopify Chip & Swipe Reader earns a spotless 5-star rating. It's absolutely one of the best readers on the market, combined with a solid POS and competitive pricing.
Read on for a closer look at the Chip & Swipe Reader, from the actual design to the setup process. You can also check out Shopify Lite and Shopify POS for a closer look at the software.
Overall Design
I really like the design of the Chip & Swipe Reader. It feels good in the hand — about the size of a business card. It's not overly thick but also not super thin. If there is a flaw, I think that it's too light. But the card reader is slightly textured, so even though it's light, I don't think it's very likely to slip out of your hand.
But it's everything else that shows how thoughtful Shopify has been in the design. For one, there's a charging base/dock that you can permanently mount if so inclined. Most dock designs that I've seen are good enough, but they're not flawless. Sometimes they take an extra set to secure, or there's something fiddly, or trying to align the card reader with the charging port is dodgy. Shopify's dock is pretty spot on. It snaps into the base easily and feels secure. The charging port is on the bottom of the dock, not on the side.
Shopify includes a carrying case for the reader, the dock, and a charging cable. It's not a huge case, and everything has its dedicated place. It's a pretty good design, and I like that it's included. The only thing left out is a plug-in base, so you'll have to find a spare charging base or buy one. Considering how common USB hubs are and how convenient they are for connecting multiple charging cables, I grudgingly accept that this makes sense.
Device Specs
I appreciate that POS providers have gotten very descriptive in naming their hardware. Instead of makers and model numbers, we get the "Chip & Swipe Reader" or the "Tap & Chip Reader." As the name implies, this card reader accepts magstripe (swipe) and EMV (chip card) payments. There's no NFC/contactless support, so merchants can't take payments from Apple Pay and similar mobile wallets.
It's also a Bluetooth-enabled device, so it will be compatible with any mobile device that will come out in the near future as far as connections between the Shopify EMV reader and the device. However, we've got some other specs to consider. Shopify says that any mobile devices must meet the following requirements:
iPhone 5 + running iOS 12 or higher
iPad Gen 5 + running iOS 12 or higher
Android device running version 5.0 (Lollipop) or higher
As far as battery life, Shopify says it should take one to two hours to charge the reader (which matches my experience) and last for "a week of selling." That equates to about 400 chip card transactions or 700 swipe transactions. If you deal with a mix of both, expect it to fall somewhere in between. Your battery life will also depend on how many hours you keep it active. If your reader is running for 12-16 hours a day, you'll need to charge it sooner than if it runs only eight to ten hours per day.
Of course, you can get around this issue entirely by keeping it on the charging dock.
Shopify Chip & Swipe Reader: Getting Started
I mentioned this when I did the initial Shopify Lite review: The pairing process for the Chip & Swipe Reader is one of the easiest possible. The reader I received was charged enough to use it right out of the gate, but I did charge it up completely after my initial fooling around and button pressing.
When you log into the Shopify POS and go to the "Hardware" menu, you'll see an option to "Connect card reader."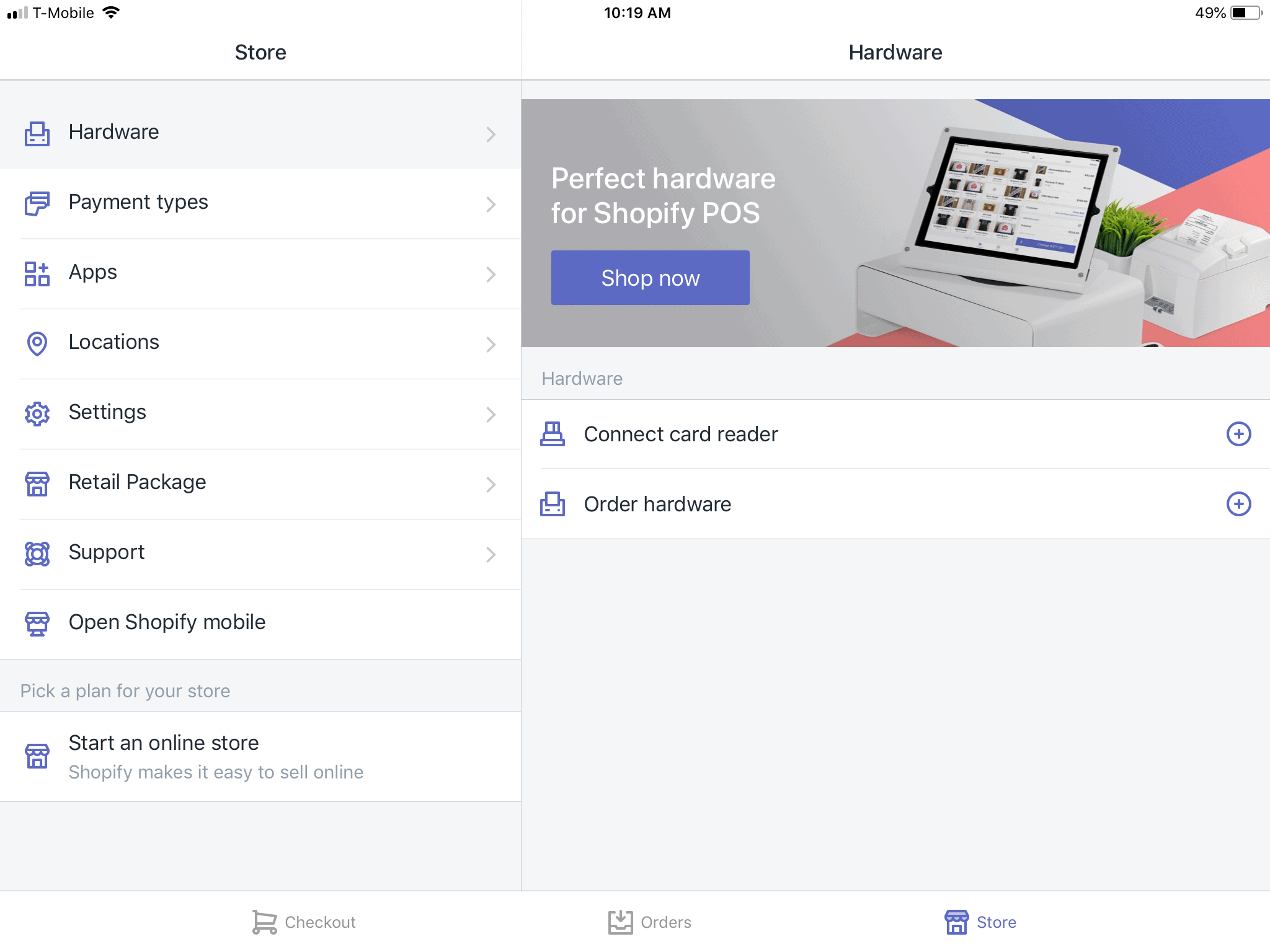 The app will walk you through the process of pairing, but it's fairly simple. Make sure Bluetooth is enabled on your mobile device. Then, on your device, select the type of card reader you are pairing, then turn the reader on.
The app will detect any available card readers and display them — you simply have to tap the "connect" button to complete the process. What I like is that after you've paired the reader, Shopify provides a tutorial to walk you through the basics of the device. You can also find the instructions within Shopify's Help Center.
I tested the pairing process on an iPad as well as an Android smartphone (a Galaxy S7) and had no problems either time. The process was identical as well. While you'll see that some small details are different between Shopify POS on a smartphone and Shopify POS on an iPad, it's nice to see that the connection process is completely uniform.
Shopify POS Software & Features
Shopify POS is available as a standalone POS app (with some entry-level online selling tools) for a small monthly fee if you sign up for Shopify Lite. That's it. There are no per-device fees, but you don't get staff PIN accounts, either.
The only compatible hardware is the card reader unless you add a separate Retail Package, which includes support for receipt printers, barcode scanners, and cash drawers. Also, the Retail Package — along with a handful of other features — is iPad exclusive. Using a smartphone (iOS or Android) will get you all of the essential basic functions; you'll just need to upgrade to an iPad if you need advanced features.
You also get Shopify POS with any of the full-fledged monthly subscriptions, which start at $29/month for Shopify Basic. Higher-tiered plans come with additional features, including some that relate to Shopify POS (such as gift card support). At $79/month, the standard Shopify plan incorporates the Retail Package and five staff PIN accounts for the POS.
Overall, Shopify POS works well as a mobile solution on iOS and Android. But if you want more, you can convert it to a proper iPad POS without needing to switch apps or start paying substantially more. Shopify is a scalable platform that will grow with a business from its first days into its enterprise phase.
We're going to summarize the features provided by the app below. See our Shopify POS review for a full description of the features available with the app.
Payment Features
Accept two or more payment options
Gift cards
Custom payment options
Refunds and store credit
Multiple sales channels
Checkout Features
Custom sales
Discounts
Custom receipts
Automatic tax calculations
Store Management Features
Integration with accounting software, such as QuickBooks and Xero
Order histories
Multiple staff accounts with the more advanced Shopify plans
Reporting
Product Management Features
Product organization
Inventory management
Barcode support
Ease Of Use
The process of setting up and using the Chip & Swipe reader is simple and intuitive. It's hard to name a POS + card reader that's any easier to set up. When everything is working correctly, it's an ideal POS setup for small merchants.
However, there has been an increasing number of reports from users of bugs, syncing problems, and connection issues. Additionally, some users report being unable to sign in with their PIN because they were never asked to set one up. In response to this specific issue, Shopify has been responding to users with instructions on how to create a PIN. Still, it's something that seems to be causing confusion among users, at least initially.
Shopify Chip & Swipe Reader Pricing
Shopify's Chip & Swipe Reader is sold for $29, which is a very competitive price. To be fair, PayPal now offers a Zettle reader that accepts contactless + chip + PIN payments for the same $29 price (but only for your first Zettle reader). So what's so great about Shopify's Chip & Swipe Reader?
Well, for one, a charging dock is included at no additional price. Most companies that offer readers with charging docks price them at an additional $30 or so — and to be honest, most card readers at the $30 price point aren't designed to handle a countertop POS setup, which makes Shopify's card reader one of the best values for merchants.
However, keep in mind that you'll also have a monthly subscription fee.
You'll pay $9/month if you opt for the Lite plan with just the POS and some basic online selling tools.
You'll pay $29/month for Shopify basic, with a hosted eCommerce site and the POS app. The Shopify plan goes for $79/month, and Advanced Shopify costs $299/month.
Your payment processing rates will also depend on which plan you choose. Shopify Lite and Basic both charge 2.7% per transaction for in-person transactions, while the Shopify plan charges 2.5%, and the Advanced Shopify plan charges 2.4%.
Keyed transactions process at 2.9% + $0.30 under Shopify Lite and Shopify Basic, 2.6% + $0.30 under Shopify, and 2.4% + $0.30 under Advanced Shopify.
Also, if you'd like to use any additional hardware beyond the card reader with the Lite or Basic plans, Shopify requires you to upgrade to the Retail Package, another $49/month fee. Still, considering that $60/month is the bare minimum for most POS systems, and Shopify doesn't charge any per-terminal usage fees, you're actually getting a great deal, especially if your priority is a seamless link between your online store and your POS.
Plus, if you opt for the Shopify plan, for $79/month, you get access to advanced eCommerce features, the POS app, the Retail Package, unlimited staff PINs, and no additional charges for using the POS on multiple devices. That's one heckuva of a deal. You'll also get a discount on payment processing, with rates dropping to 2.5%.
Shopify is first and foremost an eCommerce platform, so the bulk of the company's efforts go toward maintaining the websites and making selling online easier. Read our Shopify review for a better look at the eCommerce features and our Shopify Payments review for more on Shopify's in-house payments processing. However, Shopify is spending time and effort to beef up its POS capabilities. Bundling the two — online and in-person sales — is really a matter of convenience. As long as you don't need very particular advanced features, Shopify will tick all the right boxes for most merchants.
Customer Service & Support
Shopify offers extensive customer support options, but that's not surprising given how large the entire platform is. You could simply hire an expert from Shopify's vetted list to help with complex things, such as setting up your store. You can also check out the video support library and webinars — and those are just a few of the options.
For customer support concerning hardware, you'll probably be most interested in Shopify's phone support, chat support, or the user forum. All of these options can put you in direct contact with people who will be able to help you troubleshoot any issues that arise.
Shopify has a detailed knowledgebase that covers a lot of your standard how-tos and specific troubleshooting tips. For basic questions, the knowledgebase will make it unnecessary to contact the company for in-person support.
While you can undoubtedly find some complaints about the quality of service, plenty of users stand by Shopify and say the customer service is great all around. I'm very satisfied with the variety and quality of informational resources on offer, at least.
Shopify Chip & Swipe Reader Reviews & Complaints
Negative Shopify Reader Reviews & Complaints
Finding specific comments on the Shopify Chip & Swipe Reader is challenging because there are so many reviews of Shopify and Shopify POS out there. You'd think you'd see more mentions of the card reader, even as a tangential topic, but it's not all that common.
I have seen an increasing number of comments about the card reader having connection problems, though that's not uncommon with most card readers. Other users have found that they were never prompted to create a PIN and subsequently couldn't log in to the app. However, this is more of an app issue than a reader issue.
The only other complaint I've seen about the card reader comes from Shopify's international merchants who are unhappy with the options available in their own country.
Positive Shopify Reader Reviews & Testimonials
For the most part, the chatter regarding the reader seems to be positive or at least neutral. Users find the reader easy to set up and, for the most part, easy to use.
The Chip & Swipe reader gets an average user score of 4.3 out of 5 on its Amazon page, based on 60 reviews (though it is currently unavailable on Amazon).
Final Verdict On Shopify Chip & Swipe Reader
The only real criticism I have of Shopify's reader is that it can't accept contactless transactions. Also, the Shopify card reader is unfortunately no longer free for new signups. However, an inexpensive chip card-capable card reader with competitive pricing for card transactions is a big deal. If you're already using Shopify to sell online and want to add in-person sales, you pay just $29 for the privilege. If you're shopping around for a POS and might be interested in moving into online sales, Shopify should be on your shortlist.
I like the design of the Shopify Chip & Swipe Reader. It feels good in the hand for mobile use. The free charging dock is secure and works well — and it can be permanently mounted if you'd like. Plus, you get a carrying case included. Even if you wind up purchasing additional readers, $29 is an incredibly reasonable price for what you get.
If you want to accept contactless payments from Apple Pay and the like, you'll need a Tap & Chip Reader. However, as much as I'd like to see contactless payments increase in popularity, we're not at the point where a card reader without NFC should be a deal-breaker. You'll be just fine with the Chip & Swipe Reader.
Plus, you have to consider the reader within the context of the Shopify Platform itself. Whether you're looking at a standalone mPOS or an integrated platform, it's hard to deny the value Shopify offers. It's not the best option for merchants who have very specialized needs (especially those who aren't in retail), but it's a great all-around choice that will genuinely grow with your business.
For all of these reasons, I'm awarding the Shopify Chip & Swipe Reader a perfect 5 stars. It's worth considering as a mobile card reader and, more importantly, as a POS platform. And if you'd like to continue your research, check out our list of the top credit card reader + POS options for small businesses.
Thanks for reading! If you have thoughts or questions about the Shopify Chip & Swipe Reader, please let us know! Check out our comment guidelines before you post so that we can publish your comments.
---
The Merchant Maverick Seal of Approval 🏆
Shopify Chip & Swipe Reader


---
After hours of in-depth research and evaluation, we can confidently recommend this brand to our readers. Get started today and see Shopify Chip & Swipe Reader for yourself.
The Merchant Maverick Seal of Approval 🏆
Shopify Chip & Swipe Reader


---
After hours of in-depth research and evaluation, we can confidently recommend this brand to our readers. Get started today and see Shopify Chip & Swipe Reader for yourself.