Stripe Corporate Card Review
The Stripe Corporate Card is a generally solid credit card. With unlimited 1.5% cash back and no fees to worry about, you'll always earn a decent rate on purchases.
Expert Analyst & Reviewer

Updated on:
Advertiser Disclosure: Our unbiased reviews and content are supported in part by
affiliate partnerships
, and we adhere to strict
guidelines
to preserve editorial integrity.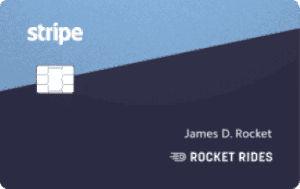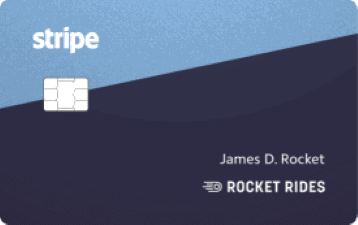 Need help finding a lender?
Date Established

2009

Location

San Francisco
This corporate credit card, issued for Stripe by the Utah-located Celtic Bank, boasts a flat 1.5% cash back rate alongside a strong portfolio of spend management tools, expense reporting features, and business software integrations. You'll also gain access to a broad array of credits and discounts with services like Slack and Expensify. Plus, the Stripe Corporate Card is a Visa card, so your team members shouldn't have problems using the card worldwide.
Curious if your company should sign up for the Stripe Corporate Card? Keep reading to get the dope!
Eligibility
Stripe doesn't list specific guidelines for this card's eligibility, besides the fact that it is only open for US-based businesses. However, the company does state that several factors play a role in whether or not a business qualifies for the card. Considered factors include payment volume, history with Stripe, and bank account history. Plus, personal credit scores won't be affected when applying — Stripe does not require a personal guarantee.
It's also worth noting that you'll first have to request access to the card's application — Stripe calls the card's current state a "beta program." After requesting an invitation into the beta, your business will then receive an email inviting you to apply for the Stripe Corporate Card.
Beyond the fact that there is an extra step to request beta access, Stripe likes to advertise a speedy application process. According to Stripe, you need a Stripe account to apply (so no paperwork is necessary). That means you can start using a virtual card within minutes of being approved if you are already using Stripe for payment processing.
Stripe Corporate Card At A Glance
Stripe Corporate Card


---


Visit Site

Annual Fee:


---

$0

Purchase APR:


---

N/A (this is a charge card)
Rewards For Spending
Something of an oddity in the world of corporate credit cards is this card's 1.5% cash back rate — plenty of corporate cards on the market offer a lesser rewards rate or no rewards at all. Beyond the base rewards scheme, there are other money-saving perks to consider too.
Discounts & Credits For A Range Of Services
Beyond the free payment processing bonus, Stripe includes a plethora of discounts and credits for various services. According to Stripe, example perks here include:
Amazon Web Services: $5,000 in credits
Google Ads: $150 in credit
Slack: 25% off for 12 months
Gusto: Three months free
Notion: 50% cash back up to $5,000
Expensify: 50% off for 6 months
Other services with discounts or credits available through a Stripe Corporate Card include Snap, Zendesk, Intercom, HubSpot, Airtable, Carta, InVision, and Guideline.
Unlimited 1.5% Cash Back On All Business Spending
In a world where corporate cards dole out meager rewards, the Stripe Corporate Card does the opposite: You'll receive an unlimited 1.5% cash back on all your business's spending. You won't have to keep track of spending categories — every purchase made by your business will accrue cash back.
Redeeming Rewards
Stripe doesn't include anything fancy when it comes to redeeming rewards. In fact, there's only one way to do so.
Automatically Apply Rewards As Statement Credit
Stripe automatically applies your available rewards balance as a credit on your monthly statement. If you'd prefer to apply the rewards on your own schedule, Stripe allows that too; you'll simply need to turn off automatic credits by updating your account settings.
Card Benefits
The Stripe Corporate Card has a solid slate of expected extra perks, with a few unique ones thrown in too. However, there isn't much here for businesses that employ frequent flyers.
Custom Spend Controls
With features like per-cardholder spending limits and custom authorization rules, you'll have a high degree of control over how your employees use their cards.
Real-Time Expense Reporting
To help reduce the pain of expense reporting, Stripe will automatically notify employees to share their receipts when they make purchases with the card. You'll be able to set a threshold amount (it's set to $75 by default) that will trigger a text message reminder when an employee makes a purchase over the set amount. Employees can take a picture of their receipt and then upload it to the Stripe Dashboard, reply to the reminder text with the image, or send it to Stripe via email.
Flexible Credit Limit
Stripe markets that your credit limit is based on your payment processing volume and bank history. This means that as your business grows, your Stripe Corporate Card credit limit can too.
Customizable Branding
A nifty little feature included with the Stripe Corporate Card is the option to include your business's logo on the card. To do so, you'll just need to upload your logo via the Stripe Dashboard. The logo will then appear in the lower right corner of your company's cards.
Integration With Financing Software
Stripe allows you to automatically export your spending data with Expensify, QuickBooks, and Xero.
Apple Pay & Google Pay Support
Using the card details located on the Stripe Dashboard, your employees will be able to add their cards to Apple Pay and Google Pay. This is especially beneficial in a world that is increasingly becoming focused on contactless payment.
Fraud Protection
According to Stripe, your business will be off the hook for fraudulent transactions made with a Stripe Corporate Card. Employees will be able to report a lost or stolen card via the Stripe Dashboard as well as dispute any posted fraudulent transactions. Lost or stolen cards will be frozen immediately once reported. Your account will also be credited when Stripe determines that a disputed transaction is fraudulent.
Rates & Fees
With a charge card structure and the absence of any sort of fee, the Stripe Corporate Card is a great option for companies that want to avoid extraneous dings to their bank account.
No APR
As a charge card, the Stripe Corporate Card doesn't allow account holders to carry a balance. Thanks to this setup, there are no APRs to worry about.
However, should your company need to carry a balance or if it has an inconsistent cash flow, this card won't be for you. You'll be required to pay off your statement in full each month, which could make this card a sticky wicket if you can't do so.
No Annual Fee
With a Stripe Corporate Card in your company's wallet, you won't have to worry about paying any sort of annual fee. This is especially important because of the card's rewards scheme — you'll be earning cash back without first needing to recoup the annual fee.
No Foreign Transaction Fee
Some companies may appreciate the lack of a foreign transaction fee. Because the Stripe Corporate Card won't charge extra for purchases outside the US, companies that employ team members who frequently travel abroad could see some savings here over a card that does charge a small percentage of each sale.
No Other Fees
Stripe further promises no other fees, including card replacement or late fees. A lack of late fees comes with a caveat, however. Because this card is a charge card, you're required to pay off your charges in full. And because Stripe automatically debits your bank account, it shouldn't be difficult to forget about making a payment (assuming you have enough cash in the bank).
So, what happens if you do fail to pay on time? At the time of the card's launch in September 2019, the business lead for the Stripe Corporate Card told TechCrunch that the company is "not freezing cards based on late or no payments" because a common non-payment reason is that "a person switched bank accounts and forgot to update the information." They also added that Stripe has a better view of banking information thanks to its payment products. It is unclear at this time if Stripe continues to try avoiding delinquent account freezing, but the above quotes are the most recent info available.
Is The Stripe Corporate Card Right For You?
The Stripe Corporate Card is a generally solid credit card. With unlimited 1.5% cash back and no fees to worry about, you'll always earn a decent rate on purchases. Plus, there's a slew of discounts and credits to take advantage of as well as spend controls, real-time expense reporting, and accounting integrations. However, all these positives are moot if you don't use Stripe for your card processing. Additionally, businesses that send employees on frequent trips may find cards with better travel benefits more appealing.
You might want to apply if…
You use Stripe for your payment processing
Your business spends a lot across the board (meaning your spending isn't concentrated in one or two categories)
You want a corporate card that offers a strong rewards scheme
You want to avoid a corporate card with fees
You might want to look for a different card if…
You don't use Stripe for your payment processing
You need a card with travel benefits
---
Featured Free Corporate Card
Ramp


---



Ramp offers a free corporate card for virtually any business. Start earning rewards with your corporate spending today. Get your free card.
Featured Free Corporate Card
Ramp


---



Ramp offers a free corporate card for virtually any business. Start earning rewards with your corporate spending today. Get your free card.
To learn more about how we score our reviews, see our
Business Credit Card Rating Criteria
.
Read Next