Divvy VS Brex Comparison 2023
Corporate cards Divvy and Brex have no annual fee and great rewards, but how else do they compare? Keep on reading to find out which one is right for your business.
Expert Analyst & Reviewer

UPDATED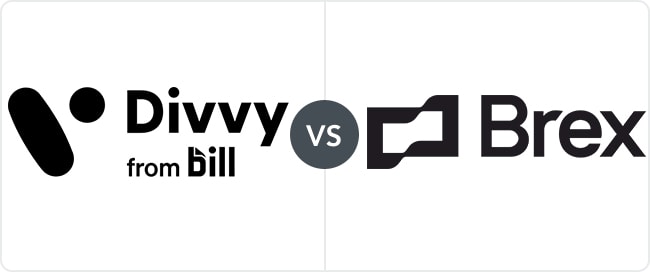 Divvy and Brex are two top corporate credit cards.
And if you're looking for a corporate card, you may be wondering which is better: Brex or Divvy? This Divvy vs. Brex comparison will give you the information you need to decide if Divvy or Brex is the right corporate card for your business.
| | Divvy | Brex |
| --- | --- | --- |
| Rewards | 7x points on restaurants, 5x on hotels, 2x on recurring software subscriptions, 1.5x on everything else | 8x points on rideshare/taxis, 5x on Brex Travel, 4x at restaurants, 3x on software subscriptions and eligible Apple purchases, 1x on everything else |
| Annual Fee | $0 | $0 |
| Setup Fee | $0 | $0 |
| Late Fee | Greater of 2.99% or $38 | $0 |
Divvy VS Brex
Brex and Divvy are competitive corporate cards offering valuable rewards and expense management tools. Which comes out ahead in a Brex vs. Divvy comparison? And is the Brex credit card better for your business, or does the Divvy credit card make more sense for you?
Before we can answer those questions and help you choose the best corporate card for your business, let's start with an overview of both Brex and Divvy.
What Is Divvy?
Divvy is a fintech company that offers corporate credit cards, spend management and expense management tools, and accounts payable automation via Bill.com, Divvy's parent company. Like Brex, Divvy's corporate card is technically a charge card and not a credit card, so users are not allowed to carry a balance, and they won't have to pay interest. Divvy offers users a flexible rewards scheme based on how often they choose to pay off their purchases. The highest rates are reserved for users who pay weekly, with rewards included at lower rates for users who pay twice monthly or monthly payoff terms.
Pros
Flexible structure for earning points
Valuable partner perks
No annual fees
Unlimited physical and virtual cards
Cons
Foreign transaction fees
Late payment fees
Lack of transparency in advertising
What Is Brex?
Brex aims to be the sole financial services provider that your business will need with a cash management account called Brex Cash and its Brex card. Like Divvy, Brex's card technically is a charge card, not a credit card, so you can't use it to carry a balance, and you won't have to pay interest. Users who want to earn the highest reward rates will agree to make Brex their exclusive corporate card.
You'll also need to pay daily if you want to be a part of the exclusive Brex credit card program. If you don't qualify for the exclusive program, you'll still earn rewards on purchases but at a lower flat rate of 1 point per every $1 that you spend.
Pros
High rewards rates are available
Valuable partner discounts
No personal credit check or a personal guarantee
Unlimited cards for employees
Software integrations
Cons
Does not currently accept small or medium-sized businesses
Limited to businesses venture-backed or mid-market businesses with a minimum of 20 employees
High cash holdings required
Exclusivity requirement
The Key Differences Between Divvy & Brex
Brex and Divvy have more in common than differences. However, these two corporate card companies differ in a few key areas. We'll explore these differences in-depth in head-to-head Divvy vs. Brex comparisons below. For now, here's a "cheat sheet" with some important differences you'll want to be aware of:
Brex Is Available Only For US-Based Corporations: While Divvy doesn't disclose what types of business structures it works with — you'll have to contact Divvy directly to find out if you are eligible — it does make clear that international companies may be eligible if at least one US citizen has a minimum 25% ownership. Brex, on the other hand, is transparent, saying that the Brex credit card is available only for US-based C-corp, S-corp, LLC, and LLP corporations that are venture-backed (or otherwise pre-funded) and have 20 or more employees if professionally invested and 50 or more otherwise.
Brex Offers Instant Access To Revenue: Thanks to integrations with eCommerce and POS platforms, including Amazon, Shopify, PayPal, Square, and Stripe, Brex users can access instant payouts to their Brex accounts. By contrast, Divvy offers only accounting integrations (QuickBooks Online and Netsuite).
Divvy Has More Support Options: While we rate both Divvy and Brex customer service as Excellent, we do note that Divvy offers users more ways to access support. Divvy users can connect with phone support seven days a week, use the live web chat feature, send questions via email, and use a web-based help portal. Brex users have two official options: a live web chat and phone support that's available seven days a week.
Brex Includes A Banking Option: Brex and Divvy are both financial technology companies. Brex adds a banking option, known as Brex Cash, that functions like a bank account even though Brex is not a bank. If you choose to store your company's money in Brex Cash, your funds will be insured by the FDIC up to $250,000. You can also access a money market mutual fund to access interest-earning potential. Divvy does not have a comparable banking option.
Divvy Charges Foreign Transaction Fees: If you or your employees frequently travel outside the US, be aware that if you use the Divvy credit card on your travels, your transactions will have fees tacked on. Divvy doesn't publicly disclose these fees but did confirm them to Merchant Maverick: a 0.90% cross-border fee when the account is US-based and a currency conversion fee of 0.20% of the total transaction volume.
Brex Offers Higher Rewards — For Some Users: A straight Brex vs. Divvy comparison of rewards clearly shows Brex with the upper hand, with a top rewards rate of 8x on qualified purchases. However, a closer look shows that for many users, Divvy might offer a greater return. To earn Brex's highest rewards, users must use Brex as their only credit card, and they must pay off their balance daily. Divvy allows users to earn a slightly lower rate, at 7x on its top-tier purchases, with weekly payments. Which card will work best for you depends on how your spending stacks up and how often you prefer to pay your balance.
Divvy VS Brex Eligibility Requirements
| Eligibility Requirements | Divvy | Brex |
| --- | --- | --- |
| Personal Guarantee | None | None |
| Credit Score | Not Applicable | Not Applicable |
| Cash On Hand | Not Disclosed | $50,000 ($1 million for self-funded or small businesses) |
| Business Structure | Not Disclosed | C-corp, S-corp, LLC, and LLP only |
A Divvy vs. Brex eligibility comparison is complicated by the fact that Divvy lacks transparency in this area. Divvy does not disclose its eligibility requirements beyond stating that businesses wanting to use the Divvy credit card must have a US bank account and a US EIN. To find out if your company is qualified to use Divvy, you'll have to sign up for a demo. Signing up for a demo involves sharing information about your company, including your own first and last name, email, and phone; your company name; your job title; and how many employees your company has.
Brex, on the other hand, is more transparent about its eligibility requirements. The Brex credit card is available only to corporations (C-corp, S-corp, LLC, and LLPs). Brex states that it will assess your company's business model, source of funds, spending patterns, and other areas of concern. Brex further requires a minimum of $50,000 in cash holdings.
One important difference in Divvy vs. Brex eligibility requirements is that Brex is available only to US-based businesses. Divvy is willing to issue cards to international companies that have at least one US owner with a minimum 25% ownership stake.
Brex VS Divvy Services & Features
| Available Services | Divvy | Brex |
| --- | --- | --- |
| Corporate Cards | | |
| Cash Management Account | | |
| Expense Management | | |
| Bill Pay | | |
| Accounting Automation | | |
| Spend Controls | | |
| Instant Revenue | | |
Both Brex and Divvy offer a broad feature set that puts them at the forefront of the corporate card sphere. Comparing Divvy vs. Brex shows a couple of important differences in features, however. For one thing, only Brex includes a cash management account in the form of Brex Cash. This CMA allows Brex to offer its customers instant access to cash from sales made via a linked platform.
Although Divvy offers integrations, too, it does not include links to POS software and eCommerce platforms, as Brex does. Depending on your business model, that could be an important consideration. Despite these differences, both Divvy and Brex offer robust features in the area of automatic expense tracking, card controls, bill payment, mobile apps, and more.
Let's look at a few specific features to see how the Divvy credit card's features stack up against Brex's credit card features.
Mobile Apps
Both Brex and Divvy have strong mobile apps for iOS and Android. Each is highly rated, with 4.7/5 stars for Divvy and 3,000 ratings on the Apple App Store and 4.9/5 stars for Brex and 1,200 ratings there. The apps rated highly on the Google Play store as well, with 4/5 stars for Divvy and 5/5 for Brex, though both have far fewer reviews on the Google Play store.
You can use either app to access your account, manage rewards, match receipts, and more. Only Brex allows users to send payments via the app.
Integrations
Divvy offers integrations, including several with accounting software, allowing users to connect their financial data. Divvy's integrations include QuickBooks, Netsuite, and Sage Intacct. There's also a Slack integration that lets you communicate regarding fund requests. Divvy's integrations are free to use.
Brex also offers a number of integrations. Unlike Divvy, Brex goes beyond accounting software and offers POS and eCommerce integrations, including with Shopify, Amazon, PayPal, Square, and Stripe. Connecting these platforms allows Brex users to access revenue instantly rather than waiting two to three days for Shopify, Square, and Stripe payments — or as long as two weeks for payment from Amazon. Brex lets users connect other software, too, including Gusto, Intacct, Netsuite, QuickBooks, and Slack.
Customer Service
Whenever you have questions or run into problems using either Brex or Divvy, you'll find multiple options, and each corporate card's customer service earned an Excellent rating from us in our full Brex review and our full Divvy review.
Divvy offers a slightly greater range of options, with a web-based help portal in addition to phone, email, and live chat support. Brex isn't far behind, of course, with phone, live chat, and social media support available to users.
Partner Perks
Beyond their base rewards schemes, Divvy and Brex feature special offers from business partners. These offers may hold different values for different users, depending on if you do business with a particular partner or not. A few of Divvy's special offers include $25,000 in credit with Amazon Web Services, $150 off Google Ads, $15 off any FedEx Office order, a $50 credit toward Costco membership, and 20% off a MileIQ annual subscription.
Brex's partner offer includes $2,500 in credit with Amazon Web Services and up to $100,000 in AWS Activate, 40% off a 12-month QuickBooks subscription, 50% off UPS shipments, 50% off an annual Gusto plan, and 25% off an eligible Slack annual paid plan.
Cash Management
Brex Cash is a free cash management account that allows Brex customers to store their money in a bank-like account. Brex Cash accounts are FDIC-insured to $250,000. Money can be added to the account via wire transfers and ACH payments.
Divvy does not offer a cash management option.
Bill Pay
Both the Divvy card and the Brex card feature a bill payment system that allows users to pay invoices easily and with no fees.
Divvy VS Brex Pricing & Fees
If there is one area of the Brex vs. Divvy comparison where a clear difference emerges, it's pricing and fees.
Simply put, Brex is free to use. There are no annual or account fees with Brex, and there are no fees for global ACH or wire transfers. Brex also offers fee-free foreign transactions as well as free cards for employees. Brex users also don't have to worry about overdraft or late fees.
Not so with the Divvy card.
While it's true that Divvy users avoid a host of fairly typical fees, a couple of inconvenient fees do pop up. Divvy users will pay no upfront fees, no account or annual fees, and no fees for employee cards. There are two fees associated with foreign transactions: a 0.90% cross-border fee for US-based accounts (this fee drops to 0.20% for Canadian accounts) and a currency conversion fee of 0.20% for all accounts. Additionally, Divvy charges a late payment fee of 2.99% or $38, whichever is greater.
Of course, if your company doesn't do much business overseas and if you're not planning to make late payments, these fees may not have an impact on your Divvy vs. Brex deliberations. For others, the difference in fees could be a deciding factor.
Do Customers Like Divvy Or Brex Better?
Both Divvy and Brex have a majority of positive reviews from users. On G2, 550 reviewers have given Brex a composite 4.5/5 stars rating. On Trustpilot, Divvy has a composite of 4.5/5 stars, with 481 reviews. Notably, 82% of the reviews on Trustpilot rate Brex "Excellent."
Divvy's ratings are slightly lower but still majority good, at 4.6/5 with 272 reviews on G2 and 3.5/5 with 165 reviews on Trustpilot, where 63% of reviewers rate Divvy "Excellent."
We note that a high number of the 1-star ratings on Trustpilot are from would-be users who became frustrated by the lack of transparency around Divvy's application process and what's described there as overly rigorous requirements for applicants.
Which Is Better For My Business: Divvy Or Brex?
Divvy and Ramp are both excellent picks for a business looking for a corporate card. However, in researching this comparison, we found some significant differences that could make one or the other a better choice for you.
Choose Divvy If …
Divvy is best for:
Corporations that are not entirely US-owned
Organizations that make the majority of their business purchases and expenses within the US
Businesses that want to earn a high rate of rewards without having to make daily payments
Choose Brex If …
A Brex credit card is best for:
US-owned venture-backed or mid-market businesses that spend significant amounts of money on foreign travel
Companies with high levels of cash on hand that can pay off their corporate card daily to earn the highest rate of return
Organizations that want a bank-like cash-management option to tie all their business finances together
Divvy VS Brex Comparison: The Final Verdict
Although Brex and Divvy are both solid corporate cards that we at Merchant Maverick have reviewed thoroughly and rate highly, in a head-to-head Brex vs. Divvy comparison, we feel that Brex holds a slight edge for most potential users.
That's not to say that we don't recommend Divvy as a solid corporate card option. Divvy offers a nearly fee-free corporate card with generous rewards-earning potential, including valuable partner discounts that are, in some cases, higher than the discounts Brex offers users on the same product.
Divvy's foreign transaction fees and user reviews indicate that, for some, the Divvy application process is difficult. Combined with a concerning lack of transparency about Divvy's eligibility terms, companies looking for a credit card might prefer the easy application process and clear eligibility requirements they'll find with Brex.
That's not to say that Brex will suit every user, of course. If your company is not entirely US-based or otherwise meets the requirements, you'll find Divvy a better option. If you don't have high cash reserves, you likely will not qualify for the Brex credit card. Although we think the right users will find Brex to be a slightly better option than Divvy, if you're not bothered by the transaction fees and application process, you likely will be satisfied when you choose Divvy.
Finally, if you're still not convinced that either Divvy or Brex will deliver what your business needs, you're in luck. We've compiled a list of what we consider to be the best corporate cards available that may have just the right combination of rewards, features, and requirements for your business needs.