PayJunction Review
Features include integrated ACH processing, free Smart Terminals, free Hosted Checkout, a versatile gateway, integrated reporting, and exceptional customer support.
Expert Analyst & Reviewer

UPDATED
Advertiser Disclosure: Our unbiased reviews and content are supported in part by
affiliate partnerships
, and we adhere to strict
guidelines
to preserve editorial integrity.
PayJunction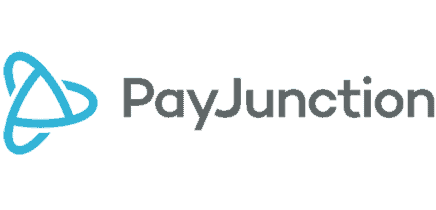 Pros
Transparent cost-plus pricing
Month-to-month agreement
Few public complaints
Free gateway
eCheck processing offered
PCI-compliant solution
Volume discounts available for established businesses
Cons
PayJunction Overview
Like many modern payment processors, PayJunction offers much more than just merchant accounts. The company's unique package of products and services lets merchants organize their sales data, mitigate risk, reduce paper-based inefficiencies, expand customer payment options, and eliminate the need for a traditional credit card terminal. Combine this with PayJunction's competitive rate matching and superb customer service, and you get a truly robust credit card processor.
The service suite hinges on the PayJunction payment gateway, which also serves as a basic POS for card-present and card-not-present transactions, including credit, debit, and ACH (check) payments. And with the USB card reader and e-signature pad compatibility, you won't even need a traditional credit card machine — though you can get a Smart Terminal instead if you prefer. And because PayJunction's system logs all of your transactions, those anachronistic receipt bundles will be history!
PayJunction also allows customers to sign for emailed orders, adding another layer of security and chargeback protection. PayJunction's mobile app handles mobile processing and serves up a basic hosted shopping cart at no additional cost. What's more, PayJunction's reputation for exceptional customer support truly stands out in this fraught industry.
All things considered, we give PayJunction a score of five stars. Read on for the full story!
Products & Services
PayJunction is focused on electronic payments and offers a solid set of developer tools. Offering Smart Terminals, recurring billing, and remote signature tools, PayJunction is a great choice for online businesses and anyone else accepting payments in non-traditional settings. It certainly isn't bad for traditional retailers, but it offers a particularly nice set of services to tech-driven businesses.
Let's delve into what PayJunction has to offer.
PayJunction Terminal
The ZeroTouch Terminal is a customer-facing, contactless terminal designed to be easy to use and clean. No signatures are required, and all receipts are digital-only. You can swipe, dip the EMV chip, or tap to accept NFC contactless payments, including Google Pay and Apple Pay. This PayJunction terminal may be free to businesses that process more than $25K/month with valid documentation.
Payment Gateway
PayJunction's proprietary gateway includes access to an all-purpose virtual terminal (compatible with a USB card reader, making it a functional POS) as well as recurring billing and customer info vault features. Put it all together, and it's a strong browser-based check and credit card processing system for card-present and card-not-present sales, with no card machine or paper filing required.
Supported Payment Types
Credit, Debit, & Check Payment Processing: You can accept payments in-store or remotely using the PayJunction system.
ACH Processing: If you hate the idea of driving to the bank to process your customers' checks, you're in luck; PayJunction offers ACH check processing at a rate of 0.75% with no monthly fee. You'll enter your check-wielding customers' checking account information once, and the system stores it for future payments. All ACH payments are encrypted to protect your customers' data.
Mobile Processing: PayJunction now sports its own branded mobile app for mobile payment processing. Only available to existing PayJunction customers, this free app works on all iOS devices (unfortunately, there is no Android app). We like that you can use the app to email receipts to your customers to sign remotely.
Call-In Processing: No smartphone? No problem. You can call a transaction in through an automated system for low-tech mobile transactions.
Billing & Invoicing
Electronic & Email Signature Capture: Taken together, this feature and PayJunction's gateway comprise the essential elements of its "Paperless Processing" system, which requires minimal hardware and setup expenses. Collecting signatures on an electronic signature pad in-store eliminates the need to save signed receipt copies. PayJunction's reporting system stores all signature data for easy access. Email signature collection (customers sign with their cursor) adds security to card-not-present transactions or agreements.
One-Click Refunds: Issuing refunds can be time-consuming and inconvenient. That's not the case with PayJunction. The system allows you to search past transactions by date, amount, name, or invoice number. Once you find the transaction in question, you can issue a refund with just a click. You won't need to call your customer for their credit card number or require your customer to bring their receipt back to you.
Recurring Billing: Automate by setting up a payment schedule for installments, memberships, or subscriptions.
Next-Day Deposits: This feature is available for qualifying business types.
eCommerce
Free Hosted Checkout: PayJunction gives you two eCommerce options. PayJunction's Hosted Checkout is nothing too fancy, but it's simple to set up and will get the job done for many businesses. You can also integrate with 80+ third-party shopping carts.
Developer Tools: PayJunction provides a "full-stack" API that delivers versatility and ease of use.
Signature Capture: On card-not-present orders, you can mail your customer a receipt after the order and require a captured signature to prevent chargebacks.
Enterprise-Level Merchant Services
Do you run an enterprise-level business? If you do, PayJunction offers you the ability to streamline your operations across multiple locations, merging your merchant accounts under one login to simplify your access to pertinent information.
Generate automated reports comparing departments or locations, track deposits to multiple bank accounts, restrict or grant access by location/department, and customize forms and receipts to meet your needs.
PayJunction Pricing, Fees, & Rates
Fortunately, PayJunction uses interchange-plus with absolutely no other fees (aside from network fees, of course). That means you have no monthly fee, PCI fees, monthly minimums, gateway fees, etc. But be aware that if you process under $10K monthly, a $35 monthly fee applies.
PayJunction's baseline markup is 0.75%. Thankfully, no per-transaction fee markup applies, which can contribute to substantial savings, especially for small-ticket merchants. Note, this rate will only apply to businesses without a processing history.
However, if you do have a processing history, PayJunction will match or beat your current rates. You won't have to worry about paying more when you switch. It's good to see this advertised. While pretty much any processor will be willing to match your current rates to win your business, PayJunction seems to be more transparent about its comparisons than the average provider.
The advertised rate and fee details include:
Cards: Interchange + 0.75%, no per-transaction markup
Checks: 0.75%, no per-transaction markup
Monthly: No additional charge, or $35 for businesses doing under $10K monthly
Annual: No additional charge
PCI: No additional charge
Gateway: No additional charge
Exit Fee: No additional charge
PayJunction Fees Case Study
A solid markup for a business doing $12K per month in card-not-present sales might be 0.30% + $0.15, with a monthly fee of $20 (no PCI, no gateway fee). If that business had an average ticket of $50, it would pay the following with a good provider:
$36 in markup percentage
$36 in per-transaction markup
$20 in monthly fees
This is a $92 total markup over interchange and still a pretty good value.
With PayJunction pricing, the same account would cost:
Remember that the larger your average ticket is and the more you process per month, the more your costs will rise above the comparison point. Still, PayJunction offers a solid deal, even if you don't have a processing history.
If you're still trying to grasp the complex world of payment processor pricing, check out our complete guide to credit card processing rates and fees.
Sales & Advertising Transparency
PayJunction goes beyond industry norms with its honest marketing. PayJunction correctly describes interchange and interchange-plus pricing (the company's primary pricing model) on its website. Likewise, PayJunction seems to make good on its price-matching offer. Merchants with a processing history can submit two months of processing statements to secure a rate equal to or better than what they currently pay.
While some merchants may be wary of handing over processing statements, this serves an important purpose. First, it proves to PayJunction that you are processing the volume you say you are. With this added confidence, PayJunction can guarantee you the lowest rates possible instead of giving you a more conservative estimate. It also lets PayJunction see where you may have been overcharged so that it can explain the rationale behind the pricing quote offered to you.
We are generally wary of "rate-match" gimmicks, but in this case, PayJunction isn't promising to hand over large sums of money if it can't beat your rate. PayJunction is just using the information to get you a fair deal based on your existing volume.
Contract Length & Early Termination Fee
Your contract with PayJunction is completely month-to-month — no cancellation or early termination fees to worry about whatsoever.
Customer Service & Technical Support
PayJunction support and customer service are outstanding by all accounts. It's quite uncommon to see a company that combines a near-complete absence of complaints about customer service with a fair amount of public praise. PayJunction's account representatives don't just set up your account; they are also available to help you throughout. They bring the local experience to remote accounts. We love to see that!
You'll find a moderate amount of self-service support features, including a good-sized knowledgebase and some useful tutorial videos. If you're the type who likes to work things out yourself instead of getting on the phone, you can do so without any trouble.
Standard email-based ticket support is offered as well as remote support. With remote support, you give a service representative remote access to your computer so that they can either walk you through something or take care of an issue for you. This level of support can be crucial in a pinch!
When a public complaint does pop up, PayJunction representatives act swiftly and thoroughly to make things right or provide a thoughtful explanation. The company goes well above and beyond what we're used to seeing.
PayJunction Reviews, Complaints, & Common Problems
At the time of this review update, here is where PayJunction reviews sit with the big independent consumer review sites. We're going to talk about some of the negative press we've uncovered about PayJunction and our take on it in this section.
Better Business Bureau: A+
Capterra: 4.8 out of 5 stars
G2: 4.6 out of 5 stars
Trustpilot: 4.6 out of 5 stars
Negative PayJunction Reviews & Complaints
Negative reviews and complaints from PayJunction users were practically non-existent until recently. The company has a sterling record on the Better Business Bureau website. All things considered, it truly has a good track record for a business of its type, age, and size.
During the pandemic, however, this has changed a bit. As we did some digging, we found commonality between a complaint in our comment section, the few complaints found at the BBB, and a recent story that appeared in Vice that specifically called PayJunction out for withholding payments from small businesses amidst the uncertainty of the pandemic.
In researching the customer review sites we highlighted earlier, we found that this issue does not seem to be widespread at all. While funding holds may be applied to business types that are on the risky side, this issue doesn't appear to plague the vast majority of users, with most reviews from 2021 being particularly glowing. However, we want to hear from you. If you have experience with PayJunction holding funds, let us know.
It's important to note that a payment processor does have a duty to the card brands and customers to ensure that a transaction isn't fraudulent. If the customer makes a purchase and a business closes up shop for good (which has become more common during the pandemic), the payment processor is on the hook for the shopper's refund.
That said, it seems PayJunction has reduced its use of funding holds since the early months of the pandemic, judging from the relative lack of recent PayJunction complaints on review sites. While the company may have been exercising extreme caution due to the realities of the COVID era, it seems to be cognizant of the bad press generated by its use of funding holds.
Positive PayJunction Reviews & Testimonials
There are a dozen testimonial videos on PayJunction's customer profiles page. All seem genuine and give glowing praise. These customers seem especially satisfied with:
Ease Of Reporting: PayJunction's selling point is its "paperless" processing system. Merchants used to saving signed receipt copies and having no digital record of sales are thrilled to have all information saved electronically, providing easy access and digital reports.
The Sales Experience: Many of the business owners interviewed cited the attitude of the sales reps as a positive. Most merchants have heard every credit card processing sales pitch in the book by the end of their first year in business. Therefore, it means a lot that multiple business owners felt the PayJunction sales experience was straightforward and honest.
Customer Service: Many users, both in the official videos and across the web, give high praise to PayJunction's customer service. Dedicated representatives know your business and provide intensive help when needed.
These points of praise have been echoed by recent PayJunction reviews posted to sites such as G2.com.
Final Verdict
From recurring billing to paperless payments to exceptional customer support, PayJunction delivers on its promises. With its ZeroTouch Terminal, your employees and shoppers can stay a little safer, too. From the competitive rates to the reduced risk and broadened customer payment options that eliminate the need for a traditional credit card terminal, PayJunction can reduce your costs while keeping your customers happy.
On the other hand, low-volume merchants and new businesses with no processing history may find PayJunction to be overkill, as you'll likely find cheaper options out there. If you foresee processing over $10K per month but don't have an established processing history, you can sign on and then request a rate review after a few months once you've established your volume. For businesses with a processing history, PayJunction will match or beat your current rates.
Regardless of your business, PayJunction's tangible benefits go beyond what you'll find with standard-issue merchant account providers, so you should weigh the benefits against the potential expenses. With features such as integrated ACH processing, free Smart Terminals, free Hosted Checkout, a versatile gateway, integrated reporting, and exceptional customer support, there is no shortage of reasons to choose PayJunction. We give the company five stars.
While it's always a good idea to look into our online credit card processor comparison chart before choosing a processor, I'd absolutely recommend checking out PayJunction. If you do, let us know about your experience in the comments!
---
The Merchant Maverick Seal of Approval 🏆
PayJunction


---
After hours of in-depth research and evaluation, we can confidently recommend this brand to our readers. Get started today and see PayJunction for yourself.
The Merchant Maverick Seal of Approval 🏆
PayJunction


---
After hours of in-depth research and evaluation, we can confidently recommend this brand to our readers. Get started today and see PayJunction for yourself.
To learn more about how we score our reviews, see our
Credit Card Processor Rating Criteria
.