Expert Analyst & Reviewer

Updated on:
Advertiser Disclosure: Our unbiased reviews and content are supported in part by
affiliate partnerships
, and we adhere to strict
guidelines
to preserve editorial integrity.
Soar Payments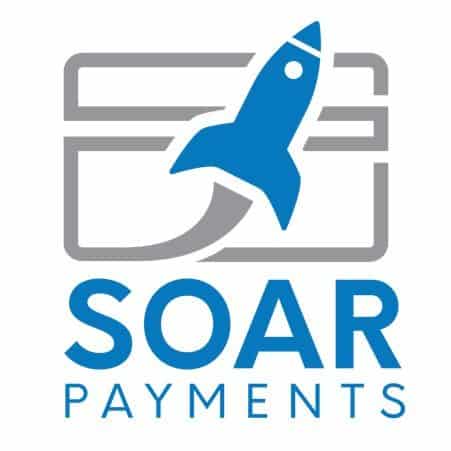 Pros
Ideal for high-risk merchants
Automated custom price quoting
Automated application process
Fast underwriting
No application fees
Cons
Only available for US-based businesses
Pricing not disclosed on the site
Soar Payments Overview
Founded in 2015, Soar is a relatively new merchant account provider based in Houston, Texas. Soar Payments specializes in finding card processing homes for hard-to-place businesses that most merchant account providers won't work with typically. If you need a feature-rich, high-risk credit card processor, Soar Payments may be just the right fit.
Whether due to a historically high percentage of chargebacks, irregular high-ticket sales, or just lots of industry regulations, banks are less likely to approve certain business types for merchant accounts. Don't take it personally if you've been labeled high-risk; it's not necessarily your fault! You're even more likely to be considered mid or high-risk if you have an eCommerce or mail/telephone order (MOTO) business. That's simply because most of your transactions are card-not-present and thus more susceptible to fraud.
While your options may be more limited, the good news is that you still have options. Let's take a look at what Soar Payments offers so that you can make the best decision for your small business.
Products & Services
The company offers a full range of products and services to meet the needs of any business, including the following:
Merchant Accounts: Soar offers merchants accounts to low, mid, and high-risk merchants. After determining which bank is the best fit for your business based on your risk profile, Soar will pre-approve your account within 24 hours. In three to five business days, you can be fully approved with an underwritten contract and ready to start taking payments. The process is faster for low-risk merchants, however.
Hardware Options: Soar offers the Verifone VX520 credit card terminal and a mobile credit card processor and will ship any needed equipment to you. Pricing is not disclosed.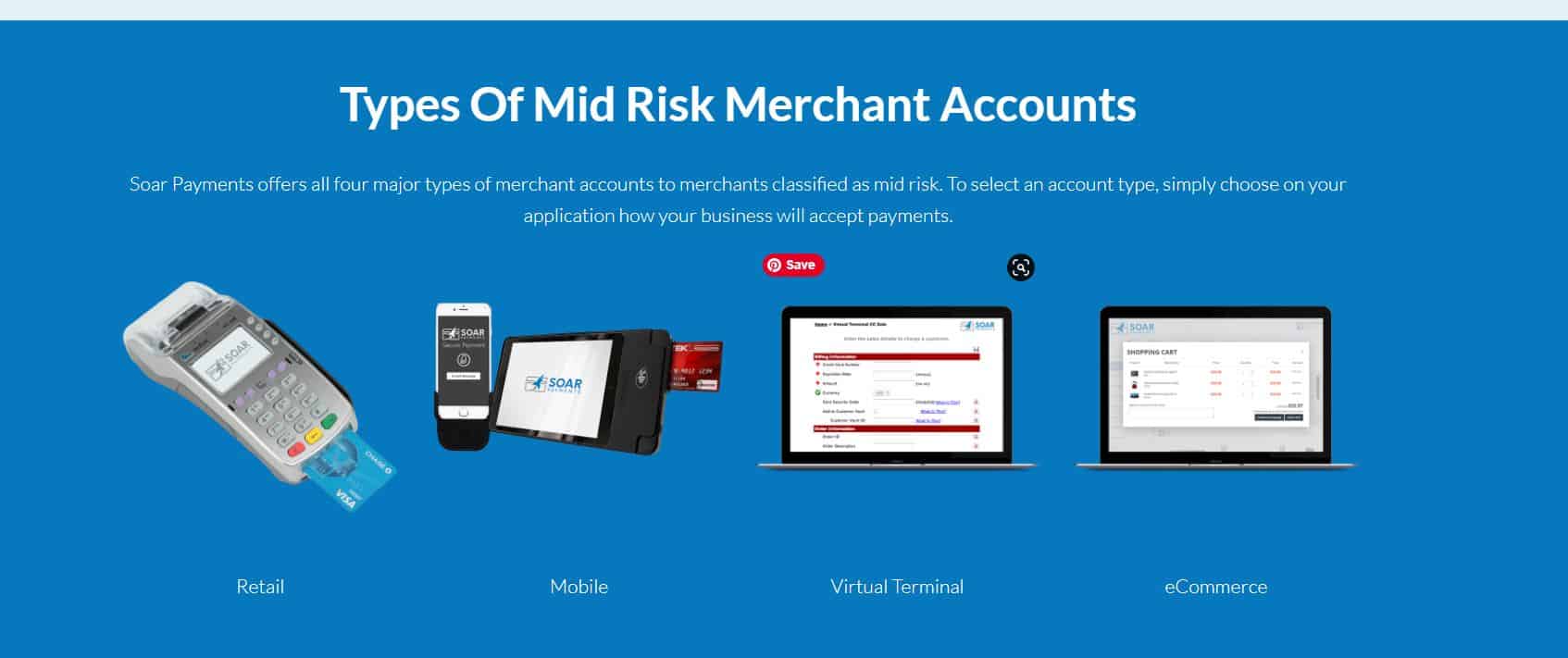 Payment Gateways: For processing via MOTO or eCommerce, Soar Payments offers merchants a choice between the ever-popular Authorize.Net, the NMI Gateway, and USAePay for accepting and processing online transactions.
eCommerce Integrations: Expect the standard and plentiful shopping cart integrations that come with the above gateways. Custom integrations are also available.
ACH & eCheck Processing: Even high-risk businesses can access the ACH and echeck processing services.
Chargeback Management & Fraud Prevention: One of the most common reasons a particular industry is labeled high-risk is the potential for lots of chargebacks. Your account could be shut down if your chargeback ratio creeps too high. Soar Payments partners with Chargeback.com to integrate chargeback mitigating features into the NMI payment gateway. The resulting package is dubbed Chargeback Armor and includes chargeback alert emails, representing services for fighting illegitimate chargebacks, plus the iSpyFraud filter to detect fraud, screen suspicious transactions, and block suspicious activity.
Acceptance Of High-Risk Merchants
If you've been classified as high-risk, you probably have one or more of the following characteristics:
Irregular or high-ticket sales
An industry with historically high chargebacks
An industry larger banks don't typically support due to various political reasons
Highly regulated industry
Soar Payments takes many different types of high-risk industries, but it doesn't take them all! Here is a sample of industries it does accept:
Subscription boxes
CBD oil and products
Digital streaming
Fantasy sports
Firearms and ammunition
Nutraceuticals
Pawnbrokers
Smoking accessories and glass
Coaching businesses
Web design and development
The above is not an exhaustive list of the industries Soar accepts, but we've listed some of the more popular options.
Prohibited businesses include adult, bitcoin, debt collection, debt relief, gambling, hate content, offshore companies, tech support, or businesses with very poor credit. This is not an exhaustive list of prohibited businesses, however.
Before we discuss Soar's pricing, we asked the company if it accepts merchants on the Terminated Merchant File or MATCH List. The CEO explained that while they could technically take these clients offshore, they've decided to forgo that level of risk. Instead, they are happy to help walk merchants through the process of getting themselves removed from the list, with all the appropriate action and careful documentation that entails. At that point, Soar can likely board them with a high-risk package.
Fees & Rates
Soar Payments appears to have removed most pricing disclosures from its website since our last review update in October 2019. You'll need to obtain a rate quote from one of the company's sales representatives to get a more accurate idea of your overall costs.
Low-Risk Pricing
Soar Payments offers transparent, interchange-plus pricing for low-risk businesses. Rates are not disclosed upfront, however, and will depend on your sales volume. Soar does provide an instant price quote with DocuSign for low-risk accounts. Additionally, low-risk accounts receive free credit card processing terminals or mobile swiping devices, but be sure to read the contract before signing it!
Mid & High-Risk Pricing
Tiered pricing is the standard model
Mid-qualified and non-qualified rates vary widely depending on risk, volume, etc.
Monthly Fees For All Merchant Accounts
These vary depending on risk status but will include a monthly minimum and merchant on-file fee at a minimum. Fees may include:
Gateway fee
Chargeback fees and services
ACH debit
Early termination fee
Keep in mind that high-risk pricing is variable based on your situation and that you won't know how it stacks up against competitors unless you compare multiple quotes. You also must consider the account's overall value based on its full suite of services and features. This is especially true if your business lacks the staff hours and solid accounting department needed to manage chargebacks effectively.
Contract Length & Early Termination Fee
In outlining Soar's contract stipulations, I'll begin again with mid-to-high-risk accounts and then quickly summarize low-risk accounts. This was all the information we received over the phone directly from Soar's CEO at the time of our last review. You should always read your contract to determine what, if any, fees for early termination apply as well as your contract length.
Mid & High-Risk
Two-year initial contract
One-year automatic renewal after initial term
Early Termination Fee (ETF): $495
ETF removed after initial term
ETF only charged if the merchant cancels the account (not the bank, processor, etc.)
If you're high-risk, note that a rolling reserve account will probably be required to protect your processor. Soar pointed out that its rolling reserves have predetermined caps, at which point no more funds will be held from your daily batches regardless of the established percentage that usually comes out. The CEO also mentioned that the reserve period is seven months and that this fund release time is shorter than most other high-risk providers. Funds in a rolling reserve will be released on the pre-established schedule if you end your contract.
To sum up, Soar's high-risk terms are pretty good. That hefty early termination fee is no fun, but I'm not too surprised it's in place. While we'd generally steer you clear of long-term contracts, if you're high enough risk, you might have one as part of your agreement regardless of which provider you use. As far as contracts go, you could do a lot worse than Soar as a high-risk merchant.
Now, if you're low-risk, the outlook is much brighter:
Low-Risk
Month-to-month plans with no contracts
No early termination fee (ETF)
Perfect! That's just what we like to see!
Sales & Advertising Transparency
It's always a good sign when you email a company's sales department and receive a response from the CEO the same day. The Soar Payments CEO was patient with all our questions at the time of the last review in October 2019, which scores an immediate point toward a transparent company culture. With a relatively small staff and no independent agents to wrangle, there's a greater likelihood this open attitude has permeated throughout the company.
With such a small staff, the company relies heavily on its website to market accounts and sign up merchants. The site includes an online application feature that allows you to submit the required information about your business and receive a quote once you've sent it in. It only takes about five minutes to complete the application, so this is an easy way to get a quote that you can easily compare against what other vendors have offered you.
As convenient as this process is, there are a few reasons to be cautious. For one thing, online applications are designed to be convenient for the provider — not you. Soar Payments doesn't just send you a rate quote when you submit an online application — it sends you a complete contract that you can sign electronically. It's all too easy for a new merchant to sign the document and send it back. Don't do this!
You need to review your entire contract very carefully before you sign anything. If your agreement includes an initial two-year term, you'll be legally committed to that term the moment you sign it and send it back.
You should also be cautious of any provider offering instant or rapid approval of your merchant account. While this can seem like a convenient feature if you need to start accepting credit cards right away, you should be aware that instant approval involves cutting some corners. The underwriting process is designed to ensure that your business will be a good fit for your processor, and it takes time to complete. High-risk accounts take even more time, especially if the processor needs to check your personal credit and your business's processing history. When this process is completed after you've already signed up for an account, there will be a much higher risk that your account will be quickly shut down for one reason or another once you start processing transactions. For more in-depth information about the risks involved with instant approval for high-risk merchant accounts, please see our article, Do High-Risk Merchant Accounts With Instant Approval Exist?.
As we've noted above, Soar Payments has removed most (if not all) of the specific pricing disclosures from its website since our last review update. While this is a little disappointing, we realize that there is usually no one-size-fits-all pricing solution when working with the high-risk business community. Soar Payments and other high-risk providers have to work with a large variety of banks and back-end processors to get you approved for an account. This usually means that pricing is too variable for it to provide any meaningful disclosures that would be valid for all potential customers. Fortunately, the online application process allows you to get a customized quote for your business in very little time. Just be sure not to sign anything until you're confident that you're ready to commit.
Overall, Soar Payments comes across as an honest company that earnestly strives to help high-risk merchants find a processing home. Combine this with its "take-it-or-leave-it" interchange-plus rate for lower-risk accounts, and you get the sense that Soar won't pressure you to sign up if it's not a good fit for your business.
Customer Service & Technical Support
Regular business hours for Soar Payments are 8 AM to 8 PM Eastern Time, and each of the employees at this small company has a direct line. If you can't get in touch with your account representative for after-hours problems, you'll be redirected to your back-end processor. Of course, you can also contact customer service at the third-party service provider behind a technical issue. In my experience, Soar also responds to emails promptly.
Soar's website has a general FAQ section that covers a few common questions for all risk levels. Where Soar really "soars" as an industry expert, however, is in the high-risk section of the website. I learned a ton myself as I perused articles on around 30 individual high-risk business sectors.
Since our last review update in October 2019, Soar Payments has replaced its blog with PayPod, a podcast dedicated to discussing payments with numerous leaders from throughout the processing industry. If you want to learn more about how the processing industry works, this is an excellent resource.
User Reviews
High-risk merchant account providers frequently receive more than their fair share of criticism from merchants due to the additional challenges of serving the high-risk community. That isn't the case with Soar Payments, however. It has a sterling online reputation that any provider would envy.
Negative Reviews & Complaints
What's remarkable is that we found no negative reviews for Soar Payments at the Better Business Bureau or any other of the several consumer review sites we searched. While this doesn't automatically mean that every merchant is or will be happy, it suggests that Soar Payments knows how to quickly de-escalate any issues and likely has very clear communication with its merchants.
Positive Reviews & Testimonials
Soar Payments has been accredited by the BBB since 2018 and currently has an A+ rating. The company has a remarkable zero complaints and seven positive reviews from customers. All of the positive reviews are 5-star, which leads us to suspect that the company has been actively encouraging merchants to put in a good word for it. Nonetheless, the reviews themselves are convincing and appear to come from legitimate businesses, so we don't see a problem here.
While Soar Payments doesn't have reviews at some of the other larger customer review sites, we checked its Facebook page and found two 5-star reviews and no negative complaints so far. That's a great sign!
Final Verdict
If you're a high-risk merchant, it can feel like you don't have a lot of trustworthy options. Some high-risk credit card processors know that merchants don't have a lot of options, and they prey on your sense of desperation. From what we've gathered from the company via our one-on-one conversations, research, and its reputation at the BBB, Soar Payments has reasonable rates and fees while treating its merchants quite well.
We can't tell you exactly what your pricing package will be with Soar Payments if you're a high-risk business. However, we feel confident that Soar is a solid option for non-traditional merchants by all important measures of value.
Although the $495 early termination fee (for some accounts) is rough, Soar's high-risk contract terms as a whole are very reasonable. You're stuck with tiered pricing, but that's also fairly standard among high-risk accounts. Meanwhile, Soar has upped its account approval rate and subsequent account stability by working with Chargeback.com and the NMI gateway to add additional protective features.
At the moment, we have no reason to believe there are any "hidden" fees besides those we've outlined above. Please share your experience with us in the comments if you are a merchant using Soar Payments.
My instinct is that Soar Payments is a good option for companies across all risk levels and could be great at mid-to-high volumes. Be sure to check out some of our other preferred merchant account providers as well as our current top high-risk providers to make direct comparisons based on your situation.
---
The Merchant Maverick Seal of Approval 🏆
Soar Payments


---



After hours of in-depth research and evaluation, we can confidently recommend this brand to our readers. Get started today and see Soar Payments for yourself.
The Merchant Maverick Seal of Approval 🏆
Soar Payments


---



After hours of in-depth research and evaluation, we can confidently recommend this brand to our readers. Get started today and see Soar Payments for yourself.
To learn more about how we score our reviews, see our
Credit Card Processor Rating Criteria
.
Read Next