Credit Card Processing Fees: What's The Average & How Much Should You Pay?
How do credit card transaction fees work? Our guide breaks down the types of fees, common pricing models, and everything else you need to know.
Expert Analyst & Reviewer

UPDATED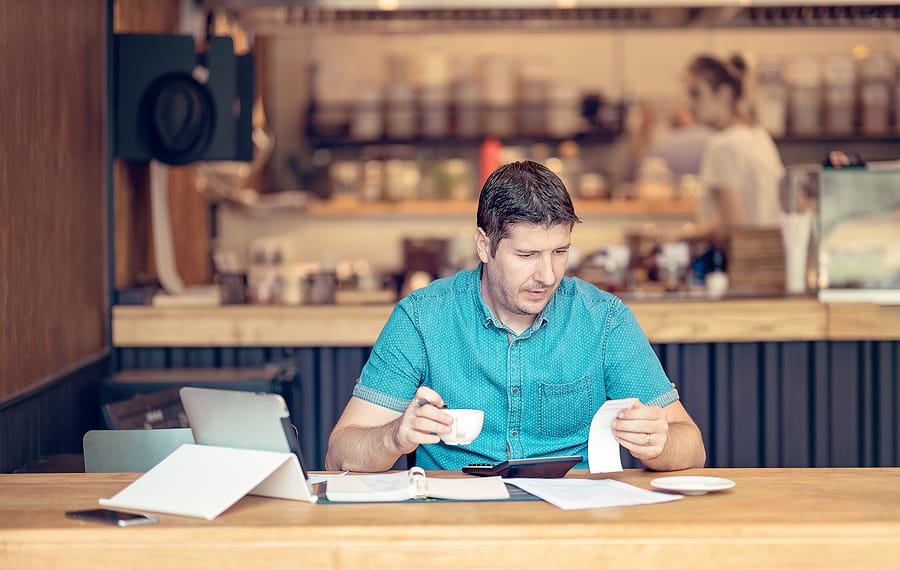 Just as most businesses need to accept credit cards, it's equally important for most business owners to have a solid working knowledge of how credit card processing fees are calculated. These fees can be a burdensome expense for your business, and most merchants pay too much for them because they don't understand how they work.
This article explains what credit card processing fees are, how they're assessed, and what you should expect to pay for them. Having a sense of what the "industry average" is for certain fees can save you from paying too much for credit card processing. If you're in a hurry, you can also check out our visual guide to credit card processing costs.
What Are Credit Card Processing Fees?
Credit card processing fees are the fees a business pays to process the transaction whenever a customer pays using a credit or debit card. Most credit card processing fees go to the customer's issuing bank, with small portions going to the credit card association and the merchant's credit card processor.
What Are The Average Credit Card Processing Fees For Small Businesses?
How much are credit card fees for merchants? The typical credit card processing fees for the four most popular credit card brands (i.e., Visa, Mastercard, American Express, and Discover) range from 1.5% to 3.1% per transaction. Remember that these are rough averages. Most users will fall somewhere in between the two numbers, but in some cases, your rates can be higher or lower.
The table below shows estimates of the big-four card networks' (Visa, Mastercard, Discover, American Express) average costs, taken from three different sources:
| | Visa | Mastercard | American Express | Discover |
| --- | --- | --- | --- | --- |
| Fool.com | 1.29% + $0.05 to 3.29% + $0.10 | 1.39% + $0.05 to 3.29% + $0.10 | 1.50% + $0.10 to 3.15% + $0.10 | 1.58% + $0.05 to 3.28% + $0.10 |
| Bankrate.com | 1.43% to 2.4% | 1.55% to 2.6% | 2.5% to 3.5% | 1.56% to 2.3% |
| CreditDonkey.com | 1.4% to 2.5% | 1.5% to 2.6% | 2.3% to 3.5% | 1.55% to 2.5% |
As you look at what experts present as the definitive "average credit card processing fees," pay attention to how much the numbers vary even for the same card brand. What you should take away from this table is that even the experts struggle to lay out exact numbers where credit card payment processing is concerned. MerchantMaverick.com and other authorities on the topic give ranges of credit card rates as examples because they represent the reality of payment processing: Your rate depends on many factors, such as whether your business is low- or high-risk, industry, size of the transaction, whether it's online or in-person, the type of card used, and more.
In addition, this figure lumps interchange fees paid to the card-issuing bank with the payment processor's markup. However, two of these sources, BankRate and CreditDonkey, omit the mandatory flat fees known as assessments from their given rates. Assessments are typically treated as part of the interchange, though they aren't interchange fees themselves.
These sites don't state whether they've simply factored the assessment fees into the cost in the form of a higher overall percentage — a flaw in their methodology. (The next section explains what these fees are in more depth.)
What's "average" or "typical" in credit card processing depends on so many variables that a clever salesperson can make almost any number seem reasonable. Do not be fooled. The only numbers that matter are 1) what you're currently paying, and 2) what you could be paying, which should be on par with or less than you're currently paying.
Types Of Credit Card Processing Fees
Your overall cost to process a credit or debit card transaction consists of three separate elements, although you often won't be able to break them out individually by looking at your processing statement. These three elements are (1) interchange fees, (2) assessment fees, and (3) processor markup.
Here's a brief explanation of each of these elements and how much each one will usually cost you:
Interchange Fees
The table above shows that even the "average" credit card processing fees are highly variable. That's because credit card brands break down transactions into hundreds of separate categories based on the risk factors that apply to that particular type of transaction.
Here's a brief overview of the major factors that affect interchange fees:
Credit VS Debit Cards: Debit card transactions are inherently less risky because the funds are transferred directly from customers' bank accounts. On the other hand, credit cards require the issuing bank to loan the funds to the customer, with repayment typically taking 30 days or longer.
Card-Present VS Card-Not-Present: Retail transactions where the merchant can verify the customer's identity and inspect the credit card present a relatively low risk of fraud. Online transactions, on the other hand, provide limited cardholder data and don't allow as many options for identity verification. For this reason, card-not-present transactions incur higher interchange fees due to the greater chance of fraud.
Credit Card Type: Rewards cards that offer cash back or frequent flier points will cost more in interchange fees to offset these perks. These types of cards are particularly problematic under a tiered pricing plan. They usually result in the transaction being downgraded to the unqualified tier, which imposes the highest processing fees.
Transaction Size: Larger transactions are riskier than smaller ones, so the issuing banks charge a higher fee to process them. Credit card brands use a variety of additional factors to determine whether a transaction is "large" or "small," so there isn't a simple one-size-fits-all rule to determine where a given transaction will fall.
Merchant Category Code: The major credit card brands use merchant category codes (MCCs) to classify businesses by the type of goods and services they offer. Your business may or may not fall under more than one MCC, depending on your product lineup.
Assessments
While they usually constitute the smallest portion of your credit card processing costs, network assessment fees nonetheless make credit card acceptance just a little more expensive than it would be otherwise.
These are essentially licensing fees and are paid to the credit card brands themselves. Assessment fees usually range from 0.13% to 0.15% per transaction, depending on the card brand. These fees are typically lumped in with interchange fees as a single cost, as your processor passes through them to the issuing bank and credit card association.
For more detailed information on assessment fees and other charges imposed by credit card networks, check out our complete guide to card brand fees.
Markup
Your credit card processing fees are composed of two distinct elements: wholesale fees and markup fees. Wholesale fees encompass all the fees and charges that must be paid to the issuing bank and the credit card association (as discussed above). Markup fees are the fees your processor keeps for itself in exchange for processing the transaction and maintaining your merchant account.
Here's a summary of the main differences between wholesale and markup fees:
Wholesale fees are passed onto the issuing bank and credit card association, while markup fees are retained by your processor.
Wholesale fees are the same for every processor, while markup fees differ for every merchant services provider.
Markup fees can often be negotiated with your processor, while wholesale fees are fixed and cannot be reduced through negotiation.
Although wholesale fees are the same for everyone, there's still a lot of variability from one transaction to the next. All the factors identified above (card type, transaction size, Merchant Category Code, etc.) will impact how much you'll pay in wholesale fees for any transaction.
Take a look at this table showing some sample pricing models and see whether or not you can easily pull out the wholesale fees and markups from the quoted rates:
Sample Quoted Payment Processing Rates
Pricing Model
Wholesale Rate

INT + 0.25% + $0.10:

Interchange-Plus (AKA Cost-Plus)

Not included

INT + $0.10 (+ $99/Month Membership):

Membership (AKA Subscription)

Not included

Qualified: 1.79% + $0.10

(Mid-Qualified: 2.19% + $0.15)

(Non-Qualified: 2.99% + $0.20)

Tiered

Included

2.90% + $0.30 Online:

2.75% In-Person:

Flat-Rate

Included
Credit Card Processing Rate Pricing Models
Credit card processors have come up with a variety of ways to charge you for processing your transactions in a way that covers their costs while ensuring a profit. Almost all pricing plans today fall into one of four models: interchange-plus, subscription, flat-rate, or tiered pricing.
Below, we'll explain how these plans work and which ones offer the lowest costs for your business.
How Much Should You Pay In Credit Card Transaction Fees As A Small Business?
While every business owner will want to minimize their credit card transaction fees, it's a mistake to assume that the best merchant account provider for your business will simply be the one offering the lowest credit card processing rates.
Low rates are only one of several factors to consider. You'll want to estimate your effective rate, which is simply the ratio of all processing costs (including account fees) to your overall sales volume, expressed as a percentage. Especially for smaller businesses, a provider charging higher processing rates, but no recurring account fees, will often be more affordable overall.
With this benchmark in mind, here are the other important factors to look for in selecting a merchant services provider:
Month-to-month billing with no long-term contract
No early termination fee (ETF) for closing your account
Low recurring fees that are clearly disclosed before you sign up
Flat-rate, interchange-plus, or membership pricing, depending on your sales volume
No equipment leasing fees
For a regular, low-risk business, your effective rate should be about 3-4% and no higher. High-risk merchants, unfortunately, can expect to pay much more in rates and fees — often nearly two times more than a comparable low-risk business. If you're already accepting credit cards, you can quickly determine your actual effective rate by analyzing your most recent credit card processing statements.
One final point: Having reliable access to high-quality customer support is critically important when working with a merchant services provider. Providers that try to win your business by offering the cheapest rates often cut corners in this area, leading to frustration and headaches on your part when a problem inevitably arises. It's usually worth paying a little extra to sign up with a provider with a solid reputation for offering top-notch customer support.
How To Lower Or Offset Your Credit Card Processing Fees
If the thought of sending 3-4% of your gross credit card sales off to your merchant services provider doesn't sit well with you, you're not alone. Interchange rates have risen dramatically in recent years and surged even higher in 2022. Providers have no choice but to pass these price increases onto their account holders, but most aren't above raising their own markup in the process.
The ever-increasing cost of accepting credit and debit cards has led many businesses to look for ways to offset their credit card processing fees (or eliminate them) as much as possible. Besides signing up with the cheapest credit card processor you can find, here are several alternative methods that business owners are using to lower their credit card processing fees:
The Final Word On Credit Card Processing Rates
Every credit card processor has its own schedule of fees and processing charges, although they might vary quite a bit from one customer to another. While many fees are unavoidable, others can be reduced or eliminated through negotiation. Because costs vary so widely from one merchant to another, "average" figures don't tell you much about what your costs will be.
With that in mind, here are some recommendations to help you get the best service at the most affordable price:
If you're running a very small or seasonal business, look for a highly-rated provider with flat-rate pricing, no monthly fees, and no long-term contracts.
If you have a medium-sized business with a stable month-to-month processing volume, interchange-plus pricing will usually be your most cost-effective option.
Large, established businesses can save even more money with a subscription pricing plan. Be sure to compare quotes against what you're currently paying to confirm your estimated savings before switching to this type of plan.
Regardless of the size of your business, avoid providers that will lock you into a long-term contract with an early termination fee (ETF).
Avoid leasing your processing equipment under all circumstances.
Read your proposed contract thoroughly before you sign up to gain a complete understanding of your fee structure.
In many cases, choosing a slightly more expensive provider that offers superior customer service and support will be worth it.
We hope this article has given you a place to start to find the best payment card processor for your business.
Remember that there's no overall "best" or "cheapest" payment processor, only the best/cheapest processor for your particular business. Making that final determination takes using sales data from your business and doing some math, but we promise that the time you spend analyzing the numbers will more than pay for itself.
Credit Card Processing Fees FAQs