CCBill Review
CCBill offers transparent pricing and a powerful platform for billing & recurring payments. They even work with high-risk businesses, especially those in the adult entertainment industry.
Expert Analyst & Reviewer

UPDATED
Advertiser Disclosure: Our unbiased reviews and content are supported in part by
affiliate partnerships
, and we adhere to strict
guidelines
to preserve editorial integrity.
CCBill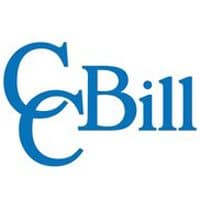 Pros
Good for specific high-risk categories
Transparent flat-rate pricing
No monthly fee
No early termination fee
Multicurrency options
Good for international merchants
Cons
High processing rates
Rolling reserve required
Six-month minimum hold on account payout upon cancellation
CCBill Overview
CCBill's services were originally designed to support eCommerce businesses only. Today, however, the company's lineup has expanded to include support for omnichannel enterprises, meaning that traditional brick-and-mortar retailers that also take orders through their websites can now sign up. The company also specializes in processing international transactions and can accept payments from 45 countries, including the United States, Canada, and most European nations. CCBill is a pretty big provider, processing more than $1 billion in transactions every year.
While its website advertises its services to nonprofits and ordinary eCommerce businesses, CCBill seems to focus primarily on adult-oriented goods and services, including streaming and live cams. If your business falls into this category, and you've had trouble finding a provider, it's worth taking a closer look. High-risk merchant accounts can be shady territory, but fortunately, CCBill reviews and CCBill.com complaints seem to trend in the right direction.
Overall, CCBill earns a score of 4.5 out of 5 stars, and we recommend the company to businesses that fit into the niche it specializes in serving. While it provides "discounted" rates for nonprofits, CCBill is still more expensive than what some of its competitors can offer.
If you're running a nonprofit website, take a look at our top processor picks for nonprofits and use them as your research starting point instead.
What Is CCBill?
CCBill is one of the oldest merchant services providers specializing in eCommerce in the payments industry. The company offers full-service merchant accounts and an integrated payments platform centered around its proprietary payment gateway — with no monthly fee.
CCBill.com Products & Services
CCBill covers pretty much all the bases for eCommerce. With retail POS also now supported, CCBill can adequately cover a business that makes sales both on- and offline.
Payment Processing & eCommerce Support
As a payment processor, CCBill's core features revolve around allowing businesses to take credit cards and similar non-cash payments.
Merchant Accounts: CCBill provides payment processing services for merchants in the US, Canada, the UK, and most EU countries. The company's software provides regional pricing, forms that sense a customer's location and language, currency conversion functionalities, and tracking options designed for taking European payments. Order pages, online customer support, and consumer emails can appear in 14 different languages.
eCommerce: CCBill provides a global payment platform for eCommerce merchants. Because the company accepts most major credit cards from around the globe as well as ACH and debit payments, CCBill is ideal for businesses that naturally lend themselves to a global audience. For instance, live streaming businesses (such as Twitch streamers) and gaming platforms typically have an international reach. The digital or physical goods or services provided by these merchants can benefit from the company's international capabilities.
Multiple Currencies Supported: Customers can pay with the US Dollar, Euro, British Pound, Canadian Dollar, Australian Dollar, and Japanese Yen using all major credit and debit cards.
Additional Payment Methods: CCBill supports ACH eChecks, EU Debit, and DirectPayEU. The company even has a service that helps merchants comply with payment acceptance laws around the world. You can customize CCBill's payment services through its gateway, CC Admin Portal.
Point Of Sale (POS) Systems & Terminals: As part of its recent expansion into the retail sector, CCBill now advertises the availability of both point of sale (POS) systems and traditional credit card terminals on its website. Unfortunately, it doesn't provide any further details about which brands it supports at the moment. You'll have to contact the company's sales department for more specific information and determine if your existing equipment is compatible.
Mobile Payments: CCBill advertises support for mobile payment solutions for smartphones and tablets. Again, no further details are provided. It's most likely that the company uses a third-party solution, as there isn't a CCBill-branded mobile processing app in either the Apple App Store or the Google Play Store at this time.
Virtual Terminal: For mail and telephone order businesses, CCBill now offers a virtual terminal as part of its integrated payments platform. This browser-based feature allows you to manually input your customer's payment data using any internet-connected computer. Most virtual terminals can also accept card-present transactions with an optional card reader, but CCBill doesn't currently mention this feature on its website.
Marketing Services: CCBill requires a merchant's customers to enter their billing details on the company's website (which is safer for merchants and helps to simplify your PCI compliance requirements). The merchant's billing page is customizable and can be tailored to mirror the company's branding, look, and feel. This service is called CCBill Pay. CCBill's software also allows merchants to set up referral services and pay referral fees through clickable links and banners placed on other people's websites. Additionally, you can organize email marketing campaigns through a series of automated emails. The software allows for A/B testing, so you can tweak your campaign as you go along. Lastly, you can send out automated emails any time your customer's subscription changes, including when they join, cancel, upgrade, or even when their subscription expires.
High-Risk Processing
When it comes to payment processing, not all businesses are treated equally. While CCBill doesn't serve many high-risk business types, they do provide services to the following industries:
Adult-Oriented Businesses: CCBill claims it has over 20 years of experience with high-risk businesses. A closer look at CCbill's policies, however, reveals that the company specifically excludes most of the industries/items typically classified as high-risk: firearms, prescription drugs, medical devices, some software applications, certain offensive materials (as defined in the agreement), and more. The most obvious high-risk category that CCBill accepts relates to adult-oriented goods and services, and wording elsewhere on the CCBill website suggests that this is indeed the focus of its high-risk business.
Dating: CCBill has served the dating industry for over ten years and understands the industry's unique needs. The company's payment services can work from any device so that a service provider can manage different tiers of customers, from free-to-join to VIP payments.
Live Cams: CCBill understands that live cam operators want to keep viewers wanting more, and this means giving them a seamless way to pay for more time. CCBill has tools to give buyers a broad range of global payment options when paying for tokens, direct, subscription, or social broadcast access.
Fraud Protection: CCBill specializes in serving high-risk industries, so it's used to seeing a lot of different types of fraud from customers. At no extra charge, the company provides fraud protection for its merchants to minimize chargebacks. CCBill uses a proprietary database with more than ten years of historical information and trained staff to spot unusual purchasing patterns or suspicious activity. Dubious transactions can be flagged for review or even automatically rejected.
Subscription Billing
Since CCBill's high-risk clientele have fairly specific needs, the company offers services that can make it easier for adult businesses and entertainers to implement their preferred payment models.
Services include the following:
Subscription-Based Services: CCBill provides a portfolio of software features that are especially suited for subscription-based services. The software is optimized for recurring billing so that a merchant can offer variable and flexible pricing to its customers.
Subscription Retail: Leveraging its recurring billing software, CCBill also markets its services to the subscription retail industry. Customers can buy either one-time or recurring product refills, boxes, or upgrades.
Billing Solutions: With CCBill, you can set your billing preferences and let the software do the rest. You can send out electronic invoices, either as a one-time purchase/service or as a part of a subscription. The invoice will appear in the consumer's preferred currency. You can also accept online donations through the billing software if you're a nonprofit. There's an automated "one-click upgrade" feature that allows you to upsell and cross-sell goods or services to your existing or returning customers. For instance, for dating and online live entertainment websites, users can purchase additional access, content, or premium memberships without leaving the application.
Member Management: Like fraud protection, CCBill offers its member management analytics at no extra charge. The software allows merchants to export consumer transaction reports, analyze and better understand customers' purchasing habits, and determine possible pricing, rebill, or upgrade opportunities. You can access the management feature through the CCBill Admin Portal.
Developer Tools: CCBill offers several payment-processing APIs to customize a website's payment experience. If you need support for recurring (or subscription-based) billing, it also provides a Subscription Management System to automate and customize it for you.
Streaming Media: CCBill uses its FlexForms software to help merchants create fast payment options for streaming media businesses. For instance, just before going live with a video, a merchant can customize the checkout process, payment forms, and other settings specific to that live webcast.
Billing & Invoicing: The company offers a fully-featured automated recurring billing and invoicing system for merchants who need it. Active reporting gives you a detailed and interactive look at your customers' activity and subscription status. You also get global billing, which uses geo-targeted smart forms, multiple currency options, and regional pricing capabilities to support customers worldwide.
Fees & Rates
Even the best high-risk providers usually don't disclose specific rates and fees on their websites. That's because they work with multiple back-end processors to find one that will accept your business. There is so much variability in rates and fees that it's not practical to advertise specific numbers. CCBill is unique in this regard, as it does disclose its most common rates on its website. Be aware that these are probably the lowest rates available — you might very well end up paying more.
CCBill advertises three standard flat-rate plans, each designed for a particular type of business. There's also an option for customized pricing available to high-volume businesses and features either customized flat-rate or interchange-plus pricing. Here are the highlights of the standard plans:
| Plan | Processing Costs | Requirements |
| --- | --- | --- |
| Standard Pricing | 3.9% + $0.55, 2% fee w/recurring transactions | Must not be categorized as high-risk |
| High-risk Pricing | 5.9% + $0.55 | High-risk business, no adult-oriented businesses |
| Adult Pricing | 10.8% to 14.5%, annual fee $1,000 | Adult-oriented business, including live cams |
| Donate | 3.9% + $0.55 | 501(c)(3) organizations |
| Direct | 5.9% + $0.55 (debit cards only) | No restrictions |
CCBill does not charge an account setup fee or monthly account fees for any of these plans. There is no monthly minimum or weekly minimum requirement. However, depending on your plan, there's a minimum transaction size starting from $2.95. The Adult plan comes with a hefty annual fee, but on the bright side, there's no fee for chargebacks or refunds.
There's no cross-border fee for any of the plans.
You can find more details about pricing on the Pricing and Fees page on CCBill's website.
Sales & Advertising Transparency
Almost uniquely among high-risk processors, CCBill has a very transparent website. The site features reasonably transparent disclosures, especially regarding various CCBill charges.
The company doesn't appear to use independent sales agents to sell CCBill accounts. Instead, it seems to rely on an in-house sales team. We prefer to see this because in-house agents are generally much better trained and supervised than independent ones. We haven't found any complaints from merchants about the company's sales practices, so you can expect that your agent will be both helpful and honest when working with you.
As a tech-focused company, CCBill has a broad social media presence, with accounts on Facebook, Twitter, LinkedIn, and YouTube. While the content is essentially the same on all these platforms, it's frequently updated and offers quite a bit of useful information for both prospective and existing clients. The company's YouTube channel features a few educational videos for its FlexChat platform.
Contract Length & Early Termination Fee
It takes a little digging, but CCBill does disclose its Terms and Conditions (T&C) and Merchant Acceptable Use Policy (AUP) on its website. Other places on the website refer to a signup package, so be aware that, depending on the wording, the package could modify the T&C or the AUP. We recommend that you always read a merchant agreement carefully before you sign up.
Section 7 of the T&C states that either CCBill or you may cancel the agreement at any time with a 10-day written notice. The company is pretty strict about the written part, so be sure to follow precisely the process outlined in the agreement. If CCBill feels you've broken the terms of the T&C or violated the AUP, it also may either give you a chance to correct the issue or terminate the agreement immediately.
If you cancel the agreement, you must not use the same acquirers or service providers CCBill uses to process your payments for one year. CCBill will also hold your reserve fund and any of your other funds CCBill has on hand for six months to cover any late-filed chargebacks. Neither the T&C nor the AUP mentions an early termination fee.
We rate this section excellent mainly because the CCBill agreement can be terminated at any time by either side and because there's no early termination fee in its contracts.
Customer Service & Technical Support
CCBill offers genuine 24/7/365 customer support via telephone, email, and online chat. Again, a lack of complaints from merchants about this area suggests that the support provided is of high quality.
For self-help, the company also offers its CCBill Merchant Support and CCBill Knowledgebase, as well as the aforementioned pricing page where you can look up CCbill charges. These are valuable resources and should be your first stop if you need to troubleshoot a problem. While they won't solve every issue, they provide clear instructions for solving common problems and might save you from having to contact customer support.
CCBill.com Reviews, Complaints, & Common Problems
Negative CCBill Reviews & Complaints
CCBill has been accredited by the BBB since 2014 and currently has an A+ rating. The company has had 34 complaints filed within the last three years, with 19 of those complaints filed within the previous twelve months. Its BBB profile also includes 71 reviews filed by consumers, with an average of 1.11 out of 5 stars. Many of these complaints come from the consumer, not the merchant side of things, however.
For a company of CCBill's size, this is actually a relatively average number of complaints, although the volume of recent complaints could be cause for concern. Complaints include:
Account Cancellation Issues: A few OnlyFans content creators have complained about being billed after they thought they closed their accounts.
Customer Service Complaints: While the quality of customer service appears to be good overall, a number of complaints involve unsatisfactory customer service.
Billing Issues: Some complaints involve OnlyFans users who say they were billed by CCBill without signing up for an account. This is likely a problem on the eCommerce end of the service rather than payment processing.
Positive CCBill Reviews & Testimonials
Despite all the complaints from consumers that have been misdirected at CCBill, the company does earn a couple of positive reviews on the BBB's website and on Trustpilot. Here are some of the things merchants liked about CCBill.
International Support: With no cross-border fees, CCBill makes it easy to do business internationally.
Responsive Customer Service: Some users claim their issues were taken care of quickly and painlessly.
Transparency: There aren't too many surprises with CCBill as far as policy goes.
Have you had any experience with CCBill (as a merchant, not a consumer)? If so, please tell us about it in the Comments section below.
Final Verdict On CCBill
CCBill stands out from its high-risk competitors by offering transparent pricing and very flexible contract terms. Upfront rate disclosures are almost unheard of among high-risk specialists, so we're very impressed with the company for letting you know ahead of time what you can expect to pay. On the other hand, its rates are very high, especially its low-risk and nonprofit pricing. Indeed, it would be hard to recommend CCBill to low-risk businesses based on the company's standard processing rates alone.
We do, however, recommend CCBill as a good merchant account provider for high-risk eCommerce merchants, particularly those in the business categories that the company specializes in serving. Adult-oriented businesses don't get a whole lot of love in the payment processing department. That they have the option of using a processor as transparent as CCBill is borderline shocking.
CCBill earns a commendable overall score of 4.5 out of 5 stars. We like the transparent processing rates, lack of long-term contracts or early termination fees, lack of monthly account fees, and honest sales practices. We're also impressed by the general lack of negative feedback from merchants (customers are, of course, another matter). We'd be more impressed, though, if the processing rates weren't so high.
If you're a high-risk eCommerce merchant, be sure to check it out! You might also want to check out our top-rated high-risk providers.
---
Our Top Pick To Get Your Merchant Account Approved
PaymentCloud


---
PaymentCloud has an excellent track record for both service quality and account approvals. Start your application.
Our Top Pick To Get Your Merchant Account Approved
PaymentCloud


---
PaymentCloud has an excellent track record for both service quality and account approvals. Start your application.
To learn more about how we score our reviews, see our
Credit Card Processor Rating Criteria
.