NCR Silver Pro Restaurant Edition Review
UPDATED
Advertiser Disclosure: Our unbiased reviews and content are supported in part by
affiliate partnerships
, and we adhere to strict
guidelines
to preserve editorial integrity.
Pros
Strong customer service
Take-out and delivery functions
Built for mobility
Cons
Lack of integrations
Not compatible with certain hardware
NCR Silver Pro Restaurant Edition Overview
NCR is a Georgia-based fortune 500 company that has been around for over 130 years. Currently, NCR's products are used to make nearly 650 million transactions every day.
Though known best for its retail-oriented POS system, NCR Silver, the company recently introduced the NCR Silver Pro Restaurant Edition. It's every bit as impressive as you would expect, coming from a company that's almost old enough to have the seen the invention of the telephone.
NCR Silver Pro boasts incredible round the clock customer service and an intuitive design. But I am most impressed by the way everything within the system is thought-out and engineered for the specific needs of a food service business. This software is made, above all else, with efficiency in mind. Its designers seemed to have constantly been asking themselves one question: how can we save users time? Efficiency is not the only selling point, though. NCR Silver Pro is loaded with robust features that give small to mid-sized foodservice businesses everything needed to grow.
Don't have time to read an entire review? Take a look at our top rated Point of Sale solutions for a few quick recommendations. Every option we present here offers excellent customer support, detailed user interfaces, and easy-to-use software, all for a reasonable price.
Pricing
Pricing starts at $149 per month for one terminal at one location. Each additional terminal costs $50 per month. This price includes unlimited users and unlimited inventory items.
Unfortunately, there is no trial available for NCR Silver Pro Restaurant Edition, but sales representatives will be happy to take you through a free live demo.
Cloud-Based or Locally-Installed
Cloud-based. You'll need to download the NCR Pro app to your iPad. After downloading it, you will have complete access to NCR's cloud-based POS.
Specific Industry
Foodservice. NCR Pro is designed for both quick-service and full-service establishments.
Specific Size of Business
This POS works best with small to medium-sized foodservice restaurants.
Hardware & Operating System Requirements
NCR Pro only runs on iPad 2 (or any newer iPad model). It will not run on iPhone or iPod Touch.
If the Apple-verse is not your cup of tea, there may be good news. NCR claims that it plans to release an Android-compatible version later this year.
Magnetic Swipe Readers (MSR's)
NCR Pro Restaurant Edition is only compatible with two MSRs: the Magtek iDynamo MSR with Silver encryption (for EMV transactions) and the Miura 010 device with CreditCall key injection (for non-EMV transactions).
Printers
NCR Pro is compatible with several different printers. The Bixolon SRP-350 (thermal), SRP-310 (thermal), SRP-275 (impact) and R200 (mobile/belt) are supported. Epson TM series thermal and impact printers that are outfitted with an Ethernet interface card are also supported.
Cash Drawers
NCR only officially supports the cash drawer that it sells. (It is priced at $109 and can be found here.) However, the company also claims that, typically, the POS will support any 24v printer-driven drawer.
Currently, and for a limited time only, NCR Silver is offering new customers free iPad or discounted Android hardware bundles. This promotion expires on August 31st, 2017.
Ease of Use
I had no direct experience with NCR Silver Pro; as I mentioned above, the company does not allow for free trials of the software. However, based on previous experiences with the retail version of NCR Silver and live demos of the Restaurant Edition, the software seems extremely user-friendly. A centralized menu management tab gives you full control of your items and pricing. From here you can also add discounts or promotions and maintain event schedules. Event schedules simplify the process of discounting items on a regular or scheduled basis. For example, if you want to discount beverages or appetizers at a certain time of the day, you can easily manage that here. This saves you the hassle of manually discounting each item from the menu every time you offer a promotion or discounted day. Bring on Happy Hour!
Pro also lets you register an unlimited number of customers to your database. You can save a customer's contact information and assign each customer a group or category. The group(s) to which you assign people is determined by you; the goal here is to help you target specific customers in large quantities. The POS will also save a customer's sales history.
The system configuration tab, located in NCR Silver Pro's back office, also simplifies administrative actions. The tab allows you to customize receipt details, enter in tax rates, choose specific tender used, and edit employees' user roles and pay rates.
Features
NCR Pro has two modes: table service and quick service. The table service and quick service modes differ in that the table service mode has added features. I have indicated which features are exclusive to the table service mode below.
Floor plan: Pro's ability to create and customize a floor plan is specifically designed for restaurant use and it is available on the table service mode. You can create an on-screen floor plan that mimics the seating arrangement of your restaurant's floor plan. Each table on your on-screen floor plan is then color coded according to availability. When numbering tables, table numbers can be both numerical and alphanumeric. Additionally, each on-screen table will display the amount of time a customer has occupied it. As an added feature, the on-screen floor plan allows you to place representations of objects that correspond to actual objects in your floor plan. This is done to help users orient themselves to the on-screen floor-plan.
You can see an example of what the on-screen floor plan looks like below.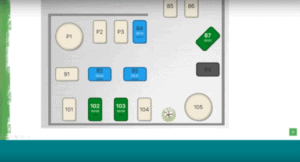 Split Checks: Checks can be split in two different ways. When in table service mode, checks can be split by seat. For example, a check for a table of four people can be split to reflect the items each customer, or "seat," individually orders. The split can also combine two or more seats. So, for example, a party of four that includes one couple can become a three-way split, assuming the other two people are paying for themselves. The second way checks can be split is by any given fraction. A check can be split in half, in thirds, in fourths, etc. Each member of the table will then be given the same split total.
Modifiers: When a menu item is ordered, NCR Silver Pro allows you or the server to modify it based on the customer's preferences. There are two types of modifiers: forced and optional. Forced modifiers must be selected when an item is ordered. For example, when ordering an item such as a hamburger, a forced modifier is triggered regarding how the hamburger is to be prepared. The customer must designate how they want the hamburger cooked (medium-rare, medium-well, etc.). Optional modifiers are simply additional components of the meal. Using our hamburger example, ketchup, onion, cheese and pickles could fall into this category. When it comes to optional modifiers, there are essentially unlimited choices. There is also a notes feature for special requests from customers. To make things easier, the POS actually learns from the notes feature and adapts to it. If a special request is made frequently, Pro will automatically add it in as one of your modifiers.
You can see an example of modifiers below.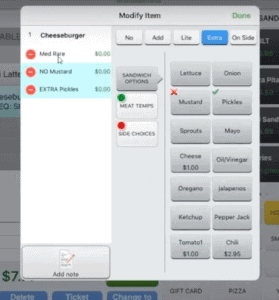 Takeout and Delivery: Takeout and delivery features are available with both the quick-service and table service modes. NCR Silver Pro automatically sorts all pending takeout and delivery orders by the time a customer would like the order to be ready. (This is called the target time.) Pro will also remember previous customers by name and phone number and has built-in caller identification. After recording a customer's order, a "make" ticket is sent to the kitchen which includes the customer's name, order, target time, and address (for delivery).
On-Screen Signature: On-screen signatures are available on both quick service and table service modes. To use this feature, you turn or present the iPad's interface to the customer at the time of payment. The customer will first be given the option to leave a tip. The tip is customizable and is set as either a percentage or a fixed amount. In either case, the customer will also have the option to enter in any amount they choose. Additionally, there is a field in which the customer can enter an email address if they want to receive an automatic electronic receipt. Before they sign the iPad's touch interface, the total bill, including the customer's chosen tip amount, is displayed.
Reporting: Pro reports daily sales reports, hourly trends, product mix, cash management, and tax and tip reports. All data can be exported to Excel, CSV, RTF, and PDF. As you can see below, the dashboard reports daily total net sales and daily total net transactions. These totals are provided by the minute.Your daily total sales and transactions are also compared to the previous day and the corresponding day of the previous week. They are then given a percentage-based comparison. Lastly, the dashboard will alert you to any unusual sales activity. When viewing past sales reports, you can enter in an exact date or date range that you would like to see sales history for. Sales can also be viewed by item category. Your item sales will display the price you're selling your items for, the quantity sold, and the average price. NCR Silver Pro also displays a payroll report or employee labor shift report, as it is called. The employee labor shift report displays employee labor by any date or date range of your choosing, as well as the employee's job code, time in/time out, total hours worked, total pay, and declared tips.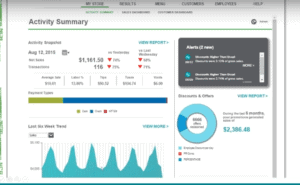 Loyalty Program: Pro offers punch-based and dollar-based loyalty programs. With the punch-based program, you select the number of punches a customer needs for a reward and the minimum purchase required to receive a punch. The reward is then a percentage (of your choosing) off of a purchase. You can also set an expiration date and enter the minimum purchase a customer must make in order to use the reward. The dollar-based loyalty program follows the same formula. You can see an example of the punch-based loyalty program in the picture below.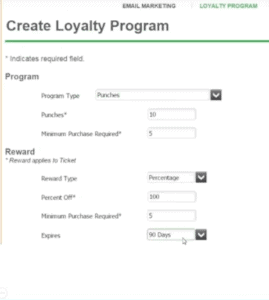 Marketing: Pro comes equipped with three default email-based marketing campaigns. When sending out a marketing email you can upload an image of your business, type in a custom message, and enter an incentive or coupon of your choosing. The first marketing email is a welcome email. When a customer is initially added, they receive an automatic email which can contain a discount or reward (if you would like to provide an incentive for the customer to return). The second marketing tool is the "miss you email." If a customer has not returned after 30 or 60 days (whichever you choose), Pro can send out an automatic marketing email to them. The last marketing tool is the bulk email. Bulk emails are meant to reach as many of your customers as possible but you can also focus on specific groups of customers with a targeted approach. This is made possible by Pro's ability to assign customers to categories of your choosing. For example, you may choose to group certain customers into a "club" category. The bulk email could then be sent out only to every customer in the "club" category. As a way to measure the success of each marketing campaign, Pro's customer dashboard calculates how many of the customers who were sent an email returned with the coupon or incentive. The customer dashboard will then provide you with the total revenue generated from each specific marketing campaign after the coupon's discount has been applied.
Integrations & Add-Ons
NCR Silver Pro integrates with the following:
CTUIT
Syrus
Takeout Technologies (Online ordering)
Paytronix (Gift and Loyalty)
Powercard (Loyalty)
Punchh (Loyalty)
LoyalTree (Loyalty)
Synergy World (Gift and Loyalty)
Payment Processing
NCR Pro supports the following payment processors:
Aloha Stored Value (gift card only)
Chase Paymentech – Tampa (credit card and gift card)
Chockstone (gift card only)
Elavon Encompass aka NOVA (credit card only)
First Data – GIFT aka ValueLink/FDMS Gift (gift card only)
First Data – North aka Cardnet (credit card only)
First Data – Omaha aka ETC+ (credit card only)
First Data South – aka Nabanco (credit card only)
Givex – Giftcard (gift card only)
Global Payments – East aka Atlanta/NDC (credit card only)
Heartland Payment Systems (credit card only)
Mercury Payment Systems (credit card and gift card)
RBS Worldpay aka Lynk Systems [Visa2] (credit card and gift card)
Stored Value Systems – Giftcard (gift card only)
TSYS aka Vital/VisaNet (credit card only)
Valuetec – Giftcard (gift card only)
Vanitiv fka Fifth Third Bank [510] (credit card only)
Vantiv fka Fifth Third Bank[610] (credit card and gift card)
EMV Payment Processing:
Customer Service & Support
NCR Silver Pro comes with excellent customer service and support. The subscription includes 24/7 customer service via email, phone, chat or text message. I tested out the chat feature and received a detailed answer to my question within minutes. There is also an online knowledge base located in the "help" tab of Pro's back office. The knowledge base covers most aspects of general use.
NCR also provides what it calls a concierge service. The concierge service is available at all locations and ensures that you don't pay for any additional set-up fees. It also provides you with system training and helps with menu configuration.
For additional support, explanatory videos on NCR's YouTube channel can be found here. Facebook and Twitter accounts are also updated regularly with helpful tips.
For even more tips, The Sidewalk is a blog run by NCR which features helpful posts for small businesses.
Negatives Reviews & Complaints
Negative reviews are more difficult to come by than positive reviews. However, some have suggested that Pro could improve on its inventory management capabilities. And I would also like to see improvements to the following:
Free trial: While Pro does offer a free demo and plenty of online information, there is no substitute for a free trial. A POS is an investment that costs both time and money; I would like to see a better method for business owners to purchase with complete confidence.
Integrations: Pro integrates with a relatively small number of third-party vendors.
Hardware compatibility: Compatibility with MSR's, printers, and cash drawers is somewhat limited. Although this is by no means a major concern, increased hardware compatibility would be preferable.
Positive Reviews & Testimonials
Customer feedback and satisfaction is mostly positive. In general, here are some qualities NCR Silver Pro's users are raving about:
Excellent customer service
Built-in marketing
Ease of use
Security
NCR Pro allows you to set employee access codes for each individual employee and restrict their actions within the software. You do this by setting up your business's "user roles." User roles are the job titles each employee is given. Using "user roles," you can set restrictions on the actions each user (cook, server, host, etc.) is able to perform. Accordingly, when you assign an employee a user role, he or she will only be able to operate within his or her respective prerogative. You can see a picture of exactly what I mean below.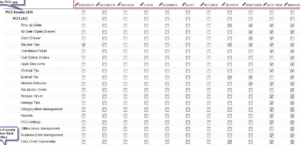 There are also restrictions that can be placed on employees with access to Pro's back office, For these employees, access is divided into seven sections: MyStore, Results, Menu Customers, Employees, Setting, Help, and Account Information. You, as the manager, can then decide which sections you would like employees to have access to.
To protect its users' data, NCR Pro uses NCR DataGuard.
Final Verdict
NCR is a massive company and a leader in the POS world. With NCR Silver Pro Restaurant Edition, you have access to a brand that delivers on its promises and provides some of the best, most time-tested software available. Pro users can expect restaurant-specific features designed to maximize efficiency and minimize error, excellent customer service, and a long list of supported payment processors.
Large businesses may not find a viable solution here, but NCR Silver Pro intentionally markets itself towards small to medium-sized businesses anyways. I would caution new or very small business owners to look very carefully at Pro before making any purchases. This POS's price tag is substantial; unless you feel certain you will be able to take advantage of its many features and capabilities, it may be more prudent to opt for something else. That being said, NCR Silver Pro Restaurant Edition is, overall, an excellent software solution that can help restaurants thrive.
---
We've done in-depth testing of each and confidently recommend them.
We've done in-depth testing of each and confidently recommend them.
To learn more about how we score our reviews, see our
Point Of Sale (POS) Software Rating Criteria
.