Square Inventory Review
Square users will find this free inventory tool a useful addition to Square's payment processing and POS services.
Expert Analyst & Reviewer

UPDATED
Advertiser Disclosure: Our unbiased reviews and content are supported in part by
affiliate partnerships
, and we adhere to strict
guidelines
to preserve editorial integrity.
Pros
Highly affordable
Easy set-up
Can accept thousands of items
Cons
Features not very robust
No 24/7 customer service
Square Inventory Overview
Square has emerged as a true giant in the industry, staking its reputation on affordability (you can start using Square and many of its basic features for free) and user-friendliness. Square takes a lot of the guesswork out of the hands of its users as well, utilizing its own processing platform that is both affordable and extremely simple to understand, a tradition it continues with Square Inventory.
Very few, if any, free POS offerings will give you inventory features as easy to use or as robust as Square delivers. Its trademark functionality makes Square breeze to set up and use but, if your business has extensive or complicated inventory needs, you may need to spring for something a little more advanced.
Pricing
Free is a very good price. While Square can nickel and dime you a bit with some of its functions, inventory management does not fall under this category. Once you set up your free account, you have instant access to Square's inventory tools and can start creating or importing your items.
Ease Of Use
Setting up Square's inventory is simple. If you're a new business or switching over from another POS, you can immediately access the back office and import thousands of products with CSV files. You can then export your stock levels to spreadsheets which can be printed. Editing items is also simple and can help you customize items, which is particularly useful in the quick-service food industry. You can add or change the names of products with a click, as well as make quick pricing changes.
Creating your own modifiers is also quick and painless, easily helping your employees through screens to make sure customers are getting exactly what they want.
Pretty much everything within the inventory management function is intuitive. You can check out your purchasing history and choose to update product alerts either individually or in bulk. The feature set is also pretty convenient if you operate in multiple locations and can be tracked by each individual store. I've always liked Square's no-frills interface, particularly for its back office. You can customize the look by adding pictures of inventory but, when it comes to simply trying to digest things like stock levels, Square does a nice job keeping things basic without distractions.
Features
Manage Stock: Adjust your stock levels with a few clicks and edit the reason to help with future counts. Quickly type things like "re-count" "theft" or "return" and make sure your stock levels are accurate and up to date.
Stock Alerts: Square easily shows you when an item is running low. From your dashboard, you can view alerts when you have enabled that feature. You can also elect to receive e-mails to the address you have set up with Square.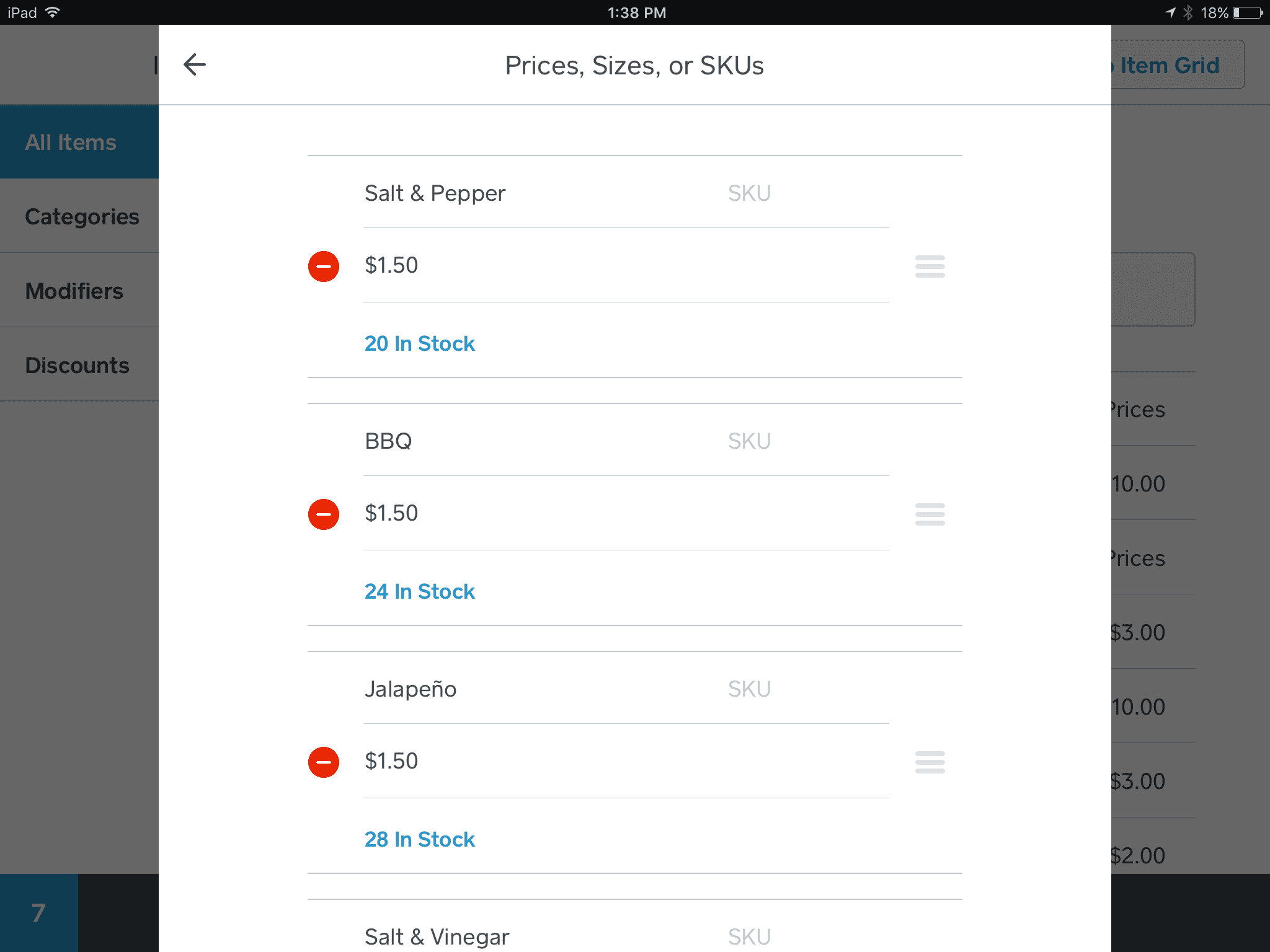 Mobile Access: You can log in from any mobile device with internet access and make adjustments in real-time using Square's convenient Dashboard.
Edit Items: Square's inventory is designed for speed. Changes can be made intuitively by clicking on a particular item and adjusting the name of the product, quantities, or pricing changes either from the Dashboard or the app.
Modifiers: Customize any product by adding optional or forced modifiers. When the item is selected, the employee or customer can be easily walked through additional options, making sure they get exactly what they need.
Additional Integrations: Square also integrates with Shopventory and Stitch Labs, giving customers additional choices for inventory management. Square is very aware of its free version's limitations and suggests that clients needing more advanced features sign up for Square for Retail. Square also has an open API for those wishing to develop their own integrations.
Customer Service & Support
Square offers live support from 6 AM to 6 PM (with a customer code). This can be an issue if you need immediate assistance outside of those hours. Fortunately, there is email support available and Square does have an impressive customer support page where you can troubleshoot some basic questions; there are dozens of articles on various topics if you have time to do some research. Square also has one of the best community forums I've seen where you can look up various topics.
Once you do get in touch with a live person, Square's support is friendly and very knowledgeable. They are happy to walk you through any issues you're having and are committed to making sure that your problems are completely resolved. Square keeps up a current blog and is fairly active on its social media accounts like Facebook, Twitter, and Instagram. Its YouTube channel also has some valuable information, plus walkthroughs and tutorials.
Negative Reviews & Complaints
Features Lacking: Multiple reviews note that Square is not particularly robust in its free offering. Although it can feature thousands of items, tracking them can be a bit unwieldy.
Fund Holds: A large number of complaints to the Better Business Bureau revolve around Square placing immediate holds on funds when it deems a suspicious transaction has occurred. These holds can come without notice and can take a while to resolve, causing understandable frustration for vendors
Limited Customer Service: Square only offers live customer support from 6 AM to 6 PM, Pacific Time, which can mean that important issues that crop up outside of this window are difficult to resolve.
Positive Reviews & Testimonials
Low Cost & Simple Pricing: Business owners appreciate how much you get from an affordable package and a few commented on how easy it is to predict your costs.
Integrations: Customers like having access to the impressive Square App Marketplace and appreciated that add-ons were at a minimum.
Modern Design: Reviewers comment on the sleek look of Square POS and its easy-to-read display for both employees and customers.
There are also a few testimonials on Square's website specific to its inventory management.
Final Verdict
Square's basic inventory is similar to its overall POS platform in that it's simple but still highly intuitive and — for the cost of absolutely nothing — a bargain. It will likely not suit the needs of your multi-location mega-store, but the chances are, a larger, complicated business is not looking into Square POS in the first place.
For a small retail store or quick-service restaurant, Square's inventory is on par with some systems you'd have to pay for upfront. And the nice thing about Square is, if you fall in love with the interface or with the processor and find that your business has expanded to the point where the free app's inventory management or reporting mechanisms are no longer meeting your needs, there are options to graduate to Square for Retail or Square for Restaurants.
---
The Merchant Maverick Seal of Approval 🏆
Square Inventory


---
After hours of in-depth research and evaluation, we can confidently recommend this brand to our readers. Get started today and see Square Inventory for yourself.
The Merchant Maverick Seal of Approval 🏆
Square Inventory


---
After hours of in-depth research and evaluation, we can confidently recommend this brand to our readers. Get started today and see Square Inventory for yourself.
To learn more about how we score our reviews, see our
Inventory Software Rating Criteria
.