Square Invoices Review
If you already use Square to process payments, adding Square Invoices should be a no-brainer. This free solution is baked right into the Square ecosystem.
Expert Analyst & Reviewer

UPDATED
Advertiser Disclosure: Our unbiased reviews and content are supported in part by
affiliate partnerships
, and we adhere to strict
guidelines
to preserve editorial integrity.
Square Invoices

Pros
No monthly fees
Easy to use
Excellent mobile apps
Impressive feature-set
Numerous integrations
Cons
Overview
You probably know Square for its payment processing, but did you know that Square also offers invoicing services? If you're looking for easy-to-use invoicing software, Square Invoices has you covered. Even better? There's no Square invoice fee — Square Invoices lets you send professional invoices to your customers for free.
Square Invoices was added to Square back in 2014. This app is a bit different from the typical invoicing software systems we review in that it isn't a completely separate program. Square Invoices is one of many features directly built into the Square ecosystem. When you create a Square Invoices account, you gain access to the entire Square Dashboard, where you'll find invoicing, sales tracking, contact management, and more.
It also differs from typical invoicing software in that you won't find features such as project management, making it difficult for service-based businesses to use the software. The software offers no multicurrency support and limited sales tax functionality as well.
What Square does offer you simply won't find in other invoicing solutions. For some businesses, this may completely outweigh the software's faults. Considering that payment processing is what Square does best, this software is a great option for small businesses looking for quick billing, online payment processing, detailed sales analytics, a free point of sale app, and advanced inventory.
Continue reading to see if Square Invoices is right for your business.
Square Invoices Pricing
As we mentioned earlier, when you sign up for a free Square Invoices account, you're actually signing up for a free Square account with access to the Square Dashboard (which is where you'll find the invoicing feature). A Square account is completely free, but you will have to pay if you accept online invoice payments.
Square's payment processing fees are 2.9% +$0.30 per invoice or 3.5% + $0.15 to charge a card on file. The Square Invoice fee is the same for all card types, and there is no charge for customers who pay invoices via cash or check.
You can cancel your Square account at any time. There is also a generous referral program where you can gain up to $1,000 in free processing. Contact Square to learn more.
Square
No monthly cost
2.9% + $0.30/per invoice
ACH payments: 1% per transaction (minimum fee of $1 per transaction)
Square dashboard
Invoicing
Recurring invoices
Estimates
Sales tracking
Contact management
Basic employee management
Appointments
Point of sale (POS) app
eGift cards
Loyalty program
14 reports
Extra Square Services
In addition to the features built-in to your free Square account, you can also purchase these Square add-ons.
Square Card: Tired of waiting for your hard-earned money to process? Square offers Square Card, a business debit card that you can use to "get real-time access to your Square balance." You can use this card anywhere that accepts Mastercard.
Square Capital: Square offers business financing to qualifying small businesses. Read our complete Square Capital review to learn more.
Square Team Management: Square already comes with basic Team Management, but to add advanced user permissions and analytics, you'll need to purchase Square Team Management Plus. This service costs $35/month per location.
Square Payroll: You can add Square Payroll for contractors for $5/month per contractor. Square Payroll for W-2 employees costs $29/month plus $5/month per employee. Contact Square for more details regarding each payroll option.
Square Appointments: Your free Square account comes with an appointments feature for you, the individual owner. Adding appointments for your team starts at $50/month. Read our full Square Appointments review to learn more.
Square Marketing: Square Marketing is an incredibly cool service that allows you to create email campaigns, newsletters, event invitations, group discounts, birthday rewards, and more. Square Marketing starts at $15/month for 500 customers.
Square For Restaurants: Square for Restaurants is an advanced restaurant-specific POS solution with multiple location management, menu support, coursing, and more. This service starts at $60/month plus 2.6% + $0.10/per swiped, dipped, or tapped transaction.
Square For Retail: Square for Retail is an advanced POS solution with advanced inventory, custom label printing, and more. This service starts at $60/month plus 2.5% + $0.10/per swiped, dipped, or tapped transaction. Read our full Square for Retail review to learn more.
Square Hardware: Square also sells card hardware, such as mobile card readers, registers, and stands, which are the products that made this company in the first place. Visit Square's website for product information and pricing details.
Cloud-Based Or Locally-Installed
Square Invoices is cloud-based, so no downloads or installation is required.
Hardware & Software Requirements
As cloud-based software, Square Invoices works with nearly any device so long as you have an internet connection. There is a Square Invoices app for both Apple products (iOS 11.0+) and Androids (5.0+) so that you can send invoices and estimates on the go.
You can also send and track invoices using the Square Point of Sale app. If you manage your invoices through the Square POS app, you'll need an Apple device with iOS 11.0+. Android users can use the Square Point of Sale app as well, but the support varies by device.
Specific Size Of Business
Square Invoices is ideal for small to medium businesses looking for an easy-to-use payment processing and invoicing solution. The software is ideal for product-based businesses; it does not offer the invoicing capabilities or additional features needed to run a successful service-based or project-based business.
Square has a high-risk industry list and prohibits certain transactions. The company will close your account if it deems you high-risk, so be sure your industry is accepted before creating an account. Also, note that Square is not ideal for users with large processing amounts, which is why we recommend it only for small to medium-sized businesses. If you need to process larger payments and invoice customers, we recommend checking out Fattmerchant Virtual Terminal instead.
Square offers location management and basic user permissions for employees (and you can have even more control over user access with the Square Team Management Plus add-on).
Ease Of Use
While it can be confusing to learn everything that Square is capable of, actually using the software is a piece of cake. The UI is modern and well-organized, and the features are intuitive and easy to navigate. There's a Getting Started dashboard to help you get up and running, and there's a built-in help center if you need any additional assistance along the way.
Features
Square Invoices offers an incredible number of features. While you won't find all of the typical things we usually see with invoicing software, Square has some unique additions that you won't find anywhere else. Here's an overview of what the software can do:
Dashboard: Once you finish setting up your account, you'll see a home dashboard that highlights your deposits, gross sales, payment methods, invoices, payroll, top items by sales, and more. You can customize your dashboard with 15 different widgets, so you can quickly see the information that is most important to your business.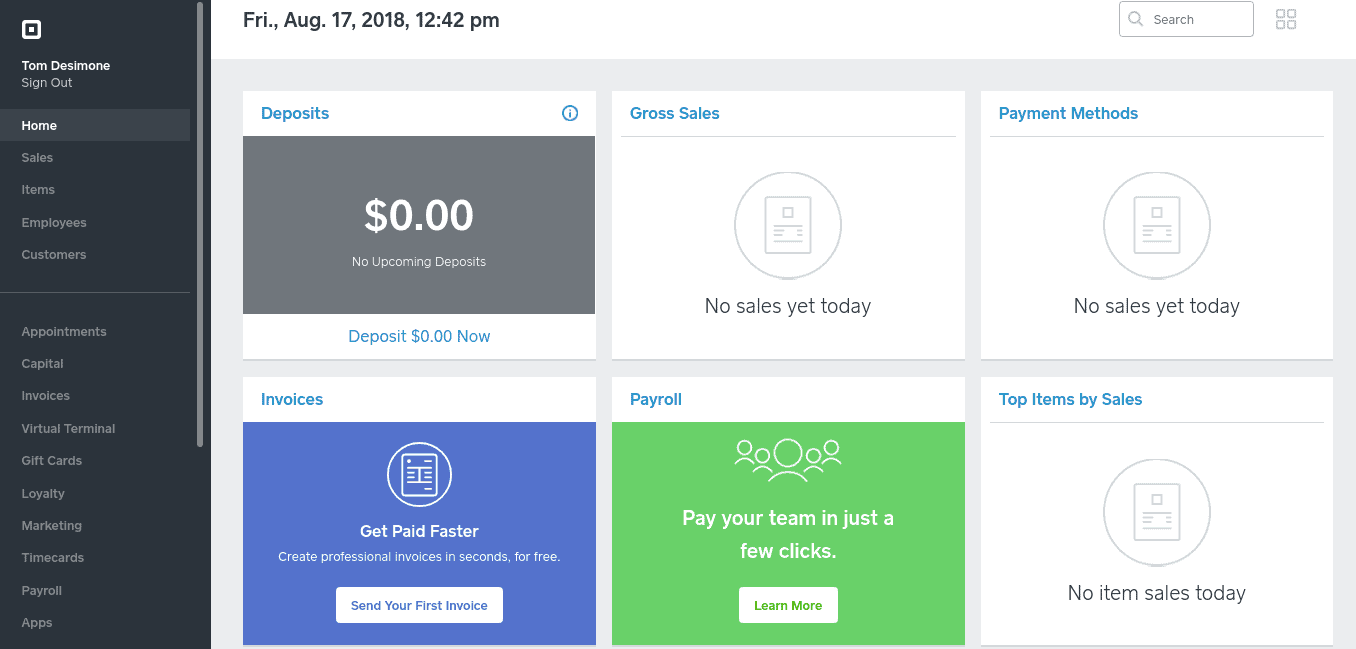 Invoicing: With Square, you can send invoices directly from the Square Dashboard or by using the POS app. Square offers a single invoice template with a customizable logo and color. I usually like to see more template options, but the provided invoice template is designed well. You can track invoices, send automatic invoice reminders, and add attachments, discounts, sales tax. There's even a spot for a tip. Square makes it easy to set recurring invoices or auto-schedule invoices in advance, and you can request partial payments upfront from customers as well.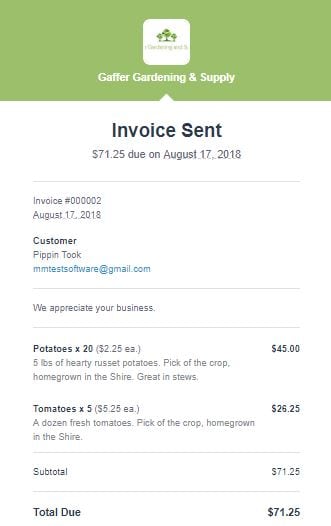 Estimates: You can create estimates in Square and easily convert them into invoices.
Client Portal: When you email invoices to your customers, they will have access to their own client portal, where they can pay the invoice directly online.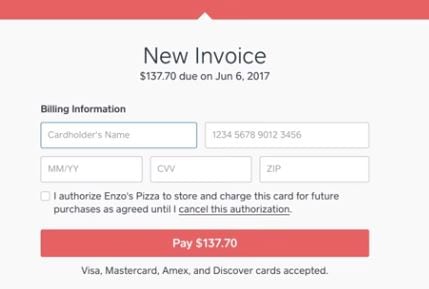 Contact Management: You can add and manage contacts in Square, or you can import contacts. You can save basic contact information as well as reference numbers, customer birthdays, and notes. Square comes with built-in customer insights that show you information, such as the number of visits from new vs. existing customers, visit frequency, customer satisfaction, and more. This sort of analytics doesn't exist with other invoicing software. Top that with the ability to ask customers for feedback and create contact groups, and this easily becomes one of my favorite features in Square Invoices.
Employee Management: There is basic employee management built-in to Square. You can add employees, record employee information, and set blanket user permissions. For more advanced features, such as timecards, advanced user permissions, analytics, and employee cash drawer management, you'll need to purchase the Square Team Management Plus add-on.
Sales Tracking: Square provides tons of insight and analytics regarding sales, where you can view sales trends, deposits, disputes, cash drawer balances, and more. You can also run sales reports and look at specific transactions. Square gives you control over your business's data by making it easy to filter the data and change the date range.
Payments: You can connect your Square account directly to your bank to quickly receive your customers' payments. Deposits into your account generally take one to two business days, although you can opt for same-day payments for an additional 1% charge. You can take invoice payments using the POS app, through your eCommerce site, or by emailing customers. There is also a Virtual Terminal where you can key in payments.
Inventory: Square has incredibly advanced inventory features with a beautiful UI. You can manually add or import items into Square. You can add basic inventory information, a photo, SKU, default sales tax rates, and variations. You can also create modifiers to make custom orders faster, develop a dining menu, monitor comps and voids, and create item categories. Square makes it simple to set low stock alerts and connect your inventory directly with your eCommerce platform.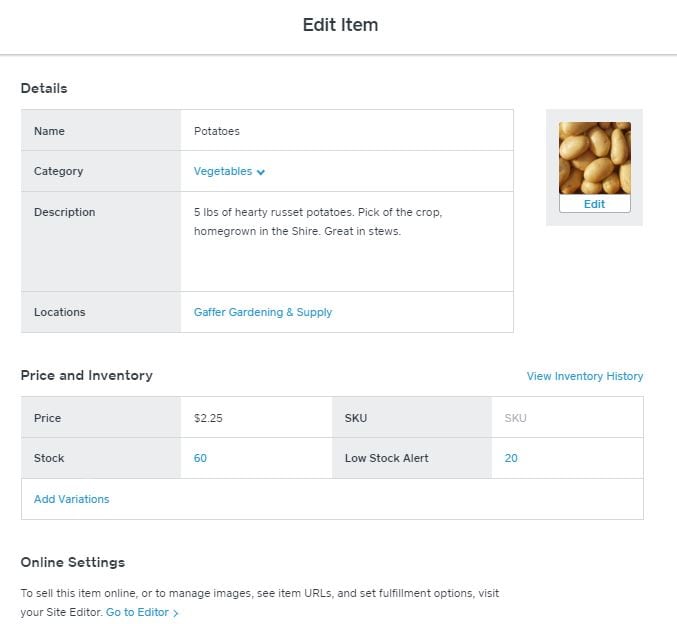 Reports: Square offers 14 sales reports. You can also create custom reports using the report builder.
Contracts: One of the coolest features that Square offers is the ability to create contracts and attach them directly to invoices. Square offers 12 contract templates that you can customize to fit your business's needs.
Receipts: You can easily create digital or printed receipts in Square.
Tax Forms & Support: Square offers 1099-K support.
Sales Tax: You can add sales tax in Square Invoices, although this ability could stand some improvement. You can only add sales tax to individual items rather than adding a rate to the entire invoice.
Importing/Exporting: You can import items and contacts into Square Invoices and export sales, contacts, custom reports, analytics, and items.
ACH Payments: You can now get paid without checks or a credit card. Set up ACH payment as an option in an invoice and customers are transferred to a secure portal when they choose that payment method, allowing them to directly log into their bank account. Funds are then available to you within 3-5 business days.
Square Invoices Customer Service & Support
Square offers several great support options, and representatives are incredibly nice. Phone wait times are generally short (and enjoyable so long as you like listening to the Beatles' "Here Comes The Sun"). The only weird part is that you must have a code to use support, which was a big issue in the Negative Reviews & Complaints section. Users whose accounts were closed complained that they couldn't reach customer support because they couldn't log in to their account to get the code.
The only other downside of Square support is that the in-software live chat is just a bot and the email and phone options are difficult to find. Luckily, Square gets it right with its help center and has tons of guides for using the software.
Here's a full list of what to expect from Square's customer support:
Phone: You can call Square for help. There's a call-back option if you don't want to wait on hold.
Email: Square does offer email support with responses varying from one to three days.
Help Center: Square's help center has tons of great how-to articles and a handy search bar to help you find what you're looking for.
Community: There's a Square community where you can ask questions of existing Square users and search old inquiries as well.
In-Software Help: From within the software, you can access the help center or live chat with a bot that can answer basic questions. The bot will direct you to a representative via phone or email if it can't answer your question.
Guides: Square offers several guides on accepting payments, managing your business, and more.
YouTube: Square has an expansive YouTube channel with over 7o tutorials.
Square Blog: Square maintains a blog with helpful business articles for small business owners.
Social Media: Square is active on Twitter, Facebook, and Instagram.
Square Invoices Reviews
Negative Reviews & Complaints
While many Square users report positive experiences, there's a startingly high number of negative complaints. There have been over 3,000 complaints in the last year with the BBB alone, and the service receives 2/5 stars on Consumer Affairs. While many of these complaints are regarding the Cash App specifically, and it's important to remember the role of negativity bias in such reviews, these complaints still shouldn't be taken lightly.
Here's are some of the recurring issues users experience:
Invoicing Difficulties: While many users like the ability to invoice their customers, there are a few areas where the feature could stand improvement. Users complain that you can't add new items from the invoices page, sales tax can't be added at the invoice level, and occasionally, emailed invoices end up in spam folders. Some users also call for more invoice designs and customizations.
Expensive: Several users find the transaction processing fee to be too high.
Canceled Accounts & Held Funds: One of the most common complaints is users reporting their funds being held and their accounts closed entirely. Some of these users ignored Square's prohibited transactions list, while others say their transaction was normal and legitimate. Once an account is closed, many users report being unable to get in touch with Square.
Positive Reviews & Testimonials
Despite the numerous negative complaints, there are a good number of positive customer reviews. Square Invoices receives 4.7/5 stars on GetApp (based on 66 ratings) and 4.7/5 stars on G2 Crowd (based on 46 ratings). Here are some of the things users love:
Good Invoicing: Customers appreciate Square Invoice's affordability and customizability. Users say the software helps them look professional and get paid faster. Users also appreciate the time-saving recurring invoice and invoice tracking features.
Easy To Use: By far, the primary praise of Square as a whole is that it's easy to use.
Mobility: Users also like the mobility that Square provides and the chance to send and track invoices on the go.
Square Invoices Integrations & Add-Ons
Square offers over 100 integrations covering everything from accounting to eCommerce, inventory, healthcare management, and more. API is available for developers.
Security
Square uses data encryption and two-factor authentication to protect your company's data. Data is stored in a secure, undisclosed facility. The company is PCI-DSS compliant as well. Square also uses risk visualization to "stop fraud before it happens."
This feature, in particular, is a double-edged sword. While it's nice that the company watches out for unusual activity, this often leads to funds being held or accounts being closed even when a transaction was legitimate.
What does all of this mean for your business in terms of security? Make sure any emails you receive are actually from Square, and use Square Secure to help prevent your funds from being held. (Check out Square's help center for additional resources on recognizing and reporting phishing scams.)
Square Secure
Square has a built-in feature called Square Secure that helps protect your company in the case of disputes or chargebacks. The way Square puts it, the bank fights for the customer, but Square fights for you — the seller.
This service is also incredibly important to help safeguard your funds. As we mentioned in the negative reviews section, users have had issues with their funds being held or accounts being closed entirely for abnormal or large transactions. You can use Square Secure to provide sample invoices and legal documentation about your business's proceedings, so Square can better understand what "normal processing" look like for your business.
FAQ: Square Invoice Fees
Final Verdict Of Square Invoicing Software
Despite not having a monthly subscription fee, Square Invoices has a number of great features typically only found with paid invoicing software. The free point of sale app, advanced inventory, detailed customer analytics, and sales insights are valuable features that you simply won't find in a normal invoicing software app. Square also offers an attractive invoice template and makes it incredibly easy for customers to pay invoices online. The auto-schedule invoicing feature, strong mobile apps, and good customer support are icing on the cake. For businesses in need of these features, we give Square two thumbs up.
Something else to consider is that small business owners will frequently purchase invoicing software and integrate it with Square to accept online payments. Square Invoices cuts out the middle man and saves you quite a bit of money in the process. The software is ideal for business owners looking for an all-in-one invoicing and payment processing solution and is ideal for product-based businesses.
Square Invoices is missing project management, which could be a dealbreaker for service-based businesses. There's no expense tracking and no multicurrency support. The multiple reports of held funds and closed accounts are also concerning.
In the case of Square Invoices, judging the software against other invoicing competitors is like comparing apples to oranges. Since Square Invoices is predominantly a payment processing solution with invoicing built-in, you lose some of the capabilities of invoice-focused software. But you gain tons of great tools that may be invaluable for certain small businesses. In the end, it all comes down to what will benefit your business the most.
If Square Invoices sounds like a winning solution for your small business, get started with a free Square account and take the software for a spin. Make sure that your business isn't considered high-risk, and use Square Secure to safeguard your account. If you'd rather have a more traditional invoicing software, take a look at our comprehensive invoicing software reviews.
---
The Merchant Maverick Seal of Approval 🏆
Square Invoices


---
After hours of in-depth research and evaluation, we can confidently recommend this brand to our readers. Get started today and see Square Invoices for yourself.
The Merchant Maverick Seal of Approval 🏆
Square Invoices


---
After hours of in-depth research and evaluation, we can confidently recommend this brand to our readers. Get started today and see Square Invoices for yourself.
To learn more about how we score our reviews, see our
Invoicing Software Rating Criteria
.