Clover Mobile Review
Clover Mobile has been discontinued. Check out Clover Flex instead if you need a countertop or mobile POS system for your business.
Expert Analyst & Reviewer

UPDATED
Advertiser Disclosure: Our unbiased reviews and content are supported in part by
affiliate partnerships
, and we adhere to strict
guidelines
to preserve editorial integrity.
Pros
Access to Clover app market
Highly customizable
Accepts virtually all forms of payment
Portable
Cons
Can't separate POS from payment processing
Hardware is proprietary
Clover Mobile Overview
Imagine having access to one of the more innovative and user-friendly POS systems in the palm of your hand, with the ability to check inventory, analyze reports, and make sales wherever you go. Unless you have excessively small hands (like myself), Clover Mobile makes this a possibility. Clover Mobile — the second product released by (First Data-owned) Clover Network, Inc. — is a portable credit card reader, designed to work on its own or complement the use of a Clover Station. Clover Mobile may be compact and portable, but it boasts the power of a much larger POS and can be carried around in your pocket.
Released in late 2014, Clover Mobile is inherently versatile. While you might not consider a mobile POS for your full-service restaurant or expansive retail business, Clover Mobile packs as much as it can from Clover Station into a portable powerhouse that can give employees more versatility and the ability to interact and relate with customers from anywhere. Clover Mobile is also, as you would figure, ideal for smaller and non-traditional businesses like food trucks and small kiosks. In addition, retailers can use Clover Mobile for "line busting" or to expedite scanning inventory. Clover Mobile unties your hands and makes it easy to move freely within your business, but that is not the only thing it brings to the table. Like its sister product, Clover Mini, Clover Mobile accepts virtually all forms of payment. It is fully EMV compliant and is PCI PTS 4.0 compliant as well. Its EMV Contactless payment interface allows it to support payment methods like Android Pay (formerly Google Wallet) and Apple Pay. Clover Mobile is also adaptable to many different kinds of industries and has the ability to grow and develop with time thanks to the huge variety of 3rd-party apps available.
The Best Clover Service Providers
It's important to note that Clover Mobile (and other Clover products, including Clover Station and Clover Mini) is always sold in conjunction with a merchant account. In 2013, Bank of America Merchant Services was the first company other than First Data to offer Clover products to its customer base, followed by PNC Merchant Services. Currently, you can buy Clover Mobile through over 3,000 major banks in the US, including Citibank, SunTrust, and Wells Fargo. It's also possible to purchase Clover products from small business suppliers like Sam's Club, Restaurant Depot, or from independent providers of merchant services.
At first glance, Clover Mobile seems like an ideal POS solution — it's portable, flexible, and functional. But customer feedback has grown increasingly negative over the years, mostly due to the unsavory reputation of First Data. Coupled with some potentially costly upfront purchases, Clover has left some customers wanting. Is Clover Mobile worth the risk? Read on to find out!
Don't have time to read an entire review? Take a look at our top-rated Point of Sale solutions for a few quick recommendations. Every option we present here offers excellent customer support, detailed user interfaces, and easy-to-use software, all for a reasonable price.
Price
Clover Mobile tends to retail for between $350-$800, depending on where you buy and whether you're purchasing the device by itself or as a supplement to a Clover Station. There are two service plans available when you buy Clover Mobile:
2000 Service Plan (also can be used with Clover Mini) allows you to "Get all the capabilities of a standard credit card terminal" in addition to:
Support for EMV and Apple Pay
Ability to issue refunds
Manage tips, tabs, and authorizations
Closeout reporting
Cloud Syncing
Optional employee permissions
The Pro Service Plan (can also be used with Clover Station or Clover Mini) includes everything above, plus additional features such as the ability to:
Ring up orders
Charge taxes
Apply discounts
Create Items
Manage Customers
As I mentioned in the overview, Clover Mobile differs from other POS systems in the way it's marketed and sold. It must be sold with a merchant account, so instead of being available from one location for one set price, it can be bought from thousands of different banks, business suppliers, and merchant services providers, each one offering different swipe fees and hardware costs.
Credit card processing rates and swipe fees vary from location to location and can range from 0.30% + 5¢ to 2.5% + 15¢ or higher, depending on the bank. Some locations may actually offer flat-rate processing fees. In general, the rate you receive will probably depend a lot on your own credit rating and the sales volume of your business. Those of you who have an existing business banking account may be best served by checking with your own bank to see if it offers Clover products, or you can find authorized Clover vendors in your area. It's possible to buy the POS outright, of course, but most vendors also offer in-house financing. You may be able to qualify for a loan or cash advance as well.
Cloud-Based Or Locally-Installed
Clover Mobile is cloud-based and stores your information in the cloud.
Specific Industry
Clover Mobile is best for restaurants — both quick service and full-service — and specialty retail stores. It can also be used for service businesses (like hair/nail salons) or for businesses in the hospitality industry (hotels, motels, resorts, etc.). Any business with a high number of transactions or employees that could benefit from greater mobility should appreciate what Clover Mobile can offer. By virtue of its portable nature and compact design, you can use Mobile in virtually any business environment, including food trucks and outdoor venues.
Specific Size Of Business
Clover Mobile is perfect for small to mid-sized businesses.
Ease Of Use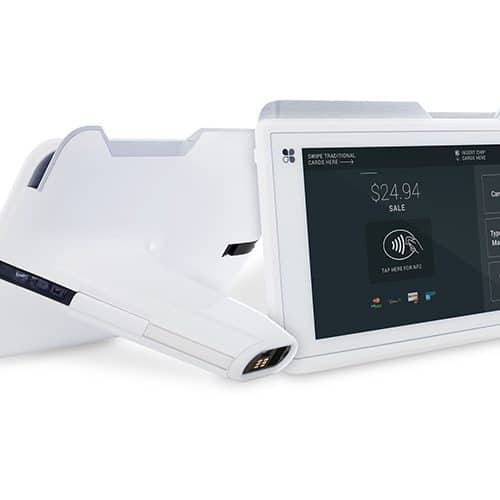 No-Hassle Set Up: One of the biggest selling points to Clover is its simplicity. That's the primary reason Clover has grown so rapidly over the past few years. Clover Mobile is just as easy to set up and navigate as Clover Station, if not easier. It arrives nearly ready-to-go (with a preloaded menu), and as soon as you power it up, you're ready to start making sales. After you've set everything up, you simply give your device a little time to charge and then activate it using a unique code you will have already received via email. Clover will talk you through some standard and initial set-up questions and, conveniently, will read your mind and start to customize your system for you with various apps (don't worry, they're easy to erase as well if something is downloaded that you won't use.) The app store is also easily accessible and any other features you'd like to have can be downloaded in seconds.
Short Learning Curve: Clover Station's simple icon-based design translates well to a portable device. Navigation is simple and Clover does well to limit the number of buttons you have to push to get to your desired function. There are various apps on the screen which you can open with a touch of your finger.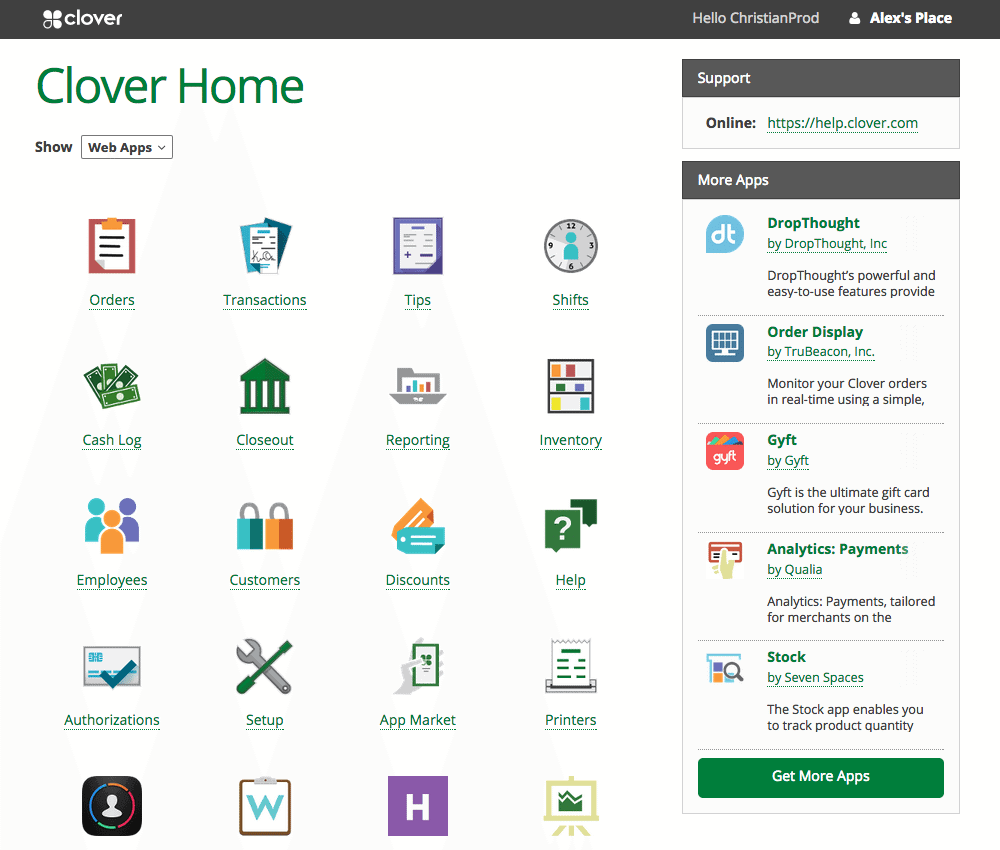 In short, employees should be able to pick up everything they need to know about Clover Mobile after 15-20 minutes of basic training (if that). Most of the apps, at least the most common (reporting, inventory, customers, etc.), are self-explanatory and clearly labeled. Clover is a popular option for business owners who may not be overly familiar with the retail industry (such as local farmer's market vendors or even gas stations that still have attendants). For many business owners, Clover really takes all of the guesswork out of things.
Hardware & Operating System Requirements
When it comes to hardware, there are no requirements. Clover Mobile is basically ready to go when you receive it — all you need to provide is your activation code and some sort of internet connection (wireless only or wireless + 4G, which requires a data plan). The general web dashboard works best with Chrome, Safari, or Firefox.
As far as hardware goes, Clover Mobile is as simple as it gets. The barcode scanner, Magstripe reader, EMV card reader, NFC card reader, and front facing camera are all built into the handheld device, and if needed Clover Mobile can be connected to an external printer. This system also comes with a built-in, 18.7-watt-hour rechargeable lithium-ion battery, for which you'll need a Clover USB wall charger or a Clover Mobile Dock. The battery is said to last all day and is estimated to charge fully in fewer than 4.5 hours.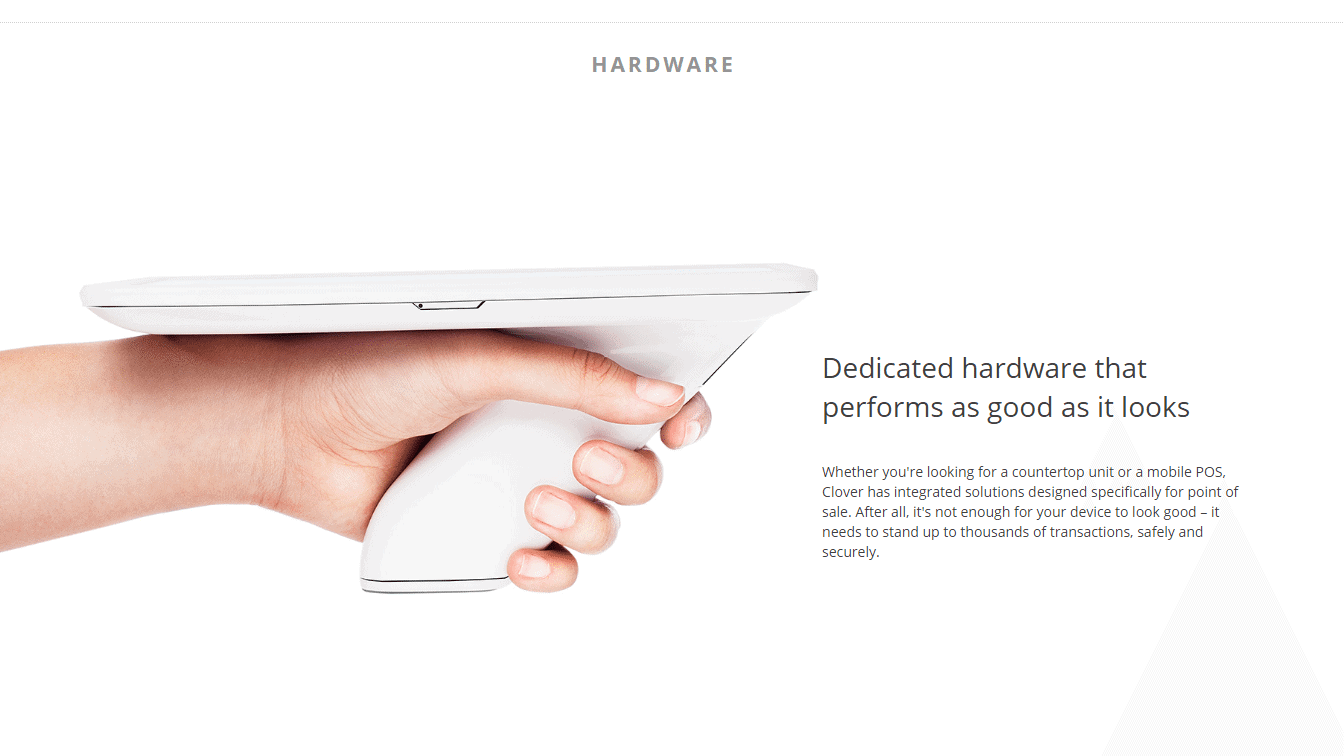 Features
Clover Mobile is so adaptable and can be customized with such a wide variety of apps that it is difficult to discuss features in general. The features on your Clover device will be defined by the apps you choose and the functions you require, including the ability to take payments, open and close bar tabs, authorize credit cards and close them out later, and keep track of tips, transaction history, and perform closeouts. The following are some of the features likely to be useful to most kinds of business:
Basic Features
Interface: The Clover Mobile interface is fairly simple. As I said above, it is reminiscent of a smartphone screen, featuring a variety of apps. Tap on an app with your finger, and it opens right up.
App Market: Apps run basically every function of your Clover Mobile device. Clover provides retail and restaurant specific apps for everything from your register to voice authorization, bar tabs, refunds, discounts, employees, and inventory management. Apps are added to this list all the time. While many apps are free, there are also apps that require on a monthly subscription; this is something you'll want to take into consideration when you are calculating your total monthly fees.
Employees/Permissions: Employees can be added to your Clover account at any time and described by their names, nicknames (which will appear on customer receipts), roles, login pins, and contact information. The best way to manage employee permissions is by assigning each worker a role. You may want some people to have access to sensitive information while restricting others to basic register functions. The different roles you create will automatically come with different levels of access to the POS so assigning roles to employees right off the bat "enables admins to enable or disable permissions in bulk for their employees by segments."
Payment Options: Clover Mobile is one of the most advanced payment terminals on the market, and can accept almost any payment type, including Apple Pay (In-Person and In-App), Android Pay (formerly Google Wallet), EMV, credit, debit, EBT, and gift cards (both physical and virtual). You can also enter card numbers manually or take sales over the phone using the Phone Sales app. Regarding Apple Pay, all Clover devices can accept iPhone 6 In-Person payments; the In-Person payment option lets customers simply tap their Apple Pay-registered iPhone to pay at the point of sale register. Clover Mobile is fully EMV compliant for both chip cards and contactless cards. Receipts can be printed at the time of the transaction (if you're hooked up to a receipt printer) or can be emailed to the customer for future reference.
Advanced Features
Reports: Clover's reporting app provides decent tools, including a "By Payments" report (see below) which shows you a summary of completed transactions made during a specified time period. There are also reports for net payment statistics, cash reports, payments by card type, employee statistics and activities, discounts, taxes, orders and more. It's not the most robust reporting function I've seen but it has pretty much everything you would expect from a standard POS and it's easy to access, sort, and analyze. All reports can be sorted according to date/time and filtered for specific requirements; once created, reports may be exported and/or printed for further analysis. You can access reports on your Clover Mobile device, or view them on Clover's web-based merchant dashboard from anywhere, as long as you have an Internet connection.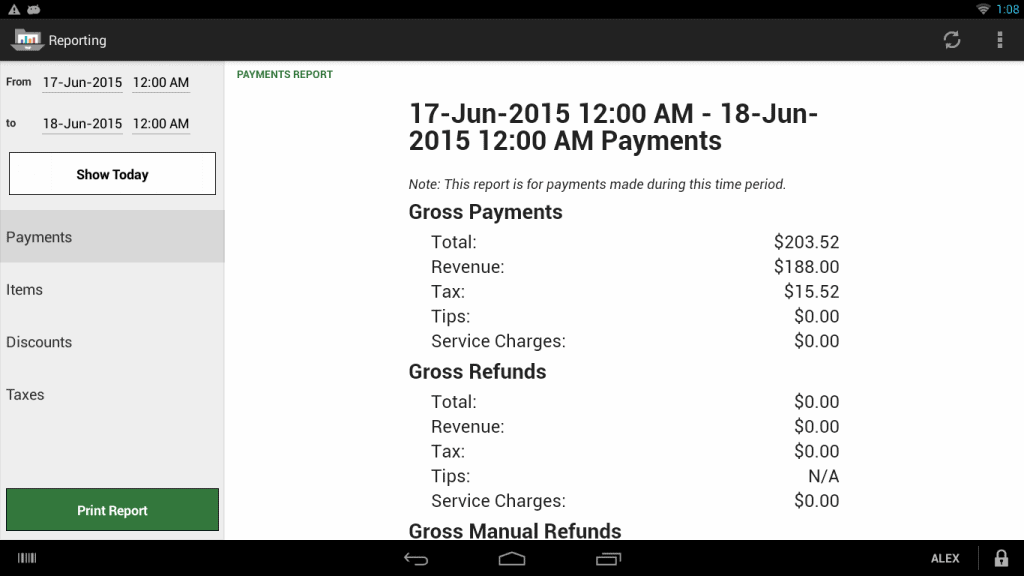 Customer Management: Clover Mobile gives you the ability to collect customer information at the time of sale. Later, you can search for customers by name and date or look up a customer's order history.
Web Dashboard: Once you've created a web dashboard account, you can access your Clover information anywhere with a network connection simply by typing in your email address and password. Clover stores every report, order, employee clock-in, and inventory adjustment in the cloud to ensure this information is always current. This is a key function as you can manage your store or business from virtually anywhere with internet access, allowing you to make quick decisions or check in on profits in real time.
Integrations & Add-Ons
Clover's App Market allows you to pick and choose the features and/or tools your business requires, such as coupon processing, virtual PIN pads, gift card management, employee management, and advanced reporting. Most of the apps are completely free, though some are accompanied by a small fee. Furthermore, if you have very specific needs and would like to design your own application, the Clover API is available to developers. Plus, as mentioned, new apps are being added all the time and are available to all customers.
Compatible Credit Card Processors
Clover Mobile (like all other Clover products) is vertically integrated with credit card processing. It is always sold together with a merchant account from places like Bank of America, Citibank, Restaurant Depot, and any other First Data Independent Sales Organization (ISO).
The Best Clover Service Providers
Customer Service & Support
Customer service for payments and any merchant account issues is likely going to come from whichever merchant services provider you end up going through (unless you sign up directly with First Data). For this reason, it's important to be careful about the bank/provider you choose to buy from. On the other hand, technical support for the actual software and hardware is going to come directly from Clover (or more accurately, First Data), which is where you start running into problems. First Data has historically had problems on the merchant services side of the business (excessive fees, account terminations, withheld funds) so you're rolling the dice when it comes to software and hardware support.
Clover does provide a self-serve help center complete with guides, FAQs, and troubleshooting tips. This material is helpful, for the most part, and there is a wealth of information on forums and YouTube as Clover has become fairly ubiquitous in the market. While Clover's own website provides basic answers and tutorials, I found that individual user answers were often more helpful.
Clover also has Facebook, Twitter, Google+, and GitHub accounts that all appear to be somewhat active.
Negative Reviews & Complaints
Clover Mobile seems to be a love it or hate it POS, with limited neutral reviews. The negative reviews often sing a common tune:
Cost: The biggest complaint I've heard (from customers and reviewers alike) is that the upfront costs can be prohibitive. If your business needs more than one terminal, for example, it could run you upwards of $1-2k right off the bat. This cancels out one of the advantages tablet-based software generally holds over the locally-installed terminal systems. Most cloud-based POS software will run on an iPad and/or Android tablet, meaning that if you test out one system and it doesn't work for you, you can transition to another system without having to invest in new hardware. Clover, on the other hand, is run exclusively on First Data proprietary hardware, meaning that you can't even test the system out without investing $500 upfront— and forget about an inexpensive switch if it doesn't work out.
Purchasing Market: Another negative aspect of Clover Mobile is that there is no single place to buy it, yet you are restricted to a single merchant services provider. You're going to get different rates, different prices, and different customer service options at each location, yet no matter which reseller you go through, you're still limited to having First Data as your processor. I'd be wary around any POS that only integrates with one processor, but this is particularly a problem with First Data because of their increasingly negative customer feedback. More and more people have been reportedly being hung out to dry by First Data and its resellers. Though some resellers (like Payment Depot) have managed to maintain a great reputation, they can really only help on the payments/merchant account side of things. For technical support, you're still at the mercy of First Data's hit-or-miss service.
Customer Service: Customer service (or the lack thereof) is a major complaint among many Clover customers. This is often a theme with bigger companies but, with Clover, it really is a major sticking point. Along with the issues related to First Data, Clover has received multiple complaints across the internet about unresponsive customer service agents, rude interactions, and inability to fix problems.
Misleading Information: Feedback about non-negotiable contracts, hidden fees, and system surprises are also common. Some customers claimed they were misled when told certain apps or integrations would provide them with a service.
Positive Reviews & Testimonials
Despite its flaws, there are a number of positive things about Clover Mobile, including:
The ability to negotiate competitive pricing
Aesthetic appeal
Compact and ergonomic design
Portability
Little-to-no learning curve
Wide variety of apps, allowing you to adapt to nearly any industry
Multiple layers of security and data protection, including mutually-authenticated SSL/TLS solutions
Final Verdict
For small to mid-sized businesses or people looking for a low-stress option with very few gaps, Clover Mobile checks pretty much every box. The product is remarkably user-friendly and can be picked up and operated almost immediately, even by those with no experience. It has strong reporting, inventory, and customer management features that rival those of most other popular POS systems and it's entirely portable. What else could a small business ask for?
My biggest concern with Clover Mobile is the fact that it is sold by thousands of different banks, merchant services providers, and small business suppliers. In general, I applaud a system that is set up for competitive pricing/rates, but there is something lost when a company stops providing support for its own product. I'm troubled by the inherent disconnect between Clover, as a company, and the people who use Clover Mobile.
There are also definite limitations placed on Clover users (both in terms of hardware and choice of processor) and those are unqualified negatives. It doesn't help matters that First Data's somewhat notorious reputation has come back to bite Clover users. For that reason, we have kept Clover Mobile's rating low year after year, despite the fact that we are impressed with the software itself.
There's no doubt that Clover Mobile is a bit of a risk and the chances are you will either find yourself either extremely satisfied or very frustrated. That said, if you want a simple, attractive POS solution that has become one of the more popular players on the market, Clover Mobile is worth a look. Just be sure to work with a vendor you trust (our favorite is Payment Depot), and research their support/technical assistance policies beforehand.
The Best Clover Service Providers
---
We've done in-depth research on each and confidently recommend them.
We've done in-depth research on each and confidently recommend them.
To learn more about how we score our reviews, see our
Point Of Sale (POS) Software Rating Criteria
.