VizyPay Review: Do Cash Discounts & Hybrid Credit Card Processing Really Work?
Expert Analyst & Reviewer

UPDATED
Advertiser Disclosure: Our unbiased reviews and content are supported in part by
affiliate partnerships
, and we adhere to strict
guidelines
to preserve editorial integrity.
VizyPay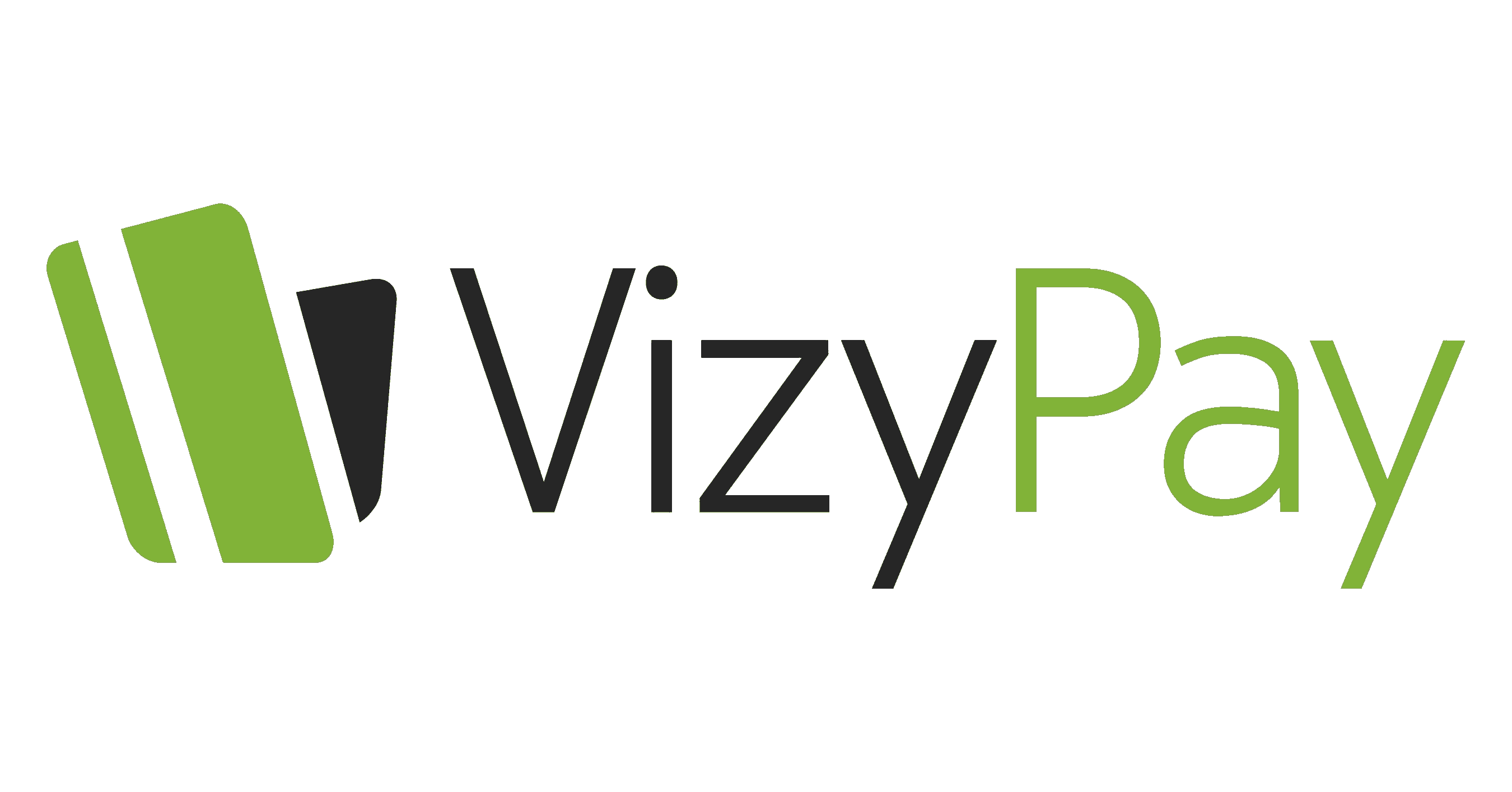 Pros
Transparent pricing
Month-to-month billing
No setup fees
Excellent customer support
Very few public complaints
Cons
Accepts US-based merchants only
Not suitable for high-risk businesses
VizyPay Overview
VizyPay has been in the merchant account business since 2017. A reseller of First Data/Fiserv payment processing and Clover point of sale systems, VizyPay distinguishes itself from the competition with its alternative pricing models, particularly its Cash Discount Program. What is cash discounting, you ask?
Cash discounting programs work by adding a charge to the price of your goods prior to purchase while giving cash-paying customers a discount. It's a method of having your customers cover your payment processing costs that tends to be better-received than surcharging programs. Surcharging is when an extra charge is tacked on to the listed price for card-paying customers only, with the additional charge being applied to your processing fees. Surcharging programs are currently illegal in five states, in legal limbo in five others, and frequently unpopular with customers.
Cash discounting programs can be complex, but with VizyPay, the cash discounting process is handled automatically by your POS system, so you won't have to worry about it.
In addition to cash discount pricing, VizyPay offers a hybrid program that partially covers payment processing costs by "discounting" cash and debit card purchases, but not credit card purchases. The company also has a traditional pricing program that features interchange-plus pricing. This way, if cash discounting isn't a good fit for your business model or your customer base, you have other pricing options.
How does VizyPay measure up against our favorite merchant services providers? Read on for our full VizyPay review, in which we'll further discuss the alternative pricing schemes available, along with the other features VizyPay offers to merchants. If you happen to have used VizyPay in the past or are currently using it, please let us know about your experience in the comments section.
Products & Services
VizyPay is a credit card processor and merchant account provider, but the company's full range of merchant services extends well beyond payment processing. Here's what VizyPay can do for your business.
VizyPay Credit & Debit Card Processing
Payment processing forms the core of VizyPay's merchant services. VizyPay's processing is offered under three different pricing schemes. Let's go through how each of these pricing systems works.
| | Cash Discount | Hybrid | Traditional |
| --- | --- | --- | --- |
| % of processing fees paid by customers | Up to 100% | 40% to 60% | 0% |
| Monthly fee | $25, $50, or $100 (depends on your processing volume) | $25 | $15 ($0 for small/low-volume merchants) |
| Customers cover the processing fee for | Credit and debit transactions | Credit transactions only | Merchants cover all credit & debit processing fees |
VizyPay also offers a Mini Merchant program for small merchants (those who process fewer than 100 transactions/month and less than $5,000/month) on the traditional interchange-plus pricing plan. This program eliminates the $15 monthly fee.
As mentioned earlier, VizyPay offers a range of Clover POS systems, but if you're just looking for terminal options, VizyPay offers the Pax family of devices (the S80, A80, and A920) as well as the Dejavoo Z8 countertop machine.
Point Of Sale Software & Mobile Apps
VizyPay offers three different POS systems: SwipeSimple, Clover, and BLogic.
SwipeSimple: If you just want an mPOS device and iOS/Android mobile app that can take swiped, dipped, and tapped transactions, SwipeSimple's card reader and app give you this and more. SMS/email receipts, an item catalog, inventory management, and in-app reporting are all on offer here. Read our full SwipeSimple review for more info.
Clover: The four Clover POS systems offered through VizyPay make it easy for businesses to implement the Cash Discount Program and provide a plethora of other advanced features. The Clover POS systems on offer, from least-to-most well-featured and costly, are the Clover Mini, Clover Flex, Clover Station, and Clover Station Pro. Read our Clover POS System review for full details on each.
BLogic: BLogic's POS system requires only a local connection to run and does not require an internet connection. BLogic offers two different PAX S300-based retail kits, one of which is customized for restaurants. BLogic POS also offers advanced inventory management, employee and labor tracking, and end-of-day reports.
Additional Merchant Tools
Online Ordering: Along with its processing and POS solutions, VizyPay offers an online ordering platform for restaurants called RUSH. The RUSH order app is completely customizable and combines marketing, ordering, and payment acceptance for restaurants. Unlike GrubHub, DoorDash, and other such services, RUSH doesn't take a portion of your profits. There's also a built-in loyalty program included.
Virtual Terminal: VizyPay's virtual terminal lets you accept online payments as well as key in transactions received via email or over the phone. It also enables you to take EMV and swiped transactions through your smartphone or tablet with an ID-Tech card reader. You'll also get complete transaction reporting, recurring billing, and customizable email receipts. You can choose Authorize.Net or USAePay as your payment gateway.
Working Capital Loans: VizyPay also offers working capital loans to businesses with at least one year of business history, $100,000 in annual revenue, and a FICO score of at least 500. The application is just a single page long, and VizyPay states that businesses can receive funds in just one business day after being approved.
VizyPay Fees & Rates
VizyPay Cash Discount Program
The Cash Discount Program's monthly fee structure works like this:
$25/month for merchants processing less than $5,000/month
$50/month for merchants processing $5,000 to $10,000/month
$100/month for merchants processing over $10,000/month
VizyPay has a Cash Discount Savings Calculator on its website. Put in your monthly credit card sales volume, and VizyPay will show you how much you potentially stand to save on a monthly and annual basis. Essentially, the more you process, the more money you stand to save.
Here are the other fees associated with the Cash Discount Program: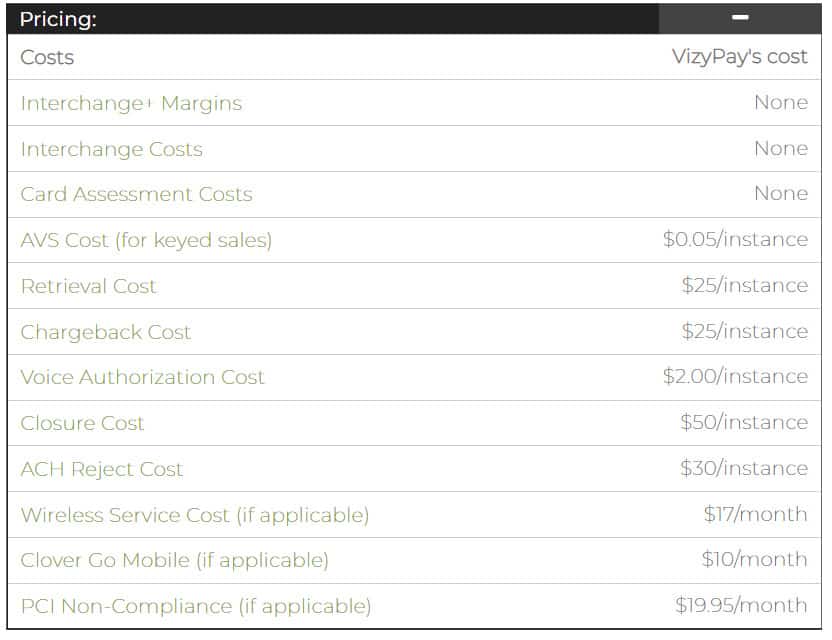 VizyPay Traditional Program
Here's what you'll be charged under VizyPay's traditional pricing scheme:
Monthly Cost: $15/month
Swiped/Dipped/Tapped Rate: Interchange + 0.35% + $0.10 per transaction
Keyed-In/Virtual Rate: Interchange + 0.45% + $0.15 per transaction
Gateway Cost: $10-$15/month + $0.05 per transaction
You'll also incur the following costs: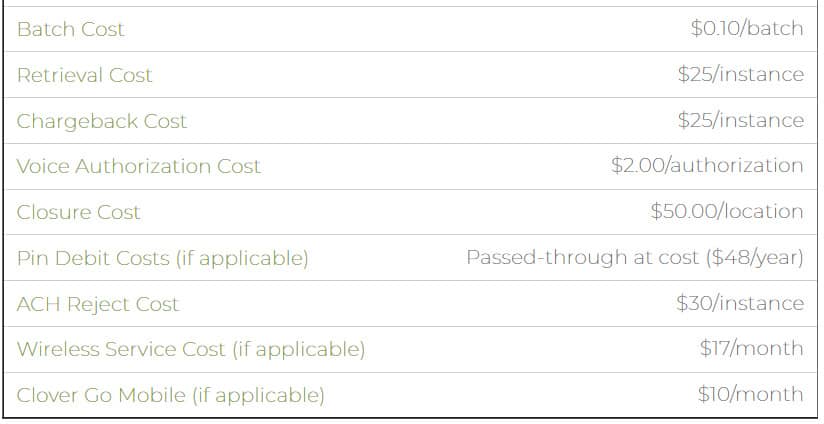 VizyPay Hybrid Program
Here are the primary charges attached to VizyPay's Hybrid Program:
Monthly Cost: $25/month
Swiped/Dipped/Tapped Rate (Credit Cards): Paid by customer
Swiped/Dipped/Tapped Rate (Debit Cards): 1% + $0.25 per transaction
Mid- & Non-Qualified Debit Card Rates (Including Virtual Rates): 2.5% and 3.5% per transaction
Gateway Cost: $10-$15/month + $0.05 per transaction
And here are the additional fees: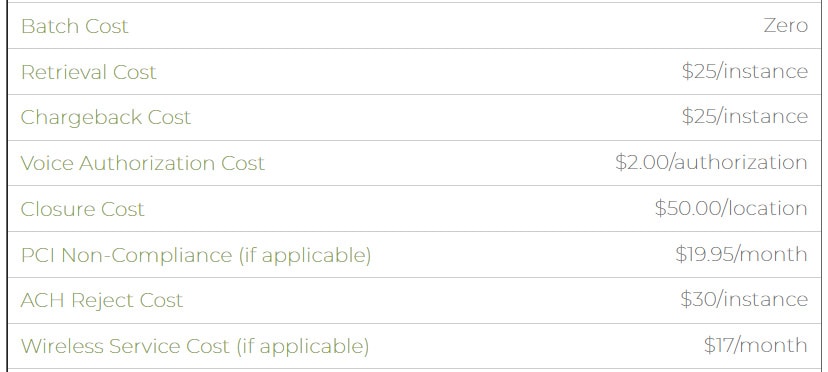 Other Costs
If you opt to use Clover POS, the amount you'll be paying for software and equipment depends on the device(s) you choose:
Clover Mini: Starts at $579 and $24.90/month/device
Clover Flex: Starts at $579 and $24.90/month/device
Clover Station: Starts at $1,575 and $59.90/month/station
Clover Pro: Starts at $1,795 and $59.90/month/station
Here's what VizyPay's other product offerings will cost you:
SwipeSimple: The SwipeSimple card reader and app cost $100, and there's a $10 monthly fee.
BLogic: The BLogic POS software package costs $25/month, and while the retail hardware package costs $1,849/device, the restaurant hardware package costs $1,949/device.
RUSH: The RUSH order app/table reservation/appointment booking system costs $99/month with a $299 setup fee.
Working Capital: VizyPay does not publicly disclose its working capital loan rates and fees.
Sales & Advertising Transparency
VizyPay discloses all costs and fees associated with its various pricing plans and POS options on its website. This transparency manages to be refreshing in an industry still ridden with opacity. Some merchant services providers might post their interchange-plus processing rates, but VizyPay actually names and details each fee it charges. That might not seem terribly revolutionary on its own, but when you consider how many competing merchant account providers still keep this information close to their chest, it's quite refreshing. We love to see it.
What's more, feedback from merchants seems to indicate that VizyPay doesn't rely on the shady high-pressure sales tactics still employed by many companies in the industry.
VizyPay has an active presence on social media. Its Facebook, Twitter, Instagram, LinkedIn, and Pinterest accounts are appropriately active. Its YouTube channel offers help with lots of deep-in-the-weeds merchant tasks (such as applying a discount with a Clover Station or how to do a manual entry on a Dejavoo terminal). You'll find VizyPay help videos in Spanish, too.
Contract Length & Early Termination Fee
VizyPay proclaims, "We don't believe in contracts" on its website. Instead, the company offers month-to-month agreements for its services. As such, there is no early termination fee (ETF) to worry about. If you don't like the company's services, you can go another way within a month.
With month-to-month services (such as Square and PayPal) being so popular amongst new merchants, it may not seem remarkable to younger businessfolk and entrepreneurs that VizyPay operates the way it does. Unfortunately, too many established players in this industry still do things the old-school way: long-term contracts, ETFs, monthly minimums, etc. Some companies do this to recoup costs because they service high-risk businesses; others do this simply because they've gotten away with it thus far and see no reason to change.
Merchant Maverick's original mission upon being launched was to shine a light on the merchant account industry's ossified ways and promote merchant-friendly processing practices. We're happy to report that VizyPay offers month-to-month agreements with no BS and no fuss.
Customer Service & Technical Support
VizyPay offers 24/7 customer support via phone and email. Feedback from merchants regarding the company's customer support is almost universally glowing. Merchants seem genuinely enthusiastic about how the company treats them when a question comes up.
VizyPay's extensive online knowledgebase is split into two parts. One is called "Customer Success," and it deals with general questions about the company's services (the Cash Discount program, billing/pricing questions, PCI compliance questions, etc.). The other is just called "Technical Support," and it deals with questions about the terminals, POS systems, and payment gateways used with the company's processing services. Topics include hardware and gateways not currently advertised as options on the company website's promotional pages.
VizyPay Reviews, Complaints & Testimonials
VizyPay reviews posted by merchants are almost unanimously positive, even raving. VizyPay isn't the most well-known provider in the industry, and it's only been around since 2017, so there isn't as much public feedback about VizyPay as there is with some processors, but what's out there is impressive indeed.
VizyPay currently earns an average rating of 4.7 out of 5 on Trustpilot, based on 126 reviews. On Facebook, the company gets a full 5 stars out of 5 based on 54 reviews. It's a similar story on Google Reviews: an average score of 4.8 out of 5 based on 68 reviews. And while the company only has one customer review (a 5-star review) on its BBB website, the company has no complaints posted over the past three years and is accredited with an A+ rating.
Let's delve into specifics.
Negative VizyPay Reviews & Complaints
Complaints regarding VizyPay are exceedingly hard to come by. I was able to find one report of held funds (check reviews of certain other providers, and you'll find literally hundreds/thousands of such complaints!). I also found maybe two or three complaints regarding customer service, though these are outnumbered by hundreds of positive customer service reviews.
In the few instances where a complaint is aired, I've seen a response from VizyPay. This indicates that the company takes merchant satisfaction seriously.
Be aware that some review sites note that VizyPay's internal program guide makes mention of three-year contracts, an unspecified early termination fee, and Clover equipment leases. However, the company's website disavows long-term contracts and equipment leases. No user review mentions any long-term contract (while many reviewers praise their month-to-month agreement), so you shouldn't have any trouble getting a month-to-month agreement from VizyPay.
If you decide to go with VizyPay, make sure that there's no long-term contract or ETF when you sign up. Also, be sure that you're purchasing your POS equipment, not leasing it. Equipment leases are not beneficial to the merchant.
Positive VizyPay Reviews & Testimonials
User feedback on VizyPay is overwhelmingly positive. Here's what merchants love about the company:
Excellent customer service
Competitive rates
No contracts
Reliable POS equipment
VizyPay's website doesn't have a testimonials section (though it does highlight some Trustpilot reviews), but there are a few interviews with satisfied users in the Blog section. (Whom amongst us does not enjoy reading through a payment processor's company blog?)
Final Verdict On VizyPay
To be candid, I wasn't sure what to expect before reviewing VizyPay. Plenty of First Data/Fiserv resellers in the industry don't merit a recommendation, and there are a number of iffy merchant account providers that offer a cash discount program as well. Thankfully, VizyPay stands in defiance of these trends and delivers solid value, transparent (and competitive!) pricing, and exemplary customer support.
VizyPay offers several well-regarded POS systems, an ordering app, and online payment gateways to go along with its payment processing, and all rates and fees are fully disclosed. Its cash discount program stands to benefit certain types of retail businesses financially. Users have overwhelmingly positive experiences with the company's services, pricing, and, particularly, its technical support and customer service.
With a few more features on offer — perhaps more eCommerce features — VizyPay would be in the running for a 5-star review. As is, VizyPay earns an exemplary score of 4.5 out of 5. Low-volume merchants may be better served by going with a third-party processor, such as Square or PayPal. For a wide array of retail businesses and restaurants, though, VizyPay is a superb merchant services solution. Again, if you've used or are using VizyPay to process payments, drop us a comment and tell us all about it!
Read our article on zero-cost payment processing programs to understand how cash discounting compares to other pricing schemes that enable you to pass along processing costs to your customers. Lastly, if you'd like to consider other merchant account options, check out some of our other recommended merchant account providers.
---
⭐️ Our Top Pick To Get Your Merchant Account Approved ⭐️
PaymentCloud


---



PaymentCloud has an excellent track record for both service quality and account approvals.
⭐️ Our Top Pick To Get Your Merchant Account Approved ⭐️
PaymentCloud


---



PaymentCloud has an excellent track record for both service quality and account approvals.
To learn more about how we score our reviews, see our
Credit Card Processor Rating Criteria
.