POS 101: Raw Ingredient Tracking
Updated on:
Posted by: Shannon Vissers
Advertiser Disclosure: Our unbiased reviews and content are supported in part by
affiliate partnerships
, and we adhere to strict
guidelines
to preserve editorial integrity.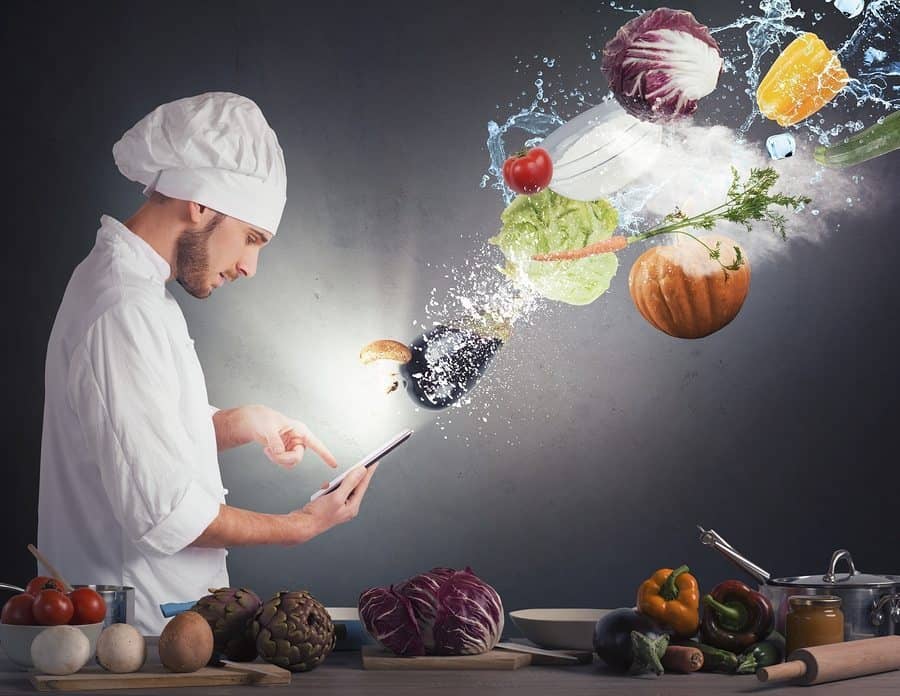 Just about every time I try to cook something, I end up forgetting to purchase one of the ingredients, necessitating another trip to the store, and usually ending up with me ordering a pizza instead. If I ran a restaurant in the same disorganized fashion by which I run my life . . . well, I don't think we'd stay in business for very long. But even though there is about a 0% chance my sporadic culinary endeavors will ever turn into a business, I still like to play around with POS raw ingredient tracking systems. What can I say? It's fun! Or at least a lot more fun than making multiple trips to the grocery store in a day.
Raw ingredient tracking or "raw goods" tracking is a type of inventory management used by restaurants, bars, cafes, bakeries, pizzerias, quick service, and other businesses that sell food or drink items. These days, it's not difficult to find a cloud point of sale (POS) system that includes integrated raw ingredient tracking as one of its POS software functions, or that offers ingredient tracking through a third-party inventory software add-on. 
So without further adieu, here are 4 POS's that offer raw ingredient tracking, and the basics of how inventory tracking works with each of these systems.
Square (see our review) is a great POS for quick service and mobile food businesses such as food trucks. Square offers raw ingredient tracking via an integration with Intrakr inventory management software. Intrakr is a complete inventory management solution to both track and purchase the raw goods that go into the food and drinks you sell.
Here are some key things to know about Square's raw ingredient tracking:

Costs $25/month for Intrakr add-on

Automated inventory syncing and reordering

Receive real-time mobile notifications when ingredients are low or out of stock

Purchase order and vendor management

Built-in shipment tracking

Generate reports with raw ingredient inventory insights
In the video above, you can see Square's raw ingredient tracking with Intrakr in action.
Note: Shopify POS also integrates with Intrakr for inventory management and raw ingredient tracking. Shopify doesn't have restaurant functionality (it's primarily for retail businesses), but it might be suitable for a cafe or coffee shop.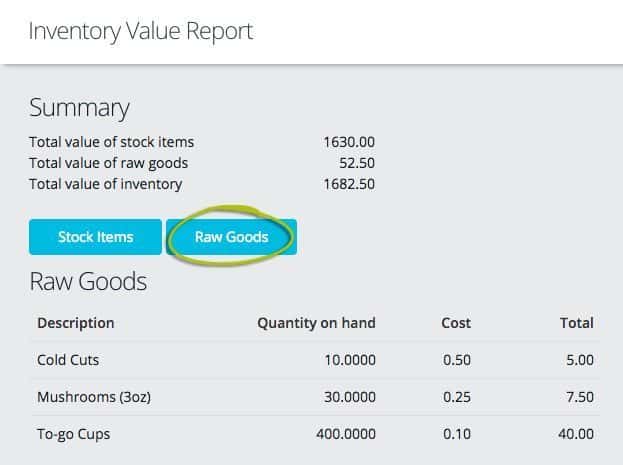 ShopKeep (see our review) is another excellent POS for small food and drink businesses, from juice bars to restaurants. ShopKeep's raw ingredient tracking is not as granular or automated as what you get with Intrakr, but it works well for basic raw goods tracking. It is also very affordable, as it is included with the cost of a reasonably priced ShopKeep subscription.
Here's what you get:
Raw goods tracking included in ShopKeep subscription

Attach Raw Goods to Items to start tracking ingredients and see how many Items you can make with ingredients on-hand

Monitor the value and quantity of raw goods, and generate inventory value reports

Set triggers prompting you to reorder when supplies get low

No option to set units of measurement (oz., lb., etc.), so if you'll have to specify that in the item description—e.g., "mushrooms, 3 oz."
For more information about ShopKeep raw goods management, check out ShopKeep's online resource on using the "Raw Goods" function.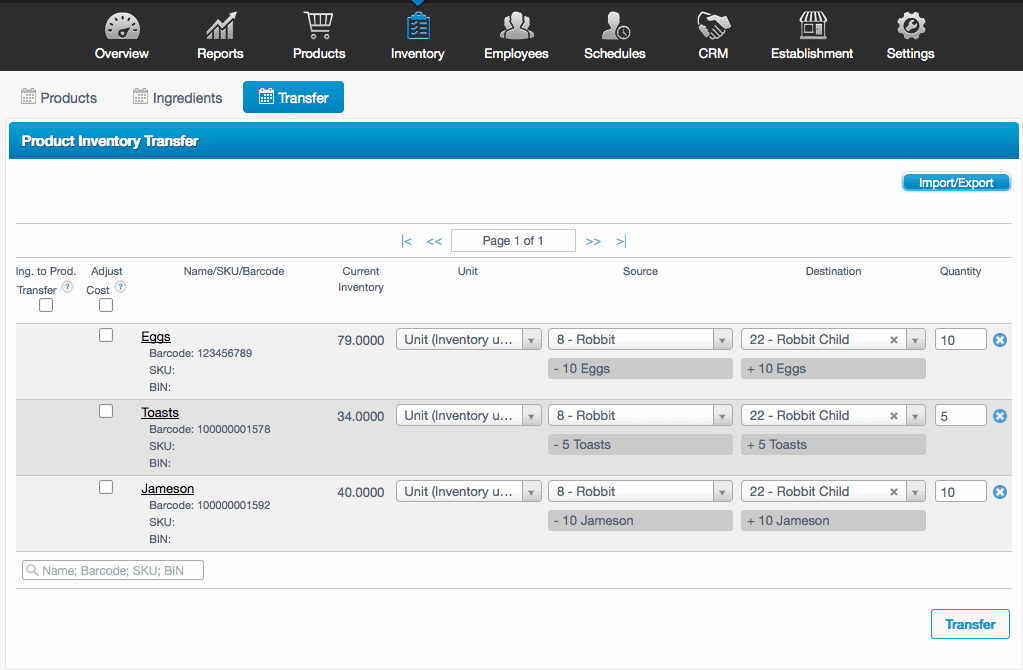 Revel (see our review) is an advanced iPad POS that provides complete raw ingredient tracking as part of its back office management console. Because of its higher cost and advanced functionality, Revel is more suitable for larger food and restaurant businesses with multiple locations.
Here are some of the cool things about Revel's raw ingredient tracking:
Integrated raw ingredient functionality included in (somewhat costly) price of Revel subscription

Searchable, filterable log of all ingredients that go into all products

Uses ingredient cost to calculate product cost

Ingredient Inventory Log displays changes made to the ingredient inventory by an owner or an employee with assigned user permissions

Includes wastage adjustments (removes inventory of an ingredient because of waste)

Option to transfer inventory from one establishment to another—useful for businesses with warehouses or multiple establishments, or for businesses that prep products using ingredients in one location before sending them to where they are sold

Option to import and export ingredient inventories to Excel
Learn more about Revel's Ingredient Inventory Log.

POS Lavu (see our review) is a restaurant POS for small-to-medium restaurants and other eateries. Like ShopKeep and Revel, Lavu's raw ingredient management is built into the system and included in the cost of the subscription. The system is relatively advanced, although you cannot import large volumes of data via .csv—meaning you need to manually enter the ingredient, unit of measure, cost, etc.
Lavu's ingredient management functions are probably not as advanced as Revel's, but more advanced than ShopKeep's.
Here is what you need to know about POS Lavu raw ingredient tracking:
Included in (relatively inexpensive) subscription cost

Set ingredient quantity, cost, unit of measure, and modifiers

Assign ingredients to menu items and categories

Set up email alerts to specified users when ingredient inventories are low

Automatically deduct inventory items when an order is closed
Learn more about ingredient inventory management with POS Lavu.
So Which POS with Ingredient Tracking Should I Choose?
To sum up, here's what you get with each of these POS's offering raw ingredient tracking:
Square — Complete inventory management (including ingredient tracking) via Intrakr add-on ($$)
ShopKeep — Basic raw ingredient tracking ($)
Revel — Advanced raw ingredient tracking ($$$)
POS Lavu — Middle-of-the-road raw ingredient tracking ($)
All of these POS's are cloud-based and run on an iPad (You can also run Square on a smartphone).
To conclude, life's too short for inefficient raw ingredient tracking, so we think it's high time you got a POS with this helpful feature. If you need more help choosing a POS for your food or drink business, we're happy to help you out! We can also help you find inventory management software that integrates with your existing POS, or vice versa. 🙂