2Checkout (now Verifone) Review
Expert Analyst & Reviewer

Updated on:
Advertiser Disclosure: Our unbiased reviews and content are supported in part by
affiliate partnerships
, and we adhere to strict
guidelines
to preserve editorial integrity.
2Checkout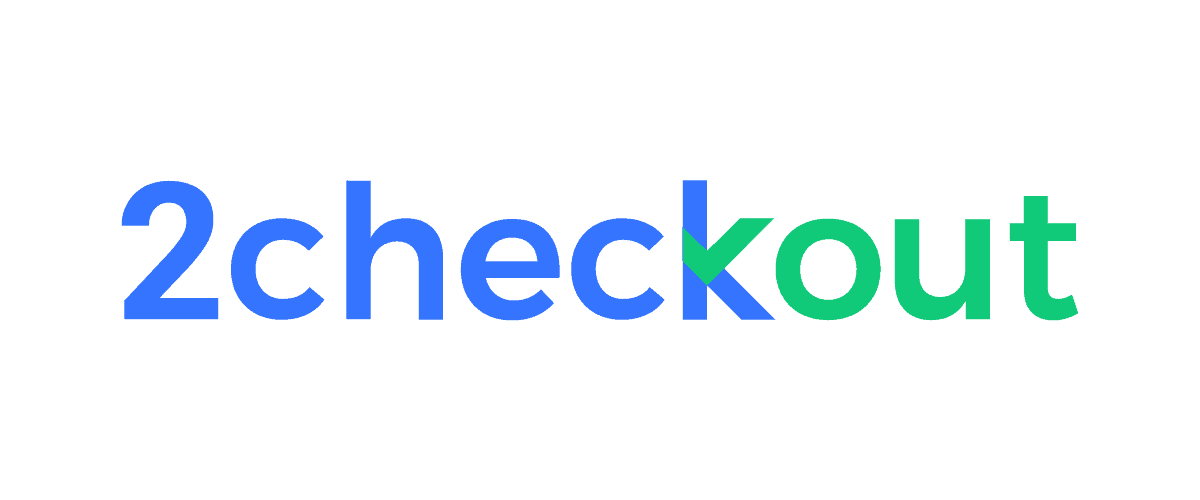 Pros
Predictable flat-rate pricing
Month-to-month billing agreement
Broad support for international merchants
Excellent website and advertising
Cons
Cannot process card-present transactions
Frequent reports of held funds
Not available to high-risk merchants
2Checkout Overview
Founded in 2006, Columbus, Ohio-based 2Checkout (2CO) is a payment service provider (PSP) for eCommerce merchants. As the company's name suggests, 2Checkout allows customers "to check out" and pay when completing an online purchase. 2CO is very similar to PayPal and Stripe Payments and competes for much of the same market share. You may have encountered 2Checkout as a payment processing option within one of its many partnered shopping carts, invoicing, or booking platforms.
In this crowded field of online processors, 2Checkout stands out from its competitors by offering broad support for international businesses, serving over 200 countries worldwide. Global payment tools like this aren't as common as you might think, so when they are available, it's worth taking note.
In March 2017, an eCommerce platform called Avangate purchased 2Checkout and decided to retain the 2Checkout brand name going forward. Until the acquisition, Avangate's platform was specifically geared toward selling digital goods (i.e., software and software subscriptions). To make things simpler, sometime in 2018, Avangate and 2Checkout re-branded and re-launched the service solely as 2Checkout, but now calling itself a "monetization platform" rather than a payment processor or eCommerce software.
As part of a wide-ranging trend in mergers and acquisitions in the payments industry, the combined 2Checkout/Avangate business entity was itself very recently acquired by Verifone in August 2020. When this acquisition was announced, the company stated its intention to go forward under the Verifone brand name. However, a "2Checkout is now Verifone" logo on the 2Checkout website is the only obvious indication of new ownership. Pricing and features remain unchanged for the time being, although we expect that the company's pricing plans may eventually be renamed due to its close association with the 2Checkout brand name.
There are several positive and negative factors to consider when working with 2CO. For starters, withheld funds and terminated accounts are the main complaints of 2CO users, which isn't surprising given that the company is a payment service provider (PSP). Other companies using this business model — PayPal, Stripe, and Square, to name a few — have the same complaints levied against them. However, 2Checkout's offerings are some of the most sophisticated we've seen for accepting online payments. If you need a robust yet flexible way to accept card-not-present payments, 2Checkout is a very viable option.
Before we delve into the details, let's start by pointing out that 2Checkout is currently only able to process card-not-present transactions. These transactions can occur online or within an app, or they can be manually keyed-in transactions. Also, 2Checkout offers more features than your average online payment processor, which is great if you need recurring billing and an online store builder. However, it also means that 2Checkout is more expensive than more basic options. So if you just need a basic online processor or a way to accept card-present transactions, you might consider taking a look at a few of our other preferred payment processors. We'd also note that this limitation might soon become a thing of the past with Verifone's recent acquisition. That company is best known among merchants for its ubiquitous line of countertop credit card terminals, suggesting that a robust omnichannel payment solution might be on the horizon.
While the current 2Checkout platform is an excellent option for online businesses, its high processing rates and lack of support for card-present transactions limited its overall score to 4 out of 5 stars. If you don't anticipate ever needing to accept an in-person payment and are willing to pay a little more for a more robust feature-set, however, it's still an excellent choice, and we give it a strong recommendation.
Read on for more details about the 2Checkout platform and how it can help your business.
Products & Services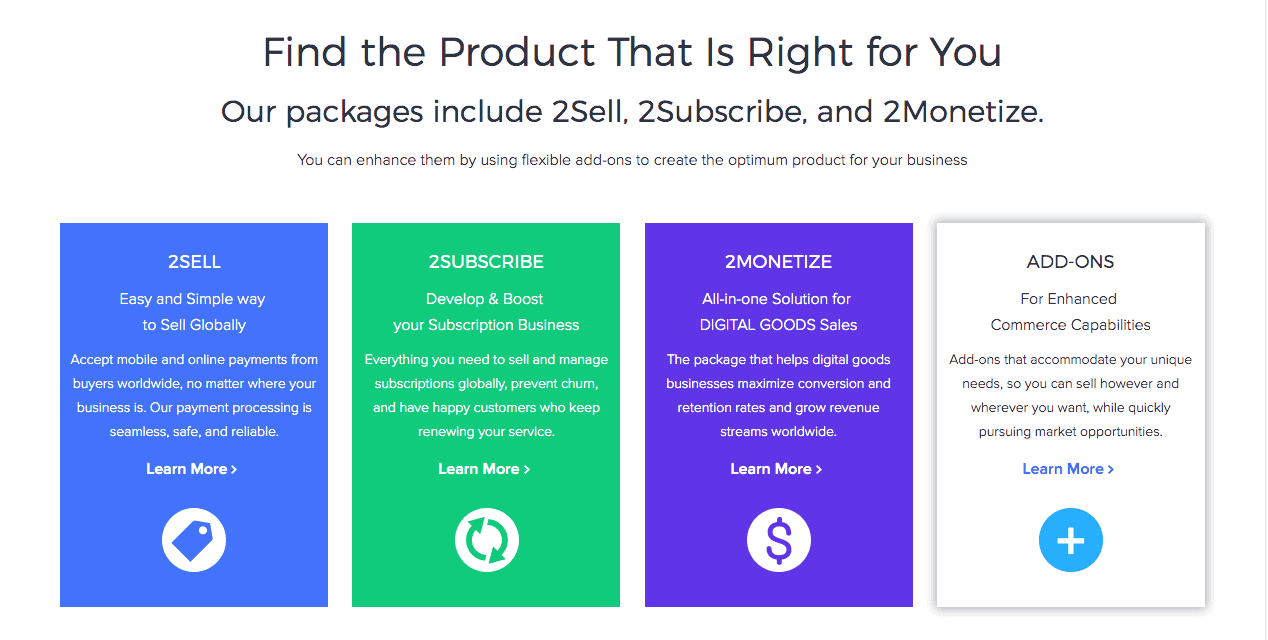 You'd think all payment companies would make basic information about their products and services crystal clear. But you'd be mistaken. The marketing copy on many sites (especially for low-quality, predatory providers that use a massive sales network) is often vague or meaningless, the site is poorly organized, or both. Fortunately, this is not the case with 2Checkout. The company's main product offerings are clearly described in detail, and site navigation is smooth and intuitive. While the site occasionally descends into marketing-speak, overall, it's far better than most websites we've seen in the payments industry.
2Checkout breaks up its product offerings according to the pricing plan. Merchants on higher (read: more expensive) plans will have access to more features. That said, you can always add on more features à-la-carte style via 2Checkout's add-ons. You'll need to decide what features your business needs before you can evaluate the total cost of ownership. Here is a brief breakdown of the features included in each plan:
(Once again, 2CO is for card-not-present purchases only. If you're planning to process a lot of card-present transactions, you'll want to use another processor in addition to or in place of 2CO. Take a look at a few of our recommended providers for card-present transactions.)
2Sell
Sell Internationally: Sell in 200+ countries and territories. List your checkout in 29 languages, and accept payment in 100 currencies. Your customers won't have to sign up for 2CO themselves; they can quickly make purchases using one of the 45 accepted payment methods (including PayPal if they have a PayPal account).
Integrate With Shopping Carts: 2Checkout has prebuilt integrations with 120+ of the most popular software options.
Checkout Features: Make your checkout page mobile-friendly and customize the look to match your brand. Localized checkout is also available.
2Subscribe
All of the features from 2Sell, PLUS:
Recurring Billing: Recurring billing is available globally through nine specific payment methods. Take advantage of 2Checkout's subscription management tools. Customize your subscription's billing frequency and select your pricing model (you can choose from flat-rate, usage-based, and hybrid). Subscription reporting is also included.
Revenue Recovery Tools: 2Checkout claims to help merchants recover up to 20% of their revenue using its account updater and retry logic tool.
2Monetize (For Selling Digital Goods ONLY)
All of the features from 2Sell, PLUS:
Conversion Rate Optimization Tools & Services: The company doesn't include more detailed information about its tools and services on its website.
Cart Abandonment Prevention: These tools typically include cart abandonment reports.
A/B Testing: See what inspires more purchases.
Invoice Management: Send invoices to customers.
Global Taxes: Use 2Checkout to manage VAT and sales tax collection and handling.
Risk & Fraud Protection: Reduce chargebacks with fraud protection tools.
Add-Ons
As we've mentioned above, you can add more features to your chosen plan through add-ons. Some of these add-ons are already included as features of specific plans, and some you can purchase at additional cost. I like how this add-on model lets you customize your feature-set. On the other hand, I don't like that prices for add-ons are not listed, making it difficult to determine your custom plan's overall cost. Here are those add-ons:
2Convert: Conversion rate tools that 2Monetize already includes.
2Bill: Subscription management tools that 2Subscribe and 2Monetize already include.
2Comply: Tax and VAT handling and compliance tools, compatible with digital products only and already included in 2Monetize.
2Partner: Increased channel distribution and automation that is available only for 2Monetize at additional cost.
2Service: For premium services and dedicated support, available at additional cost.
Also, the following features are available to all merchants using 2Checkout:
Hosted & Inline Checkout: You can choose between 2CO's hosted cart or its inline cart (or the integrated payments option discussed below). The hosted cart allows you to offer checkout on 2CO's servers. This checkout is mobile-friendly and customizable. Alternatively, you can use the company's inline cart to offer checkout on your site. Customers will not be redirected to checkout. 2CO recommends the inline cart for merchants with a smaller product catalog.
Payment API: 2CO has now added a third option for checkout: directly integrated payments. This solution gives you the most control over the payment process and is the most streamlined for your customer. Buyers place sales directly on your website without the need for redirection to a hosted payment page. Card data is tokenized, and you submit the charge from your server via the 2Checkout API.
Reports: View executive, financial, and marketing reports. Merchants on the 2Subscribe plan can view subscription reports, including renewal and churn rate, active customers, etc.
Security: 2Checkout provides tools for fraud management. Additionally, 2Checkout complies with a whole slew of security standards. The company is PCI DSS compliant, ISAE 3402 and SSAE 18 compliant, and GDPR compliant (for the EU). 2Checkout also boasts a 99.98% uptime.
Shopping Cart Integration: In addition to hosted payment pages and direct integration options, 2CO already integrates with an ever-increasing lineup of established eCommerce shopping carts. The current cart count is over 120. Note that invoicing, booking, and other types of software integrations are included in 2CO's "shopping cart" list. You'll also have access to 2Checkout's simple plug-and-play cart with both hosted and inline checkout.
Also, 2Checkout offers an optional and unique selling solution that it calls "Merchant of Record." In this model, 2Checkout becomes a reseller of your digital and physical goods. Your goods are sold on a "co-branded" website, and 2Checkout is responsible for order processing, payment processing, and tax collection. As the merchant, you can change the website's look and feel and monitor your sales through a dashboard. You are still responsible for shipping your physical products, but aside from that, your business's daily operations are passed on to 2Checkout. 2Checkout also offers add-on services for building integrations and marketing, which are available for purchase. Pricing information for these services is not disclosed, but presumably, it depends on your business and current sales.
Keep in mind that this Merchant of Record service is entirely separate from the payment processing service. If you choose to use 2Checkout's payment processing service, you will not be required to sign up for Merchant of Record.
Overall, we're impressed by 2Checkout's range of features. We especially like that 2CO offers three different ways to add its checkout services to your website (Standard, Inline, and Payment API). You can see which of these checkout services are compatible with your shopping cart by looking in 2CO's master list of third-party integrations. Each integration lists the available checkout options as well as whether recurring billing is available.
Fees & Rates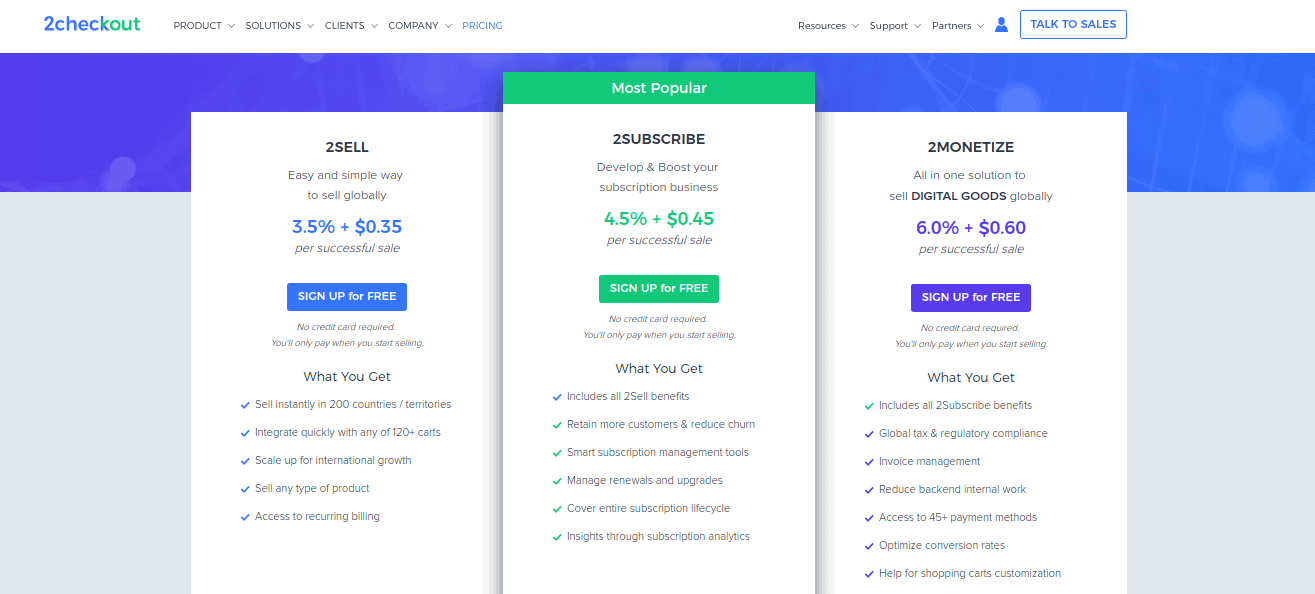 2Checkout bases its pricing on a pay-as-you-go model. That means you'll pay per transaction, but there are no monthly or annual account fees or early termination fees for closing your account.
At the same time, 2Checkout's transaction processing rates are significantly higher than we're used to seeing. The lowest plan charges 3.5% + $0.35 per transaction, which is 0.6% + $0.05 more than the industry standard rate for online transactions (2.9% + $0.30). If you are just looking for a basic online processor, that price might be a deal-breaker for you.
However, in return for these higher transaction rates, you'll gain access to a few features that aren't available with cheaper competitors. For example, compared to Stripe, 2Checkout has much more extensive international capabilities. While Stripe is open to merchants in 34 countries, 2Checkout is available in over 200. Also, 2Checkout is often praised for its out-of-the-box usability; the same cannot be said for Stripe. And 2Checkout comes with features that cost extra with other services, such as recurring billing and an online store builder.
As you explore your payment processing options, be sure to consider the features you need and what those features will cost you with each processor.
2Checkout's pricing is divided into three pricing plans. Each step up in pricing includes access to more features. We've already covered which features each plan includes, so I'll just list the transaction rates here:
2Sell: 3.5% + $0.35 per transaction
2Subscribe: 4.5% + $0.45 per transaction
2Monetize: 6.0% + $0.60 per transaction
There is also an enterprise plan for high-volume sellers. If you sign up for this plan, you'll be able to negotiate your pricing and features. The enterprise plan includes premium onboarding, dedicated support, professional services, custom integration, and an affiliate network.
2Checkout charges very few fees on top of its flat transaction rates. You'll only need to be aware of the chargeback fee (which is charged by all payment processors) and the cross-border fee. 2Checkout's chargeback fee depends on your business's chargeback ratio. If your chargebacks make up less than 1% of your transactions, you'll pay $15 per transaction. If your chargeback ratio falls between 1%-2%, it's a $20 fee, and if your ratio is higher than 2%, it's $45. You'll want to keep your chargeback ratio under 1% to avoid higher fees and keep your account in good standing with 2Checkout.
Additionally, you'll need to consider the cross-border fee. If you are operating in one of 23 select countries (including the US, Canada, and the UK), you can expect to pay an additional 2% cross-border fee to accept payments from customers outside of that country.
Also, note that transaction rates can vary for a few advanced localized payment methods (such as Boleto Bancario and Kombini). One of these "advanced" payment methods is 2Check (echeck)/ACH. I'm told that the additional cost for this processing type is 2.6% + $0.15, and it's only available for certain packages. Ask about rates for any local payment method that you plan on using.
Add-ons are also available at an additional cost. I have not been able to find any information about pricing for add-ons. Let us know in the Comments section below how much your business has paid for 2Checkout add-ons!
Contract Length & Early Termination Fee
The 2Checkout website includes two Terms & Conditions documents. However, both of these documents appear to be written for the end consumer, not the merchant. To obtain a copy of a Merchant Agreement, you'll need to contact 2Checkout directly. You may be sent two different documents upon request: one for 2CO's payment processing services as a PSP and the other for the Merchant of Record model that we discussed earlier. In this review, we will be focusing exclusively on 2CO's payment processing.
2Checkout's payment solutions are offered on a month-to-month basis with no early termination fee. Your agreement may be terminated with 30 days' prior written notice. Upon termination, 2CO may decide to reserve a portion of your funds as a "deposit." The purpose of this deposit is to guarantee security for 2CO by covering any remaining refunds, chargebacks, fees, and penalties that your business may incur after you terminate your 2CO account. 2CO can choose to hold this deposit for as long as it deems necessary. In its Merchant Agreement, the company states that it is typical to hold these funds for up to 180 days (the standard window for chargebacks on credit transactions). I have seen many complaints online that mention this deposit. You'll need to consider the potential of having your funds held for up to half a year before you commit to 2CO. And always, always, read the full Merchant Agreement before you sign.
Also, you'll want to check out 2CO's Legal Overview, including the company's lists of prohibited and restricted products, listed under Compliance > AUP (that's Acceptable Use Policy). Many of these businesses are commonly found on the no-fly list for third-party processors, but I will say that 2CO's policy is one of the most comprehensive and detailed. The lack of ambiguity is a huge plus. If your business is even remotely close to a restricted category, save yourself some future pain and clear it with 2CO from the beginning or just look elsewhere. You may need a processor that specializes in high-risk industries or else live in perpetual fear of a frozen or terminated 2CO account.
Finally, information on payouts and 2CO's rolling reserve is available in the knowledgebase. Here's a quick overview of 2CO's policies:
Payouts occur weekly for merchants on the 2Sell and 2Subscribe plans. Sellers on 2Monetize will have monthly payouts by default. One week is a long time to wait for a payout, and one month can feel like an eternity! Slow payouts are one of the negatives that we've seen users mention on third-party review sites. If you decide to go with 2Checkout, try to negotiate a more frequent payout schedule. As always, get your negotiated payout schedule in writing.
2Checkout operates on a rolling reserve: The company will withhold 5% of your transactions for 90 days on a rolling basis. 2Checkout also maintains the right to raise the reserve rate (hold more of your money) if your business experiences too many chargebacks or refunds. This is another frequent cause of complaints. Read 2Checkout's information on how to maintain a low reserve rate in its knowledgebase. However, keep in mind that this issue (held funds) is typical of all PSPs. Check out our article on how to avoid merchant account holds, freezes, and terminations, for more advice on how to prevent this problem.
Overall, 2Checkout is on par with similar providers as far as processing agreements go, maybe even a bit better thanks to that super-clear list of prohibited businesses. I've said it once, and I'll say it again: Make sure you read every word of each document before you sign. You don't want to be surprised by held funds or a terminated account later on down the road.
Sales & Advertising Transparency
2Checkout doesn't appear to use gimmicky marketing tactics, which is great news. Pricing is straightforward and easily accessed, as is the fact that 2CO is a PSP, not a merchant account provider. Advertising is standard and mostly limited to the web. 2CO attracts new customers via its site or referrals, and I found no evidence of an old-school sales force making cold calls to potential customers.
The website is clear and easy to navigate — which goes a long way toward transparency. The Legal Center contains several handy resources, such as privacy policies and lists of restricted industries. I think 2Checkout could improve transparency by making this list of restricted industries even more available for onboarding merchants. Negative reviews indicate to me that many merchants sign on with the processor without having read this list. Overall, though, 2Checkout does very well in this area.
Customer Service & Technical Support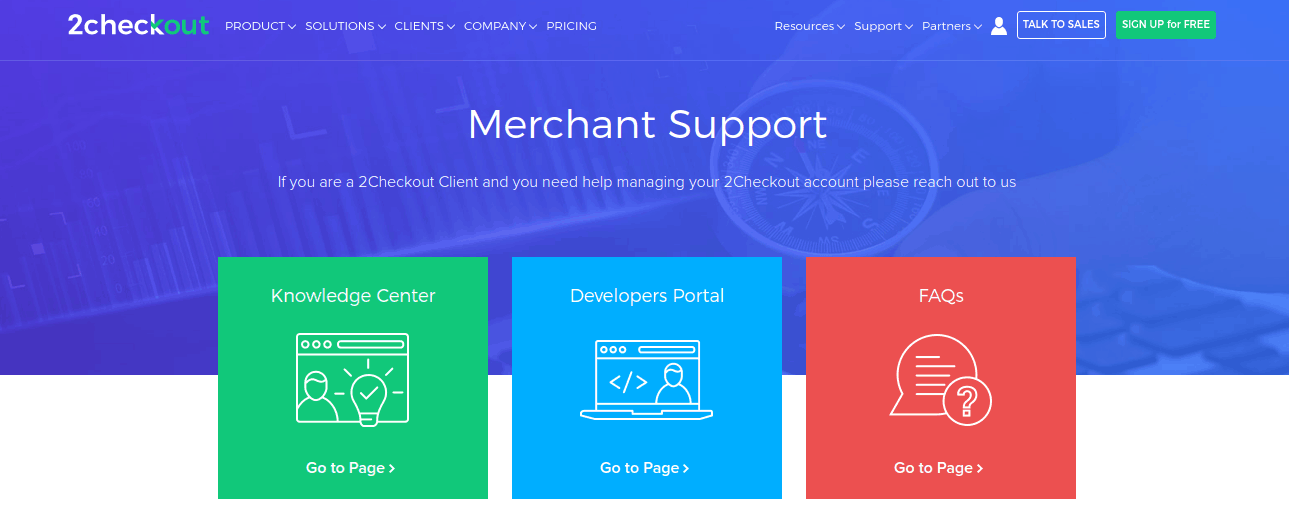 2Checkout offers technical support through a few different avenues. You can get help for order and payment issues 24/7 through phone and email. And true to 2Checkout's international approach, that support is available in nine different languages.
Take a look at all the ways you can contact 2CO as well as a few of the learning resources you can access:
Phone Support: This option is available Monday-Friday, 8:00 AM-4:30 PM EST. These aren't the greatest hours, but the fact that phone support exists at all puts 2CO ahead of many other competing payment service providers.
Support Tickets: Inquiries outside the regular operating hours listed above are answered ASAP.
FAQ: This webpage covers a dozen or so basic topics.
eCommerce Resources: Whitepapers, webinars, infographics, and datasheets are available for download. You'll have to hand over some personal information (name, phone number, and email) to access these resources. You can also view product release videos (no personal information required).
Glossary: This feature is not particularly extensive, but it's better than nothing.
Blog: 2Checkout publishes articles regularly, covering selling strategies and industry news.
Developer Resources: Here, you'll find a knowledgebase and API documentation. I'd definitely suggest perusing these resources if you're considering 2CO. I found very important bits of information here, such as details on payout options and the rolling reserve.
You can also contact 2Checkout via social media (although this is more of a last resort option). 2Checkout is active on Facebook, Instagram, LinkedIn, and Twitter and occasionally responds to customer complaints and concerns on these platforms.
User Reviews
Negative Reviews & Complaints
Every processing company receives its fair share of complaints, and 2CO is no exception. Reviews of 2Checkout cover a wide variety of opinions. Some users love 2CO; others call it a scam. In total, I found more negative reviews than positive ones. However, this is not abnormal for a payment processor (take a look at our article on negativity bias). After reading hundreds of reviews, I was able to identify a few trends in these comments, both positive and negative.
2Checkout maintains an A+ rating with the Better Business Bureau, with 54 complaints filed within the past three years, 26 of which have been filed within the past twelve months. The company's complaint volume has risen significantly since our last review update in June 2019. However, it's apparent from reading the recent complaints that customers, not merchants, are filing many of them. We also note that 2Checkout has responded to every complaint filed, although it's currently only been able to resolve 18 out of 54 complaints satisfactorily. You'll also find additional complaints on Trustpilot and other review sites, although we'd caution you that people frequently cut and paste the same complaint in multiple online forums. Issues of concern to merchants include the following:
Account Termination: 2CO appears to closely monitor accounts; users report account closures with no notice or a highly inadequate explanation. Some merchants said that 2CO closed their account after performing a final review of the business, even after those merchants had been using 2CO for years. Before filling out a 2CO application, read our article on avoiding account freezes, holds, and terminations. Most importantly, review that Prohibited Products list. If your business could be considered high-risk, you might want to choose a processor such as Durango Merchant Services.
Withheld Funds: Some merchants report dissatisfaction with 2Checkout's reserve policy — the automatic holding of 5% of each payout for 90 days to protect against risk and chargebacks. Most often, sellers were frustrated that their money was (or still is) being held for an indefinite period after their account was suddenly frozen for review or just plain closed. This period is typically at least 90 days and sometimes much longer (up to a year!). Unfortunately, customers have up to 120 days from the time of purchase to file a chargeback, so the company has little recourse but to holds funds from a transaction for at least that long.
Poor/Slow Customer Service: The most common complaint of this type is a frustration with the lack of urgency and clarity in the resolution process with 2CO. Merchants feel strung along or left in the dark for long periods.
That all sounds pretty bad at first glance, but it's important to point out that, compared with its prominent competitors, the overall complaint total for 2Checkout and the nature of the complaints themselves are pretty reasonable by industry standards. These issues plague all payment service providers, as it's unusually easy to set up an account and start processing right away. Your best defense against having your account suddenly terminated is to be completely honest about what you sell from the very beginning of your relationship with 2Checkout (or any other provider, for that matter).
Positive Reviews & Testimonials
2Checkout includes a brief list of testimonials on the "Clients" page of its website. These reviews were originally written on third-party review sites, and 2CO provides links to those original comments. The company also has a handful of video testimonials on its YouTube channel. Around the web, I found bits of praise for 2CO in the form of written reviews from users. Here's what those positive reviews tended to mention:
Widely Available: 2CO works in multiple payment methods, currencies, and languages. Most significantly, there are only a handful of countries 2CO does not serve. Some merchants have selected 2CO essentially by default but have been happy with the option nonetheless. Several sellers expressed gratitude that 2CO is available in countries where companies such as Stripe or Shopify Payments are not. Merchants also like how 2CO can manage international tax rules.
Easy To Use: Merchants report that 2CO is quick to set up and operate.
Support: Some comments report positive interactions with customer service and support. Note that, overall, I've seen many more negative comments on customer support than positive.
Final Verdict
All in all, 2Checkout is a good solution for several specific categories of merchants. If you are selling exclusively online and need access to comprehensive subscription management features, 2CO may be for you. In the same vein, if your business is located in a country without many payment processing options, 2Checkout will likely be available. Merchants who fall into either of these two categories — and don't mind paying a little more per transaction — should consider 2CO.
Along with its easy-to-navigate website, we appreciate 2Checkout's two simple hosted payment page options as well as its experience handling payments for both physical and digital goods. I also like that the company has added a third option to host checkout yourself using 2Checkout's direct API.
The best thing about these three payment setup options for many merchants is that no coding experience is needed to set them up — unless you want to add advanced customization options. Compatibility with virtually all shopping carts makes 2Checkout a more viable option for many eCommerce merchants than other alternatives (such as Stripe or PayPal). This broad compatibility and wide international availability make the company an excellent choice for those who don't need to accept card-present transactions. Simultaneously, 2CO's high per-transaction costs hurt its overall score, especially since higher-volume merchants would most likely be paying even higher processing rates — the reverse of what usually happens in the payments industry. Considering this, along with the company's decent reputation up to this point, 2Checkout earns a score of 4 out of 5 stars.
Like other payment service providers (PSPs), the company is more likely to take on sellers with less than perfect credit scores, and it is better at dealing with risk than a lot of traditional merchant account providers. At the same time, the meaning of "risk" is always a bit subjective. 2Checkout reserves the right to close your account if you've crossed its acceptable risk threshold. If you choose to work with 2CO, familiarize yourself with the processor's procedures as well as the fee and payout structure, so you're one step ahead of the game. Talk to a live risk department employee before applying for an account if there's any doubt.
---
The Merchant Maverick Seal of Approval 🏆
2Checkout


---



After hours of in-depth research and evaluation, we can confidently recommend this brand to our readers. Get started today and see 2Checkout for yourself.
The Merchant Maverick Seal of Approval 🏆
2Checkout


---



After hours of in-depth research and evaluation, we can confidently recommend this brand to our readers. Get started today and see 2Checkout for yourself.
To learn more about how we score our reviews, see our
Credit Card Processor Rating Criteria
.
Read Next