Stax By Fattmerchant Review
This affordable platform comes loaded with features and integrations that make it a great value for a wide variety of merchants.
Expert Analyst & Reviewer

UPDATED
Advertiser Disclosure: Our unbiased reviews and content are supported in part by
affiliate partnerships
, and we adhere to strict
guidelines
to preserve editorial integrity.
Stax by Fattmerchant

Pros
Transparent membership pricing with a 0% transaction markup rate
Next-day funding option available
An integrated payments processing platform
Month-to-month billing with no long-term contracts
No early termination fee
QuickBooks integration
Cons
US-based merchants only
Not suitable for low-volume businesses
Some reports of billing and customer service issues
Stax By Fattmerchant Overview
Stax by Fattmerchant is a merchant services provider that offers membership pricing (also called a subscription-based). This pricing model is a variant of interchange-plus pricing in which you pay 0% markup on interchange rates and instead pay a monthly membership fee. This makes Stax a great value for a wide variety of merchants, particularly eCommerce merchants, who often get charged a highly inflated rate by payment processors.
High-volume businesses will love the built-in volume discounts — the more you process, the less you pay in terms of the percentage of your overall card payment volume. Stax's integrated payments platform also includes payment processing, advanced invoicing and billing, inventory management, advanced reporting features, and access to numerous integrations through Stax's app marketplace.
Keep reading our Stax review to see why we gave the company 5 out of 5 stars.
Stax Payment Processing Software & Services
Stax supports just about any business type through a combination of in-house and third-party products. Stax's membership-based pricing plans come with a full-service merchant account, including 24/7 customer support.
Let's start by breaking down the company's core services and then we'll explore some of the perks of the Stax Pay integrated platform.
Payment Processing
Merchant Accounts: Unlike payment services providers (PSPs) such as Square, Stax offers full-service merchant accounts with a unique merchant ID number for each business. The company is not a direct processor and partners with Worldpay for actual payment processing.
Countertop Terminals: For brick-and-mortar merchants, Stax offers a choice of several Dejavoo terminals (along with the PAX A920) for merchants who need a countertop payment device. If you already have a terminal, Stax will also reprogram it to work with its system for free. You can add a protection plan to get more comprehensive support for your terminals. This is the ideal option if you don't care about integrating your terminal with your POS system. Thankfully, Stax sells terminals outright instead of leasing its credit card machines.
Integrations: Stax doesn't have an extensive list of third-party integrations proudly displayed on its site the way some payment processors do. But you can integrate Stax's payment processing into other solutions, including POS systems, and use Stax terminals to accept in-person payments.
Virtual Terminal: Stax's virtual terminal can be a great deal if you mostly key in your payments through a computer (such as in an office environment or by taking phone orders). You'll also get access to a customer database, invoicing, and inventory management features, which we'll talk about shortly. Plus, the virtual terminal can connect to Stax's credit card readers, so you can take advantage of in-person rates. And if you don't want a full shopping cart but need an easy way to accept payments online, Stax Pay includes a very basic website payments feature starting at the Growth plan level.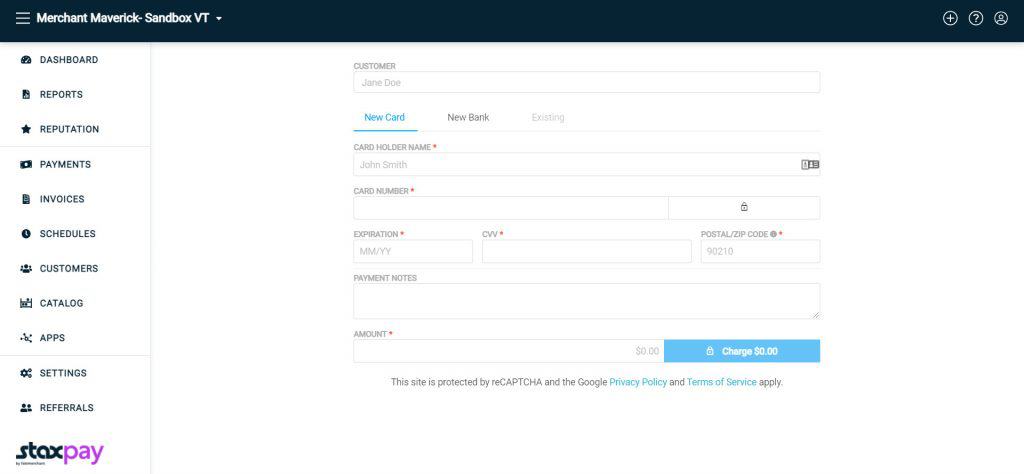 Mobile Processing: The Stax Pay mobile app is available for both iOS and Android. The BBPOS Chipper BT and Chipper 2X BT mobile card readers are offered as mPOS options, both of which connect via Bluetooth and support EMV payments (the 2X model also supports Apple Pay). The Stax website indicates that the Dejavoo Z1 and Z9 readers are also available. The mobile plan includes access to other aspects of the Stax platform at no additional cost, specifically invoicing and inventory.
Shopping Cart: Want to sell online with a no-fuss payments processor? Stax offers a customizable shopping cart for eCommerce businesses. You'll keep customers on your site during the entire process, and you have control over the look and feel of your shopping cart. This is more advanced than the website payments feature included with the Stax virtual terminal.
Developer Tools: For developers or businesses that would like to use Stax for processing but have their own custom credit card processing software needs, the Stax API allows for easy integration. Stax just provides the documentation, so BYOD (bring your own developer)! I'm not a developer, but I think Stax has put some thought into this product. It's no Stripe (the platform's not even as open as Square), but you can do quite a lot with it. There's a JavaScript library for web payments, but if you prefer to skip handling your customers' card data altogether, the invoice function will direct customers to a Stax-hosted site. Plus, there's a mobile SDK for iOS and Android. If you'd like to integrate with terminals rather than going mobile, Stax offers an API for Dejavoo terminals.
Stax Pay Software Suite
All new Stax accounts now include the Stax Pay integrated payments platform. The platform centralizes all of your transactional information and provides several other features as well. Let's take a look at Stax's customer database, invoicing, inventory, and reporting features:
Centralized Web Portal: Logging into the Stax Pay platform will give you all of the information about any of the Stax services you're using. Overall, the Stax Pay portal is fairly easy to use and surprisingly intuitive, but Stax also offers a relatively basic but explanatory tutorial. I think the tutorials could be fleshed out with more detail for those who are hesitant to go poking around the dashboard. However, it genuinely seems like most of Stax's customers have no trouble finding their way around.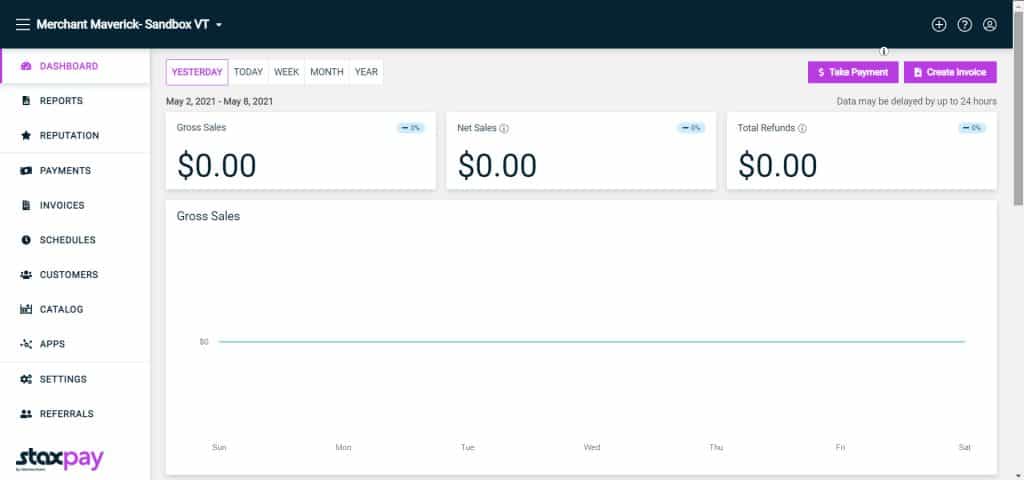 Customer Database: The customer database lets you keep track of important details, such as preferred payment methods, purchase histories, invoices billed to the customer, along with any other useful data. You can also store cards on file so that you don't need to ask for your customers' card information every time they make a purchase.
Inventory Management: Stax's inventory system is surprisingly functional, though it'll never rival a full-scale POS. Still, it can be a handy tool if you're using invoicing or website payments, the virtual terminal, or the mobile app. While you won't see barcode or SKU support, the inventory tracking and centralized catalog are still nice. Inventory features include:

Mark item as service
Low-stock alerts
Set discounts
Manage tax rates
Item categories
Attach image files
Invoicing: You can send invoices from the mobile app or the virtual terminal. Unsurprisingly, the invoicing feature syncs with your customer database and item catalog to fill in key details. I like that you can even set recurring invoices and see your scheduled invoices at a glance. It's not as advanced as PayPal or Square, which admittedly are entry-level compared to full-fledged invoicing solutions, but Stax will get the job done. However, if you want the ability to require down payments, set up installments, or anything more advanced, you might be better served by a dedicated recurring billing service.
Reporting: The reporting features (included at no extra charge) are rather basic, but they're not the worst tools I've seen. In addition to all your financial data, you'll get item sales and item category reports, and even a projected inventory report. Plus, you can view all the data from multiple sales channels with the Stax report. If you want more information, you'll need to get on one of Stax Pay's more expensive subscription plans or pay an additional $20 per month for the advanced reporting add-on. I'm always a little disappointed to see this practice of charging more for advanced reporting. However, it's not an uncommon practice — just one that I don't like.
Stax's approach to an integrated, all-in-one platform for payment processing isn't without its flaws. But as far as execution, Stax has done really well. The centralized platform works, even if it's not as robust as what you would get with standalone software in each category. I don't think Stax is even as robust as Square.
But there's one significant difference between Stax and Square: Stax sets its customers up with their own merchant accounts, translating into greater account stability. For larger businesses that don't necessarily need all the bells and whistles, Stax is a great solution. And even for smaller businesses that want stability and an integrated platform, Stax makes sense — it just comes at a cost.
Stax By Fattmerchant Fees & Rates
Stax pricing has recently been overhauled and simplified. Stax now offers its core services in all-in-one packages. Merchants processing under $5 million annually can choose between three monthly subscription plans, while merchants processing over that amount will need to get a custom quote.
Of course, there are per-transaction fees as well. Whatever your subscription tier, for each payment you accept, you'll be paying the following:
Swiped/Dipped/Tapped Transactions: $0.08 + interchange fee per transaction
Keyed-In Transactions: $0.15 + interchange fee per transaction
Stax's three subscription plans are Growth, Pro, and Ultimate. Each successive plan is pricier and more well-featured than the previous. Here are the details:
| | Growth Plan | Pro Plan | Ultimate Plan |
| --- | --- | --- | --- |
| Starting At | $99/month | $159/month | $199/month |
| Customer Support | Ticket-based | Ticket-based | Account manager |
| Reporting & Dashboards | Basic | Enhanced | Advanced |
| Invoicing Included? | | | |
| Cards On File Included? | | | |
| Recurring Payments Included? | | | |
| API Key Included? | | | |
All Stax plans include ACH processing, with each ACH transaction costing you 1% of the transaction up to a maximum of $10. At the Pro level, you'll get web-hosted payment support (Text2Pay) and accounting reconciliation lite sync (comes with QuickBooks Online). Finally, the Ultimate plan includes a one-click shopping cart with catalog management, data exports, and an account updater that automatically updates your customer's saved information when they receive a new card.
Stax isn't very cost-effective for small businesses that want an all-in-one payment platform. Without the large volume to deliver cost savings, the monthly fees add quite a bit to that overall markup. If you're processing less than $10,000 per month, you will probably be better served by finding another platform that offers more affordable pricing for multiple payment channels.
Thankfully, the monthly subscription fee covers just about everything beyond the payment processing: statements, PCI compliance, and even a free QuickBooks Online integration. Stax can be a great value for many merchants. It's just not a great deal for all merchants, which is true of any processor. Be sure to do your math to ensure that Stax's pricing and feature set make sense for your business.
The cost of a Stax subscription covers many of the incidental fees commonly charged by merchant services providers. Here's what you won't be paying:
Additionally, Stax offers a processing package tailored to SaaS software platforms called Stax Connect. Described by Stax as a "fully managed payments facilitation ecosystem for your platform," Stax Connect has no publicly-listed prices, so you'll have to contact Stax for pricing details.
Sales & Advertising Transparency
Stax's website is professional-looking and easy to navigate. There's a lot of useful, easy-to-understand information for prospective merchants and clear descriptions of the company's standardized pricing plans. Stax also has an active social media presence on Facebook, Twitter, LinkedIn, Instagram, and YouTube. Finally, Stax offers some customer testimonials on its Customer Reviews page.
Stax relies on an in-house sales team and an online signup process to bring on new merchants. The online setup process is a good choice if you're in a hurry to get your account activated ASAP. We recommend talking to a sales representative rather than signing up online if you doubt how well Stax will work for your business. We like that Stax has an in-house sales team because using third parties tends to present all sorts of troubles.
Contract Length & Early Termination Fee
Regarding contract transparency, Stax publishes its Terms and Conditions right on its website — something very few providers will do for you.
All Stax accounts feature month-to-month billing with no early termination fee. You'll need to provide thirty days' notice when you close your account, but that's it. This is exactly what we like to see, and it's what you should be looking for in a payment processor. We encourage you to read your entire merchant agreement very thoroughly before signing up.
Customer Service & Technical Support
Stax's extensive knowledgebase reduces the likelihood that you'll need direct support from the company. There's even a functioning search bar! The only criticism I have here is that some of the support articles appear to be a bit dated, as they lack the new company branding.
If you need to reach out to a customer support representative, Stax offers free 24/7 technical support via an email ticketing system. You can also call Stax for direct support. Round-the-clock assistance is always great to see. Subscribers to the Ultimate plan will also get a dedicated account manager for an extra degree of personalized support.
It's common for merchant services providers — even some of the really good ones — to receive a lot of negative feedback about customer support from frustrated merchants. That's why it means so much that Stax gets a lot of positive customer service feedback. If you've had any experience with Stax's customer service, please leave us a comment and tell us about it!
Stax By Fattmerchant Reviews, Complaints, & Testimonials
Negative Stax By Fattmerchant Reviews & Complaints
Stax is accredited by the BBB and currently has an A+ rating. However, the company has had 36 complaints in the past three years, with 16 in the past 12 months. Generally, the complaint volume has increased since the company rebranded as Stax. Additionally, merchants have left 19 1-star reviews on Stax/Fattmerchant's BBB profile.
We have some Stax complaints on our site as well, which you can read in the Comments section below.
Here are the issues most commonly mentioned:
Billing issues
Customer service problems
Withheld funds
Hidden monthly fees
While it would be ideal to see no complaints at all, the reality of the payment processing industry is that every provider receives complaints of one sort or another. Luckily, Stax appears to respond to all complaints and tries to resolve the situation. The recent uptick in complaints is concerning, though. We've seen an uptick in customer service-related complaints about the company posted to Stax's Trustpilot page as well.
Positive Stax By Fattmerchant Reviews & Testimonials
Most Stax reviews found online are positive, with many merchants praising the customer service. Also, many merchants mention that they are saving money with Stax. An odd but fairly common comment is that many of these merchants think the concept behind Stax is great. I see phrases such as "tech-savvy" and "user-friendly" as well as "forward-thinking." Other merchants have said the "concept is smart and timely" and that the company is "ahead of the game."
It's really rare to see those kinds of comments, and what that says to us is that Stax communicates its value well and stands out as different. And despite the recent increase in complaints — which we take seriously — the company still receives an average customer rating of 4.1 out of 5 at Trustpilot based on 668 reviews. 75% of Stax reviews on the site give the company 5 stars.
If you want to see more praise, you can check out Stax's Customer Reviews page on its website. The testimonials — mostly from local businesses in the Orlando area — come across as unscripted and genuine.
Final Verdict On Stax
On the whole, we really like Stax. In addition to the company's unique take on the membership pricing model, its open, transparent business style is a refreshing change of pace. It's a genuine relief to find a provider that respects its customers and offers such a flexible and affordable service. We would love to see the success of Stax and similar providers lead to long-lasting changes throughout the entire processing industry. Will that happen? It's hard to say, but I'd like to think things have already begun changing.
At the same time, no provider is perfect. You'll have to do some math and compare features to make sure that Stax is a good match for your business. For one thing, the company does not provide high-risk merchant accounts. Beyond that, Stax may not be a great value for low-volume merchants, especially ones with small ticket values. We've generally found that merchants processing less than $10,000 per month will save money overall by using a payment service provider (PSP) such as Square. However, merchants consistently processing above that amount can save a significant amount of money on credit card processing with Stax.
Additionally, the uptick in complaints lodged against the company over the last year or two is worth monitoring. All merchant services companies receive complaints, and the majority of Stax customer reviews are still positive, but we're watching to see if this trend continues.
All in all, the total value provided by Stax's platform — including credit card terminal sales, centralized invoicing, data analytics, inventory management, and other features — makes the service worthwhile, especially combined with the stability of a full-service merchant account. That's why we're giving Stax 5 out of 5 stars, our highest recommendation. If you think that Stax could benefit your business, give Stax a try.
As always, we encourage readers who have had experience with Stax — good or bad — to leave a review in the Comments. We appreciate your help and feedback!
---
⭐️ Our Top Pick To Get Your Merchant Account Approved ⭐️
PaymentCloud


---



PaymentCloud has an excellent track record for both service quality and account approvals.
⭐️ Our Top Pick To Get Your Merchant Account Approved ⭐️
PaymentCloud


---



PaymentCloud has an excellent track record for both service quality and account approvals.
To learn more about how we score our reviews, see our
Credit Card Processor Rating Criteria
.