How To Choose A POS System For Your Food Truck
Editor in Chief

UPDATED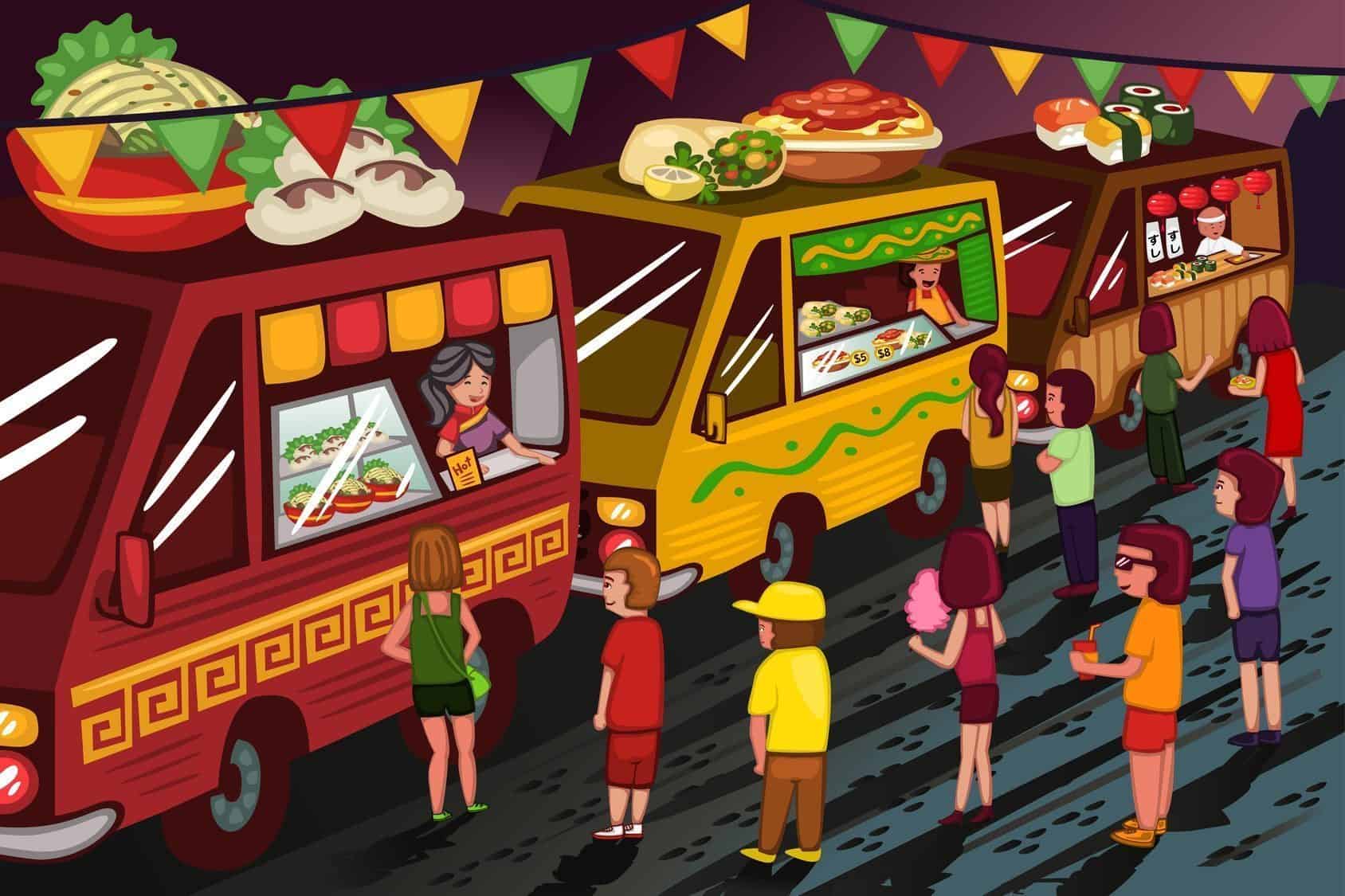 Why Use A POS System At All?
As the iconic and traditional providers of quick, satisfying grub to builders and remote work crews, food trucks (and their cousins, bustaurants, food carts, and kiosks) have been around forever. However, over the last few years the humble food truck has exploded in popularity. These days it is not at all unusual to see hordes of people wait in line for hours just for a taste of an authentic falafel or Parisian-style savory crepe. Food trucks have become both a social media phenomenon and a chic destination for hipsters and foodies nationwide; consequently, many ambitious entrepreneurs and chefs are forsaking brick-and-mortar eateries and sinking everything they own into a food truck business.
It's not surprising that so many people want to get in on the action, considering that Americans are projected to spend nearly $1 trillion at food trucks this year, but many new food truckers are sadly out to sea when it comes to actually managing a successful business. Financing a truck, buying the proper permits, marketing, ordering inventory – these are overwhelming tasks. So overwhelming, in fact, that people forget to think about the importance of a efficient point-of-sale (POS) system. Others consider purchasing POS software, but figure that it's unnecessary given the small staff typically needed to run a food truck. Good ol' pen and paper should work fine, they reason, I can write down orders on a legal pad and tally everything up at the end of the month. Why should I waste money on fancy POS equipment?
Why indeed? Well, for starters, it's the 21st century. We've got cars that drive themselves and nearly sentient phones. Pen and paper may have worked well in the past, but in our technological age customers expect something better (and so does the IRS, for that matter). Moreover, if you're sticking to old ways and avoiding POS software to stay 'off the grid,' you should step back and think a little. Running a mobile restaurant isn't the the obscure niche profession it used to be; food trucks are mainstream now, and certainly on the government's radar. This technique may allow you to temporarily keep your transactions under the table, but John Law is bound to catch up with you eventually. Without the accurate records and meticulous bookkeeping that a POS system provides, you could end up losing your truck and your livelihood along with it.
POS systems can keep your nose clean, but they help in other, more tangible ways as well. You can use them to help with cash and card transactions, generate receipts, manage employees, clock time, count inventory, and simplify bookkeeping. Considering how powerful these systems can be, if you're looking to save money, skimping on POS software/hardware may actually be counterproductive. Without a good system in place, you're likely to waste time on menial tasks and lose track of inventory and cash. You also increase your risk of being cheated by employees.
What Do You Need From A POS System?
Food trucks provide a unique service. As such, they deserve unique POS systems, specially designed for the needs of a mobile restaurant. Heavy-duty POS software is great for sit-down establishments, but for many food truckers a full-featured system is just overkill. You don't need to manage wait staff, after all, or coordinate seating arrangements, or boost communication between the kitchen and the dining area. It's crucial to think about what you don't need from a POS system, and it's equally important to consider exactly what you do need. To succeed as a food truck owner (and avoid opportunistic robberies) you must to be able to store cash efficiently with a secure and well-designed register. That said, we live in an increasingly cashless society, so if you don't want to miss out on business – especially from the younger generations – you should also have a good way to process credit/debit cards, accept mobile payments, and even allow customers to pay with less conventional means, like PayPal. Make sure that your payment processor/card reader is not dependent on an internet connection and can continue to queue up payments even when disconnected from Wi-Fi.
Depending on the size and success of your business, you should also seriously consider features like reporting and inventory management. Reporting tools are especially important. The food truck life may be great – you can put down where you want, stay as long as you want, and move on to greener pastures – but profits for the mobile food industry are notoriously low; experts estimate a profit margin of only 10%. By examining sales reports and other statistics, a high-functioning POS can tell you why, when, and where you're hemorrhaging money, and help you boost your cash flow so you can keep on truckin'. Some POS systems even integrate directly with social media (like Twitter), and help to drive your marketing as well.
POS systems can be as basic as you want them to be, and simplicity is the key to a well-run food truck. However, when choosing your software, don't make the mistake of going too simple, or you will miss out on some amazing, time-saving functions which have the potential to revolutionize your business. Before signing up for a POS service or purchasing software, consider these questions:
Do you want to be able to create invoices?
Can you depend on having Wi-Fi in every location you park your truck?
Will you be issuing coupons or gift cards at any point?
Do you want to set up a customer loyalty program or rewards system?
How will you be handling tips? Do you want to give customers the option to add electronic gratuities?
Do you communicate orders verbally with your cook/sous chef, or would you like to be able to print tickets?
How large is the area you serve? Do you want the ability to automatically calculate different tax rates?
Should you give employees the ability to clock in and out? Do you want to be able to track orders by employee?
If the answer to any of these questions is yes, you should look for a high-functioning restaurant POS (like Revel, for example) which has been especially designed for use in food trucks. If your initial reaction to the questions was to scoff or think about how lazy people can be, then I advise you to stick with the simplest POS system you can find, or just use a payment processing program like Square. Not everyone will benefit from bonus features like the ability to issue coupons, but they can be powerful tools when used properly.
POS Hardware Basics
No matter how advanced or sophisticated your POS software is, it's not worth anything unless you have the right hardware. Really! Think about it- even if your POS system could talk to customers and take orders (all while walking a tightrope and cracking wise with the folks in line) it wouldn't be particularly useful if you didn't own a working register, a card scanner, and a receipt printer. Sure, people might come from miles around to see "The Amazing POS" do a classic stand-up act and perform death-defying stunts, but if they're not buying your gourmet hotdogs while they're there, then what's the point?
As with POS software, the POS hardware you need depends entirely on the size and success of your business. Of course, there are a few basics every food truck owner should invest in, assuming you're not doing your bookkeeping with a Magic Marker and a notepad or taking cash under the table (don't!). If you're using a merchant processing program like Square in lieu of a POS system, then all you really need is a mobile device (an iPad or iPhone, for example). For more traditional software, whether it features a standard all-in-one touch screen or is geared towards modern restaurant iPad POS systems (by far the most popular choice with food truckers), you'll need a cash drawer and a card swiper or, preferably, some sort of mobile card reader. Receipt printers aren't a must have – how many people need to keep records of their taco purchases, seriously? – but they can come in handy. Inevitably, you'll have at least one uptight customer who demands a receipt and is angry when you hand them a sticky note.
Bear in mind that any equipment you buy needs to be able to stand up to the sometimes harsh environment of a food truck. I know I'm preaching to the choir on this one. No one knows better than a food truck owner/chef how hot, greasy, and generally disgusting it can get back there. Just remember that the ubiquitous oily film that covers your clothes and hair will also cover your iPad and card scanner, so make sure to buy protective covers/guards if possible, especially if your food is primarily fried. For more tips about choosing appropriate POS hardware and getting the best deals you can, check out my blog here.
Final Thoughts
The food truck industry can be a hard mistress, so give yourself every opportunity to start out on the right foot. Selecting the right POS system and hardware could mean the difference between becoming the next Roy Choi or watching your truck be repossessed. It doesn't matter whether you're hawking calf's liver or caviar, whether you're on the busiest street in Seattle or on a lonely road somewhere in the Midwest; you can't succeed unless you have a viable business plan and have organized, grounded, and built-up your food truck on the strong foundation of an efficient POS system.
POS software gives you the option to record and examine data, accept a variety of payment types, coordinate your Twitter campaigns, and manage your employees. In the long run, believe me, some things are just more important than getting hipsters to blog about your food or staking out the best parking space. So get going, throw away that pad of paper and your ballpoint pen, and check out our site for reviews of some of the best iPad, restaurant, and retail POS software around. Good luck to you all, and may the gods of street food be with you.