Easy Pay Direct Review
EPD offers merchant accounts to a wide variety of low-risk and high-risk businesses as well as offshore accounts. Find out if this service is right for your business.
Expert Analyst & Reviewer

UPDATED
Advertiser Disclosure: Our unbiased reviews and content are supported in part by
affiliate partnerships
, and we adhere to strict
guidelines
to preserve editorial integrity.
Easy Pay Direct

Easy Pay Direct At A Glance
Offers low-risk, high-risk, and offshore merchant accounts
Proprietary EPD Gateway included with each account
$99 account setup fee
---
Pros
Good for high-risk industries
Free payment gateway
Free virtual terminal
Full range of Clover products
Extensive third-party integrations
Cons
Untransparent tiered pricing
Little pricing disclosed online
$99 account setup fee
What Is Easy Pay Direct?
Easy Pay Direct is a payment gateway and merchant account provider that serves a wide variety of high-risk and low-risk industries. The company's EPD Gateway is its primary product, with merchant accounts provided through partnerships with numerous major US and international processors and banks. However, you can also use the EPD Gateway with your existing merchant account if you already have one.
There's much to like about Easy Pay Direct, including the EPD Gateway and its compatibility with the most popular online shopping carts. The company also offers a broad selection of processing hardware, all available for direct purchase.
Although no provider is perfect, Easy Pay Direct rates better than most of its competitors. We're giving the company a score of 4.5 out of 5 stars. If you're in a high-risk industry and have had difficulty in getting approved for a merchant account, it's definitely a strong contender for your business.
Supported Countries
Though Easy Pay Direct doesn't specifically list each supported country, the company states the following on its website:
Easy Pay Direct is connected with 38 offshore banks in a variety of jurisdictions. We have relationship [sp] throughout the Caribbean, Canada and the European Union.
Easy Pay Direct offers US-based accounts as well.
Easy Pay Direct Products & Services
Whether your business is strictly retail, eCommerce, or a hybrid of the two, Easy Pay Direct has a full line of services to fill your needs. Offerings include the following:
Merchant Accounts: Easy Pay Direct is not a direct processor. As with other high-risk specialists, Easy Pay Direct offers merchant accounts through numerous partnerships with domestic and international processors and acquiring banks. The company also partners with several offshore banks to provide accounts to merchants located overseas that do business primarily in the US.
High-Risk Specialization: Easy Pay Direct specializes in providing accounts to high-risk merchants, including firearms, nutraceuticals, CBD, and cannabis merchants. One unique feature it offers is load balancing, where a single merchant is provided with multiple merchant accounts. You can specify what percentage of your sales will go to each account. This redundancy means that payments can be automatically redirected to a different account if one of your merchant accounts has a hold placed on it.
Payment Gateway: The Easy Pay Direct Gateway allows you to accept credit and debit cards, echecks, ACH transfers, and online payments. Among its many features is a Customer Vault that securely stores your customers' sensitive payment data. The gateway meets Level I security standards for PCI compliance, and a free virtual terminal is available for mail-order and telephone order merchants.
Credit Card Terminals: Easy Pay Direct doesn't provide much specific information about the credit card terminals it offers, but the company includes EMV-compliant models. Some terminals support Apple Pay and Android Pay. The company will also sell you its terminals at wholesale prices rather than trap you in an expensive, long-term leasing arrangement. This is likely to be cheaper than buying a terminal on your own and paying a reprogramming fee to make it compatible with the company's system.
Point Of Sale (POS) Systems: Easy Pay Direct also offers the Clover Mini, Clover Flex, and Clover Station POS systems through a partnership with Fiserv. These systems feature built-in EMV and NFC capability, plus access to the Clover App Market, which allows you to add apps, such as analytics, gift cards, and loyalty programs, and integration with third-party accounting systems, such as QuickBooks, to your Clover system.
Mobile Payments: Easy Pay Direct's website shows its gateway running on smartphones and tablets, but it doesn't appear to offer a dedicated mobile payments app. Instead, you'll probably have to run the EPD Gateway through the browser on your mobile device. You'll also need a compatible mobile card reader to swipe your customers' cards. The company doesn't disclose much information about this feature; discuss it with the sales team before signing up if you need this capability. Alternatively, you can use the Clover Go mobile card reader and app with Easy Pay Direct.
Shopping Cart Integration: Easy Pay Direct offers its proprietary Quick-Click shopping cart, which is built directly into its EPD Gateway. It's very basic and requires technical proficiency to set up. Fortunately, the gateway is compatible with 134 shopping carts (including Shopify). The gateway also includes an emulator mode for Authorize.Net in case you want to use it with a shopping cart that isn't certified as compatible.
Developer Resources: If you need to customize the interface between your website and the EPD gateway, Easy Pay Direct offers some APIs and SDKs to help you do this. Documentation is available directly from the website.
Business Loans & Merchant Cash Advances: Easy Pay Direct works with 20 third-party lenders to offer merchant cash advances and traditional business loans. You can borrow a maximum of $500,000. Repayment terms range from 6-18 months for MCAs and 6-36 months for traditional business loans. Before applying for an MCA, check out our post on getting a good deal on a cash advance loan to learn how to avoid getting ripped off.
Fees & Rates
We value transparency from merchant services providers when it comes to pricing. However, as Easy Pay Direct uses so many different back-end processors, it's not practical to list every possible rate and fee the way a processor such as Stripe can.
The company posts the following flat-rate pricing information, but it's most likely only available to low-risk merchants:
Swiped Card Rate: 1.59% + $0.17
Online Card Rate: 2.39% + $0.29
ACH/eCheck Rate: 1.6% + $0.29
The company currently advertises that interchange-plus pricing is available to all businesses, but we're not sure if that includes high-risk companies. Most high-risk providers only offer a more expensive tiered pricing plan to high-risk businesses, so don't be surprised if that's what you have to settle for.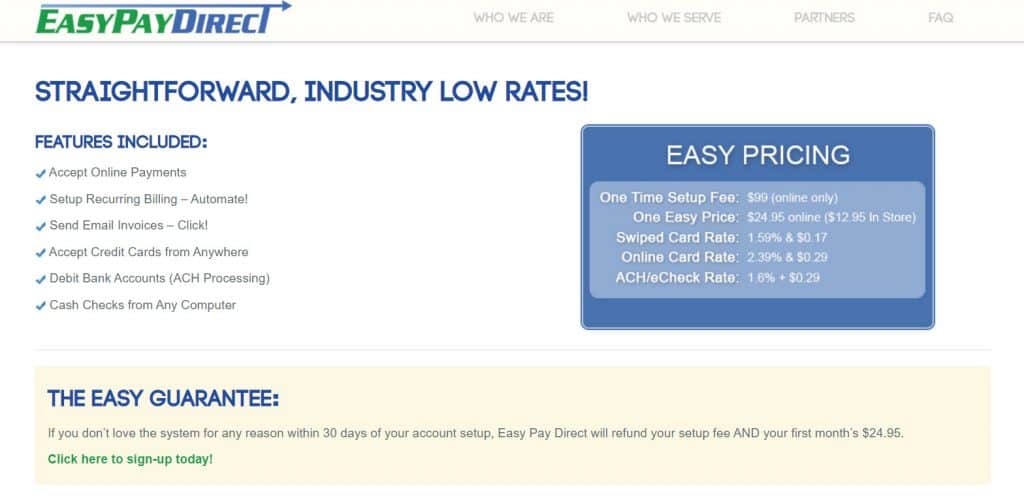 Easy Pay Direct doesn't disclose most of its account fees, so expect quite a bit of variability there, too. One fee that apparently applies to all merchants is a $99 account setup fee. You'll also usually pay $24.95 per month to maintain your account. The amount of this fee might differ depending on which back-end processor is servicing your account. It's not clear whether this fee includes PCI compliance or if it's billed separately.
One final recommendation is to review your contract thoroughly to see what other fees you'll be paying before signing up. We receive frequent complaints from merchants about providers charging "hidden" fees, but the truth is that most (if not all) of them are disclosed in your contract documents. Poring through pages and pages of fine print is never fun, but it can save you from expensive surprises.
Fortunately, Easy Pay Direct's fees and rates appear to align with industry averages for high-risk merchant account providers. The fact that none of the company's 60,000+ customers has complained about them indicates that the prices are reasonable.
Sales & Advertising Transparency
Easy Pay Direct's website contains some good information, but it's laid out in a non-intuitive way, so expect to spend a little time hunting to find what you're looking for. The company's blog is worth keeping an eye on, though.
Easy Pay Direct also offers a free report entitled 4 Easy Steps to Avoid Merchant Account Collapse in exchange for your email address. While this is a useful resource, expect a follow-up contact from the company's sales team if you download it.
The company also has Facebook, Twitter, LinkedIn, and YouTube accounts.
The website includes numerous ways to communicate with the company's sales representatives, who are all in-house employees. We appreciate that Easy Pay Direct doesn't use independent agents to market accounts — this practice can lead to unethical sales practices.
Contract Length & Early Termination Fee
Like most providers, Easy Pay Direct doesn't disclose its contract terms on its website. Most contracts appear to be for three years, which is the industry standard. Depending on which back-end processor you're set up with, your contract term might be shorter or longer. Also, your contract will likely include an automatic renewal clause, usually for successive one-year periods.
The good news is that the company does not charge an early termination fee (ETF) for most merchants — you won't be penalized for closing your account before the contract term expires (though the company's offshore accounts often include ETFs). Closing your account without being penalized can still be challenging, so follow the instructions to the letter before doing this.
Customer Service & Technical Support
| Easy Pay Direct Support | Availability |
| --- | --- |
| Phone Support | |
| Email Support | |
| Support Tickets | |
| Live Chat | |
| Dedicated Support Representative | |
| Knowledge Base or Help Center | |
| Videos & Tutorials | |
| Company Blog | |
| Social Media | |
Phone: Phone support is available from 8 AM to 5 PM (CDT), Monday to Friday. Outside those hours, you can still access support for merchant account-related issues through your back-end processor.
Email: Email support is also available.
Text: You can text EPD for support during business hours.
Live Chat: EPD provides live chat support during business hours.
Training: The company will provide training for new customers who sign up for one of its accounts.
FAQ: EPD provides an FAQ, but it's not nearly as in-depth as a full knowledgebase.
Poor customer support is a common problem in the processing industry, so it's good to see that Easy Pay Direct has very few complaints about this issue. Given the size of the company and the number of merchants using its services, this is a good indication that it provides high-quality customer support.
Easy Pay Direct Reviews, Complaints & Testimonials
Negative Easy Pay Direct Reviews & Complaints
Easy Pay Direct received BBB accreditation in 2015, but it appears to have discontinued it. Although no longer accredited, the company still has an A+ rating. Even more impressive is the fact that the company has had zero complaints over the last three years, despite being in business for over nine years and serving over 60,000 merchants. This is a strong indication that you will receive outstanding service from Easy Pay Direct.
Just know that while payment gateway providers rarely receive very many complaints, merchant account providers are often the target of a high number of them. Although merchants seem genuinely happy with Easy Pay Direct and its payment gateway, that doesn't necessarily mean they're satisfied with the back-end processor. Before signing up with the company, research your back-end processor before opening an account.
On Trustpilot, EPD has an average rating of just 2.5 out of 5 stars, based on six reviews. Unfortunately, most of these reviews were posted by merchants who were turned down for an account and thus offer little insight into the experience of actual EPD customers.
Other complaints scattered around the web mention the following issues:
Customer Communication: A complainant claimed to have issues getting passed around to multiple parties before getting a satisfactory answer.
Hard To Cancel: While there isn't a cancellation fee, customers have reported having difficulty getting out of their contract.
Opaque Rates: Tiered pricing can be tough to understand for some customers.
Positive Easy Pay Direct Reviews & Testimonials
Easy Pay Direct has a full Testimonials page on its website, featuring testimonials from actual clients. Most of these are brief (usually just a paragraph or two), but they highlight several of the company's features that customers find most useful. There are also a few more in-depth interviews with customers on the company's YouTube channel.
All in all, customers seem to be quite happy with the service they've received from the company. Praise includes:
Excellent Customer Service: While complaints exist, many customers seem pleased with the care they received.
Easy Application Process: Merchant accounts applications can sometimes be arduous, but Easy Pay Direct seems to do a lot to make them easier.
Load Balancing: Overall, load balancing seems to be a big hit with Easy Pay Direct's customers.
Final Verdict
Overall, we're happy to recommend Easy Pay Direct. The company's partnership with many different processors means you have a better-than-average chance of getting approved for an account, and the lack of an ETF (in most cases) is also welcome. Interchange-plus pricing, while not available for all clients, is rare in the high-risk sector. We're also impressed by the EPD Gateway's features as well as the remarkably clean online reputation the company has maintained despite its size.
Of course, things aren't perfect. We wish the company offered more information about the credit card terminals it provides — including prices. We'd also like to see a more robust knowledgebase so that merchants could solve the more basic issues without contacting customer support.
We're giving Easy Pay Direct 4.5 out of 5 stars overall. We find the company to be one of the best high-risk merchant account providers (and one of the best CBD oil account providers) in the industry.
Nevertheless, we encourage you to obtain quotes from several providers (perhaps from this list of our favorite international processing options) and compare their overall costs against how well their features match up with your specific business needs. Good luck!
---
The Merchant Maverick Seal of Approval 🏆
Easy Pay Direct


---
After hours of in-depth research and evaluation, we can confidently recommend this brand to our readers. Get started today and see Easy Pay Direct for yourself.
The Merchant Maverick Seal of Approval 🏆
Easy Pay Direct


---
After hours of in-depth research and evaluation, we can confidently recommend this brand to our readers. Get started today and see Easy Pay Direct for yourself.
To learn more about how we score our reviews, see our
Credit Card Processor Rating Criteria
.