Lavu POS Review
This robust and customizeable POS solution works well with niche foodservice businesses, like pizzarias, cafes, and food trucks.
Expert Analyst & Reviewer

Updated on:
Advertiser Disclosure: Our unbiased reviews and content are supported in part by
affiliate partnerships
, and we adhere to strict
guidelines
to preserve editorial integrity.
Lavu POS

Pros
Competitive monthly pricing
Impressive feature-set
Numerous integrations
Cons
Buggy software
Expensive equipment leases
Moderate learning curve
Lavu POS Overview
Lavu has carved out its niche by specializing in helping small to mid-sized businesses with some features specifically tailored to food trucks, pizzerias, breweries, and cafes. Through partnerships with leading mobile payment providers PayPal and Square, along with its own processor, Lavu can now be considered a serious player in the mobile POS world.
Lavu is downright thoughtful in its design, which comes packed with many industry-specific features essential to food trucks and large restaurants alike. The software was conceived as a wireless experience, and it jives with the user-friendly interface of the Apple products it runs on. Lavu has been used to process more than 400 million transactions across 93 countries, and its big-name partnerships indicate it has no intention of slowing down.
Lavu does a lot of things very well. Its layout is highly customizable, and although it's not the most intuitive and straightforward system around, it provides enough materials to help with training. However, some users complain of payment processing issues and accounting errors that have cost their establishments dearly. What's more, some of these customers find themselves stuck in multi-year contracts that they cannot get out of without paying an exorbitant early termination fee.
Lavu is an impressive product overall, but it is certainly not without its caveats. Read on to learn more.
Don't have time to read an entire review? Take a look at our top-rated point of sale solutions for a few quick recommendations. Every option we present here offers excellent customer support, detailed user interfaces, and easy-to-use software, all for a reasonable price.
Lavu POS Pricing
Lavu is affordably priced as long as you don't sign up for an equipment lease/multi-year contract.
Lavu's pricing information is as follows:
$69/month billed annually ($79/month billed monthly)
Single location
Includes 300+ features, free updates, 24/7 customer care, and employee management functionality
You'll have to call Lavu for pricing on multiterminal and enterprise plans.
Lavu has a pretty great price point for a fully-featured restaurant POS, especially if you commit for a whole year and pay upfront. An upfront payment of $828 ($69/month x 12 months) for a year's worth of service is not too shabby. Now, the bad thing about Lavu's pricing is that multiple customers have described being talked into three-year leases that they later regretted.
With Lavu or any POS system, we strongly recommend against leasing your POS equipment. iPad POS equipment is not that expensive compared to legacy POS equipment. You can buy a complete iPad register and cash drawer set up for around $850 if you shop smart. Most businesses should be able to purchase those items outright instead of financing them. Besides costing you more in the long run, equipment leases also commit you to the POS company in question for longer than you might be comfortable with or force you to pay an early termination fee.
It's also somewhat concerning that Lavu sells its POS through a reseller system. In the POS world, this is considered to be a shady practice. If you do buy a Lavu POS system, we recommend buying it directly through Lavu and paying for it outright rather than leasing. Remember that you also have the option to use Lavu POS software with hardware sourced elsewhere.
Let's say you are close to choosing a restaurant POS system and are narrowing in on Lavu. Before you commit, you have the option of seeing Lavu in action via a live demo scheduled with a sales rep, though unfortunately, no free trial is available. Since there's no free trial, it might be preferable to pay a little more — $79/month — to use Lavu on a month-to-month basis until you are sure the POS works well for your business. Lavu's website no longer advertises the monthly service rate. However, the company confirmed to us that it can still do month-to-month pricing at $79 (for one register).
Cloud-Based Or Locally-Installed
Lavu is cloud-based and usually requires an internet connection to operate. In the event of an internet outage, Lavu can be still be used in offline mode to process credit cards for certain payment processors and platforms. However, some customers have complained that the offline mode is not fully functional for them. There is also a Local Server option, which runs on a dedicated Mac Mini installed at the customer's location. The iPads need only connect with the Mini to operate, adding a layer of protection against an internet outage. The Local Server syncs with the cloud whenever the internet connection is active. It will cost a little extra, but it provides robust offline functionality and is recommended for high-volume settings. Adding an uninterrupted power supply (UPS) adds further protection in the event of a power outage.
Lavu can be run from an iPhone and offers mobile payment processing compatibility through LavuPay, PayPal, Square, and others. You also have the option to use your phone as a backup way to take payments if your primary POS goes down.
Specific Industry
Lavu is designed for the foodservice industry and can fill most niches within that industry. With Lavu's revamped inventory management and ability to integrate with a barcode scanner, it can handle some light retail. For instance, a food and beverage shop that also sells small gift shop items and packaged goods or merchandise would not find Lavu lacking. The company also offers some customization to meet the "special needs" of any establishment. For example, Lavu has unique functions specifically for pizzerias.
Specific Size Of Business
Lavu's features are fairly extensive and intended to support everything from small coffee shops to large dining establishments. With its latest inventory update, Lavu can be used for more complex businesses as well. Virtually any type of restaurant could use Lavu as long as you check first to make sure it has all the features you need. The company also issues pretty regular software updates to add and improve features, making the system even more capable of handling enterprise-level businesses in the future.
The following types of restaurant settings commonly use Lavu:
Sit-down restaurant
Quick-service
Coffee shop
Food truck
Bar
Winery
Brewery
Ice cream shop
Pizzeria
Lavu Restaurant POS Ease Of Use
Lavu has a sleek, attractive interface that's largely user-friendly. The front end has all the shiny appeal of a well-made iOS app: modern-looking, responsive, and fluid in its execution. The learning curve is a little steeper than that of some other iPad restaurant POS systems, but generally, you should be able to learn all the features in a day or two.
The back end is accessible via any web browser and is laid out well with persistent menus across the side of the window. Upon first logging into the back office, Lavu's Guided Setup presents you with an extensive step-by-step guide to get you up to speed quickly. It's a nice feature, as your first time through may take some time and concentration; Lavu is not quite as intuitive as some other systems. However, once the Guided Setup has held your hand through the process, it makes perfect sense.
Lavu handles both forced and optional modifiers well, helping servers upsell customers efficiently. (Forced modifiers are those things that the POS interface will "force" you to select at the time of order: small, large, etc. Optional modifiers are similar except that they're, well, optional. "Add onions" is an optional modifier, as is "light spice.") Again, this is not overly complex, but it is something that requires a little knowledge beforehand.
Hardware & Operating System Requirements
One big benefit of the Lavu POS system is that it is compatible with a wide array of hardware brands and peripherals.
Lavu can run on any iOS device (iPad, iPhone, or iPod Touch), though iPads are optimal. Any iPads and peripherals you may need can be purchased through Lavu's website, either piecemeal or as part of a bundle. Lavu offers a few starter kits, but for those of you interested in buying your hardware in separate pieces, these are the brands optimized for Lavu:
Routers
Credit Card Readers*

Ingenico (Bolt EMV, ICT220)
PayPal Here Chip and Tap Reader
Infinea Tab
MagTek
Miura
Square readers
ID Tech

Printers
Cash Drawers
iPad Enclosures

Vault
Windfall
Simplicity

Bluetooth Scale
You also have the option to install the Lavu Local Server (LLS), which is essentially an in-house server backup if you ever lose your wireless connection. The LLS comes preconfigured, so it is easy to plug and play. It runs on an Apple Mac Mini, but as I understand it, you can't just pick up any Mac Mini and call someone in to make the installation. Your LLS purchase includes remote installation; if you would like help with the physical installation, you will need to contact Lavu.
As mentioned, we recommend purchasing your POS equipment outright rather than leasing it (from Lavu or any company).
*Only the following credit card readers are compatible with Lavu Gift and Loyalty cards:
Magtek iDynamo
ID Tech USB Reader — requires an Epson TM-T88V-i smart printer
Lavu Features
Lavu is rapidly updating and boasts an impressive list of functions and features. Lavu is not the most advanced restaurant POS system in existence, but it's still quite impressive for its price point. Instead of taking the time and space to list them all, however, I'll focus on the aspects that are unique to Lavu.
Easy Order Taking: Alternate between Table (for restaurants), Tab (for bars), and Quick Serve (for fast food and cafes) layouts, depending on your service needs. Assign customer receipts and kitchen orders to specific printers. Combine multiple orders while maintaining separate checks.
Customizable Table Layout & Menus: Create specific multiroom table layouts with the ability to assign seats and course numbers, making it look like your restaurant. When ordering, a customer is walked through multiple modifiers that can all be created easily.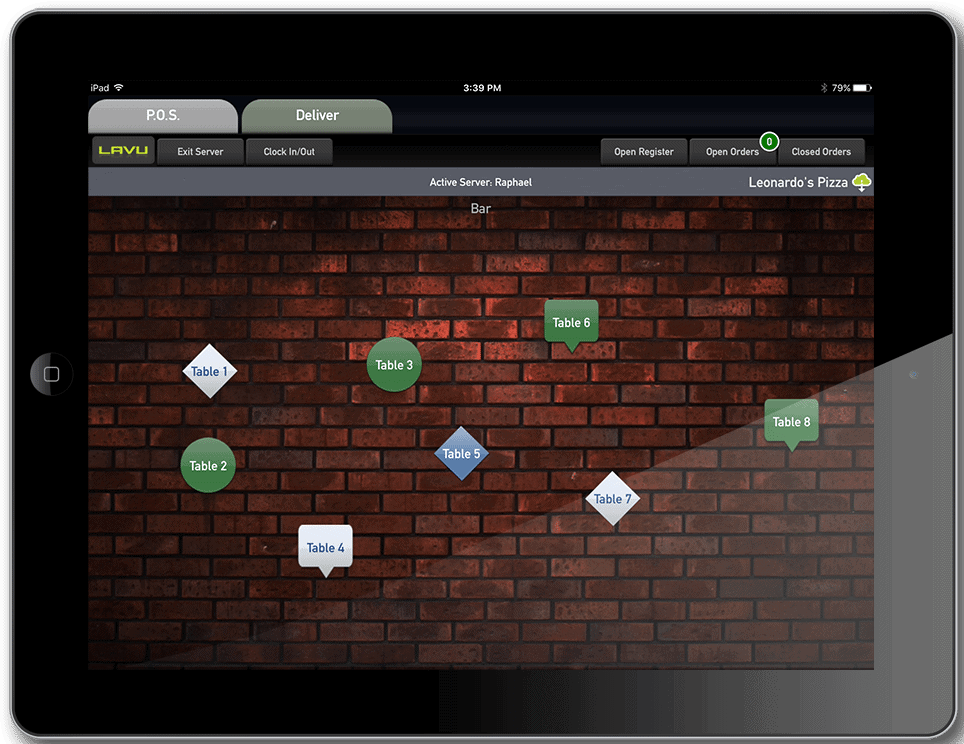 Advanced Menu Management: Create custom discounts for specific tabs or items. Utilize optional modifiers, such as "add onions." Add secondary detours that are activated when a customer selects a forced modifier option (e.g., Salad > Salad dressing). Selecting "pizza" as an item opens the creator, where you can choose crust type, size, and toppings on one screen.
Convenient Employee Management: Employees can clock in and out from the iPad app with unique ID numbers. Calculate employee overtime or double time based on daily, weekly, and holiday hours. Specify the minimum access level for each discount type.
Complete Inventory Management: Until recently, Lavu's inventory system set it back a bit. But with the roll-out of its Inventory 2.0, you can create purchase orders and mass import inventory — a considerable time saver. You can also track inventory by individual ingredients or complete dishes. Plus, you can manage inventory levels from the remote back office or front-end register. Create low inventory alerts when supplies reach predetermined levels. Transfer inventory quickly from one location to another. Analyze what items are selling and which aren't profitable.
Pre-Ordering: A nice feature that is exceptionally easy to use to send an order directly to the POS and provide customers with a countdown counter that also syncs to Lavu Loyalty.
Tableside Functionality: The POS can sync wirelessly to the kitchen and allows for mobility around the bar or restaurant.
Lavu KDS: The POS can include a fully-integrated KDS system that is customizable and features real-time updates and provide accurate order times.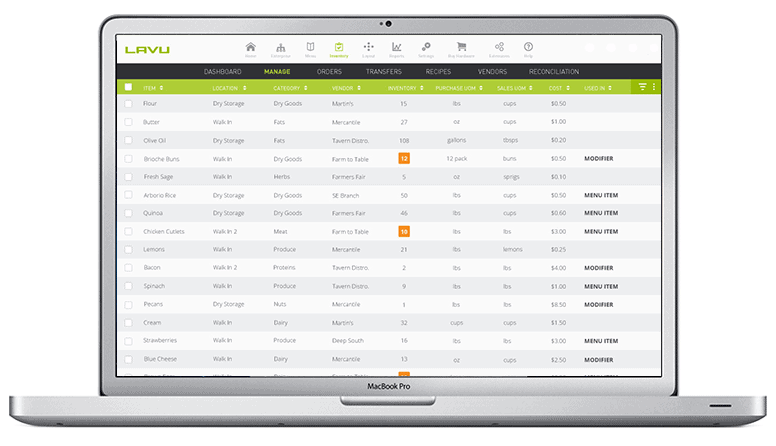 Full Cash Management Functions: Track incoming and outgoing cash flow for non-sale items, such as petty cash, paying the band, etc. Credit card tips are automatically tracked and subtracted from the till count for end-of-day.
Multilocation Management: Maintain multiple tax profiles, inventories, menus, discounts, reporting groups, manager groups, user groups, and restrictions per location.
Security: Lavu has end-to-end encryption and is EMV compatible.
Lavu POS Customer Service & Support
Lavu has a wide variety of customer service options. There's no separate plan to purchase; it's included in both the monthly and annual subscriptions. Though the customer service's responsiveness and ability to solve technical problems have somewhat mixed reviews, 24/7 phone support is an excellent feature to have, and Lavu provides various online support resources as well:
Phone Support: Phone support is available 24/7.
Email Support: Another form of 24/7 support, you can email a representative at the support email address.
Live Chat: Live chat is accessible from anywhere on the Lavu site. Like most live chats, you're unlikely to get in touch with someone right away, but you can close out of the chat window, and your question will automatically become a support ticket, which will get answered over email.
Knowledgebase: The Lavu support page consists of FAQs, articles on new features, and various troubleshooting and how-to articles. You also have the option to submit a specific request for support from Lavu's customer service team.
Community Forum: Lavu provides a forum on which users and support folks can hash things out in the open. Based on the response rate, this is not a good place to go looking for immediate answers to your questions, but it is a great place to get multiple opinions on an issue.
YouTube: The company's well-developed YouTube channel has a multitude of comprehensive videos on everything from basic settings to printer setups. There are even a few clips of Gordon Ramsay teetering on the brink of violent insanity before being soothed back into a state of dreamy calm as he extolls his love of Lavu.
Blog: Lavu's blog is updated frequently and not just with nonsense chatter: Legitimate things are happening with the company, and its growth is being well documented there.
Restaurant Resources: Lavu also provides a series of helpful business guides for restaurants, including one for creating successful menus.
Onboarding Help: You can receive direct onboarding assistance through Lavu as well as help with installation. They can help with hardware setup, staff training, and menu building. You also have access to a Lavu Certified Specialist who is not employed by Lavu but has been trained in helping people set up their businesses. They can go to your specific location, help evaluate your needs, and create a deployment plan specific to your business.
Social Media: Of course, there are the obligatory Facebook, Twitter, and LinkedIn presences.
Compatible Credit Card Processors
Lavu is one of the more flexible products I've seen when it comes to credit card integrations, especially in the US. Lavu directly integrates with BridgePay, Heartland, PayPal, Square, Moneris, and its integrated in-house payment solution, LavuPay. Setting up credit card payments in Lavu doesn't require you to configure it with your merchant account information; you only need to point it to the right gateway.
We've done in-depth research on each and confidently recommend them.
Though the PayPal integration is kind of exciting and prominently featured on both Lavu's and PayPal's websites, some Lavu customers have complained about issues using PayPal with Lavu (see User Reviews below). Bear in mind that a third-party payment processor, such as Square or PayPal, doesn't give you a dedicated merchant account and can have account stability issues as a result. You may have a smoother payment processing experience using Lavu's in-house payment solution, LavuPay. It's a newer service, and we're not too familiar with it, but feel free to let us know in the comments what you think of LavuPay if you've used it.
Lavu POS Integrations & Add-Ons
Lavu has developed numerous add-ons with different capabilities and an impressive number of third-party software integrations, particularly for online ordering and tracking bar inventory. Note that you will have to pay for some third-party software you integrate, and Lavu's in-house integrations cost extra as well.
Lavu Pilot: A free iPhone dashboard app that allows you to monitor basic POS data, including labor reports, in real-time. View reports from today, yesterday, last month, or even last year. The Pilot app can also compare how you are doing now to how you were doing at the same time the year before.
Lavu Local Server: This is an in-house backup if you lose your wireless connection to the cloud. Because the LLS connects to your router with an Ethernet cable, you can still operate the POS during an internet outage. However, you cannot process credit cards, and the system is not designed to handle prolonged usage without a wireless connection. That said, Lavu's cloud version also offers an offline mode.
Lavu KDS 2.0: This kitchen display system is designed to eliminate printed kitchen tickets. The interactive iPad displays are connected to the Lavu system and can be further displayed on wireless TV monitors (this requires a connection through an Apple TV). KDS has also recently been updated to allow for greater customization when it comes to interface, headers, and display options. For example, the date and time label that displays when an order was created and sent to the kitchen can be turned on and off. Additionally, the table number and order timer can be turned on or off. Voiding an order has also been made easier, and each ticket clearly shows the ingredients for that order. Note that this add-on requires a local server. Some of Lavu's KDS 2.0 features include:

Closed order tracking
Order prep instructions with ingredients down to the base item clearly shown on each ticket
A color-coded system that identifies paid and unpaid orders
Real-time communication with ticket updates and late order notifications
An order timer that also includes reports on order and item times
Modifiers will appear in red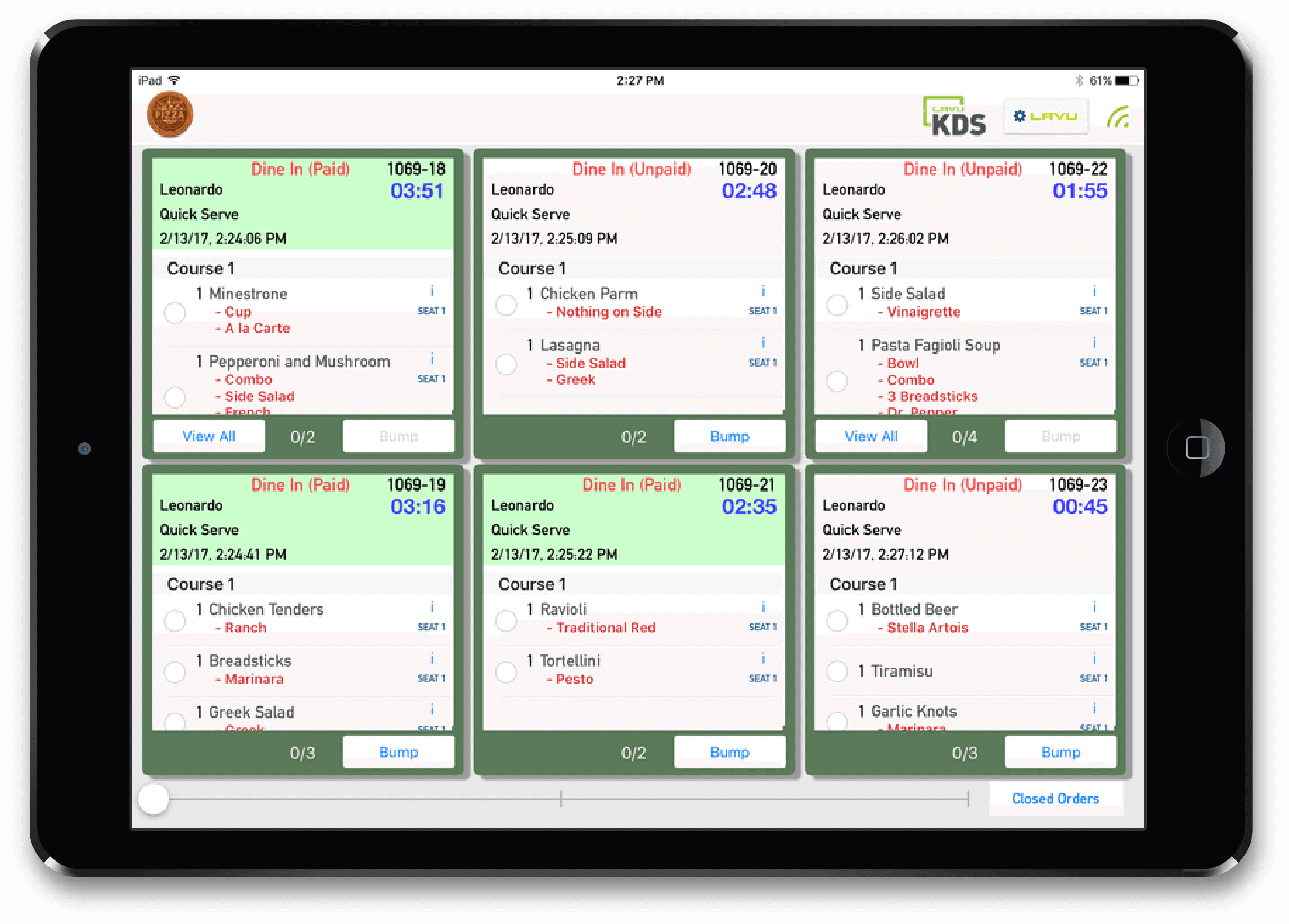 Lavu ToGo: An add-on interface designed to allow customers to browse your online menu and place to-go orders for pickup. Once a customer has placed an order, it is sent to the kitchen and completed. The customer email is kept on file for promotional purposes, and customer order data is tracked.
Lavu Routing & Delivery: Lavu helps you make deliveries with an add-on that allows you to create orders, assign drivers, mark a delivery as completed, and track your customer's information. Routing features will group two or more orders and determine the most efficient route to take with turn-by-turn directions.
Lavu Accounting: This is Lavu's in-house accounting app, which integrates with QuickBooks and Xero.
Lavu Loyalty App: Lavu Loyalty is a mobile customer loyalty app that allows frequent customers to earn rewards based on the accumulation of points. This point-based loyalty program can be added to your monthly Lavu subscription for $25 per month.
Lavu Gift: Lavu has a gift card program, which can be used with or without a credit card integration. Adding this feature will cost $25 per month, or you can purchase a bundle deal for $40 a month that includes the ability to use gift cards and Lavu's loyalty program.
Lavu Hold & Fire: Servers may now set unique hold times on an item-by-item basis from the Order Screen or flag items for immediate firing to the kitchen.
Lavu Digital Menu Boards: A digital menu board lets you set up an eye-catching and easy-to-change menu that's ideal for setups where customers order at the counter, such as quick-service restaurants and breweries.
Lavu Pizza Creator: This app lets you build virtual pizzas on your Lavu POS device for easy cooking, pricing, and delivery.
Lavu Customer-Facing Display: Let customers see orders as they are rung up and sign a digital receipt without you having to flip the screen around.
Lavu Kiosk: This add-on lets you set up iPad kiosks for self-service. Note that the Lavu Kiosk setup requires that you use the PayPal payment gateway and the PayPal Here Chip and Tap Reader for payment processing.
Additionally, POS Lavu also integrates with various third-party apps and services:
Accounting: QuickBooks, Xero, and Shogo
Business Management: Avero, Restaurant 365, Compeat (coming soon), FoodBAM
Online Ordering: Checkmate, Chowly, Mobi2Go, Open Dining
Liquor & Beer Control Systems: BeerSaver, Bar-i Liquid Accounting, BarVision, Digital Pour, EKOS Brewmaster, and TapHunter, Weissbeerger
Employee Management: Dolce
Inventory Management: MarketMan
Kitchen Display System: Epson KDS is an option if you don't want to use Lavu's in-house KDS system
Events & Rentals: Event Rental Systems (ERS)
Debit Card System: Sacoa Debit Card System (useful for arcades, casinos, etc.)
Lavu POS Reviews, Complaints, & Testimonials
Negative reviews are almost always easier to find than positive reviews for just about any product, and Lavu has its fair share of both. However, the online complaints about Lavu show some concerning trends, particularly Lavu's sales reps pressuring customers into long-term service contracts and some potentially costly software glitches.
Lavu is BBB-accredited, and has six total complaints filed with the BBB in the last three years; of those, five complaints were closed in the last 12 months. Lavu has a 3.3/5 rating on G2.
Negative Lavu Reviews & Complaints
Pushy Sales Reps: Several customers report being pressured into signing a three-year contract with an ETF. For example, one customer said a sales rep told them they needed to sign the contract within six hours, or the offer would expire. Reviewers also mentioned that before signing, sales reps promised hardware and features that were not ultimately delivered.
Unhelpful Customer Support: Some online reviews alleged generic responses to emails, poor developer follow-through to fix software problems, and customer service just being unable to solve issues in general.
Shutdowns During Peak Times: Multiple customers complained of occasional system outages/shutdowns, which interrupted their business and cost them money. To be fair to Lavu, all internet-based POS systems are prone to occasional shutdowns. You can usually avoid losing sales during these times by either having a backup server or an alternate way to take credit card payments.
Issues With PayPal Integration: A few reviews mentioned the PayPal gateway integration has glitches that result in missing sales, requiring them to capture tickets later on when they noticed the discrepancy. Some of these reviewers said that neither PayPal nor Lavu was able to resolve the issue.
Issues With Adding Tips: Some reviewers mentioned that they find adding a tip in Lavu overly complicated.
Costly Glitches & Accounting Errors: Some glitches and errors commonly mentioned in relation to Lavu include: incorrect overtime calculation, items dropped from tickets, customers over- or under-billed, issues with tips (such as gratuities being added twice), and discrepancies between the credit card report from Lavu and the credit card batch report from the credit card company. Some unhappy customers also said that Lavu's end-of-day batching process doesn't always take place.
Positive Lavu Reviews & Testimonials
Though a lot of online reviewers express frustration with Lavu, many others rave about the product. Here are the most common compliments:
Great For Line Busting: Gone are the days when you have a line of people at the register waiting to pay and leave. Because everything is totaled up in the system and the POS is entirely mobile, business owners say that service runs much faster and more smoothly.
Ease Of Use: Many reviewers note how easy Lavu is to use and how this has allowed for greater accuracy, faster service, enhanced customer satisfaction, and a better overall experience. While several reviewers note that Lavu has a somewhat moderate learning curve, they say it is easy to work with once you learn the features.
Good Customer Service: Though some reviewers complain about the level of customer support, others praise it, describing the support staff as friendly, knowledgeable, and patient.
Frequent Updates: Many issues that customers have reported in the past, such as inadequate inventory features and lack of an offline mode, have been addressed with software updates. It's always a good sign when companies truly support their product and work hard to fix, add, and improve features.
Global Reach: Lavu has a total 26 language packs available, and a dedicated Spanish version of the POS. Lavu also has built-in currency conversion and international offices in Mexico and India.
Final Verdict Of Lavu POS
Both small and mid-sized restaurants can benefit from Lavu's numerous features, many of which can improve table turnaround and customer satisfaction. It's not merely a cash manager — it manages your employees, reports, tables, inventory, and more. If there's something more you're looking for from Lavu, chances are they're actively working on it. Plus, with its open API, innovative business owners can create what they need themselves. And while iPads represent luxury in the consumer market, they're an inexpensive commodity when compared with legacy POS hardware.
But not all merchants have had positive experiences with this POS. Some restaurant owners have been frustrated by Lavu's service-disrupting outages, costly payment processing, accounting errors, and pushy sales reps they feel have steered them to sign three-year service contracts and then failed to deliver on the promises they made. For these reasons, it is difficult to wholeheartedly recommend this POS, particularly for larger, high-volume establishments.
Nevertheless, at only $69/month ($79 if billed month-to-month), Lavu could be a great value for mom-and-pops upgrading from a cash register or very basic POS. All told, Lavu is an impressive product with near-comprehensive usefulness. If you steer clear of its long-term contracts and use a local server backup, there is a good chance that your small restaurant will have a very positive experience with this POS. Or check out our list of the best restaurant POS systems to see some more options.
---
We've done in-depth research on each and confidently recommend them.
We've done in-depth research on each and confidently recommend them.
To learn more about how we score our reviews, see our
Point Of Sale (POS) Software Rating Criteria
.
Read Next