6 Best Quick-Serve POS Systems To Keep Up With Your Growing Business
These modern, scalable, and highly-rated systems offer affordable features that work well for quick-serve restaurants.
Expert Analyst & Reviewer

UPDATED
Advertiser Disclosure: Our unbiased reviews and content are supported in part by
affiliate partnerships
, and we adhere to strict
guidelines
to preserve editorial integrity.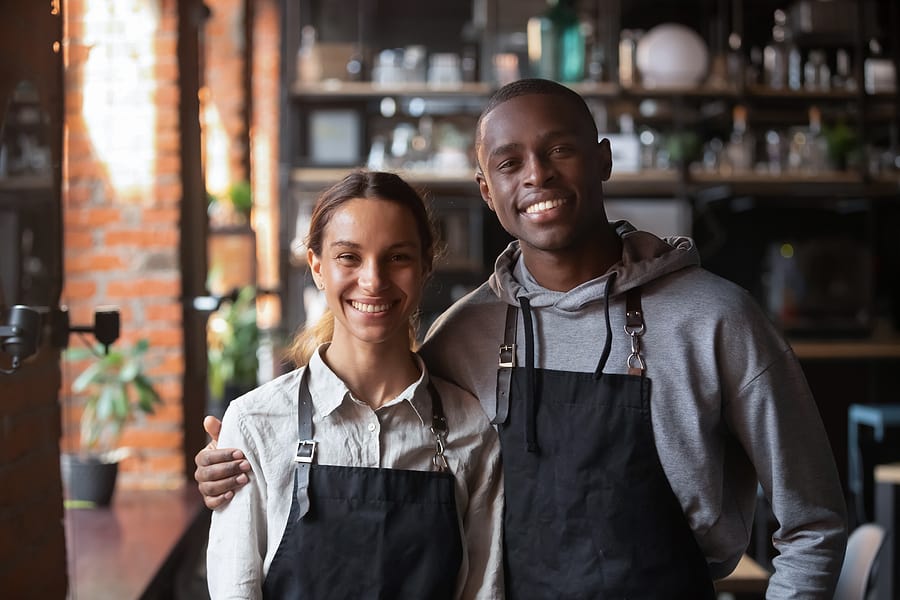 If your restaurant has to get food out quickly, you need POS software that keeps sales and orders flowing without lags or hiccups. An efficient point of sale system is essential if you are short-staffed or seeing higher-than-usual sales volumes. This is super common among QSR these days, as customers are rushing back out to eat, but foodservice employees are few and hard to find. A quick-serve POS also needs to have online ordering, takeout, and socially distant payment options for your patrons who still prefer to keep their distance.
Usually, the best quick-serve POS system for your QSR will be an iPad POS or tablet POS rather than a traditional PC-based system. An Android or iPad POS can harness the power of the cloud to provide supreme POS functionality with an affordable month-to-month price tag.
We've compiled the top quick-serve POS systems in this list to help you bring your restaurant operations into the 2020s. Use one of these highly-rated systems to modernize your restaurant ordering system with quick, efficient, and feature-rich point of sale software.
Learn More About Our Top Picks
Company
Best For
Next StepsBest For
Lightspeed Restaurant POS
Best all-around.

Best all-around.

Square POS
Best for painless setup.

Best for painless setup.

Revel POS Systems
Best for advanced feature set.

Best for advanced feature set.

Toast POS
Best for takeout & delivery suite.

Best for takeout & delivery suite.

talech POS
Best for affordability.

Best for affordability.

Show More Options
Lavu POS
Best for integrations.

Best for integrations.

Show Fewer Options
Read more below to learn why we chose these options.
6 Best Quick-Serve POS Systems
Looking for the best quick-serve POS system for your restaurant, food truck, cafe, fast food, or other QSR? For quick-serve, we prefer Lightspeed, Square, Revel, talech, Toast, and Lavu. These cloud POS apps for quick-serve restaurants are modern, scalable, and easy to use.
1. Lightspeed
Lightspeed Restaurant POS


---
Pros
Fast
Affordable
Feature-rich
Numerous integrations
Cons
Advanced features cost extra
Can't take credit card payments in offline mode
Lightspeed Restaurant is a growing POS company that offers a thoughtfully designed iPad POS designed specifically for restaurants, with a dedicated quick-serve mode. As its name implies, Lightspeed's restaurant POS system is very fast, which is essential in the quick-serve business.
In addition to its single-screen quick-serve ordering mode, Lightspeed offers many other useful features for quick-serve. Features include built-in reporting, self-order kiosks, third-party delivery service integration, a customer-facing loyalty app, QR code ordering, and easy menu management, including the ability to build custom combos on the fly.
Lightspeed also integrates with numerous other restaurant software to expand your systems even further. Lightspeed is cloud-based, but adding a local Liteserver to your setup ensures you can keep taking orders and clock employees in and out, even if your internet goes down (though you can't take credit card payments in offline mode).
Lightspeed Restaurant is highly affordable at $39/month (additional terminals are $29/month) and includes built-in payment processing at 2.6% + $0.10 (2.6% + $0.30 for online/card-not-present payments). Paid add-ons include online ordering, kitchen display system, customer display system, self-order table menu, delivery integration, loyalty, and order ahead.
Overall, customers seem to really love Lightspeed because it's so intuitive and easy to set up and has good customer service to boot. Lightspeed doesn't try to gouge you with expensive hidden fees or tricky hardware leases — in fact, you can source all your own hardware yourself if you like.
Get Started With Lightspeed Restaurant POS
2. Square
Square POS


---
Pros
Easy account setup
Free plans available
Intuitive interface
Numerous device, feature, and hardware options
Cons
No dedicated merchant account equates to less account stability
Square is probably the easiest POS system to set up and start selling with, making it a great choice for a new quick-service restaurant that doesn't have a merchant account yet (or doesn't want to go through the hassle of setting one up). Being a third-party payment processor, Square eliminates most of the underwriting involved in setting up a merchant account, and gets you up and going in just a day or two. You can use Square to sell on any mobile device, though they also have their own affordable POS equipment, such as Square Register, which works great for quick-serve.
Now for Square's feature set. In short, it's large, it's affordable, and it gives you a lot of options. The basic Square POS functionality is free, but you can expand it with paid add-ons, such as Square Payroll, Square Loyalty, and advanced team management ("Teams Plus"). However, even the free Square plan provides a lot of functionality, including a free online ordering website and QR code payments. Square also has a dedicated POS system called Square for Restaurants, an iPad-only solution that includes features like conversational modifiers, ticket timers, and kitchen performance reports. There is a free version of Square for Restaurants that many quick-serve restaurants will find suitable, but if you need more advanced restaurant functionality such as kitchen display system devices, auto-86-ing, and shift-reports, you should opt for the $60/month Square for Restaurants Plus plan.
All Square plans come with built-in flat-rate payment processing at 2.6% + $0.10 (2.9% + $0.30 for online payments/CNP) and no chargeback fees. Both Square POS and Square for Restaurants charge the same payment processing rate, but since they have different features, it's a good idea for any QSR considering Square to closely compare the two apps: Comparing Square POS vs. Square for Restaurants.
3. Revel
Revel POS Systems


---
Pros
One of the most advanced iPad POS systems
Robust delivery management suite
Full offline mode
Cons
Expensive monthly cost
Long-term processing contract
Revel Systems' iPad POS is both powerful and versatile, making it a favorite among quick-serve restaurants, even including franchises like Cinnabon. Revel couples robust back-office features, such as employee management, inventory management, and delivery management, with excellent front-of-house features for quick-serve, including self-order kiosks and a customer-facing display.
Another great feature of this quick-serve POS is its full offline mode, which allows for full uninterrupted payment processing even during an internet outage—a feature uncommon to iPad POS systems.
Revel is not the cheapest point of sale, with pricing starting at $99/month/terminal with a three-year processing contract with Revel Advantage and a two-terminal minimum. However, many restaurants, especially those switching from an expensive PC-based system, may find Revel's cost worth it when considering the advanced, modern feature set and straightforward flat-rate processing (2.49% + $0.15 for in-person transactions).
Get Started With Revel POS Systems
4. Toast
Toast POS


---
Pros
Free plan available
Restaurant-grade Android hardware
In-house delivery suite
Mobile ordering and payment options
Cons
Requires a two-year processing agreement
Toast POS is a tech-forward POS designed specifically for restaurants. Toast works great for quick-serve, but since it's built to handle full-service restaurants as well, its feature set is especially strong, including everything from ingredient inventory and labor management to recipe costing and customer analytics. Truly, I am hard-pressed to think of a feature that Toast doesn't offer (well, except for reservation management, which QSRs don't need anyway).
Toast has various purpose-built Android POS hardware options to fit your style of restaurant, including Toast Flex for Guest, a customer-facing screen that is ideal for quick-serve, as well as self-order kiosks. Toast Go handheld ordering devices are also useful for line-busting. The hardware is all restaurant-grade, meaning it's pretty much immune to spills and drops.
Another thing we like about Toast for quick-serve is its options for takeout, pickup, and delivery orders. These options allow customers to order and pay online and either pick up at your eatery or request contactless delivery from Toast's suite of delivery drivers. Toast's in-house delivery module presents an alternative worth considering for restaurants that want to offer online ordering but are sick of all the fees from third-party delivery services cutting into their bottom line. Toast also has an interesting mobile ordering option for dine-in guests, which allows guests to order and pay at the table, all using their own mobile.
Toast can get expensive depending on how many add-ons you select, but it does offer a free starter plan for one or two registers that might include everything a QSR needs. Toast includes in-house, flat-rate processing priced at 2.49% + $0.15 with a two-year contract, though your fee could be higher if you choose to pay for your hardware kit as a percentage of sales — I would recommend just purchasing the $799-$999 Starter Kit upfront.
5. talech
talech POS


---
Pros
Affordable
Mobile
It can be used with any processor
Cons
Some features are not overly deep
No offline payment processing
With a starter price of just $29/month, talech is a budget quick serve POS option that offers you a lot of bang for your buck. talech also offers some cool hardware options, which include portable Poynt smart terminals, as well as iPad registers, Android-based Ingenico MOBY registers, and mobile credit card readers you can attach to an iPad or smartphone.
As for features, talech's Starter package includes QSR features like order management, inventory tracking, variations & modifiers, customer histories, and even a loyalty program. If you want more advanced features like kitchen printing, employee management, kiosk mode, and a customer-facing display, you'll need the $69/month Standard package. You can add online ordering to your Standard package for $49/month or subscribe to the $99/month "Premium" package, which includes online ordering among other extra features, like QuickBooks integration. As you might notice, talech's prices are a lot cheaper than those of competing POS systems, most of which offer only basic functionality for under $100/month.
With all that said, you might find talech's features a little basic if you have specific needs, such as specific software integrations, in-depth reporting, or an offline mode that can accept credit card transactions during an internet outage. talech gives you many choices for payment processing, including Elavon, Global Payments, Bank of America Merchant Services, Vantiv, Chase, and others. Alternatively, talech's USAePay gateway allows you to connect to all major credit card processors in the US.
6. Lavu
Lavu POS


---
Pros
Numerous integrations
Affordable pricing
Offline payment processing
Mobile POS
Cons
Some complaints of software bugs/glitches
Some customers talked into a terminal lease with a long-term contract
Lavu is an affordable iPad POS for restaurants with some distinct features for quick-serve. Some of these features include a dedicated quick-serve mode for quick order entry, digital menu boards, self-order kiosks, an iPad KDS (pictured above), and Lavu ToGo — an add-on interface that lets customers browse your online menu and place to-go orders for pickup.
With pricing starting at $69/month for one iPad terminal, Lavu includes 300+ features, including inventory management, employee management, and many others, and the company also has inexpensive add-ons — Lavu's loyalty add-on is $25/month or $40/month for both gift cards and loyalty. Lavu's payment processing integrations include LavuPay, PayPal, Square, BridgePay, Heartland, and others. Besides integrating with many payment processors, Lavu also integrates with numerous third-party business software apps, particularly for online ordering and beverage inventory management.
Another thing to like about Lavu is its offline payment processing options. You also have the option to install a Lavu Local Server (LLS), a Mac Mini server that lets you continue taking payments if you lose your wireless connection. You can install the Lavu iPhone app as a backup way to take payments on your phone, either on the road, or whenever you don't have an internet connection on your iPad terminal.
Some users have complained about software glitches, though Lavu releases frequent updates to address these issues. Another potential issue is that Lavu offers POS terminal leases with a long-term contract, which we do not recommend even though you might save on initial costs. Fortunately, Lavu also sells the POS hardware outright, allowing you to source it yourself.
Looking For One Of These Names?
Upserve
Upserve is a complete, cloud-based restaurant POS and management system, similar to Toast. Upserve was purchased by Lightspeed in 2020, and although it still exists as Upserve by Lightspeed, the POS will be sunsetted sometime next year (same deal with ShopKeep).
Harbortouch
Harbortouch is a popular POS for quick service, especially its Echo POS product. However, this POS company has a poor public reputation for myriad reasons, ranging from untransparent tiered pricing to deceptive sales tactics. Shift4 Payments is the parent company behind Harbortouch credit card processing and we do not recommend them.
NCR Silver
NCR Silver is another cloud-based quick service POS, but we only have them rated at 3/5 stars, due mostly to Silver's long-term service contract and outdated equipment that comes with an expensive lease. Although the software itself is solid, the service contract is too restrictive and you cannot use the software without entering a hardware lease agreement.
Things To Consider Before Choosing The Best Quick-Serve POS
Hopefully, in our list you found at least a couple of good POS options to consider for your quick-serve restaurant. But before you make your final decision on a quick-serve POS, here are some important questions you need to ask about whatever system(s) you're evaluating:
Ease of Use: How easy is the POS to learn and train new employees on?
Cost & Fees: What are the monthly fees and payment processing fees?
Service Contract: Can you pay month-to-month or is a long-term commitment required? Is there an ETF?
POS Hardware: What type(s) of hardware can the POS use? Can you purchase the hardware or do you have to lease it?
Online Ordering & Delivery: Are online ordering and delivery apps offered in-house? Can you connect Uber Eats, DoorDash, etc.?
Loyalty Program: How is the rewards program structured?
Inventory Management: How deep is the built-in inventory management?
Menu Customization: How easy is it to upload and edit your menu?
Employee Management: What employee management features does it have beyond a basic time clock?
Offline Mode: Can the POS take payments offline or at least queue offline payments to process later?
Payment Processors: Is processing in-house only, or can you use your own merchant account?
Integrations: Does the POS integrate with other business software or services you use?
Overall Feature Set: Does it include only some features you need, all the features you need, or too many features you won't use?
This may seem like a lot to think about, but it's much better to go into a POS service contract knowing exactly what you're getting into. This way you'll avoid signing up for a POS that doesn't meet your needs, or even worse, a POS that doesn't meet your needs and that you are stuck with for years.
Need some more ideas? Check out our resource: 8 Restaurant POS Systems With The Key Features You'll Need In 2021.
In Summary: 6 Best Quick-Serve POS Systems