Franpos Review (Formerly iConnect POS)
This POS system is ideal for both franchises and single-location businesses, particularly spas, salons, and gyms as well as restaurants and retail.
Expert Analyst & Reviewer

UPDATED
Advertiser Disclosure: Our unbiased reviews and content are supported in part by
affiliate partnerships
, and we adhere to strict
guidelines
to preserve editorial integrity.
Franpos

Pros
Multistore capability
Good for service-based businesses
Loyalty program
eCommerce integration
Cons
Buggy on occasion
Can't process payments offline
Franpos Overview
Franpos has established itself as a solid all-in-one POS system that is particularly useful in the salon world. Franpos specifically caters to franchises (that's where the "Fran" in the name comes from), but it can work for single-location businesses as well. Spas, hair salons, gyms, and tanning salons benefit from how service industry features are incorporated right into the salon POS, thereby eliminating the need for additional software.
In addition to the health and beauty industries, the tablet-based POS can also support quick-serve restaurants, including ghost kitchens, and retail businesses, such as pet stores. Franpos has some other exciting things going for it, including inter-business messaging and an automatically-generated booking website.
Franpos provides numerous built-in POS and business management features for its price point; it also integrates with gift card companies and has eCommerce functionality. However, Franpos's inventory management leaves something to be desired, and its lack of offline functionality for taking card payments is less than ideal. In some ways, the POS seems more suited to small businesses than to franchises. Nevertheless, Franpos is still a serious POS competitor in a rapidly expanding market. Continue reading for a better idea of what this franchise POS is capable of.
Don't have time to read an entire review on Franpos POS? Take a look at our top-rated point of sale solutions for a few quick recommendations. Every option we present here offers excellent customer support, detailed user interfaces, and easy-to-use software, all for a reasonable price.
Franpos Pricing
Franpos has two different price tiers.
The $199/month tier for a single terminal for small businesses includes:
CRM
Loyalty
Gift cards
Online management
Delivery management app
Review management
Customer support
The $249/month tier for a single terminal with franchise POS features includes:
Royalties processor
Franchise launch support
Enterprise-level management
These prices may seem a little steep at the outset, but considering that you can add unlimited terminals to either plan for an additional $99/month, the POS is quite affordable for multi-terminal businesses. You also get a lot of bang for your buck, considering even the lowest plan includes loyalty, CRM, gift cards, and delivery management. Still, the base price is a little steep for single-terminal businesses that don't need too many features.
Franpos POS software pricing is month-to-month, meaning you can cancel your account at any time. This is kind of rare in the POS world and a mark in Franpos's favor.
Cloud-Based Or Locally-Installed
Franpos is 100% cloud-based, and its servers store and secure all of your shop data and wirelessly transmit it to your devices when you log in. It is also app-based, meaning you can access all the necessary functions (the register, customer database, and booking module) even if the internet goes down.
However, because all of your information must be downloaded from the cloud when you log in, you will not be able to process payments or credit card transactions if your connection goes down. This is one of the trade-offs that come with a cloud-based system, but as long as you have some kind of redundant connection or are in an area with a pretty reliable internet connection, you have little to worry about.
Specific Industry
Franpos is ideal for retail environments, such as clothing stores, boutiques, and gift shops. It also has a competitive edge with service industry setups, such as spas, salons, gyms, and any business that involves rentals or appointments.
Additionally, I'd feel comfortable recommending Franpos to most small, quick-serve food service establishments, such as fro-yo shops and fast food places. However, some more advanced foodservice features are not included in the system (such as the ability to track dishes by their raw ingredients) and nothing approximating table mapping.
Specific Size Of Business
Franpos can be configured to fit most business sizes. Very small vendors may find the opening price point to be a little on the steep side compared to many of its competitors, but it does include a rich feature base for small businesses with one location and one or two terminals.
Franpos has also made a point of specifically catering to franchise establishments with features that help businesses operate across multiple locations, so larger enterprises could also find the system appealing.
Franpos Ease Of Use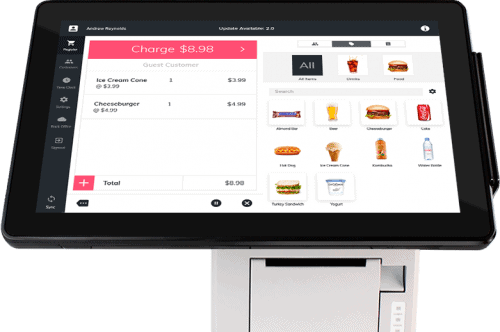 I find that Franpos has better introduction features than a lot of the other POS systems I've reviewed. After creating an account, the system automatically guides you through the basics of setting up a business profile, creating shop categories, creating products and services, enabling tipping and booking, and managing employees. The process only took about 15 minutes, and it runs you through the basics pretty effectively. The back office has similar functionality, with the bulk of the most-used reports and management features being easily accessible and simple to master.
Some of its features for more niche businesses, such as salons or hotels, will, understandably, take a little more getting used to. The booking features are extensive and impressive, but you will need to do some significant training or hope that employees already have some experience in the field or with POS systems in general. Again, that's not out of the ordinary, but don't expect to master every feature in a matter of minutes.
One nit-picky problem I have is with the checkout screen. If you're ringing someone up and you need to clear the register, you tap (or click) a little X button in the bottom corner of the screen. The button is out of the way, but on the iPad and iPhone, it's right next to the button that suspends a transaction. I would hate to be going for the suspend button and accidentally press clear. From my experience working in retail and foodservice, I know how frustrating it can be to ring up a particularly long and complicated ticket only to press the wrong button and have it all disappear — especially when you're working in a fast-paced environment. I would just like an "are you sure you want to do this" message before I accidentally give myself (and my customer) an ulcer.
Hardware & Operating System Requirements
Franpos Register is an all-in-one POS bundle that includes the software preinstalled on a specially configured Android tablet, along with the rest of a standard setup: an EMV reader, an enclosure, a scanner, and a cash drawer. From what I can tell (and this has been confirmed by a representative), the software is essentially the same whether you choose to run it on an independent system or Franpos's proprietary hardware.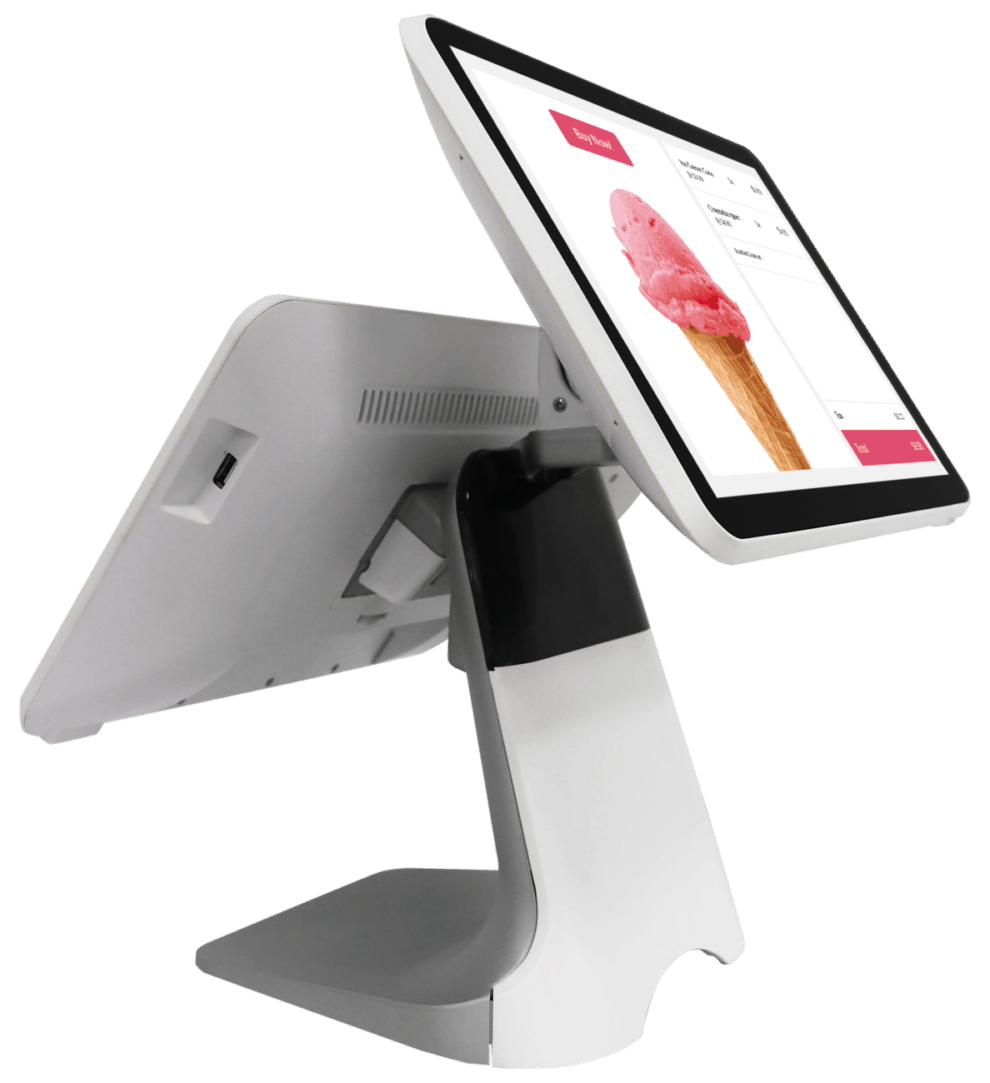 Franpos also offers different hardware packages created specifically to pair with its product. Depending on your industry or setup, you may want a customer-facing display, self-order kiosk, and/or kitchen display system. You can also run Franpos on an iPad setup. Unfortunately, Franpos hardware pricing is not listed on the website.
Franpos Franchise POS Features
Franpos has a lot of features that are worth checking out. You can visit the company website to get a full rundown of what the software can do, but I'm going to highlight the features that really caught my eye.
Booking Feature: Without a doubt, built-in booking software is one of Franpos's strongest aspects. To have a multifunctional booking service built right into the point of sale software is rather amazing, especially when the booking features are quite robust. For all subscription levels, Franpos creates a simple online booking website for your business that features basic information about your shop and allows customers to create appointments. Once a customer has made an appointment, Franpos automatically sends out email and text reminders to help with retention. It's possible to manage and review your full appointment list in the calendar view where you can book multiple appointments, add customers to a waitlist, and assign different times, rooms, and equipment to service providers. Franpos also offers a check-in/out feature to help track appointments.
Service Management: Employees can be designated as "service providers," and preset services can be billed at different rates according to the service provider. So if you own a hair salon, one of your stylists might bill a haircut at $50, while the other charges $75 because she's more experienced. Franpos automatically handles these different payment levels. Salons that rent booths to stylists can also enable a "Direct Pay" feature that records sales at each booth without receiving the actual payment, which typically goes directly to the service provider. I also like the recurring billing feature — a great asset for businesses that offer memberships, such as gyms or salons.
Inventory Management: When creating a service or product, the program will auto-generate an SKU number; you can use this number or override it with your own SKU. You can also enter separate product codes for easy searching if you'd like. Larger businesses with lengthy, fast-moving inventories and multiple locations can also use the stock transfer feature. I will note that there isn't an option to specify the unit of measurement you're using for inventory items. It's up to you to remember whether you have ten bags or 10 pounds of french fries in your inventory.
CRM: Tracking customer information is simple since you can assign each customer a unique code, log email addresses and phone numbers for marketing purposes, and enter a "preferred service provider" if they'd like their work done by a particular employee. As far as marketing goes, you can enable a built-in loyalty program that works on a customizable point system, allowing you to establish the rate at which customers earn points and the exchange rate on those points. Also, Franpos has built-in text messaging, emailing, and push notification marketing capabilities (through Mailchimp and Twilio).
Reporting: Franpos offers a generous number of standard reports. Sales reports include deleted tickets, detailed sales by product, sales by a vendor, sales by customer, tax reports, and more. There are similar options for products, including a reconcile report, cross-selling report, rental/membership charge reports, etc. Of course, you can also run reports by location with specified date ranges and various filtering options. One of the most convenient features is the ability to add your most commonly used reports to your favorites list for easy access.
eCommerce: With Franpos, you can create and personalize a website, and the basic software includes this functionality. You can sell your items online through the eCommerce function and even allow customers to book appointments online. This feature also allows you to link to your Facebook and Twitter pages, which can help keep you connected to your customers.
Online Ordering (For Restaurants): Franpos also offers mobile-enabled online ordering for restaurants. It's very easy to set up — if you have the online ordering add-on on your account, simply choose to enable online ordering in your back office, then choose from a few options, such as whether to enable delivery and/or pickup.
Ghost Kitchen Management: Franpos' restaurant online ordering suite includes so-called "ghost kitchen" features that allow guests to order from any of your brand's menus, integrating multiple brand menus into a single platform. The suite will also auto-populate orders from third-party delivery services such as Grubhub or Postmates.
Loyalty: Franpos's loyalty program is built into the software, which is a nice feature. You can store customer information and allow them to accrue points to use at your business. In addition to prompting customers to join the loyalty program, the customer-facing display also has an "Impulse Buy" feature that nudges customers to purchase an additional item related to their purchase.
Delivery Management: Franpos offers delivery management services not only for restaurant businesses but also for retailers that want their customers to be able to order for local delivery. Franpos is partnered with Postmates for delivery services. Customers can place mobile orders on your branded app. Then, depending on your preference, you can deploy an in-house delivery driver or have a Postmates driver deliver the order.
Franchise POS Features: Some franchise-specific features Franpos offers are royalty fee automation, franchise marketing, franchise launch support, and enterprise-level management that allows business owners to manage employees, inventory, and vendors from multiple locations in a single interface. I haven't evaluated all these features in-depth, but the royalty fee suite, which automatically calculates and sends your royalties for you, sounds like it could be especially handy for growing franchises.
Franpos Customer Service & Support
Overall, Franpos does a solid job of offering tutorials and educational resources. Franpos does include phone support on all accounts, but it is not 24/7. Here are some ways you can learn more about the software:
Email: You can email the company directly and generally receive a response within 24 business hours.
Phone: You can reach Franpos directly Monday through Friday from 5 AM to 11 PM Pacific Time and Saturdays from 9 AM to 7 PM Pacific Time.
Support Ticket: You can submit a support ticket to technical services from the POS interface.
Tutorials: When you're logged in to your account, you can check out the back-end tutorial area, which features a comprehensive list of video tutorials on key features. You can also find these videos on YouTube.
Knowledgebase: There is a FAQ section and Support Center page with articles on general setup and hardware.
Compatible Credit Card Processors
Franpos integrates with a handful of big-name processors, giving you plenty to choose from.
You can accept payments by integrating with Square, Fiserv (formerly First Data), TSYS, Heartland, North American Bancard, Elavon, Global East (Global Payments), Vantiv, EVO, WorldPay, or Chase.
Franpos Integrations & Add-Ons
Right now, Franpos offers these integrations and more:
QuickBooks: Franpos directly integrates with QuickBooks accounting software. You can link to QuickBooks by matching your ledger names right into the Franpos software.
Mailchimp: Franpos also integrates with Mailchimp, an email marketing program that assists with newsletters and promotional campaigns. Mailchimp draws directly from your customer database.
Magento: Franpos integrates with Magento for eCommerce needs.
Text Messaging: Twilio and Clickatell are integrations that allow you to launch marketing campaigns through text messages and push notification blasts.
Microsoft Power BI: Understand and break down your company data with Microsoft Power BI.
Avalara: With Avalara, you can make sure to calculate your taxes accurately.
Gift Cards: Integrate with either Valutec, Synergy Loyalty Solution, or Givex to sell and redeem gift cards.
Franpos charges the following for its in-house add-on services:
eCommerce: $99/month
Growth Marketing: $68/month
In addition to these integrations and add-ons, there are also various extras within the system that you can utilize for an extra monthly charge:
Walk-In, $25/Month: This customer-facing feature allows customers to check themselves in for appointments.
Kiosk, $25/Month: Another customer-facing feature that allows them to scan items and browse a product catalog unattended.
Self-Checkout, $25/Month: This add-on allows your customers to ring up and pay for their food, services, merchandise, etc., through a stand-alone customer-facing device.
Task & Goals, $25/Month: This employee-facing feature allows you to post goals, deadlines, and reminders for employees.
API Access, $50/Month: If you'd like to integrate any additional software or plugins with your POS system, you can always purchase access to the API.
You can visit the Franpos app store to find these and other Franpos add-ons and integrations.
Franpos Reviews, Complaints, & Testimonials
Franpos reviews are overall quite good, but being a smaller POS company, there are not too many reviews to be found. The company does not have a profile on BBB or Trustpilot. Franpos rebranded from "iConnect" in 2017, but there are not many reviews for iConnect either.
Negative Franpos Reviews & Complaints
Negative reviews are a little hard to come by, but here are a few recurring issues I was able to find:
Software Issues: A few customers noted minor glitches in the system, particularly with inventory management. Routine glitches are to be expected and are somewhat unavoidable with any system, so I don't think there's much to worry about.
Initial Support: A few people noted that when it came to significant issues, the company was slow to respond and not particularly timely at resolving the problem.
Difficulty Accessing Back-End Data: A bit of a nitpick, but I did see this complaint more than once. Customers liked how much data the system can take and store but found that it could be unwieldy to sort.
Positive Franpos Reviews & Testimonials
Here are some positive things customers have to say about Franpos:
User-Friendly: Several reviewers mentioned how easy Franpos is to set up and use. I found phrases such as "easy to start," "beautiful interface," and "very user-friendly and convenient."
Customer Support: Franpos gets a lot of kudos in the support department. There was a clear trend from reviewers who felt that the Franpos staff worked with them to resolve issues.
Service Industry Features: Franpos has a vast range of distinctive service industry features that you won't find in most other small-scale, cloud-based POS systems. A lot of thought has gone into developing an interface that meets the needs of service industry professionals.
Franpos Franchise POS Final Thoughts
Franpos seems to understand the need for evolution and adaptability in this ever-expanding market. With robust reporting features, extensive employee management, impressive marketing capabilities, and access to multiple customer-facing features that streamline the shopping and transaction process, it's difficult to go wrong with Franpos. By creating an all-in-one POS solution, the company has made it possible for this franchise POS to accommodate most (if not all) of the changes you may experience, whether they are in size, product, service, or storefront.
Though Franpos is suited for retail, it has carved out a niche in the service and QSR franchise industries. Although most POS systems offer multilocation management, there aren't many other affordable, cloud-based franchise POS systems out there that have Franpos's capabilities with booking and scheduling. If I were the owner of a salon, spa, gym, or multi-location business, I would consider Franpos a serious contender for my point of sale. Franpos is especially attractive as a less-expensive franchise POS option, though it can also work well for a single-location, single-terminal setup.
Looking for a more advanced tablet POS for your multilocation retail or restaurant business? Retailers should check out Lightspeed Retail, while Toast POS is a more advanced franchise POS system for restaurants of all types.
---
We've done in-depth research on each and confidently recommend them.
We've done in-depth research on each and confidently recommend them.
To learn more about how we score our reviews, see our
Point Of Sale (POS) Software Rating Criteria
.