Expert Analyst & Reviewer

UPDATED
Advertiser Disclosure: Our unbiased reviews and content are supported in part by
affiliate partnerships
, and we adhere to strict
guidelines
to preserve editorial integrity.
Merchant One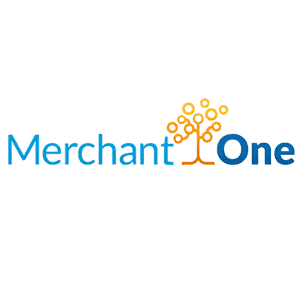 Pros
Offers full lineup of Clover terminals and POS systems
Interchange-plus pricing available
No automatic renewal clause
Cons
Tiered pricing offered
Standard three-year contract
Expensive early termination fee
Early termination fee may include liquidated damages
Extensive use of independent sales agents
Numerous deceptive advertising practices
Consistent reports of very poor customer service
Merchant One Overview
Merchant One, a merchant services provider, is an independent sales organization (ISO) of several much larger direct processors, including Fiserv (formerly First Data), Vantiv (now FIS Worldpay), and Elavon. With a little over 100,000 customers, the company qualifies as a mid-sized provider.
Merchant One's public reputation has had its ups and downs over the years since we first reviewed it. Its complaint volume with the BBB once hit a high of nearly 200 complaints, but that volume is now down to a more manageable 58 complaints filed within the past three years. While this still isn't great, it's pretty consistent with the average complaint volume we see in other, similarly-sized merchant services providers. Merchant One seems to be aware that its reputation among merchants isn't the best, as the company actively solicits customer reviews on Trustpilot to prop up its online reputation.
With at least three back-end processors and multiple rate plans available, Merchant One doesn't provide very much pricing information on its website. Like most traditional providers, it prefers to use a quote-based system to offer pricing that's geared to your business's size and nature. However, the company has recently added a "pricing" chart to its website that contains numerous misleading or downright false claims about its prices. We'll go into more detail below, but for now, we strongly caution you not to rely on any pricing information published on Merchant One's website. Prices will almost certainly be much higher than advertised, and contract terms will be much more restrictive as well.
As a Fiserv reseller, Merchant One offers a complete lineup of the popular Clover credit card terminals, mobile card readers, and point of sale (POS) systems. However, many alternative providers on the market can offer you the same equipment for a much lower overall cost. They'll also provide far superior customer support after the sale than you're likely to receive from Merchant One.
Overall, Merchant One earns a paltry score of only 2 out of 5 stars. More and more merchant services providers are beginning to offer transparent pricing and flexible contract terms. In contrast, Merchant One appears to be doubling down on the same dishonest sales practices, high prices, rigid contract terms, and poor customer support that have given the payments processing industry such a bad reputation among merchants.
While seasoned, high-volume merchants might be able to negotiate an affordable interchange-plus pricing plan with no long-term contract, all other business owners should avoid doing business with Merchant One altogether. Instead, we recommend checking out our Merchant Account Comparison Chart for an overview of the best small business-friendly providers in the industry.
Merchant One Credit Card Processing & Services
Merchant One offers a wide variety of hardware, software, and services — all of which are third-party products that the company re-sells. While the Merchant One website provides hardly any information about these products, product specifications are readily available on the internet from the actual manufacturers. Here's an overview of what's available by way of Merchant One credit card processing:
Merchant Accounts: Merchant One is a reseller for Fiserv (formerly First Data), FIS Worldpay, and Elavon. Which back-end processor you'll be assigned to will probably depend on your choice of hardware. For example, if you want a Clover terminal or POS system, you should expect to be set up with Fiserv. You should also note that none of these processors will work with high-risk merchants.
Credit Card Terminals: Merchant One currently advertises four "basic" credit card terminals: the Pax S80, Pax S500, VeriFone VX520, and Fiserv FD-130 models. All four models support EMV and NFC-based payments. Also, except for the Pax S500, they're all available for "Free*." Like many other merchant services providers today, Merchant One has a terminal placement program that will include one "free" terminal with your new merchant account. It's important to understand that these terminals are not really free. Any company making this offer will require you to return the terminal immediately if you shut down your account and will charge you the full (and often inflated) price of the equipment if it's not returned promptly. Merchant One goes one step further and charges merchants $35-$40 per month (about the same as a terminal lease payment) for its supposedly "free" hardware. The only difference between this practice and a traditional terminal lease is that you won't be saddled with a four-year, noncancelable lease contract that includes an acceleration clause requiring you to pay all of the remaining monthly lease payments if you break your lease. More advanced terminals, such as the Clover Flex, are not included in the terminal placement program.
Point Of Sale (POS) Systems: As a Fiserv reseller, it's no surprise that Merchant One offers the complete lineup of Clover POS systems, including the full-featured Clover Station and the smaller Clover Mini. As with advanced credit card terminals, these systems are not available through the company's terminal placement program, so you'll most likely have to buy them outright. Merchant One doesn't list prices for this equipment on its website, suggesting that the company may indeed be offering them through leasing arrangements — despite its "no leases" pledge. For an idea of how much you should expect to pay for a Clover POS, check out our article, How Much Does Clover POS Cost? Everything You Need To Know About Clover Pricing.
Mobile Payments: Completely portable processing systems are very popular today, particularly for businesses that need to take payments in the field. Merchant One offers the Clover Go, the Magtek ADynamo, the BBPOS Chipper, and the Swift B250 SwipeSimple — all of which work with iOS and Android devices. Merchant One's website does not disclose any pricing information for these models.
Payment Gateway: Merchant One advertises a payment gateway, which includes a virtual terminal for manually keying in transactions. However, it's unclear whether it's offering its proprietary gateway or a white-label version of another third-party gateway, such as Authorize.Net. The gateway includes the standard features you'd expect, including a customer database, support for recurring billing, QuickBooks integration, and a customizable API. The gateway can also integrate with over 175 popular online shopping carts.
eCheck/ACH Processing: The Merchant One website briefly mentions "check processing services," but it offers no details. It will probably set you up with Fiserv's Telecheck service. Expect to pay an additional monthly fee for this service, as it's not included with a basic merchant account.
Next-Day Funding: Following another recent trend in the payments industry, Merchant One now offers "next day funding," which is supposed to ensure that funds from your transactions are deposited into your account within 24 hours of being submitted. Unfortunately, there are many complaints from merchants who signed up for this service that their deposits still arrived two to three days late. More disturbingly, we've also found complaints from merchants who were signed up for this service without their knowledge by unscrupulous sales agents. Naturally, there's an extra (undisclosed) fee for next-day funding.
Merchant One Fees & Rates
Merchant One uses a quote-based pricing system. For a long time, it didn't disclose any pricing information on its website. The company now includes a small chart (see below) that, in many ways, is more misleading and dishonest than offering no pricing information at all. Here's what you'll currently find on the Merchant One website: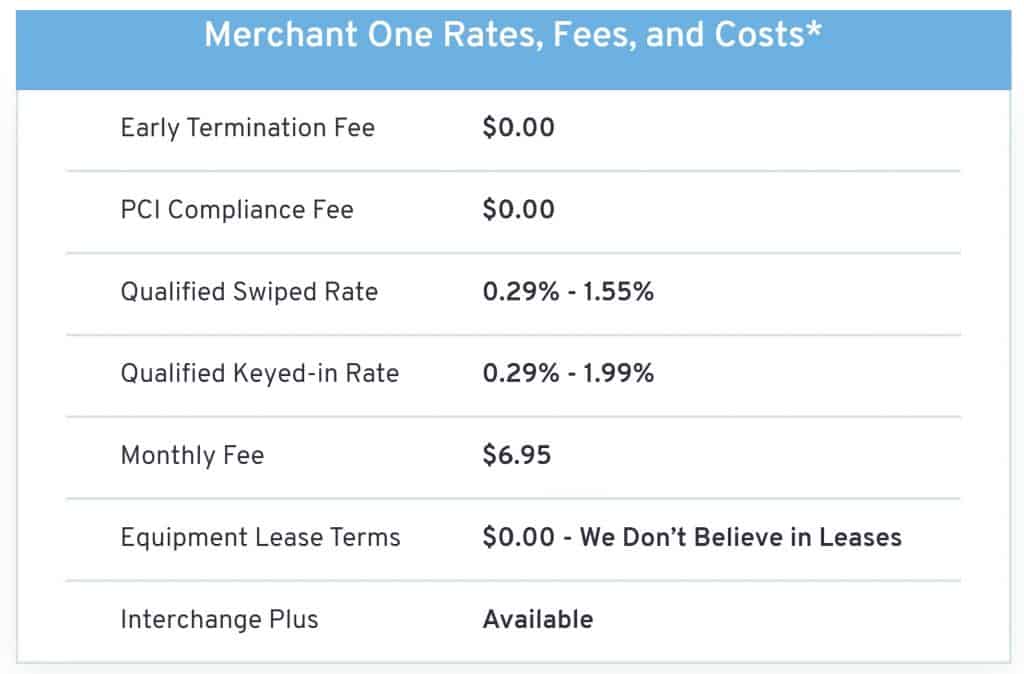 Wondering about that asterisk? Here's what we found:
*Rates above are for qualifying rates. For full rates, fees, and terms please refer to your merchant processing agreement. Executed merchant processing agreement overrides above fee table.
You might be curious about how well these claims stack up against the experiences of actual merchants who've used Merchant One as their provider. Unfortunately, it appears that every claim on this chart is either downright false or only applies in certain specific situations. Let's break down each claim:
No Early Termination Fee: Unless you've declined the company's free terminal offer and bought your equipment outright, this appears to be false. Merchants report being charged an early termination fee (ETF) of at least $295 — and often much more.
No PCI Compliance Fee: This claim appears to be completely false. We found multiple reports from merchants of being charged an annual fee of $129 for PCI compliance. This information is confirmed by statements from Merchant One's customer service representatives on the company's BBB profile.
Qualified Rates As Low As 0.29%: Technically, this claim is probably true, but it's also extremely misleading. While 0.29% probably represents the lowest possible rate, it will only be available to very high-volume merchants and certain types of PIN debit transactions. Low-volume merchants will pay much higher rates than these. The use of the term "qualified" also indicates that Merchant One uses the overpriced tiered pricing model in most cases.
Low Monthly Fee: This claim is actually true. We've heard reports of merchants paying as low as $4.95 per month in account fees. However, it's also apparent from merchant reports that Merchant One will tack on as many additional monthly and annual fees as possible. So while your monthly account fee might be low, the total cost of maintaining your account will be much higher.
No Equipment Leases: We're rating this claim as may be true — at least, as long as you either buy your equipment outright or accept a "free" terminal. Be aware that the use of Clover products almost always requires a monthly software licensing fee. (Clover, not Merchant One, charges this fee.) It's also possible that more expensive hardware (such as the Clover Station) is still being distributed via leasing.
Interchange-Plus Pricing Available: This is also true. However, you will almost certainly be offered an initial pricing quote that uses the more expensive tiered pricing model, so you'll have to negotiate aggressively if you want the transparency and lower overall costs of the interchange-plus model.
Other fees that Merchant One doesn't talk about, but you can expect to have to pay, include the following:
Annual account fee ($99 per year)
Monthly minimum (typically $25 per month)
PCI non-compliance fee ($25 per month for every month that your account is out of compliance)
Gateway fee (typically $25 per month for eCommerce merchants)
Our best advice here is to read your merchant agreement very thoroughly before you sign up for an account. You'll want to be clear about every rate and fee you'll be responsible for, and you simply cannot rely on a sales representative to disclose this information fully. You should also check out our complete guide to merchant account rates and fees, so you'll understand what these fees are for and when you might have to pay them.
Contract Length & Early Termination Fee
Merchant One prominently claims not to charge an early termination fee (ETF) on its website. Unfortunately, this claim is very misleading at best and downright false in many cases. While it is possible to get an account with no long-term contract and no ETF, you'll have to either forego the offer of a "free" terminal (which isn't really free anyway) or negotiate aggressively for a waiver of the ETF.
Merchant One follows an increasingly common trend within the processing industry of offering merchants a choice between free hardware or flexible contract terms. Unfortunately, this choice isn't explained very well either on the company's website or by its sales agents. (The sales agents earn an extra commission if a merchant accepts the "free" terminal and, thus, are very motivated to encourage this option.)
If you choose the free equipment option, you will have to sign an agreement with a standard initial term of three years. One unique aspect of the company's contracts is that they do not include an automatic renewal clause, which would ordinarily extend your contract for successive one-year periods at the end of the initial term. While this is a nice feature, Merchant One knows full well that if you're still satisfied with its service after three years, you're unlikely to go through the hassle of switching providers after that.
Although the company does its best to keep you in the dark about your actual contract terms, those terms are clearly spelled out in the Merchant One Terms and Conditions (Program Guide), which we highly encourage you to review before signing up. Here's the relevant clause:
If this Agreement is terminated by either party for any reason before the end of the then-current term… you will immediately pay us, as a termination fee, the greater of (i) $295.00 for each year remaining in the then-current term or (ii) the fees (net of Association charges) we would have received based on the average monthly transaction volume during the highest 12 month period prior to termination (annualized in the event such period is less than 12 months) (or the fee we should have received, based on your representations in the Application, if greater) during the months remaining in the then-current term but for such termination.
Application of this provision could potentially cost you as much as $885 or possibly even more if you have a very high-volume business. Your best protection against this kind of provision (other than signing up with a different provider that uses true month-to-month billing and doesn't charge an ETF) is negotiating a waiver of this clause. While it's very unlikely that Merchant One will waive this clause if you accept the "free" terminal offer, you should be able to get a waiver if you purchase your equipment outright. Just be sure to get it in writing in case you're "accidentally" charged the fee later on.
Sales & Advertising Transparency
Merchant One's website has a professional appearance and is quite easy to navigate. Unfortunately, that's because it offers very little in the way of actual content. You also won't find pricing information, except for the misleading rates we've discussed above. Details about the Clover product lineup are also sparse, although you can easily find this information on other websites.
Like many other merchant services providers, Merchant One appears to rely heavily on independent sales agents to market its accounts. Granted, this is a real cost-saver for the company (independent agents are usually paid on a commission-only basis), but it frequently results in a very unsatisfying sales experience for the merchant. While there are some very experienced and ethical independent agents working in the industry, your odds of finding one are not good. It's much more likely that you'll find yourself working with someone who hasn't been adequately trained on the company's services, prices, and contracts and is just looking to sign you up as quickly as possible and get their commission.
Beware of promises that seem too good to be true, and insist on taking the time to read your entire contract before you agree to sign anything. See our Comments section below for some examples of how badly things can go wrong when working with independent agents.
Like most providers these days, Merchant One has a presence on social media, with accounts on Facebook, Twitter, LinkedIn, and YouTube. Unfortunately, content is very sparse, and most of these accounts haven't been updated in years. The company's Facebook page appears to be used primarily to re-broadcast its positive reviews on Trustpilot.
Customer Service & Technical Support
Merchant One advertises 24/7 support via phone and email. Despite this, many merchants report receiving very poor customer service. Previously, the site featured a small FAQ page, but even this seems to have disappeared. The lack of even a rudimentary knowledgebase is troubling. Also, be aware that you'll likely have to deal with Fiserv's customer support during non-business hours and with Clover directly for any technical issues.
Providing a more personal customer service experience is one potential advantage that small ISOs such as Merchant One have over the huge direct processors that they work with. Unfortunately, the company hasn't capitalized on this by putting adequate resources into this aspect of its business. Like far too many other merchant services providers, customers are pretty much on their own after they've signed up and are locked into their contracts. The only good news here is that if you have a technical issue with any of the company's Clover products, plenty of self-help resources are available elsewhere on the web.
We've also seen more recent complaints from merchants who were completely unable to contact the company's customer service department during the COVID-19 pandemic. Given that customer service is almost totally conducted by telephone and over the internet these days, there's simply no excuse for this kind of failure.
Merchant One Credit Card Processing Reviews & Complaints
Negative Merchant One Reviews & Complaints
Merchant One has been accredited by the BBB since 2010, and it currently has an A+ rating. The company has had 58 complaints in the last three years, 21 of which were filed within the previous twelve months. These numbers represent a notable uptick in complaint volume since our last review update in July 2020.
Merchant One has answered most of these complaints, but the majority of them have not been resolved satisfactorily. In fact, responses from company representatives were some of the rudest and most unprofessional that we've seen. The company appears to have a policy of strictly enforcing the terms of its contracts, even when it's clear that a merchant was lied to by their sales agent.
There are also 47 customer reviews posted with an average rating of 3.04 out of 5 stars. However, if you look closely at the reviews themselves, it's clear that most reviews are either 5-star or 1-star, with very few in between. It's also pretty evident that many of the 5-star reviews sound like the company's marketing department could have written them.
Negative Merchant One reviews on the BBB and other consumer-protection websites indicate the following common problems:
Poor Customer Service: Like far too many other merchant services providers, the quality of customer service drops dramatically as soon as the ink is dry on your contract. Many merchants reported that the customer service representatives they talked to tended to be rude, even when there was an admitted mistake on Merchant One's part. Customer service appears to have disappeared entirely during the COVID-19 pandemic, leaving merchants on their own to resolve any problems with their accounts.
Undisclosed Early Termination Fee: We've discussed this fee in detail above in the Contract Length & Early Termination Fee section and even shown you where to find it in your contract. However, many merchants report that this fee was never disclosed to them by their sales agent during the signup process. Like it or not, it's ultimately your responsibility to review your contract thoroughly before you sign up for an account. You simply cannot rely on your sales agent to disclose every aspect of your agreement — ever.
"Hidden" Fees: Again, we found plenty of complaints from merchants about being charged "hidden" or unexpected fees after their accounts were activated and they started processing transactions. While your sales agent should disclose all the major fees that you're responsible for, you cannot rely on them to actually do this for you. All recurring and incidental fees are disclosed in your contract (although often buried in pages of fine print), so review all contract documents thoroughly to prevent being surprised later on.
Positive Merchant One Reviews & Testimonials
On the company's home page, you'll find a section that links to Merchant One credit card processing reviews on Trustpilot. This initially appears quite impressive, as the company has a rating of 4.9 out of 5 stars, based on 3,231 reviews. However, if you navigate over to the Trustpilot website itself, it readily becomes apparent that nearly all of the 5-star reviews are labeled as "verified," meaning that the reviewer was automatically invited to write a review following their experience with Merchant One.
In other words, they're not spontaneous reviews posted by genuinely happy customers who were so thrilled with their service that they independently took it upon themselves to post a glowing review of the company. Many of these reviews are barely a single sentence in length, and many call out the customer's sales agent by name — a clear sign that they were nudged into posting a review by Merchant One.
Now, any company is well within its rights to request a review from its customers. In fact, several of the 1-star reviews of Merchant One on Trustpilot were also solicited by the company. However, it does seem pretty clear that Merchant One is trying to drown out the complaints by burying them under a mountain of low-value positive reviews. In particular, we note that many of the positive reviews appear to have been written by merchants who had only recently signed up for the company's services.
Unfortunately, the honeymoon tends to wear off pretty quickly when it comes to merchant services, and we don't feel that there's any real value in a review left by a merchant who's only been using a provider's services for just a few weeks. If you need help distinguishing fake reviews from genuine ones, our article on how to spot fake reviews can help.
Final Verdict On Merchant One
As you've probably guessed, our best advice is to run — not walk — away from Merchant One. While the company's lineup of Clover products, availability of interchange-plus pricing, and lack of an automatic renewal clause are all positive features, they don't come close to compensating for deceptive sales practices. A merchant account with Merchant One will almost inevitably be much more expensive and difficult to get out of than what you'll be led to believe during the sales process.
If you're looking for Clover products, there are many other providers that can offer you this popular hardware brand for less money overall. Likewise, the company's low monthly account fee won't save you any money after you've paid all the other fees that it charges but doesn't tell you about beforehand. If you're looking to save money on credit card processing, check out our article, These 9 Cheapest Credit Card Processing Companies Will Save Your Small Business Money, for some recommendations.
Merchant One ultimately receives a below-average score of just 2 out of 5 stars. Don't be fooled by all those glowing Trustpilot reviews into thinking that this is a top-notch company — it's not. Although it's not the worst provider we've found, there are plenty of better alternatives on the market these days.
If you're looking for a reputable provider that offers the full line of Clover products and services and features completely transparent pricing disclosures, honest sales practices, and high-quality customer service, we highly recommend that you take a look at Dharma Merchant Services. You can also check out our merchant account reviews for an overview of the best merchant services providers in the industry.
Good luck!
---
Our Top Pick To Save On Payment Processing 💰
PaymentCloud


---
PaymentCloud has an excellent track record for service quality, support, and fair pricing. Learn more from PaymentCloud.
Our Top Pick To Save On Payment Processing 💰
PaymentCloud


---
PaymentCloud has an excellent track record for service quality, support, and fair pricing. Learn more from PaymentCloud.
To learn more about how we score our reviews, see our
Credit Card Processor Rating Criteria
.