Paya Review (Formerly Sage Payment Solutions)
Expert Analyst & Reviewer

UPDATED
Advertiser Disclosure: Our unbiased reviews and content are supported in part by
affiliate partnerships
, and we adhere to strict
guidelines
to preserve editorial integrity.
Paya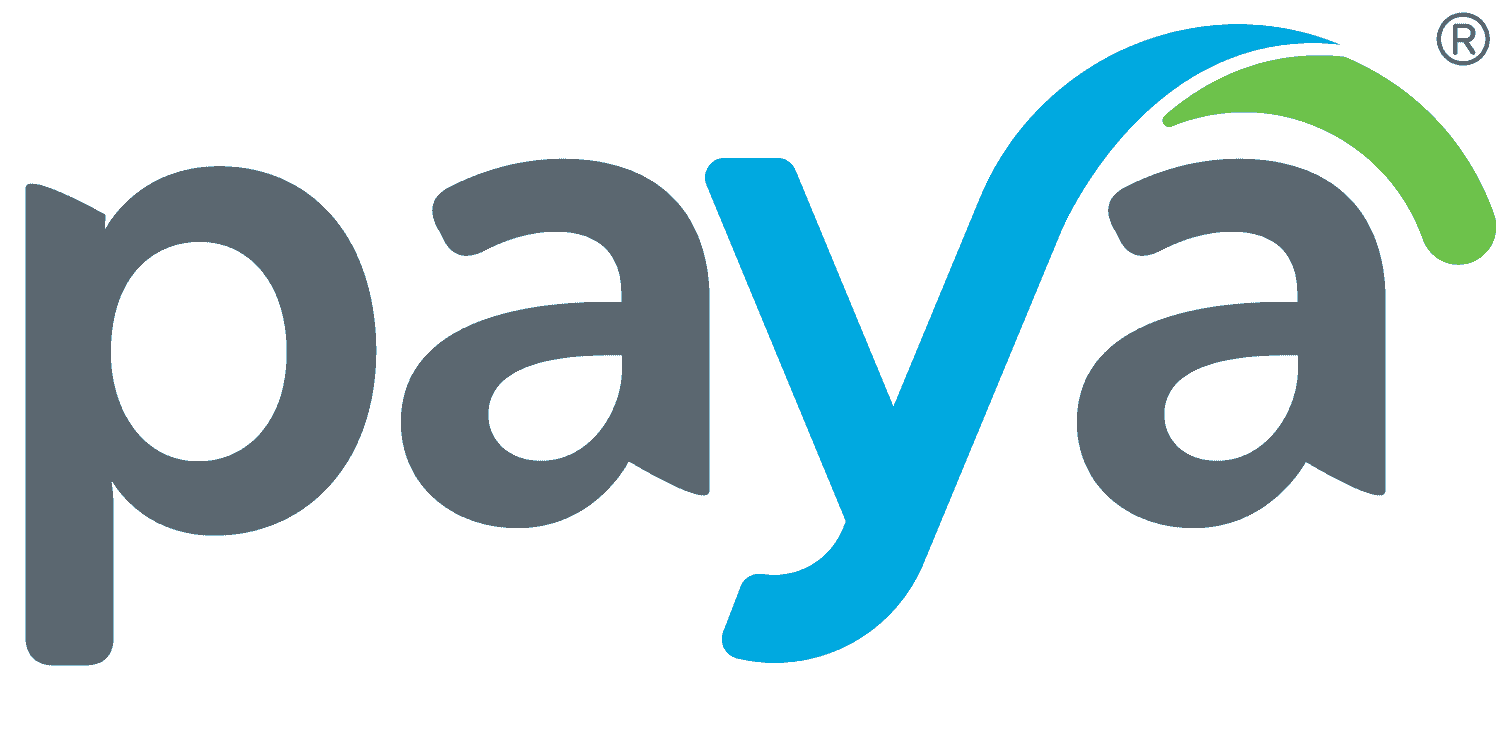 Pros
eCheck processing offered
PCI-compliant solution
Good for eCommerce
Good developer tools
Cons
Untransparent tiered pricing
Early termination fee
No pricing disclosed online
Paya Overview
Paya is a merchant account provider headquartered in Reston, Virginia. The company began in 1989 as Sage Payment Solutions, a subsidiary of British accounting software firm The Sage Group. In 2017, Sage Payment Solutions was acquired by GTCR, a private equity group, and began operating as an independent organization. In early 2018, the company re-branded itself as Paya. Today, the company serves over 100,000 merchants in the United States and Canada.
In the processing industry, companies often re-brand themselves to escape a brand name that's become toxic due to a high volume of complaints from customers. The thinking is that, if your company has a terrible reputation, you can simply change your name and watch all those BBB complaints disappear over time. Of course, this seldom actually works because companies invariably continue the same poor business practices that gave them such a bad reputation in the first place. This doesn't appear to be the case with Paya. While this was originally pitched as a re-brand for Sage, it appears as if the Sage name is being retained for payment processing, and the two brands exist in slightly different silos. Paya seems to be more of a platform for merchant services that, in turn, integrate with Sage's software. It's unclear whether the brands will continue to remain separate or if Sage will eventually be fully transitioned over to Paya. Requesting a quote on Sage takes you to the Paya website, but other links on the Paya site reroute you to the Sage website, which is confusing.
Unfortunately, this also means that Paya doesn't seem to have addressed any of the problems that merchants had with the old Sage Payments brand. It's still offering merchants a standard three-year contract with an automatic renewal clause and imposing hefty liquidated damages on merchants who close their accounts early. At $25 for each remaining month of your contract, this penalty could cost you as much as $900 to close your account early.
With the re-branding to Paya, the company has launched a new website to go along with its new name. Unfortunately, it's a big step backward in terms of providing merchants with useful information about Paya's products and services. Replete with empty marketing fluff, the new site offers almost no concrete details on credit card terminals, payment gateways, or other features. Sage Mobile Payments, the company's answer to Square, isn't mentioned at all except in the support knowledgebase.
Under both the Paya and Sage Payment Solutions brands, the company has a relatively low complaint volume for a provider of its size. Many complaints focus on the lack of transparency on the part of its independent sales agents, who appear eager to sign up new accounts without fully explaining pricing and contract terms to customers. The company also discloses no information about pricing or processing rate plans, making it impossible for a merchant to estimate their costs without first contacting a sales agent and obtaining a rate quote.
Because of its lack of transparency, lengthy contract term, and expensive early termination fee, we can't award Paya any higher than 3 out of 5 stars. While the company appears to still be in the process of moving its products and services to the Paya brand, the name change isn't likely to benefit it in the long run unless it improves its pricing and contract terms.
You can read on to find out more about Paya, or skip ahead to our Merchant Account Comparison Chart to see how our top-rated providers stack up.
Products & Services
Paya appears to offer a full range of products and services for both retail and eCommerce merchants but doesn't provide very much detailed information about them on its website. Paya breaks its services down into several umbrellas: Paya Accept, Paya Connect, and Paya Enable. Paya Accept encompasses payment processing services, point of sale, and virtual terminals. Paya Connect includes the company's API, gateway, and associated features. Paya Enable includes an onboarding service and business support tools.
Here's a run-down of Paya's primary offerings:
Merchant Accounts: Paya is not a direct processor. In the US, merchant accounts are underwritten by either TSYS Merchant Solutions or Chase Merchant Services. Canadian merchants will be underwritten by either Chase or Moneris Solutions. Be sure to review your contract documents to confirm which entity is processing your transactions. While Paya provides its own customer support, any transaction holds or account freezes are the responsibility of your back-end processor.
Industry-Specific Solutions: The company offers specialized services to meet the needs of certain categories of businesses, including B2B, education, government/utilities, healthcare, and nonprofits. Unfortunately, it doesn't offer very much specific information about these services on the website.
Countertop Terminals: Unfortunately, the new Paya site doesn't mention countertop terminals at all. Although you can probably still buy processing hardware from Paya, we emphatically recommend that you never lease a terminal.
Mobile Payments: While the old Sage Mobile Payments app is still available on the iTunes App Store and the Google Play Store, the company appears to now be using a mobile payment system called Paya Mobile EMV. This system uses the SwipeSimple mobile app and either the Swift B200 or B250 card readers. Both readers connect via Bluetooth and can accept EMV and magstripe payments. However, only the B250 model supports NFC-based payment methods (such as Apple Pay and Android Pay).
Payment Gateway: For eCommerce merchants, the company offers Paya Connect. This payment gateway is a robust integrated payments platform that provides support for credit/debit card and echeck (ACH) payments. It includes all the standard features you'd expect to find, among them a secure customer database, support for recurring billing, and an automatic Account Updater. Paya Connect is compatible with numerous popular online shopping carts, including Magento, 3DCart, and Shopify. A full list of compatible carts and plugins is available in Paya's knowledgebase.
Developer Tools: Paya has a robust Developer Portal for customers that want to customize the interface between their website and the Paya Connect platform. Here, you'll find plugins and APIs to enhance the basic platform with additional features. The tools take the form of a JS library called Payments JS and two secure APIs. You're also provided sandbox access for experimenting with code without fear of making any costly mistakes.
Virtual Terminal: The company also offers the Paya Virtual Terminal, a proprietary virtual terminal that allows you to turn your computer into a credit card terminal. Transactions can be entered manually or through the use of a USB-connected card reader.
eCheck (ACH) Payment Processing: The company offers several products to facilitate accepting both paper and electronic checks as payment. Paya Point of Sale Conversion allows you to accept paper checks by scanning them with an optional imager connected to your credit card terminal. Paya 21 gives you the ability to deposit paper checks electronically and uses a scanning device connected to your computer. For eCommerce merchants, Paya Virtual Check enables ACH payments on your website. Pricing for these optional features is not disclosed.
Simplified Boarding: Paya now uses an online application process that it claims will allow you to be approved for an account and start processing in as little as 15 minutes. Of course, this doesn't include the time required to install the payment gateway or receive your credit card terminal, so don't take this number too seriously. We'd also point out that rapid account approval is not necessarily a good thing. Companies that offer near-instant approval are also very quick to shut down your account once you start processing if you do anything to attract the attention of their Risk Department. This "feature" is designed primarily to bind you to a long-term contract before you've had adequate time to review your contract documents. If you realize that you made a mistake in signing up, it could cost you as much as $875 in liquidated damages to close your account.
Although Paya clearly has a robust lineup of products and services for eCommerce merchants, it only receives a "good" in this category due to the lack of information regarding hardware options for retail merchants. We'd like to see much more information about credit card terminals and point of sale (POS) systems than what is currently available on the website.
Fees & Rates
Like many providers, Paya does not disclose any fee or rate information on its website. There are both good and bad reasons for doing this. On the one hand, processing rates vary widely based on a merchant's processing history, monthly processing volume, and other factors. That means it's not practical to list every possible rate you might have to pay. Somewhat reluctantly, we prefer this approach over the misleading "rates as low as…" claims made by other providers, where only the lowest possible rate is quoted even though most merchants will end up paying much higher rates most of the time.
Fees, likewise, aren't fixed and can vary from one merchant to the next. This is why Paya's Merchant Agreement doesn't list any fees, either. These fees are variable and subject to negotiation. Unfortunately, this lack of transparency makes it impossible for a merchant to estimate actual processing costs. If you're considering switching to Paya from your current provider, the only way you can make a cost comparison is to obtain a quote from a sales representative and see how it stacks up against your current provider.
Despite the lack of disclosure, feedback from merchants indicates that Paya offers a mix of both tiered and interchange-plus pricing plans. Unfortunately, you'll almost certainly have to ask for an interchange-plus plan if you want to avoid getting stuck with tiered pricing. Tiered plans are usually more expensive, which translates to increased residuals for your sales agent. If you can't negotiate an interchange-plus plan, we recommend that you take your business elsewhere.
We couldn't find much concrete information about account fees, but one that we are aware of from merchant comments is an annual fee of $100 for PCI compliance. Although it's generated a fair number of complaints, this fee is in line with the industry average. We'd prefer to see a monthly fee — or no fee at all — for this service. Many other competing providers do not charge a PCI compliance fee, although some of them compensate by charging a higher monthly account maintenance fee.
The company earns a "fair" rating in this category due to the lack of transparency regarding processing rates and account fees. We encourage you to read your proposed contract thoroughly before signing up — and try to negotiate a waiver of any "junk" fees that might be added on.
Contract Length & Early Termination Fee
According to Paya's Merchant Agreement, all merchant accounts include a standard initial term of three years. There's also an automatic renewal clause that extends the contract for two-year periods after that. While these terms are generally in line with industry averages, be aware that there are plenty of providers on the market today that will automatically give you a month-to-month contract. In fact, the general trend within the industry is to move away from long-term contracts and switch to a more flexible month-to-month arrangement.
Getting out of your contract isn't easy — or cheap — either. In addition to having to provide written notice at least 30 days prior to closing your account, you'll also have to pay an early termination fee (ETF). Unlike many providers that charge a flat-rate ETF, Paya imposes a liquidated damages-like fee of $25 per month for every month remaining on your contract. This fee could potentially be as high as $875 (assuming you had 35 months left on your contract). While this isn't as draconian as a standard liquidated damages clause, which is based on your projected processing charges for the remainder of your contract, it's still a hefty penalty for trying to close your account early when the industry standard is $295.
We highly recommend that you at least try to negotiate to have this clause stricken from your contract altogether. If that doesn't work, your best bet is to follow the instructions in your contract and close your account before it auto-renews. This will save you from having to pay an ETF at all.
Paya earns a "fair" rating in this category due to its standard-length three-year contract and early termination fee. While these terms aren't much worse than the industry average, they're still less than ideal and could end up costing you a lot of extra money.
Sales & Advertising Transparency
With the name change to Paya, the company has recently launched a brand-new website that better reflects its current product lineup. While it's slick and professional-looking, it's not very informative. As we've noted above, there's little concrete information about products or services, and no disclosures whatsoever regarding pricing. Instead, you'll find the usual empty marketing fluff that doesn't tell you anything that you really want to know about what the company offers. Worse still, some links may route you to the (partially?) defunct Sage site. It's not deceitful, but it's an absolute mess.
To get the information you'll need to make an informed decision about signing up with Paya, you'll have to contact the company's sales agents to get a quote and find out more details about what they can provide for your business. The company maintains an in-house sales team, and they should be your first point of contact, if possible. Unfortunately, Paya also uses independent sales agents and a network of sub-ISOs to market its accounts. Most of the complaints regarding unethical sales practices can be traced to these independent agents. They frequently work on a commission-only basis and are under tremendous pressure to close a deal. While there are some honest, reputable independent agents out there, the odds of finding one are not good. In-house sales staff are generally better trained and more closely supervised, and they provide better overall service.
The company now has Paya-branded social media accounts on Facebook, Twitter, and LinkedIn. There's also a Paya-branded YouTube channel. These accounts are updated frequently and include company news and educational articles. Paya's YouTube channel contains dozens of instructional videos, but no customer testimonials.
Paya only earns a "fair" rating in this category, primarily due to the lack of disclosures on its website and its use of independent sales agents.
Customer Service & Technical Support
Paya offers 24/7 telephone, email, and chat support but has received a fair number of complaints regarding the quality of that support. At the same time, the company's extensive online knowledgebase is a very useful resource for solving minor technical problems on your own. Customer support is always a tricky issue with payment processors, as most companies don't invest sufficient resources into training their customer support representatives and frequently rely on outsourced agents for after-hours phone support. Customers are also far more likely to complain about a bad customer support experience than they are to offer positive feedback for a good one.
Overall, Paya earns a "good" rating in this category. It offers almost every support option available (although it doesn't appear to provide a dedicated account manager for more personalized service), and the complaint volume in this area isn't excessively high.
User Reviews
Negative Reviews & Complaints
Paya isn't accredited by the BBB, which is curious because it used to be. It's also now unrated, after previously having an A+ rating. Make of this what you will. The company has had 16 complaints filed within the last three years, with eight of those complaints being filed within the last twelve months. This represents a notable increase in complaints since our last review update in May of 2019. There are also seven customer reviews on the company's BBB profile, with all seven reviewers giving the company a 1-star (out of 5) rating. Paya has responded to every complaint, although it was only able to resolve about half of them to the merchant's satisfaction.
Issues that came up frequently in merchant complaints include the following:
High Early Termination Fee: Paya charges you $25 for every month remaining in your contract if you close your account early. This can be prohibitively expensive if you cancel in the first few months of your contract, so be aware of it and try to negotiate a waiver of this provision when setting up your account.
High PCI Compliance Fee: Paya also charges an annual fee of $100 for PCI compliance. While this is a common practice in the processing industry and the amount is in line with what most other providers charge, it appears that the company's sales representatives don't do a very good job of disclosing it upfront. Again, we can't emphasize enough how important it is to review every word of your contract before you sign up. This is not a "hidden" fee. Like many other providers, Paya also appears to charge a PCI non-compliance fee if you haven't kept your account compliant. This fee is reported to be around $35 per month for each month that you're out of compliance.
Poor Customer Service: Naturally, merchants who have had problems also complain about customer service after they've had to contact them to resolve those problems. Paya is a big company, and, unfortunately, bigger companies seem to have more issues with customer service than smaller ones.
Positive Reviews & Testimonials
The new Paya-branded website currently does not include any testimonials from actual customers. While these kinds of company-produced testimonials are always very one-sided, they're still helpful in showing how merchants are using (and, hopefully, benefiting from) the company's services.
We also couldn't find any other positive comments from users about Paya online. This isn't unusual, though, as satisfied merchants rarely take the time to post positive reviews. If you've had a good experience using Paya for payment processing, please tell us about it in the Comments section below. Thanks!
Paya earns a "fair" rating in this category. While the overall complaint volume is relatively low for a company of its size, the issues raised in the complaints indicate significant problems in the areas of customer service and sales transparency. The lack of any counterbalancing positive testimonials also hurts its score.
Final Verdict
The payment processing industry is very competitive, with a huge number of providers vying for your business. While only a few are truly excellent, many others are just awful. Paya currently falls somewhere in the middle of these two extremes, sticking close to the industry standard in terms of pricing and contract terms, but not offering any exceptional products or services that distinguish it from other providers.
While the company isn't a direct processor, it's large enough to produce its own proprietary Paya-branded services. The Paya Connect platform looks particularly useful whether you're running an online business or are a traditional retail merchant.
However, the company's contract terms make it hard to give them any more than a lukewarm recommendation. We particularly don't like the two-year automatic renewal periods included in Paya's standard contracts. Coupled with the $25-per-month early termination fee, it suggests that the company is deliberately trying to make money off merchants who close their accounts early. This is particularly egregious considering that many early account closures, particularly among small businesses, occur because the merchant is going out of business (rather than switching to a competing provider).
We'd also like to see Paya offer an improved website that provides more details about the company's products and services as well as pricing disclosures where possible. At the moment, the best thing we can say about the current site is that it doesn't include any of the commonly-used (and misleading) sales gimmicks that you'll find on many competitors' sites.
Overall, Paya receives a rating of 3 out of 5 stars. This is a very average rating that reflects the fact that the "industry average" is pretty awful in the payment processing industry. If you can buy your own equipment, get interchange-plus pricing, and negotiate a waiver of the early termination fee, the company might be a good fit for your business. However, there are much better providers out there that will offer you these things without the need to negotiate. Check out our Merchant Account Comparison Chart to compare some of the top providers in the industry.
---
Our Top Pick To Save On Payment Processing 💰
PaymentCloud


---
PaymentCloud has an excellent track record for service quality, support, and fair pricing. Learn more from PaymentCloud.
Our Top Pick To Save On Payment Processing 💰
PaymentCloud


---
PaymentCloud has an excellent track record for service quality, support, and fair pricing. Learn more from PaymentCloud.
To learn more about how we score our reviews, see our
Credit Card Processor Rating Criteria
.