Expert Analyst & Reviewer

Updated on:
Advertiser Disclosure: Our unbiased reviews and content are supported in part by
affiliate partnerships
, and we adhere to strict
guidelines
to preserve editorial integrity.
eHopper

Pros
Free plan available
Free terminal
Easy to use
eCommerce integration
Cons
Rudimentary feature-set
Limited integrations
Basic reporting
Buggy
eHopper Overview
It's FREE!
I thought I'd start this eHopper POS review with that, seeing as eHopper's price is the first thing people tend to notice — not the fact that eHopper POS is a globally-available cloud point of sale solution, that it's easy to use, or the breadth of hardware options it offers (including Android, Windows, iPad, and Poynt).
Besides free POS software, eHopper also advertises free payment processing and even a free PAX S300 payment terminal ($249 value). Is this all too good to be true? Well, kind of.
eHopper POS has all of the standard features of any cloud POS, but they're pretty basic, particularly on the free plan. And to get free payment processing, you'll have to pass your processing costs along to your customers, which some businesses might not be comfortable with. Even so, there is a lot to like about eHopper, even aside from its affordability. eHopper offers month-to-month contracts, can accept just about any kind of payment from Apple Pay to EBT, and is suitable for small businesses in just about any industry (at least, theoretically).
Read our full eHopper POS review to find out if this free POS is right for your business, or leave a comment with your thoughts on eHopper if you've used it before!
Don't have time to read an entire review? Take a look at our top-rated point of sale solutions for a few quick recommendations. Every option we present here offers excellent customer support, detailed user interfaces, and easy-to-use software, all for a reasonable price.
eHopper POS Pricing
eHopper offers four different plans, including the Essential (free) plan, which has all of the basic POS functionality but no customer support or advanced features.
eHopper pricing on the three paid plans differs depending on whether you purchase your plan on a month-to-month basis or if you commit for one, two, or three years:
Essential, FREE — includes one POS with:

Inventory management
Customer management
Tip management
Modifier management
Tax management
Full/Split payments
Print/Email receipts
Basic reporting
Online documentation
Available on Android, iPad, and Windows PC (not Poynt)

Freedom, $29.99/month billed monthly ($18, $16, or $14/month with a one, two, or three-year commitment) — includes everything in the Essential plan, plus:

Preauthorization
Directional printing
EBT
Use eHopper on Poynt Terminal (for another $10/month)
Reporting
Clock in/clock out
Menu builder
Inventory matrix
Ingredients management
Save order, pay later
Inventory adjustments
Store transfer
PO receiving
Exchanges
Self-service kiosk
Cash denomination count
Barcode manager
Low stock alert
Phone, email, chat support
Implementation and training

Restaurant, $39.99/month ($20, $18, or $16/month with a one, two, or three-year commitment) — includes everything in the Freedom plan, plus Table Management and Floor Planning
Omnichannel, $49.99/month ($21, $19, or $17/month with a one, two, or three-year commitment) — includes everything in the Freedom and Restaurant plans, plus:

eCommerce/Online ordering for restaurants
Loyalty program
Marketing suite
Digital signage
All prices listed are per register — meaning there is no discount on additional registers. Also, depending on your POS hardware setup, you could be charged a higher monthly fee. For example, it will cost you $39.99/month to use a Poynt terminal on the Freedom plan or $49.99/month if you buy the HP Engage One Prime or Elo PayPoint Plus hardware pre-loaded with the Freedom plan. (Charging a monthly "hardware fee" is a pretty standard practice among POS providers, but I don't particularly love it.)
Cloud-Based Or Locally-Installed
eHopper is entirely cloud-based, so all of your business data is stored on external servers and synced to your device via the internet. However, so your business isn't entirely dependent on the reliability of your internet connection, a copy of your data is saved to your web browser every time you open the system. That means you can continue to process sales even if your Wi-Fi goes down, though you won't be able to accept credit card transactions.
Specific Industry
eHopper is geared toward small retail and small restaurant establishments.
Some examples of types of businesses that might use eHopper include:
Coffee shops
Vape shops
Grocery stores
Liquor stores
Fast food
Fabric stores
Food trucks
Pizza shops
Looking at eHopper's retail industry features, the system does allow you to sell products by the pound, inch, yard, ounce, etc., and designate the price accordingly at the register. This opens it up for fabric stores or any establishment that sells its wares without a fixed price. EBT support also makes the system suitable for grocery and convenience stores.
eHopper also advertises itself as a restaurant and bar POS, but I really can't say it's equipped for anything more than quick-serve. Most of the basic features are there — modifiers, tips, voids, table management, pre-auth, directional printing, and even ingredient tracking. However, the way that all of those features are implemented is just that — basic — and without a good comps-and-voids system or strong reporting function, I wouldn't recommend it for a full-service restaurant.
Specific Size Of Business
Offering access to a limited number of reports and somewhat basic POS functionality, eHopper is really only suitable for small businesses. Even then, some small businesses will need more functionality than eHopper can offer. But, at least in theory, eHopper does support multilocation management (on the Freedom plan and higher).
Ease Of Use
Though not the most intuitive system I've ever worked with, the eHopper POS layout is simple enough that you can set up your entire business without much help. Everything except for your hardware configuration is set up from the back office: inputting inventory, managing customer accounts, creating employee profiles, etc. And with all of the different areas grouped under their respective headings (inventory, customers, employees), navigation is easy.
As you can see, the interface itself is very bland and basic — which is not necessarily a bad thing, particularly if you only need basic POS functionality.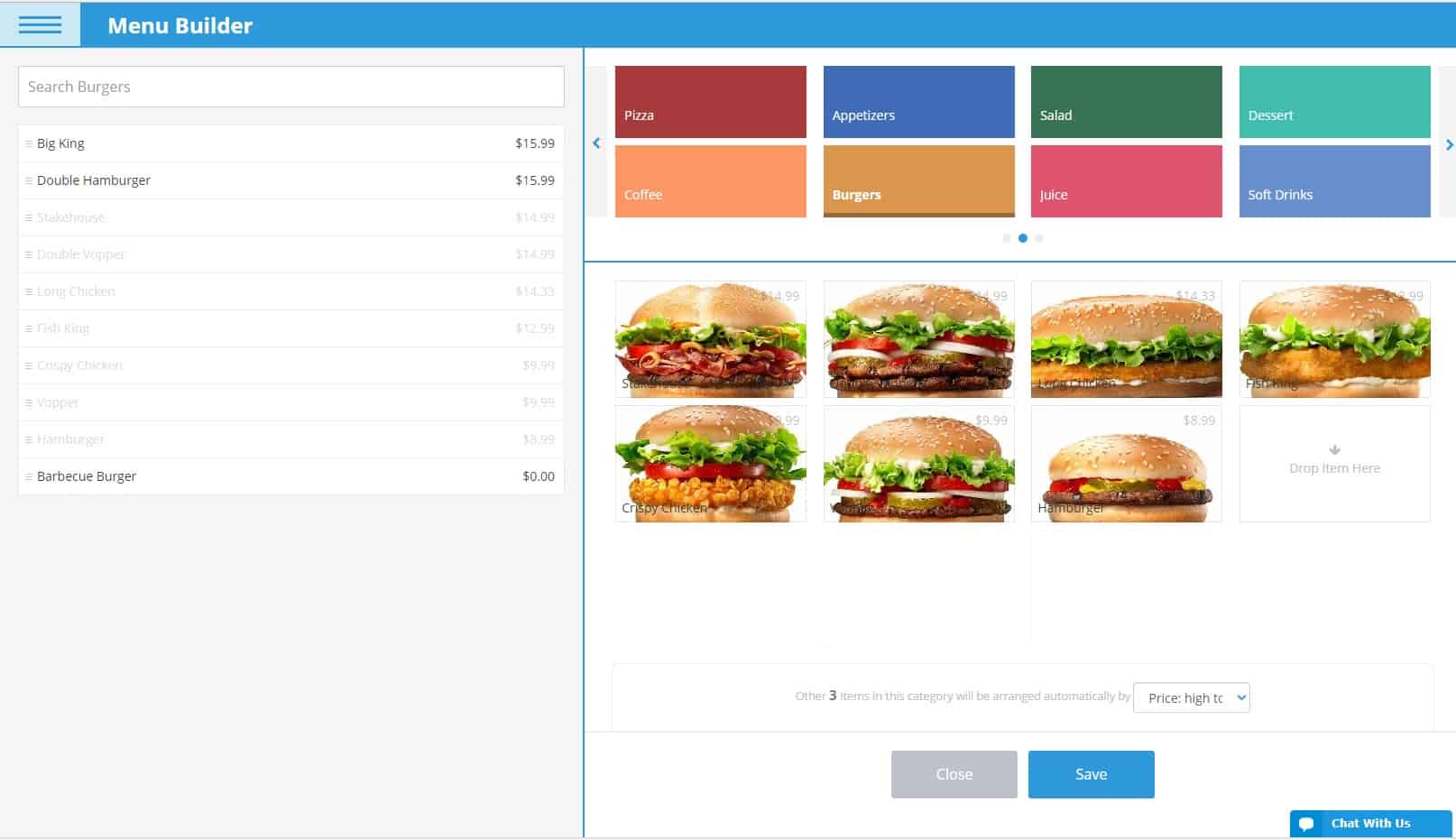 During setup, eHopper offers some videos and checklists that help orient you to the system. Additionally, eHopper has a knowledgebase of articles covering all topics related to POS setup and usage, such as importing inventory, setting up table management, processing exchanges, and much more.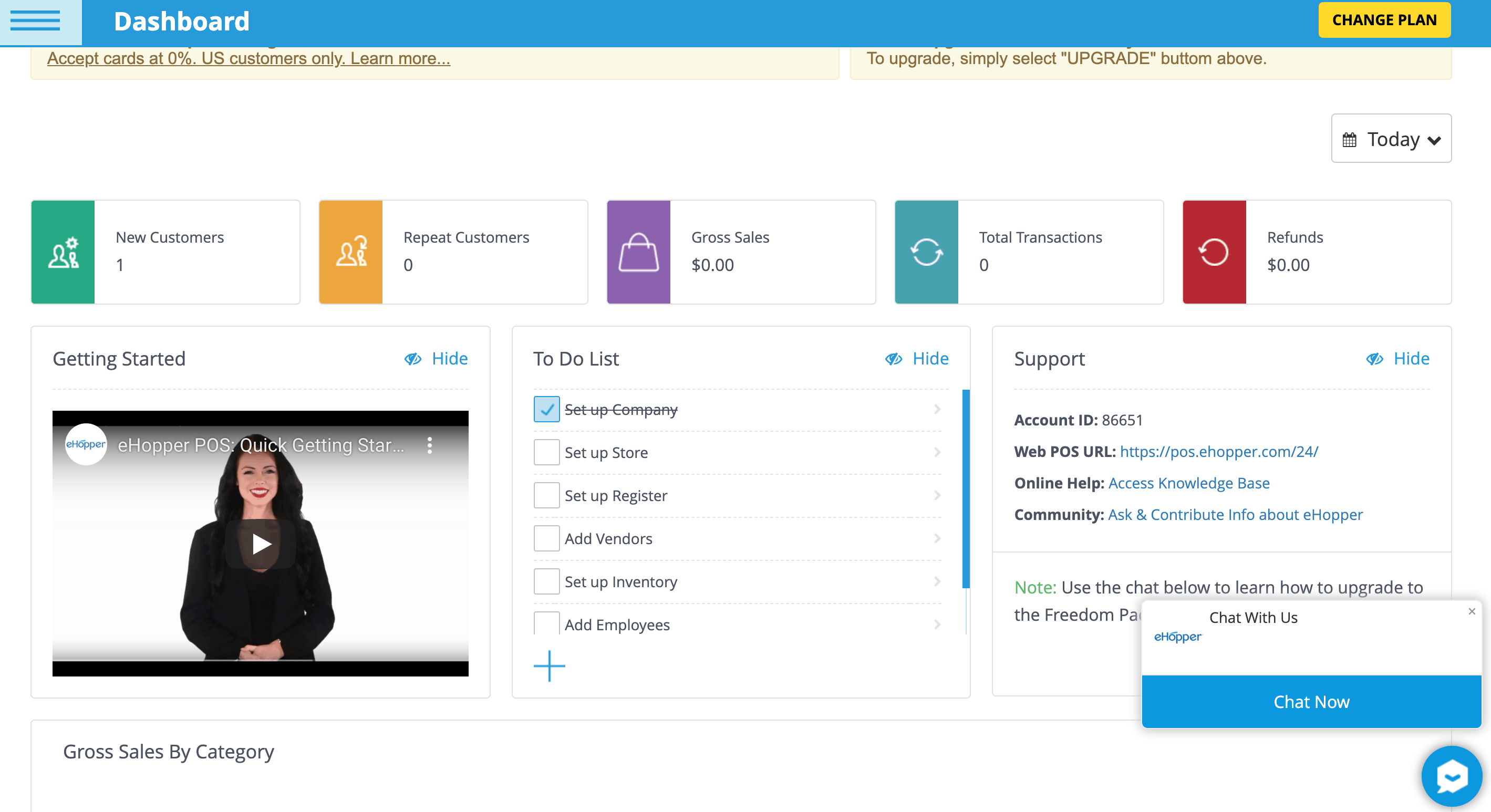 However, the phrase "easy to use" can only be applied to the software because of its general simplicity and not necessarily for its implicit helpfulness. Yes, there's a shallow learning curve, but that's because the depth of features is, well, shallow (more about the specific features in a bit).
Working with the eHopper back office, I did have some trouble figuring out how to assign a cost price to an item (so I could compare it to my sale price and calculate my margin). I eventually figured it all out, but it took a couple of rounds with the software and some intuitive leaps to get there. The eCommerce setup also seems kind of involved, based on reading the setup guides on eHopper's website, though I have not set one up personally.
Overall, though, I would say it's relatively easy to set up eHopper POS and figure out how its features work.
Hardware & Operating System Requirements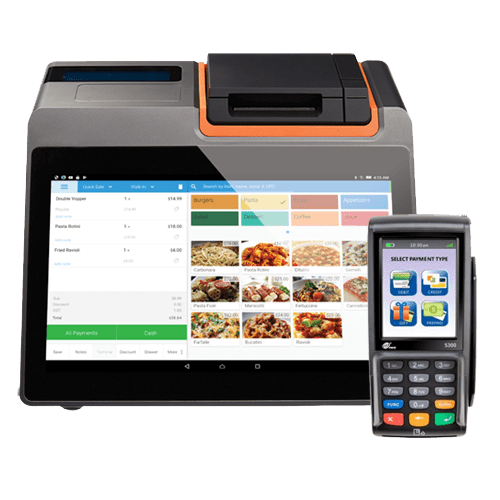 eHopper makes it a point to open up its software to run on a variety of operating systems. Currently, the software is recommended for:
Windows PCs and tablets
Android tablets
iPads
Poynt wireless smart terminals (pictured below)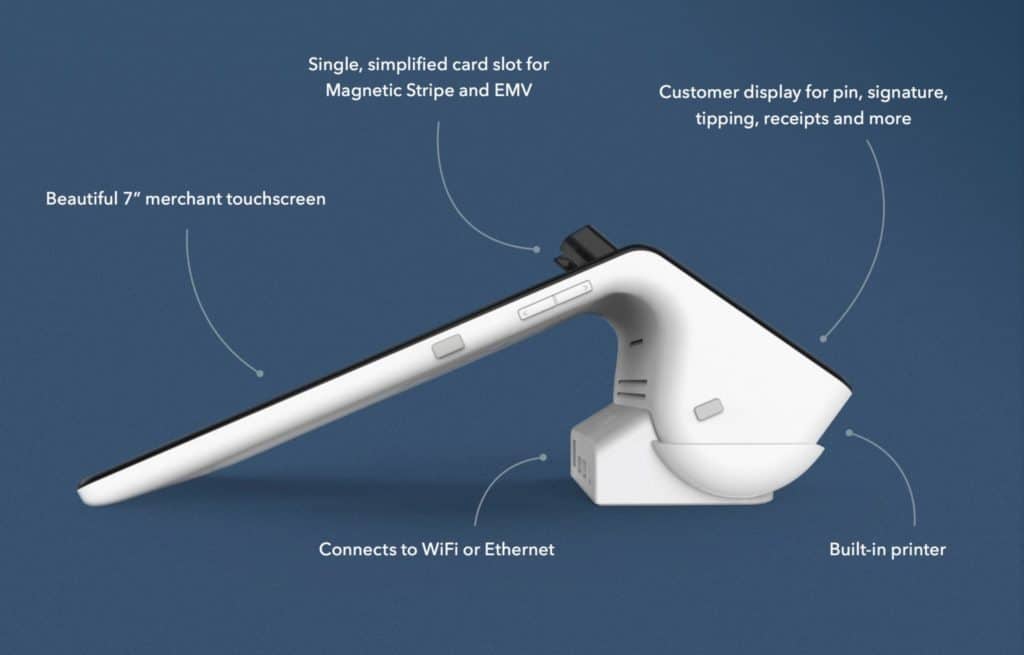 In addition to Poynt, eHopper also sells all-in-one POS hardware systems — including the Android-based HP Engage One Prime, the Elo PayPoint Plus system for iPad — as well as individual tablets, terminals, and POS accessories.
There are also standard terminal options if you don't want to spring for a fancy smart terminal or an all-in-one system with built-in payment acceptance. As mentioned, eHopper is currently offering new customers a free Pax S300 terminal, which has a $249 value and can support EMV and NFC payments.
Note that eHopper does not have a mobile app to support iPhones or Android smartphones. Also, and I'll get into this a little more in the eHopper POS Reviews section, but multiple customers have mentioned bugginess and compatibility issues with Samsung Galaxy Tabs (though eHopper does officially support these devices).
eHopper POS Features
If all you need is basic cloud POS features, eHopper's got 'em. The POS company has also expanded its feature-set over the past few years to include more functions, such as eCommerce, online ordering, loyalty, and some restaurant-specific features (e.g., ingredient management).
However, the breadth of features is not matched by any significant depth. None of the features are exactly best-in-class. eHopper is also still missing some key retail features, such as store credit and gift cards. Foodservice businesses may be frustrated by the inability to comp items or integrate a weight scale. The system also doesn't let you generate purchase orders or integrate with payroll.
Below are some of eHopper's most notable features:
POS Features: As far as the actual front-end register part of the system, you've got all the necessary bits. Add items to orders by scanning a barcode, searching for it, or selecting the quick key on the screen. Add tips to orders, and assign discounts by individual products or entire transactions. Ring up and then hold multiple orders, which you can call up later. Split payments between multiple tender types. Choose to either print or email receipts, and let your customers sign for credit card transactions directly on the POS screen. The POS also supports exchanges and returns but not store credit.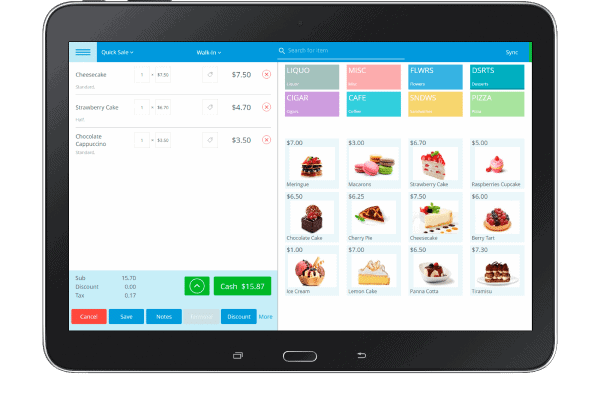 Cash Management: Though not something I would rave about, I have certainly seen worse cash management features. You can perform a starting till count when you open the register, make any pay-ins or payouts, and do a final till count when you close the register. Generate a Z-report with a comprehensive overview of tender counts, net sales with tips and taxes, any variance in your till counts, etc. You can also designate which salespeople (the lowest role level) have access to each register, and you can edit prices directly in the shopping cart.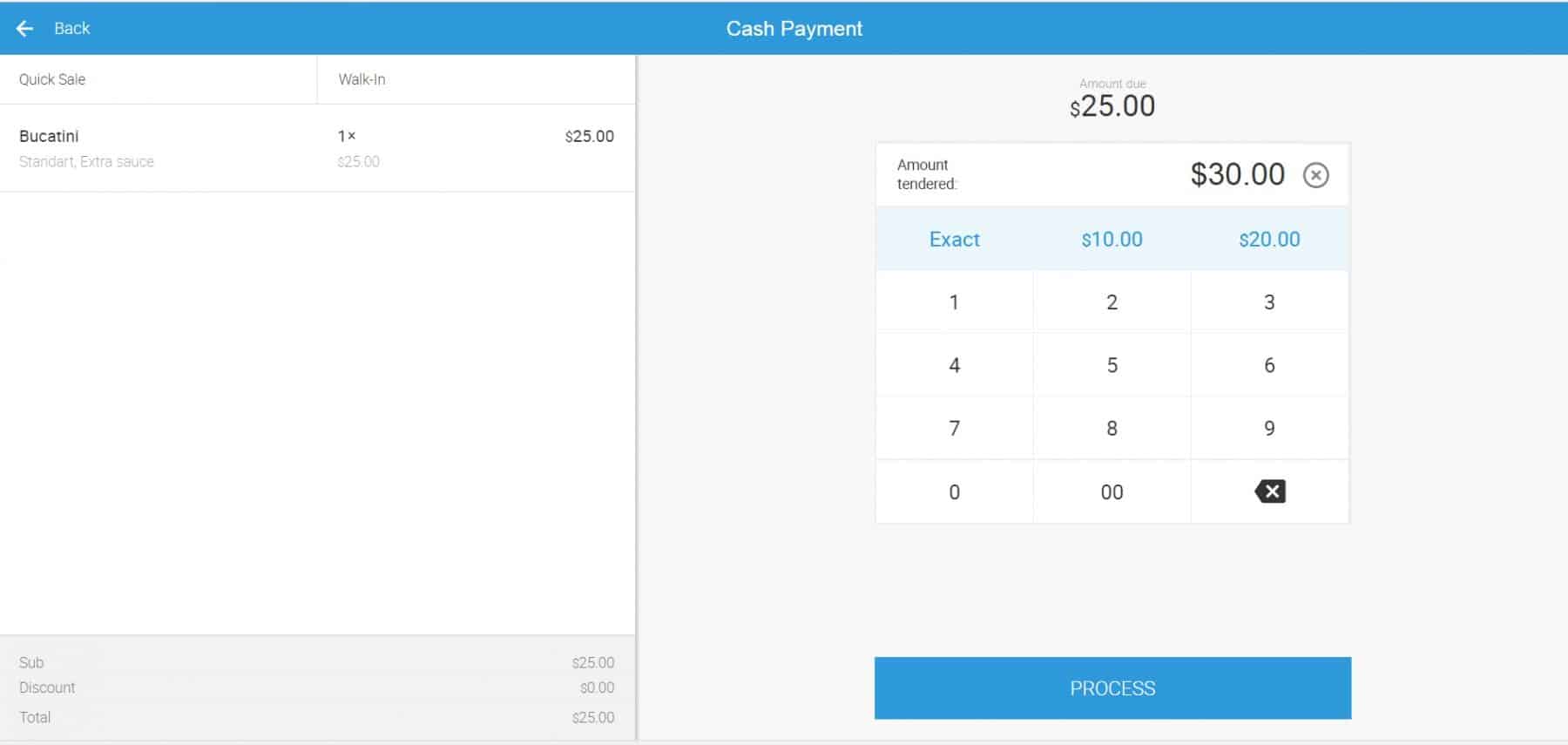 Settings: eHopper offers a couple of different currency and language options, which is nice, but all the other settings are pretty basic. You can set more than one tax level, and eHopper just added the ability to include taxes in your product price, set up multiline taxes, and create tax exemptions. After that, the only thing left to do is customize your receipt header/footer and decide how the date and time should be displayed.
Employee Management: eHopper lets administrators create individual employee profiles with designated roles and unique login pins. There are four roles (salesperson, sales manager, back-office operator, and administrator), each with different access permissions. The permissions for each role are also customizable.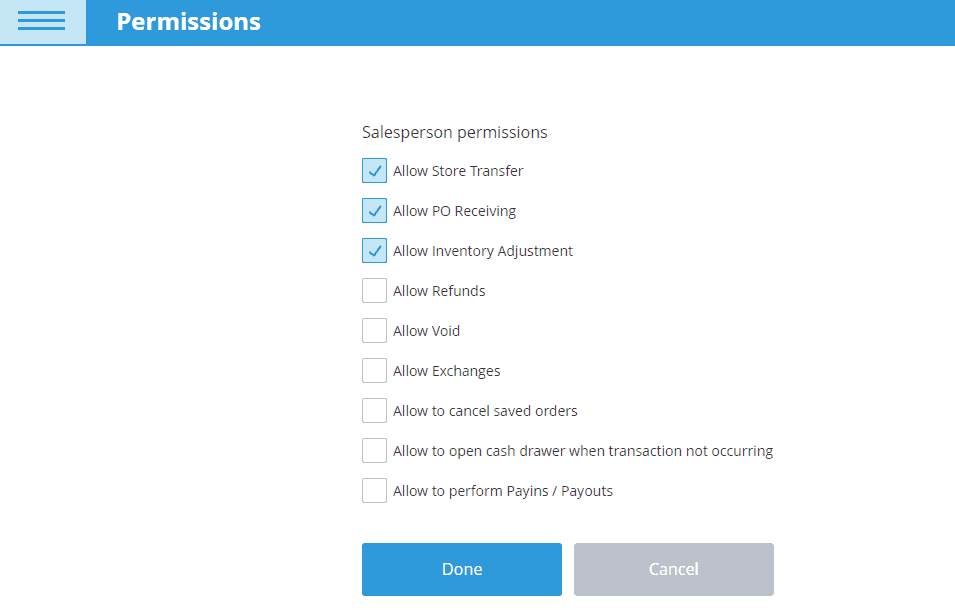 Additionally, eHopper has a couple of other employee features, including an employee time clock and employee tip tracking.
Reporting: This function is very basic because there are only about 15 reports. As you might expect, the Tips report displays the basic transaction information of any order processed with a credit card, so you know how much each server has earned in tips. Another important report, the Z-report, displays a tender breakdown, your net sales with taxes and tips, any pay-ins and payouts, and data about who opened and closed the register, along with some other more detailed information. The Product Mix report is essentially the only access you have to your most important data. From it, you can view each item, its ID number, department, category, register, employee, quantity on hand, quantity sold, and gross sales. This report can be filtered by a specified date range, register, employee, department, and category. You can also now filter the Product Mix using a custom timeframe to see what's selling at certain times of the day.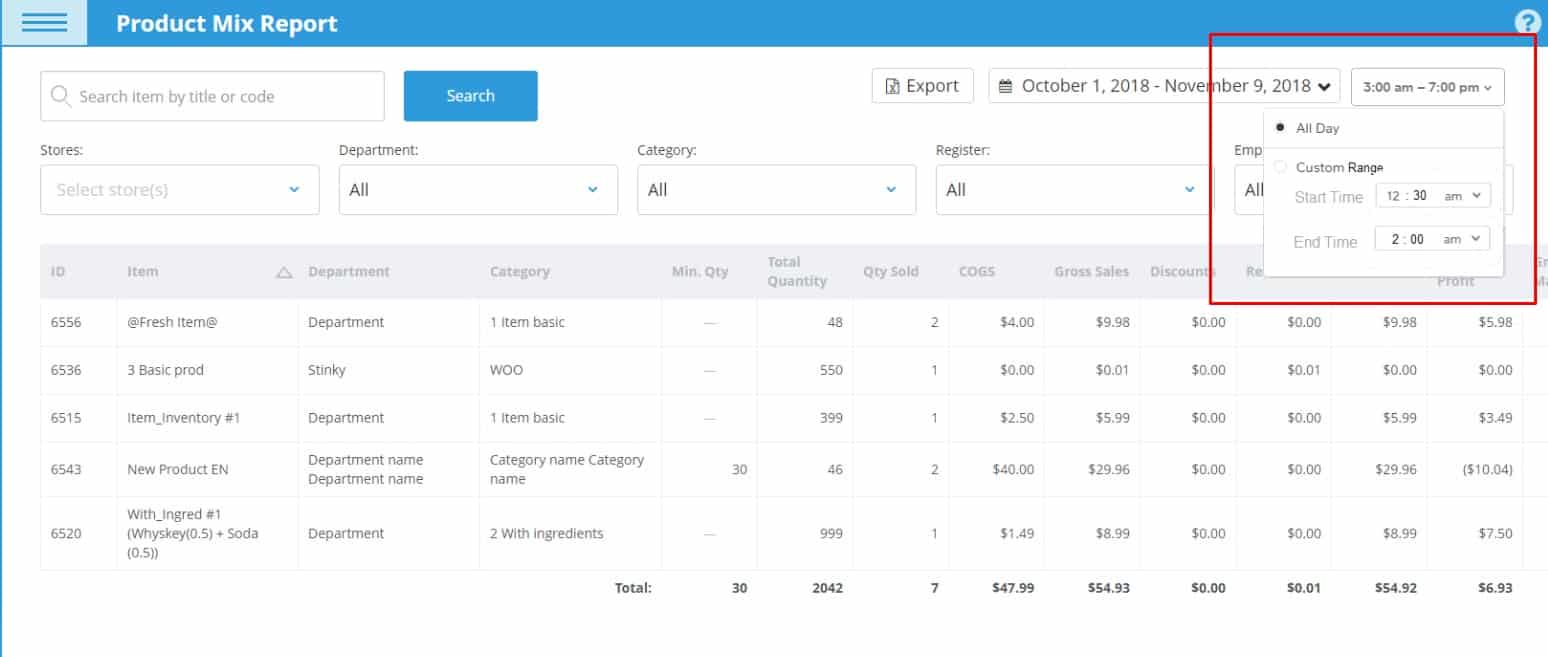 The Orders report shows the details of recent transactions or transactions over a set time and allows you to filter orders by each store if you have more than one location.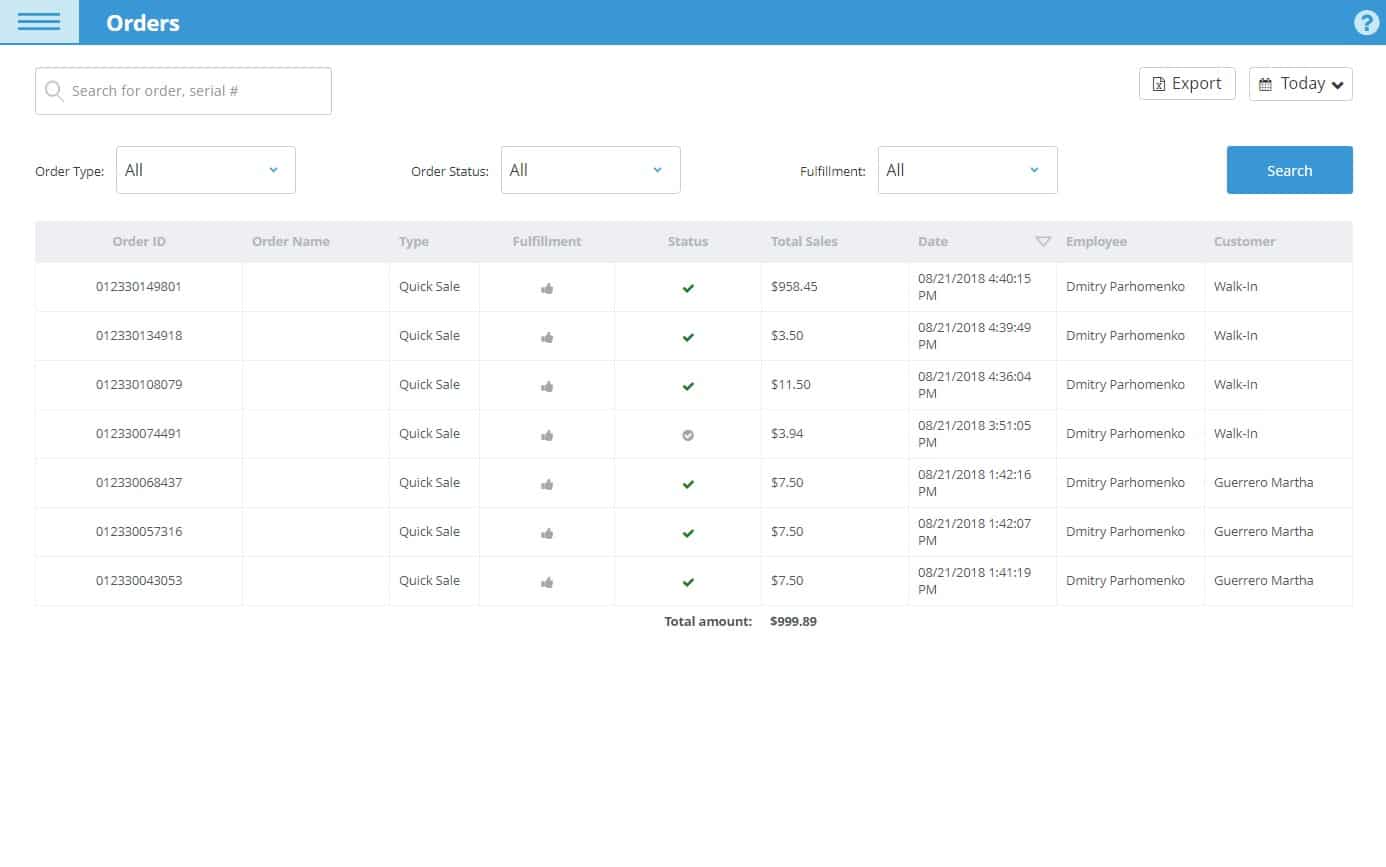 With eHopper, you can also export your reports to a .csv file.
Customer Management: You may assign customers to a transaction by looking them up in the database or creating a new profile with their name and contact information. A customer's orders will be recorded for later access and will show up in the Orders report as well.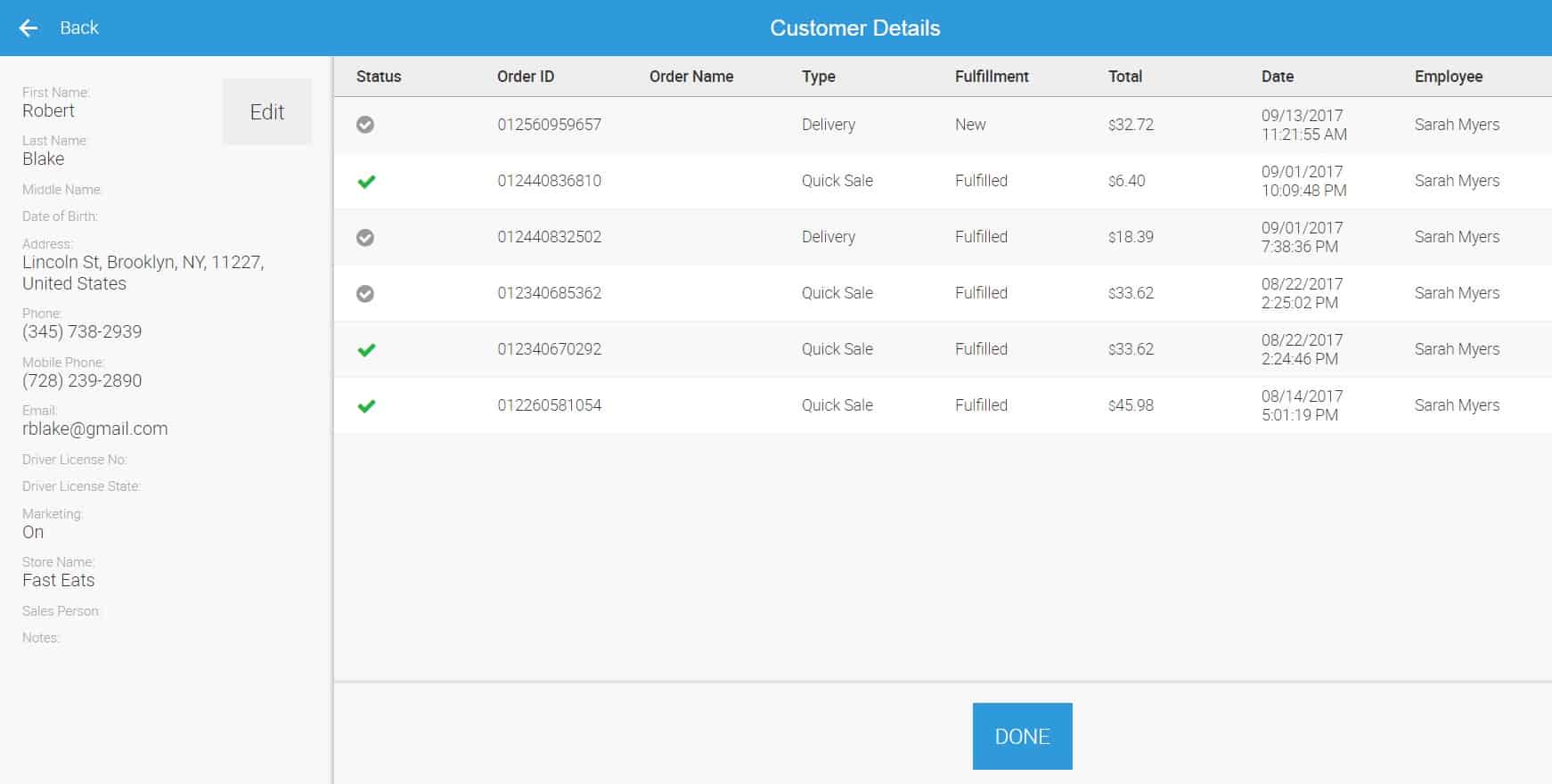 Stock Control: You have the option of tracking your stock levels by indicating the current quantity, recommended quantity, and minimum quantity of each product. The Product Mix report will allow you to see what you still have in stock and how many you sold. The system can also notify you when an item reaches its minimum quantity number so that you can reorder. However, the system does not allow you to place purchase orders (though you can input them and track them).
Restaurant Features: eHopper has the following restaurant features.

Table management
Menu builder
Online ordering
Pre-auth for credit card tabs
Manage quick-sale, take-out, drive-thru, and delivery orders
Digital menu board option (requires Omnichannel plan)
QR code digital menus (requires Omnichannel plan)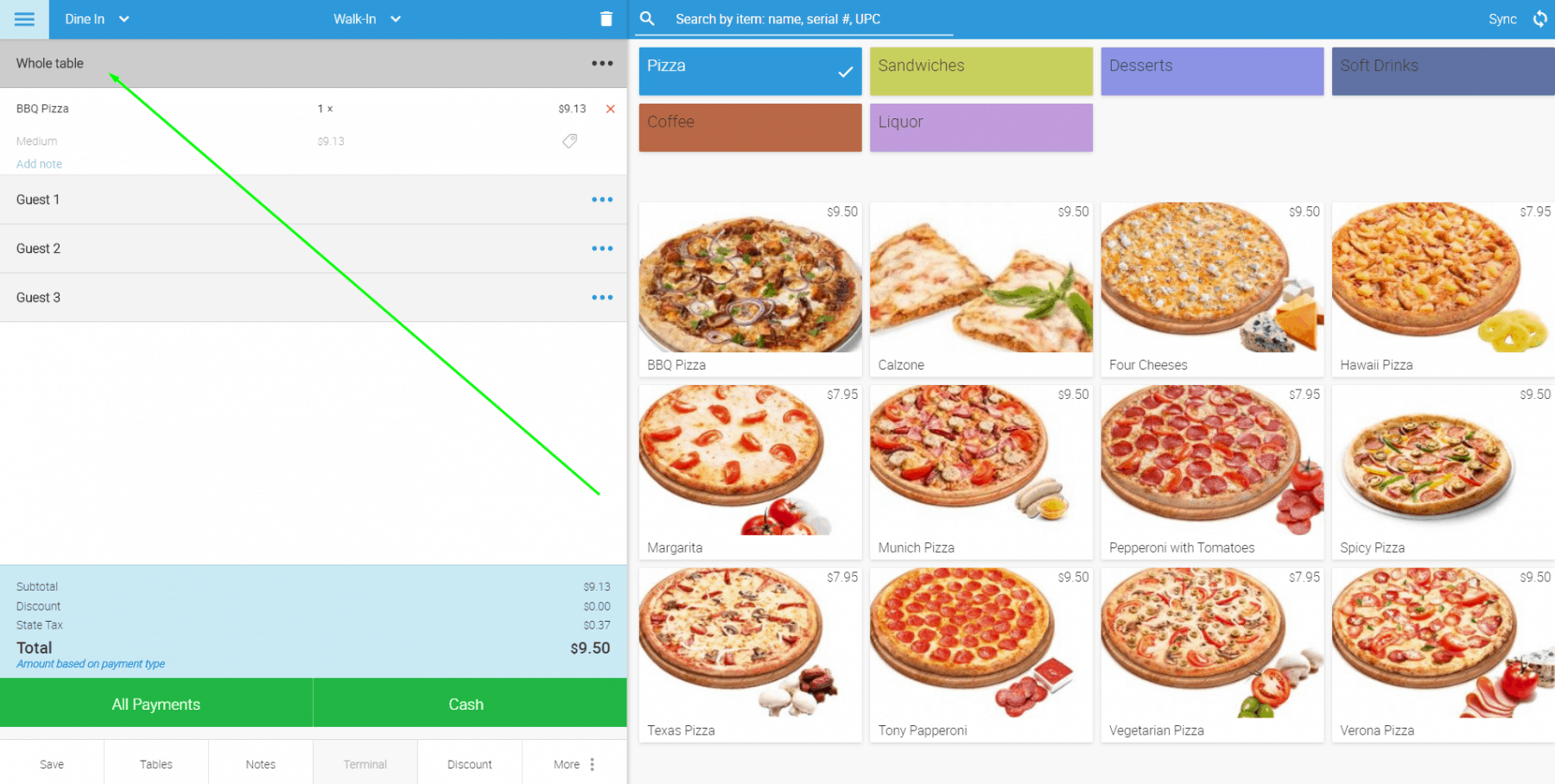 The Menu Builder tool, pictured above, is basic but capable enough and lets you drag menu items and categories to where you want them on the POS screen.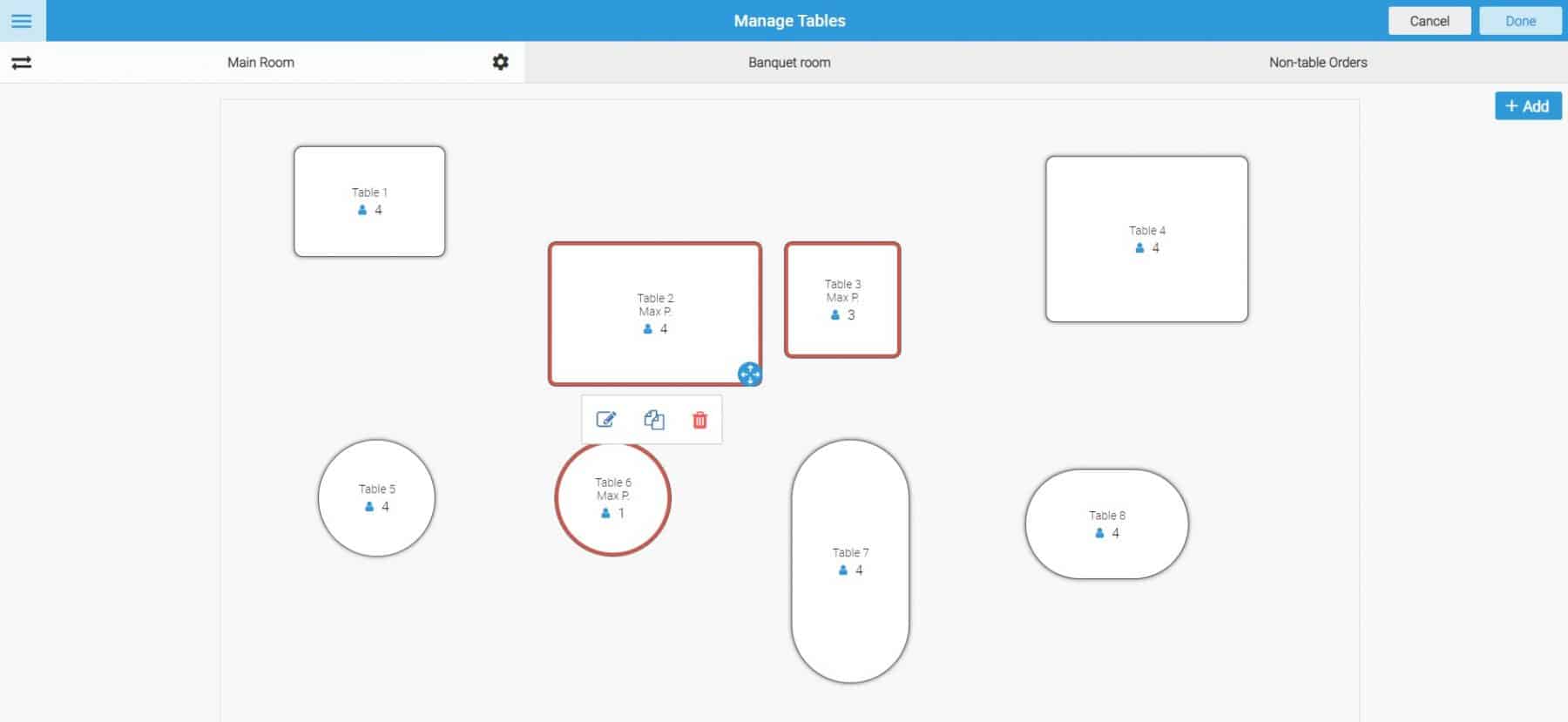 eHopper's table management function is basic (you may be noticing a theme here) but still adequate. You can add, edit, and name each of your service sections and tables. You can also move, resize, delete, and edit tables to match your floor plan. It's easy to edit table orders, assign and move servers, and move guests. There is a basic table management reporting function as well.
Loyalty: Available to paid users (Freedom plan and higher), eHopper's loyalty add-on costs $9.99/month for the first 1,000 loyalty visits per month and $5.00 for each additional 1,000 visits within a month. If you are on the Omnichannel plan, the first 1,000 products are included at no extra cost. The program supports physical loyalty cards as well as mobile numbers. Customers can earn points each time they visit or based on the amount spent and exchange them for rewards.
Self-Service Kiosk: This feature is available on the Freedom plan and higher. Customers can place and pay for their orders or place orders on the kiosk and pay at the register. The feature, available as a free add-on, supports multiple devices, including HP Engage One Prime, Android tablets, and iPads. I can't speak to its quality since it's not available in the demo version, nor have I seen any reviews from customers who have used it, but I will say that it's probably about the cheapest self-service kiosk POS option I've seen.
eCommerce/Online Ordering: eHopper's eCommerce and Online Ordering module is included in the Omnichannel plan and can be added to your Freedom or Restaurant package (the cost is $49.99/month for the first 300 products, then $10/month per each additional 300 products). The module syncs your orders with your POS for store pick up or delivery and includes a mobile-friendly website with your own domain. The initial setup of your eHopper eCommerce site consists of a lot of steps, however, and requires you to set up an Amazon Lightsail account with WordPress and WooCommerce installed.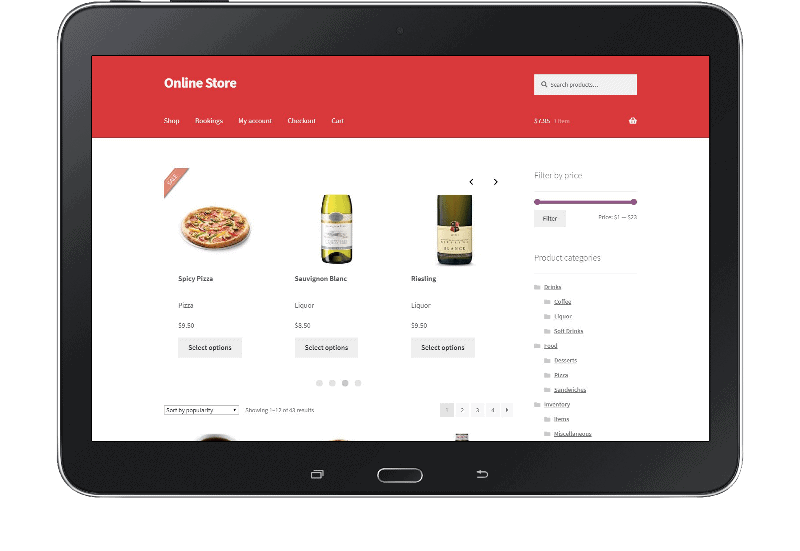 Item Creation: eHopper allows you to name your products, write descriptions, nest each item in a department and category, upload an image, and note whether a product is taxable and discountable. You can add item images and import inventory items as well. You can choose from a list of units (inch, ounce, pound, gram) by which to sell each product and designate whether the price should be fixed or manually calculated when you ring the item up. Unfortunately, there is no weight scale integration, so you'll need to input weights manually. It's also possible to record the sale price, cost price, and vendor for each item, along with pertinent vendor information, such as contact info, tax ID, and vendor type.
Control Number: If you are a merchant who works in Puerto Rico, you are in luck. eHopper has a control number option for Puerto Rican merchants, who must display a control number on every receipt.
Multilocation: eHopper can sell from multiple locations, and it is possible to transfer stock from one location to another.
A couple of other notable features of eHopper are its ability to accept EBT payments and its cash discount/credit surcharge processing model. But I'll talk about those features more in the section on payment processing.
Customer Service & Support
If you're using eHopper on the Essential plan (the free version), you won't have access to all of eHopper's support avenues, but you do have several self-support options:
Training Videos: The training videos cover basic POS functions but don't necessarily offer much information beyond what you can discover for yourself by simply tooling around in the software for an hour or so.
Knowledgebase: The searchable knowledgebase contains the most information about the system. It's very easy to read and adequately covers all of eHopper's various functionality.
Community Forum: There's not much on the community forum, except for a bunch of unanswered questions and a couple of posts from eHopper employees explaining how to use the forum.
Blog: eHopper has a blog on its website, which has a lot of good POS content, though it doesn't offer anything in terms of tech support.
Webinars: From time to time, eHopper hosts free webinars on various topics, such as online ordering.
If you end up going with the Freedom plan (the paid version), these are the extra support channels available to you:
Phone: You can call customer service seven days a week between 6 AM and 1 AM EST.
Email: Email support is available 24/7.
Support Ticket: The ticket system functions pretty similarly to email. You can use it to ask support questions and request new features.
Chat: As far as I can tell, the chat is available 24/7 as well.
Training: When you're first starting up, you can schedule up to four training sessions with technical support, each session lasting up to two hours.
eHopper Compatible Credit Card Processors
eHopper includes in-house payment processing, or you can use the POS with an outside payment processor of your choice.
eHopper offers free credit card processing to US customers only. This is achieved by passing along your processing costs to your customers via a credit card surcharge or cash discount program — which method you use depends on your state, as credit card surcharges aren't allowed in all states.
If you want to use an outside processor, the system supports providers such as Fiserv, TSYS, and the USAePay payment gateway, to name a few. However, available processing options vary based on which terminal you use and which country your business is located in. Find the complete list of eHopper merchant account options on eHopper's payment processing webpage.
About Credit Card Surcharge & Cash Discount Processing
You have probably seen this type of system before at gas stations, where you are charged less if you pay with cash or debit. Credit surcharge/cash discount payment processing may work well for some small businesses, such as small convenience stores or coffee carts, but probably not for businesses with larger transaction sizes where customers expect to pay easily with a credit card. Make sure you read up on credit card surcharges before deciding if this processing model is right for your business. Also, check out our complete guide to credit card surcharges.
Integrations & Add-Ons
Currently, the only third-party software eHopper integrates with is QuickBooks Online for accounting and WooCommerce for eCommerce.
eHopper does offer an "App Directory" that allows users on the Freedom plan and higher to select additional features and paid add-ons, such as Loyalty and eCommerce. At the outset, it looks a little like Clover's App Market, but if you take a closer look, eHopper's version is about as bare-bones as you can get. In total, there are 21 apps to choose from, and most just cover basic functionality, such as the time clock and credit card processor integration.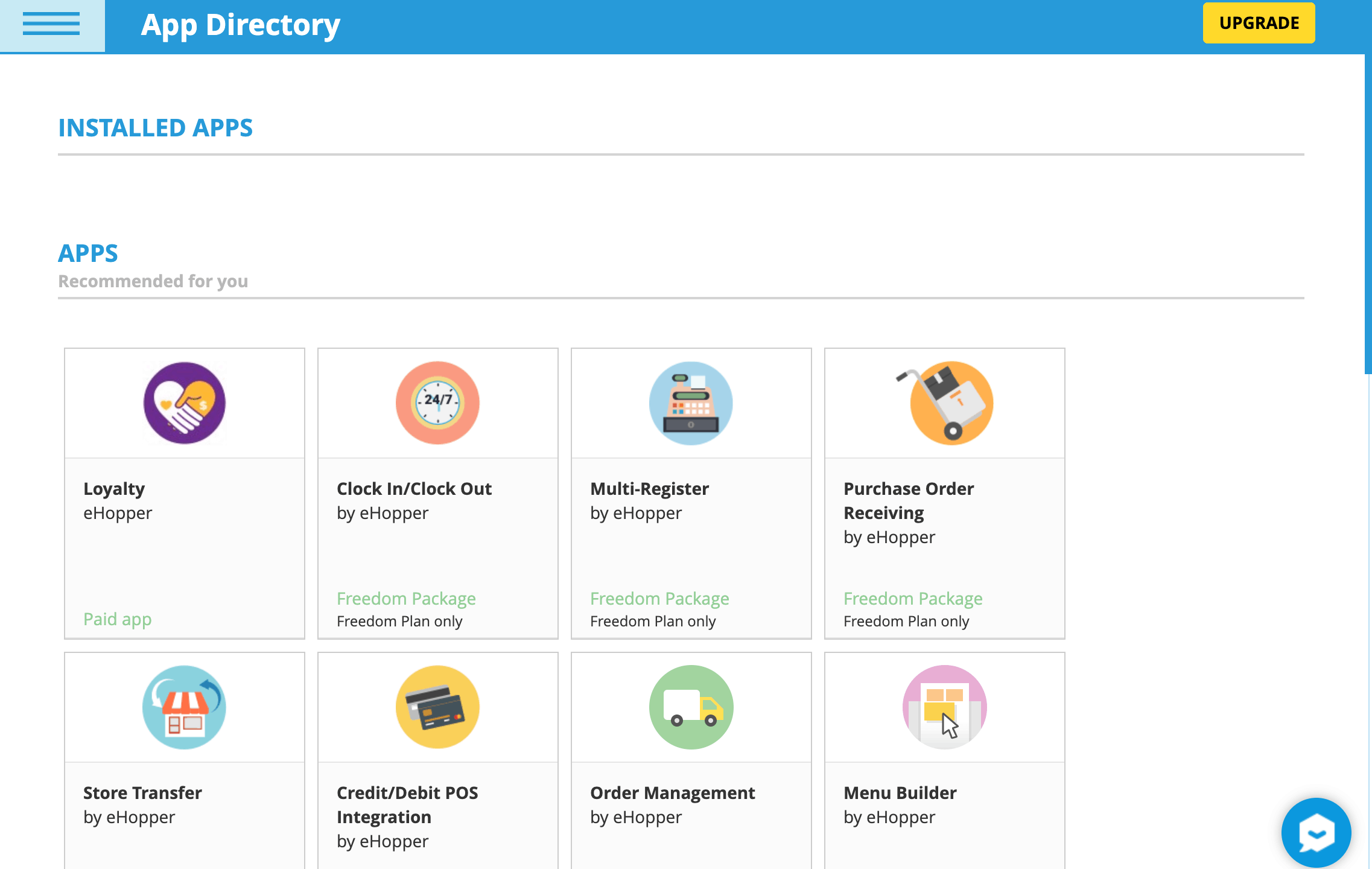 eHopper POS Reviews, Complaints & Testimonials
eHopper is not BBB-accredited and has zero reviews or complaints on that website. Elsewhere on the web, there are a decent amount of reviews, though they are mixed. eHopper has 3/5 stars on the Google Play store, out of 42 eHopper reviews. eHopper also has 3/5 stars on the App Store, though there are only three total eHopper reviews.
Negative eHopper Reviews & Complaints
Here are some of the common issues I noticed in online comments:
General Lack Of Features: Without a weight scale integration or the ability to properly comp, even some of the smallest retail and foodservice merchants I've worked with would balk at eHopper. Some reviewers also mention the overly basic reporting suite. The free plan is especially bare-bones.
Credit Surcharge Processing: This feature is a good thing for some merchants but not for others. Many businesses aren't that comfortable passing on their credit card fees to customers, commenting that it could turn away customers who prefer to pay with a credit card.
Samsung Galaxy Tab Compatibility Issues: Multiple Galaxy Tab users have complained that eHopper doesn't work on their device; the app either won't open or it crashes. This problem seems to be primarily related to Tab v3.
Buggy: Some customers say the system tends to stall out or behave erratically. Sometimes the printer speed can be slow as well. There are a lot of negative reviews on the Google Play store, mostly due to complaints of Android tablet bugginess. Some users comment that eHopper works better on PC.
No Mobile Support: Many users wish they could run the app on their smartphone. Currently, you can only use the POS on a tablet or PC.
Positive eHopper Reviews & Testimonials
Here are some of the things that customers like about eHopper in eHopper reviews:
Easy To Use/Simple: You can't argue with simplicity if that's what you need. It can be all too easy to clutter up an interface (even with a limited amount of features), but eHopper manages to keep things simple, relatively intuitive, and aesthetically pleasing.
Good Value: Something else you can't argue with. If you don't need integrated credit card processing and find yourself comfortable enough with the system that you don't anticipate the need for technical support, free is a great price. Even the paid plan is pretty cheap, though, priced well below the industry average.
Basics Are All There: If you don't need a system with any bells or whistles, it's difficult to go wrong with eHopper. Sure, you'll start running into problems when you begin to expand, and if there's still no ability to export products or reports at that point, you're going to be in trouble. But until that happens, eHopper can take care of you.
Free Terminal: Several customers praise the free touchscreen terminal as a benefit of choosing eHopper.
Free Credit Card Processing: Free credit card processing is certainly a rarity. Although the cash discount/credit surcharge pricing model doesn't work for all businesses, some merchants appreciate this feature and see it as the system's biggest perk.
Good Customer Support: Multiple users mention eHopper's good customer support. Since free plan users don't have access to live support, I assume these reviews are from paid users.
Final Verdict
eHopper is a solid budget POS system, but I wouldn't say it's a great one. All of the standard features are there, but the interface and the functionality are both pretty basic. However, eHopper has recently implemented a credit surcharge for no-fee credit card processing, which could make this POS interesting for certain business types. Convenience stores or small grocery stores that want to accept EBT may also find eHopper a suitable POS choice. Additionally, eHopper has expanded its feature-set over the past couple of years to include eCommerce, online ordering, loyalty, and NFC support. With that said, many features are still absent — gift card management, a comp system for bars and restaurants, a weight scale integration, advanced reporting, store credit, and purchase orders, to name a few.
With a (very basic) free plan, free terminal, and even free credit card processing, eHopper POS is worth checking out if the idea of a completely free system appeals to you. But keep in mind that there are other free POS systems. For example, Square POS is free, and though you'll pay a flat fee for credit card processing, the feature-set is more advanced (and you may prefer not to pass on your credit card fees to customers anyway).
If you are considering a paid eHopper plan, be sure to pay close attention to the total amount they are charging you since there could be additional monthly fees depending on your POS hardware, add-ons, and the number of terminals.
In the end, the most appealing aspects of this software are its ease of use and low price, but that's simply not enough when you're trying to build a solid business. Particularly not when there are so many great POS alternatives out there. You can always explore eHopper's software for yourself. But once you've given it a go, I would encourage you to take another look around before jumping on board with eHopper POS.
---
We've done in-depth testing of each and confidently recommend them.
We've done in-depth testing of each and confidently recommend them.
To learn more about how we score our reviews, see our
Point Of Sale (POS) Software Rating Criteria
.
Read Next