eHopper POS Review
With a basic free plan, free terminal, and free credit card processing, eHopper is worth checking out. It is simple and easy to use, but lacks robust features. Could it be the right fit for your business?
Expert Analyst & Reviewer

UPDATED
Advertiser Disclosure: Our unbiased reviews and content are supported in part by
affiliate partnerships
, and we adhere to strict
guidelines
to preserve editorial integrity.
eHopper

Pros
Free plan available
Free terminal
Easy to use
eCommerce integration
Accept EBT transactions
Cons
Rudimentary feature-set
Basic reporting
Buggy
Poor customer service
eHopper POS Overview
eHopper POS is a globally-available cloud point of sale solution geared towards very small grocery, convenience, restaurant, and retail businesses. The ability to take payments for free on any hardware is attractive to cash-strapped business owners.
The system has inexpensive paid plans that offer the ability to take EBT payments, the use of an online ordering and website builder, and a decent inventory management system. The eHopper POS provider also boasts the ability to process payments for free (US businesses only). However, to get free payment processing, you'll have to pass your processing costs along to your customers, which some businesses might not be comfortable with.
eHopper POS has all of the standard features of any cloud POS, but they're pretty basic, particularly on the free plan. Even so, there is a lot to like about eHopper, even aside from its affordability.
Read our full eHopper POS review to find out if this POS is right for your business.
What is eHopper POS?
eHopper POS is a point of sale system that allows small grocery, convenience, restaurant, and retail store owners to take and process payments for free. For a low monthly cost, business owners can also manage inventory, take online orders, and build a website that syncs with POS hardware.
eHopper POS Pricing
| eHopper POS Plan | Price | When To Use |
| --- | --- | --- |
| Essential | $0/month | If you only need to take payments |
| Freedom | $29.99/month | If you have a small grocery or convenience store |
| Restaurant | $39.99/month | If you have a small quick-serve restaurant |
| OmniChannel | $49.99/month | If you want to offer online ordering and have your own website |
eHopper offers four different plans, including the Essential (free) plan. eHopper pricing on the three paid plans differs depending on whether you purchase your plan on a month-to-month basis or if you commit to eHopper POS for one, two, or three years.
Note: Every paid plan with a longer-term commitment is billed in a lump sum. For example, if you sign up for a yearly eHopper POS Freedom plan, you will pay $264 upfront. All paid plans are nonrefundable, so I strongly suggest starting out on a monthly plan before making any long-term commitments.
eHopper POS Essential Plan
The free eHopper POS Essential plan can be used on one POS terminal. eHopper works on Android tablets, Windows PCs, iPads, and eHopper All-In-One POS systems.
The eHopper Essential plan includes:
50 product listings
300 POS transactions per month
Customer and tip management
Inventory management
Tax management
eHopper POS Freedom Plan
The eHopper POS Freedom plan is billed at $29.99/month per license ($22/month with a one-year commitment, $20/month with a two-year commitment, $18/month with a three-year commitment, all billed in lump sums).
The eHopper POS Freedom Plan includes everything in the Essential plan, as well as:
Unlimited product listings and transactions
EBT transactions
Clock in/clock out
Basic food service functions
Basic inventory management
Note: To add more registers, you must purchase more licenses. There are no multi-license discounts. If you want to use several registers for your business, eHopper may not be the right POS provider for you.
eHopper POS Restaurant Plan
The eHopper POS Restaurant plan is billed at $39.99/month per license ($24/month with a one-year commitment, $22/month with a two-year commitment, $20/month with a three-year commitment, all billed in lump sums).
The eHopper POS Freedom Plan includes everything in the Freedom plan, as well as:
Table management
Floorplanning
eHopper POS Omnichannel Plan
The eHopper POS Omnichannel plan is billed at $49.99/month per register ($25/month with a one-year commitment, $23/month with a two-year commitment, $21/month with a three-year commitment, all billed in lump sums).
The eHopper POS Omnichannel Plan includes everything in the Restaurant plan, as well as:
eCommerce/online ordering for restaurants
Loyalty program
Marketing suite
Digital signage
eHopper POS Features
If all you need is basic cloud POS features, eHopper has them. The POS company has also expanded its feature-set over the past few years to include more functions, such as eCommerce, online ordering, loyalty, and some restaurant-specific features such as ingredient management.
Below are some of eHopper's most notable features (some features are dependent on your plan):
POS Features
Item Listings: Add items to orders by scanning a barcode, searching for it, or selecting the quick key on the screen.
Discounts: Assign discounts by individual products or entire transactions.
Split Payments: Split payments between multiple tender types.
Multiple Orders: Ring up and then hold multiple orders, which you can call up later.
Receipts: Choose to either print or email customized receipts.
Digital Signage: Let your customers sign for credit card transactions directly on the POS screen. This feature is free for paying eHopper users and is available for individuals on the free plan for a one-time fee of $29.99.
Tipping: Accept tips on terminals, receipts, and screens. Suggest tip amounts and allow for custom tipping.
Exchanges & Returns: The POS also supports exchanges and returns but not store credit.
Loyalty Program: Available to paid users (Freedom plan and higher), eHopper's loyalty add-on costs $9.99/month for the first 1,000 loyalty visits per month and $5.00 for each additional 1,000 visits within a month. If you are on the Omnichannel plan, the first 1,000 products are included at no extra cost. The program supports physical loyalty cards as well as mobile numbers. Customers can earn points each time they visit or based on the amount spent and exchange them for rewards.
EBT Payments: Accept EBT payments starting on the Freedom plan. Here is a guide on how to accept EBT payments in your grocery store and/or farmers' markets.
Multilocation: eHopper users can sell from multiple locations, and it is possible to transfer stock from one location to another.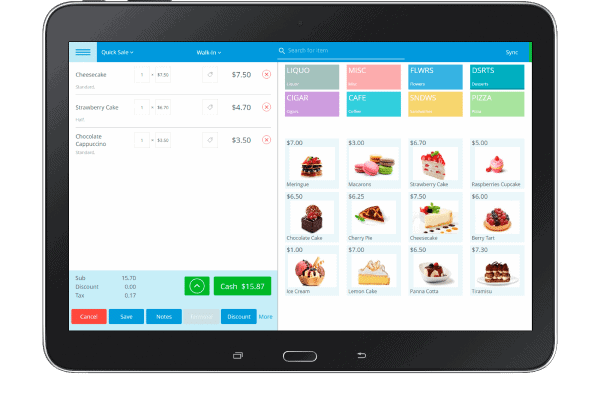 Cash Management: You can perform a starting till count when you open the register, make any pay-ins or payouts, and do a final till count when you close the register.
Price Editing: You can edit product prices directly in the shopping cart.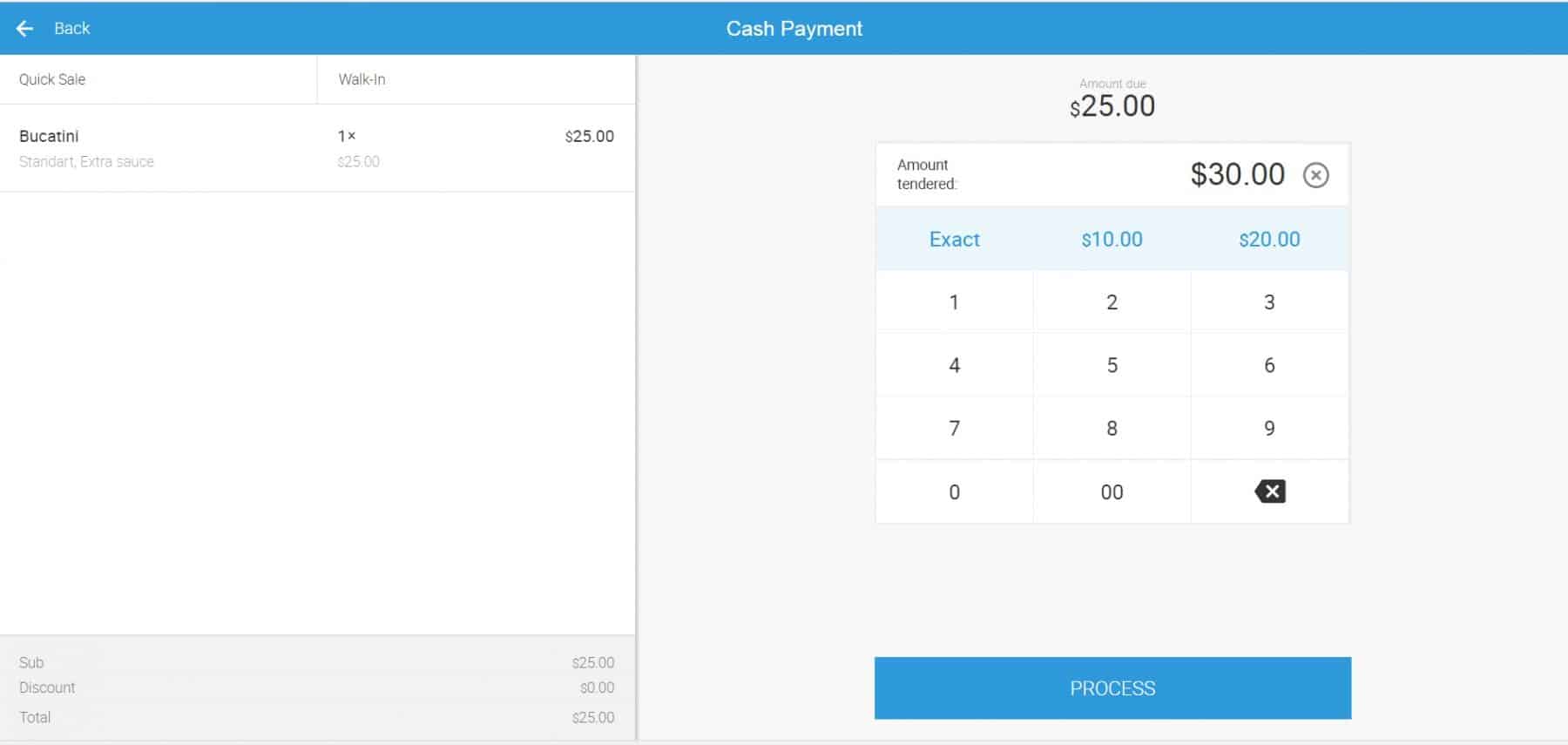 Tax Settings: You can set more than one tax level, include taxes in your product price, set up multiline taxes, and create tax exemptions.
Customer Management: You may assign customers to a transaction by looking them up in the database or creating a new profile with their name and contact information. A customer's orders will be recorded for later access and will show up in the Orders report as well.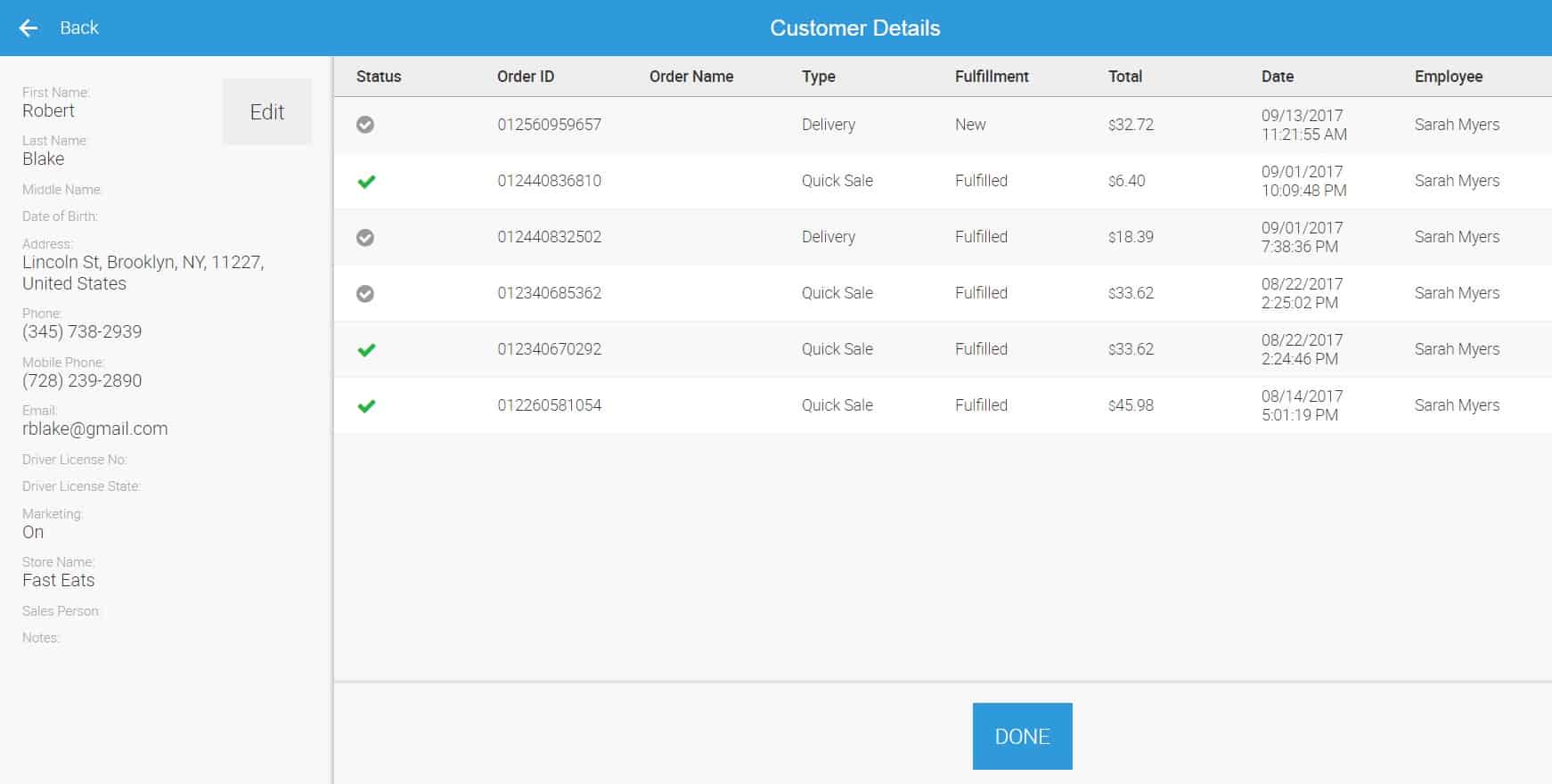 Cash Discount: Give cash-using customers a discount since you won't have to pay any digital payment processing fees.
Credit Card Surcharge: Charge customers the fee that comes with online payment processing, that way your payment processing is essentially "free."
Offline Mode: Take cash payments without wifi.
Location-Based Settings: Set currency and language options. Employees can also change what language they're using when working.
Inventory Management Features
Item Creation: Name your products, write descriptions, nest each item in a department and category, upload an image, and note whether a product is taxable and discountable. You can add item images and import inventory items as well.
Units: You can choose from a list of units (inch, ounce, pound, gram) by which to sell each product and designate whether the price should be fixed or manually calculated when you ring the item up. Unfortunately, there is no weight scale integration, so you'll need to input weights manually.
Stock Control: You have the option of tracking your stock levels by indicating the current quantity, recommended quantity, and minimum quantity of each product. The Product Mix report will allow you to see what you still have in stock and how many you sold. You can also set minimum stock levels and get low stock alerts.
Barcode Management: Create and manage barcodes for items. Use barcodes to sell items and track customer orders.
Purchase Order Tracking: Track orders by vendor, and include pertinent vendor information such as contact info, tax ID, and vendor types. It's also possible to record the sale price and cost price.
Control Number: If you are a merchant who works in Puerto Rico, you are in luck. eHopper has a control number option for Puerto Rican merchants, who must display a control number on every receipt.
Restaurant Features
Menu Builder: Drag menu items and categories to where you want them on the POS screen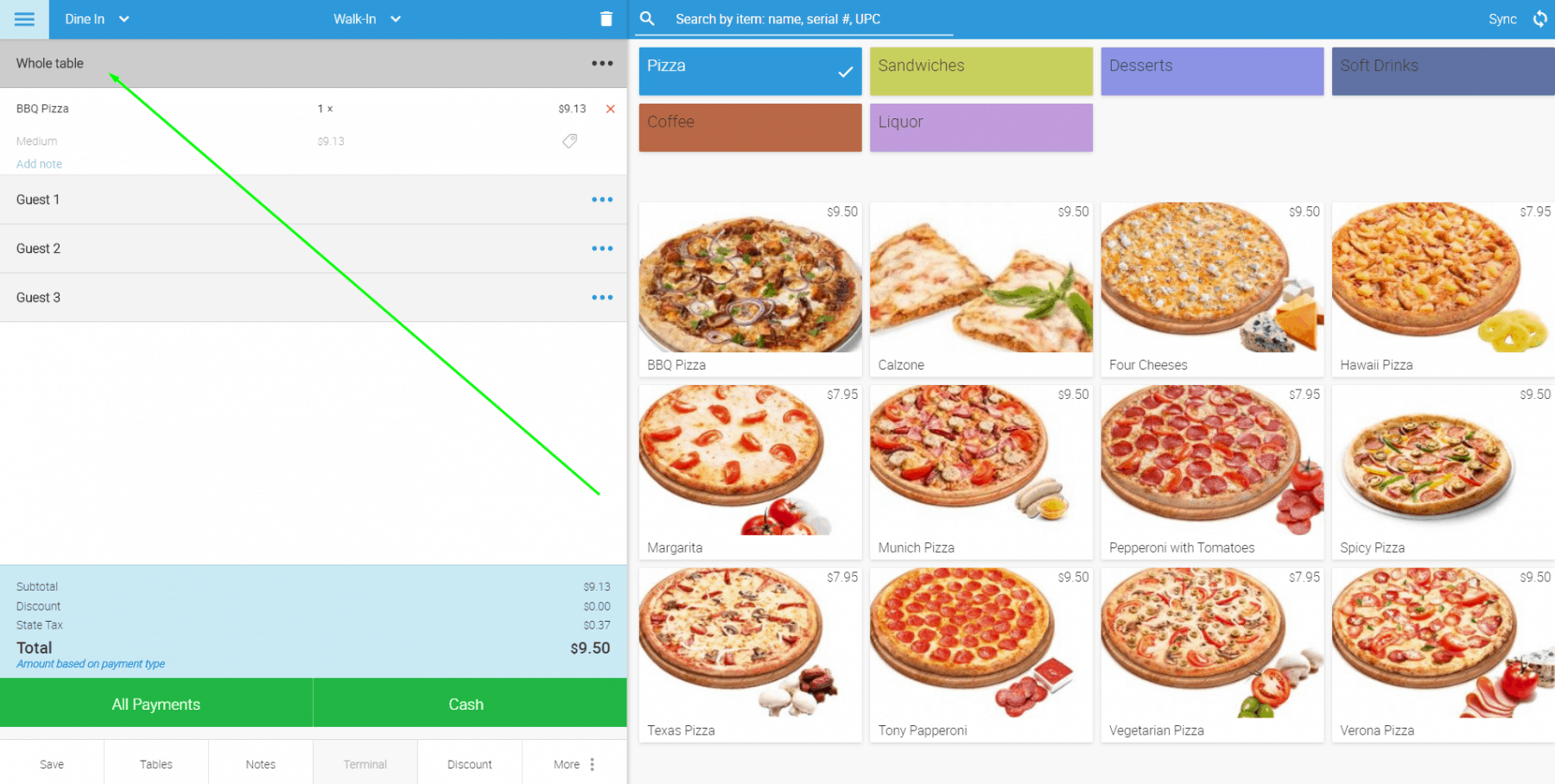 Table Management: Starting at the Restaurant plan, you can add, edit, and name each of your service sections and tables. You can also edit table orders, assign and move servers, and move guests. There is a basic table management reporting function as well.
Floor Planning: Also starting on the Restaurant plan, you can move, resize, delete, and edit tables to match your floor plan.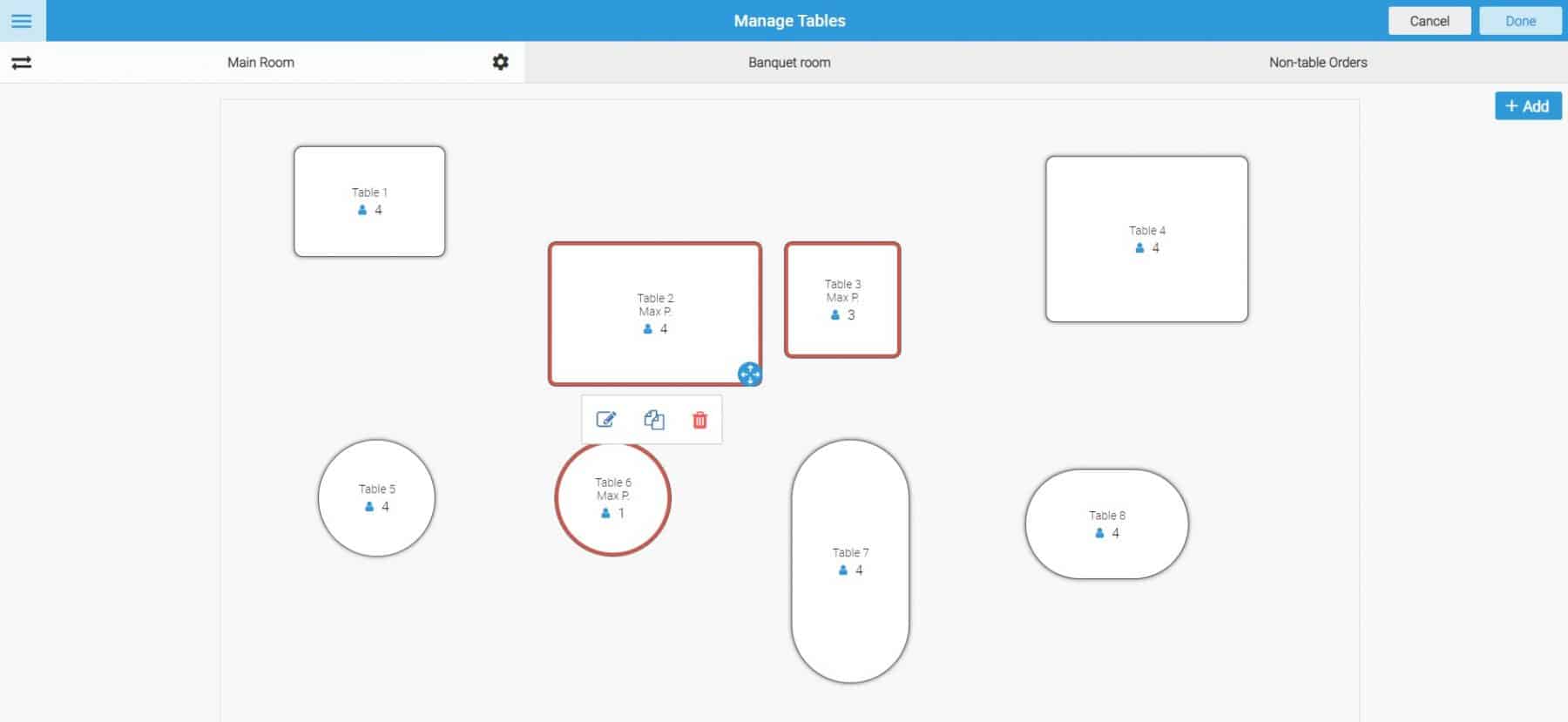 Self-Service Kiosk: Customers can place and pay for their orders or place orders on the kiosk and pay at the register. This feature is available on the Freedom plan and higher.
Order Modifiers: Order modifiers allow customers to create their own custom pizza, burger, salad, etc. They can also remove items they don't want in their dish.
Ingredient Management: Assign ingredients to a product, including the quantity of an ingredient to create a finished product. Ingredients are automatically deducted as products are sold.
Pre-Authorization: Allow customers to open a tab by pre-authorizing cards before service (starting on the Freedom plan).
Order Types: Manage quick-sale, take-out, drive-thru, and delivery orders.
Employee Management Features
Assign Roles: eHopper lets administrators create individual employee profiles with designated roles and unique login pins. There are four roles (salesperson, sales manager, back-office operator, and administrator).
Assign Permissions: Each role comes with different access permissions. The permissions for each role are also customizable, including who has access to the cash register.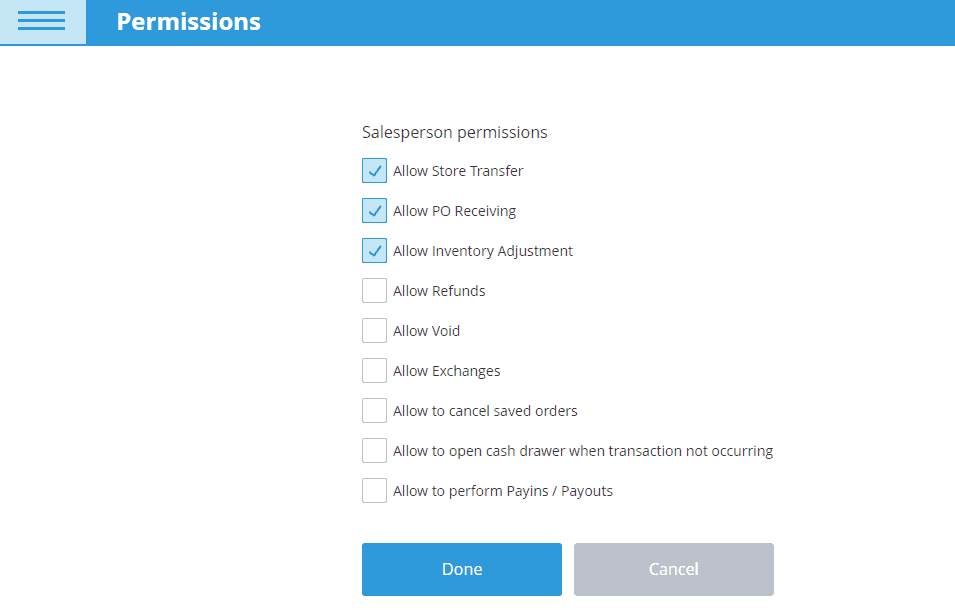 Time Clock: Employees can easily clock in and out of their shifts.
Tip Tracking: Track the tip amount provided to your employees.
Employee Discounts: Offer discounts to your hardworking employees.
eCommerce Features
Online Ordering: eHopper's eCommerce and Online Ordering module is included in the Omnichannel plan, or it can be added to your Freedom or Restaurant package (the cost is $49.99/month for the first 300 products, then $10/month per each additional 300 products).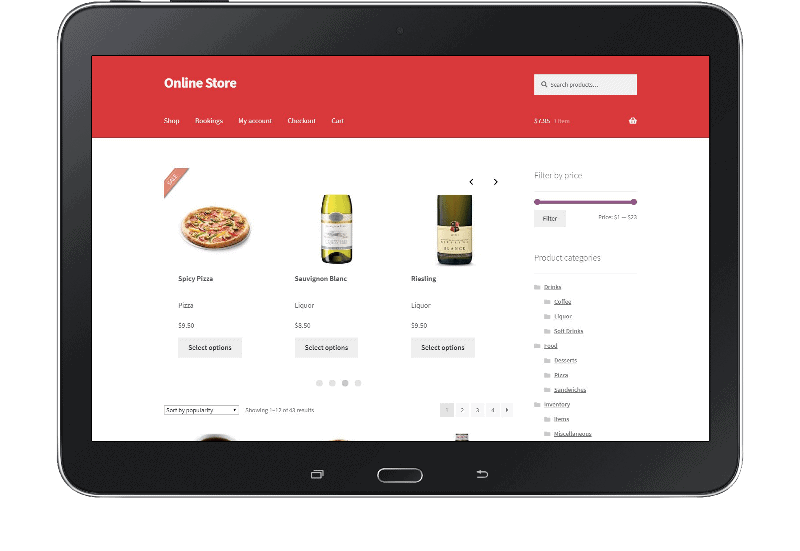 Online Payments: Customers can pay for their online order at the time of purchase using a number of major credit card providers, PayPal, Google Pay, etc. They can also pay at pick-up.
Digital Menus: Business owners on the Onmichannel plan can generate a QR code that customers can scan with their phones. The code leads them to a digital version of your menu. They can browse the menu, order, and pay from their table.
Inventory Syncing: Sync in-person and online orders so you never sell items you don't have.
Online Marketing & SEO: eHopper websites are optimized for mobile devices, speed, and security. Your website can also sync with Google My Business, which is great for local restaurant owners. Integrate your site with email marketing services to offer coupons and discounts to subscribers. Or, offer discount codes right on your website.
Reporting Features
Tips Report: The Tips report displays the basic transaction information of any order processed with a credit card, so you know how much each server has earned in tips.
Z-Report: This report displays a tender breakdown, your net sales with taxes and tips, any pay-ins and payouts, and data about who opened and closed the register, along with more detailed information.
Product Mix Report: With the Product Mix report, you can view each item, its ID number, department, category, register, employee, quantity on hand, quantity sold, and gross sales. This report can be filtered by a specified date range, register, employee, department, and category. You can also filter the Product Mix using a custom timeframe to see what's selling at certain times of the day.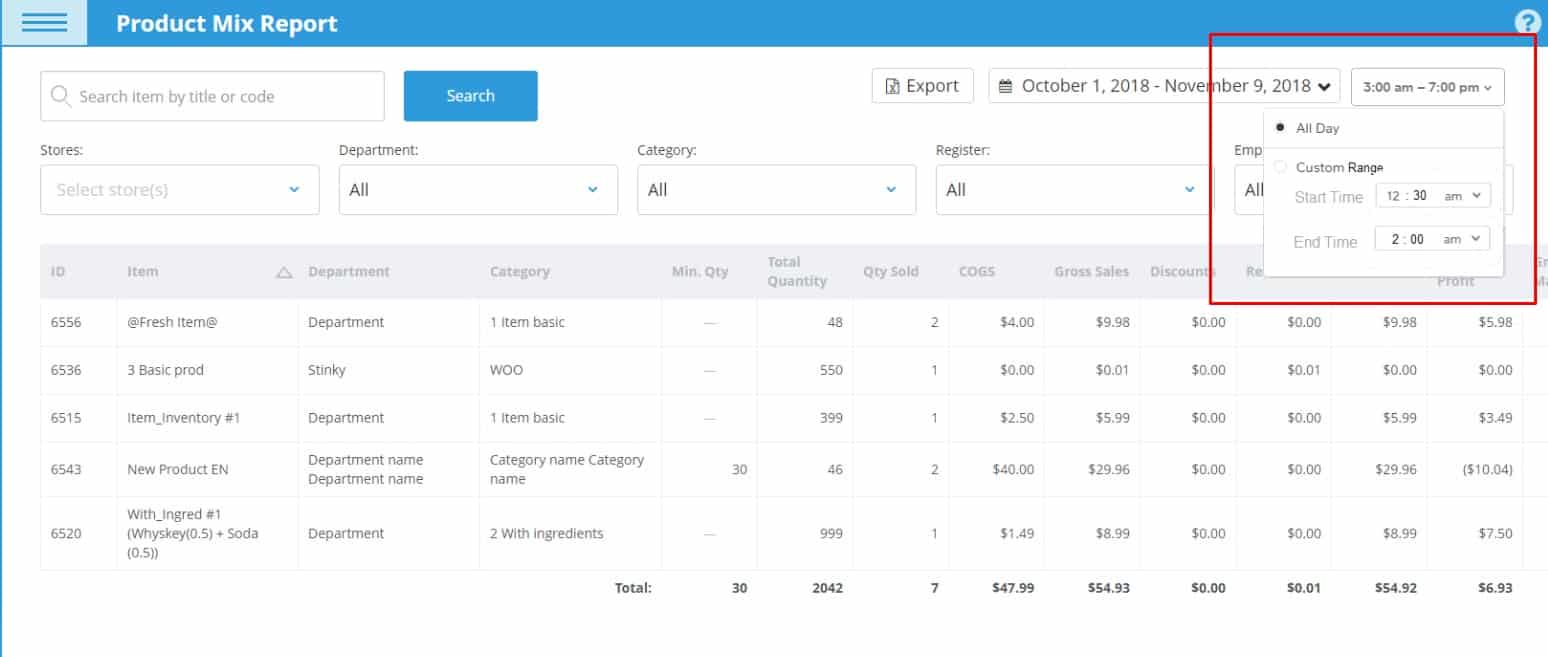 Orders Report: The Orders report shows the details of recent transactions or transactions over a set time and allows you to filter orders by each store if you have more than one location.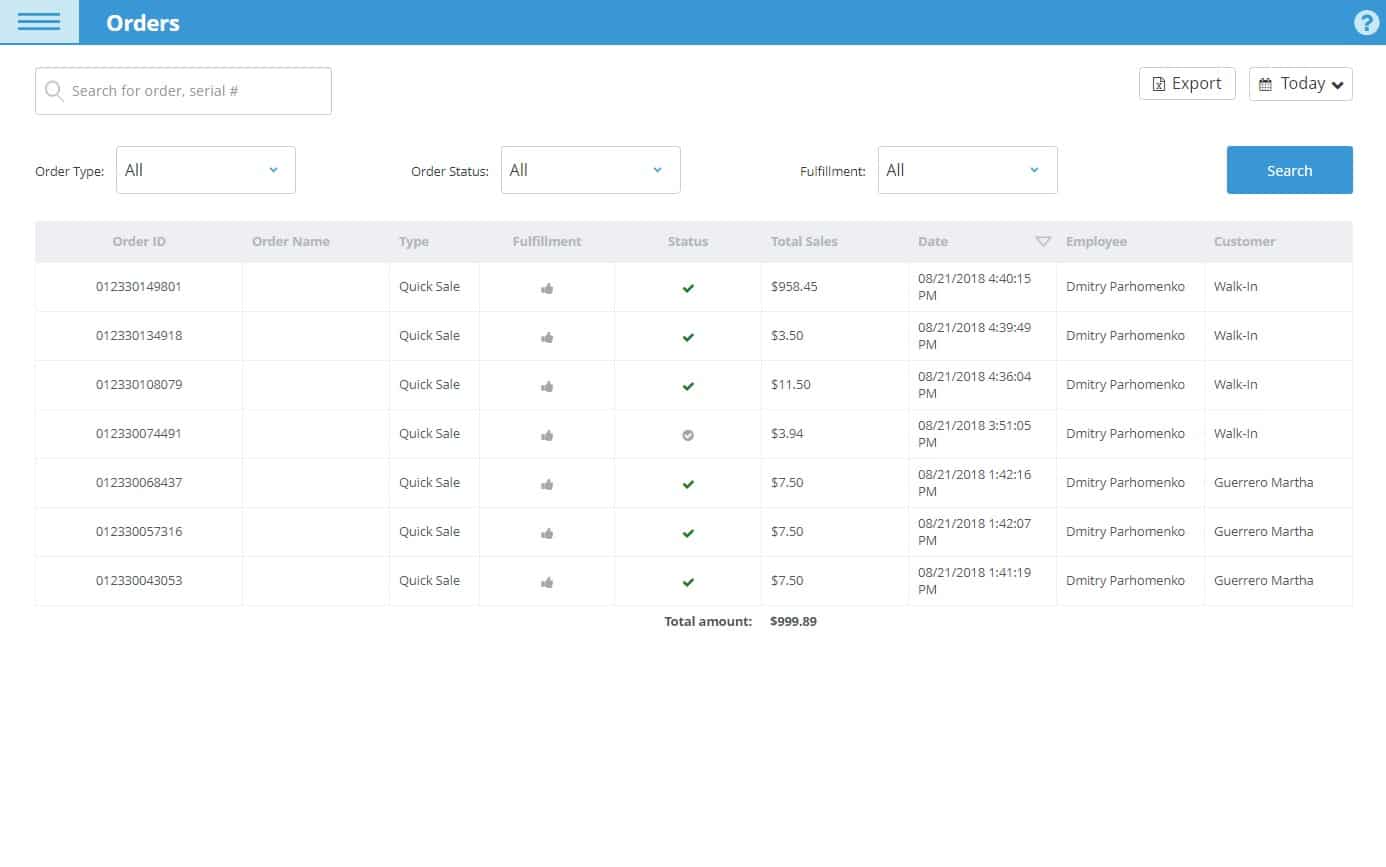 Time Clock: With the Time Clock report, you can get a full visualization of employee hours. You can filter by reports by employee, register, location, date, and time. This will help to catch mistakes and reduce any fraud (although hopefully, you'll never need to use this report to investigate fraud).
Exporting: With eHopper, you can also export your reports to a .csv file.
Is eHopper POS User Friendly?
The eHopper POS layout is simple enough that you can set up your entire business without much help. Everything except for your hardware configuration is set up from the back office: inputting inventory, managing customer accounts, creating employee profiles, etc. And with all of the different areas grouped under their respective headings (inventory, customers, employees), navigation is easy.
During setup, eHopper offers some videos and checklists that help orient you to the system. Additionally, eHopper has a knowledge base of articles covering all topics related to POS setup and usage, such as importing inventory, setting up table management, processing exchanges, and much more.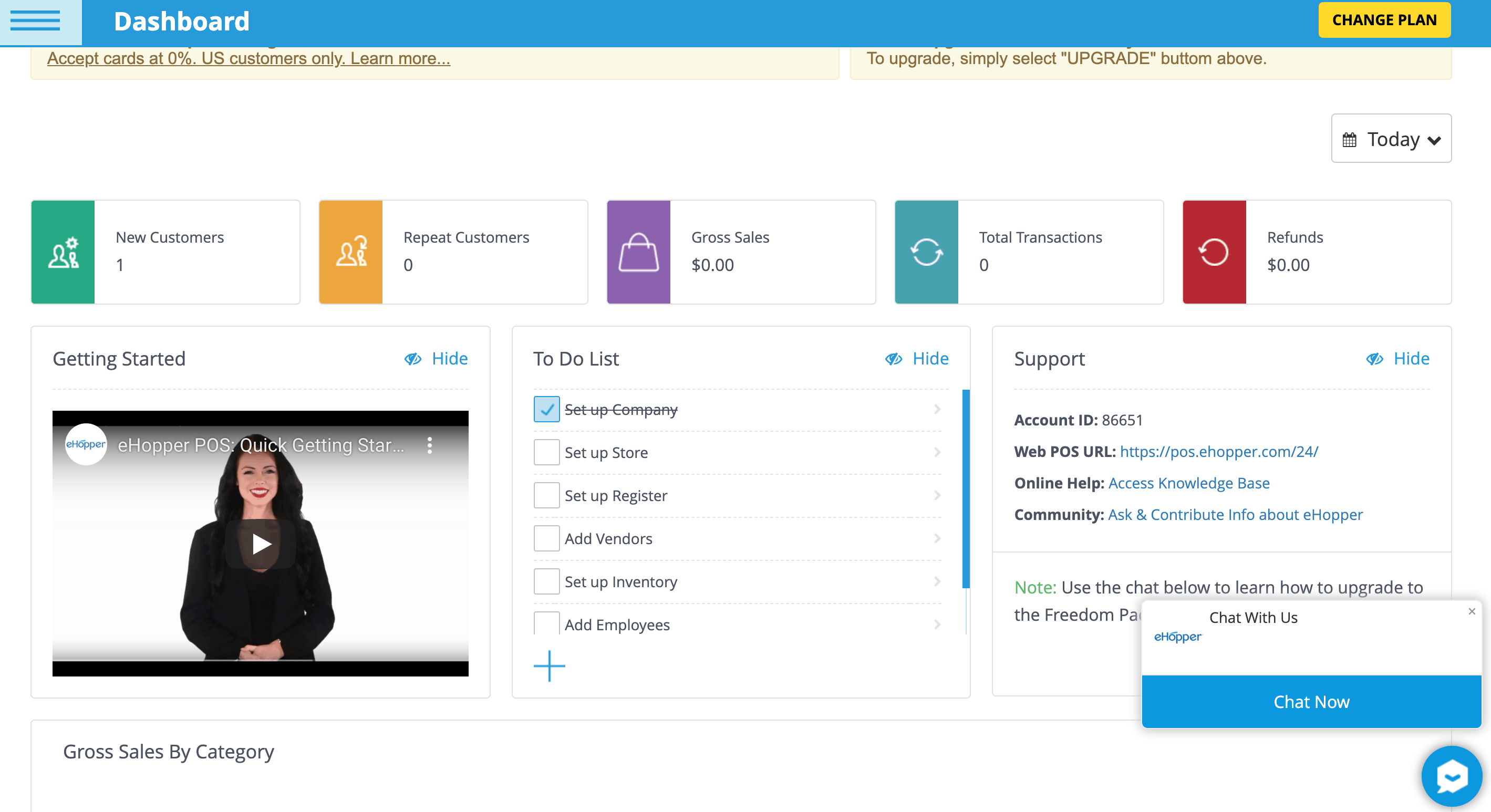 Customer Service & Support
If you're using eHopper on the Essential plan (the free version), you won't have access to all of eHopper's support avenues, but you do have several self-support options:
Training Videos: The training videos cover basic POS functions but don't necessarily offer much information beyond what you can discover for yourself by simply tooling around in the software for an hour or so.
Knowledgebase: The searchable knowledgebase contains the most information about the system. It's very easy to read and adequately covers all of eHopper's various functions.
Community Forum: There's not much on the community forum, except for a bunch of unanswered questions and a couple of posts from eHopper employees explaining how to use the forum.
Blog: eHopper has a blog on its website, which has a lot of good POS content, though it doesn't offer anything in terms of tech support.
Webinars: From time to time, eHopper hosts free webinars on various topics, such as online ordering.
If you end up going with the Freedom plan (the paid version), these are the extra support channels available to you:
Phone: You can call customer service seven days a week between 6 AM and 1 AM EST.
Email: Email support is available 24/7.
Support Ticket: The ticket system functions pretty similarly to email. You can use it to ask support questions and request new features.
Chat: As far as I can tell, the chat is available 24/7 as well.
Training: When you're first starting up, you can schedule up to four training sessions with technical support, each session lasting up to two hours.
Payment Processing With eHopper POS
eHopper includes in-house payment processing, or you can use the POS with an outside payment processor of your choice.
eHopper offers free credit card processing to US customers only. This is achieved by passing along your processing costs to your customers via a credit card surcharge or cash discount program. The method you use will depend on your state, as credit card surcharges aren't allowed in all states.
If you want to use an outside processor, the system supports providers such as Fiserv, TSYS, and the USAePay payment gateway, to name a few. However, available processing options vary based on which terminal you use and which country your business is located. Find the complete list of eHopper merchant account options on eHopper's payment processing webpage.
About Credit Card Surcharge & Cash Discount Processing
You have probably seen this type of system before at gas stations, where you are charged less if you pay with cash or debit. Credit surcharge/cash discount payment processing may work well for some small businesses, such as small convenience stores or coffee carts, but probably not for businesses with larger transaction sizes where customers expect to pay easily with a credit card.
Make sure you read up on credit card surcharges before deciding if this processing model is right for your business.
Also, check out our complete guide to credit card surcharges.
eHopper POS Contract Length & Early Termination Fees
eHopper offers monthly, annual, biannual, and three-year contracts. As with most software providers, the longer the contract, the less you end up paying per month. However, if you cancel your paid contract, you will not receive a refund at any point.
I highly recommend trying out the software on a month-to-month basis before making any long-term commitments.
Contracts are also for single licenses. If you want to have several registers/payment systems, you will need to purchase an additional license for every piece of hardware you use. There are no bulk license discounts. You can only use one register with the free plan.
If you need multiple registers, consider a plan with a multi-register discount such as Lightspeed Restaurant POS or Lightspeed Retail POS. There are also POS providers with unlimited register plans, such as Shopify POS that could fit your needs better than eHopper.
eHopper POS Integrations & Add-Ons
Currently, the only third-party software eHopper integrates with is QuickBooks Online for accounting and WooCommerce for eCommerce.
eHopper does offer an "App Directory" that allows users on the Freedom plan and higher to select additional features and paid add-ons, such as Loyalty and eCommerce. In total, there are 21 apps to choose from, and most just cover basic functionality, such as the time clock and credit card processor integration.
eHopper POS Reviews
Negative eHopper Reviews & Complaints
Here are some of the common issues I noticed in online comments:
General Lack Of Features: Without a weight scale integration or the ability to properly comp, even some of the smallest retail and foodservice merchants I've worked with would balk at eHopper. Some reviewers also mention the overly basic reporting suite. The free plan is especially bare-bones.
Credit Surcharge Processing: This feature is a good thing for some merchants but not for others. Many businesses aren't that comfortable passing on their credit card fees to customers, commenting that it could turn away customers who prefer to pay with a credit card.
Poor Customer Service: Since 2020, customer service quality has significantly decreased.
Buggy: Some customers say the system tends to stall out or behave erratically. Sometimes the printer speed can be slow as well. There are a lot of negative reviews on the Google Play store, mostly due to complaints of Android tablet bugginess. Some users comment that eHopper works better on PC.
Positive eHopper Reviews & Testimonials
Here are some of the things that customers like about eHopper in eHopper reviews:
Easy To Use: It can be all too easy to clutter up an interface (even with a limited amount of features), but eHopper manages to keep things simple, relatively intuitive, and aesthetically pleasing.
Good Value: If you don't need integrated credit card processing and find yourself comfortable enough with the system that you don't anticipate the need for technical support, free is a great price. Even the paid plan is pretty cheap, though, priced well below the industry average.
Basics Are All There: If you don't need a system with any bells or whistles, it's difficult to go wrong with eHopper. You'll probably run into problems when you begin to expand, but until then, eHopper can fit your business's needs.
Free Credit Card Processing: Free credit card processing is certainly a rarity. Although the cash discount/credit surcharge pricing model doesn't work for all businesses, some merchants appreciate this feature and see it as the system's biggest perk.
Final Verdict Of eHopper POS
eHopper is a solid budget POS system, but it won't work for all businesses, especially midsize/large ones.
It could be a good solution for small grocery and convenience store owners looking to accept EBT payments and offload payment processing charges to customers. eHopper also allows you to sell vapes and liquor easily, which is not the case with all POS providers.
This POS system might also be a good choice for quick-serve restaurants, considering the simple interface, pricing, tipping, tax, menu, inventory, and employee management.
With that said, many features are still absent, such as gift card management, a comp system for bars and restaurants, a weight scale integration, advanced reporting, store credit, and purchase orders, to name a few.
With a basic free plan, free terminal, and even free credit card processing, eHopper POS is worth checking out if the idea of a completely free system appeals to you. But keep in mind that there are other free POS systems. For example, Square POS is free, and though you'll pay a flat fee for credit card processing, the feature-set is more advanced (and you may prefer not to pass on your credit card fees to customers anyway).
If you are considering a paid eHopper plan, be sure to pay close attention to the total amount they are charging you since there could be additional monthly fees depending on your POS hardware, add-ons, and the number of terminals.
eHopper POS FAQs
---
We've done in-depth research on each and confidently recommend them.
We've done in-depth research on each and confidently recommend them.
To learn more about how we score our reviews, see our
Point Of Sale (POS) Software Rating Criteria
.