The Best POS Software Options For Your Boutique Or Clothing Store
Boutique-specific POS systems offer specialized features to help you create friendly shopping experience. All of these budget-friendly options have something worthwhile to offer.
Expert Analyst & Reviewer

UPDATED
Advertiser Disclosure: Our unbiased reviews and content are supported in part by
affiliate partnerships
, and we adhere to strict
guidelines
to preserve editorial integrity.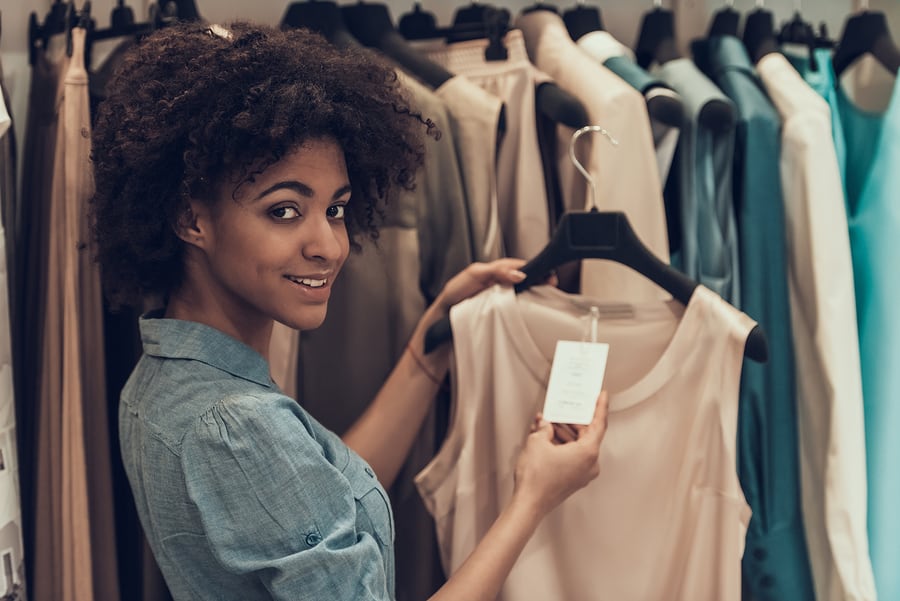 A boutique POS system is essential for an independent retail business that wants to stay competitive with other local businesses and even compete with big-box and online retail stores. Boutiques offer unique fashion products and a friendly shopping experience; a good boutique POS system will make smart use of your store data to accentuate these strengths.
Boutique POS systems give shopkeepers the ability to keep best-sellers in stock, reward repeat customers for their loyalty, and create a hybrid shopping experience that blends in-person and online sales. But which POS system for clothing store boutiques is the best for your biz? This article covers the top POS for clothing store businesses and fashion boutiques.
Learn More About Our Top Picks
Company
Summary
Next StepsSummary
Best for large inventories.

Best for large inventories.

Best for ease of use.

Best for ease of use.

Best all-in-one system.

Best all-in-one system.

Best for new businesses.

Best for new businesses.

Best for multichannel retailers.

Best for multichannel retailers.

Show Fewer Options
Read more below to learn why we chose these options.
8 Reasons To Get A Specialty Boutique POS System
A POS designed to work for retail boutiques is important because it offers specialized features that allow you to ring up sales, manage your customers, track your inventory, and even manage your online presence.
Inventory Management: Manage your entire inventory with purchase order and vendor management, easy returns and exchanges, item variants, and matrixes for different sizes and colors.
CRM/Loyalty: See who is shopping with you and encourage repeat business by rewarding loyal customers.
Sales Reporting: Find out what is selling well and what's profitable.
Gift Cards: Sell and accept branded, customizable gift cards with your POS.
eCommerce Integration: Spread your brand by selling online as well as in-store. Give customers the option to pick up their online purchases at your store.
Mobile Functions: Take your POS anywhere so that you can sell at pop-up events, local markets, etc.
Marketing: Send promotional emails using the customer information collected by your POS and also share on social media channels.
Employee Management: Set employee permissions, track employee hours, and report on employee register activities.
5 Super-Stylish & Super-Functional POS Systems For Retail Clothing Stores & Boutiques
Keep reading to find out which top boutique POS system is best for your clothing store boutique, including Lightspeed Retail, Vend by Lightspeed, Clover, Square for Retail, and Shopify POS.
1. Lightspeed Retail: Best For Large Inventories
Lightspeed Retail POS


---
Pros
Advanced omnichannel inventory management
Omnichannel loyalty
Can operate the POS from a web browser
Cons
Advanced features only available at higher price tiers
Must commit for one year and use Lightspeed Payments for the best rate
Lightspeed Retail Pricing
Monthly plans range from $69 to $199/month for a single register (billed annually, with Lightspeed Payments as the processor). Additional registers are $29/month each, regardless of the plan.
Hardware Cost
Lightspeed runs on iPads or with a desktop computer setup. Lightspeed hardware is quote-based, so you'll need to reach out for a quote. You can also opt to source your own POS equipment.
Payment Processing
Lightspeed offers in-house processing with Lightspeed Payments at a flat rate of 2.6% + $0.10 for all in-person transactions. You can also opt to integrate an outside payment provider, such as Vantiv or TSYS, but you will be charged a higher monthly software fee.
Contract Requirements/Warnings
Lightspeed is available month-to-month, but you'll get the best deal if you commit for a full year and agree to use Lightspeed Payments as your processor. If you decide you don't want to use Lightspeed anymore, you need to notify the company within 30 days of your next billing cycle to avoid being charged for the next term.
Where Lightspeed Retail Really Shines For Boutiques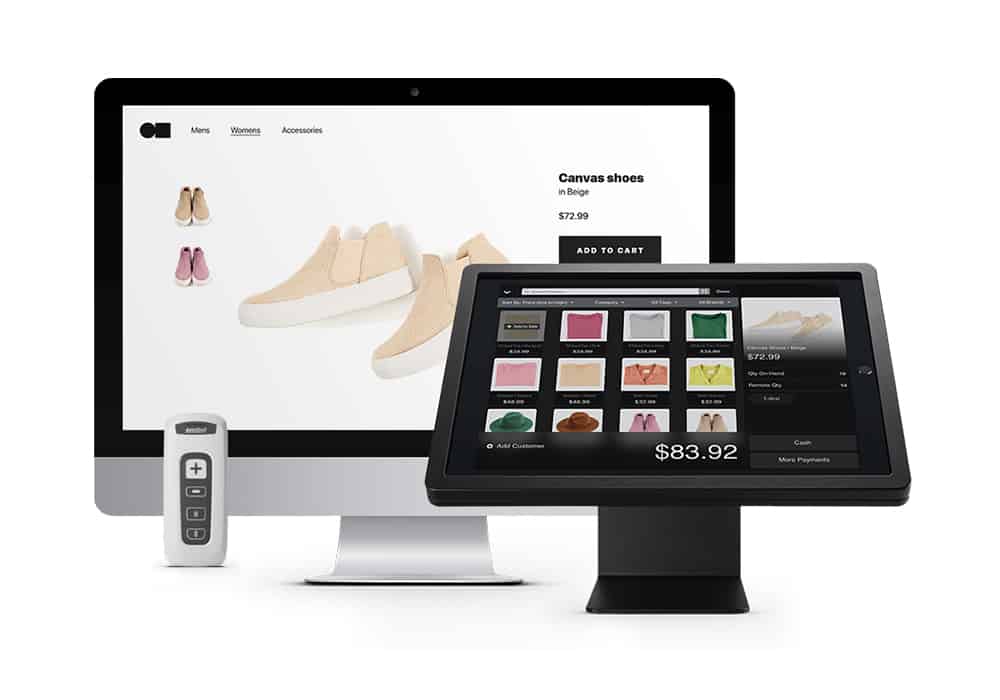 You can run this hybrid system on an iPad via a dedicated app or a desktop PC in a web browser. This system offers myriad features, including multitender options, store credit, advanced inventory management, purchase orders, employee management, eCommerce, CRM, multistore functionality, and 24/7 support.
Lightspeed features some unique inventory features, such as customizable tags, an inventory matrix, and the ability to manage bulk items sold individually. You can create purchase orders, complete them across multiple vendors, and keep your online and offline inventories synced with built-in eCommerce. Lightspeed also comes with fairly advanced omnichannel loyalty functionality, allowing you to store information on customers and offer specialized discounts.
Lightspeed is a truly robust cloud POS system for clothing stores and is offered at a very affordable starting price. With that said, some features, such as eCommerce, analytics, accounting software integration, and loyalty, are only offered at higher plan levels.
Get Started With Lightspeed Retail POS
2. Vend By Lightspeed: Best For Ease Of Use
Vend by Lightspeed


---
Pros
Superb ease of use
Free barcorde scanner app
Intuitive interface
Cons
Somewhat basic reports
Must commit for one year and use Lightspeed Payments for the best rate
Vend By Lightspeed Pricing
Monthly plans range from $69 to $199/month for a single register (billed annually, with Lightspeed Payments as the processor). As you may have noticed, these are the same fees charged by Lightspeed Retail.
Hardware Cost
You can run Vend from the dedicated iPad POS or any device with a web browser. Through a partnership with POS Portal, Vend sells hardware for iOS and desktop PCs, with options including all-in-one devices (e.g., Star Micronics mPOP), individual components (such as barcode scanners), and bundles. For example, you can buy an all-in-one mPOP kit for the iPad for $499. You can also reuse any compatible hardware components you already own.
Payment Processing
Vend offers integrated processing with Lightspeed Payments at a flat rate of 2.6% + $0.10 for all in-person transactions. You can also opt to integrate an outside payment provider, such as Chase or Elavon, but you will be charged a higher monthly software fee.
Contract Requirements/Warnings
Vend is available month-to-month, but you'll get the best deal if you commit for a full year and agree to use Lightspeed Payments as your processor (though the POS can also integrate with a few other processors).
Where Vend By Lightspeed Really Shines For Boutiques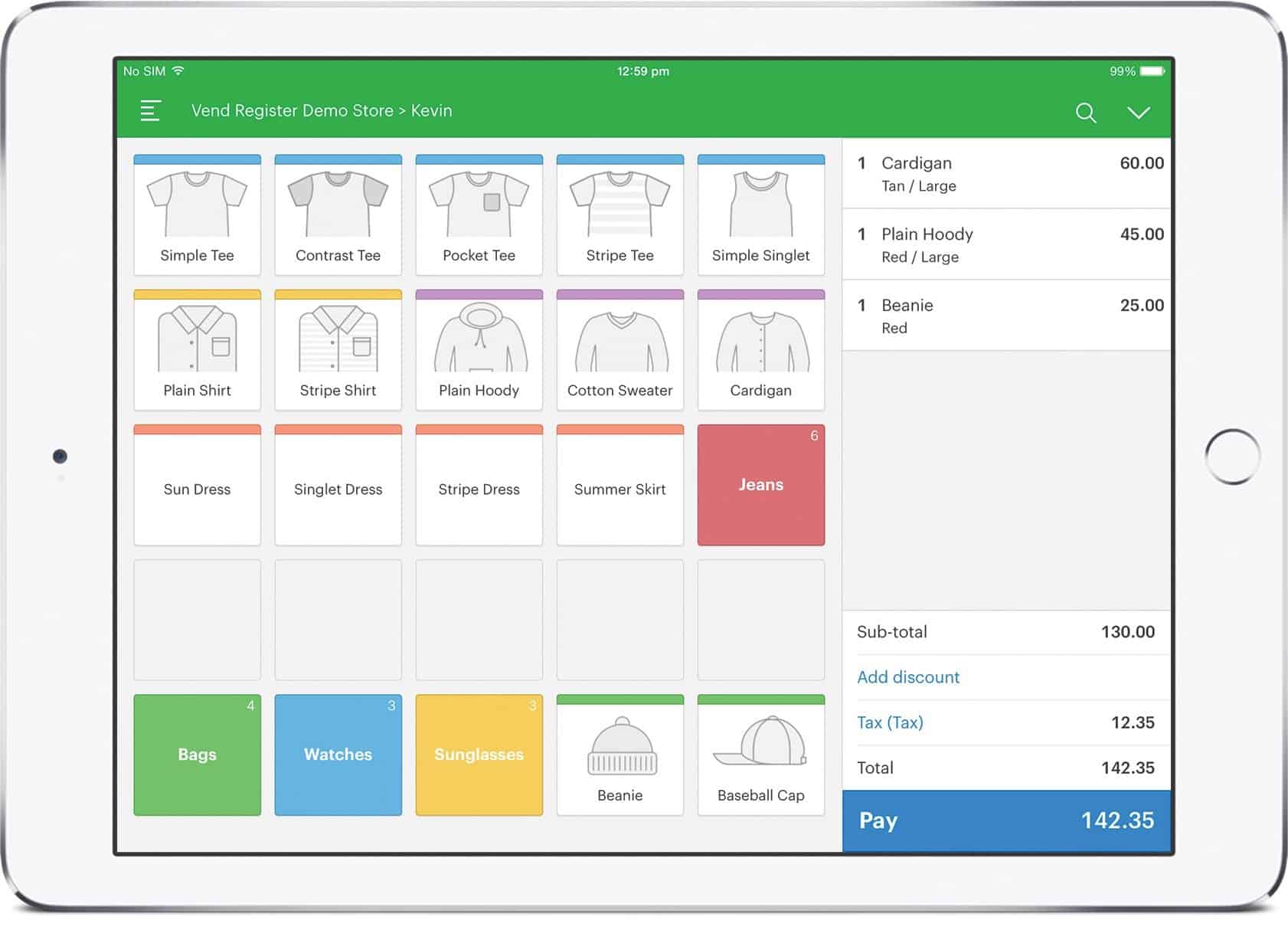 Vend is a popular apparel POS that you can operate from a web browser or an iPad app. Lightspeed acquired Vend in 2021, and while the two retail systems share many similarities, they also have some differences, including the interface and feature sets.
The first thing you'll notice about Vend is that it has an intuitive interface and is exceptionally easy to set up and start using. Vend also offers 24/7 support on all plans if you run into any issues.
Vend is scalable for businesses ranging from very small boutiques to multistore outlets, though it's primarily aimed at small businesses. Some features that boutiques enjoy include:
Super easy to add, edit, and remove products
Retail-centric register features, such as store credit, layaway, gift cards, and discounts
The product catalog includes images, prices, and variations (by color, size, etc.)
Free smartphone barcode scanner app for taking inventory
Real-time inventory and sales reports
Superb customer management
Easy built-in loyalty program
Sell on social media channels with Ecwid (including Tik Tok)
Vend does not have in-house eCommerce; however, the POS partners with Ecwid for customers that want to put their Vend store online. The system can also integrate with WooCommerce, BigCommerce, or Shopify.
If you're not sure whether to choose Vend by Lightspeed as your boutique POS, it's a good idea to do a free trial of each system and see which you like better.
Get Started With Vend by Lightspeed
3. Clover: Best All-In-One System
Clover POS


---
Pros
Customizable to any business need
Sleek, sturdy POS hardware
Hardware comes bundled with software and a merchant account
Cons
Must purchase with a Fiserv merchant account
Can't reuse Clover hardware with different POS
Potential for costly merchant contracts
Clover Pricing
While Clover has several software subscription plans, boutique shop owners will benefit most from the Clover Register plan, which costs $44.95/month-$54.90/month if you purchase your Clover hardware upfront.
If you decide to pay for your hardware over time through Clover, you'll be charged one monthly fee for your hardware/software bundle, which ranges from $130/month to $175/month.
Hardware Cost
Clover hardware ranges from $49 for a simple mobile card reader that connects to your phone via Bluetooth (Clover Go) to $1,799 for a Clover Station Duo. Clover also offers a $499 smart terminal called Clover Flex, a pint-size countertop POS called Clover Mini ($799), and a standard $1,349 Clover Station POS. These prices are from Clover.com; pricing from other providers can vary.
Note that you cannot reuse your Clover hardware with a different POS system if you decide you don't like it.
Additional POS software subscriptions cost $9.95/device/month if your hardware is all in one physical location. If, for example, you have two devices in two locations, you'll pay the full software fee for each device, even though they're both under one Clover account.
Payment Processing
Clover.com offers the following flat-rate payment processing rates:
Card-Present Transactions: 2.3% + $0.10 per transaction (Clover Register plan); 2.6% + $0.10 (Clover Essentials plan)
Card-Not-Present Transactions: 3.5% + $0.10 per transaction (all Clover plans)
Card-not-present transactions include online and phone orders, invoice payments, third-party ordering platform payments, manually keyed-in card payments, and any other payment type besides swipe/chip/tap card payments, cash, or check.
If you purchase your Clover POS from another provider, your account may have a different processing model.
Contract Requirements/Warnings
Clover offers 36-month and 48-month contracts with early termination fees. Also, you can't repurpose your Clover hardware if you stop using Clover POS software.
You can get a better merchant contract with one of these best Clover resellers, but before you sign any agreements, make sure Clover is the right POS system for your boutique.
Where Clover Really Shines For Boutiques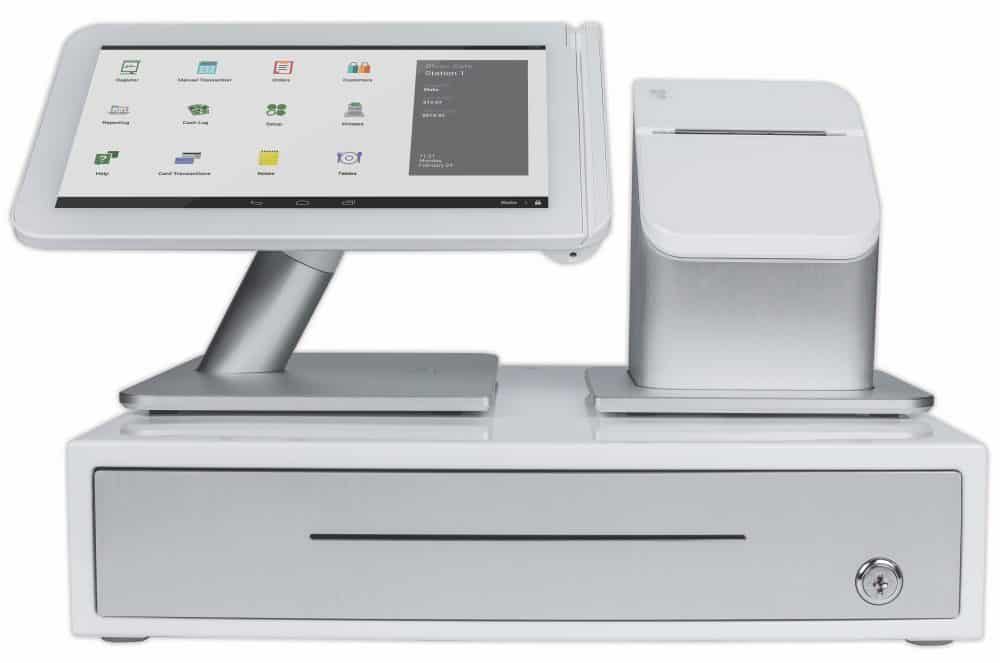 Clover is an all-in-one cloud POS system that combines hardware and software in one sleek package by Fiserv (formerly First Data). This plug-and-play POS system comes preprogrammed with your chosen processing and software package, so it includes everything you need to start selling right out of the box.
Also, Clover is a customizable system that any industry can use, including fashion boutiques, thanks to the plethora of retail apps and software integrations available from the Clover marketplace.
Some specific features retail boutiques like about Clover include its advanced inventory management, mobile gift card functionality, loyalty program, and discount options. Clover offers several stylish-looking hardware options that you can mix and match for your perfect setup. You can also sell on the go at events using the Clover Go app and card reader.
Clover's "Register" plan for retailers includes the following bundled apps: Orders, Register, Promos, Rewards, Employees, and Reporting. Keep in mind that adding additional apps can drive up the monthly price.
4. Square For Retail: Best For New Businesses
Square For Retail


---
Pros
Free plan
Free online store
No commitment
More advanced inventory features than Square POS
Cons
Not as mobile as Square POS
It doesn't include a dedicated merchant account
Square For Retail Pricing
Square for Retail offers a free, limited plan and an expanded "Plus" plan that charges $60/month per location. Square can also offer custom pricing for very large businesses.
Hardware Cost
All you absolutely need to run Square for Retail is an iPad and a free Square Reader. But for a more professional countertop display, I would recommend either a Square Stand for Contactless & Chip ($169 without iPad) or a proprietary Square Register ($799), which comes with a customer-facing screen and a built-in card reader and receipt printer. Optionally, you can add a handheld Square Terminal ($299) for taking sales on the floor and various peripheral equipment, such as barcode scanners and cash registers.
Payment Processing
All Square POS systems come with Square's flat-fee payment processing. With Square for Retail Free, you'll be charged 2.6% + $0.10 on all in-person payments. With Square for Retail Plus, you'll be charged 2.5% + $0.10 on all in-person payments. Custom pricing is available if you process more than $250K/year.
Contract Requirements/Warnings
Square is completely free, with no commitment, and month-to-month. However, Square is a payment service provider (PSP), which means they have an aggregated merchant account model, so you don't get your own dedicated merchant account.
Aggregated merchant accounts have a lower tolerance for risk, which can lead to your account being flagged, suspended, or even terminated unfairly. The larger your business is, the better you would be served by having your own dedicated merchant account.
Where Square For Retail Really Shines For Boutiques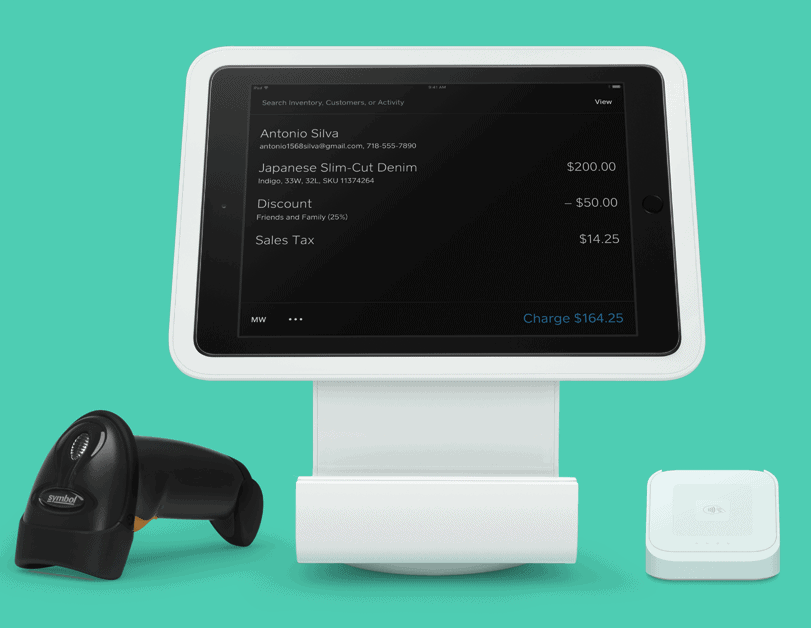 Because Square for Retail has a free plan and is simple to set up and start using, this retail POS is a great choice for newer boutiques that don't have a merchant account or a large budget and want to get up and selling. Though it isn't the most advanced retail POS, Square for Retail includes more advanced inventory features than the regular free version of Square (Square POS), even on the free version of Square for Retail. The free version of the app also includes a free online store. The paid version of Square for Retail — which is still quite affordable — adds more in-depth retail features, such as automatic purchase ordering, COGS tracking, and advanced team management.
Fashion retailers on the paid plan will also appreciate features such as real-time inventory tracking, unlimited SKUs, bulk importing, and PO management. It's just as simple and easy to use as any other Square product and could be a smart upgrade from the standard Square POS if you need more inventory features for your boutique.
As mentioned, Square accounts aren't as stable as traditional merchant accounts. Large, established businesses would probably be better served by a POS that issues (or integrates with) a dedicated merchant account.
Get Started With Square For Retail
5. Shopify POS: Best For Multichannel Retailers
Shopify POS


---
Pros
Advanced multichannel features
Excellent overall value for online retailers
Smart inventory features
Custom payment options
Cons
Limited offline functionality
It doesn't include a dedicated merchant account
Shopify POS Pricing
Shopify has a wide range of plans, starting at $5/month for Shopify Starter — mobile and social media selling only — and ranging up to $299/month for the Advanced plan. You can also add Shopify POS Pro to any plan for an additional $89/month to add features such as staff permissions and advanced inventory tools.
Hardware Cost
Shopify POS can run on pretty much any Apple or Android mobile device; the only other device you need is a Shopify payment reader ($49). Shopify also sells hardware bundles and POS components on its website, including a Star® mPOP™ Basic combined receipt printer and cash drawer for $499 and an Eddy tablet stand for $149.
Starting in the spring of 2022, Shopify POS started taking advantage of the iPhone and iPad's new capability to accept payments via its internal NFC chip, negating the need for a separate card reader.
Payment Processing
In-house payment processing is built into all Shopify accounts, though you have the option to integrate another payment gateway for an added fee. Your payment processing fee will depend on your plan level. Shopify Payments in-person card rates currently range from 2.4% to 2.7%.
Contract Requirements/Warnings
Shopify plans are month-to-month, though you can receive a discount by prepaying for a year. Another thing to know is that Shopify Payments uses Stripe, a PSP, as their payment processor. That means, similar to Square, you do not receive your own dedicated merchant account with Shopify Payments. But at least with Shopify, you can use your own integrated merchant account (for an added fee) instead of its in-house processor.
Where Shopify POS Really Shines For Boutiques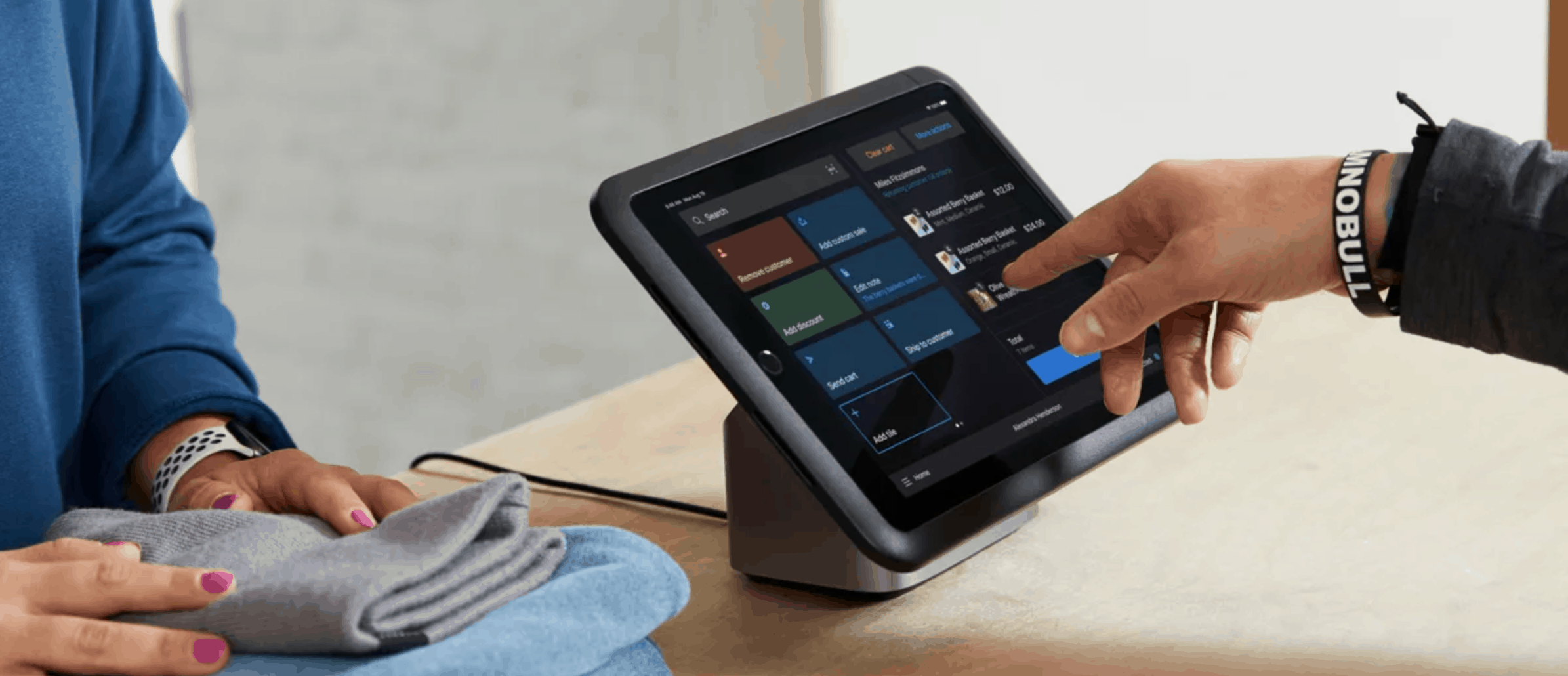 In addition to hosting your online storefront, the flexible, retail-centric Shopify POS can power your brick-and-mortar store sales. Shopify also has features that seamlessly combine both eCommerce and in-person sales — such as the ability for customers to buy online and pick up in-store (BOPIS) or return in-person items they bought at your online boutique.
The typical Shopify POS setup uses an iPad, Android tablet, or PC with a web browser. You can also take your boutique on the go — to farmer's markets, pop-up shops, etc. — selling and accepting payments from your Android or iPhone. Some features of Shopify POS that make it great for boutiques include robust inventory management with online and offline inventory syncing, customer sales profiles, accounting software integration (QuickBooks and Xero), and detailed reporting.
Shopify is also quite affordable, and all plans are billed monthly, so you don't need to make a long-term commitment to try out Shopify. One downside of Shopify is its limited offline functionality — you can't process credit card transactions without the internet, though you can still perform cash transactions.
Why We Don't Recommend These Boutique POS Options
Are you searching for one of these boutique POS options? Unfortunately, we can't recommend them because they no longer accept new customers.
ShopKeep By Lightspeed
ShopKeep is an affordable, easy-to-use retail POS system that runs on iPads, Androids, and Clover hardware. However, since ShopKeep's acquisition by Lightspeed, the POS is no longer onboarding new customers (though Lightspeed continues to maintain and support ShopKeep POS for existing customers). Businesses interested in ShopKeep are instead directed to try a free trial of Lightspeed.
Quetzal
Quetzal was a retail POS made specifically for independent clothing and shoe retailers. Unfortunately, as of 2022, this software company is no longer in operation.
The Bottom Line: A Well-Designed POS System Is Always In Season
A POS system for boutique retail sales will offer specialty features specific to clothing store/boutique needs. However, this doesn't mean that your boutique POS system needs to cost an arm and a leg.
All of the above boutique POS systems are easy-to-use, web-based systems that will cost you a lot less than the traditional on-premise, Windows-based software. The cool thing about cloud-based systems is that you can pay as you go and try out the software before you commit to purchasing it. And because they often use the same (or mostly the same) equipment, you can usually use the same iPad, card reader, Bluetooth scanner, etc., for another POS system if you decide you don't like the one you initially signed up for (except for Clover).
If you need more help choosing a boutique POS, we have more information on these and other retail POS systems in articles, such as the best POS systems for retail and the top eCommerce-friendly POS systems for online sellers. It might also be helpful to see our top-rated retail POS systems at a glance by taking a look at our retail POS comparison chart.
FAQs: Boutique POS Systems
In Summary: 5 Super-Stylish & Super-Functional POS Systems For Retail Clothing Stores & Boutiques